This Bride Put Her Dad's Ashes Into Her Wedding Nails
I know what you're thinking—that title has got to be clickbait, right? Nope, it's not. In fact, it's exactly as you read it. And, as bizarre as it sounds, it's actually kind of sweet once you hear the story. Now, don't get me wrong, putting a loved one's ashes in your wedding nails is not something you see every day, and I'm not totally sure it's something I would personally do, but I'm still in full support of this bride's decision.
So the story is that this English bride, Charlotte Watson, tragically lost her father, Mick, to cancer just a few months before her wedding. Given her father's cancer diagnosis, Charlotte and her then-fiancé, Nick, had even moved up their wedding date in hopes that Charlotte's father could be there to walk her down the aisle. But unfortunately, he did not end up making it.
After Mick's passing, Charlotte's cousin, Kirsty Meakin, a popular nail artist with a big YouTube following, suggested that they use Mick's ashes in the creation of the design of Charlotte's wedding nails so that he could still be there with Charlotte on her special day. According to Fox News, they used "tiny bits of bone fragment" found in Mick's ashes in the design of the nails, resulting in a glittery snowglobe-esque look that you really couldn't even tell contained ashes unless someone told you.
Not only did the nails turn out incredible, the whole sentiment behind them is really sweet. As Meakin said of her own creation, "It was only when it was completed it sank in what it was. That her dad would be holding her hand on her wedding day."
Charlotte said, "Having the ashes attached to my nails felt like he was holding my hand. I knew it wasn't the same as him really being there, but it was as close as we could get." She added, "It felt like he was there."
Mick's memory was included in other ways on the wedding day, BBC reports, such as pictures on the back of Charlotte's shoes, in a pendant attached to her flowers, and a teddy made from some of his clothing, but the nails are definitely the most out-of-the-box element. And for those of you wondering, after the wedding, the nails were framed to still preserve the ashes and her father's memory. All in all, it may sound strange on the surface, but it was a creative tribute that the bride and her family found moving—the bride said, "everyone loved the nails"—and clearly it made for a good story.
Images: @kirstymeakin / Instagram; Nick Karvounis / Unsplash
The Cutest Summer Nail Polish Colors For All Your Instagrams
If Mother Nature is feeling generous soon, we might actually get the summer we've been waiting for. With the warmer weather comes the good shit like festivals, day drinking, barbecues, and overall cuter outfits. Obviously, this explains why we live our literal best lives during the last few months of the year. The only thing to complete our summer '18 vibes as we listen to "Nice For What" on repeat is much-needed chic manicure. Fucking bless. Here are the biggest summer nail trends and colors you have to try ASAP.
1. Mint Green
Literally no one in the world paints their nails lime green unless they want to commit social suicide. A chicer alternative is a fun mint green like Essie Empower Mint. The turquoise shade will probs make you crave margaritas and froyo more than you already do.
2. White, Fucking Duh
The color of summer is always white. Why? Because it looks good on everyone like, all the time and it's only an added bonus that it makes you look tan, too.
3. Mauve
Millennial pink may or may not be considered slightly overrated, so a better and trendier alternative, for those of you who are still obsessed, would be one such as OPI Classic Nail Lacquer in Dulce de Leche.
4. Pastel Yellow
Speaking of this year's new color fad, yellow is a major trend rn. Pastel yellow nails will be an even bigger one this summer, and for once, they look pretty cute.
5. Sparkly Nudes
Your "U up?" texts just got a whole lot better with upgraded nudes. Instead of totally uncool neutrals, go for something extra af like silver, dark gold, iridescent white, or beloved rose gold next month. Inspo? Refer to the Insta-worthy Nails Inc. Unicorn Nail Polish duo.
6. Coral
Nothing says you just got back from a bougie vacation where you blacked out every day like a coral manicure. The bright color makes everyone's skin look hella bronze and makes a thirsty poolside candid look that much better—that means more likes for you, obvi.
Photos: Sharon McCutcheon / Unsplash; @essieyall, nailsenvoyage, theglitternail, nailsby_marg, dangel_beauty, missnailsforyou / Instagram
Betches may receive a portion of revenue if you click a link in this article and buy a product or service. The links are independently placed and do not influence editorial content.
The Winter Nail Art Trends That Will Be All Over Instagram In 2018
For the most part, nail trends are pretty predictable: red for fall, black for winter, florals for spring, and white for summer. However, each year seems to bring at least one surprising trend we couldn't have possibly seen coming, such as 2017's half-painted nails or pierced nails. Yeah, 2017 was a pretty shitty year for all of us, and maybe it's just my lame attempt to be positive, but I'm just going to go out on a whim and say with 2018 right around the corner (no, literally, it's like, in 6 days), we can only go up from here. I mean that in every way possible—by upgrading our definition of music (mumbling "Gucci Gang" over a beat does not count), getting a new president (plz), and bringing new nail trends that aren't cringeworthy for once. Here are five nail trends we're all about to want as soon as the new year begins.
1. Marble Nails
We couldn't let our new iPhone X be the only one looking cute in its marble case from Shop Betches. The design looks just as good on nails as you'd think. Accent the ring finger (or multiple fingers) with a solid color.

2. Holiday-Inspired Nails All Year Round
The holiday season calls for everything to look as though glitter just vommed everywhere. Despite how much of a bitch it is to get off, holiday-inspired glitter nails are surprisingly a thing, snow or no snow. Feel free to keep your glitter polish on long after the New Year's Eve celebrations.

3. Contrasting Shades Of The Same Color
For those who are the most indecisive and torn between two or even three shades of the same nude, luckily for you, it's not tacky to choose all three. Whether it's with different shades of blues, pinks, or grays, create your own ombre effect across your nails.

4. Simple Strokes
Simplicity is key when it comes to nail art, because despite contrary belief, we are really not in the '90s anymore. Opt for random lines, an array of small dots, or zig-zags on select fingers for a sophisticated design that looks harder than it probably really was.

5. Black-Tie Nails
Obviously, black will never, ever, ever (say ever again) go out of style, so long as I'm living. However, even the biggest fan of black will eventually grow bored it, so to glam up your basic manicure, incorporate a black and white theme that's incredibly simple, but oh-so-classy—two words I probably would not use to describe my personality, but whatever.

5 Holiday Nail Art Ideas That Will Have You Feeling Festive AF
It's actually December, and the tree at Rockefeller Center is lit af. It's basically Christmas already, guys. Unless you're a normal human grinch, Christmas is the one holiday where everyone acts extremely extra, and quite honestly, the festive cheer is encouraged. I may be the wrong person to talk to about this, because I literally have been listening to Mariah Carey's Merry Christmas album since October, and I may or may not have two Christmas trees in my apartment rn, but THAT'S BESIDES THE POINT. My point is, #HolidaySZN makes for the perfect excuse to deck yourself and everything around you in all the sparkles and lights you want. The new month comes bearing holiday parties, themed outfits, and NYE preparations, so to complete your snazzy dress, here are five designs for the holiday nail inspo you never knew you needed.
1. Toffee
Bright colors aren't my thing, either. Obviously the only color I ever want for anything is black. For a warmer neutral that isn't over the top and obnoxious, a warm toffee makes for a classy holiday shade. It can be your new fave nude, and if you feel your mani is still lacking some cheer, add gold flake accents.

2. Sparkly/Chrome Tips
'Tis the season for all glitter everything. Instead of making a complete mess, only get your tips dipped in Insta-worthy glitter for a twist on this trend. If you're looking for something that isn't a bitch to take off with nail polish remover, opt for chrome tips in your favorite metal and a simple neutral.

3. Two-Toned
Whether it's with red and green, black and white, or sweater-weather darks, keep your manicure game interesting by mixing a couple of colors together. Change things up a bit with different geometric shapes, matte accents, or contrasting color blocks.

4. Glittery Shit
Literally anything with a shit ton of sparkles is fair game. If you want to be festive AF and get a million likes with your next nailfie on Instagram, consider a design with glitter every-fucking-where. Deck each nail with a solid glitter shade, choose an ombre style, or ya know, you could always do just the tip.

5. Holiday Art That Isn't Basic
I'm always impressed with people who have the time to paint their own nails, or sit through a hella long nail appointment while they receive hand-painted nail art. I barely have time to breathe, let alone draw a fucking snowman with a toothpick on my ring finger. If you were blessed with artistic abilities or have a really patient manicurist, go for holiday-inspired nail art. Try plaid, chic snowflakes, or some kind of stylish wrapping paper look. Really, as long as you don't have an entire nativity scene painted across your nails.

The Best Nail Art Trends To Try This Winter When You're Bored AF
There's a lot to be said about the winter season. Sure, your skin falls off and you won't see sunshine again for at least six months, but at least you get to act like the lazy, self-indulgent asshole you were always meant to be. There's also the fact that you get to spend some much-needed quality time with family your favorite Netflix shows and no one can say dick about it, because it's too cold outside to actually do anything else. So blessed, so moved, so grateful. Can't believe this is my life. That said, November through March—or, in New York's case, November through June (kill us now)—can sometimes be…kind of…boring. There, I said it! Sometimes sitting on your ass, re-watching old episodes of Friends, and drinking your weight in Chardonnay isn't all it's cracked up to be. Sometimes you kind of want to brave the cold to drink your weight in Chardonnay in public. I know, it's like I'm taking crazy pills or something. But since we can't always have the things we want in life, sometimes we have to get creative with how we spend our time. And what better way to combat boredom than by trying nail art trends as seen on Instagram that you've been talking shit about for months now (but secretly love)? So here are the six winter nail art trends for you to try when there's literally nothing else to do. You're so welcome.
1. Metallic Accents
Metallic accents were huge this year and, in my opinion, they'll continue to be one of the few nail art trends that don't seem like a cry for help extra. The accents pair perfectly with dark winter nail polishes and will take your holiday look from basic to glamorous in less time than it takes you to get drunk and embarrass yourself at the Thanksgiving dinner table.

2. Spacey AF
Negative space nails are about to be every-fucking-where, I'm calling it now. These manicures are chic and modern AF, plus it's an excellent way to make it look like you regularly visit the salon, when in reality, the last time you got your nails touched up it was still warm enough to wear shorts. Gotta love millennials. Leave it to them to turn shitty, grown-out gels into a nail art trend. #BlessUp.

3. Foil Nails
Similar to the metallic accents trend, foil nails are one of the best ways to elevate your look this winter. We suggest pulling this one out around New Year's Eve, unless you actually want to look like you actually give a fuck at your company holiday party seem thirsty. These little strips of metallic foil, cut and placed mosaic-style on your nail beds, make for an artsy, yet chic look.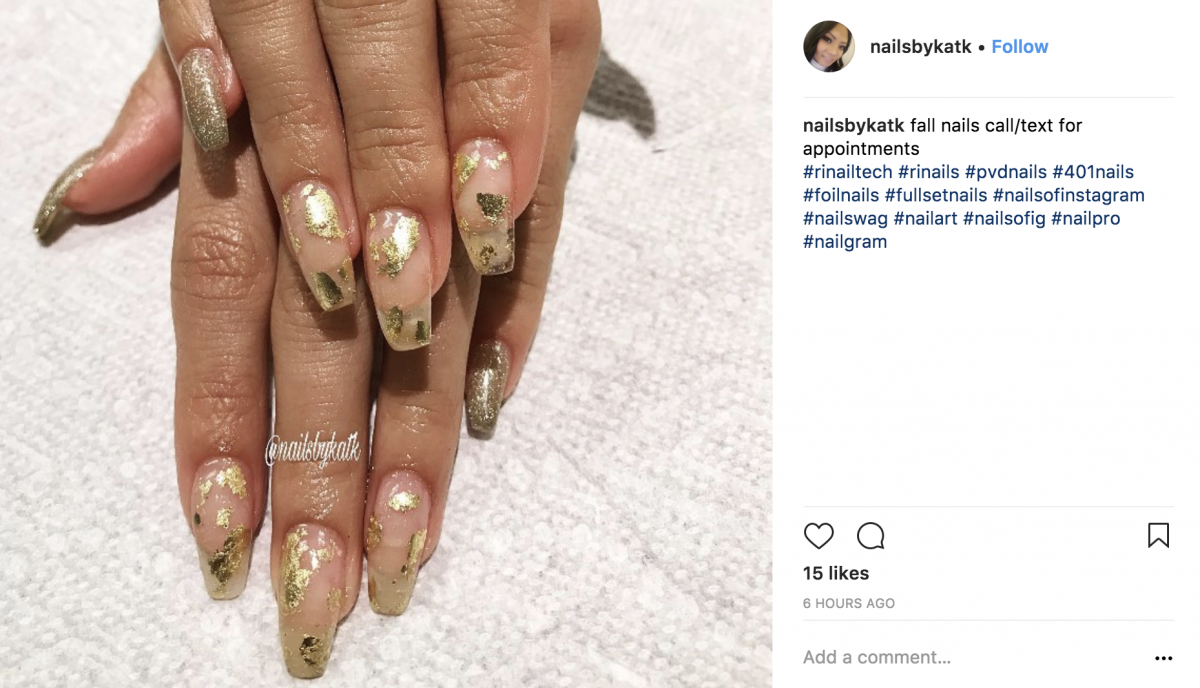 4. Phrase Nails
Finally a trend I can get behind: blatantly talking shit. I mean, I've been doing this on my own for years, but it's nice to know that the beauty community is finally standing by me in support. Phrase nails have been huge this year, and it's like people suddenly have a bunch of shit to say about the state of our world? Honestly, I have no idea why…

5. Minimalist
One of my favorite things to do is to pretend like I have my shit together, and nothing says "I don't spend 3-5 days a week sabotaging my life at happy hour" like minimalist nails. Add a thin graphic lines in a contrasting color for a simple yet dynamic look.

6. Statement Nails
When in doubt, go with a basic statement nail color, like bold red. There is a reason you see this color around the holidays more than your ex texts you, knowing you're home for the long weekend: because it's classy AF. If you're feeling more basic than bold, stick with a traditional holiday color and let the nails speak for themselves.

Images: Allef Vinicius / Unsplash; anniesjamminnails, sarasa.nails, nailsbykatk, sonyameesh, jessicasturch, natalii.es / Instagram
6 Cute Halloween Nail Art Ideas That Are Festive But Not Freaky
We're mere weeks away from the holiday most beloved by betches: Halloween. And what's not to love about a holiday that encourages you to drunk eat chocolate while you drunk dial your ex? Tbh Halloween is so much more than just showing up on October 31st ready to fuck up your life in a pair of poorly constructed animal ears. No, Halloween is all about the long game, about how you incorporate dressing up like a slut and poisoning your body with pumpkin flavored liquor the holiday spirit into your everyday life. Some people choose to do this by testing the literal limits of my sanity every casual Friday during the month of October by showing up to work in anime cosplay and telling everyone they're just being "festive." Then there are those who spend the first 30 days of October building up to the big event by tagging old college photos of themselves dressed like a baby prostitute at a theme party with the caption "More trick than treat! *Winky Face Emoji*". To each their own, but also I'm unfollowing everyone. Others choose to act less like a cry for help be more subtle about showing their love for Halloween, and one way to go about doing that are chic af Halloween nails. Now there's a fine line between chic and cheesy, so don't get it twisted. Here are 6 Halloween nail trends that aren't totally heinous.
1. Pastel Pumpkin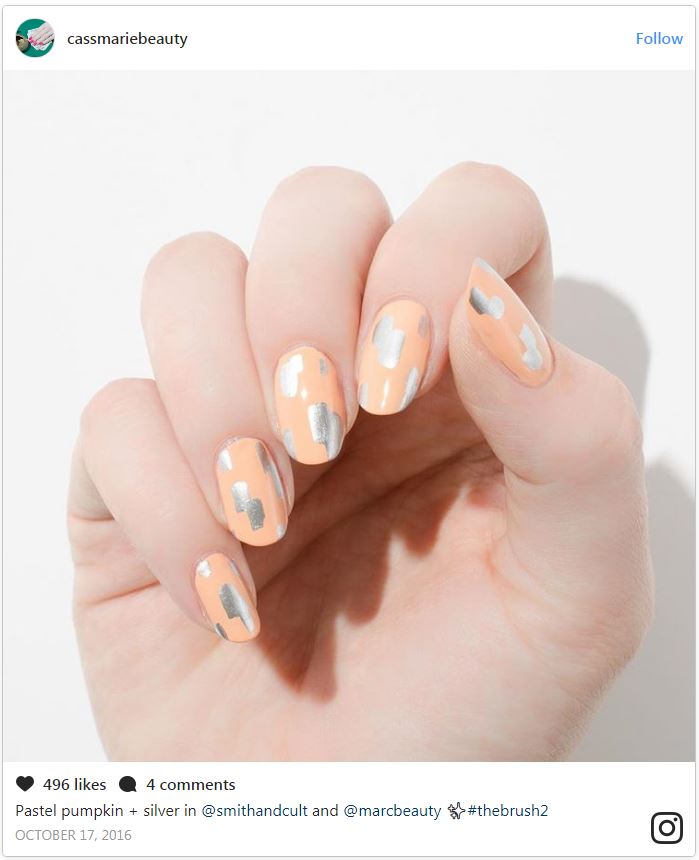 We all know that whoever said orange was the new pink was seriously disturbed, but it is Halloween, so I guess we have to tolerate it for time being. Believe it or not, pastel orange is going to be the way to chic this fall color up. I know, never did I ever think I'd use the words "pastel" and "fall" in the same sentence, but as long as pigs are flying maybe I should get back on Bumble and see if I can lock down a man for cuffing season? Lol, I crack myself up. Even though pastels are usually reserved for spring and summer, 2017 is the year that literally nobody could give a shit about rules and civility, so why not make pastels in the fall a thing. It's truly anarchy out there in the world.
2. Cat Claws

A cat costume for Halloween? Groundbreaking. Even though dressing up as a cat for Halloween all but screams, "I have the personality of low-fat yogurt," these bomb-ass nails will give a new twist to a basic bitch's go-to costume.
3. The Walking Dead Inside

If you're into staying up all night to rewatch all of Scandal and ruining your fucking life the zombified look, then you've got to try this ombre red nail effect. It'll make you look badass and be the perfect bloody accessory for your Halloween costume.
4. Halloween Accents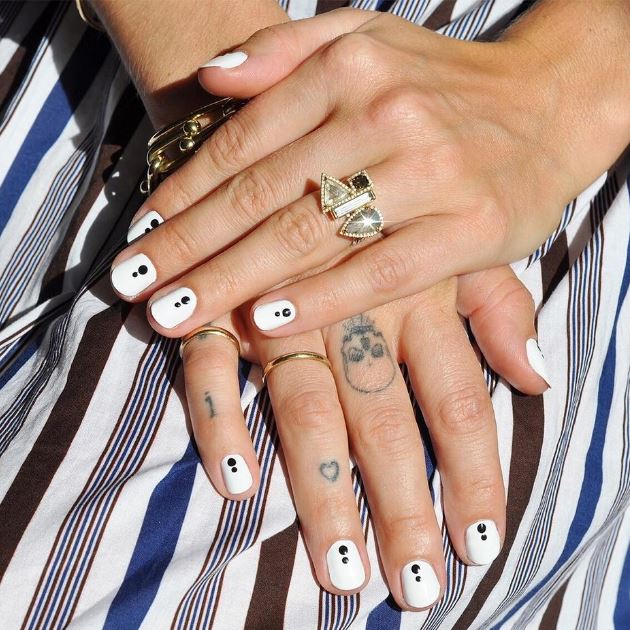 If you want to look like you don't give a shit when you give a shit be more subtle with your Halloween spirit, then try for some Halloween nail accents like white nails with black graphic accents or black nails with orange accents. It says you barely give a fuck about Halloween even though you 100 percent paid $35+ for that special manicure.
5. Witchy Vibes

I consider myself a basic witch pretty much 365 days of the year, but October is the one month where I truly get to express the fact that I'm vengeful AF someone who acts like she's an extra on AHS Coven. Lol I'm so random. Go for a basic black background and then add some witchy gold accents so that all of your ex-boyfriends will know that you're one "u up" text away from going all Madison Montgomery on their asses.
6. Basic Black

Obviously, you don't need a specific season or event to embrace the color black, but like, Halloween is as good excuse as any. Aside from the color black being iconic, it will also look amaze with any costume you choose.
5 Fall Nail Art Trends You're Going To Be Seeing Everywhere
With summer coming to an end, we don't need any more reminders about how depressing it is. We don't care about your dumb excitement for sweater weather or your so-called "PSL SZN." Our rosé is officially on sale and our favorite rooftop bar is now just a bar. What a literal buzzkill. Before your skin gets dry AF and your social life becomes obsolete, treat yourself to an expensive manicure to make yourself feel better. You'll be seeing these nail art trends all over NYFW this Fall, so why not get ahead of the trend and make it look like everyone copied you?
1. Metallic Mosaics
This trend is all about goth glam, so if you're the type of person to let someone go in front of you at Starbucks, it's probably not your thing. If you can't really envision metallics and mosaics going together, think rock 'n' roll meets random designs with some gold accents. We're actually really feeling this trend because it's allowing you to wear glitter on your nails without being a 12-year-old girl at her Lady Gaga themed bat mitzvah. These nails are dark enough for the fall, and the shimmer is pretty dope if you wear enough black.

2. Clean Lines
Symmetrical lines and color blocking will always be in style, but this season, clean lines are the go-to, and we approve. We were getting pretty sick of the half moons and french tips, so some clean lines are actually refreshing. Some designers are calling this look "industrial design," but like, all we see are lines. Horizontal and vertical are both being done, so it just depends if you're feeling more of a referee vibe or a lined paper vibe. Either way, you can't really go wrong with stripes on your nails. We did it at sleepovers in the third grade, so we can get with it again.

3. Pierced Nails
If candy crush existed in manicure form, it would be this. Pierced nails might be the least practical trend right now, but if you don't cook or clean or write or do any sort of exercise that involves your hands, this mani is ideal for you. We admit this look is extra AF, but you don't have to have a shit ton of piercings to pull it off. I mean, people are literally getting graduation cap tassels hanging off their nails. Then again, you could also get Jersey Shore hoops on your pinky. It sounds trashy and inconvenient, but then again, we're talking about a $90 manicure here. Let's not question anyone's values.

4. Dry-Brush
This look is inspired by modern art, and it's all about creating streaky effects by dipping the brush into a bit of color and swiping it onto the nail. Basically, think of it as one of those paintings you see at the MoMA and think "WTF is this," but then you find out its $10 million and you're like, "This is amazing." The dry-brush trend is a multi-colored look, so if you're strictly into neutrals and pale pinks, it may not be your style, but if you've ever owned a Harajuku perfume bottle, you'll appreciate this look.

5. Colored Tips
We haven't gotten a French manicure since we were 14, but it's making somewhat of a comeback with colored tips this season. This trend is best done with two colors, but people are also doing it with just a clean nail and then a colored tip, so like, it just depends on how many colors you're willing to commit to. This trend is perfect for the girl who panics when the manicurist says "pick your color" like it's the most important decision you'll have to make that day. Now you can pick more than one and not have to Snapchat your friends all of your options for a group vote.

Fall Nail Polish Colors You Need To Stock Up On Before The Basics Get To Them
Every summer, we put on the longest disguise to force ourselves into wearing bright colors and having pastel manicures so no one knows our hearts are as cold as a frozen marg all year round. Obviously, this summer was no different. Even if you were still stuck on wearing all black everything during the hottest months of the year, you probs couldn't resist giving in to subtle blonde highlights or a millennial pink manicure at some point. Since autumn is approaching v quickly, soon enough we'll put this masquerade of ours away to show our true colors—until next summer, that is, and I mean this both literally and metaphorically. It's something about the colder temperatures and dying nature that makes us feel as though wearing gothy sophisticated lipstick and edgy clothing that basically resembles our MySpace pictures in 2006 is totally fitting for our soul the occasion. Whether you're holding a PSL, throwing back spiked cider, or happily content on your couch sobbing over This Is Us (Just me?), here are the best nail polish shades to ask for this fall so your manicure goes perfectly with your temperamental personality.
Essie's fall 2017 collection is inspired by rebellious spirits of the 90's so like, a collection perfectly made for all of us and our moody selves. Swap out your bright summer red for a shade that resembles your fave wine—a Merlot grape. It's a dark wine with purple undertones and since it says it all in the name, it'll look phenom with an oversized cardigan and knee-high socks.

This fall, OPI wants you to travel to Iceland to see cool shit like volcanoes and glaciers. Thanks for the offer, but I can't even deal with east coast winters so I'm gonna pass. However, I will vacay there vicariously through their new Iceland collection, especially with this shade of shimmery blue and purple. Its sparkly cool tone and deep hue says sophisticated AF for a work-focused attitude you probs won't have for more than a week come next season.

Any shade of purple usually suggests you're into like, mysterious men solely for the reason that they use pickup lines you only hear in movies without showing any depth of character. Sounds about right, so it only makes sense to draw them in with a darker chic manicure. A deep purple such as this captivating shade complements every skin tone and gives off an intense secretive effect. Boys love that shit. I'd assume "roubachka" backs me up on this but I literally can't find any other translation other than "Russian blouse" so I'm rolling with it. Side note: Every time I use a polish from the Le Vernis line, my nails never chip and they last longer than my pedicures, which is unheard of, so I promise this one is worth the splurge.

Nothing says basic bitch fall like a pure orange to remind us of literally everything fall represents: Halloween, pumpkins, leaves, more pumpkins…etc. Most would stray away from an orange nail because well, it's orange and not really anyone's first choice, but with the weather getting cooler and skies getting darker, the bright shade will enhance your skin tone for a subtle warm glow and provide a nice pop to your depressing neutral wardrobe.

A combo of gray and that neutral beige we'll be wearing too much of is this gorg color. It's the new nude to hold you over during the next few months with brown hues and cool smokey undertones. Wear for a clean classy look to perk up your mood in the bland office or let it complement any bold outfit you choose to blackout in Labor Day weekend.