The Best Nail Art Trends To Try This Winter When You're Bored AF
There's a lot to be said about the winter season. Sure, your skin falls off and you won't see sunshine again for at least six months, but at least you get to act like the lazy, self-indulgent asshole you were always meant to be. There's also the fact that you get to spend some much-needed quality time with family your favorite Netflix shows and no one can say dick about it, because it's too cold outside to actually do anything else. So blessed, so moved, so grateful. Can't believe this is my life. That said, November through March—or, in New York's case, November through June (kill us now)—can sometimes be…kind of…boring. There, I said it! Sometimes sitting on your ass, re-watching old episodes of Friends, and drinking your weight in Chardonnay isn't all it's cracked up to be. Sometimes you kind of want to brave the cold to drink your weight in Chardonnay in public. I know, it's like I'm taking crazy pills or something. But since we can't always have the things we want in life, sometimes we have to get creative with how we spend our time. And what better way to combat boredom than by trying nail art trends as seen on Instagram that you've been talking shit about for months now (but secretly love)? So here are the six winter nail art trends for you to try when there's literally nothing else to do. You're so welcome.
1. Metallic Accents
Metallic accents were huge this year and, in my opinion, they'll continue to be one of the few nail art trends that don't seem like a cry for help extra. The accents pair perfectly with dark winter nail polishes and will take your holiday look from basic to glamorous in less time than it takes you to get drunk and embarrass yourself at the Thanksgiving dinner table.

2. Spacey AF
Negative space nails are about to be every-fucking-where, I'm calling it now. These manicures are chic and modern AF, plus it's an excellent way to make it look like you regularly visit the salon, when in reality, the last time you got your nails touched up it was still warm enough to wear shorts. Gotta love millennials. Leave it to them to turn shitty, grown-out gels into a nail art trend. #BlessUp.

3. Foil Nails
Similar to the metallic accents trend, foil nails are one of the best ways to elevate your look this winter. We suggest pulling this one out around New Year's Eve, unless you actually want to look like you actually give a fuck at your company holiday party seem thirsty. These little strips of metallic foil, cut and placed mosaic-style on your nail beds, make for an artsy, yet chic look.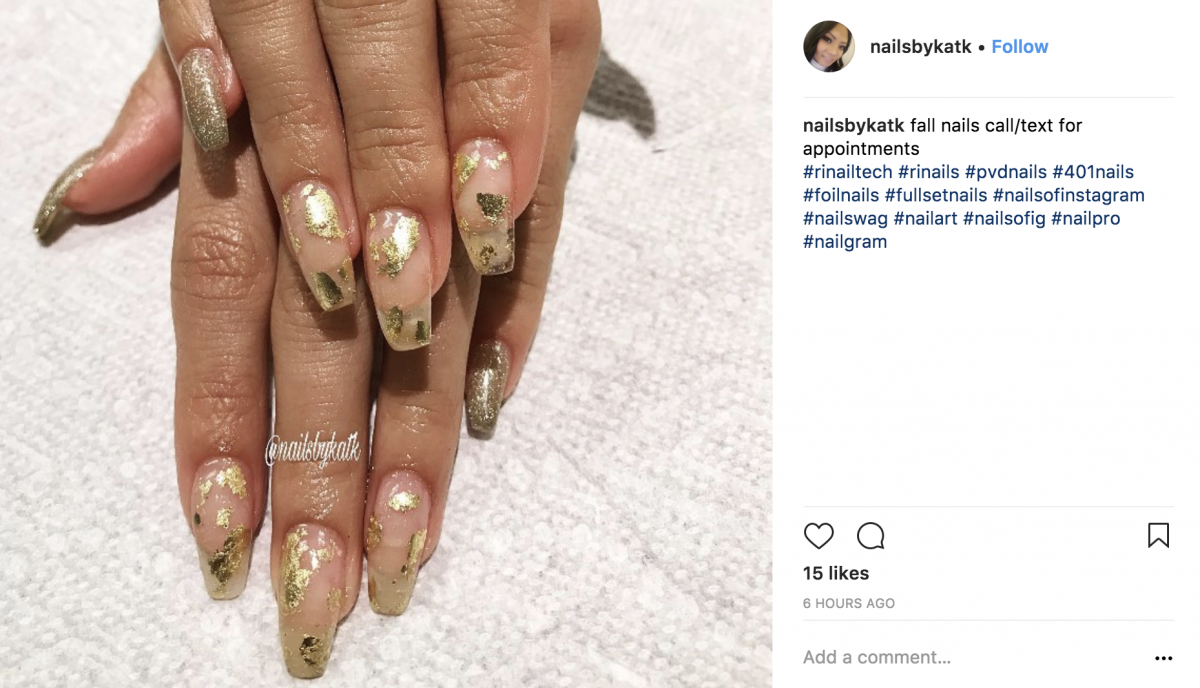 4. Phrase Nails
Finally a trend I can get behind: blatantly talking shit. I mean, I've been doing this on my own for years, but it's nice to know that the beauty community is finally standing by me in support. Phrase nails have been huge this year, and it's like people suddenly have a bunch of shit to say about the state of our world? Honestly, I have no idea why…

5. Minimalist
One of my favorite things to do is to pretend like I have my shit together, and nothing says "I don't spend 3-5 days a week sabotaging my life at happy hour" like minimalist nails. Add a thin graphic lines in a contrasting color for a simple yet dynamic look.

6. Statement Nails
When in doubt, go with a basic statement nail color, like bold red. There is a reason you see this color around the holidays more than your ex texts you, knowing you're home for the long weekend: because it's classy AF. If you're feeling more basic than bold, stick with a traditional holiday color and let the nails speak for themselves.

Images: Allef Vinicius / Unsplash; anniesjamminnails, sarasa.nails, nailsbykatk, sonyameesh, jessicasturch, natalii.es / Instagram
The Best Summer Manicure Trends You Need To Try
For all my New York betches, I know you're just as excited as me to know that Thursday is supposed to have perfect day drinking temperature (high 80's) so Mother Nature, please don't be psycho. For those of you somewhere on the west coast, you probably don't care because this is your average weather but like, let us rejoice in this moment. The first solid week where it's warm enough to go to a rooftop bar without a jacket basically means summer has officially arrived. You may think all you need is an artsy backdrop, pretty face with oversized sunglasses, and a colorful drink (that probably tastes like shit) to get 100,000 likes on Insta. Wrong. You are so wrong. You also need a fresh as fuck summer manicure holding that drink. Having sucky nail beds, bare nails, chipped nail polish—or worse: yellow nail polish—is honestly social suicide. This summer's manicure trends are all about bright red shades, natural nudes, negative space nail art, and "cuticle jewelry" (yes, I swear this is a thing). These go a little beyond just "picking a color."
1. Bright Red
This timeless color is going to be everywhere this summer. A perfect bright red such as Butter LONDON's Come to Bed Red is just glamorous and sexual as its name suggests. This will add just the right amount of sass to any outfit in the summer.

2. Playful Pastels
Essie is loved by anyone who's anyone, including many of the celebrities you follow on Instagram. The brand's collections are highly anticipated and usually fly off shelves anywhere they're sold. Essie's summer 2017 collection is apparently so good, stores have already been selling the colors a month earlier than they were supposed to. The light-colored and metallic shades were inspired by the city of love/lights (whatever you want to call it): the one and only Paris. With names such as Éclaire My Love and S'il Vous Play, even if you don't have a life travel the world this summer, these colors will look gorg with any calorie-loaded doughnut you're holding. Au revoir, bitches.

3. Rose Gold
You love rosé just as much as the basic bitch next to you and you're probably wearing a Michael Kors rose gold watch as we speak. So why wouldn't you let your basic-ness hang out, loud and proud, with a rose gold mani? This is essential for all the rosé you'll obvs be drinking at bottomless brunches.

Mark Jacobs Enamored Hi-Shine Nail Polish in Gatsby
4. Holographic Nails
If you think you've seen the last of the fucking unicorn trend, you have another thing coming to you. I'm saying this as if I didn't just a buy a choker with a unicorn on it, but anyway, really let your unicorn guilty pleasure shine with a trippy af holographic nail. Try Urban Outfitters Hologram nail polish in silver. I've seen this mesmerizing color in person and it looks ah-maze.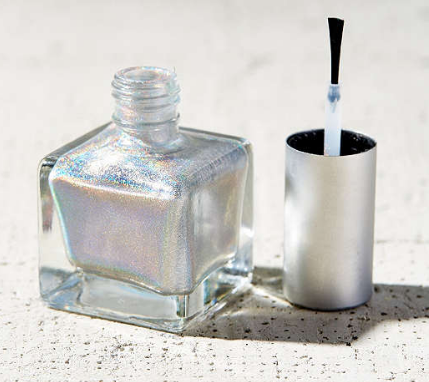 5. Negative Space Nail Art
This one is a little out there, but apparently it's cool nowadays to rock a chipped nail design, as long as it looks fashionable and artsy. This is ideal if you're trying to channel your inner hipster. If you are the Martha Stewart of nails, you can probably do this at home. However, if you're like me and have the artistic ability of drawing stick figures, then ask a manicurist instead. This nail art consists of using nail tape to create minimalist images and painting in between the lines to create designs that end up looking like this: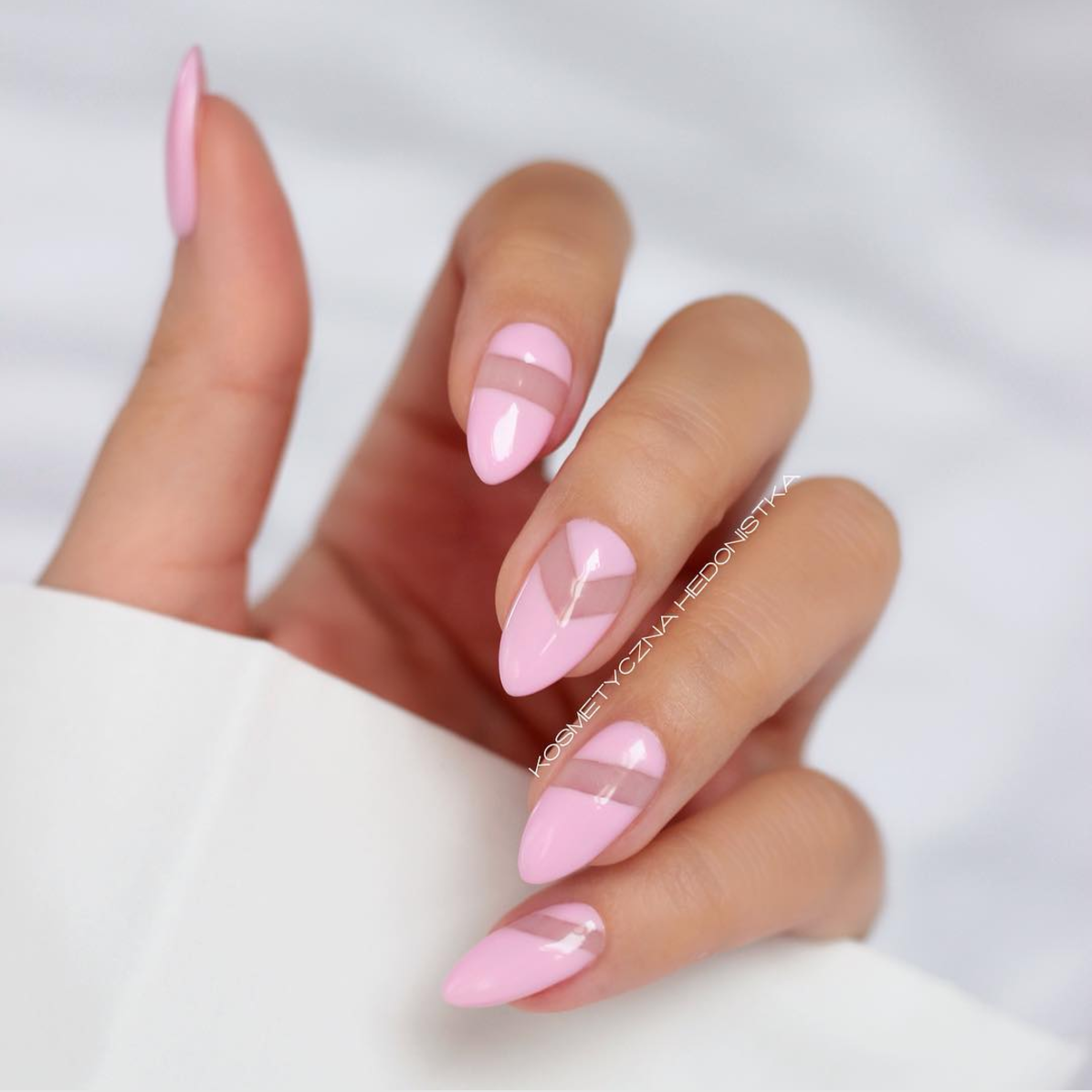 6. Cuticle Jewelry
I can't even with this term, honestly. The idea is supposed to create an illusion that your cuticles are wearing jewelry such as a gold necklace or a fucking choker if you must. The pictures are pretty self-explanatory so if this is your thing, you do you, boo.

7. Au Naturale Nudes
For a clean, professional look, get a basic mani with a nude color. This is perfect if you only feel like doing the bare minimum (which is all the time), but still want to look classy and chic. Deborah Lippmann's Undressed set comes with six colors that are great for any skin tone, whether it be trying a fair pink nude or a sable nude. Also, the next time you get a "send nudes" text, they obviously are talking about your nails.

Deborah Lippmann Undressed Nail Polish Set
8. Not A Regular Black, A Cool Black
If you still get unnecessary anxiety when you're asked to pick a color, it's okay to go for your usual black. But only if you spice it up a little by opting for a matte black or a shade of black with a color underlay, such as OPI's Black Cherry Chutney.

Nail Contouring Is The Latest Nail Trend, But Can We Not?
My nail lady and I are practically besties, usually only communicating in a series of soft smiles, appropriate chuckles here and there, and nods for yes or no. But as of late, she's really overstepping her boundaries and telling me I need to "contour my nails." Please. Please, God. Tell me you're joking.
NOPE. This is not satire and I did not make this up. People are literally contouring their nails to make them look longer. Because actually like, letting your nails grow out is too practical a solution? Look, I don't care if your nail beds suck, stop trying to make nail contouring happen. First there was face contouring, then more specifically nose contouring, then butt contouring—when does it end? All I'm asking for is ONE part of my body that I don't have to contour. Is that so much to ask??
While we used to be proponents of nail art, this shit has really gone off the rails within the past year. We started with the deeply sus phase of gluing actual fur on your nails. You know, just in case people weren't clear on how many cats you owned/how much time you spend listening to Taylor Swift. Now your bearded lady fingers can tell everyone what's good. 
@ay0brandiiii RT @BeauTuts: these furry nails are cute pic.twitter.com/A67XG3H7EF

— PRSZN (@Prizzle_) March 1, 2017
And then there was the whole succulent nails trend. Too many green thumb puns to make, not enough time. I thought I saw enough cacti at Coachella, but learned the hard way nothing and no one can fight a hipster's allegiance to their Insta likes—no matter how many plants they kill to glue onto their nails, no matter how many succulents they leave dead and bloody along the way, just as long as they can make a name for themselves as an Instagram beauty model.
I thought a lot of things were gonna happen in 2016 that didn't. For example succulent nails never quite took off pic.twitter.com/bvCJZkfWll

— Jen O. (@Jenodd) December 30, 2016
Just when we thought it couldn't get any worse, here we are (honestly, that's a metaphor for 2017). The nail contour. So people literally paint their nails with a clear/light coat, and then do a thin strip of a darker, brighter color down the middle to make their nails look longer.
Nail Contouring Is The New Beauty Trend You'll Actually Want To Try: https://t.co/EAZEOc1N6n pic.twitter.com/mxtgkXogfb

— Girlfriend (@GirlfriendMAG) January 24, 2017
Don't get me wrong, I'm eternally grateful for the Kardashian wisdom that so blessed me with the benefits of contouring. 15 minutes and 5 steps later, I watched myself go from a 6 to an 8 right in front of my very bathroom mirror. But nails??? At least let's pick a part of the body that needs to shed a few. 
Said benefits of the "nail contour" from manicurists—manicurists I would never let within 15 miles of my hands—are:
1.  It's "cool". Guess we're gonna have to disagree here, nail experts. If you have a cosmetology license, that shit should be revoked.
2.  It creates the illusion of longer nails. But who asked for this illusion?? And why can't they just pay $40 for acrylics every month like the rest of us???
3. Easy execution. Well, I would hope the execution would be easy considering you're LITERALLY SKIPPING HALF THE MANICURE. I wish life worked like this. Like, whenever I was in the mood for something easy, I could just skip half the work and just claim it's the new trend. As I wonder why I'm still single and unemployed.
Overall, -2/10 do not recommend. America, let's stop being so goddamn lazy and finish painting our whole nails. This is coming from the girl who just microwaved my food for 1:11 because I was too lazy to move my thumb to the 0 button. DO BETTER.
5 Manicure Trends For 2017 To Distract Yourself From Trump's America
Because America's deep-seeded daddy issues have forced us to choose the ultimate worst patriarch—Donald SMDH Trump—as our country's president, it's time to think of ways we can distract ourselves during the next four years. Sure, donating our time and money to causes we care about will help. But what else can we do? (Besides stop being pussies and forfeiting our reproductive health rights in peace.)

As you ponder a country in which democracy no longer works, at least you can still exercise your womanly ways and succumb to (when you really think about them) strange beauty rituals. Like gluing plastic on your nails and painting them with color. Plus, according to Donald Trump's new amendment to the Constitution, if you aren't a "10" you might as well be a "0." So, not only are the following 2017 nail trends a good way to distract yourself from this national tragedy, they are also a good way to fit into societal beauty norms! Which, after a few months, will probably be all that female US citizens have left. TBD.
1. Black Accents


Not to be confused with what Trump would call "the way the Blacks speak! inner cities!" black accents are a play on the usual black nail polish look. Swipe one one long strip down the middle (as seen on Vera Wang's models) or use black to make any manicure look sadder.
2. Color Blocking


Not to be confused with Trump's new policy of segregation called "color blocking," this manicure is all about bright hues painted in unexpected ways. 
3. Embellished Cuticles


Seen on models for Rodarte this year, the embellished cuticle is embellished just like our POTUS's truths!
4. Graphic


At a Christian Siriano show and at Opening Ceremony's Pageant to the People runway show, models were spotted with all types of different graphic designs. Unfortunately for Trump, nobody was graphically naked and therefore, he could not "move" on any of them. Sad!
5. Taupes & Nudes


Not to be confused with nudes of Ivanka (which Trump is still asking for, so if you know where to find them, plz let him know), nude and taupes are a great way to blend in and not stand up for your rights. Two things Trump's America would love for you to do right about now.