Sophiegrophy's 'BOLD' EP Has The Carefree Vibes You Need Right Now
Hip-hop artist Sophiegrophy likes to follow her own rules. In her music, she does just that. Hailing from Nigeria, she grew up in New Zealand and is currently based in Australia, so she has definitely followed her own unique path. Her versatility is reflected in her new EP, BOLD, which premiered this May. Fans of Bazzi, Glass Animals, and Cardi B will vibe with her EP (I said she was versatile!), which makes the perfect carefree soundtrack for hanging by the pool or cruising around town.
On Sophiegrophy's six-song EP, each song represents a different genre and music style. Her first single, "Shake," is all about "loosening, turning up, because sometimes life can be so serious that we forget to have fun. Even if it's by yourself, even if it's with your friends, as long as you're turning up that's all that matters." Now that's a mantra we can all get behind, am I right? "Shake" has already been featured on radio personality Ebro's show on Beats, and Sophiegrophy can also be found on the future-forward tracks "My Own Thang" by Walker and Royce and "Bounce Back"  by J. Worra & Codes, as well as Spotify's "Starting Point" and "A1 Live" playlists.
On her EP, Sophiegrophy showcases her dedication to doing her own thing as she mixes hip-hop and R&B with a splash of electronic beats. She opened up to Betches about how she stays confident and ~bold~, telling us "Our decisions must be executed with confidence and we must always have faith in ourselves while not giving energy to the naysayers" (full interview below). 
We chatted with Sophiegrophy about her diverse background, musical influences, mental health, and more below.
How does your Nigerian background & growing up in New Zealand influence your music and style?
My Nigerian background influences my music by allowing me into a world full of culture where music is the driving force for jubilance, dance, and unity. This background has really helped me with exploring afro beats, which are a part of my "BOLD" EP, and were really something that came naturally when I was writing. As a Nigerian we have a saying that "Naija no dey carry last," which means we are always in the frontline. My style represents my background because I dress to be comfortable even if it means doing the most, and as a Nigerian we are known to go far and beyond when it comes to style because we love to look good and we love to stand out.  I spent my late childhood and teenage years in New Zealand, where I discovered my identity and my sense of belonging that have made me the person I am today. All that I have discovered and learnt during my developmental stages has really helped me with writing and telling my story. New Zealand was where I realised I was different due to many bullying experiences I encountered, and it didn't change me for the worse nor did it make me change who I was.
Who are some of your musical influences?
My musical influences are Lucky Dube & Jon Bellion.
Who are some of your inspirations right now? (Musical and otherwise)
My biggest inspiration is my mother. She inspires me to strive to be my best and to keep persevering. Everything she has encountered in her life gives me motivation to keep working hard, because she is where she is today because she never gave up and never stopped trying. No matter how hard it got, she made sure she finished what she started and she never left things halfway. This has motivated me a lot, because life is a roller coaster and there are going to be a lot of good and bad days. We tend to only appreciate the good days and give up when the bad days knock on our door. Every negative thing is a catalyst for something positive. 

What's keeping you upbeat right now? 
Music and writing. I've been spending a lot of late nights with music, exploring what my next song or EP would be. Music brings a lot of happiness out of me and that's really what's kept me upbeat.
What's your go-to pump-up song/album?
My go-to pump-up song and album would be "PMW" by A$AP Rocky/SchoolboyQ and Fan of a Fan by Chris Brown & Tyga. These choices are songs that bring back a lot of wonderful nostalgia of a night out with friends.
Your EP is called "BOLD." Can you tell us why?
My EP BOLD signifies standing out and being as vibrant as possible. Each song on my EP is distinctively different because they each represent different genres and styles. I wanted to showcase my diversity when it comes to music—I don't discriminate and I don't like to place myself in a box. I love expanding myself as an artist and pushing the boundaries. I don't want to do something because that's what the majority are doing, I want to do things because I want to do it, even if it means being the odd one out. 
What's your advice to other women to be bold?
My advice to other women to be bold is to remember that as women we are dimes. Our aura is naturally bold, but to really exude it we must walk with confidence in ourselves. Our decisions must be executed with confidence and we must always have faith in ourselves while not giving energy to the naysayers.

Who would be your dream collab?
My dream collaboration would be Jon Bellion—he is absolutely amazing—or Skepta.
What are you up to in quarantine? 
The first time we went into lockdown, I loved it because I had a lot of time to get things done, such as doing more writing, listening to old songs, and loving my space, so it was really a tranquil time for me. Now that we are back in lockdown once again for another six weeks, I really miss performing, being on a stage, and meeting different people along the way. So to keep myself busy, I've been trying to learn Spanish online which is a nice challenge, and I also have some videos coming up which is very exciting.
What are your goals, musically and otherwise?
One of my goals musically is to become very successful in my music while staying true to who I am, in regard to my style and personality. I really want to use my platform to start a mental health foundation that helps not only  up-and-coming artists, but also young adults who are dealing with mental disorders but aren't seeking help because of the stigma or because they are struggling to cope. I also want to help the young kids and families in Nigeria who are homeless and struggling to meet their daily needs. There's so much I want to do, and that's why I need to keep working hard.
Above & Beyond Discuss Their New Album And The Time They Almost Got Arrested In Times Square
All right, y'all know the drill. We went to EZoo, we interviewed Jono and Paavo from Above & Beyond, it took me so long to put this up because transcribing interviews is a pain the butt, okay? Anyway. If you're not familiar. Above & Beyond is a legendary electronic music act who's consistently ranked among DJ Magazine's Top 100 DJs, they've been nominated for a Grammy for their song "We're All We Need", they sold out Madison Square Garden—basically, they're a huge fucking deal. We got the chance to chat with them, so read below. Also, they just sold out Red Rocks in Colorado and announced their new album Common Ground during the live broadcast of ABGT250, which took place last weekend at the stunning Gorge Amphitheater in Washington State. They'll be touring in support of the new album with shows at Los Angeles Convention Center on December 29 and Barclays Center in Brooklyn, NY on January 27. Be sure to sign up for ticket presale registration here.
Are you guys excited?
-Very, actually. Yeah, really looking forward to it. I mean, New York, Electric Zoo.
-Yeah, we did the little boat trip to here and back this afternoon, and it was such a jolt of energy for 20 minutes.
-After that, it was like okay, I think tonight's going to be great. Obviously, we didn't expect the rain. We'll see how it affects things, but sometimes it even makes it better, so fingers crossed.
You guys play really high energy shows, so what do you do to get pumped up?
It's just the music really, isn't it? And caffeine sometimes.
What are some of your favorite festivals that you've played?
-Electric Forest is really good fun. It's a bit different, that's why I mention that one. It's not the biggest one that we play, but it's just kind of different, because it feels very earthy and what's that word…how would you describe it? Raw.
-Raw. And I think Creamfields is, in the UK. It was the 20th birthday of Creamfields in the UK, so we were there. Was it last week? I think it was. Yeah, so it was an amazing, amazing party as well. It's nice that these festivals have been going on for such a long time. And people are still going there, and it's probably the third generation of people going there, and it's still totally happening.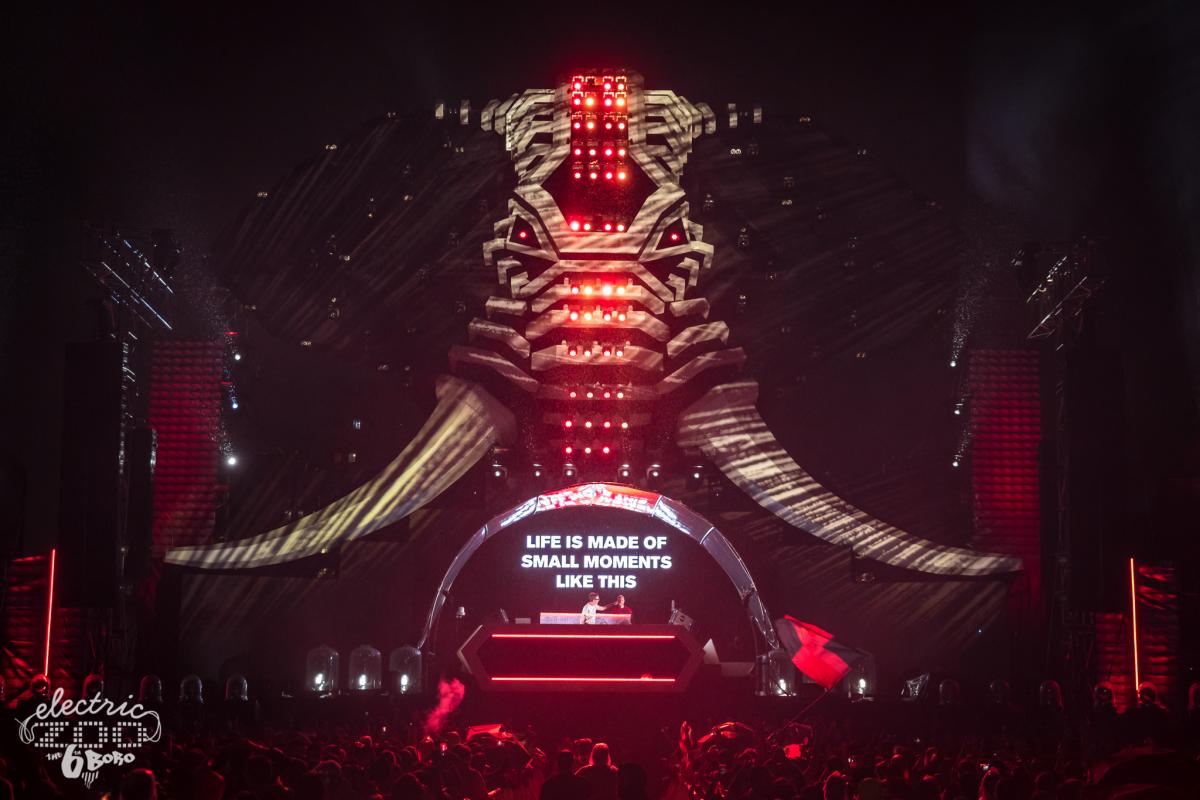 I'm assuming you spend a lot of time together on the road. I read that you tend to get in some mishaps, like that time in Times Square when you almost got arrested.
-Basically, we thought it would be…now it's laughable…we thought it'd be a really good idea to play our video and to turn up in Times Square, and the police weren't very happy when loads of people did turn up. It was kind of mob-y and people were mobbing us and were basically like, "you need to move on now." And there were horses and stuff with them.
-It was one of those situations, where a little bit more people than anybody was expecting turn up, and it got to the point where the police got a little bit intimated. There's so many people there, that it was one of those situations that could get a bit out of hand.
And you guys were the guys who caused it.
-It was really peaceful, like really. People were really nice and everything, but they just didn't like the fact that lots of people had turned up to a place when they weren't expecting it.
You all sold out Madison Square Garden, what's that like?
-I think it's only afterwards, when you really think about it. Sometimes with a big show like that, you're kind of getting through the show, you know? There was so much to think about, because we had a lot of new music, and we were kind of—well I can only speak for myself—it was quite a stressful experience getting everything ready for that, so only afterwards do you sit down and go, "Oh yeah, we just played Madison Square Garden."
Did you guys think selling out Madison Square Garden was the top?
Well, it was like, a turning point in terms of our show especially. For years we've been in the situation where we're doing a lot of these shows and wanting to create a really cool-feeling show for people, and we've never had the budget to really do everything. When our management said, "Okay we're going to do a show at Madison Square Garden," that felt a little bit like, "oh my god, how is this gonna go?" And then we heard it's sold out, and that's when the pressure was on us, because management were saying, "Okay, now we're doing Madison Square Garden, give us the show, it better be amazing," so we were under crazy pressure. Going through all of that and pulling off the Madison Square Garden show, everything's felt kind of easy after. Nothing is as difficult as doing that show.
I know you have a new single out, do you guys want to talk about that a little bit more?
-Well, we've been working on a new album now, for well over a year. Over the next six months there's gonna been quite a few new tracks coming out. The latest single is called "Tightrope," and we wrote it with a guy called Marty Longstaff.
-But the one is "My Own Hymn," which you're probably thinking about. That's coming out next week.
I feel like the whole Bryan Cranston thing was huge. Do you guys watch Better Call Saul or are you more OG Breaking Bad fans?
I love it. Not everyone loves it, clearly. If you speak to people about that show, I think it's brilliant. Because I think it's got a bit more space in it. I don't think it's better than Breaking Bad. I don't like it when people compare those things, because it's a different thing. There's a bit more room for the characters to breathe. It's not quite as stacked in terms of storyline. But, yeah, I really like the show. The man has only gotten better and better, I think.
Before we wrap up, your new music, what makes it different? What makes you excited about it other than the fact that it's new?
-I think there's a couple of things, really. First of all, obviously, you have to be excited about ideas that you've had musically, but I think the challenge factor is still…Paavo and I over the last year, especially, we've really reworked how we work in the studio quite a bit and feel like we're learning a lot at the moment and that part of it is kind of what makes it exciting—for me, anyway. And getting to share the fruits of our work with other people, and having other people enjoy it is a really special thing about our job. We not only get to make something, but we get to share it with the rest of the world, and a lot of people get a lot of pleasure from it.
-Making music is such a deep subject. It's like you could never say that I know everything about music.
-No, or life.
-There's so much to it as well, because on the other hand you've got songwriting, on the other hand you have our internal relationships working. How do we work with each different track? Then we obviously work with Zoe Johnston and Marty Longstaff and these other people. How do we work together? You know, how do we actually get there? There's so much that we don't understand; I think we never will, and that's what keeps it interesting.
-It's not as if you master this thing, you know? It's forever changing and you're forever changing and your audience is changing; everything about it is very dynamic. That's the exciting bit of everything, really. It's not something you can really get bored of, because it's not static enough to do that, you know what I mean?

Do you have any dream collabs? If you had to pick someone or a few people?
-That's a really tricky one isn't it? I'd say Prince, 'cause he's dead, but…
-RIP
-I don't know. It's funny now. We've kind of got onto this tip of wanting to discover new things, rather than collaborate with people who already exist. I don't know. We kind of want to champion new talent, really, so it's a difficult question to answer for that reason.
Is there someone new that you guys are excited about?
-One of the things we've been doing, because we run a record label. I think in the last six months, we've realized that what we need to do is collaborate more within this camp of Anjuna producers. Share knowledge, share tips for songwriting, production, all that kind of stuff. But in a way, my dream collab are all these amazing producers that we know, but haven't really gotten down to the nitty gritty about production. That's one of those everybody wins situations.
-The thing for me is, there's a lot of artists that I really admire, but wouldn't necessarily want to collaborate with. I'd rather let them do their thing. If that makes any sense, because it's kind of a weird one. I don't know. There's loads of artists out there that are amazing. I don't know.
Are there any new people that you guys are super excited about? That you're trying to champion?
-Well, Yotto. He's not such a new guy anymore.
-He's someone we signed to our label.
-Yeah, Yotto is sort of right on the edge of deep and the slightly more banging stuff, so we got Yotto and Graham.
Check out Above & Beyond's new album, Common Ground, and sign up for presale to their LA and NYC shows here!