5 Free Fitness Apps You Can Do From Home
Sometimes there's not enough time, or motivation, in the day to get to the gym. And sometimes, we simply don't have the funds for a membership (or you'd rather spend what little money you have on food or alcohol…no judgment). But, thanks to the invention of the smartphone, you don't have to actually step foot in a gym to get your workout in. There are a lot of good fitness apps that require a paid subscription, but I'm going to go ahead and jump to the conclusion that if you don't want to spend $10 a month to go to Planet Fitness or wherever, you probably also don't want to spend money for an app, either. That's why I picked out my top five favorite free fitness apps to download and get sweating to. (I don't feel bad anymore about seeing 5 + hours at the end of the day on my screen time…I'm working out!) Grab your weights and your cutest pair of leggings, and let's get started.

This app offers categories of workouts for every muscle in your body, including abs, butt, back, shoulders, arms, and more. The exercises are mostly for your at-home gym sesh, but they do offer a few workout routines for during the day, like "deskercise", "chair exercises", and "office stretch"… but please, be low-key if you're doing them at work. What I love about this app is that they offer plenty of workouts that you can do in only seven minutes. These include 7M Butt, 7M Sweat, and 7M Beginner. I love these guides because I know I can get through seven minutes of work without the thought of "when is this overrrrr??" repeating in my head the entire workout. You can see your progress on a calendar based on your workout history and calories burned. Def recommend.


When setting up the app, it will ask you a few questions to help personalize your workouts. It asks for what you think your level is (beginner, intermediate, or pro) and how many sessions a week you want to work out (2, 3, or 4). It then asks you for your goal, whether that be to lose weight, stay fit, or gain muscle. This way, the experience will be tailored to you and your body. Fitness Challenge gives you an outline of your workout before starting, so you know what you're getting into before you begin. It tells you how much time the workout will last, what exactly you'll be doing, and how many times you're doing it. It comes with five categories to choose from: full body, sexy legs and butt, abs and flat tummy, bikini body, and skinny toned arms. Count me in.


If you're a yogi, this is the app for you, but in addition to yoga, Daily Yoga also incorporates other mainstream workouts. Once signed in, you choose your goal. This app's options are: start as beginner, stay healthy, lose weight, skill improvement, muscle tone, and stress relief. I LOVE how they named these goals. But Daily Yoga doesn't only provide workouts—it goes one step further, offering audio and music to guide you through your practices. They have guided meditations, mantras, mindfulness training, and more—all of which you can download straight to your phone. I recommend listening to the music before bed at night for a spa-like relaxation that'll put you into a deep sleep.


You can sign up for FitOn through FACEBOOK, which is great, because then you don't have to waste time plugging in personal info and can get moving instead. It does ask a few questions to personalize your experience, though, which I do appreciate. It first asks you about your goal. Are you using the app to lose weight? Reduce stress? For post-natal fitness? I like this app because it doesn't just give you three basic goal choices; it has a bunch more to offer. After that, it asks for your favorite types of workouts ranging from yoga, to HIIT, and dance. Then, you're in! If you aren't ready to work out right away, you can set reminders to do so later on, which I use way too frequently. It gives you a ton of choices, like which trainer you want to take, the target area you want to work on, and trending activities to start. FitOn even gives you a custom-made schedule. You can see all your upcoming workouts and the intensity of each. You can even invite your friends to share your progress, if you're competitive like that. There is also a section on advice from trainers, ranging from articles to videos that are informational and worth a watch.


If you aren't into high-intensity workouts or sweating too much, this app is perfect for you. It's all about walking, and only walking. Walking is the perfect way to burn off calories and reduce stress. I think walking is one of the most important workouts—especially walking outside. Obvs if it's crazy weather, just hop on the treadmill, NBD. The app goes by days, so they have a list of workouts designed for you each day to complete. You can walk for meditation, renewal, midlife women, stress, or for burning off the cheese pizza you had for dinner last night, which I like to do. (Okay, so that last option I made up.) All totally great. It also tracks your steps and calories burned, if you're over your iPhone health app after the latest update, which most of us are.
There are so many other free fitness apps you can check out, but these ones offer a good range of services that everyone can enjoy and are easy to use. These are the perfect start to get motivated and move throughout your week. You can use them in your living room, at your office, outside walking your pup, or even in class (def be cautious though…). Hope these apps help you and guide you to achieve your goals.
Images: Dane Wetton / Unsplash; Workout For Women; Fitness Challenge; Daily Yoga; FitOn; BetterMe: Walking
5 Weight Loss Products That Don't Work
Everyone wants a quick fix. In the age of instant gratification, the concept of waiting for results is lost on everyone. Smh. The diet industry knows this, and over the years, they have capitalized on consumers' lack of patience. Cue late-night infomercials and IG sponsored ads for the next big thing in weight loss. Spoiler alert: none of this sh*t actually works. Real results take time—we have been through this. I know you're better than that, but I also get the temptation. Like, even if something seems too good to be true, you might think to yourself that it can't hurt to try, right? Well, it might not hurt your body, but it will hurt your wallet. Here are five fitness products that promise a quick fix, but really do not work.
1. The Shake Weight

Oh, the infamous Shake Weight. Did you know that "you can get firm and fabulous arms and shoulders in just six minutes a day" with these? At least, that's what the manufacturers want you to believe. The Shake Weight comes in two versions, weighing two-and-a-half pounds and five pounds. That's very…minimal. But the creators of the Shake Weight claim the vibration creates isometric force on the muscles to hold steady, working the muscles more than regular concentric-eccentric movements. Seems scientific sounding and therefore legit, except for the fact that you can create your own isometric force during any exercise by holding the movement at the most force-generating part of the movement. So, by holding a bicep curl halfway for 10 seconds, holding the bottom of a squat, holding a V-sit for your abs, etc. That means you don't need a Shake Weight to do it. You can also work your muscles more by using dumbbells greater than 2.5 lbs, I'm just sayin'.
2. ThighMaster

Suzanne Somers is one entrepreneurial betch. I love and respect her hustle. This vintage little tool is like the at-home version of the hip adductor machines at the gym. For the goal of this product to be thinner thighs, it does make some sense kinesthetically for this movement and product to work. However, there is no way to spot reduce just one area of your body, so this product alone won't help you achieve thin thighs. There are also plenty of superior ways to work the thighs that don't require equipment, such as squats and lunges, as well as plyometric exercises. Plus, keep in mind that when it comes to any fat reduction, diet will always play a major role.
2. Ab Belt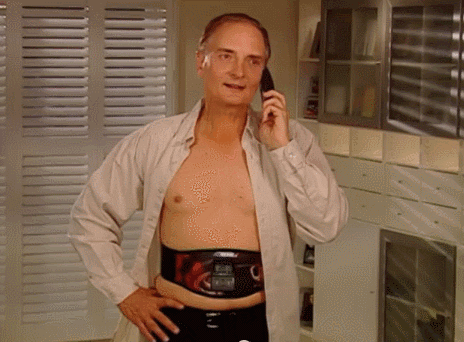 These belts send electronic stimulation to your abdominal muscles, so your muscles contract without you doing the work to contract it. As in, you don't even have to think of contracting your muscles. Who has the time and energy to consciously flex their muscles, right? But you want abs, though. Talk about lazy. Whether or not it works? Well, the Federal Trade Commission sued the makers of these belts in the early 2000s for making false claims, so that's that on that. Here's the real tea: if you can't even put in the effort to contract your own abs, then no product or person can help you. The end.
4. Weight Loss Gummies

So you've heard of the weight loss teas and lollipops that the Kardashian-Jenner clan have promoted. But now, there are also weight loss gummies for you, because diet pills are soooo 1999. This popular brand's gummies contain two steps, because that looks more legit. One gummy is basically caffeine from green coffee beans to give you energy, and the other one is supposedly an appetite suppressant made from garcina cambogia (a tamarind fruit extract). A one-month supply will cost you $49.90. Not only is packaging and marketing weight loss in a candy very ironic and a cheap juxtaposition, none of their claims have been evaluated by the FDA (no supplements on the market in USA are). These gummies could be, at best, ineffective and a waste of $49.90, or at worst, dangerous if you are allergic. On their website, they do not provide a full ingredients list for these gummies, so I would not be surprised if they contain very small amounts of these "active" ingredients. BTW, in 2014 the FTC sued a green coffee bean company for making false claims and false studies.
5. Slimming Creams/Masks

There are no products on Earth that, once applied directly onto the external surface of your body, can melt off fat, which is an internal cell INSIDE your body. Yes, because we have pores and glands on our skin, products do get absorbed. This is why it is important to use products that are clean and do not contain metals (such as aluminum in our deodorant). However, if we still haven't gotten aluminum poisoning after years of using our trusty Secret deodorant, there's no way a cream or mask can make us lose five inches in three weeks. Granted, supple and moisturized skin can appear tighter than dry, dehydrated skin (so don't skimp on your water), but if you ever see a cosmetic product claiming to "effectively burn fat," run from those scammers.
Hyped up fitness products come and go every year, but one thing has remained the same: the hunt for a magic weight loss solution. There is a reason why the diet industry is worth $72 BILLION. But just think—if weight loss was something you could purchase at a GNC, the nation as a whole would be a whole lot fitter and obesity would not as much of an issue. Not only is the hunt for overnight weight loss a waste of money, but it is also a waste of time. Can you imagine if instead, we spent that money on buying fresh produce, a gym membership, a piece of at-home gym equipment, or getting a session with a trainer to show us how to lift and work out properly? Something that breeds healthy habits and not false hope? Before you give this industry another dime, don't let the flashy commercials and edited transformation pictures fool you: there is no product that will give you maximum results for minimum effort. In fitness, just like in life, what you get is what you give.
Images: Giphy (4)
The Best Workouts If You Only Have 15, 30, & 45 Minutes At The Gym
Working out is such a dilemma. On the one hand, betches need to work out to counteract our weekly blackouts and keep up our naturally fast metabolisms, but on the other hand, who seriously has the time? I mean, if you wake up on a Sunday and spend three hours at the gym while I'm dragging my ass to brunch in last night's makeup, I salute you, but I also fucking hate you. Betches don't always have over an hour to work out, so we've planned out the most efficient ways to spend your time at the gym when you're in a rush. Whether you have 15 minutes or 45 minutes, you can def get in a legit workout without cancelling all your plans for the day. Here's the plan:
If You Only Have 15 Minutes Or Less
First of all, never judge the betch who only spends 15 minutes at the gym. This extremely limiting time crunch usually means she either has much more important shit to do, or literally has only 15 minutes to spare before work and has a Cinderella-esque transformation in the Equinox locker room before heading to her job at some waspy law firm. This betch means business, and she'll be finished working out by the time you found the best selfie lighting in the weight room.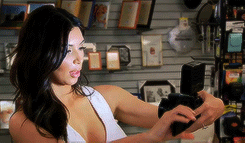 If you only have about 15 minutes, the key is sticking to floor work and ditching any machines. Honestly, you'll waste a good ten minutes by the time you choose a treadmill that's comfortably far enough from other people but close enough to the TV. Lay out a mat and work HARD (we know) for fifteen minutes straight without any breaks, choosing compound movements that incorporate strength work while getting your heart rate up. We know you just read that sentence three times to figure out WTF we mean, so some good moves include burpees, jumping lunges, jump squats, mountain climbers, and plank jacks. Try to pick a few moves and do each one for about 45 seconds each, then repeat as many times as possible until you have to bounce/collapse. Stretch in the shower.
If You Only Have 25-30 Minutes
If you have less than half an hour to spare at the gym, it's time to get your ass to work. Half an hour might seem like a solid amount of time to get in a workout, but time flies when you're fixing your ponytail for 20 minutes in the mirror while laying out your towel like you're on Miami Beach. You can get in a good workout in less than 30 minutes, but don't fuck around.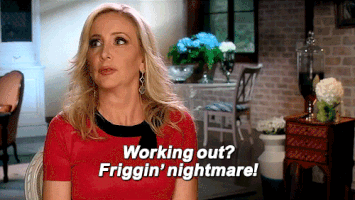 The most efficient way to spend 25-30 minutes at the gym is to break it up 50/50 into cardio and strength. First, pick a cardio machine that you're ready to kill it on for 12-15 minutes. Elliptical or treadmill are ideal if you're basic AF and have a playlist ready. The erg rowing machine is more intense because it works your whole body. Stairmaster wins if you hate yourself. After going moderately hard for half your workout, make your way onto the floor for some strength work. Try to isolate one area of your body per day to get the most out of your gym time. For example, spend one day doing lower-body moves (like squats and lunges), and another day doing upper body (like bicep curls, tricep extensions, and planks), rather than being that dumb girl who does 10 crunches, three squats and a push-up and wonders why she's still flabby.
If You Only Have 40-45 Minutes
If you have up to 45 minutes to spend at the gym, you can def get in a quality full-body workout, but you have to make sure you go in with some sort of plan. Don't be that girl who walks on the treadmill for 45 minutes while refreshing Snapchat stories. She can brag all day that she spent her morning at the gym, but she prob burned like 30 calories total and we're still talking about her, so she's literally wasted everyone's time.

Spend your first 5-10 minutes warming up your muscles and getting your heart rate up. Think light bodyweight exercises, like jumping jacks, air squats, high knees, and push-ups. Oh, and get off your knees. Then, move onto some real strength work, because news flash: if you're not lifting yet, you're doing it wrong. A super efficient way to create a little circuit for yourself is through an AMRAP, which means "as many rounds as possible." The idea is to pick a few moves that involve dumbbells or kettlebells, set a 15-20 minute timer for yourself, and complete those moves as many times as possible until the timer goes off. Then, move onto some HIIT work, whether you're into burpees and plyometric moves on the floor, or 20-second inclined sprints on the treadmill. Either way, you should be sweating your ass off (and cursing loudly) after about 10 minutes, so you can spend the last couple minutes stretching the muscles you just abused. You're welcome.