Our Favorite 'Bachelor' & 'VPR' Rejects Are Getting Their Own Show
In case you haven't been giving MTV the credit they've been due, know that while we've been out here getting our kicks by stalking the men from The Bachelorette, MTV has been doing the lord's work by reuniting reality TV's greatest shit shows for our viewing pleasure. Bless you. That's right, from the people who gave us Jersey Shore and Are You The One? we now have: Ex on the Beach, and it's about to be the most lit thing on television this spring.
We don't much about the show, except that it's going to bring together some of our favorite human trash bags from shows like The Bachelor/Bachelorette/Bachelor in Paradise, Are You the One?, AND Vanderpump Rules for a "social experiment", as in how-far-can-you-trace-a-single-strand-of-an-STD-in-one-sample-group kind of social experiment.  
The premise behind the show is as such: MTV will bring the former reality stars (I'm using the term "stars" here loosely) along with a few other "non-quasi-celeb singles" to Hawaii for what they think is just a regular reality dating show. After what, I can only assume, will be a night of MTV producers slipping roofies into every drink they can find and encouraging these emotionally stunted circus animals to "follow their hearts", they'll bring in… wait for it… THEIR EXES. Can you imagine?? Just as one of these losers starts to fall for someone think that they've found somebody to poke a hole in their condom with, MTV throws a literal grenade (and I do mean grenade—I've seen the people these shit shows have dated) into their plans. I'm giddy with joy at the prospect.
Entertainment Weekly released the cast list earlier this week, and it is spectacular.  So let's take a second to analyze the cast all of the people who are willing to dishonor their families for the fifth time.
The 'Ex On The Beach' Stars
Jasmine Goode — Bachelor in Paradise
Chase McNary — The Bachelorette
Paul Calafiore — Big Brother
Faith Stowers — Vanderpump Rules
Cory Wharton — The Challenge
Angela Babicz – Bad Girls Club
Taylor Selfridge — Are You the One?
Shanley McIntee – Are You the One?
Derrick Henry – Are You the One?
Cameron Kolbo – Are You the One?
Joe Torgerson – Are You the One?
Alicia Wright – Are You the One?
Andre Siemers – Are You the One?
The 'Ex On The Beach' Randos
Tor'i Brooks
Victoria Alario
Chris Pearson
Marcus Rosenzweig
Marco Delvecchio
Skyler Mikkelson
Lexi Marsella
June Robinson
Luis Rivera
Haley Read
Chelsko Thompson
My immediate reaction reading this list:

And also:

Now, on to analyzing this cast list. First of all, Chase, you are way too fucking good for this shit. Who convinced you that any show with an AYTO cast member would actually help your career? Seriously, who did this to you? Like, is he still salty about not being asked to Paradise?  Because, Chase, this is no way to get Chris Harrison's attention!
Tbh Jasmine fits right in with this bunch, I'm only surprised that she didn't show up on one of these shows sooner. She is the same girl that introduced "light choking" to a Bachelor rose ceremony, so I knew her future would be bright.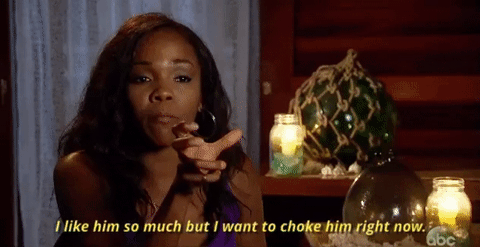 Also, Cory, why am I seeing your name here? Was it not enough to spread your seed to Kailah, Aneesa, Alicia, Cheyenne, and the many more you I can't remember? Can penises get tired? Because yours certainly should be. Why don't you take a pass on this one and take care of that illegitimate child of yours, mmkay?
It looks like the usual AYTO suspects will also all be present, though why MTV decided to forgo reaching out to Prosper and Asaf (lol remember when he thought black was an eye color??) is beyond me. MTV, you can't deny star power like that!
Oh, and the best part? Ex on the Beach will be hosted by a one Romeo Miller, aka Lil' Romeo. Yes, that's right. Lil' Romeo is still alive, going by his given name, and hosting this dumpster fire of a reality show. Between him hosting Ex on the Beach and Ludacris hosting the Fear Factor revival, MTV has really cornered the market on has-been rappers of our youth. Blessings.
The release day for what could either be the most glorious display of drama and drunken antics to ever grace our TV screens or the actual apocalypse is Thursday, April 19th at 9pm ET, so set your fucking calendars now, because shit is about to go down.
Images: Courtesy of MTV; Giphy (3)
Ryan Devlin from 'Are You The One?' Talks Season 5 With The Betches
We're excited to see another season of AYTO! This show has a large following, us included. Why do you think viewers love AYTO so much?
I think it's 99% me, and 1% all the drama, hookups, heartbreak, and love. Or maybe it's the other way around? Yeah, that's probably more accurate. Look, this is a show unlike ANYTHING on television. Everyone either wins together or they lose together. Their perfect match is standing right in front of them…but will they be able to get past their terrible instincts and find him or her? This show has everything. I'm so stoked for this season!
You've been with the show all 5 seasons and we've watched alongside/prayed for you. What's the craziest thing that a cast member has done on the show?
Some of it is so crazy we can't air it ;). But what I can tell you is that things can get heated really fast. It's an emotional rollercoaster from week to week—or hour to hour. These people are putting their hearts on the line, along with a million bucks, and the gloves come off really fast in some instances. Like last season, where Prosper started to come after me during a matchup. Or when Amanda and I really got into it with each other. It's real emotion, and I can lose my cool too. But I think the fans like that sometimes!
Do you watch the episodes when they air? And while you're watching them, what alcoholic beverage do you drink? (We assume you drink during these things. We do.)
A stiff cocktail is always recommended—during the filming AND airing. I try to theme my drinks to each season. Fireball season one, Pratt Juice season two, foamers (beer) season three, water season four (they were weak), and this season…I think I'll go with tequila. And I'm going to need a lot of it, based on how the filming went.
Describe Season 5 in five words.
Hold on to your butts.

With that being said, what should viewers expect in Season 5? Drama? Actual romance? A glimpse into the beginnings of alcoholism?
A ton of twists and turns, starting in the first episode. Spoiler Alert (not at all a spoiler since MTV already announced it), this season we have 11 couples. 11 guys, 11 girls, and 1 host trying to remember everyone's names. That means more chances at love…but also more heartbreak, hookups, and fighting. It's going to be so lit! (The cast likes it when I try to talk like them.)
Each season's cast is…well…different. What's this cast like?
Probably the most "romantically free" cast we've had. These guys and gals don't have any issues fooling around, with multiple people, all the time. No judgement, no shame, just testing out the waters before you commit to one pool. Or penis. I'm talking about lots of sex.
Be honest, do you read our recaps? Because we think we say pretty much everything you are secretly thinking.
I haven't, but I've heard awesome things. Even some of the cast members were talking about your recaps this year when we were filming. So I'll do my best to get my head out of my ass and follow your words this season. Hell, it's gotta be better than anything I'm reading in the New York Times these days. (Writer's Note: True AF.)
Finally, Ryan I've looked up your IMDb page and it says you were on Grey's Anatomy. Very important question for you—McDreamy or McSteamy? If you don't know what that is, we promise they are not burgers from McDonald's.
McDevlin.

Don't miss the Are You The One? season 5 premiere TOMORROW at 9/8c on MTV, and check for our recaps the following day right here at Betches!