Breaking Down All The Cringeworthy Moments In The New 'Fifty Shades Freed' Trailer
Well, friends, it's finally here. After years of waiting, the Fifty Shades of Grey trilogy is coming to an end. Today we got our first look at Fifty Shades Freed, the final movie based off the series of erotica that started as Twilight fan fiction books that your mom's bookclub read when you were in high school and then you stole from her room and read secretly. Big day for all of us here, that's for sure.
After seeing the mildly sexy train wreck that was the first movie, we weren't sure if they would go ahead with the last two, but they cranked them out quickly, coming out on Valentine's Day two years in a row. You know the movies are high quality when they're desperate to get them made before the investors are like "oh wait, this is literally the worst, we want our money back."
In the new trailer, we get a look at Anastasia and Christian getting married (sorry for the spoiler but we actively don't give a fuck), and there's sure to be lots of drama in the bedroom red room this time around. There's also the mandatory moment of her being shocked he owns a private plane, some dramatic music, and some artfully vague shots of her getting pounded because this isn't *actually* porn.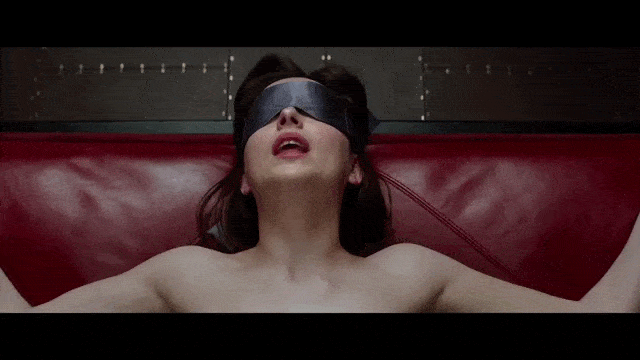 We also see Anastasia touching a gun seductively, which is sure to end will for everyone involved. Sorry, can we get a lot less Anastasia in these trailers, and a lot more naked Christian? That would make me a lot more likely to buy a ticket, please and thank you.

The tagline in the trailer is "Mrs. Grey will see you now," like we're supposed to be so shocked by their marriage, but it really just sounds like you're getting called to the Principal's office for something you did wrong. Like we said, the movie comes out on Valentine's Day, so start making plans now because it's obvi going to sell out.
The Trailer For The Heath Ledger Documentary Is Out, And I'm Not Crying You're Crying
It's been almost a decade since one of the hottest actors to ever grace the silver screen's life was sadly cut short due to drug abuse, which is apparently only cute in the movies. I'm talking, of course, about Heath Ledger, the aussie heartthrob who burst into our lives by singing "Can't Take My Eyes Off Of You" to Julia Stiles in 10 Things I Hate About You. Heath managed to do something most men can never dream of doing, aka "keep our attention," through a long career or very good movies like A Knight's Tale, Brokeback Mountain, and your college ex's favorite, The Dark Knight. It's not often that a man can play both Jake Gyllenhaal's gay cowboy lover and The Joker and still be our #1 Hollywood crush, but Ledger managed to do it. And we'll forgive him for both being in a movie with Anne Hathaway, and for spawning the "Why So Serious?" meme that still tortures us all to this day.

Sadly, in 2008 Heath's hottness talent was cut short, and we were all left wondering when we'd ever get a taste of his incredible body acting abilities ever again. However, thanks to a new documentary on Spike TV, we will all be able to bask in Heath's incredible Australian Accent/Good Bone Structure combo once again with their upcoming documentary I Am Heath Ledger. The trailer is out now, but I suggest you grab a few tissues and a comfort animal before diving in. The mere sight of Heath's freckles is enough to make any self respecting straight human with even a casual interest in sex with men totally lose their shit.
We warned you.