Noah Centineo's New Movie 'The Perfect Date' Is So Bad It's Made Him Less Hot
Guys, I know it feels like all I write about on this website are Hollywood's favorite barely legal thirst traps and Bella Thorne, but the heart wants what it wants, and I won't apologize for that! Speaking of my limited interests, a few weeks ago I was over here hyping my boyfriend Noah Centineo's new movie The Perfect Date. I may have alluded to it being the next To All The Boys I've Loved Before on the rom-com scale of one to I WOULD DIE FOR PETER KAVINSKY, and, y'all, I may have spoken too soon on this one. I know what you're thinking: how can the guy whose big acting break involved playing "Jose #2" on a network that does nothing but cater to the whims of 8th grade girls (and myself) ever do any wrong? Well, Sierra Burgess was strike one, not responding to my thinly veiled come-ons in his DMs was strike two, and Brooks Rattigan is goddamn strike three.
Even though I did call out sick from work to watch this movie the minute it dropped on Netflix (and, no, HR apparently doesn't consider looking at Noah Centineo's abs a proper mental health day. This means war, Melissa!), I had, like, so many emotions after watching it, and most of them weren't great. So, to spare you from the same fate I suffered, here's my cautionary tale recap of the movie.
The movie opens with us immediately being introduced to Noah's character: Brooks Rattigan. We learn that Brooks is both smart and hunky, but was born on the wrong side of the tracks. Being poor means that of course Brooks can't get laid to save his life )despite the fact that he has that face and presumably people in this movie have working eyes) or get into college (despite the fact that it is established that he is a smarty pants). K. And I thought his character's name was going to be the hardest pill to swallow. Sighs. Nevertheless, I shall persist.
We quickly find out that it's not that Brooks can't get into any college; it's that he can't get into Yale. I guess his dad's professor pension wouldn't cover much of a bribe. He wants to go to an Ivy League school because, just like every f*ckboy I've ever matched with on a dating app, his  idols are Steve Jobs and Elon Musk. If he did even one simple Google search on his idols he would have learned that neither of his idols actually attended an Ivy League, but fine.
DAD: Why don't you want to go to UConn? I teach there so the tuition is virtually free. You'd have no debt and get a great education!
BROOKS: 

Actually his exact words were "UConn is like that girl down the street who eats food in bed and smells like it," which I take personal offense to because I am that girl and THOSE ARE FIGHTING WORDS, BROOKS.
To hammer this "I'm poor" point home, we find out that Brooks works at an off-brand Subway in the hopes of paying for college, one five-dollar footlong at a time. Just as he's losing hope, a rich guy from his high school shows up complaining about having to take his cousin, whom he all but describes as Quasimodo, to her school dance.
RANDOM RICH GUY: I have to take my cousin to her school dance tonight even though Madison said I could put just the tip in later tonight!!
BROOKS:

I've seen the trailer for this movie so I knew this was coming, but I'm still so alarmed. Brooks, a virtual stranger to this guy, immediately asks to step in so long as he can drive his nice car and get paid AND THE GUY SAYS YES. This is your flesh and blood, and you're willing to foist her off to the first guy who offers just so Madison can give you a half-hearted blow job later?? I'm disgusted.
Enter the sad girl aka Celia Lieberman. We find out that the reason Celia is sad and undateable is because she's a feminist and hates wearing strappy heels! Her family not only doesn't question that a stranger is picking her up instead of her cousin, but they actually seem grateful to get this shrew off their hands for an evening. The life lessons I'm taking away from this movie are… astounding.
Cut to the dance, where we get a lot of forced banter and lukewarm chemistry from the two of them. It's like the writers are trying too hard to make Celia quirky and Brooks charming and it's just not working for me. After coercing Celia onto the dance floor even though she says she doesn't want to dance and she's the paying customer here (Haven't you heard, Brooks? The customer is always right!) he all but hobbles Celia with his sh*tty footwork as he tries to spy on beautiful, rich girl Shelby, who's taking shameless selfies in the corner.
So, let me get this straight. He steps on his date's foot while BLATANTLY checking out another girl right in front of her and this is supposed to be a perfect date? I mean, this is a date that I've been on before, but I wouldn't call it perfect by any means.
Brooks, despite all of his actions proving otherwise and Celia even saying she did not have a good time, decides he's so good at being a date that he will create an app to turn this stand-in thing into his side hustle! First of all, he makes creating an app sound about as easy as creating a Gmail account. Second of all, THIS IS TEENAGE PROSTITUTION. He is essentially pimping himself out for money! If the roles were reversed and a girl was playing Brooke Rattigan, the movie would end with her death!

Brooks gets his tech wizard of a best friend to help him create the app. To convince him to help he implies that this app will look great to colleges. As if an app that promotes the prostitution of a minor is the equivalent of joining the drama club. K. They fondly refer to the app as Grubhub but with a human trafficking twist. I paraphrase.
Cut to a montage of him going on various dates with women. I know it's several dates based off of all the costumes. Why does this town have more themed events than my sorority did in the entire 4 years I was in college? 
Celia ends up calling him because she needs his services for a second date to make her crush, Franklin, jealous and Brooks shameless drops the name of his app. Again, he sounds like every f*ckboy I've matched with on a dating app. Celia does not look appropriately enough disgusted by this info.
They show up at Shelby's party where Brooks immediately tries to ditch Celia so he can shamelessly flirt with Shelby EVEN THOUGH HE'S SUPPOSED TO BE CELIA'S DATE. Celia, sweetie, I'd be taking that out of his tips if I were you.
They both separate to flirt with their intended targets: Shelby and Franklin. Both conversations feel about as painful as listening to a recording of your own voice. I'm cringing. Brooks finds Celia after he's done hitting on another woman (remember, ladies, he's the perfect date!), but it's all good because he found ice cream. Celia compares Brooks to her favorite flavor of ice cream, vanilla, and it's the most I've appreciated her wit all movie.

Brooks and Celia's weird pimp/hoe relationship continues to blossom. Celia gets Brooks an interview at Yale, Brooks tells Celia she's weird and confident and someone might find that attractive eventually, and Celia learns that Brooks has mommy issues. This is the real turning point here. She goes from "you're a cocky asshole I would never date" to "you're a cocky asshole because your mom abandoned you and now I'm wet." See, Brooks, she is just like all the other girls!
Celia tries to deny her feelings by going on a date with Franklin. Remember, this is her crush, the guy she was into because she thought he was artistic and real. She quickly finds out that he's got about as much artistic integrity as a bride-to-be trying to defend her farmhouse chic aesthetic. Ain't that the way the cookie always crumbles, Celia?
FRANKLIN: You and Brooks remind me of a couple of dung beetles.
Honestly, I couldn't have phrased it better myself, Frankie.
Moving on to the scheduled breakup. Celia wears strappy heels for the evening letting us know that she's ready to compromise her sense of self for a dude who has commitment issues. Honestly, so relatable. During the very public breakup he throws her private insecurities that she divulged to him in secret in her face in front of the entire school. While Celia is getting emotionally eviscerated, Shelby is trying (and failing) to look like the whole thing isn't getting her wet.
SHELBY: I heard you just verbally assault your girlfriend back there…
ALSO SHELBY: 

Like, am I taking crazy pills here? Why does everyone think this guy is a catch? Is being the "perfect date" synonymous with being a perfect d*ck? Because I do not understand why all of these girls are into him. Shelby and Brooks immediately start making out while I question my entire gender. 
Fast forward to Shelby and Brooks' date, and it's not going well. Shelby is starting to find out what we've known for the past 60 minutes of this godforsaken movie: that Brooks has no personality and zero ambition other than getting into Yale. He's really lucky he has that great smirk tbh.
Upon entering yet another high school dance (how many can this school possibly have in the span of a few weeks?) Shelby finds out about Brooksie's little side hustle. Okay, I know she's supposed to be the big shallow bitch here, but she is the only one in this entire movie who has an appropriate reaction to finding out Brooks is a teenage gigolo. THE ONLY ONE.
It's only after Shelby dumps his ass out of sheer disgust that Brooks crawls on back to weird but confident Celia (his words, not mine). 
CELIA: It turns out I'm more into oblivious, self-absorbed pricks.
BROOKS: 

God! She's insulting you, Brooks! Could you just this once not look like a smug piece of sh*t?
After two different girls dump Brooks, he starts to realize that maybe pimping himself out for money isn't the desirable of a quality to have. I'm slightly alarmed that there'e only eleven minutes left in this movie and he's only just figuring this out. I'm even more alarmed that upon telling his dad he's a male gigolo all his dad says is "I was wondering what those late nights were about." That's it, I'm calling child services. 
BROOKS: I just feel like you gave up on life. You're a loser, dad.
BROOKS' DAD: Um, I'm actually a tenured professor and we live in a modest home and I can afford to send you to college for virtually nothing so why don't you get off my hump?
THANK YOU, SIR. I've only been yelling this at my TV for the last 90 minutes.
Brooks realizes there's only one girl he wants and it's Celia the one with self-esteem issues who might take him back. He lures her to a coffee shop under the pretenses that he wants her to read his college essay, when really, it's a letter of his intent to be with her. It's the only cute thing he's done all movie. She takes him back, and, let's face it, I would too. The end.
Despite the fact that I have done nothing but sh*t on this movie for the entirety of this post, I didn't completely hate it. But the reason I watch these rom-coms is to find a little of that rom-com hero magic we got from Peter Kavinsky, and Brooks Rattigan was no such hero. If you were on the fence about watching this one, I'd say maybe wait and hold out until Noah actually reprises his role as Peter Kavinsky because this one left me with more feelings of rage than that absurd excuse for a Mueller report. 
Images: Giphy (6)
Every Thought I Had While Rewatching 'How To Lose A Guy In 10 Days' In Honor Of Its 15 Year Anniversary
If you were a true betch in the early 00's then you know you weren't shit unless you were watching the latest and greatest rom-coms that graced your television screen. And the best rom-com in the early 2000s was How To Lose A Guy In 10 Days, which was arguably a national treasure of its time. It's been 15 years since the release of the movie—yes, let that sink in, FIFTEEN YEARS because Jesus we are old—and I'm still learning new shit every day from watching it. For example, I don't need 10 days to lose a guy, all I need is 10 minutes and the mere mention of commitment. *sips wine* In honor of the movie's 15 year anniversary I've decided to re-watch it and gift you all with every thought that ran through my head while I watched it. You're so welcome. Now, shall we begin?
1. Okay I've spotted my first problem with this movie already, and it's not that this girl somehow managed to get a job at a huge women's magazine in New York City as a FULL-TIME PAID STAFF WRITER right after grad school. No, HOW did this bitch manage to flirt her way into court side Knicks tickets? I can barely flirt my way into a text back…
2. I'm listening to Matthew Mcconaughey talk to his female competitors, and it's good to know that 15 years later sexism is still just as much alive and well in the workplace.
3. (But low-key Matthew McConaughey still looks fucking amazing in this. Seriously, gift that keeps on giving on my TV screen rn.)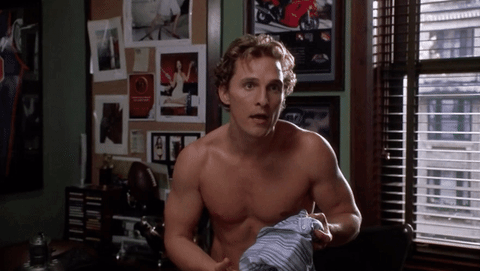 4. Okay this Michelle girl is a fucking psycho. She cried during sex? Said I love you after two days? If I were Andie I'd ghost her as a friend just listening to that story.

5. This editorial meeting is an absolute joke.
6. 10 dates in 10 days is fucking insane. The only thing I can commit to doing for 10 days in a row is my Netflix account, and even that is pushing it.
7.  Problem #2 with this movie is that Andie thinks she can just "find a guy" at a bar. Well good thing this story is about Andie and not about me, because I've been looking for a guy at a bar going on five years now and have yet to be successful. It would make a boring comedy, but perhaps a compelling horror movie. 
8. Why is this bar so well-lit? The only way I will speak to strangers when I'm out is under an extreme cover of tequila darkness. Also, why is the median age at this drinking establishment 55? The assignment was for her to find a guy to date, not help him exercise his mid-life crisis. Andie, honey, if you're looking for bar whose patrons are terrified of commitment then let me introduce you to Hair of The Dog.

9. I can't believe Andie is just going to ride off into the dark with this absolute stranger. Sober. That's the real inaccuracy here.

10. LOL he took her to Red Lobster. I know I've seen this movie, like, 100 times but I'm still waiting for Ben to creepily insinuate that shellfish is an aphrodisiac.

11. Ben, a white male in advertising, just chose Nelly's "Hot In Herre" as mood music. I now know why seventh grade me was so attracted to him…
12. Things I whisper to myself when I get a new match on Hinge: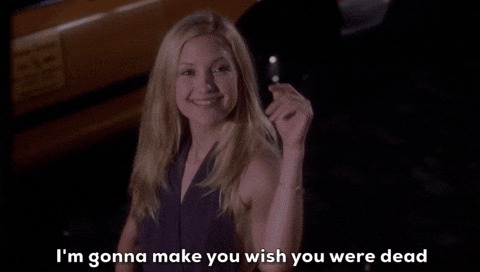 13. YO THAYER IS REAL AF. Case in point:
BEN: It's a marathon, not a sprint
THAYER: A marathon is 10 days?
14. So in order to get a guy to go on a second date with you, you need very expensive basketball tickets? And here I was thinking you could just put out.

15 OMG KRULL THE WARRIOR KING. I'm fucking screaming. This whole penis naming scene is pure gold.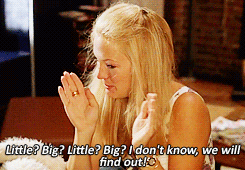 16. This entire plaid/khaki ensemble happening on my screen rn is so 2003 it hurts. Also, Thayer continues to kill it with the savage one-liners:
THAYER: You're a vision in khaki.
Seriously, Thayer, you are a national treasure. Don't let anyone tell you different.
17. Sooo making a photo album of your future kids with a guy is the equivalent of tagging a him in something on Instagram today? Interesting. One seems crazy and the other just seems like something that should be socially acceptable to do with a person after seeing each other for four months? But idk.

18. Is this her own personal rooftop that Andie and her friends are drinking/sunning on? WITH LOUNGE CHAIRS AND FLORA? And she can afford this on a writer's salary?? I mean, I too have access to my building's rooftop but there's less of a lounge chairs and flora situation happening and more of a potential lawsuits and liabilities.  
19. I'm watching this poker game and all I can think is Ben can fit an entire pool table in his apartment and my "bar cart" is an empty bud light box. Similar, but different.

20. The most unrealistic part of this movie is Ben being upfront with Andie about how "crazy" she's acting. If this were today he'd just never answer any of her phone calls and evaporate into thin fucking air only to resurface six months later between the hours of 2 and 4am.
21. BEN: You have more than enough personalities to keep me occupied
ME: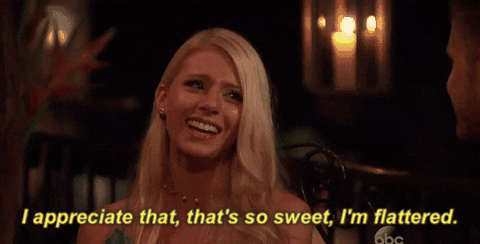 22. This therapist just said the words "positive idea" and "Staten Island" in the same sentence. K.
23. I love that the moment Andie starts to feel emotionally and physically attracted to Ben is the moment she realizes one of his greater strengths is bullshitting other people. It really comes full circle here, doesn't it?
24. Why does Ben's family sound like they're from Texas? Is this what Staten Island people are really like? Is this really where I can find a Southern sounding man who looks and dresses like Matthew McConaughey? Because if so, I've been seriously misled about wtf happens in Staten Island.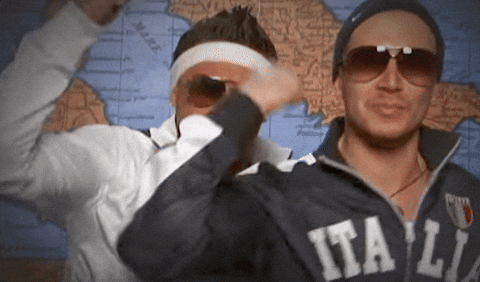 Seriously. Misled.
25. Let me get this straight. The first time they have sex is in his parents' hall bathroom? Why did I ever find this sexy? Are they full-functioning adults with paying jobs or college freshmen home for Thanksgiving break? 
26. She lives in a building with GOLDEN doors and an actual doorman. That rooftop is starting to make more sense, the salary of her profession and current fashion statement of wearing her jeans unbuttoned for the chic-ness of it are not:

Fashun. 2003 was wild, people
27. LANA: Do you see any patches or insignia on my outfit? No? That's because I'm your boss, not your girl scout leader.
Lana is me. I am Lana.
28. 15 years later and I'm still obsessed with this yellow dress.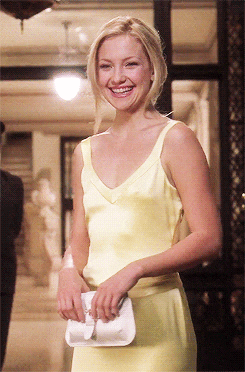 29. This party is littttt. It's also making me want to email my boss and ask her why I don't get to "frost myself" with millions of dollars worth of diamonds at our corporate happy hours. (I only get to sample the house wine.)
30. Ben's boss keeps asking Andie if she loves Ben and she's like, "Noooo, I can't? But I might?" and it's like, NO YOU ABSOLUTELY CAN'T BECAUSE IT'S ONLY BEEN 10 FREAKING DAYS. And he's been lying to you this whole time! Because he is a literal stranger to you.
31. Looking back,  "You're So Vain" was a fantastic song choice for this scene. I'll make note of it for the next time I want to publicly drag my ex for all the world to see.
32. Wait, this whole time I thought Mike was some huge player and instead he looks like he'd be more comfortable selling Verizon cell phone plans than trying to steal your girl. Are you kidding me with this?
33. Tbh the most realistic part of this whole movie is Michelle taking back a fuckboy with the flimsiest of excuses as to why he stopped seeing her.

34. Wait this is the high-end advertisement campaign they came up with for the diamonds? I have seen more high brow advertising come out of a Forever21 campaign. 
35. Looking back, this car chasing scene might be the reason I bang preppy looking fuckboys have trust issues.
36. So let me get this straight. She was leaving New York to advance her career and decided to stay because a guy she's known for 10 days asked her to? By romantically declaring his "love" for her by yelling "bullshit" at her? Seems right.
37. THEY JUST GAVE AWAY HER LUGGAGE TO A RANDOM CAB DRIVER? Yeah, be prepared to never see those belongings again, sweetie. I have a feeling their first official fight is about to happen 30 minutes after this scene when she realizes he just handed over her laptop to get sold on the black market.
38. Well this movie taught me that the more you push a guy away the more he'll realize how good he's got it and will fight for your relationship. Lol KIDDING. Nah, I didn't learn shit from this movie except that lies are an important step towards accepting love, and that if a beautiful man who works in advertisement approaches you at a bar, it's because he's just using you to win a bet. But you'll be into it anyway. Okay BYE.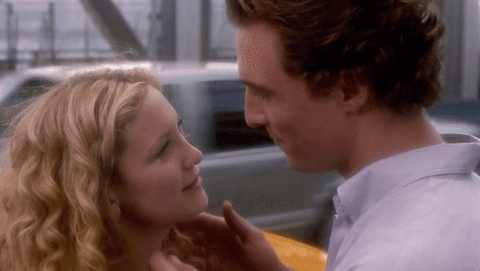 Images: Giphy (9); Netflix (5); Movieclips.com / Youtube (1)
Throwback Thursday: An In-Depth Analysis Of 'The Notebook'
For the past 10 years there has been one movie synonymous with cheesy love stories and crying while eating Ben & Jerry's: The Notebook. While I appreciate this movie for its beautiful actors and calming lake visuals, it's time to explain what's really going on in the sappiest nice girl film of all time.
The movie opens with about 15 minutes of a scenic sunset lake with birds flying all over the place as old-ass Allie Hamilton stares out the window not knowing what the fuck is going on. Cut to the narration by old Noah who mumbles a bunch of nonsensical inspirational mumbo jumbo that could only be thought out by the likes of literary pussy Nicholas Sparks. "I've led a common life. In one respect I've succeeded as gloriously as anyone who ever lived. I've loved another with all my heart and soul and for me that has always been enough." Um, what kind of fucked up message is that to send out to the world, old-ass Noah? How about paying your goddamn bills, you freeloader.
The nurse comes in and introduces Noah as "Duke" saying he's going to read to her. "Idk about that," mumbles old-ass ungrateful Allie.
We then get into the story:
Noah is at the fair chilling with E from Entourage when he introduces him to young Allie, who is hot and rich. Score. Noah asks Allie on a date and she's all like "no I don't know you" then some other bro with a weird mustache comes over and asks her to "ride the ferris wheel" and she's outie.
Then this stage 5 clinger jumps on to the ferris wheel in the middle of her and her date. Noah then attempts suicide if Allie doesn't go out with him because #confidence. Now would be a good time for an Instagram but this is like the 40's so we'll let it slide.
Then Allie rescinds her date offer but Noah's all like "You promised. Here's the thing about me. When I want something I have to have it." #confessionsofarapist
Then Noah manipulates Allie into going on a double date where they watch their friends make out at the movies. Then they walk home together and Allie's all like "I haven't seen a movie since I was a little kid because I'm mad busy with piano lessons and reading and shit." Then Noah's like "wow you're a huge loser sounds like the road to success."
Then Noah shows how adventurous he is by lying in the middle of street. Allie's like, chill bro I know you're poor but I'm not going to get hit by a car because you called me a loser. Then naturally she does it anyway. Then Allie reveals her deep dark FUN PERSON secret: She likes to paint.
Cut to Noah and Allie falling in love. Romantic bike rides, shoving ice cream in each others mouths, making out in public.
Noah reads his sad book of poems and the two fall deeper in love. They chill at the ocean and Allie forces Noah to say she's a bird in the first of many mutually emotionally manipulative conversations to come. "If you're a bird I'm a bird."
Cut to a black kid dancing and Noah, like Juan Pablo, cuts into show he's a kid lover.
Allie returns one night from making out with Noah when her mustachioed father is waiting smoking a cigar on the porch (as all 1940's mustachioed fathers do) and is all like "you been spending a lot of time with this boy I wanna meet him." And she's all like "of course daddy."
Then Noah goes to meet the family and gets all embarrassed by talking about how he works at the lumber yard and makes 40 cents an hour and all the people are quiet thinking like "Who invited the poor guy!? Am I right!? Am I right?!"
Then Allie's mom's all like "Allie's going to Sarah Lawrence in New York."
Allie's mom: That child's got too much spirit for a girl of her circumstance. Trouble is what it is.
Side Note: Nicholas Sparks definitely gets all his dialogue from Hallmark cards and/or googling "unsettling class wars dialogue from the WWII era"
Then Noah brings Allie to some old, gross shack so he can devirginize her. He tells her he's going to buy it and fix it up but I'm thinking like why do you spend so much time chilling by this old, creepy house?
Noah gets excited that he's almost going to seal the deal when annoying as fuck Allie is like "I know I said I wanted to do it but I'm thinking a lot. What're you thinking?" I imagine this is how all fantasy suite dates go. And Noah's all like "shut the fuck up I'm practically inside." Then Allie is like HOW COULD YOU NOT BE THINKING ABOUT ANYTHING. And then he gets off of her and tries one last time to get her to put out by being like "uhhh I love you did you know that?" Then E aka cockblock shows up and is like "Allie's gotta go home because her parents have an inkling she's DTF."
Allie's mom: He's a nice boy but he's TRASH
Allie: You're not gonna tell me who I'm going to love.
Then Noah's like, I did not sign up for this shit, I'm out I'll find some other girl to put out if you're going away. "You're leaving and I'm staying here and I'm so happy that you're doing that. You're gonna have a million things to do. It's not you it's me."
Allie: You can come with me to New York.
Noah: What am I gonna do in New York? All the girls there are fugly.
Allie: Be with me.
Noah: Nahhhs.
Classic bait and switch.
Then Allie starts beating the shit out of him and is all like "if you're gonna break up with me do it now! DO it!!!! DO IT!!!! I'm gonna do it! It's over!"
Then Allie solidifies the fact that she's a fucking manipulative psychopath: Wait a minute we're not really breaking up right?
Allie tells her housekeeper she doesn't want her to pack her things or touch her stuff. Her mom's like "We're going home early. Seabrook reeks of povos."
Allie then finds E who tells him Noah is taking a shit out delivering a load.
Allie: I need you to tell Noah that I love him and I'm sorry for everything.
E: I was up all night with him Allie. I've never seen him so low. It's over Allie.
Allie: It's not over.
E: It is over. He understands. It's hard and summer's over if he wants to talk to you he'll write if not then like fuck off bitch.
Allie: Just tell him that I love him.
E: Aight I don't think he gives a shit though.
Noah then writes 365 letters for a year and Allie's mom discards them so she never knows! Did no one think that MAYBE ONCE DURING THE ENTIRE YEAR ALLIE COULD'VE MAYBE GONE TO CHECK THE MAIL HERSELF!? Nah? Alright then.
The Noah and E go to war together and E dies over in Germany or some shit, a plotline that I totally forgot about because like, who gives a shit about E? On that note, why does Noah only have one friend?
Allie then meets hot as fuck James Marsden, nurses him back to health, and he asks her to marry him because Allie is clearly Mary from There's Something About Mary.
Then she falls in love with rich hot James Marsden.
Noah then gets off the bus (dealbreaker) because he thinks he sees Allie walking down the street. He sees her through a restaurant window hardcore making out with James Marsden (because I'm sure that's definitely a thing high society people did in the 40s in broad daylight).
Noah then has a mental breakdown and has some sort of deranged idea that if he restored the old house Allie would come back to him. "Some called it a labor of love, others called it fucking desperate." Move on man, it was a summer fling like 6 years ago.
Noah then proves why he'll always be poor by refusing to sell the house he built for above market price. Side note: I'm both impressed and sort of unnerved by Noah's knack for interior design.
"In the evenings to temper the sting of loneliness there was Martha Shaw."
Wow he seriously treats Martha like shit, what a d bag. Maggie then tries to DTR: "What do you want from me Noah? Sometimes when you talk to me you don't even see me."
Noah: You know I want to give you all the things that you want but I can't because they're gone. They're broken — THAT MAKES NO SENSE, ASSHOLE.
Since when is it okay to treat one woman like shit because you had a great summer fling 7 years ago? #teammartha
Allie then sees Noah's picture in the newspaper which I guess is the equivalent to seeing your ex's facebook status update and immediately faints. #overreacting
The Notebook: The story of 2 self-centered assholes that eventually find each other despite all odds.
Then Allie goes to her fiancé, the hot and PERFECTLY NICE James Marsden, and is all like "I love to paint. You don't even know me!" and he's like "okay so paint." And she's like "I will. But also, I want to get away and take care of a few things/clear my head/fuck my ex-boyfriend." And he's all like "should I be worried are you all right? It's normal to get cold feed before your wedding." SAYS THE NICEST MAN EVER And shes all like "no of course not no second thoughts." LYING WHORE.
So Allie goes to Noah's house: "I saw your picture in the paper and I wanted to come see if you were okay. So are you okay? I'm a stupid woman I shouldn't have come." She then crashes her car into a fence because she's an idiot and bearded Noah's like "you wanna come in?"
We then cut back to old Noah and Allie, and Noah goes to the doctor and he tells the doctor that he reads to her and she remembers. The doctor's all like, "Nope that's not happening. Dementia is irreversible and degenerative so maybe you should go home Noah, you're drunk." "You know what they say doc, science only goes so far, then there's God." Man, get a different hobby.
FLASHBACK:
Noah: Do you love him.
Allie: Yes I do.
Noah: Okay we can be friends are you hungry?
Allie: I have to warn you I'm a cheap drunk; a couple more of these and you're going to be carrying me out of here.
Noah: Go slow so I don't take advantage of you.
Allie: You wouldn't dare. I'm a married woman.
Noah: Not yet.
Allie: Why you looking at me like that?
Noah: Memories. This room where I tried to fuck you before the cops came and then I yelled at you for thinking too much. #memories.
Then Noah reads some more poetry on the porch then Allie leaves and Noah's like "Come back tomorrow morning I want to show you this place and then hate-fuck you."
Meanwhile Old Noah and Allie's  three kids show up, Allie introduces herself to them then goes to take a #170 nap.
Noah: There's something about today. Maybe it's a day for a miracle.
Kids: Cut the shit dad. She doesn't remember you. Come home.
Noah: Look guys, that's my sweetheart in there and I know that she's apt to cheat since she left her fiancé for me so I'm not leaving her no mater how much of a drain on hospital resources and government funding it is for me to live in this nursing home.
James Marsden (Nicest guy ever): I got worried when you didn't call so I called the one hotel in Seabrook about 100 times.
Allie: LOVE YA call you tomorrow.
Allie shows up in a weird caftan-like scarf and Noah takes her rowing on the lake amidst about 700 ducks flapping around in the water. If this can't get him laid, nothing will. Maybe you should get out of that row boat and back to your fiancé and stop feeding the goddamn ducks, Allie.
Cue romantic rainstorm where Allie involuntarily participates in a wet T-shirt contest. Noah laughs as Allie gets wetter, knowing she's def putting out.
Allie: Why didn't you write? It wasn't over for me. I waited for you for 7 years and now it's too late.
Noah: I wrote you 365 letters. I wrote you everyday for a year. It wasn't over. It still isn't over.
*Intense makeout sesh following an adulterous yet hot sex scene*
Allie: You've got to be kidding me. All this time that's what I've been missing? Let's do it again!
WTF you're engaged FEEL BETTER ABOUT THIS I DARE YOU.
CUT TO: Noah and Allie asleep on the floor in blankets. Allie wakes him up, trying for morning sex, and he's like "I need rest and food. Go make me a sandwich" and Allie's like "okay what do you want?" and he's like "pancakes."
Then Martha Shaw shows up at the door bringing food because Noah has many hos in this area code.
Knowing what's up Martha's like "She's the one isn't she? Can I meet her?"
Noah: I don't think that's a good idea.
Allie comes out and she invites her in because their mutual boyfriend IS AN ASSHOLE and the least we can do for nice people is make them a fucking cup of tea.
Martha then leaves and Noah walks the poor lonely widow out. "She's sensational, she really is," says the most mature person I've ever seen depicted on film. "I'd forgotten what it's like for the first time since I lost Richard I feel like I've got something to look forward to." Apparently that something is having dinner with your fuck buddy and his true love.
The next morning, Allie, who still hasn't called her fiancé, wakes up to find that Noah has laid out a paint easel in a room of the house because "OMG FINALLY A GUY WHO REALLY GETS ME!" Allie then sits on the porch naked in a towel and painting an extremely impressive art piece, which actually looks like a very chill day. (STILL WEARING HER ENORMOUS ENGAGEMENT RING.)
Then her mom shows up. Then the mom informs her that James Marsden is coming because Allie never called him the night before which seems perfectly reasonable and Allie's like OMG can he not I'm on vaca! Why didn't you show me my letters/bring me a latte!?
Allie's mom: Let's take a drive. I might know you better than you think.
Then Allie's mom takes her to some steel yard or wherever it was 1930s povo people worked and she points out some overweight guy in a hat that she used to date. She's all like "this is what happens when you seriously date a poor guy."
Allie's mom: My father was furious so we ran away but the police picked us up. Sometimes when I'm in the area I stop here and watch him, trying to picture how different my life would've been. (UM THAT'S CREEPY and sort of rude towards this innocent guy that you dumped because you're a gold-digger).
Allie's mom drops her off and they hug and she gives her her big stack of letters from Noah. I bet at least 25% of those contain a dick pic (or I guess a dick stenciling since this is the 40s.)
Noah: What're you gonna do Allie?
Allie: IDK
Noah: We're back to that!? What about the past couple of days? I know what this is about. He's got a lot of money! You're bored and you know it. You wouldn't be here if there wasn't something missing. Would you just stay with me?
Allie: Stay with you, what for? We're already fighting.
Noah: Well that's what we do. We fight. You tell me when I'm being an arrogant son of a bitch and I tell you when you're being a pain in the ass 99% of the time. I'm not afraid to hurt your feelings. It's not going to be easy; it's going to be hard, and we're going to have to work at this everyday but I want that. Everyday you and me.
Thus solidifying that the guy you should really be with is the one who consistently tells you you're a pain in the ass and likes when you make him panacakes.
Old Noah prepares a scenic sunset dinner for old Allie at the nursing home because apparently that's a huge aphrodisiac for these two. They both drink wine and Noah finishes the story.
James Marsden AKA nicest man ever: I can shoot him, kick the crap out of him, or leave you, but none of those options give me you and I love you.
JM: It's normal not to forget your first love. I love you but I want you for myself and I don't want to have to convince my fiancée that she should be with me. Can this guy get a spinoff movie?
Modern Day: Allie realizes she chose Noah and gets really excited and they dance together and then she's like "IT WAS US!!!!" Then they start dancing. Then she flips out because Noah won't take her on a rebellious car ride out of the nursing home and is like "I don't remember you asshole who are you!?" Then the nursing staff comes in to sedate her #romantic and Noah starts crying in the corner like a frat bro at a judicial hearing for date rape.
Noah then goes into cardiac arrest because he didn't get laid last night.
Noah then escapes his nursing room and the kindly nurse lets him sneak into Allie's room in a totally irresponsible maneuver that probably ends with her being fired after the two are found dead in each others arms the next morning.
Allie: Do you think that our love can create miracles?
Noah: Yes I do. That's what brings you back to me each time.
Allie: Do you think our love could take us away together? (I sense a suicide pact coming on.)
Noah: I think our love can do anything we want it to.
*Makeout sesh*
Allie: I love you
Noah: I love you
They hold hands and magically die.
That's a wrap. GOODNIGHT. I'll be seeing you.
PS: As much as I'm hating on this movie it's really not THAT bad and here's the saving grace: