The Worst Fashion Trends Of 2017 That We All Have To Promise To Never Speak Of Again
You know when you look at old photos of yourself and think "ew, why did I wear that?" Normally this occurs a few years after you wear a fugly outfit, but let's be proactive this year. Lots of 2017 trends were totally disgusting, and in the interest of shit talking, I don't think I can wait a few years to talk about it. Here are the absolute worst fashion trends of this year.
1. Clear Boots
Sure, clear boots looked cool when Kim Kardashian rocked them, but have you ever tried these on? Your nasty sweaty feet will fog them up almost immediately. Whoever thought Saran-wrapping your feet and adding a four-inch heel was a good idea is seriously disturbed.

2. Clear Panel Mom Jeans
As if clear boots weren't enough to make you question your personal hygiene, Topshop released a pair of clear panel mom jeans back in the spring. Apparently, sweaty kneecaps are the fashion industry's latest attempt at ruining our lives. The worst part is, these things actually sold out. Judging all of you.

3. Balenciaga Platform Crocs
Balenciaga's take on the already ridiculously heinous Croc design was so bad, I originally assumed they were only created to inspire memes. Maybe they were. IDK. Have fun looking like a redneck Bratz doll.
#Balenciaga X #Crocs? In 2017, the collab lives on. Here's one for the linkers & builders https://t.co/9pdYbWoAix pic.twitter.com/ZUBBDr76zs

— SSENSE (@SSENSE) November 9, 2017
4. The RompHim
I guess douchey frat boys got tired of wearing khaki pants and Vineyard Vines shirts, so they designed this stupid male romper as a desperate cry for attention. It kind of worked, but they look absolutely insane, so I certainly wouldn't consider this a win for them.

RompHim Black Chambray Male Romper
5. Kitten Heels
In the world of fugly shit, kitten heels aren't exactly new. However, I'll never pass up a chance to dump on heels that are two inches and shorter. Lower heels were definitely a thing this year, but a straight-up kitten heel will never be okay. Yuck.

5 Low-Rise Jeans That Won't Make You Look Like A 'Laguna Beach' Reject
Apparently low-rise jeans are making a comeback, which is the least surprising news ever if you really think about it. Every couple of years, the jean style you swore you'd never wear again sneaks back into your closet, kind of like when you hang out with your ex but you're definitely not together again. We all promised to ditch low-rise jeans and their horrible short zippers when we discovered the slimming capabilities of super high rise denim, but obviously that trend wasn't going to last forever. I'm not saying you should get rid of your high-waisted jeans, and I'm definitely not saying you should pull out your old boot cut True Religions with bedazzled butt pockets. I'm just trying to prepare you for a painless transition from one denim trend to the next. Here are a few pairs of low-rise jeans that won't make you look like a Laguna Beach walk-on that never got a more detailed on-screen name credit than "Brody's friend."


These AG jeans are basically as close to a denim legging as you can get without wearing literal Pajama Jeans. These may be low-rise, but they also have a step hem and a distressed wash, so they're way more 2017 than 2007.

These are kind of like mom jeans, but they're low-rise, which helps prevent serious mom butt. They also have a slouchy fit but don't have holes, so you can pull off a relaxed look without every old dude you see in a day asking how much you paid for jeans with holes in them.

On the off chance that you do want every old dude you see in a day to ask how much you paid for jeans with holes in them, this is a pretty good pair. Plus, they're just from H&M, so if you accidentally rip through the knee hole with your foot, it's not the total end of the world.

Before you stop reading and close this article out because I just suggested you buy jeans from Abercrombie, hear me out. Do you still drink the cheap vodka you blacked out off of in college? Yes, of course you do. You just don't take photos of the bottle anymore. This is kind of the same scenario. A&F finally stopped putting their signature pocket stitching on most of their jeans, so you can still wear their super comfortable, actually affordable denim without rocking an infamous Abercrombie butt.

As long as you don't wear these with like, a pink polo with a popped collar and oversized fake pearls, you should be fine. Gigi Hadid is desperately trying to make Tommy Hilfiger a thing again, so you might as well join in on that movement.
The Best Mom Jeans That Won't Make You Look Like An Actual Mom
Moms over guys, or GTFO. Boyfriends (both the men and the jeans style) are cool and all, but since fashion sizing seems to go down the family tree, the current rage is all over the mom jean. It's basically a combo of high-waisted skinny and loose boyfriend jeans, sounds gross, I know. No one wants to wear literal mom jeans because they're like, fugly, non-fetch vintage material, and they don't make your ass look good so honestly, what's the point? Before we jump to conclusions, I will say that they are extremely comfortable, unlike all of my literal skin-tight jeans that I can barely breathe in (but, beauty is pain so, whatevs), and plus, you'll now totally fit in at any bar in Williamsburg. If you're on the fence about trying the new jean trend, here's how to wear them and what styles to buy so you look chic AF like Rachel Green instead of looking like a lame mom.
ASOS PETITE Farleigh Slim Mom Jeans In Prince Light Wash

If you prefer your jeans tight, you'll want to find a mom jean in a slim fit so it hugs your waist closely and tucks in any beer bloat. The light wash is perf for both every day and night wear for an effortless, street casual look. Your mom probs makes the joke that you pay too much for jeans you can rip yourself so a distressed style is a solid indicator that you're being judged by your parents doing something right. Pair with a crop top or tucked in blouse, and neutral pumps to really amp up your look.

If your mom says, "O-M-G I used to have a pair just like those!!," it's actually a compliment this time. Reason being that only the cool MILFs rocked DIY bleached Mom Jeans and still got some numbers while they were at it. This pair is all around loose, and tapers at the bottom for a skinny ankle fit. Roll them up and pair with non-basic sneakers (so no Adidas, k?), or a low chunky heel.

A colored and distressed mom jean takes a youthful twist on the 90s classic that was once deemed as unflattering. Well, welcome to 2017, where even the ugliest trend somehow looks socially acceptable on (almost) everyone if you have an ounce of style at all. Wear with a white off the shoulder top and nude wedges for the comfiest, yet trendiest, day drinking outfit.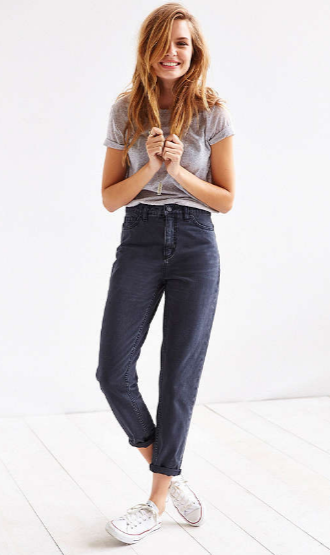 Obviously, you need (everything) a pair in black to go with the rest of the blackness in your closet. A dark shade looks best with an ankle strap heel, plunging bodysuit, and leather jacket for an Insta-worthy edgy look to the club. On your lazy days, wear rolled up cuffs with stylish mules and a loose T-shirt.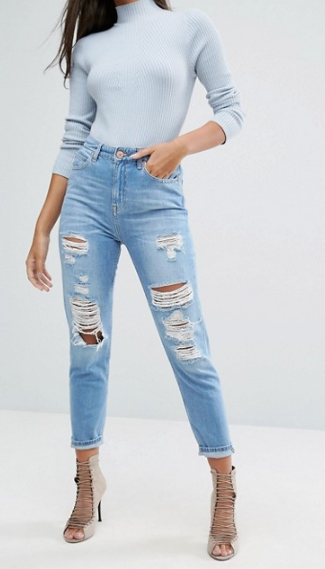 Cool mom jeans look best ripped. IDC. If you disagree and you're all like, "but, I don't want ripped jeans," because you think it's classier for whatever reason helps you sleep at night, then you can happily go look like a mom elsewhere. A super distressed style with a relaxed fit is not only fashion-forward but says, "I'm def blacking out tonight," without being v obvious about it. They'll become your next overly worn jeans if you style with strappy stilettos and a slutty flirty bralette.

Topshop Just Released The Ugliest Mom Jeans In The Universe
If ever there was a pair of jeans so hideous they make you question the existence of a loving god, it would be Topshop's new mom jeans. I've learned to tolerate your average high-waisted, light wash jeans out of sheer necessity because otherwise I would have clawed my eyes out a long time ago, and I don't want to mess up my nails like that. But this particular pair? Is an abomination.
Their name says it all—"Clear Panel Mom Jeans." I repeat. Clear. Panel. Mom. Jeans.

The most heinous part of this heinous article of clothing is clearly the plastic windows offering a peek at the wearer's kneecaps for some unfathomable reason. Are kneecaps supposed to be the new sexy body part? Because most people's are just kind of knobby.
But the madness doesn't stop there. The jeans are also acid wash—ugh—and super high-waisted—double ugh—and they're cropped to the exact length it takes to create the illusion of cankles.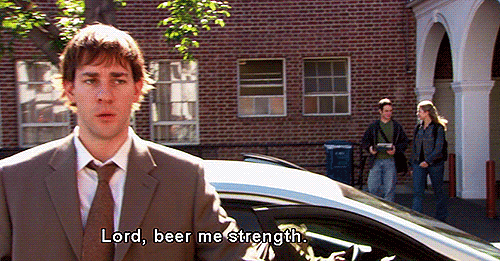 Oh, and they're $95, which makes sense considering only hipsters with a poor grasp of irony and the weight of a trust fund behind them would think about buying these. Needless to say, Twitter did what it does best and roundly mocked the jeans' very existence.



Between plastic mom jeans and all Lisa Frank everything, I have to say 2017 fashion is a huge disappointment so far. Excuse me while I slip into a pair of my own mom jeans and take away its TV privileges for a week.