11 Lightweight Skin Care Products To Add To Your Routine For Summer
I think I can speak for all of us when I say that this summer definitely hasn't gone according to plan. With travel plans, romantic entanglements, and social lives mostly on pause for the foreseeable future, it can be hard to feel like you have control of anything. But amid this miserable roller coaster of a year, one small thing we can stay on top of is our skin care. Instead of focusing on how lame this summer is compared to years past, put that time and energy into getting your summer skin care routine on lock.
If you don't normally put much thought into your skin care regimen, switching up your products every season might seem extra, but it makes a lot of sense. While you might spend the winter fighting dry skin with heavy creams and moisturizers, summer is a whole different ballgame. Of course, each person's skin care needs differ based on location, climate, and skin type, but generally speaking, summer skin care is all about keeping it light and breezy. Here are some must-have products that will keep you glowing (not from sweat) all summer long.
If you know about Laneige's Cream Skin line, you KNOW how exciting this launch is. I admittedly was never a huge mist person until my friends coerced me into keeping a spray in my bag at all times, and now I'm actually unsure how I survived without one. The Cream Skin Mist is great because it gives your skin a natural glow, with or without makeup. A product like this is particularly important in summer, especially during quarantine, when the chances of me wearing makeup are about the same as the odds of me shaving my legs in the winter. This final step makes any routine feel complete, and the mist itself is super hydrating, long lasting, and perfect to bring on the go. The formula is lightweight, and enriched with amino acids from White Leaf Tea water.

If you're looking for a clean, natural mist, look no further. When I heard the Limited Edition of the cult-favorite Beauty Elixir is back in stock, I had ~a moment~. There is something about this pretty pink bottle that makes this already great product even better. If you can't relate to my passion for packaging, that's fine. This product is filled with natural plant extracts that help visibly smooth the skin and tighten the pores. As someone with pores the size of planet Earth itself, this is quite important to me. This product preps and sets makeup, which is extra important in the summer months, because as you can imagine, sweat + makeup = a dangerous combo.

I once won a giveaway for a year's supply of Kiehl's, and have since considered myself an expert on each and every one of their products. In winter months, my skin literally feels like sandpaper, so a heavy moisturizer is a MUST. But come summer, the Calendula Serum-Infused Water Cream is my number one. I'll be honest, this little guy is on the pricier side. That being said, if you know me (or if you've read any of my articles) you know I am cheap AF and that me splurging on a product means it is the real deal. The water cream claims to boost radiance (I see this claim from all brands, IDK what it actually means, but I do know that my skin is dewier using this product), reduces redness (can confirm this is true) and helps improve dry skin by softening and hydrating (also can confirm this is true). This is the kind of product that makes me want to skip foundation because my skin is actually glowing, and despite being ultra-hydrating, it's lightweight and breathable. As I reread this *passionate* rant, I hope Kiehl's sponsors me. My DMs are open.

I've got to say, this name is very overwhelming to type, but this Hyaluronic Cloud Cream is my other go-to in summer. Even if you're into skin care at all, you still know hyaluronic acid is ~all~ the buzz right now, and for good reason. It's hydrating, it's not heavy, and it's most definitely summer-approved. I love using this moisturizer after a beach day, because it's cooling to the skin and helps calm any burning or peeling I may have obtained. It's lightweight, super moisturizing, and wears well under makeup. This, like the previous cream, is worth the splurge.

If you don't already know this, SPF is the most important thing in your skin care routine. As someone with textured skin (again, pores the size of planet Earth), I am very picky about my sunscreen. If sunscreen has any sort of white cast, it's an instant horror show. If the sunscreen doesn't agree with my skin type, my texture is exaggerated and it's not a good look. And with that, I find myself reaching for my Supergoop! Glowscreen on the regular. It's dewy and pearly (great for my dry skin pals) and allows for the true no-makeup makeup look (because you literally don't need makeup). It's hydrating, too, which is not always true for sunscreen.

Something that is not spoken about enough is the fact that SPF should be worn inside. Yes. Groundbreaking, I know. bUt ThE sUn DoEsN't ShInE iNsIdE! Correct. However, now more than ever, our skin is exposed to harmful blue light. From scrolling for hours, to being glued to our computer screens on work days, and of course binging Netflix, I am excited and impressed to see that TULA has launched Protect + Glow to protect you from damaging pollution and blue light. If you've purchased blue light glasses, add this to your list of must-haves. Even if you haven't, still add this to your list of must-haves.

Retinoids are the industry's best kept secret if you ask me. Summer is fun, but sun exposure leads to skin damage and wrinkles, and I for one want neither of those. I never knew (or cared) what Retinoids were until I was introduced to a local NYC business, Peachy (support local!). Retinoids are the prescription version of Retinol—and clinical studies show that they both increase collagen production and prevent collagen degradation. Increasing collagen results in plumper, stronger skin and the minimization of fine lines and wrinkles. So, in less science-y words, Retinoids are the botox of skin care (without the needles). It's important that you get the right prescription from a trusted dermatologist and still take care of your skin in the sun (USE SPF), but this product is my secret weapon.

"Foundation, but make it skincare" are the first words that can be read under Kosas' Tinted Face Oil description, and it sums this product up flawlessly. During summer months, a cakey foundation is awful, to put it simply, and this has been my personal solution. The product does a great job of giving your skin the "blur effect" but doesn't overdo it. Think "is she wearing makeup or does she just have amazing skin???" type vibes. Overall as a brand, Kosas has multiple products that dabble in both the skin care + makeup category, but this stands out above the rest for me.

Summer Fridays is one of those brands that is actually worth the hype. Their products are great, their branding is great, their social media is great, their packaging is great, even their p-page images are great (few will understand, but those who do will appreciate this callout). Anyway, during summer months I often love replacing my lipstick with a clear balm and letting my lips go natural-ish. This Lip Butter Balm is actually considered a mask, and it's created to soothe parched lips while sealing in moisture. I'm a big fan of this product because it's not like other lip balms that feel amazing for the first 10 minutes and then leave your lips needing more soon after. This lasts what feels like hours, and it makes my lips look glowy like a gloss, but without the sticky feeling.

If you prefer a little color in your summer lip look, an oil lip color is a great way to go. YSL Beauty launched their new Milk Tea collection (I'm fittingly sipping on milk tea as I write this) and the colors are reaaalllyyy pretty. I feel like we're all on the permanent hunt for the "perfect nude" and this just might be it. The hydrating formula drenches lips in moisture while leaving a high-shine finish. Think lipstick-meets-balm. All day color and comfort? Yes please.

Summer brings an excess of oil and enlarged pores (sorry, I know you're sick of hearing about my pores). SheaMoisture African Black Soap is THAT product that will help you maintain your natural glow while conquering oil and sweat (we all have it, so don't pretend you're better than me). More importantly, the soap won't dehydrate your skin, which for obvious reasons is important here. This face and body bar is super affordable ($4.99) and is specially formulated with organic Shea Butter, Oats and Aloe to cleanse, moisturize and comfort irritated skin.

LAST BUT NOT LEAST. I used to think body scrubs were a myth, but then I tried one and realized it wasn't. Thrilling, I know. I'm a big fan of Sol de Janeiro's OG Bum Bum Cream because it smells like vacation—even after being trapped inside for 100 days. The Bum Bum Body Scrub texture is soft yet gritty, and literally leaves my skin glowing. I think it's important to be careful with body scrubs, because while you do want to exfoliate the skin, you don't want the product to be abrasive. I think that BBBS (I've made up this abbreviation because Bum Bum Body Scrub is a mouthful) is the perfect happy medium, and the scent alone is enough to keep me coming back for more. WOULD recommend for *summer smooth* skin.
And there you have it, summer skin care, head to toe. Check back in winter for my 100-step routine.
Images: Margot Pandone / Unsplash; Provided by Laneige; Caudalie; Kiehls; Peter Thomas Roth; Supergoop; TULA; Provided by Peachy; Provided by Kosas; Summer Fridays; Provided by YSL Beauty; Provided by SheaMoisture; Provided by Sol de Janeiro
Betches may receive a portion of revenue if you click a link and purchase a product or service. The links are independently placed and do not influence editorial content.
6 Products To Save Your Skin From The Effects Of Being Inside All Day
If you, too, have been doing your best to help flatten the curve, you haven't left your home in what feels like years. Back when life didn't seem like the plot of Contagion, I thought spending a little more time in my French-country-meets-bohemian apartment sounded like it could be nice. However, after a week of being locked in what I now realize is a tiny box coated in about a thousand layers of paint that keep the doors from closing all the way, I am les mis, to say the least.
And I'm not the only one; my skin is also suffering through this difficult time. Look, even though my complexion should be thanking me for not covering it in 17 different cosmetics everyday, it does not appear to be showing any gratitude. As it just so happens, being deprived of vitamin D and living in an apartment where the heat doesn't turn off until May isn't very good for my face. If you have noticed that your skin is feeling more sensitive and drier than usual, you are not alone and you do not have to accept that your skin is f*cked. Over the course of four New York winters, three New York summers in an overly air conditioned office, and several spring breaks on the West Coast, I tried about every skincare product out there, and these are my favorite moisturizing and/or soothing ones that combat the elements of an apartment.

Like I said, I've experimented with a myriad of products, but I always come back to this one. I have been using it for about eight years and am just as obsessed now as I was when I got it as a little baby college freshman. What I love most about it is the consistency: it goes on kind of thick, but it doesn't just sit on your skin and rub off the second you touch your face. It takes about 10 minutes to absorb on a normal day, but on the days that I am chilling inside, it absorbs almost instantly. It's also very reasonably priced, which is great because I'm using way more now than usual.

(If you haven't noticed, I love Kiehl's.) The skin around your eyes is much thinner than the skin on the rest of your face, which is why it's usually the first place where you'll find signs of aging. *sigh* A lot of people who try this cream hate it because it goes on like cream cheese (very tick and heavy), but those people didn't bother learning how to use it! This does, indeed, go on very thick, but after you work it into your skin, you can actually feel it breaking down to a very watery consistency, at which point, you use your ring finger to dab it into the skin.
I wear this at night because even though it does absorb, it leaves your skin a little shiny and not in a cute way. Its hero ingredient is avocado oil, which is super moisturizing and can help keep that sensitive area around your eyes from getting too dry and angry.

If there is a brand I may love more than Kiehl's, it's Lush. I really appreciate that literally every ingredient in their products is natural and pronounceable. This was actually the first product I ever tried from Lush and since then, I have spent many, many dollars in this headache-inducing store.
Anyway, if your skin is dry, moisturizing is key, but so is exfoliating. Even if you can't see it, which is probably for the best, your dry skin flakes and forms a layer of dead skin on your face (gross) and blocks your other products' ability to do what they're supposed to do. This Lush mask smells like a Thin Mint, which, for a while, was its main selling point for me. It's also made with honey (super moisturizing), mint (soothing) and ground aduki beans (exfoliating). Unlike a chemical exfoliator, the ground aduki beans exfoliate your skin when you wash the mask off. I usually wet my hands and just kind of move the mask, which doesn't dry on your skin, around my face and I can feel the beans exfoliating. I am always left feeling super clean and rejuvenated.

After exfoliating, it's important to soothe your skin, and the best way to do that is with a very gentle serum. Serums are great because they're the most concentrated of all skincare products, but this one is my favorite because it's not very aggressive. I don't entirely understand which ingredients do this, but the second I spread it around my face, it feels cooling and soothing. It's a really slippery, gel-like serum that goes a long way. I'm obsessed.

Until I tried this two years ago, I was a firm believer in cleansers being kind of a waste. Like, it's on your face for 30 seconds tops, so how much could it possibly do, right? Then I stole this from my mom and I am so happy I did. First of all, having vitamin C in your skincare routine is essential. Secondly, your cleanser should leave your skin feeling clean (duh) and supple. When you cleanse your face and it feels tight and dry, that means your cleanser is way too harsh. This one has a lotion-like texture, which, in my opinion, is ideal for a cleanser because it's easy to move around, doesn't get everywhere, and it's rich enough do do its job.

I am fully prepared to get verbally murdered in the comments because this price is laughable and almost offensive, but I swear it is worth it. I went on Accutane when I was in high school and this balm was the only product that kept my lips from ripping in half. I know Aquaphor is allegedly amazing, but in my opinion, this is the only thing that works when my lips are dry af. Because it's so expensive, this is definitely not my everyday product for chapped lips; it's my go-to when I feel like smiling could be dangerous for my mouth. It has a really buttery texture and does this thing where half of it absorbs and the other half coats and protects your lips. Most importantly, it's not sticky, so if you shake your head and a strand of hair touches your lips, it wont be there until the day you die.

Image: Unsplash; SpaceNK; Lush; Kieh's (2); Image Skin Care; Dermstore
Betches may receive a portion of revenue if you click a link and purchase a product or service. The links are independently placed and do not influence editorial content.
The Best Hand Creams To Moisturize Your Dry AF Skin
In these trying times, one thing we can do to make ourselves feel better about being trapped at home on Scary Island with no friends is to take care of ourselves. And I hope that means you are washing your hands A LOT right now. But the downside of that, (besides singing Happy Birthday to yourself 40 times a day, is that your hands are probs super dry. Plus it's winter, so they were probably dry to start with. Lucky for you, I'm obsessed with skincare and I'm constantly exfoliating/scrubbing/moisturizing myself. In these circumstances, it pays to know what the absolute best products are so you don't waste your money. I've tried probably any and everything at this point, and I know what works. Look at the bright side: you already have a ton of latex gloves from coronavirus panic! Slather on some of these hand lotions and put on some gloves for 20 minutes a day, and you'll have baby-smooth hands by the time we're allowed to go out in the world again. Here are my favorite hand creams to get you through all this aggressive hand-washing:

This first of these hand creams actually comes recommended by Candace Marino, Kourtney Kardashian's facialist, and if it will make my hands half as smooth as Kourtney's face, I'll take it. Marino says, "Cushie is an intensely nourishing and reparative hand cream featuring oatmeal, plant-based keratin, and antioxidants to moisturize and heal dry, over-washed hands." And if you've been doing it right, your hands should be over-washed tbh. Another heavy-hitting favorite of hers is the Restorsea PRO Hand treatment 10x, which she says is "more than a hand cream, it's a treatment" since it's "packed with nourishing ingredients plus a proprietary blend of enzymes that help to lighten and brighten pigmentation." So you'll have the most moisturized and the prettiest hands on the block.

I am soooo obsessed with Lush everything. All of their moisturizers in particular are awesome. They smell amazing and are thick and just work super well. But I particularly love their hand cream. Now, this isn't like the hand cream to throw in your purse and use all the time; it's more like what to put on while you're sitting at home under your gloves or before bed. That's because it's really thick and takes a bit of time to absorb. But these kinds of creams work way better to save your dry, cracking skin! Also, a little goes a long way so don't flinch at the price tag. I also just saw they have a hot hand mask now that I am alllll about trying!

This is not your relaxing spa-day kind of moisturizer. It's supposed to be unscented but it smells kind of weird. However, this is the best hand and foot (and really anything) moisturizer on the market. It was recommended to me by my doctor and OMG, does it work. It is the superhero of dry skin, and there is really no amount of dryness it can't fix basically overnight. BTW? My doctor told me that when you're really in desperate need to save dry/cracked skin, always buy lotions in a tub instead of a tube. If it comes in a tub, it means they're too thick for a tube and will trap more moisture. So buy this to have on hand for skin emergencies and then buy a fun scented one to use daily when the situation isn't so dire.

Burt's Bees makes great products, period. But I really love their hand and foot cream! I usually alternate buying this or Lush's. It smells amazing and is really thick and moisturizing. Plus, it's super affordable. Since you're trapped at home anyway, consider buying a sample pack of a few of their products and give yourself a spa day while you work from home. Your skin is going to be so awesome when you're finally allowed back in the office!

If you need something that you can use everywhere to save your skin, get some AmLactin. It's dermatologist recommended and actually exfoliates your sad, dead skin and moisturizes at the same time. It's not greasy either, so you can just slather it on your dry hands (or anywhere else) and continue about your day without feeling coated in goo. If you aren't sure which one to buy, they have an awesome travel set of three so you can see what type fits your needs best.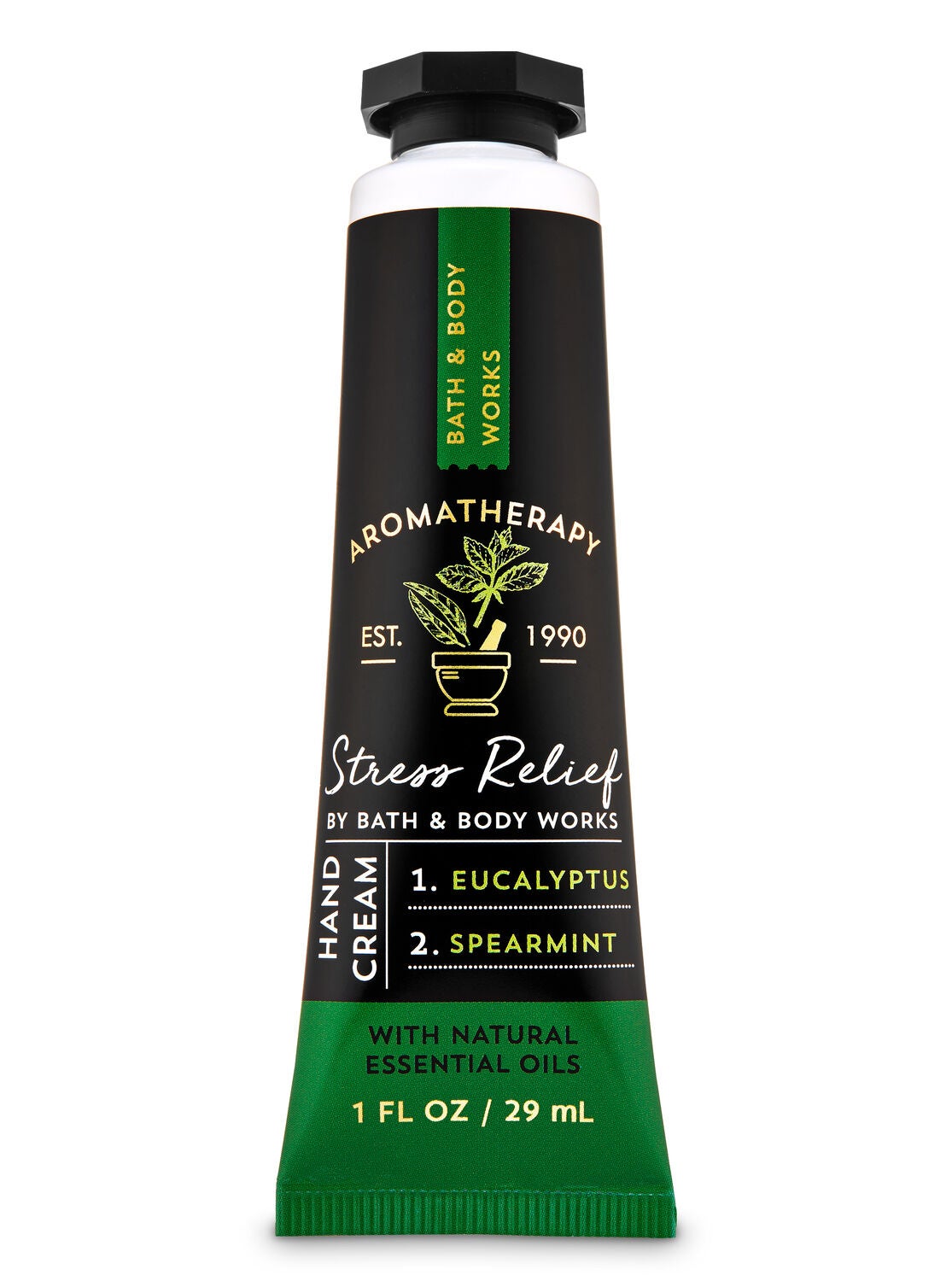 Say what you want, but I love Bath & Body Works A LOT. I always buy their seasonal scents and I particularly hoard their candles, soaps, and hand sanitizers. Which, btw, everyone thought I was crazy for my hand soap and sanitizer collection, but who's laughing now?
What I like about B&BW's hand cream is that it pretty much instantly absorbs. So you can wash your hands, put it on, and pretty immediately go back to online shopping and checking Instagram without smearing lotion or oils all over your phone and laptop. When we were allowed to leave the house, this was my favorite lotion to keep in my purse. *Sigh* good times. Also, they have so many scents. You should probably just buy their whole Stress Relief line to get you through the next few weeks.
Images: Curology / Unsplash; Lush; Amazon (2); AmLactin; Bath & Body Works
Betches may receive a portion of revenue if you click a link and purchase a product or service. The links are independently placed and do not influence editorial content.
The 5 Face Products You Should Actually Be Using
Everyone wants beautiful, smooth, flawless skin. But navigating the landscape of skin care these days can feel more confusing and complicated than trying to do your own taxes. There are toners, serums, facial mists, oils, washes, gels, masks, and about a million other skin care products that seem to have just popped up within the last few years. Most people don't know where to start—which is totally understandable, because the skin care industry doesn't exactly make it easy or transparent to figure out what you actually need. So I'm here to help. As a freelance makeup artist for the past five years, I've seen (and used) it all. I'm here to explain where you should start, what various products do for your skin, which ones you can rely on, and what I always keep in my stash!
1. Micellar Water
The number one skin care product and makeup remover I always recommend to anyone is micellar water. Micellar water is a liquid that is just as light as water, but with tough properties that make it ideal for makeup removal. I love the Bioderma Sensibio micellar water, but the Garnier Skin Active Micellar Cleansing Water is an affordable drugstore alternative that works really well.

Bioderma Sensibio Micellar Water
This product is so amazing, you can say goodbye to wasting your money on makeup remover wipes altogether. All you need to do is wash your face, then wipe your eyes and face with a cotton pad soaked in micellar water. It will take off your makeup so well, you'll feel like Mulan when she's singing about her reflection not showing who she is inside. 

2. Face Wash

Cerave Hydrating Face Cleanser
Let's talk about the main thing everyone needs for good skin: face wash. And, just in case you're not aware, I'm not talking about using your hand soap to wash your face. (No judgment, though—when I was a kid, I knew nothing about skin care and legit thought that's what you were supposed to do.) I'm talking about a great, well-balanced face wash that's good for sensitive skin and helps get rid of dirt on your face. My favorite face wash is the Cerave Hydrating Face Cleanser. Most dermatologists approve of this one because it's great for sensitive skin, has no scent, and is easy to use. Just rinse your face, rub this in your hands, and rinse it off at least four times. Just make sure you're not pulling a Kylie and you actually take off all your makeup and foundation first.
3. Moisturizer
The third product that needs to be in everyone's metaphorical (or literal, IDK where you keep your skin care products) makeup bag is moisturizer. Whether it's for your face or body, moisturizer not only hydrates your skin to keep it more healthy, but it also enhances the function of your uppermost layer of skin. This layer of skin has fats, oils, and skin cells that help keep the moisture in, which in turn helps your skin look more youthful. Who doesn't want that?! Answer: nobody. 
As another added bonus, moisturizer helps your makeup lay more evenly on your face. Moisturizer comes in all shapes and forms, from creams to oils, gels, eye creams, and face mists, and I have tried them all. But personally, I'm into the creams. Right before I apply my makeup, I use the Bobbi Brown Vitamin Enriched Face Base. It's on the thicker side, but it absorbs faster than you'd think, and it packs a punch. It allows your skin to breathe without being too heavy—I promise!

Bobbi Brown Vitamin Enriched Face Base
For an everyday moisturizer, I love the Drunk Elephant Protini Polypeptide Moisturizer, and for an affordable drugstore alternative, I use the Cetaphil Daily Facial Moisturizer. 

Drunk Elephant Protini Polypeptide Moisturizer

Cetaphil Daily Facial Moisturizer
4. Micro Exfoliant
To really make your makeup go on even and last throughout the day, I would suggest using a micro exfoliant beforehand. Exfoliating removes the dead skin, smooths everything out, and brightens dullness. Some people also use a heavier abrasive exfoliating product once a week, which you can do. Sometimes if I don't want something so abrasive, I use a glycolic acid toner like Pixi Skin Treats Glow Tonic, which combines a light exfoliating feel with a toner. This makes my skin baby soft, and ensures my makeup will sit nicely without as many bumps or dry patches. 

5. Face Masks (Duh)
The last items I want to talk about are the ones you can splurge on! I'm talking about if you have extra spending money, and you want to pamper yourself for some self-care (because you deserve it). You guessed it (or can pick up on context cues, whatever): I'm talking about face masks. Face masks come in a variety of types, including clay masks, sheet masks, and thick lotion type masks that you swipe on your face, to name a few. The best thing about face masks (other than the fact that doing one gives you the illusion that you're actually taking care of your body even when you stay out drinking until 4am) is that there are so many for different purposes. Like, if you're looking to do a moisturizing mask after a flight, a rough work day, or work week, I absolutely love the Glamglow Thirstymud Hydrating Treatment. As an added bonus that does absolutely nothing for your skin, it smells like pumpkin pie. So what's not to love? 

For an in-shower mask that helps with pores, I love the Glamglow INSTAMUD 60 Second Pore-Refining Treatment Mask. It helps me retain some moisture in my skin while I sleep.

Glamglow INSTAMUD 60 Second Pore-Refining Treatment Mask
I also love the Dermalogica Sound Sleep Cocoon, and the lavender scent calms me down for sleep. Masks come in all shapes and sizes. It's like a first aid kit for your skin when it needs some extra TLC.

Dermalogica Sound Sleep Cocoon
These may seem basic, and they kind of are, but good skin care practices have to start somewhere! These are just some of my go-to everyday favorites that I think will help everyone. If you want me to do a more in-depth skin care article, comment below!
Kat Sketch is your artistically odd internet best friend. An innovative beauty and fx makeup artist, she has a glamorous side to her beauty makeup and a gory side too! She's known as being one of the first professional makeup artists online to do her own creepy, twisted makeup looks on very popular movie or television characters. Kat inspires many others, by creating online video tutorials of her makeup looks. On her YouTube channel with over 700,000 subscribers, she has managed to achieve a lot of success, and has worked with notable companies such as Disney, Paramount Pictures, Regal Cinemas and many more.
Images: Giphy; Target; Sephora (3); Dermstore (2); Ulta (2)
Betches may receive a portion of revenue if you click a link and purchase a product or service. The links are independently placed and do not influence editorial content.
What Happened When I Ditched My Complicated Skin Care Routine
I first started hearing the words "skin care diet" back in January, when everyone was trying out their favorite wellness hack in honor of the new year. The premise was simple: after ODing on expensive skin care products and indulging in complicated, ten-step routines, some consumers were now deciding to scale back the time and money spent on skin care. Ironically enough, the skin care diet trend (or "minimalist skin care routine") is also a K-Beauty trick—specifically, one invented to "decrease irritation" caused by overly complicated, multi-step routines. By paring back down to the bare minimum, the theory goes, you'll slowly coach your skin back to life.
Of course, this wouldn't be a trend at all if everyone's 10-step routines were going perfectly. Vice interviewed a number of people embarking on their own skin care diets, and all affirmed that, ultimately, the fancy, active ingredient-laden products they had been so excited to buy only made things worse. For several of these skin care dieters, they only realized there was an issue after seeing a dermatologist—others realized after a change in environment, where they were temporarily separated from their skin care products, made them realize that layering on serums wasn't the best way to control their skin.
me: skincare!
my other organs: please help us .

— sam (@smeezi) July 26, 2017
For the dermatologists Vice spoke with, this is an increasingly common occurrence. Rachael Cayce, a board-certified dermatologist in Los Angeles, said she'll have patients come in who list arsenals of 15+ products they're using—daily. Cayce invariably tells them to cut back: "I see 30 patients a day and I'm having this conversation with 15 of them," she says. "Usually what I'm doing is just decreasing their products." KraveBeauty founder Liah Yoo agrees that this decrease is necessary. "People have been piling on so many different products that they've developed redness, sensitivity, and even worse—contact dermatitis," she shares. That's why she's now recommending a simple routine of cleanser, moisturizer, and SPF. The key? No "harsh active ingredients."
I had my own come-to-Jesus moment a few months back, when my skin—for lack of a better term—shut down. All my special toners, moisturizers, and anti-redness gels, so lovingly applied, sat on top of my skin: refusing to sink in, and (I imagine) laughing at me. I had many theories about why this was happening, and like a devoted skin care student, I ran right to my dermatologist. This is the first and only time I'll dermatologist bash (maybe she was having an off day!) but essentially, she told me it was all hormonal, that oil production increases as you get older (rude!), and that I should (I'm paraphrasing) chill out. Then she gave me some moisturizer samples (score) and sent me on my way.
My derm to me:
do a face mask and move on

— ?? (@romanrochelle) January 16, 2017
As anyone who's read my articles on mental health will know, "chilling out" is not something I engage in lightly. Instead, I remembered the accounts of skin care diets that I'd read back in January (this Byrdie one and this Very Good Light one I both find a little excessive, but solid). While the accounts I read still included products like serums and essences in their scaled-back routines, I stuck with the bare-bones approach recommended by Yoo: cleanser, moisturizer, and SPF. My only addition was twice-daily Finacea, a dermatologist-prescribed rosacea treatment I didn't care to live without. Yoo also recommends that you don't wash your face at all for a full week to "reset" your skin before starting. But in the interest of not losing my job, I opted out of that step too. Finally, most of the skin care diet plans I read about recommend not washing your face in the morning—just using a swipe of toner or micellar water.
me w/ scars,acne, oil: cleanser, toner, gel, moisturizer, topical cream
person w/ smooth clear skin: i use water sometimes soap pic.twitter.com/8KYumMwPNd

— have analis's kids (@AK1NNA) April 4, 2017
The results? I bet you wish I had pictures, but to be honest, the biggest change wasn't something that would show up on camera. After about a week, my face finally felt smooth to the touch again. Not sticky with stubborn moisturizer residue, not greasy with excess oil production, and not that super-pleasant roughness I'll sometimes get in dry patches on my cheeks. In the end, I wasn't using so many excess products I needed to cut out: I wistfully stopped using my amazing-smelling toner, I stopped cleansing and moisturizing in the morning (but still applied SPF!), and I chilled out on the drugstore masks I'd been applying three times a week.
To be honest, I was shocked that this actually made a difference—I'd been thinking of the toner as my saving grace all winter. Maybe my dermatologist was (partly) right and I'd had a hormone shift, or maybe the warmer weather was making my skin react different. Either way, I spend less time on skin care than I have in years, and tragically, it did the trick. My skin's not suddenly a luminous, pore-less version of itself (I'm still convinced I would need Kylie-level money and a team of professionals to achieve that): but the stubborn texture problems I was having finally went away.
the first person to exfoliate their face had 2 have done it accidentally right, like tripped and face planted in the sand- wow feels smooth!

— pw (@petewentz) September 13, 2017
Like I said before: no one would be doing this if they were already reaping the benefits of a rich and full skin care routine. All the people who wrote skin care diet accounts were dealing with inflammation, flare ups, and acne that none of their products could fix—and that's when they opted for a reset. So if you're happy with your skin care products, please don't throw out $400 worth of moisturizer after reading this. (Send it to me instead, for when I decide to switch things up again in a month.) If you've been cycling in new serums for as long as you can remember, and are still struggling with flare ups, though, a skin care diet could be exactly what you need.
Images: @smeezi ; @AK1NNA ; @romanrochelle ; @petewentz / Twitter
I Actually Believe In Day And Night Creams Now—Here's Why
As someone who reads and writes about skincare on a daily basis, I find myself hitting something I call "skincare fatigue." Just when I'd mastered toner (kind of), I start hearing about serums, retinol creams, and whatever the f*ck an "essence" is. Thankfully, the concept of day cream vs. night cream isn't new to me—but actually using a different moisturizer for morning and evening is. I'd always kind of figured that "needing" two different moisturizers was just a way for companies to sell you more products. But three weeks in to my new regime, I'm sold. Here's why.
Night Cream Needs Time To Sink In
The purchase that kicked off this whole venture is Tatcha's Dewy Skin Cream, a moisturizer I feel confident in calling pure magic. From the moment I got my hands on all that silky lavender goodness, I loved it so much I wanted to take a bath in it. This moisturizer has brought my skin back to life after a night out, scared burgeoning pimples back into hiding, and—praise be—NOT activated my rosacea, which just about every other celeb-approved moisturizer does. (Looking at you, La Mer. I wanted so badly to love you.)

Now that my shameless Tatcha evangelizing is out of the way, on to the real point. Because I was so excited about this moisturizer, I was using it morning and night—and quickly realized my mistake. I have a four-step routine I stick to: cleanser, toner, treatment, moisturizer. Because the sun exists, and because my skin is so dry that sunscreen alone does not moisturize it, I have to follow up that four-step routine with an SPF cream in the morning—all before adding any makeup.
Now, anyone who's tried to quickly apply five different face products and then add foundation on top will immediately see the problem here. My beloved Tatcha moisturizer is on the thicker side, which is perfect for my dry skin—but it takes a solid 15-20 minutes to be completely absorbed. That would be fine if it were my only morning skincare step, but I also have to give my toner and treatment steps 5-10 minutes each to sink in. That gets us up to 30 minutes on pre-make-up skincare, minimum. In my week of trying to use the Dewy Skin Cream as a day cream, I don't think I managed to put foundation on once. Since I never had enough time to let the moisturizer sink in all the way, even my sunscreen was barely getting absorbed—which means I was going out looking like a greasy, white-tinged mess.
Note: Dewy Skin Cream isn't advertised specifically as a night cream—there's a different night cream from that product line—but that's how it works best for me. As a rule, night creams will be thicker than day creams, and are formulated to moisturize while you sleep.
Me, waking up post-Tatcha moisturizer: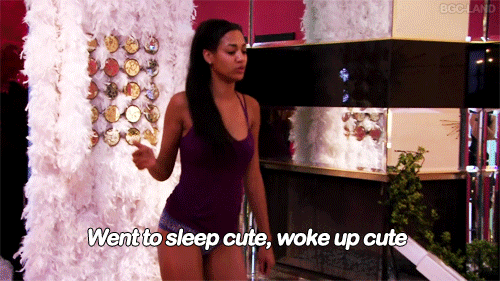 Day Cream Protects; Night Cream Repairs
Day cream, I learned, has one major job: to protect your face from the sun, so basically to contain as much SPF as you can stand. (For reference, I use SPF 46—do not come at me with your SPF 15 liquid foundation). Like I said before, I have a special breed of lizard skin that requires me to pair said SPF 46 lotion with a second day cream—but if you have the option of combining these steps, I strongly recommend you do. I love this one from Origins (so brightening), or this SPF 50 IT Cosmetics CC cream. (No, I don't know what a CC cream is, and my head will explode if I research further.) I own this cream, and would refer to it as somewhere between light coverage foundation and tinted moisturizer.

Scott Disick knows what's up, a sentence I never thought I'd utter.
If you are like me, and SPF products aren't moisturizing enough on their own, I recommend a super lightweight cream that sinks in quickly. My personal fave for this is Cerave, which makes both a day cream and a night cream.
While day cream bears the brunt of sun protection, your night cream can and should have active ingredients too. We've already discussed the benefit of adding retinol to your daily routine, and 2019 is heading toward being the year of glycolic acid. These ingredients are both great, because they help speed up cell turnover, AKA get rid of the dead skin and bring in the new, better skin. Very scientific, I know. However, both of these ingredients also make your skin more sensitive to the sun. I can personally attest to this—this past December, I used a retinol oil and then went out for a day of skiing. Within 24 hours, I developed dark, rough patches of sunburn on my face like I'd never seen before, and they lasted well through New Year's Eve. Happy 2019 to me!
So, while retinol and AHAs are a good addition to night creams, they should absolutely be avoided in your day creams. On the flip side, you're welcome to put on SPF at night—but unless you're sleeping at a campsite, I'm not sure why you would.
Ultimately, you could just say f*ck it and use the same lightweight moisturizer with zero active ingredients for both day and night (plus sunscreen, obv). But if you have skin that's on the dryer side, I highly recommend investing in a thicker night cream—and not making the mistake I did of piling it on in the morning, too.
Images: Tatcha; Giphy (2)
This Is The Best Order For Your Skincare Routine
Judging from all the "gifts to give yourself" guides out there this season, I gather I'm not alone in treating December as "spend yourself blind" month. (Also: go get the Skin Laundry facial that list recommends; it's amazing.) And what better way to spend a sh*t ton of money invest in yourself than by amping up your skincare routine? In the past two weeks, I've added a serum, a facial oil, and an "elixir" to my fairly basic four-step routine. But within twelve hours of my exciting new purchases, I realized I had no idea how to use them correctly. Skincare products all tend to list "apply daily to clean, dry skin," but that's about it. So, in an attempt to not waste my new goodies, I actually sat down and researched. Here's what I've learned about the best order for your skincare routine.
Step 1: Cleanser
All authorities I consulted concurred on this. The first step in any skincare routine should be cleaning your face. If this strikes you as surprising, then I have the perfect gift for you. Enjoy!
Step 2: Toner
Byrdie offers a little dissent here, suggesting that Step 2 should be exfoliator, not toner. However, my skincare-savvy readers will know well that not all skin types require and/or take well to regular use of an exfoliant. And very few exfoliants are suitable for anyone for daily use. (You can go shave your back now Byrdie!) Anyway, exfoliate if you need to, but consider it part of the cleansing step of your routine. Toner then clears away any remaining makeup/product, as well as doing whatever else the bottle promises (tightening pores, evening skin tone, giving you eternal life, etc.).
I've written more about toner types here, but Cosmo offers a key tip I'll include. If your toner contains an AHA (like glycolic acid or lactic acid) or BHA (like salicylic acid), you'll want to wait a "full five minutes" before moving on to your next step. Otherwise, you'll neutralize the acids, rendering the active ingredient useless. (Moment of silence for all the toner I've wasted on my face please.)
Me @ my toner:

Step 3: Serums/Eye Cream
Once again, all my sources voted to use a serum as step 3. Cosmo describes serums as "shots of extremely concentrated nutrients, hydrators, and antioxidants." Like with toner, you'll want to pick the specific one based on your skin's needs. The one I've recently invested in contains Vitamin C, a common dermatologist recommendation. But you can also use different serums in the morning and at night, in which case you could swap in a hydrating serum at night. Again, all depends on your skin.
Eye cream, which I've realized over the course of my research is still lacking in my skincare routine, is a slightly more conflicted issue. Cosmo says to apply after serum and before moisturizer, since eye cream "tends to be lighter and thinner," and can't "penetrate thicker products," AKA your moisturizer. Dermstore suggests using it before serums in the morning, but after serums at night. (And it stresses the importance of applying twice daily from a young age—good thing I have endless money and time, am I right??) For Dermstore, the key thing is to apply eye cream before your "treatments" (more on that in a minute), to "protect your eye area against potent ingredients." Both of these rules make logical sense to me, so if your serums has potentially irritating ingredients, do eye cream first. And def do it before moisturizer.
Side note: this research has also convinced me that I've been applying my new serums at the wrong time, in addition to neutralizing my toner.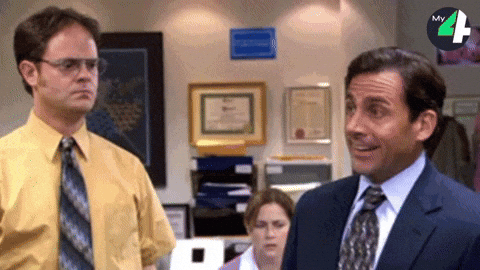 Step 4: Treatment
If you're thinking "treatment? what's that?" you either have perfect skin and I hate you, or you need to get to a dermatologist ASAP. "Treatment" can refer to a spot treatment (active ingredients will vary depending on whether you're treating acne scars or regular old pimples), or prescription treatments for acne or rosacea. (For example, I use my Finacea foam for rosacea during this step—though for the past two weeks I've been using it before my serum. Ugh.)
Dermstore again recommends different things for your night routine here. At night, they suggest you add any "mists, essences, beauty waters, or hydrating (hyaluronic acid) serums" to your toner step—applying "from thinnest to thickest." (I can't really begin to wrap my head around what those products are, but Dermstore sums them up as "skin care boosters" whose purpose is "mainly to hydrate." Cool.) Then, Dermstore recommends chasing your nightly eye cream with whatever treatment serum your skin needs that night. So, not just blindly slathering on every product you own (strike three for me).
Specifically, they advise against using an exfoliating treatment (AHA/BHA pads, peels) the same night as any prescription meds or retinol creams, since the potency can quickly become irritating. And they recommend using an exfoliating treatment no more than three times a week. In simpler terms, it sounds like alternating a prescription treatment or retinol with an exfoliating treatment is the best way to go.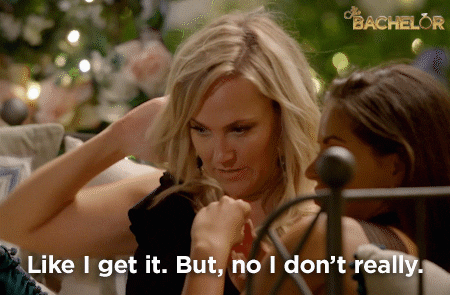 Step 5: Moisturizer/Face Oil
Once you've gotten to moisturizer, you know you're nearly there. (Good job! Now you just have a 16-step makeup routine to get through). For your nighttime routine, Dermstore recommends adding face oil before your moisturizer, with the warning note that "if you are using the right moisturizer…nothing is going to get through it." Cosmo, however, vehemently disagrees, stating "no products can penetrate an oil, which means they need to be applied last." Cosmo also recommends putting a retinol-based product between moisturizer and face oil, while Dermstore lumps in retinols with your pre-moisturizer treatments. One of my new products is a face oil that contains retinol, so no matter what I do I'll be f*cking up one of these rules.
My best advice here is to try it both ways (the order of your oil/moisturizer/retinol), and see what feels best to you. Since oils and moisturizers vary in thickness and active ingredients (and everyone's skin is different!), do whatever feels best for your face. In my case, I've found that mixing the face oil with moisturizer is most effective for absorbing both products.
Step 6: Sunscreen
This is a morning-only rule, obvs, but it's also one you need to follow every single day. Is it annoying? Yes. Does it feel like it will solve all your problems, like serums and essences do? It does not. But just do it, because otherwise you'll get dark spots and sun damage that only a laser can fix. And that's way more expensive than even the fanciest sunscreen option.
Hilary Duff may not be able to name babies, but she can still give good skincare advice!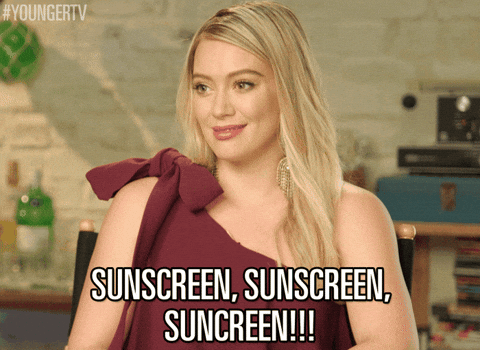 What have I learned from this article? Well, I've wasted at least $50 of skincare products in the past week, that's for sure. And my vague inkling that I was loading on too many products every day was validated. My final note here is that if any of this advice goes against what a dermatologist has told you—go with the dermatologist. My dermatologist gave me the simple outline of "cleanse, treat, moisturize, sunscreen," and actively warned me against incorporating anything else. It's only because I've followed her advice faithfully for six months that I feel comfortable building back in other products. So, listen to your doctor, listen to what your skin tells you, and if you have an eye cream you like, hit me up in the comments—I'll be spending the rest of my afternoon shopping.
Images: Shutterstock; Giphy (4)
Skin Care Diaries: My Four-Step Routine For Highly Sensitive Skin
As you can probably tell from the title, this skin care diary entry will be less sexy than others we've published. Welcome to the world of sensitive skin. I graduated college a little over two years ago, and it's been an absolute whirlwind watching my skin and metabolism compete over who can deteriorate faster. I've never suffered from serious acne (*knocks on every piece of wood in the tri-state area*), but my post-grad skin has offered up plenty of dullness, dryness, and increasingly visible pores. I also developed what I refer to as "my problem cheek," and my dermatologist refers to as "rosacea." Basically, one stubborn patch on my face is perpetually red with some bumps—not quite pimples but just not smooth.
Before I finally caved and saw a dermatologist about it, I was convinced I had chronically dry skin and was layering on fancy oil-based serums and thick moisturizers every night. I genuinely believed that the more I spent on a skin care product, the better it was for me. But here's the honest, tragic truth about my (highly sensitive) skin. Just about anything I do to it beyond doctor-recommended cleanser, treatment, and moisturizer only makes it worse. As my dermatologist explained, the rosacea means that my skin barrier is damaged. So any products I'm applying don't actually soak in. They just settle in the top layer, creating that fun bumpy texture I was describing.
Long story short, many of the fun, bougie skin care products I'd love to try are off-limits to me. All those "intensely moisturizing" products I used to swear by? They make my oil-prone areas worse, and ultimately clog my pores. Any physical exfoliants just activate my redness-prone rosacea patches. And forget about face makeup. Any time I go for a full face of foundation, or—God forbid—highlighter, which I seem to be allergic to in every brand, I accept that my skin's overall appearance will take a hit for the next three days. So, I've worked very hard to assemble a routine that keeps my sensitive AF skin smooth, even, and pimple-free. If your skin is more dramatic about a change in routine than you are when asked to attend a 9am meeting, read on. Here are the products I've found really work.
My sensitive skin every time I try to introduce a new product: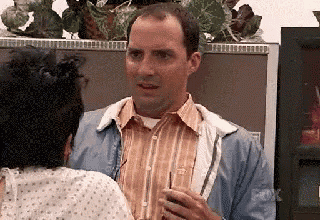 My Routine
Face Wash: I wash my face morning and night with CeraVe Hydrating Cleanser. My dermatologist recommended it, and it makes my face feel crazy soft. I'll double cleanse on days when I bothered to put on make-up, or if I skipped my routine the night before. And while I'm sure that a Clarisonic or the equivalent would make it even more effective, I frankly just do not have the time or patience to use one. Plus, I kind of hate reusable skin care accessories because I'm a germophobe and convinced they're growing bacteria. This is a problem I imagine could be alleviated by like, cleaning it, but once again I am lazy/perpetually short on time.
Toner: I follow (most) cleanses with Belif Witch Hazel Herbal Extract toner. In the words of my dermatologist, it's "not really doing anything," but she graciously invited me to finish the bottle I'd just purchased. Despite her (rude) commentary, I like the idea of an additional cleansing step while living in the cesspool of dirt known as New York City. Also, it smells refreshing and makes me feel fancy. As I mentioned before, most products that fit that description give me some kind of weird reaction, so I really appreciate the ones that don't.
Prescription: Once my doc determined that problem cheek = rosacea, I was given a prescription for an azelaic acid called Finacea Foam. It treats the redness and bumps caused by rosacea, and I use it twice a day after cleansing and before moisturizing. While it hasn't 100% cleared up the problem, I've gone from having bumps spread across both cheeks to one small patch (damn you, problem cheek!). The overall texture has also greatly improved, and what was once a weird blotchy redness now shows up as more of a flush after hot showers/working out. Highly recommend.
Spot Treatment: This is not dermatologist-approved behavior, but if I see a pimple coming on I'll dab some spot treatment with salicylic acid on the area before locking it all in with moisturizer. It's a little annoying because I have to wait for an additional layer to dry, but fully worth it if you can stop a burgeoning zit in its tracks. If I go a little too nuts and start using it daily I end up getting dry and triggering some redness, but in moderation I find this kind of product to work wonders. My two faves are Clean & Clear Advantage Acne Spot Treatment and Neutrogena Rapid Clear Acne Eliminating Spot Gel.
Sunscreen: I use EltaMD UV Clear Broad-Spectrum SPF 46 every morning, at my dear dermatologist's behest. Apparently rosacea can be triggered by sun exposure, so I guess this plays a role in calming it down. Honestly, I struggle to get excited about any product from which I don't see immediate effects, but I know it's good for me and I feel lightly smug for using it for that reason. Also, it sinks in quickly enough and replaces my moisturizer in the morning.
Moisturizer: I use CeraVe PM Facial Moisturizing Lotion every night and some mornings, depending on how dry my skin is feeling. I love it because it's lightweight, has the same silky feel as their cleanser, and doesn't sit on top of my skin like all those fancy jar moisturizers I was buying for years did. Does it make me feel rich and chic? No, but it also doesn't cost me $50 every six weeks, and my skin is way softer. I'll take it.
Serum: Eminence Facial Recovery Oil. My dermatologist all but begged me to throw this out (in her words, "I don't think more oil is what you need right now"). But I'll still dab a little on my forehead every now and then because I can't help myself. Nose, chin, and cheeks are off-limits for this riskier product, but I'll mix a little in with my moisturizer and apply to my forehead a few times a week. It smells amazing and my sister swears it's improved her fine lines.
Wednesday
Morning: Cleanser, toner, Finacea, sunscreen. I have a week-old pimple on my cheek, and last night I put on a bunch of spot treatment and extra Tretinoin on the area, plus Neosporin since I keep picking it open. (Don't @ me, it works.) The pimple is finally fading from view, but I see two to three more bumps lurking below the surface. Problem Cheek, will you ever set me free??? I've tried changing pillowcases, changing what side I sleep on, never holding my phone to that side of my face… nothing works. I take a few pictures in hopes of taking you on a visual journey, but I'm on week 7 of a 10-week shoot and the bags under my eyes/general lifeless demeanor are a little much to take.
Evening: Cleanser, Finacea, moisturizer. No spot cream or toner because I just worked 14 hours. Moisturizer I applied lying down maybe three seconds before passing out. I manage to apply more Neosporin to my cheek spot, though, because at this point I've been wrangling it for nearly 10 days and it's all I can think about. To anyone reading this: do not pick your face until it bleeds, no matter how fun and genuinely helpful it seems in the moment! I fall asleep praying it will heal overnight.
My poor, picked-at skin: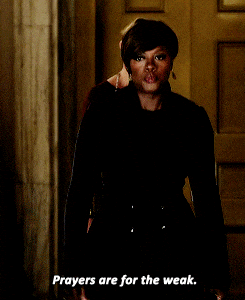 Thursday
Thursday morning I don't have to be at work until 9am. This would be better news if it didn't mean I'll be there until 11pm. However, the extra time in the morning means I can cleanse, tone, apply Finacea, and put on sunscreen all in the comfort of my home. I'm sad to admit I sometimes apply sunscreen on the subway, which I am aware makes me gross. I have a thing about layering products too quickly. I worry I'm just diluting one product with another if I don't give them time to dry. If I'm totally wrong on this, PLEASE call me out in the comments. I would love to stop putting on sunscreen with hands that just touched subway poles.
I'm not home until 11:40pm, as expected. As I dutifully cleanse, tone, Finacea, and moisturize, I realize something miraculous. Cheek pimple is, if not totally invisible, highly faded. Neosporin saves the day again. I stare at my nearly clear cheek and think about how I definitely would have skipped washing my face tonight if I weren't writing this diary. This makes me think I should start journaling my food, too. Then I eat four bite-size candy bars I stole from work and fall asleep.
Friday
Today is an exciting skincare day for you all! I'm working from home until 6:30, so I don't get out of bed until 11. I don't do anything to my face because I want to work out first, a dream it takes me two hours and 15 minutes of yoga to give up on. I wash my face in the shower, then put on Kiehl's Rare Earth Deep Pore Cleansing Masque. It's my go-to for all generalist, make-my-skin-look better needs. It's great for calming down redness and inflammation, improves overall tone, and just makes your skin look clear.
After, my skin is looking the best it has all week. The cheek pimple is totally gone, and those bumps I was complaining about on Wednesday seem to have died down too. I add toner, Finacea, and sunscreen. After sunscreen, I add my new favorite no-makeup makeup product: Smashbox Photo Finish Foundation Primer. This is the closest thing to foundation I can wear without triggering a breakout, and despite being sheer, I swear to God it visibly blurs away my flaws. Friday night, I cleanse/Finacea/maybe moisturize? I spent my evening getting high and watching Vanderpump Rules, so I honestly don't remember. I do remember eating a Twix bar at 1am and thinking the single greatest thing I could do for my health is cut down on sugar, so take that as you will.
Me: I should cut down on sugar!
Also me every time I go out: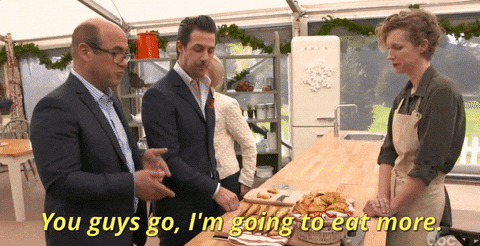 Saturday/Sunday
Saturday morning, I cleanse and tone, and get dressed in a rush waiting for toner to dry. Then I add Finacea and try to find my insurance card for a doctor's appointment for 10 minutes. Two hours later, I remember to moisturize—hope it still counts for something. No sunscreen today, oops. Saturday night I make a genuine attempt to go out. But I still end up asleep on the couch before midnight. At least I manage to wash my face before crashing. I tell myself I'll put on Finacea and moisturizer in bed. I don't.
Sunday morning I've slept for an annoyingly long time. I cleanse, tone, Finacea, and moisturize—no sunscreen. My skin's feeling dry since I fell asleep without moisturizing the night before, and I don't really plan on spending time outside anyway. I go to the movies, where I realize the junk food and half-hearted skin care Saturday has resulted in two new bumps rearing their heads on Problem Cheek. I tell myself I'll do a mask and spot treatments that night. Instead, I drink two margaritas at 5pm, and barely manage to cleanse/tone/Finacea/moisturize. I suck.
Monday
I wake up at 4:30am, regretting Sunday's margaritas with every bone in my body. I seriously consider quitting my job for five minutes, then get out of bed and cleanse, tone, Finacea, sunscreen. Monday night, I get home "early" (7pm), and treat myself to some salicylic acid spot treatment following my cleanse/Finacea/moisturizer routine. No toner because I'm already tired at the prospect of the spot treatment, but the bumps I saw at the movie theater Sunday don't seem to be going anywhere on their own.
Tuesday
Tuesday morning I cleanse, tone, Finacea, and liberally apply sunscreen to try and make up for the fact that I don't have time to apply moisturizer (and wait for it to dry). At work, I read a different skin care diary in which someone who clearly has more money and better skin than me also swears by salicylic acid for clearing breakouts. Even though the salicylic acid product is the only one in her routine I can remotely afford, I allow myself a brief moment of smugness. I also remind myself that fancy $100 skincare items have never done anything but made me break out.
Tuesday night, I cleanse/tone/Finacea, and add more spot gel (Clean & Clear) to those bumps on my cheek. I can't be sure if they're actually pimples or just rosacea bumps, but I feel hopeless if I can't even pretend I'm treating it. I tell myself I'll moisturize in bed, and as I'm sure you can guess, I do not. At 3am, I wake up, realize my mistake and moisturize. It's terrible.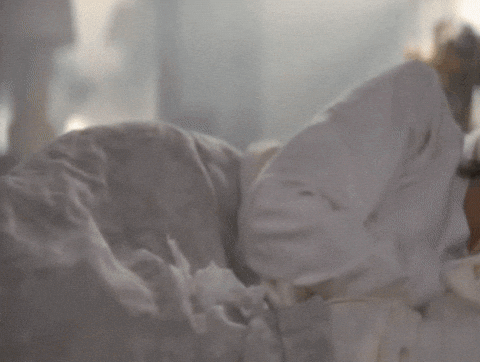 All in all, the moral of my not-so-exciting skin care routine is that I've (reluctantly) stopped chasing Instagram-perfect skin. And both my wallet and face are a lot happier for it. I don't use drugstore products because I'm low-maintenance and don't GAF. I use them because the alternative is spending $78 on a moisturizer that sits on top of my broken skin barrier and makes me break out. So if you have sensitive skin like me, remember that the #1 investment you can make is a dermatologist, and when you're rich, biannual microneedling and injections. Can't wait.
Images: Giphy (4)