Ariel Winter Has Some Sh*t To Say About Her Recent Weight Loss
There are obviously a lot of great things about being famous and successful, but being constantly body shamed isn't one of them. For years, Ariel Winter has been the target of relentless scrutiny based on her body, even when she was still a teenager. Despite the hate she gets, she's been public about her choice to have a breast reduction, and has always come across confident on social media. Over the last several months, Ariel has lost a lot of weight, but people have recently started to really take notice. This is mainly because, a couple weeks ago, Ariel dyed her hair red, which basically makes her Bella Thorne's celebrity doppelgänger. These photos have gone pretty viral, leading to increased scrutiny about her body as well. Ugh.
In the same way people used to criticize her curves, suddenly she was being shamed for being "too thin," and being accused of suffering from an eating disorder. It's almost like women can't win, no matter what we do!! Look, Ariel Winter doesn't owe anyone an explanation for her body, but she responded to the questions about her weight loss anyway in an incredibly thoughtful way.
Last month, Ariel posted a Q&A to her Instagram story, and one of the responses she shared was "Why so thin?"

Her answer is obviously lengthy, so I've broken it down below in a way that's easier to read.
"For years I had been on anti depressants that caused me to gain weight that I couldn't lose no matter what I did. It was always frustrating for me because I wanted to be able to get fit and feel like the work I was doing was paying off, but it never felt that way. I had accepted it and moved on. I stayed on those medications for so long because the process is really long and difficult. I wasn't ready to go through it again so I just accepted feeling eh instead of trying to find something to actually feel better."
What Ariel Winter is describing here is all too common. Certain medications (especially antidepressants) are notorious for making people gain weight, wreaking havoc on your hormones and metabolism. While these medications can be super helpful for what they're prescribed for, there's no question that these side effects are, at best, frustrating, and can even cause serious problems for patients. Ariel continued with her story:
"Last year I decided I was sick of feeling eh (had nothing to do with weight), so I started the process again and was able to find a great combination of medication that works for me. The change in medication instantly made me drop all of the weight I couldn't lose before by just giving me back my metabolism. That was very unexpected. While I feel better mentally with the change, and it's nice to work out and have your body actually respond, but I want to gain a few pounds of muscle and get healthier."
I applaud Ariel Winter for being open with her struggle, and acknowledging that she didn't have the energy to go through finding a new medication right away. Sometimes the side effects are worth it for the positive impacts of a medication, but luckily she was able to find something else that worked better for her. While Ariel Winter has definitely had some drama in the past, it seems like she's approaching this topic from a positive, level-headed perspective.
In her journey with depression, Ariel Winter is far from alone. A few months ago, Ariel's Modern Family costar Sarah Hyland also opened up about her experience with depression, saying that she struggled with mental health alongside her battle with kidney dysplasia. She had to undergo 16 surgeries in less than two years, and it took a toll on her mentally. Hyland encouraged those struggling with depression and suicidal thoughts: "It's not shameful. For anybody that wants to reach out to somebody but doesn't really know how because they're too proud or they think that they'll be looked upon as weak, it's not a shameful thing to say."
Of course, Ariel did have one last wish through all of these medication struggles:
"Also want my butt back…"
She's only human!
Images: Shutterstock; @arielwinter (2), @sarahhyland / Instagram
The Most Bingeworthy TV Shows This Fall
As I sit in my flannel, jeans, and black ankle boots, I can happily confirm that the fall season is upon us. True, it's still mid-70s and I'm only dressed this way because there was a tick advisory for my workplace today (working in TV is all glamour, don't let anyone tell you otherwise). But I'm sure we can all agree that it feels like fall. In other words, it's time to curl up in front of your TV and forget the words "crop top" for another nine months. While you probably spent all summer bingeing Office reruns (same), fall is the time for new, highly anticipated TV. In order of when they come out, here are the new and returning TV shows that will dominate your life for the next few months. Please set your DVR accordingly.
'You' – September 9, Lifetime
I should qualify at the start of this list that not every show will be what's traditionally considered "good." For example, most of the dialogue in this particular show makes me want to throw myself through a window. But like, in the BEST way. This show is about Penn Badgley playing a stalker freak who becomes obsessed with a slightly vapid blond and immediately starts doing psycho sh*t like writing about her on an anonymous website breaking into her apartment and messing with her life. So basically, a dark yet accurate glimpse into Dan's future. (Extremely self-aware of Penn Badgley to take this role.) This is my new favorite guilty pleasure show, and if you're a fan of Lifetime at all, I can't recommend it enough.
The first of many red flags he displays in this show: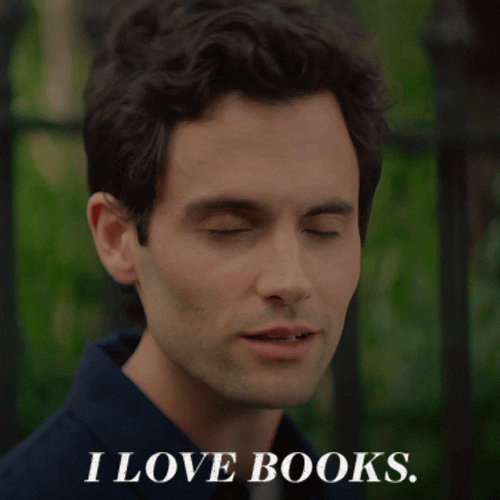 'Maniac' – September 21, Netflix
Okay so polar opposite of the last show, but also about mental health. Can't imagine why that's trendy right now when we have such a stable genius in the White House! Anyway. This whole season dropped on 9/21, and it stars Jonah Hill and Emma Stone. Even in this ~Golden Age~ of television, that's a pretty high-end cast. I won't tell you much about the plot beyond the fact that they both have a sh*t-ton of baggage and sign up for a pharmaceutical trial. The plot is less important than the vibe, which so far is like every episode of Black Mirror smushed into one world. This show is good for an all-day binge when you're up for actually thinking about what you're watching. Invite over your artiest friend so they force you to pay attention through the first 3 episodes, it's kind of slow to start up.
'Dancing With The Stars' – September 24, ABC
Have I ever watched this show before? No, and I probably won't again. But who could resist seeing Grocery Store Joe flit across the stage! I give you permission to stop watching as soon as he's cut.
'This Is Us' – September 25, NBC
You all know what this one is for. This is the show you come to when you need a really good cry, or when you want to ignore all your problems and pretend Mandy Moore is your mom for a while. Also, to get your weekly Sterling K. Brown fix, which is right up there in terms of importance with drinking water and getting enough sleep. It's just a fact of life. This season, we're going back to Jack and Rebecca's first date—and Randall's daughter, Tess, all grown up. Few things are as pure as my love for this show.
Anyone else need to watch this on repeat to cleanse from this week's news cycle?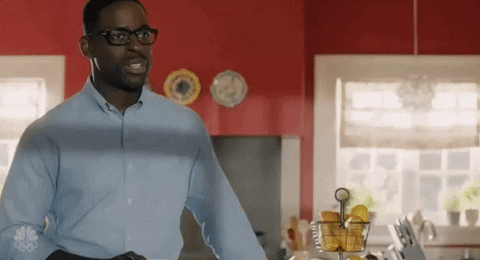 'Modern Family' – September 26, ABC
Did we all kind of get over Modern Family five years ago when it won every award? Yeah, maybe. But this is likely the final season, and they've been teasing a "significant death," so I'm planning on riding out the show until the end. It's the least you can do for something that gave you a few good years, like when you loyally wear your favorite black leggings until they're completely sheer in the crotch. Watch out of loyalty, watch because Phil is still funny AF, or watch because you're hungover and it comes on next on Hulu. Up to you.
'The Good Place' – September 27, NBC
Very few shows like The Good Place have come around in the past few years, and I'm deeply grateful when they do. It's from the creator of Parks & Rec, and has the same soothing effect of all your fave 25-minute comedies. Kristen Bell has spent the first two seasons figuring out that she's in (SPOILERS) Hell, aka the Bad Place. Season 3 opens up with her and her 3 companions having been redeposited on Earth to give things another try. Will they f*ck it up in a largely similar way to the first time? Probably, their memories were erased so IDK why they wouldn't. But it'll be fun to watch them try to fight their baser instincts for a while.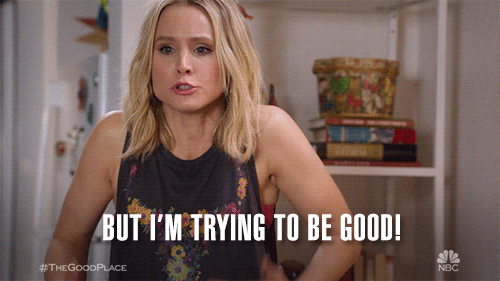 'How To Get Away With Murder' – September 27, ABC
This is another show that's sadly nowhere near as good as it used to be. But at its best it was so iconic that I still can't look away. No matter how ridiculous the rest of it gets, Annalise is still the epitome of boss b*tch goals, and Laurel still has an annoyingly good lingerie collection for someone with such a terrible personality.
'Riverdale' – October 10, CW
Of course the show I'm most excited for doesn't come back until October 10th. OF COURSE. Season 3 of Riverdale is about to be f*cking lit. We're dealing with the aftermath of Archie's arrest, an all-out war with Hiram, more screen time for Cheryl and Toni, and some weird cult stuff with Betty's sister. The promo shows Archie shirtless, more milkshakes at Pop's, and what appears to be a ritual sacrifice of two babies. Exactly what you'd expect and get more than you dared hope, in classic Riverdale fashion. And obviously we'll be recapping it.
Me all season:

The best part of these fall shows? Since they're all newly released, you're basically engaging in a cultural activity with every binge. Some people go to museums; you binge artful new storytelling techniques. Or at least that's what you'll tell yourself as you order Seamless the sixth time that week. Happy watching!
Images: The CW; Giphy (4)
Is Ariel Winter Getting Her Life Together?
After a few days of intense deliberation (with myself), I have something important to say. I think Ariel Winter might be getting her shit together. There, it's out in the open now. Our favorite child TV star-turned-Instagram thirst trap (tied with Bella Thorne) is growing up right before our eyes, and dare I say, she doesn't seem like a total disaster? In the past, there's been plenty to talk shit about, from her X-rated outfits to her questionable relationship choices to just like, her life as a person. But now, things might be turning around for her. I know you're probably mad at me right now but please, give me a chance to explain.
First of all, we have to deal with Ariel Winter's age-inappropriate boyfriend. Just a refresher, he's Levi Meaden, an actor who was recently in Pacific Rim Uprising (I know, what?), and they've been together for about a year and a half. At first, we were all pretty skeptical of their 10-year age difference, because it's fucking weird for a 28-year-old dude to date an 18-year-old. Like, it's one thing for the girl who got legally emancipated at age 13 to make some iffy decisions, but what's his deal?? But as much as the age dynamic makes my skin crawl, they're like, kind of a cute couple? He looks young, and she dresses like she's 25, so I guess it's not that much of a stretch? I mean, Selena Gomez and The Weeknd only lasted 10 months, and I never gave them any shit. I hate myself so much right now. Levi and Ariel have been living together for like a year, which is honestly low-key impressive. Considering I still hate spending the night with anyone unless there's brunch involved the next day, I guess I'm not in a place to judge. Just kidding, I spend my entire life judging others.
Okay, so Ariel's love life isn't a total disaster, I'll give her that. Let's discuss her school situation, because it's a little murkier. Way back in 2016, Ariel got accepted to UCLA, and she was very excited. She decided to defer her enrollment a year, because reasons. She started school back in the fall, but she announced last month that she was taking a break. Now, it's truly a choice to leave college after just six months. Ariel, wyd? She says she wants to focus on her acting career and have more free time, and like same. I would have loved to drop out of college after one semester, except the only career I had at that point was working at the front desk of the theatre department. I am Ariel, Ariel is me. As questionable as dropping out is, she's already in an Emmy-winning show, so going to college kind of seems like going back to eat a meal after you already had dessert. Ugh, now I'm hungry.
This brings me to the most important part: Ariel's outfits *shudders*.  Ariel Winter has made some very, um, intense fashion choices over the past few years, and we've roasted her many a time. Never forget the time she wore a fucking Vegas showgirl outfit to the Modern Family premiere, when everyone else was literally wearing jeans. I'm still suffering from secondhand embarrassment, but I think Ariel truly loved the attention. Last year at Coachella, the paper shredder casualty she called a T-shirt just made me sad, but it seems like she's made some stylistic adjustments as of late. Look at me, acting like she's a fucking art museum curator.
In her recent Instagrams, Ariel has been going for more of a sultry glam vibe, and I will begrudgingly admit that it's really working for her. As Miley Cyrus once said (shortly before her own wild phase), it's the climb. As much as I miss the latex bodycon dresses (mostly, the material they gave me for shit-talking in my group chat), it's refreshing to see her in pretty outfits that can be sexy without needing NSFW warnings. Finally, I don't feel like I have to take a shower after scrolling through her Instagram, and for that I am grateful. Did I just say I'm grateful for Ariel Winter? No, no I didn't, stop twisting my words.
The wavy hair and red lip is a seriously good look for her, and I'm exited to see how her style journey evolves next. Oh my god, I just read that back and immediately felt the need to take several shots of vodka. Someone send me a new Instagram thot to shit on ASAP, I can't handle this. I'm not saying I'm like, obsessed with Ariel Winter or anything, but our favorite physical manifestation of daddy issues has come a long way, and it's messing with my mind.
Modern Family is ending next year, but maybe Ariel isn't destined to be forgotten in the graveyard of child stars that went wild? Maybe she'll go back to UCLA and be a communications major or something boring, but maybe she'll actually become a real actress that gets cast in things? Is "Academy Award Winner Ariel Winter" something that we'll have to say in the future? Just shoot me now, this is the end. I don't want to say I'm rooting for her, but I might be rooting for her. That is, until she shows up next week wearing like, a paper towel as a dress or some shit. This is a confusing time, and I'd appreciate your support while I'm on this soul-searching journey.
Images: arielwinter / Instagram (4)
This Is Pretty Solid Evidence Wells Adams Is Dating Sarah Hyland From 'Modern Family'
Bachelor Nation's favorite non-Bachelor, Wells Adams, is being linked to Sarah Hyland. She's the actress that plays the Dunphy daughter that isn't Ariel Winter. You know, the one that's significantly less of a thirst trap in real life. Side note: are we still saying thirst trap? IDK, but it fits, so I'm going with it.
So anyway, Wells hinted at an L.A.-based love affair on an episode of his podcast with a lesser-known Cyrus sister, Brandi. He admitted to "talking to" someone who lived in L.A. Like, same Wells. We're basically all "talking to" someone in L.A., that doesn't mean it's an actual thing.
Now we have a pretty good idea who that L.A. lover is, thanks to some Insta photos from the weekend.
Sarah Hyland posed with Wells as characters from Stranger Things. He captioned the pic "11 hangin' out with a 10" which is actually a fucking brilliant caption and really adorable.
Sorry if this seems super sappy, but, like, it's kind of hard to hate on America's favorite reality show bartender. I mean, how could you not just die when he kissed Danielle M. before she left Paradise? He's cute, he's funny, he's sweet, he knows his way around puppets. What's not to love?
Super creepy internet sleuths, not unlike myself, have been tracking correspondence between Sarah and Wells for a while now. The two have been @-ing each other since at least April.
Now it's IG official. Like, seriously good for him for getting out of the incestuous cesspool that is The Bachelor/ette dating world. We're all rooting for you, Wells.
People Are Pissed About Ariel Winter's Latest Instagram
Oh, sweet Ariel Winter. So much to learn, so little desire to change. In the past, the Modern Family star's fashion choices have drawn a lot of, um, feedback based on their skimpy nature, and that's not great. But Ariel is creating controversy on Instagram again, and this time it's fair to criticize Ariel without sounding like a slut-shamer.
In the photos, Ariel's got her knees in the sand and is pulling on her swimsuit bottom like it's giving her a rash. She's also got some fake eyelashes on that look like they're considering a suicide mission to jump off her face (I would do the same tho). In the photo, Ariel is going for some serious Playmate of the Year vibes, which would have been fine, except that she captioned the post "Happy #MemorialDay."

Let's unpack. If you're not from the U.S. or you fell asleep in history class or something, Memorial Day is a holiday meant to honor soldiers who have died defending their country. It's not actually supposed to be about beer and bikinis, no matter how tempting that extra Monday off may be. In other words:

So yeah, people aren't thrilled with Ariel for posting a Memorial Day caption that has nothing to do with veterans, or America, or really anything but being a thirst trap. We're very much in favor of getting wasted at the pool on Memorial Day, but don't go on Instagram and pretend you actually give a shit about the troops. Or, like, at least hold a little American flag while you're posing in your swimsuit.
It's probably best to save the bikini photos for the 4th of July when no one died; a bunch of old dudes just signed some piece of paper. Also, never pose with your knees in the sand, it makes it look like you're about to go down on a merman.
WTF Is Ariel Winter Wearing?
Ariel Winter, the poor man's Kylie Jenner, attended the Modern Family season 8 finale screening on Wednesday night wearing… well, we're not entirely sure. She donned what appears to be your freshman year Cleopatra costume, only she got way too scissor-happy. Like, cold shoulders, a giant boob cutout, and you can tell the seamstress accidentally shortened the skirt a little too much? There is way too much going on here. You need to pick one slutty element—everyone knows you don't go full thot.
She accessorized this look with some shiny gold shoes that look like they came from the sale rack of Charlotte Russe, and her signature aura of desperation. I say that because she took a group photo with the rest of the Modern Family cast, and it's… well, I'll let you draw your own conclusions.

Like, did someone just photoshop Ariel in there? I checked multiple images on Getty, and no. This is real. Did Ariel not get the memo that this was a casual event, or is she just that shameless? Doesn't she feel at all weird standing basically naked next to a 9-year-old in a church dress and her work parents? Even Lily is like "WTF is this extra bitch wearing?" Seriously, just look at this shade:

Same, Lily. Same. Even Sofia Vergara kept it pretty low-key in a dress that looks like something your mom might wear to a summer wedding.

My personal theory about Ariel Winter is that she's so scarred by playing a "nerdy" character on TV that she feels the need to constantly remind the world that she can do sexy. And like, girl, WE KNOW. We are aware that just because you play a mousy bookworm doesn't mean you are one in real life. We all understand the definition of acting. So please, do less—in general, not with your wardrobe.