5 Lies The Victoria's Secret Fashion Show Told Us
Pour your zero-carb appetite suppressant out for the Victoria's Secret Fashion show, which was officially canceled yesterday in a statement by their parent company, L Brands. Apparently, the VS fashion show is taking the year off to "evolve the messaging" of the brand, aka to consider working with people who are not six foot tall cis women that weigh the same as an apple. In the #MeToo era, it comes as no surprise that a show as blatantly male gaze-y as the VS Fashion Show would have to rebrand (also, model Shanina Shaik leaked the news to the Daily Telegraph back in July). As someone who, for whatever reason, found herself watching the Victoria's Secret Fashion show year after year, the news is bittersweet. Sure, I won't be subjected to a parade of damaging body standards that leave me seriously considering an all-soup diet, but I also won't get to see Kendall Jenner wearing a space bra covered in glitter.
Obviously, I'm kidding. I will not miss wasting three hours on this event, which I inevitably would have done because I'm a sick millennial who is addicted to screens. But in honor of this iconic show's demise, here are five iconic lies they've told us over the years. Here's hoping the Hadid sisters use the show's end as an excuse to let loose and try a piece of cheese.
1. This Is What Normal People Look Like In Underwear

Let's be clear: I'm not saying that nobody looks like this. Some people do! And all 20 of them are in the Victoria's Secret Fashion Show. Yes, there are a blessed few who pop out of the womb with the genetics to be 5'10 and 119 pounds, but for most of us, that is just not happening. And for the people who are 5'1o and 119 pounds? Yeah, they mostly don't look like this:

Anyway, back to watching Netflix on my couch wondering why I don't have a six pack even though I went to the gym for 20 minutes three months ago.
2. This Is An Appropriate Costume

Yeah…don't do this. Don't even think about doing this. Unless you're actually Native American*, in which case do whatever the hell you want. You've been through a lot. This photo is of Karlie Kloss from the 2012 VS Fashion Show, approximately 500 years after Columbus sailed the ocean blue and made this not okay to do. (Rhyme intended.) Funnily enough, Karlie stopped walking for VS in 2014 after "studying feminist theory" at NYU and realizing it sent harmful messages to young girls. Models! They're just like us! (Getting woke after taking one women's studies class in college.)
Also, anyone who wants to comment on this post saying VS was just trying to "honor" Native American culture is welcome to do so, but they also legally must Venmo me $12. Call it an ignorance tax.
*finding out you're .00007% Chippewa on 23andMe doesn't count. 
3. This Is What A 37-Year-Old Woman Looks Like

This photo is from last year's show, where a 37-year-old Adriana Lima walked her final runway. Now, I'm not saying that a woman in her late thirties can't be a gorgeous, sexy, sensual being in the prime of their life. But what we see above is an actual abomination of nature. A gorgeous abomination, sure. But an abomination nonetheless. For reference, here is what I, a 29-year-old woman, will look like in exactly one year talking about the time I went to Bonnaroo:

Time is a cruel mistress.
4. Trans Women Can't Be Fantasies

#TBT to a little over one year ago, when Victoria's Secret was forced to issue an apology after Ed Razek, the guy literally known as "the man behind the Victoria's Secret Fashion Show," said he would never allow "transexuals" (his word, not ours) to walk the catwalk because the show "is a fantasy." He then went on to say the same thing about plus-size models.
First of all, trans women are women and plus-size women are women and the whole point of the show is to sell clothes to women, so wtf are you even talking about? Second of all, anyone who doesn't think plus-sized or trans women can be "a fantasy" is a narc who has never even glanced at porn.
Anyway, Razek left L Brands this August, and shortly before his departure, Victoria's Secret hired Valentina Sampaio (pictured above) as their first trans model. You simply love to see it.
5. This Is What Running Into Your Ex Is Like

We couldn't talk about the VS Fashion Show without mentioning the iconic moment, also known as "the only good thing that happened in the year 2016." Let's set the scene: Bella Hadid and The Weeknd had been dating for a year when they split up just a month before Bella's first-ever VS Fashion Show. They were then reunited live on stage as Bella made her VS debut looking like a low-carb snack. And thus a million revenge fantasies were born.
Unfortunately, a moment like this is not available to the vast majority of the population. For us non-models, reuniting with an ex looks more like running into them with their new girlfriend while we are making a tampon run in old sweatpants. But this moment was amazing television, and almost makes the 23 years of toxic beauty standards and bad body image worth it. Almost.
Images: Giphy (4)
Jameela Jamil Got In The Messiest Twitter Fight With Sara Sampaio
Ah, Jameela Jamil. Talented actress, champion of body positivity, and prolific tweeter. Jameela does important work helping to tear down the norms of problematic diet culture and harmful social media wellness practices, but she also has a habit of putting her foot in her mouth on social media. Over the last 24 hours, she's been in a heated Twitter back-and-forth with Victoria's Secret model Sara Sampaio, and it's all one big mess. Tempers are high, things are getting condescending, and I'm not sure anyone is completely in the right, tbh. Let's try to make sense of this, shall we?
A few days ago, Jameela Jamil reposted a video of a runway show in which several women are walking barefoot, dancing together, and generally just having a good time. No one in the video is super skinny, and Jameela took note. She said the show looked fun, then added "not a long-starved terrified teenager in sight."
Oh my god 😍😍😍 this looks like the most fun, and not a long-starved terrified teenager in sight. Beautiful. https://t.co/hck5n6e9Xu

— Jameela Jamil 🌈 (@jameelajamil) October 13, 2019
And in the least shocking turn of events, this offended some people, namely models, namely Sara Sampaio. Sara is a Portuguese model who has worked with Victoria's Secret since 2013. She criticized Jameela's description of models as "extremely offensive," and called her a hypocrite for going against her usual message of body positivity.
How about celebrating someone without bringing other people down? Calling runway models "long-starved terrified teenager" is extremely offensive. From someone that is always preaching for body positivity this just screams hypocrisy. https://t.co/JOBtY0yrui

— Sara Sampaio (@SaraSampaio) October 16, 2019
As we saw last week with the George W. Bush drama, Jameela Jamil isn't one to back down from criticism on Twitter, and this was no exception. She clarified that she wasn't referring to all models, and clarified that a "*vast* majority" of young models have issues with drugs and/or eating disorders. She also said that Sampaio should "try to calm down." *Cringe emoji*
On the one hand, while I understand Sampaio's argument that Jameela Jamil could have just celebrated the video without bringing anything negative into the narrative, that's not really Jameela's style. Her whole thing is calling out issues in beauty standards, and the fashion industry has long played into and profited from these toxic ideals. On the other hand, telling Sara Sampaio to "try to calm down" is extremely condescending, and it doesn't make Jameela Jamil's argument any stronger.
I also don't preach "body positivity." I talk about moving away from all talk of body, in order to combat our current pervasive issue of eating disorder culture, which is in NO small way perpetuated by the extreme thinness demanded of girls by the high fashion powers that be.

— Jameela Jamil 🌈 (@jameelajamil) October 16, 2019
After those first couple tweets, it was basically a free-for-all between Sara and Jameela, with each tweeting and responding with blocks of text every couple minutes. It's really not important to read every single tweet, or analyze every word, because it's not that complicated. Sara Sampaio obviously feels strongly about not making disparaging generalizations about models, and Jameela Jamil doesn't give a sh*t about making the fashion industry look bad.
Sampaio talked about how eating disorders and drug use are a problem in society as a whole, not only in the modeling business, and that these problems don't actually affect a "vast majority" of models (k, I'm gonna need a citation on that), like Jameela suggested.
You didn't say all models, sure, but you still chose to attack girls just so you can celebrate others. Eating disorders, drugs and cocaine use aren't a exclusive problem of models, it's a huge problem is society as a whole. And when you talk like you know for sure majority of https://t.co/4hAIf379WP

— Sara Sampaio (@SaraSampaio) October 16, 2019
Sara also clarified that the only intention of her original tweet was to call out Jameela Jamil's negativity: "I never said there wasn't a problem with the industry, so don't go around and put words in my mouth." Honestly, this drama is more intense than 80% of Real Housewives feuds, which is saying something. Jameela Jamil then told Sara not to "police how I choose to celebrate something or call out something problematic," before adding that her words "aren't cute, or easy, or inoffensive."
Okay, so while I agree with Jameela that we don't have to be polite when trying to affect change in the world, that's not the same thing as demanding a free pass to offend whoever you want along the way. Sara's not trying to say that Jameela should stop doing this kind of work, just that this specific tweet could have stayed on a positive note instead of slamming a whole group of people for basically no reason.
Don't police how I choose to celebrate something or call out something problematic. I was celebrating that it's a refreshing change, compared to the toxic fashion show norm. I'm an activist. My words aren't cute, or easy, or inoffensive. Change doesn't come from being polite. https://t.co/NqvfwTeixP

— Jameela Jamil 🌈 (@jameelajamil) October 16, 2019
So all of that (and more that I didn't embed because it was just too much) happened on Tuesday night, ending at around 1opm. But that's not the end!! Jameel Jamil fired up her Twitter machine once again this morning, going all the way back to Sara's original response to her tweet. Girl, at this point, the horse is dead. Stop beating it.
Also @SaraSampaio , you MIDUNDERSTOOD the tweet in the first place… it was Not taking aim at *kids* for being starved and afraid. It's definitely not *their* fault. Who on EARTH would blame children? it was taking aim at this (unbelievably fucked) industry. Which is RIGHT to do https://t.co/K3DkuRmIG7

— Jameela Jamil 🌈 (@jameelajamil) October 16, 2019
After all of what happened on Tuesday night, Jameela claimed that Sara didn't even understand the intent of her tweet in the first place. After all of that!!!! Jameela, I'm not gonna tell you how to live your life, but if someone misunderstands your point, perhaps try letting them know in the first response, rather than 10 rounds of petty tweets later. She said that her tweet wasn't taking aim at the starved teenagers, but actually the fashion industry as a whole.
By this point, it doesn't really matter, but Sara did criticize Jameela for "attacking girls," so she can correct her if she wants. But Sara also understandably called out Jameela this morning for her "constant condescending tone" when responding to her, and told her to have a nice life. Wowwww, this is so petty, and I love it.
This is the last I'll say on this. Your constant condescending tone is just unnecessary, and makes it impossible to actual have a conversation. Hope you have a nice life. Wish you all the best.

— Sara Sampaio (@SaraSampaio) October 16, 2019
Despite Sara's best efforts to shut the feud down, Jameela wasn't done, and she followed this up with her most personal attack yet. She fully went for the jugular, saying that Sara works "for a transphobic, fat phobic company," and that she should check herself "before you start policing me for calling out an industry wide epidemic of harm to young girls."
You also proudly work for a transphobic, fat phobic company @SaraSampaio . Victoria's Secret is a brand that sets out to exclude most women, so I would check yourself on that before you start policing me for calling out an industry wide epidemic of harm to young girls. https://t.co/e8HKFPQ71X

— Jameela Jamil 🌈 (@jameelajamil) October 16, 2019
Honestly, this one left me speechless. Up until this point, the argument had stayed pretty squarely focused on the issue at hand. They can debate Jameela's message on the tweet as much as they want, but Jameela really took it to a new level by attacking the job that has, by far, been the defining part of Sara's career. And, I mean, she is not wrong…
If you're speaking out against what your company did then GREAT. I look forward to seeing your activism on that with your big profile. You seem passionate about speaking out. So best of luck to you on helping young girls and trans people in this business. ❤️ https://t.co/UdQNCJrtb6

— Jameela Jamil 🌈 (@jameelajamil) October 16, 2019
Despite saying she was done with the feud, Sara couldn't ignore Jameela's attack on her career, and came back for one last tweet, in which she acknowledged Victoria's Secret's mistakes, and said that they've "been working on changing that." She made one more dig at Jameela, saying that she's made big mistakes in the "pass" too, but then said that she's not going to turn to "personal attacks to try to win some stupid twitter feud."
Oh my god, you guys, I am so tired. Honestly, it's comical that these two women got so involved over something that started with a dumb tweet about a fashion show that was meant to be positive, but that's just the world we live in. I now know way more about Sara Sampaio than I ever intended to, and honestly, she's pretty great at being petty on Twitter, so I kinda like her. Between Jameela's relentless dedication to her causes and Sara's unwillingness to back down, this was unknowingly a matchup for the ages.
Images: Shutterstock; jameelajamil (6), sarasampaio (3) / Twitter
Photoshop Fail Of The Week: WTF Revolve?
For today's Photoshop Fail, I was sent this horrible, horrible photo from Revolve. Look, I love to shop online. I love avoiding the store—no lines, no wearing pants, and no carrying heavy bags. The only true flaw of online shopping is when OnTrac holds your packages hostage but says it'll be delivered "tomorrow" and then does this for 10 days. Okay, there are two flaws. The second is that it's impossible to know what looks good on you without trying it on. It doesn't help when websites use superhumanly thin models that are also 10 feet tall as a gauge of what it looks like. Some brands are on it, and show clothing on a variety of body types and do minimal editing. But most tend to do what I'm about to show you. This is one of those things that gives women unrealistic expectations for their bodies. They will hire extremely thin models and then edit them to make them even thinner. Like, what? The thinnest women in the world are not thin enough for you still? Here is the offending photo that is the subject of today's Photoshop fail:

There are so many fails with this, it's hilarious and also very sad for women on a whole. As if we're not dealing with enough right now. The first thing is that she is airbrushed absolutely everywhere—which is pretty typical and IMO totally pointless. Even worse and terribly common, is that her body has been cut down EVERYWHERE. You can tell because she has soft, blurry edges. If you look at a real photo of a person, you have hard edges, because your arm or whatever does not blur into the background. Since this is a pure white background, it's normal to "cut out" the model to get rid of what was behind her, but they went into her body too far to make her look thinner. Also? NEVER use a soft, airbrush eraser on hard edges. Here it is close up of what I mean:

You can especially see the sloppy erasing where her wrist connects, but the soft edges are pretty much everywhere. Then they went and shaved down her rib cage too, because women aren't allowed to have ribs in today's society. It actually looks like they made the stomach lines too soft so they went back and drew in a VERY crude outline in an attempt to fix it:

It's like some asshole took the brush tool and just drew back a hard edge on her stomach? It looks like he traced her with a marker? SO, so sloppy. But hey, if even the super thin model needs to be erased out and then drawn back in to fit into today's standards, that just shows that you should NEVER feel bad that something doesn't look the same on the model as it does on you.
To compare what an unedited person looks like, Modcloth doesn't do excessive editing to their models. I say "excessive" because I'm sure they fix lighting, color, and maybe get rid of a pimple or two here and there. But just look at the difference:

ModCloth x Dupenny The Geena High-Waisted Bikini Bottom
Four for you, Modcloth, you go, Modcloth. This model has hard edges everywhere, none of which look like they were drawn back in with a Sharpie. This is most likely the model's true body and how the swimsuit looks on a real person. This is what everyone should do—just dress your models in flattering cuts! If they wanted to cut out the background, they could start cutting outside of her body lines, not shaving parts of it away with a soft brush the way Revolve has.
These issues are the least of this poor model's problems though. This very thin woman does not seem to have large breasts. Apparently that's not okay with Revolve, because they decided to do this to her:

I actually laughed out loud when I saw this. Can you see the problem? In an attempt to give her breasts when she clearly does not have large ones, they used the Burn tool to shade in huge lumps on top of her chest. This is so poorly done, because the only way to get top of boob lines is if you're pushing up your breasts or have implants. In either case, you would have cleavage. Which she doesn't. So they've only truly succeeded in giving her some scary, half-assed pecs. Which, again, would still have some kind of central line cleavage. It looks so much worse than—gasp—a woman with small breasts.
However, we're not even done. Let me introduce the TRUE STAR of today's Photoshop fail.

Quick question: Does that look natural to you? That just isn't how your thighs/butt work. It doesn't connect with a line through part of it like these are separate pieces sewn together. This is the part that jumped out to me immediately that something was off here. Also? How saggy would her butt need to be for you to see it through her thighs and hanging down the back? It makes zero anatomical sense.
It looks like she didn't have a thigh gap, so they put one in. In an attempt to make it look less like they cut a rectangle out of her vagina (looking at you, Target), they cut down her thighs but left that weird top portion. That is her true thigh width. Then they cut in some white lines on either side to make it look like a separate piece. It doesn't make any sense though, because if this was truly her butt cheek, it wouldn't be highlighted, it would have shadows. They literally put white divider lines around it so it didn't look attached to her thigh. Also? Your butt is attached to your thigh, you just wouldn't see it at this angle, unless you have an extremely saggy butt. The result looks more like she has some weird inner thigh tumor. Apparently tumors are now better than having your thighs touch in today's fashion. Who knew?
Hopefully this opens your eyes to how full of sh*t our models and advertising are. Don't compare yourself to these images, they are generally all lies. It's okay that you don't have an inner thigh tumor in your photos. It's okay to be flat-chested and not have superhero top pecs. You do you.
Has Gigi Hadid Had Work Done? An Investigation
Today is Gigi Hadid's 24th birthday, and as usual, we're celebrating by doing a deep dive into her entire life. Well, not really. To be honest, Gigi's personal life isn't that exciting, because it mostly just consists of me googling to see if she and Zayn are still together every few months. (I'll save you 30 seconds: they're not together right now.) Instead, today let's focus on Gigi's best asset—her face. Gigi Hadid is obviously like, superhuman levels of gorgeous, but how much of that beauty is natural? Let's examine the evidence and see whether the elder Hadid sister has gone under the knife.
Gigi Hadid is still so young, but she's been in the spotlight for a long time. I remember her fondly from the early days of The Real Housewives of Beverly Hills, when she was an up-and-coming model being lectured by her mom about why she needed to eat salad every day. Nothing problematic here! But Gigi Hadid actually got her start as a model way before that, doing campaigns for Guess when she was just two years old. Casual.
So Gigi was obviously cute AF when she was a little kid, but I'm not going to analyze what her face looked like when she was a toddler. Sorry, but I don't want to have "Gigi Hadid little girl" in my Google search history. I'm too young to go to jail. Instead, let's start with Gigi Hadid's first-ever post on Instagram, from November 2011.
Gigi's modeling career was already beginning to take off when this photo was taken, but she looks so fresh-faced and natural. She was 16 at the time, and while she was obviously a pretty girl, she looked more like the average hot girl at your high school than anyone who's ever been on a CW show. Let's start by establishing that Gigi Hadid has naturally beautiful features. Her big blue eyes are stunning, and she's always had great bone structure. For today's purposes, let's focus on two specific areas: her lips and her nose.
Gigi has full, pillowy lips, so they're often a topic of conversation when it comes to cosmetic adjustments. Lip fillers are one of the biggest beauty fads right now, and honestly, I bet more than half of the top models and celebrities have dipped a toe (or a lip) in the Restylane pool. But not Gigi. I feel very confident in saying that she has not had lip fillers. I know I said I wasn't going to analyze her face when she was a child, but I mean, look at her lips in this photo:
First of all, love the costume. But mainly, those lips! Unless Yolanda was making some seriously questionable parenting decisions, these lips look 100% natural. Yes, I'm jealous, but there's a reason Gigi's been on like, 74 Vogue covers, while the only thing I've been on the cover of is my mom's photo albums. I really hope Gigi never touches her lips, because I would honestly cry if I saw her with Instagram model trout pout.
Moving on, we really need to discuss Gigi Hadid's nose. While the lips were a pretty easy call to make, the nose has really given me some sleepless nights. Some people are absolutely certain that Gigi got a nose job, but I'm really not so sure.
Let's take a look at this side-by-side. The photo on the left is from September 2014, while the photo on the right is from February 2019.

Obviously, Gigi looks pretty different in the two photos. But I don't think it's because she had a lot of work done. Instead, I think most of the changes can be attributed to makeup, skin tone, and getting older. She's lost some of her baby fat over the years, giving her cheeks and jaw a more chiseled look. She's also learned that sometimes, less is more when it comes to fake tan. Paler skin makes her features more striking, allowing the best parts of her face to really pop.
But let's get back to the nose. For years, Gigi Hadid has been a big fan of using contouring and strobing techniques on her nose. This, I think, is the main reason for the change in appearance. For example, look at this photo of Gigi from last year's Met Gala:
This is one of my favorite Gigi Hadid hair and makeup moments ever, and the generous amount of highlighter used on her nose really changes her entire look. Seriously, she looks like an alien sent to kill us all because we're so ugly. But that's not actually what her nose looks like. Here's a magazine cover from July 2018, meaning it was probably shot around the same time the Met Gala took place:
THAT'S Gigi's nose! Gigi doesn't have a large nose by any means, but it's not insanely narrow or tiny like the contouring can make it appear. Damn, the devil works hard, but Gigi's makeup artist works harder. And honestly, because of all the crazy makeup tricks she can use, I think it would be really silly for Gigi to get a nose job. She obviously doesn't need it, and she could easily end up looking crazy. Her sister Bella has mostly had tasteful work done, but she still looks way less natural than Gigi.
So happy birthday Gigi Hadid, and congratulations on your lack of plastic surgery, at least as far as I, an untrained expert, can tell. Am I wrong? Do you think Gigi's been under the knife? Sound off in the comments!
Images: Shutterstock (3); @gigihadid / Instagram (4)
A Victoria's Secret Model Is Being Dragged For Comparing Diversity To Highlights
Just when you thought fashion week couldn't get any more ridiculous, Victoria's Secret model Devon Windsor thought she could spice things up on behalf of all white women with fake blonde hair. On last Thursday's episode of E!'s New York Fashion Week docu-series, Model Squad, Windsor grew flustered when a conversation between models turned to diversity in the industry. In classic "ignored white girl at the party" style, Windsor was desperate to share her own struggles, adding that it isn't easy being blonde, because she has to "get a highlight every month." Damn, Devon.
The conversation, which was primarily between Windsor and Chinese-American model, Ping Hue, got heated when Hue told Windsor that it was "super hard to relate to" them in regards to discrimination. Windsor defended her own experience as a tortured natural brunette, adding "I literally went through hell," because she lived in "different countries every other month" for two years. Windsor clearly missed the memo that traveling Europe is supposed to be fun, explaining that this was a difficult time for her because she couldn't speak Italian or "Paris," and I guess had no interest in trying?
Then, as all blondes do when we're feeling attacked, she reminded everyone that she was blonde. "You know how hard it is to be blonde?" she asked, "I have to get a highlight every month!" Clearly she felt like her problems weren't being validated, but even if we break down this theory, highlighting hair every month to make it blonde means she isn't blonde, which means her blondness is a choice and discrimination based on race in one's field is not a choice. So…?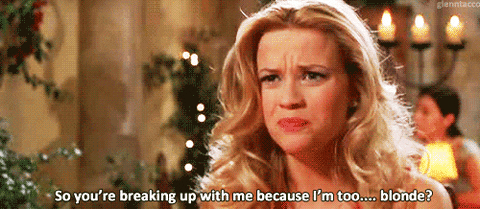 Windsor has since issued an apology via twitter, hopefully after she calmed down with a dose of Chardonnay and some basic human empathy. She tried to pass off her highlight trauma as a joke, writing, "If a peer of mine wanted to discuss such a serious subject about the struggles we face, I would never follow it with a joke." 
— devon windsor (@devwindsor) September 9, 2018
She also expressed that she has great respect for "all of those breaking barriers and working to forge a new and more inclusive community both in and outside of the modeling industry" whether they are women overcoming racism in the workplace or women sitting in a chair for an hour once a month while someone applies bleach to their hair.
You can check out the clip for yourself here:
Heads up, you need to keep up with the news. It's not cute anymore. That's why we've created a 5x weekly newsletter called The 'Sup that will explain all the news of the week in a hilarious af way. Because if we weren't laughing, we'd be crying. Sign up for The 'Sup now!
Bella Hadid Was Spotted Flirting With Someone Who's Not The Weeknd
Coachella is truly a wild place, and anything can happen when you put hundreds of celebrities in the middle of the desert with lots of drugs free sponsored alcohol. By weekend two, things start to get a little ~yikes~, and it's basically like last call at a desperate college bar. This is where burgeoning new relationships/flirtationships get witnessed by lots of sources eager to run to the tabloids, and I'm 100% here for it. Today's social media deep dive is brought to you by Bella Hadid and up-and-coming rapper KYLE (which I will henceforth write as 'Kyle' because all-caps is annoying AF).
First of all, let's address a little Coachella drama that Bella Hadid dealt with during the much more A-list weekend one. Last Monday, E! News reported that Bella and her ex The Weeknd were spotted "kissing all night" at an after party, which would qualify as an extremely major development. As we've discussed before, Bella and The Weeknd were an amazing couple, and rumors of their reunion last fall seriously messed with my mind. Bella was not here for the rumors, and she immediately commented on E!'s insta, saying that it wasn't her. God bless Bella, that was so easy. If this were Taylor Swift, there would've been a brutal six-week long PR campaign to shame whoever started the rumor, followed by an even longer "can't we all get along and stop makeout-shaming each other" campaign.

So if Bella Hadid wasn't busy making out with The Weeknd at Coachella, who was she spending time with?? That's where Kyle comes into the picture. Kyle (formerly known as K.i.D.) is a 24-year-old rapper from California, and his biggest song so far was "iSpy," which featured Lil Yachty. His debut album is coming out next month, so it's a major moment for him right now. He performed at Coachella with Chance the Rapper, which means he's probably very cool. I'm intrigued.
Gigi and Bella Hadid went to the Bootsy Bellows Pool Party at Coachella, where Kyle was also on the guest list. At the party, sources reported that Bella was definitely flirting with Kyle, and that the two were seen exchanging phone numbers. So basically they'll be engaged by the end of the month, right? One of my favorite anonymous Page Six sources ever provided some great commentary: "It for sure looked flirty. Bella was being very flirty that day . . . She was on a mission." Okay Bella, work!! While Bella was on her flirting mission, Gigi reportedly ate two McDonald's burgers in three minutes, which is truly the kind of content I need in my life.
So did Bella and Kyle find love in a hopeless place (a sponsored party at weekend two of Coachella)? It's definitely too soon to tell, but I have a feeling this won't be a relationship we're hearing about six months from now.  Kyle is a cute hip-hop artist, which is obviously Bella's type, but there's one major problem: Kyle follows Bella on Instagram, but she hasn't returned the favor. That can't be a good sign. Bella has over 17 million Instagram followers, so she clearly isn't too worried about her ratio. To be fair, Bella probably gets like 10 million DMs a day, so maybe she just doesn't really pay attention to anyone on Insta. Now that I think about it, she definitely seems like the type of girl who texts the group chat asking them to like her photo, but literally never likes anything. She's just, like, busy!
So stay tuned for further news about Kyle and Bella, or ideally further news about Bella getting back with The Weeknd. Don't @ me, I know I shouldn't care, but I just DO. No matter what happens, good for Bella for making the most out of being at both weekends of Coachella (bleak), and congrats to Gigi on eating those hamburgers so quickly. When's lunch?
Images: Shutterstock; @enews, @superduperkyle, @bellahadid / Instagram
Who Is Baskin Champion? What We Know About Justin Bieber's New Fling
It's only been a few days since Justin Bieber and Selena Gomez broke up yet again, but the Biebs is clearly wasting no time on the rebound. While Selena has been spotted on a yacht somewhere in Australia, Justin is already on the quest for new hookups. Justin was spotted hanging out with a new girl named Baskin Champion earlier this week, and we're already completely fascinated by her. Is Justin just hanging out with her to make Selena jealous? How many days will this last? Will he let her drive his blue Lamborghini? Who is Baskin Champion, and what the fuck kind of name is Baskin Champion? I did a little digging, and this is gonna be fun.
Justin and Baskin Champion were spotted attending a Craig David concert together, and Justin was super into it. He even got on stage at one point, saying that Craig is one of his idols. Ew, like get a room or something. Baskin Champion was probably not super into the concert, but let's be honest, any 22-year-old model would sit through a boring concert in exchange for a few treasured paparazzi photos with Justin Bieber. It's like a business transaction really, a true win-win for everyone involved.

So, not that Craig David isn't super exciting, but let's get to the important stuff: who is Baskin Champion, and who blackmailed her parents into choosing that name? Seriously, it sounds less like a name than a competition that your local Baskin-Robbins did one summer before Michelle Obama told us we should all start eating vegetables. Like yeah, I pounded all 31 flavors in a month and as a result, I'm the fucking Baskin Champion—they even gave me a punch card for a free Fudgie the Whale. Prestigious stuff.
But now that we've roasted her name, who is Baskin Champion, like on a deeper level? She seems like a bucket of fun. She's 22 years old, which is actually age-appropriate for Justin Bieber, and she's a model, naturally. She's a former Sports Illustrated Swimsuit Rookie, but I'm obsessed with something a little further down her resume: pageants. She was Miss Alabama Teen USA in 2014, meaning she a) looks amazing in a swimsuit and b) is probably really invested in world peace, like such as in the Iraq. Justin Bieber being with a pageant girl just feels right.
It's hard to gauge much about Baskin's actual personality, but you can learn some fun facts about her from watching her pageant interview videos. She studied "apparel design" at Auburn, so she's basically the Elle Woods of Alabama, except without the law school part. She looooved going to the lake, which makes sense because the lake is the perfect place for underage drinking with zero consequences. Also, the most important rule in her house was "Be GOOD," which actually stands for God-centered, others-concerned, obedient, and do what's right. Okay, I think this girl grew up in a cult, and also "others-concerned" sounds very made up. At least she's a Jesus freak, which is obviously what Justin Bieber is looking for in a woman these days. So glad they can be wholesome together, I love that.
From stalking her on social media, she pretty much seems like another basic blonde girl with a couple hundred thousand Instagram followers. She has an adorable dog named Charlie, she owns a pair of camo pants, and she only posts photos of herself. Par for the course. Her sister Abby, who is also a model, happens to be dating Patrick Schwarzenegger, which is probably how she got introduced to Justin. All the pieces of this puzzle are coming together, and the full picture looks like a relationship that will probably last 4-6 weeks.
So yeah, it seems unlikely that Justin Bieber and Baskin Champion will get married or anything, but everyone needs a rebound at some point. I'm sure Baskin knows exactly what she's signing up for, which is probably a big boost in Instagram followers and minimal emotional commitment from Justin for about a month. TBH can I sign up for that too? It's like the Whole30, except not the worst thing ever. Have fun Baskin, but remember that you're not here to make friends, you're here to win.
Images: Giphy; @baskinchamp / Instagram (2)
Lionel Richie Is 'Scared To Death' That Scott Disick Is Dating His Daughter
There's been a lot of Kardashian related news lately, so you may have missed this little tidbit: Scott Disick is currently dating 19-year-old Sofia Richie. Casual reminder that Scott Disick is 34 years old and has three kids. Sofia is a model, but mostly she's famous for being Nicole Richie's sister, and by extension, Lionel Richie's daughter. And Lionel Richie, much like the majority of America, is not into this relationship.
Richie told Us Weekly that he was "scared to death" over his daughter dating an old-ass man who got famous for trying to pressure Kourtney Kardashian into anal on national television. Not to mention the fact that Sofia is not exactly being chill about the relationship. The two were filmed fully making out on Snapchat a few weeks ago, and cranked up the PDA on a recent trip to Mexico.

When asked if he was shocked by the news, Richie said, "Have I been in shock? I'm the dad, come on." Uh…yeah…if I were Lionel Richie, I would not be so into my teen daughter going to Mexico with Scott Disick, a man who only semi-ironically refers to himself as "Lord."

Fair point. I think my dad would be fairly shocked to turn on the television and seeing that I'm dating the picture in the dictionary next to the word "Fuckboy." But whatever you do, Lionel, don't tell her they have to break up. That will only drive her further into his creepy 30-year-old arms.