Hunter McGrady Talks Inclusivity In Fashion—Or Lack Thereof
In what feels like an endless scroll of unattainable bodies and faces on Instagram, model and activist Hunter McGrady is the "it" girl you never knew you needed. She's taking over the fashion industry in more ways than one, and remaining humble af while she does it.
Her new fashion line, All Worthy by Hunter McGrady, recently launched with QVC. Think style meets comfort, with no limitations. With inclusive sizes ranging from XXS to 5X, McGrady is at the forefront of an important movement in women's fashion and history—style for everybody, regardless of their size.
When she's not designing beautiful clothing, you can find McGrady gracing the pages of Sports Illustrated, using her platform to uplift others, and donating her time and efforts to charity work.
I caught up with McGrady to ask her about her experience as a fashion model, what working in the industry was like for someone who's not a size 0, what inspires her to keep going, and more.
On Her Journey As A Model
"So, I started in this business when I was 16 years old. I was six feet tall and about a size two. I was consistently told to lose weight off my hips, to lose inches, I mean—it was just a constant, 'change this, change that.' I was a kid, I wasn't even developed, and I was still being told to lose weight. From ages 16 to 18, I tried being a straight-sized model and it was just really going against my natural body and how it was supposed to sit. It was also going against everything I started to believe in. Fast forward, I took a few years off, and at age 20 I started plus-size modeling. I had no idea about it because, again, this was something that was still very new. I never grew up seeing plus-size models. It was just not something that was in my magazines. I started plus-size modeling at size 14. I really had grown into my body and learned to love it after therapy and self-love, and finding who I was. Now I've been modeling for gosh, seven years."

On Inclusive Brands
"To be completely transparent, there's not a ton . I've always been a fan of Christian Siriano, he gets it every time. He always puts plus on the runway, he dresses the plus-size actresses. It's funny, because I am friends with a couple of these girls who go to the Golden Globes, The Emmys, The Oscars, and we always joke about, "that's it." Of course, Jason Wu dresses larger, and there are some others as well, but it's still very small. We are progressing, but very slowly. I would love to see more high-end designers jump on this train because, I mean, it's 2020. 72% of America is a size 16 or above. The demand is outweighing the supply. I would love to see these companies take this chance. I think it's a beautiful thing, bringing in a new fresh customer who has the money and is willing to spend. I still can't go shop on Fifth Avenue or in SoHo… it doesn't exist for me, and that's crazy."
On Areas Of The Industry That Need Improvement
"Brands across the board. Things you wouldn't even think about. I mean, even finding underwear and lingerie for a larger girl is so hard, I can't even tell you, and that's a necessity. I always encourage brands to make a change, make a change past XL . That's not inclusive. I'm talking like really go up- 2X, 3X, 4X, 28, 30. Go larger, because the customer is there, and she WILL buy."
On Her Own Brand, All Worthy
"I was so fed up with plus-size women getting basically cut from fashion and not having fashionable things to wear. I felt like we were always put in something that was an afterthought. What is great and cool about my line is that it is designed from a plus-size perspective, and then sized down. In fashion, you will typically find the opposite. I just wanted to create fashionable pieces that look fabulous on everybody, and I believe that fashion is for every body, every size, every age. I was so sick of talking to my girlfriends that were smaller than me and saying, "omg, I love this dress, where did you get it?" and them naming a store where I could never shop. It's nice to be able to have the same exact item, whether it's XXS or 5X, where it costs the same too. For the fall line, I wanted to create something cozy and comfortable. I love mixing fashion and function… A lot of us right now are home, which is kind of perfect, because my whole aesthetic is kind of comfortable. I had already thought about this prior , and now we're home, so it works."

On Social Media And Its Impact
I think social media can be such a blessing but can also be such a curse. I had to learn that I have the power to follow people who make me feel good, people who resonate with me, people who are authentic. I can't be in Bali every day with a fruit basket in the water with my boyfriend, that's just not my realistic life. It looks fabulous, but for the majority, that's just not what it is.
I had to do an and say, 'ok I want to follow people who make me feel great,' because I was noticing it was kind of seeping in, and I know this is the case for a lot of other people. This measuring up. 'Why am I not doing XYZ? How come they did this?' I think that social media is one of the biggest catalysts right now in the mental health problem in our world, and now we're moving into TikTok and Facebook, and of course, it's so fun… and I am not saying don't look at that stuff, but just be cautious of who you are following. Follow people who have your same values and morals, people that make you feel good. We have the power to do that.
I know I try to be as realistic as I can on social media. I mean, the other day I was talking about nipple hair and butt acne—things that are opening the door for this conversation in women. I got such an overwhelming response of people being like, 'wow I felt so alone in this.' It was really eye-opening to me because we really shouldn't . Social media can be this place to have these conversations. It's important to find those people that, again, make you feel good and make you feel heard. That's what we all want at the end of the day, to feel heard."
On Using Her Platform For Good
"I think the most important thing when you have a platform, you have a responsibility to talk about things that you are passionate about. Anything across the board, that is how we are lending our voices these days. I have used my platform to be loud about equality, body positivity, different movements, mental health, and as far as the fashion industry goes, I have no problem calling people (and brands) out who I find are hindering the progression of fashion and moving forward and inclusivity. Inclusivity across the board. For the last three fashion weeks, I have taken a stand and not attended any fashion shows that weren't inclusive. Let me tell you, I had to turn down 60+ shows and I think that has been very eye-opening.
I encourage my friends to put our money where our mouth is. Dollars speak. We have to support brands that support us in our everyday life. Even my girlfriends who are women of color; I want to support them and buy from companies who are supporting them. There is still a long way to go."
On Her Role Models And Influencers You SHOULD Follow
I have to shout out some of my girlfriends. Katie Sturino (@katiesturino) is one of my very very close friends. She keeps it so real—there is zero B.S. behind anything she does. Sarah Landry (@thebirdspapaya), she is absolutely amazing. She is a mom of three with one on the way, and she has a totally different perspective. She's not plus, but she's just a beautiful human. I love Maxey Greene (@maxeygreene), she has a really fun perspective. Right now, she's pregnant, but she's plus-sized, another thing that is never talked about in the media. You never see it. How your bump maybe doesn't look totally perfect—so any plus-size pregnant mommas that have come to me, I'm like, 'omg go check out Maxey. She's amazing, she's glowing, she's a goddess.' I would go through who I'm following, because I'm very proud of who I follow, and everyone has a very positive message."
On Tips For Loving Yourself
"At 16 when I was told I had to lose weight, and then losing the weight and being so small, that really ended up being a huge detriment to my mental health. I struggled with depression and anxiety my entire life. I went to therapy and my therapist said, 'Hunter, I want you to take a shower, I want you to take your makeup off, I want you to slick your hair back and look at yourself in the mirror naked and tell yourself 10 things that you want to love about yourself.' I thought it was so crazy and sounded so silly, but whatever I am just going to appease her. I went home and I did it, and I broke down and felt very emotional. I realized that that's what I needed to continue doing, and I've done it every single day since (not naked after the shower) just looking at myself in the mirror and doing affirmations. Telling myself how worthy I am to just see even another day here. My body has taken me here, my heart is still beating. Affirmations truly changed my life. The way our mind works, our mind follows, and what we tell it is what we believe. So, if we were so convinced the sky is gray, we would think the sky is gray. Think about that with your body, tell yourself how beautiful you are, how worthy and valued you are. That is one thing I have done for 15+ years and I always tell people, listen, it changed my life. Do it, trust me I know it sounds silly. I do it when I'm driving and everyone probably looks at me like I'm a cook but I don't care because it's what we need."
On Four Consecutive 'Sports Illustrated' Spreads
"The fourth time feels like the first time. It's still just as surreal and it's still such a "pinch me" moment. I never thought as a size 18, which I am now, that I would be in a magazine like Sports Illustrated, but that just goes to show how amazing Sports Illustrated is. They really have been at the forefront of this entire inclusive movement. The reaction is always incredible. I get women being like 'thank you so much' because it's nice to feel represented. I'm like, 'don't thank me, thank SI.' It takes these publications to put women like me in them. We need to be seen, representation matters. It's been amazing and I feel very proud to be a part of that family. Every year I feel like it's more and more diverse."
Images: Provided by Hunter McGrady, Instagram; https://www.instagram.com/huntermcgrady/, Instagram; https://www.instagram.com/qvc/ 
4 Brands We're Applauding For Not Retouching Their Ads
Because I am supremely lazy, get department store-induced migraines, and am under the age of 35, most of my shopping takes place online. I'm currently in hot pursuit of a wedding guest dress that says, "This is a fancy designer, but it was on sale" so I headed to the one place for this kind of lewk, Revolve, and let me just say, I'm disappointed. Either they have an incredible model scouter that has somehow managed to find all alien-women crossovers who have four-foot long legs and normal-sized torsos, or the brand's photo team retouches the sh*t out of the models' bodies. I'm no Photoshop expert, so the fact that even I noticed something was wrong is a serious problem. From a consumer standpoint, I am not tempted to buy a dress that, according to the photo online, will only flatter someone who does not have a ribcage.
I absolutely stan brands that are proud to show their clothes, makeup, accessories, etc. on models who look like real people. Beyond just showing size diversity, I love a brand that chooses to not erase stuff like scars, freckles, cellulite and a bunch of other sh*t photo editors consider unsightly in a picture. Clap once if you're more down to buy something if it's shown on a model who looks like you…but, like, really pretty because they're still models. Since major beauty and fashion brands don't do this often enough, I want to commend a few who don't retouch their models to the point where they are unrecognizable.
Fenty
This list is in no particular order, except for this first item because Rihanna is obviously the most amazing fashion designer/beauty guru/musical genius/God that ever walked the Earth and deserves to be first in everything. Riri showcases overwhelmingly diverse gorgeousness from Paloma Elsesser to Camila Costa to Slick Woods. I mean, all I can say is hell f*cking yes! I already knew Ri is a boss who does whatever the f*ck she wants, but what made me feel like this article needed to be written was an ad for her jewelry featuring a very untouched Aweng Chuol. The South Sudanese model is the definition of glowing. Like, what highlighter is she using? She has a few subtle facial scars, but so does everyone! I have one from the chicken pox under one of my eyes and, guess what, no one cares. Scars aren't offensive and shouldn't be edited out of anything—especially a beauty shot, which is a term I learned from ANTM. Thank you, Tyra. At the end of the day, Rihanna has the right idea here: she designs her makeup, jewelry, and clothing lines for all women to wear and feel hot in. We applaud you, Rihanna!
Dove
I obviously couldn't write an article about brands that celebrate real people without mentioning the OG. Dove boarded the body positive train way back in 2004, you guys. "As a beauty brand, Dove has always celebrated real women and their beauty. We believe the Mark will help women identify reality in what can be a confusing, digital world and relieve some of the pressure to look a certain way," Amy Stepanian, Dove's Marketing Director said of the brand's No Digital Distortion Mark campaign. It'd be cool if there was no need for a campaign like this, but we live in a superficial world run by superficial people, so we'll have to take what we can get for now. To me, Dove is the epitome of realness and, although their ads can be a little aggressive with shoving their agenda down our eye sockets every chance they get, I love what the brand stands for. They're like the opposite of Abercrombie's former CEO, who didn't believe that larger people are capable of being the "cool kids." Gag. Correct me if I'm wrong, but any full-grown adult using the phrase "cool kids" in complete seriousness is still bitter about not being invited to parties in high school. Anyway, cheers to Dove for not being like this. Now everyone go buy some soap!
Aerie
TBH I haven't stepped foot in American Eagle since 2007, but I have ordered a few Aerie bathing suits and pajama bottoms online. The only reason I did such a thing was because I could get a sense of how the pieces fit because they are shown on everyday body types. The only evidence of Photoshop may be adding a cloud or two to their beach pics, but it looks like the models bodies are left intact. The fact that there's like a bikini body ideal out there in the first place is gross, and brands like Aerie are thankfully shutting it down. Like, want a bikini body? Put on a bikini. Boom, done.
Aerie has been promoting body positivity sans photo editing for a while now—since 2014, actually. Yes, their creative teams edit the photos to give them a more editorial look, but they generally leave the models alone. When the brand first stopped editing women's bodies five years ago, Aerie's sales skyrocketed almost 30%. Wait, so you're saying clothing that real women buy sells better when shown on real women? Color me shooketh! Well done, Aerie. We need more brands like this to show us the way when it comes to knowing your audience.
ASOS
As far as I'm concerned, ASOS can literally do no wrong at this point. I liked the brand before I learned about their editing policy, and now I am addicted. They stopped airbrushing back in 2017 with its ASOS Face + Body launch, which was a rebranding done right, if you ask me. In fact, if you're a big ASOS fan, you know that they reject the word "beauty" because it's too subjective and broad. Check out their IG for a refreshing celebration of their values, which we all need to adopt. I'm sure some of y'all are wondering why I chose the pic I did to represent the absence of Photoshop, as this model clearly never had an awkward phase and it shows. The reason I chose it because she's clearly stunning and has gorgeous skin, but you can see her pores! Unlike most severe closeups beauty brands use to highlight whatever overpriced cream they're trying to sell by trying to convince us that it erases pores, ASOS left this girl's pores alone. And guess what? She's still really f*cking pretty and I would gladly trade skin with her. Regardless of if you buy a beauty product or not, you should be happy to have the skin you're in—even though it has pores. Everyone has them, people. Literally everyone. If you see someone who doesn't have them, get them help ASAP because something is wrong. 
Images: Matthew T Rader / Unsplash; asos_faceandbody, aerie, dove, awengchuol / Instagram
Photoshop Fail Of The Week: WTF Revolve?
For today's Photoshop Fail, I was sent this horrible, horrible photo from Revolve. Look, I love to shop online. I love avoiding the store—no lines, no wearing pants, and no carrying heavy bags. The only true flaw of online shopping is when OnTrac holds your packages hostage but says it'll be delivered "tomorrow" and then does this for 10 days. Okay, there are two flaws. The second is that it's impossible to know what looks good on you without trying it on. It doesn't help when websites use superhumanly thin models that are also 10 feet tall as a gauge of what it looks like. Some brands are on it, and show clothing on a variety of body types and do minimal editing. But most tend to do what I'm about to show you. This is one of those things that gives women unrealistic expectations for their bodies. They will hire extremely thin models and then edit them to make them even thinner. Like, what? The thinnest women in the world are not thin enough for you still? Here is the offending photo that is the subject of today's Photoshop fail:

There are so many fails with this, it's hilarious and also very sad for women on a whole. As if we're not dealing with enough right now. The first thing is that she is airbrushed absolutely everywhere—which is pretty typical and IMO totally pointless. Even worse and terribly common, is that her body has been cut down EVERYWHERE. You can tell because she has soft, blurry edges. If you look at a real photo of a person, you have hard edges, because your arm or whatever does not blur into the background. Since this is a pure white background, it's normal to "cut out" the model to get rid of what was behind her, but they went into her body too far to make her look thinner. Also? NEVER use a soft, airbrush eraser on hard edges. Here it is close up of what I mean:

You can especially see the sloppy erasing where her wrist connects, but the soft edges are pretty much everywhere. Then they went and shaved down her rib cage too, because women aren't allowed to have ribs in today's society. It actually looks like they made the stomach lines too soft so they went back and drew in a VERY crude outline in an attempt to fix it:

It's like some asshole took the brush tool and just drew back a hard edge on her stomach? It looks like he traced her with a marker? SO, so sloppy. But hey, if even the super thin model needs to be erased out and then drawn back in to fit into today's standards, that just shows that you should NEVER feel bad that something doesn't look the same on the model as it does on you.
To compare what an unedited person looks like, Modcloth doesn't do excessive editing to their models. I say "excessive" because I'm sure they fix lighting, color, and maybe get rid of a pimple or two here and there. But just look at the difference:

ModCloth x Dupenny The Geena High-Waisted Bikini Bottom
Four for you, Modcloth, you go, Modcloth. This model has hard edges everywhere, none of which look like they were drawn back in with a Sharpie. This is most likely the model's true body and how the swimsuit looks on a real person. This is what everyone should do—just dress your models in flattering cuts! If they wanted to cut out the background, they could start cutting outside of her body lines, not shaving parts of it away with a soft brush the way Revolve has.
These issues are the least of this poor model's problems though. This very thin woman does not seem to have large breasts. Apparently that's not okay with Revolve, because they decided to do this to her:

I actually laughed out loud when I saw this. Can you see the problem? In an attempt to give her breasts when she clearly does not have large ones, they used the Burn tool to shade in huge lumps on top of her chest. This is so poorly done, because the only way to get top of boob lines is if you're pushing up your breasts or have implants. In either case, you would have cleavage. Which she doesn't. So they've only truly succeeded in giving her some scary, half-assed pecs. Which, again, would still have some kind of central line cleavage. It looks so much worse than—gasp—a woman with small breasts.
However, we're not even done. Let me introduce the TRUE STAR of today's Photoshop fail.

Quick question: Does that look natural to you? That just isn't how your thighs/butt work. It doesn't connect with a line through part of it like these are separate pieces sewn together. This is the part that jumped out to me immediately that something was off here. Also? How saggy would her butt need to be for you to see it through her thighs and hanging down the back? It makes zero anatomical sense.
It looks like she didn't have a thigh gap, so they put one in. In an attempt to make it look less like they cut a rectangle out of her vagina (looking at you, Target), they cut down her thighs but left that weird top portion. That is her true thigh width. Then they cut in some white lines on either side to make it look like a separate piece. It doesn't make any sense though, because if this was truly her butt cheek, it wouldn't be highlighted, it would have shadows. They literally put white divider lines around it so it didn't look attached to her thigh. Also? Your butt is attached to your thigh, you just wouldn't see it at this angle, unless you have an extremely saggy butt. The result looks more like she has some weird inner thigh tumor. Apparently tumors are now better than having your thighs touch in today's fashion. Who knew?
Hopefully this opens your eyes to how full of sh*t our models and advertising are. Don't compare yourself to these images, they are generally all lies. It's okay that you don't have an inner thigh tumor in your photos. It's okay to be flat-chested and not have superhero top pecs. You do you.
Leonardo DiCaprio Might Be Getting Engaged Soon
Leonardo DiCaprio is getting engaged. Okay, I'm getting ahead of myself. Rumor has it that he's planning on popping the question soon, and I'm v upset about it. After 43 years of being the ultimate bachelor, Leo might be settling down with his new model of the week, Camila Morrone. An insider told Us Weekly that he has "never loved a girl like this." Aw, that's sweet. Of course, there's not really any way to judge the accuracy of "insider" reports, but let's assume this is true. Is Camila Morrone the future Mrs. DiCaprio?
Need a recap on who Camila Morrone is? As we've discussed, she's a 21-year-old Argentinian model and actress. Yes, you read that correctly, she is 21. Half his age. Actually, NOT EVEN HALF. The two have been dating since her high school graduation December 2017, and have been photographed around the world together. It's no surprise Leo fell hard for her since she falls perfectly into his "type" (model, younger than him).
So yeah, it makes sense that Leo is very into Camila, because literally who wouldn't be? I'm happy for Leo, but also some of the details in the Us Weekly report are a little cringey. The source talks about how Leo is finally ready to settle down, which is not that shocking considering that he's been an adult man for a quarter of a century. Apparently Gisele Bündchen, whom Leo dated from 2000 to 2005, wanted to get engaged, but Leo thought he was too young. Okay, first of all, if you're dating someone for five years and not willing to discuss marriage, what are you doing? Second, Leo was 31 in 2005. If 31 is "too young" for men to get married now, just throw me in front of a moving train.

In the Us Weekly article, the source also says that Leo is "ready to have kids," and that " loves having little kids around and wants to have kids with Leo." She also apparently wants to get married first because she's "very traditional in that way." I believe that all of this is true, but I'm still not sure I can imagine Leonardo DiCaprio having children. Whatever, I guess anything can happen.
Will Camila Morrone be Leo's lasting love? Maybe! To date, neither of them have ever confirmed or commented publicly on their relationship, but time will tell. Soon, we might get some sort of announcement, or see Camila in public rocking the largest ring we've ever seen. Sorry ladies, but the chance to get with Leo might be gone. I'm not crying, you're crying.
Image: Giphy (1)
Who Is Camila Morrone, Leo DiCaprio's New Girlfriend?
In all the news of celebrities getting engaged after .25 seconds of dating, you might have missed that Leonardo DiCaprio has a new girlfriend. And yes, before you even ask, she is a model. She and Leo DiCaprio have actually been dating for almost a year now, so we decided that it was finally time to do a little investigating and actually get to know this lucky b*tch. Her name is Camila Morrone, and before you go typing who is Camila Morrone into Google, we did some digging. We discovered everything there is to know about the stunning 21-year-old, so you don't have to do your own research. You're welcome.
#LeonardoDiCaprio y #CamilaMorrone, enamorados en #SaintTropez: paseo en yate y lomazo https://t.co/dP7vJjhyZX #fielinks

— mabgia (@mabgia) July 30, 2018
Who Is Camila Morrone?
Needless to say, Camila Morrone is an actress and model. She's obviously gorgeous and slightly age-inappropriate for the 43-year-old Leo, but at least she can legally drink. Camila is starring in campaigns for Topshop, Desigual, and Ay Not Dead jeans. Naturally, she's besties with some other famous models like Hailey Baldwin, Kendall Jenner, Bella Hadid, and Kaia Gerber, to name a few. So basically, she's not that different from Leo's other model ex-girlfriends.
Morrone is currently making the segue from model to actress (eye roll). Even though she never took an acting class in her life, she was cast in the action movie Death Wish starring Bruce Willis and made her starring debut in the comedy-drama Never Goin' Back alongside Maia Mitchell, which premiered at the Sundance Film Festival. I haven't seen either movie, so I can't determine if she's any good at acting, but hopefully she's better than Cara Delevingne.
Who Is Her Family?
This is not Camila Morrone's first brush with Hollywood royalty. Her mom, Lucila Solá, is a former model and romantically linked to an actor you may have heard of… Al Pacino. In fact, Pacino is credited with introducing Morrone to DiCaprio. The guys my parents' friends introduce me to are all ugly with emotional intimacy issues, so I'm impressed with Al for this. Camila's dad was also a model, starring in ad campaigns for Dolce and Gabbana in the 90s, which explains her perfect appearance. Is it too late for me to get adopted by them, and will it make me better looking by association? 
When Did Camila Morrone Start Dating Leonardo DiCaprio?
The two were first reported as romantically linked when Leo was spotted leaving her house in mid December. I know, you've been out of the loop for a long time! It's okay, we all are. After that, Camila and Leo spent the holidays together in Aspen and were seen getting off his private plane together in LA. The following month, they were together again, celebrating Ellen Degeneres' birthday. This summer they've been spending time together on a yacht in the South of France and around the Italian Riviera, sometimes with her mom, which is the only possible buzzkill we could find in this whole scenario.
Is There A Future?
I mean, who really knows. On the one hand, just yesterday, Camila and Leo were spotted snorkeling together in Italy. On the other hand, this is Leo DiCaprio. The dude goes through ex-girlfriends like I go through shampoo. I would honestly be shocked if Camila was Leo's last much younger gorgeous girlfriend. But then again, given what's been going on in Hollywood lately, maybe they'll get engaged two days from now. It's anybody's guess.
Images: camilamorrone / Instagram
What His Swimsuit Says About How Big Of A Douche He Is
I learned two important lessons from my time analyzing men's underwear. 1) I'm basically the female version of Tan, and 2) there are way more bad options than good when it comes to covering men's junk. The situation is no different when we're looking at bathing suits—*remembers Speedos exist*—actually, it's worse. Ultimately, scoping out guys at your local beach/pool/YMCA (I don't judge) isn't about finding your sartorial soulmate. It's really about avoiding these common red flags. Read on for what his swimsuit says about him, and the swimsuits that should make you run far, far away.
Swim Briefs
Let's start with the worst. "Swim briefs" are Speedos, plain and simple. Calling them swim briefs is the equivalent of referring to Q-tips as "cotton swabs." So even using this term is sufficient reason to excuse yourself to the bathroom and never return. For those lucky souls who have never encountered a Speedo, I'll paint you a picture. They do bare minimum in the front, and either barely cover his ass or go full thong. In other words, if you hook up with a guy wearing a Speedo, you could plausibly mistake it for your own underwear while trying to get dressed. These are strangely popular among Europeans, so consider yourself warned before meeting your Italian Hinge match at Le Bain.

Square Leg/Square-Cut Shorts
Looks like we're going least to most coverage here! Square-cut shorts are the bathing suit equivalent of boxer briefs. This cut can be sexy when revealed under pants, but IMO it's a little aggressive as the sole thing covering your lower half. (*Thinks back to the cheeky Brazilian bikini I just ordered.* Nope, I stand by it.) I feel like Jordan from The Bachelorette definitely wears this kind of bathing suit, to give you a sense of the overall dateability conveyed by this style. It's the ultimate for guys who want to show off every inch of their bodies without committing fashion suicide. AKA every guy who cracked 1,000 followers on IG and now thinks they're too good to answer your texts. Not that I'm bitter, we were obvs growing apart anyway. But yeah, guys who wear this swimsuit are likely way more into themselves than they are you. Sorry!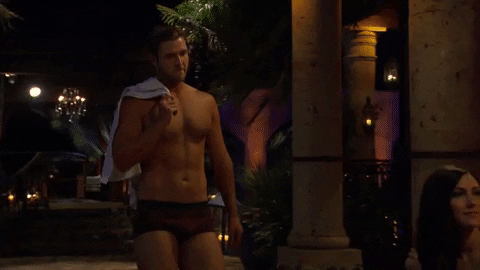 Swim Trunks
Ayyy, we've arrived at the only socially acceptable swim suit for men. Feels good. You'll recognize swim trunks from every time you've seen a male go in water without baring their full ass. They're your basic loose short, completely indistinguishable from actual male shorts to the naked eye. With swim trunks, the main thing you want to look out for is the print they choose. My personal preference is a solid that's flattering to their skin tone, or a simple print that's on-theme without being obnoxious. (E.g. *subtle* floral/Hawaiian, nautical, etc. Don't @ me, I like the tiny sailboat thing.)
If they're covered in giant flamingos, pineapples, or American flags, they're frat bros who didn't have to do anything other than breathe to get laid in college and don't intend to start now. Give them a few years of getting rejected by women like you and come back to them. Like wine, except instead of wine it's a 27-year-old man-baby. Anyone who wears plaid swim trunks is a psychopath or in middle school, and you can't convince me otherwise.

Board Shorts
Board shorts are…ok. They're really just the sloppier, oversized version of swim trunks, often worn by little kids or guys who really don't care about the fit of their clothes. Acceptable on surfers, for whom these serve a legit practical purpose. In all other scenarios, it's the sartorial equivalent of what you put on to pick up Gatorade while hungover.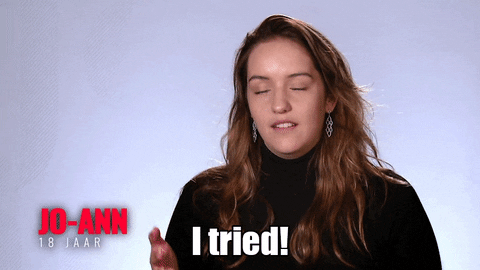 Jammers
First time hearing of jammers? Don't worry, me too. While I'd hoped this was a term for dressed-up jammies, it's actually a swimsuit specifically designed for athletic performance. AKA this bitch better be training for the Olympics. Otherwise, he's just weirdly proud of his thigh girth or trying to hide some kind of rash. Not a risk I'm interested in taking.

There you have it. If you're looking for a guy to actually date (so old-fashioned, I know), swim trunks only please. If you're already dating and looking to fine-tune his wardrobe, throw out all his obnoxious prints and board shorts. Everyone else, please feel free to hook up with the Speedo/short short/jammer wearing guys out there and report back. Don't say I didn't warn you when all they talk about is their dating app matches, muscle tone, and favorite protein powder. Wow, I'm just describing Jordan. He'll be missed.
Images: Giphy (5)
Who Is Hope Hicks And What Highlighter Does She Use?
If when you hear the words "Donald Trump" and "former model" in the same sentence, you immediately jump to sexual assault allegations or Forbes-magazine-spanking scandals, you're not alone and I really can't blame you. However, there's a former model currently working in the White House as an indentured servant named Melania who might accidentally be the one who brings down the Trump presidency from the inside. So who exactly is Hope Hicks and how did she get a job in the White House with no prior political experience? Here's what we know.
Who TF Is Hope Hicks?
Trump's third attempt at choosing a White House Communications Director that will last more than 10 days (RIP "the Mooch") is former model and NYC publicist, Hope Hicks. Hicks worked at a PR firm representing major celebs like the Trump family, and specifically Ivanka, who poached her to work on b0th expanding her clothing brand and then modeling her pieces as well. When clients come into our office, they usually ask me to fetch them coffee or point out the bathrooms instead of offering me my big modeling break, but I'm not bitter or anything.

Before she was a big shot publicist, Ms. Hicks still had her finger on the pulse of Manhattan's elite in another way. Before she modeled for Ralph Lauren and Ivanka, Hope was on the cover of the Gossip Girl spinoff series about Jenny Humphrey called It Girl. Just when you thought little J could literally not get any more insufferable, she ends up working to desperately make Trump look sane in the public eye.

Ivanka clearly trusted Hope because she looks hot in her clothes to promote her family in a positive light, which led to the Big D hiring her as Communications Director because she looks hot in Ivanka's clothes even though she's only 29 and has no political experience whatsoever. While that is seriously impressive and, like, inspirational to young bad business bitches everywhere, I can't think of any person in their twenties who is actually qualified to hold an official government position. Every year before 30 is still a shit-show and deserves to be treated as such before it's socially unacceptable to end the night wasted and asleep with a bowl of mac and cheese in your bed.

Why Is She In Trouble?
As a Communications Director, it's Hicks' job to attempt to filter the insane shit that leaks out of Trump's mouth to at least make him look semi-sane and to stop him from saying something that will get him in tons of trouble (TBH she's doing a pretty terrible job as far as that's concerned). One of her responsibilities is literally to type out Trump's tweets as he dictates to her through greasy mouthfuls of McDonald's, and my question is just…how could you let those get posted? A small part of your educated, press-savvy brain must be rotting away having to use the wrong "there/their" and punctuating everything with indiscriminate caps lock. I know I have a slight aneurysm every time I read one.

At the moment, Hope may be in hot water now that it was revealed that she and Trump allegedly drafted the statement together that claimed Donald Jr.'s meeting with Russian lawyers had nothing to do with dirt on Hillary Clinton and was about lifting sanctions on Russian adoption. You're not exactly proving your PR skills, girl, because that is the least believable lie I've ever heard since those few months when Kylie Jenner tried to pretend she doesn't have lip injections. It's (literally) written all over your face.

Mark Corallo, a former legal spokesman for the Trump administration who resigned last July, claims that Hope told him Don Jr.'s emails about the meetings "will never get out," which some might take as a threat that she plans to cover them up and prohibit anyone from seeing them – AKA obstruction of muhfuckin' justice. Corallo plans to testify to Mueller that Hicks may have had knowledge of or intent to obstruct justice, which would lump Trump himself right into the equation if they cite the statement they drafted together about the Russia meeting.
It's also worth noting that the PR firm Hicks previously worked for was owned by a guy who made his name as Harvey Weinstein's publicist, so it's clear that Hicks learned her techniques from the top of the covering-up-dubious-behavior food chain.
Oh Little H, did you learn nothing from Blair Waldorf? The secret to a good lie is making sure no one ever finds out. If you really have something to do with holding back information, it looks like your "hope" of keeping your job – and staying out of jail – might get squashed. I hope you know how to model orange jumpsuits. XOXO.

What Highlighter Does She Use?
Unfortunately Hope has not spoken out on this important topic, but hopefully Robert Mueller can include this line of questioning her in deposition. The American people deserve to know.
Heads up, you need to keep up with the news. It's not cute anymore. That's why we've created a 5x weekly newsletter called The 'Sup that will explain all the news of the week in a hilarious af way. Because if we weren't laughing, we'd be crying. Sign up for The 'Sup now!
Hillary Clinton Has A Hot Nephew Who's A Male Model, But Why Male Models?
Hillary Clinton may not have won the presidency and smashed the glass ceiling (still bitter about that, TBH), but that doesn't mean other Clintons can't get in on the "smashing gender norms" game. Now, let's play a word association game. If I say the words "young Clinton," who comes to mind? Is it Chelsea? It's probably Chelsea. Now, if I were to say the words "hot Clinton" who would come to mind? Maybe like, Bill in college? Or like, that picture of Hillary wearing cool pants in the 70s? IDK. The jury is still out on that one. But what if I were to tell you that there's an even younger member of the Clinton family, who also happens to be a hot male model? Meet Tyler Clinton, Hillary's hot nephew.
Tyler made a moderate splash last summer when he uploaded some amateur modeling photos to the internet, as one does. This is normally where people's amateur Instagram modeling career both begins and ends. Like, no matter how fire your gym selfie is, it usually does not end in gainful employment. But that rule apparently does not apply to members of political royalty (and felons), because as of this week Tyler has officially signed a contract with IMG, one of the world's biggest modeling agencies that isn't the one all the ANTM winners get signed to.
IMG's biggest claim to fame is that they also represent the Hadid sisters, which is exciting because I think we can all agree that the consolidation of the Hadid-Clinton dynasty would be good for America. I mean, we may be getting ahead of ourselves here, but if Tyler and a Hadid sister end up together, their offspring would be the most beautiful baby democrat since JFK Jr. (RIP.) And we would literally die if we got to see Hillary Clinton trying to hold a conversation with Gigi. What could they possibly talk about? That stupid Kendall Jenner Pepsi ad, probably. 
Signing this contract means Tyler makes the jump from being one of those random thirsty dudes from your high school on Instagram who hashtags #model in all his photos for free to doing all the same shit but actually getting paid for it. And in case you're wondering how the fuck this perfect male specimen is related to the Clintons, Tyler is the son of Bill Clinton's brother Roger, but he looks more like a young Matt Damon with better bone structure. He's 22 years old, and his Instagram (@tclint) is basically dream boyfriend material if we liked being outside a little bit more.
There's camping, kayaking, and beaches (#whitepeoplethings), and while the first two things on that list sound like our personal hell, we'd learn to fake it for Tyler and his life changing abs. Now I know America wasn't ready for the first woman president, but are we ready for the first Instagram model-turned-actual-model-turned-president? Who knows? And who knows if Tyler will make it big in the modeling world, but we have a feeling with his family connections he'll be okay no matter what. He recently made the move from LA to New York, so look out for him next time you're out and about in NYC. The city's not that big, right?