Everything You Need To Know About 2020's Biggest Senate Races
When we talk about elections, we often put most of our focus on the top of the ticket. Obviously, who the president is is very important, but putting a Democrat in the oval office won't mean much if Mitch McConnell still gets to keep control over the Senate. Meanwhile, the progressive change Dems have already brought to the House won't mean as much if legislation doesn't pass in the Senate. 
Of the 35 seats up for reelection, Republicans are defending 23, and Democrats are defending 12. For the Senate to flip, Democrats need to gain a net of four seats on November 3.  They only need three if Biden wins the presidency, as the Vice President serves as the Senate's tiebreaker. 
There are a few really good signs that Democrats have a chance at taking the senate. Almost all Democratic challengers have raised a ton of money – which makes sense since everyone is pretty pissed at people like Susan Collins, Mitch McConnell, and Martha McSally — all three of whom rank as some of the country's  least popular senators. Trump's lethally botched response to the coronavirus pandemic has led to his record unpopularity — just as Senate Republicans have spent years hitching their futures to his wagon.
As a result, polls suggest Democrats could take Senate seats never expected to go blue in states like Georgia and Alabama. Let's take a look at some of the most competitive races, and where each candidate stands:

Who's running? The incumbent is Democratic Senator Doug Jones. His opponent is former Auburn University football coach Tommy Tuberville who recently beat former Attorney General and current supervillain Jeff Sessions in the Republican primary. 
Why is this state competitive? The Democrats barely won the seat in 2017, and only because Jones faced off against accused child molester Roy Moore — which might be the only way a Democrat can win in Alabama. Alabama is a solidly red state and typically favors Republicans — with strong loyalty to Donald Trump. Jones also prosecuted the KKK members responsible for the 16th Street Baptist Church bombing 
So, what's the deal? As of August, Tuberville is leading over Jones by about 10 points, and Trump has a massive lead over Biden in the state. Nothing is a done deal until November 3.

Who's running? Former chairman of the South Carolina Democratic Party Jaime  Harrison is challenging Senator Lindsey Graham, and as of mid-August — the two were TIED. 
Why is this state competitive? Trump's waning popularity with even Republican voters puts his most loyal allies at risk in November. Graham, who famously called candidate Trump a "xenophobic, race-baiting bigot" before supporting him unequivocally as president. 
So what's the deal? A large percent of South Carolina voters polled said Graham is too supportive of Trump — but Trump won the state by nearly 15 points in 2016. 

Who's running? The incumbent is Republican Senator Martha McSally, and she is being challenged by Democrat Mark Kelly. 
Why is this state competitive? Senator McSally was not elected but appointed to fill John McCain's seat after losing to moderate Democrat Kyrsten Sinema in 2018. This is a special election because McCain was not supposed to be up for election this year. Kelly is a former astronaut married to former Rep. Gabby Giffords, who was nearly killed by a gunman in 2011 while representing Arizona in the House of Representatives. Kelly has a huge fundraising war chest and Trump-allied McSally is pretty unpopular in the state, so Kelly has a slight lead over her, emphasis on 'slight.' 
So, what's the deal? Both Kelly and Biden have slight leads over their Republican opponents, but as we know, the polls don't really mean anything. Experts predict that Arizona's recovery from COVID will play a significant role in the election. McSally has recently scored points throughout the state by expressing her commitment to expanding the CARES act, which is the coronavirus relief bill. But shifting demographics in the state look good for Kelly. 

Who's running? The incumbent is Republican Senator Cory Gardner, who is facing the end of his first term. He is being challenged by former Governor and Democratic presidential candidate John Hickenlooper. 
Why is this state competitive? Since Gardner won his seat in the 2014 Republican wave, the state has become increasingly blue. Clinton beat Trump by about five points in 2016, and the state legislature and governor are democrats). Colorado has a large immigrant population and strong ties to gun control, both are policy issues that are huge strengths for the Democratic party. Plus, Hickenlooper was a popular governor with name recognition in the state where protests against police brutality have emerged in every major city. 
So, what's the deal? Nothing is guaranteed until people vote, but Colorado seems like the most likely state for Democrats to take from Republicans in November. 

Who's running? Everyone's least favorite person, Republican Senator Susan Collins, is being challenged by Maine's Speaker of the House, Democrat Sara Gideon 
Why is this state competitive? Senator Collins has served in congress for almost 30 years and is currently ranked the least popular senator in office, inching ahead of Mitch McConnell. She has gained national attention over constant "disappointment" with the Trump presidency but failure to withhold any support from the administration whatsoever. Between her voting for Kavanaugh and constant expressions of concern for the president's actions with no follow-through, it's pretty safe to say that people are sick of Collins' sh*t.
So, what's the deal? Even though Collins is the literal WOAT, she's kind of the Senate's cockroach and survives under the most treacherous conditions. On the one hand, Biden is leading Trump in the state by close to 10 points, which may affect down-ballot elections. On the other, Collins managed to hold onto her seat in 2008 despite Obama winning Maine by more than 17 points. 

Who's running? The incumbent is Republican Senator Thom Tillis. His challenger is veteran and Democrat Cal Cunningham. 
Why is this state competitive? North Carolina is a swing state that consistently has super thin margins, especially for Senate elections. Senator Tillis has a history of cutting unemployment benefits and opposing Medicaid expansion. These two issues are extremely important to North Carolina residents, especially considering rises in unemployment that are related to COVID-19. North Carolina turned blue for Obama in 2008 but broke for Trump in 2016, which some attribute to Democrats' failure to offer voters of color motivation to turn out for Hillary Clinton.
So, what's the deal? While Tillis' weaknesses may make it seem like a done deal, the GOP is holding on pretty tightly to the state. Both Biden and Cunningham have small leads over their Republican opponents, but there is not enough distance that would totally give the state to the Democrats. 

Who's running? The incumbent is obviously the evil lizard man himself, Mitch McConnell, and his opponent is Amy McGrath. 
Why is this state competitive? As Senate Majority Leader, Mitch McConnell is like, enemy number one. While Kentucky usually wouldn't be in play, the Democrats have run a long campaign to fundraise for his opponent. However, after a competitive primary between Amy McGrath and Charles Booker, it has become abundantly clear that Democratic turnout is up in the state and that Mich McConnell's seat might be in pretty hot water. 
So, what's the deal? While Kentucky is definitely a red state, the growth of the Democratic party within the state and national attention around the race might mean good news.
Iowa
Who's running? Real estate developer and urban planner Theresa Greenfield is challenging Republican Senator Joni Ernst
Why is this state competitive? Ernst's job approval has slipped while her loyalty to Trump has risen as Iowans see her as increasingly disconnected from their needs. Greenfield was a 24-year-old mother of two when her husband died suddenly in a work-related accident, and she relied partially on government benefits that are a lifeline to so many communities, but the GOP is not known for supporting. 
So, what's the deal? Greenfield has polled ahead of Ernst, and her message of protecting things like Social Security benefits that Republicans like Ernst look to privatize could appeal to older suburban voters. 
Michigan
Who's running? The incumbent is Democratic Senator Gary Peters, his opponent is Republican and Veteran John James.
Why is this state competitive? Michigan is huge in the presidential election, especially this year. Democratic Governor Gretchen Whitmer has drawn attention on both sides of the aisle for her COVID response, which caused lots of praise from the left and resentment on the right (remember: protests about haircuts). Michigan also voted for Trump in the last election, but only by about 10,000 votes. Increased pressure on the state for the presidential election on both sides will probably trickle down to Senate races. 
So, what's the deal? In general, Michigan leans Democratic, and both the incumbent and Biden are leading in the polls. If Republicans want to flip the state, they will have to work harder than I did to learn the 'Savage' TikTok dance. 
What Does This All Mean? 
Even if you don't live in these states, voting all the way down the ballot is crucial to make sure you are doing your part in 2020. This is super overwhelming, but while we obviously want to turn the White House and Senate blue, we also are defending the House and have to consider local and state officials. 
If you're interested in helping out in these states and aren't a resident, there are plenty of ways to participate in these races. You can donate to campaigns and sign up to phone bank for Democratic candidates or check out Crooked Media's Adopt a State program here. We also have a dope "Flip The Senate" sweatshirt and t-shirt here — 20% of sales (ex. tax and shipping) benefits the ACLU's Voting Rights Project. 
What You Need To Know About The $2 Trillion Coronavirus Relief Package
Well, well, well, look who decided to do their jobs. After a contentious few days of disagreeing on what tf should be included in the coronavirus bill, it is starting to look like Democrats, Republicans and the White House have agreed that economic collapse occasioned by a global pandemic should have some sort of financial remedy.
Democrats received some heat after rejecting the original coronavirus bill drafted by Republicans, but it looks as though their move has paid off. Revisions have been made that will support working people and, stay with me here, not give a blank check to big businesses.
Gotta love when your government is like, "UGH okay, FINE, we'll consider the value of human lives as opposed to the value of money, a concept that is literally made up."
Passed by the Senate late last night, the final product is the largest economic stimulus in modern history. Even bigger than 2009.
So, what exactly is included in this bad boy? I'm gonna break that down for you, hon. No, no, it's really no problem. I've been able to set aside some time in my VERY busy quarantined schedule. Had to postpone sitting in my room and staring at the wall/screaming for this. You're welcome.
The $500 Billion Loan Program for Businesses Will Have A Babysitter
The main ish Dems had with the Republican's bill was how it gave so much to businesses and appeared to allow the Trump Admin to decide willy nilly which businesses get what amount, which they cannot be trusted to do since exchanging cash for political favors is one of Trump's favorite past times.
Now, the "corporate slush fund" at least has some checks and balances. There will likely be an appointed inspector and congressional committee which will oversee the funds. theoretically, this means big biz can't just use the bailouts to give themselves raises and buy back their stocks (**cough post-2008 recession cough**) instead of hiring back their workers.
It also means Trump can't just be like, "$500 billion to Trump hotels and none for Gretchen Wieners anyone else." In fact, Minority Leader Sen. Chuck Schumer's office announced they secured a provision that will "prohibit businesses controlled by the President, Vice President, Members of Congress, and heads of Executive Departments from receiving loans or investments from Treasury programs." We love to see it.
Municipalities will also have access to this fund
Unemployment Is Getting A Glow Up
Idk if you heard, but coronavirus is ruining everything and has led to a lot of people getting laid off. A massive 3.3 million people filed for unemployment last week. Our programs are not equipped for this kind of crisis. It's almost like government-funded benefits serve a purpose and are meant to be in place for times like this? Hm, will have to look into this later.
Anyway, since the current unemployment programs can't possibly cover everyone who needs them right now, this bill proposes to help them out. The bill will increase unemployment insurance by $600 per week for four months. This benefit would extend to gig economy workers, freelancers, and furloughed workers who are still getting health insurance from their employers but are not receiving a paycheck.
If you have recently been laid off, this is for you. You can file for unemployment! And if you're a freelancer or gig worker who has lost work, you can apply now too, which was not the case before.
$1,200 Checks Oprah Style. Kind Of.
Okay this one applies to many of us. Yay. Adults who make $75k or less annually, according to their tax returns, will receive a one time check of $1,200. You also get $500 per child in your household.
This is nice but is a bit of a bandaid on a bullet wound situation, imo. There's no guarantee that more money will be coming, and tbh $1,200 doesn't go that far for many of us. For many, this will mean being able to pay rent and then continuing to worry about how to put food on the table. For others it will mean being able to put a small dent in medical bills they have been slammed with because of coronavirus.
It's a start, and I hope it provides you with some relief, but I hope to see more int he future.
At a press conference on Wednesday, Treasury Secretary Steven Mnuchin said he expects direct payments to go out in about three weeks.
Hospitals Can Have A Little Help, As A Treat
Thank fucking god. Hospitals are, uh, pretty important during a pandemic. Go figure. The bill will contain $150 billion for hospitals treating coronavirus patients. $100 billion will go to hospitals, $1 billion will go to the Indian Health Service, and the remainder will be used to increase medical equipment capacity.
Wild that privatizing healthcare didn't hold up in the end.
Small Businesses Can Hang Too
There would be $367 billion in the bill aimed at providing loans for small businesses that retain their workers in this bill. Amazing that smaller, local businesses, which typically make less money than large businesses, get less money from the government than the big ones who don't need it as much do.
Incredible system. No notes.
I sincerely hope this helps keep our favorite local cafes, bars, restaurants, boutiques, etc. afloat.
And A Lil' Something For Local Gov
With the bill, $150 billion would be given to state and local governments who are dealing with the impacts of the crisis in their local communities, including $8 billion for tribal governments. That's nice.
The bill also includes eliminated interest on student loans through September, $400 million to support main-in voting, $450 million for the Emergency Food Assistance Program, and a delay on the REAL ID requirement.
Is This It?
Not if it's up to Nancy Pelosi. The Speaker of the House said she hopes to send another round of direct payments to Americans in a subsequent package.
Want more news like this? Sign up for Sup's daily newsletter to laugh (instead of cry) about the news.
Here's How Politicians Would Spend Their Quarantines
Hey girl, wanna quarantine & chill? Welp, hope so, because you don't have much choice. Trump has urged Americans to limit gatherings to 10 people or less. Quarantining ourselves will help keep COVID-19 from spreading, and it's especially important for young people to take on this responsibility, as we are often carriers who can spread the virus unknowingly to elders or people with other health conditions, who are more likely to experience serious effects from the disease.
While some of us are working from home, and many of us are stuck without work or paid time off (send love and cash to any service workers/independent contractors you can!), most politicians are still out in these streets. I guess they have a duty to fulfill in these dark times…let's see if they can rise to the occasion.
But since we're home, we've decided to spend some time coming up with how some of our most beloved and most despised politicians would spend their quarantine & chill time. Let the games begin!
Bernie Sanders
Bernie is going to take this time to get set up on the Youtube so he can continue making videos once again asking for us for our financial support. His wife, Jane, will be his videographer, and they will go widely unseen since Bernie doesn't realize it's all about the TikTok at this point. He will ignore Hulu's repeated recommendation that he stream "Hillary."
Bernie will also, of course, take this time to really lean into his bedhead and socially distance himself from any type of hairbrush or comb. Jane supports him in this journey because their love is pure.

Elizabeth Warren
Liz will be damned if this quarantine stops her from being productive. She's color-coding her closet, reorganizing the food pantry, doing her friend's taxes, and making spreadsheets simply for the fun of it.
If she, her husband, and Bailey want to watch a movie? You bet your sweet ass Liz has made a PowerPoint presentation breaking down which options are best and why.
Liz will, of course, continue coming up with bulletproof political plans that will go underappreciated by the American public.
Mike Pence
Things are finally as God intended: Pence is at home with Mother, away from any other nasty woman's presence.
Here, Mother can provide Pence with the 8 glasses of warm, whole milk he requires per day, while she reads him the Hyde Amendment (the legislative provision barring the use of federal funds to pay for abortion) out loud to soothe him. All is well.

Mitch McConnell
Mitch McConnell will treat social distancing the same way he treats his time on Capitol hill: by ignoring the many bills currently on his desk that could literally save lives. He and his wife, Transportation Secretary Elaine Chao, will further map their path to corrupt the federal entire government until McConnell is exposed to the virus, after which he will retreat back into his shell to self-quarantine for 14 days.
Joe Biden
Tbh who fucking knows, but I can confidently predict he would go on live TV and say something like, "I spent my quarantine time like I did every Christmas as a kid: riding my tractor down to the graveyard to have chicken fights with Ol' Man Popsicle Stick, who, have you me, under many things, as they say, would not, on account of, you know, the thing."

AOC
No amount of social distancing can stop this content queen from setting Twitter ablaze with her hot takes. Anyone with a bad take is getting retweeted WITH comment and dragged to clap back hell.
No internet troll is safe. No conservative commentator can hide. She's coming for you.
Susan Collins
Hopefully sitting in a corner and thinking about what she's done. And then regretting it.
That's all I'll say on that.
Brett Kavanaugh
Speaking of Susan Collins…
You just KNOW Brett is the guy who is going out to crowded bars and getting blackout, even after we've been told to socially distance ourselves.
Nothing can stop him from going out with his boys Tobin, Squi, and P.J.!!! Time to chug some beers and FSU because this is AMERICA and no one can tell him no (and if they do it will not compute).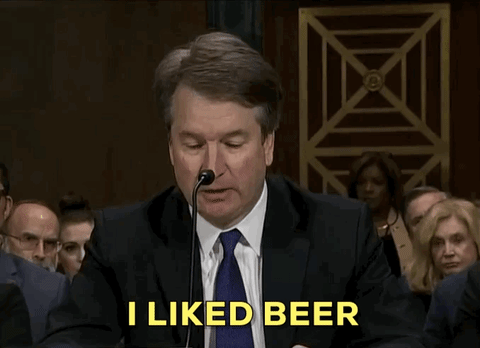 RBG
A GoFundMe has been put together to provide RBG with a glass box, a la the one Joe locks his victims in in You, but obviously less creepy and fully equipped with everything Ruth needs for her daily workouts.
Food and water will be brought to RBG by a person in a hazmat suit, who will deliver it through a small opening in the box. Again, much like Joe from You, but with the intent to keep this woman tf alive, not to kill her. She is routinely let out so she can be measured for the top-secret, Bloomberg-funded RBG clone that we are definitely not making.
Cory Booker
Cory Booker gets to spend his quarantine time the way we all wish we could spend ours: with Rosario Dawson. The two are finally together without the distractions of his busy political life and her busy celebrity/being a perfect person life.
With this extra free time, Cory will of course continue to pursue his passion of tweeting out bad jokes about coffee. Fuck it, he might just turn it into a passion project and make a coffee table book full of lame coffee jokes. The perfect present for all of our dads.
"Sleep" and I broke up a few nights ago. I'm dating "Coffee" now. She's Hot!

— Cory Booker (@CoryBooker) May 29, 2009
Maxine Waters
Maxine Walters will be reclaiming her time, tyvm.
Donald Trump
Social distancing as president is what Trump had always thought this job would be like. He's locking himself in his room, ordering all the McDonald's fish fillets in the greater D.C. area, stockpiling Diet Coke, and watching Fox News.
Melania is pretending to have COVID-19 as an excuse to not be near him.
At long last, peace, quiet, and a lack of total responsibility. America is finally great again.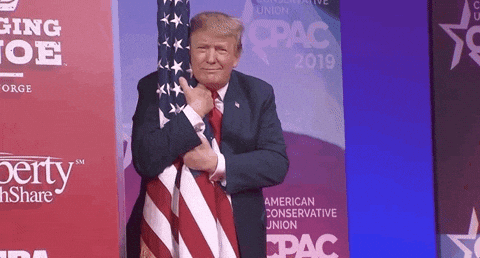 Want more stories like this? Subscribe to the Betches Sup newsletter for a lunchtime briefing to make you laugh, instead of cry, about the news.
Images: Giphy (5)
Why Are Democrats Delaying A Senate Impeachment Trial?
Ding dong, Donald Trump has been impeached! And now it's all smooth sailing from here! Lmao, jk. So cute of anyone to think any political process could be civil in the current climate. It's 2019, honey, nothing is sacred and everything is trash.
So, what happens next? Great Q. Now that Trump has been impeached by the House, the next step is an impeachment trial in the Senate, which will determine if he is removed from office (just came typing those words tbh). As we know, the Senate has a GOP majority and is run by human equivalent of a wet sneeze, Mitch McConnell. As you may have heard, Mitch is being a Little Bitch about the whole thing, and has made it clear that he will not serve as an impartial juror, and will instead coordinate everything with the White House. So we're just not even pretending to play fair anymore, huh? Cool.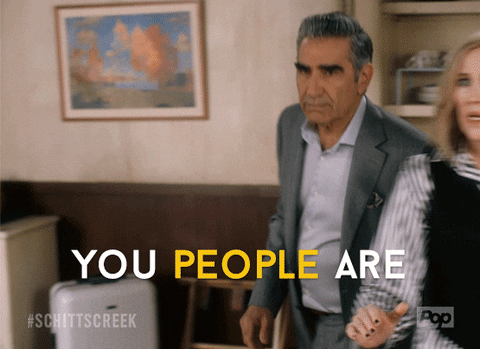 So, what are the Dems to do? Another great Q. As of now, it looks like Nancy Pelosi — or Nance, as we call her here a The Sup — is planning to delay the Senate impeachment trial by not handing over the articles of impeachment to the Senate or appointing impeachment managers — House members who will serve as "prosecutor" types in the trial.
After the impeachment vote on Wednesday, Nance told reporters: "We can't name managers until we see what the process is on the Senate side and I would hope that would be soon. So far, we haven't seen anything that looks fair to us." Nance has the power to name managers for the Senate trial, and she isn't obligated to do so under any deadline, according to the rules. So she totes has the power to delay this thing. The question is: should she?
Republicans def don't think she should, and are having a lil' hissy fit over it, if you can believe. The White House responded to the move by saying: "House Democrats have run a fatally flawed process with fake facts, and now they want to deny the President his day in court with another procedural maneuver that proves anew they have no case," and other Republicans have called it "constitutional extortion" and a "breathtaking violation." A little dramatic, but okay.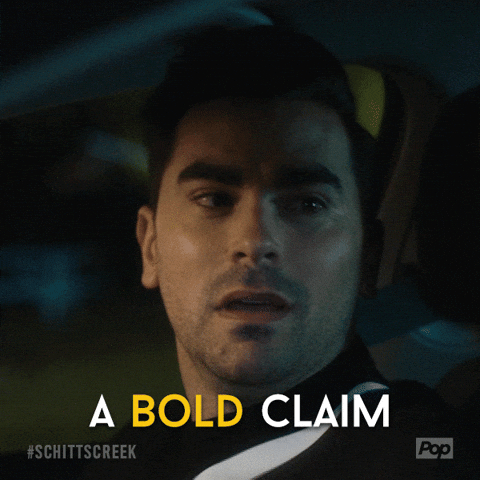 One could argue that this move only gives Repubs more fuel when it comes to claiming the Dems don't have a case or aren't playing fair. But also, like, the Repubs are going to claim that no matter what, so maybe we should just use our power while we have it and let them throw their tantrums?
Also, our girl Nance has a fair point here. Senators have to take an oath to impartial when judging the president's conduct. A number of prominent Republicans have said publicly and proudly that they have no intention of being impartial. McConnell has straight up said he will work in "total coordination" with the White House. So the juror is working in total coordination with the defendant. Excellent.
Plus, McConnell has said he won't let Dems call their requested witnesses, so Nance could use this as leverage until he agrees to bring a motion to call the  four White House staffers who the Trump admin refused to let testify in the House hearings. McConnell has said he wants a quick trial — as short as two weeks. Democrats think they can pressure him into concessions by delaying a process he wants nothing more than to get over with.
Delaying the trial until he agrees to play fair seems like a p legit strategy to me, and I'd have faith in it if I thought Mitch McConnell was capable of playing fair, but unfortunately decaying human turtles just aren't wired that way. However, I do think gaining the power to call new people to the stand could be beneficial for the Dems.
Nancy Pelosi today clarified that she does intend to transmit the articles of impeachment to the House in a timely fashion, and she's just waiting for the Senate to set its own rules for the proceedings before she decides who to appoint as House managers. But later, Senate leaders Mitch McConnell and Chuck Schumer failed to reach an agreement on trial rules and the House didn't make any moves to send over the articles. House lawmakers won't return from the holiday recess until January 7.
There's a lot to unpack here, but at the end of the day it's important to go about these processes strategically and fairly, to set a precedent and to send a message. By refusing to send over the articles of impeachment, the Dems get to publicly state that they don't believe the Senate trial will be fair, and that they aren't going to let the GOP abuse their power. How 'bout them apples?
Want to keep up with the news without crying into your sad desk salad? Subscribe to the Betches Sup newsletter for a lunchtime briefing to make you laugh, instead of cry, about the news. 
Images: Giphy (2)
Why Isn't Congress Passing New Gun Legislation Right TF Now?
Human embodiment of a wet sneeze AKA Mitch McConnell is receiving some major sh*t from people online after he offered nothing more than his prayers and support to the victims of this past weekend's horrific mass shootings in El Paso, Texas and Dayton, Ohio.
The entire nation is horrified by today's senseless violence in El Paso. Elaine's and my prayers go out to the victims of this terrible violence, their families and friends, and the brave first responders who charged into harm's way.

— Leader McConnell (@senatemajldr) August 3, 2019
Sickening to learn this morning of another mass murder in Dayton, Ohio overnight. Two horrifying acts of violence in less than 24 hours. We stand with law enforcement as they continue working to keep Americans safe and bring justice.

— Leader McConnell (@senatemajldr) August 4, 2019
Seeing as there are currently gun legislation bills that have been passed by the House but blocked by McConnell, the Senate Majority leader who can call a vote on them but has failed to, people didn't find these tweets to be all that helpful.
And yet here's #MoscowMitch refusing to let two #CommonSenseGunLaws on the senate floor for a vote.

Your words mean nothing.

— BallsOut (@bjcreigh) August 5, 2019
Fuck you, you disgusting sack of shit. You stand with the NRA. So fuck off.

— Tony Posnanski (@tonyposnanski) August 4, 2019
Hey. Fuck you forever your legacy is a weak chin, Russia, and the deaths of countless Americans.

— Akilah Hughes (@AkilahObviously) August 4, 2019
As much as I love a public dragging of Mitch McConnell and his flaccid face, I do wish in this instance that we wouldn't have to berate him for not doing his job. Au contraire, I wish he would…do his job.
So, what's the deal with the gun legislation that McConnell is refusing to put on the Senate floor for a vote? Wow, great Q. These proposed laws are meant to confront the loopholes that exist when it comes to background checks for buying guns. Gun laws are rife with loopholes. Look, I love a good loophole in a happy hour deal (it says buy one get one half off, but doesn't say anything about buying six at once!!!), but I prefer to keep loopholes out of it when it comes to laws about who is allowed to purchase a machine that can kill people.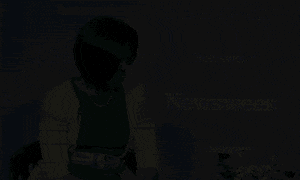 Here are the proposed gun laws passed by the House that are waiting for a vote from the Senate:
H.R. 8: Bipartisan Background Checks Act of 2019
This pup would address a loophole that exists when selling firearms person-to-person, which often happens at things like gun shows. As it stands now, the loophole allows firearms to be sold between individuals without a background check. The bill would prohibit most person-to-person firearms transfers unless a background check has been done. That means your cousin's weird boyfriend can't just buy a gun from a dude online without a background check. Gruel.
H.R. 1112 Bipartisan Background Checks Act
Current gun laws allow the sale of firearms to proceed if the background check system doesn't respond after three days. Again, I can see this kind of lax approach to a situation such as my roommate not responding about eating their leftover fries in the fridge (more than three hours of no response means they're mine now), but not when it comes to purchasing a lethal weapon. This bill would extend that three days to ten days.
Both of these bills passed the House in a 240-190 vote in February, and they have yet to reach the Senate floor for a vote. Why? Because Mitch McConnell is the one with the power to put it to a vote in the Senate, and he hasn't done that. Instead, he's tweeting out prayers and support.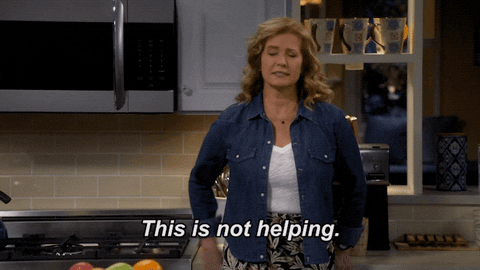 Another frustrating element to all of this is that background checks are not even a bipartisan issue — the partisan disagreement seems to only exist between lawmakers in D.C. In fact, 93% of Americans support background checks for gun sales, including 89% of Republicans.  It's almost like the politicians in D.C. are beholden to a certain gun organization due to their large donations, and are putting that over the lives of Americans?!
Background checks are a crucial step in regulating gun laws in order to prevent the mass shootings that are currently devastating our nation on a regular basis. Like any legal market, the sale of guns should have restrictions and rules so that they don't end up in the wrong hands. Background checks are a huge part of making sure people meet all requirements for legally owning a gun. We have seen time and time again how mass shootings are the result of an extremely troubled person having easy access to a gun, despite the fact that there were signs that this person would turn to violence.
Which leads me to another proposed gun law…
"Red Flag" Laws
These laws would allow police or family members to petition a state court to order the temporary removal of firearms from a person who may present a danger to others or themselves. This is supported by some Republicans and seems to be their alternative choice to universal background checks. Seems like tedious and unnecessary work that could be avoided by simply having universal background checks, but go off. Like, why should this responsibility lie in the hands of family members and police? Seems like a lot could go overlooked…
Anyway, let's hop flaccid-face Mitch McConnell finds the time in his busy schedule of sending thoughts & prayers to actually do his job and put these proposed gun laws to a vote on the Senate floor.
7 Shady Politicians Who Will Stan Trump No Matter What
Right now, Donald Trump's losing friends faster than Lindsay Lohan near the end of Mean Girls, and it's enough to make you wonder… could Trump actually get impeached soon? Yeah right, b*tch, it's not gonna be that easy. Trump's biggest enablers in Congress are ride or die with their boy Donny, and they've still got his back, criminal allegations be damned.
On Tuesday, Trump's former lawyer Michael Cohen pled guilty to criminal charges. (Gasp!) Then, he told the court that, during the election, Trump had directed him to make illegal payments to two women with whom he'd been having affairs to keep them quiet. (Double gasp! But also, like, duh?) The whole reason we've got multiple branches of government is so that they can keep each other in check, and yet, not surprisingly, the response from many Congressional Republicans was a resounding "meh." Let's give these enabling assh*les their moment in the spotlight.
1. Mitch McConnell (R-KY)
The demon turtle strikes again. The most recent example of McConnell's awfulness? When asked if he was going to do anything about Michael Cohen's allegations that the president directed him to make payments to hide his affairs during the election, the Senate Majority Leader said he was too busy trying to confirm Trump's Supreme Court nomination. Cool cool, cause we should definitely be letting the president make a lifelong court appointment right now. (Casual reminder that McConnell stole Merrick Garland's Supreme Court seat.)
2. Paul Ryan (R-WI)
This Boy Scout gone wrong makes a lot of pretty speeches, but when it's time for him to actually do anything to stand up to Trump, he's all, "Oops sorry lol I don't have enough information." No surprise that he pulled the same old sh*t when asked about holding hearings on the Cohen testimony.
3. Roy Blunt (R-MO)
His last name makes him sound like he should be cool, but he's not. Most recently, he buried a bipartisan bill that aimed to stop election interference, potentially because the White House didn't like it. That move is not at all true to the spirit of blunts, Roy.
4. Bob Goodlatte (R-VA)
Another man with a great last name and a terrible heart. Goodlatte wrote a very Trumpian immigration bill, and ruined FBI agent Peter Strzok's career after Strzok's private Burn Book/anti-Trump texts came to light. Goodlatte sucks so much that his own SON publicly donated to the Democrat running against him. You go, Goodlatte Jr!
I just gave the maximum allowed donation to Jennifer Lewis, a democrat running for my father's congressional seat. I've also gotten 5 other folks to commit to donate the max. 2018 is the year to flip districts — let's do this! https://t.co/bYCKta2Bhs

— Bobby Goodlatte (@rsg) August 13, 2018
5. Devin Nunes (R-CA)
This former milk-farmer is totally Trump's Gretchen Wieners. He's been doing everything in his power to screw up the Russia investigation, and recently, he was caught on tape telling GOP donors that Republicans had to keep their majority to protect Trump from impeachment. Not fetch, Nunes. Not fetch at all.
6. Mark Meadows (R-NC)
This Freedom Caucus hardliner co-proposed a bill to impeach Rod Rosenstein (aka the guy who appointed Robert Mueller). Also, apparently he and Trump chat on the phone multiple times a week. Aww! And if these two were ever going to do a three-way call, they'd totally add…
7. Jim Jordan (R-OH)
He's the other Freedom Caucus member who proposed the Rosenstein impeachment bill. Jordan gets bonus "terrible person" points for allegedly helping to cover up sexual abuse when he was a wrestling coach at Ohio State University. Trump's called Jordan a "warrior for me," and Jordan probably whispers that praise to himself every night before he goes to sleep.
How TF Do We Get Rid Of These A-Holes?
At this point, Trump could probably kill a kitten and run down the street yelling, "I AM SATAN'S MISTRESS," and these guys would still find a way to excuse it. So what can you do about it? Register to vote, and make that blue wave happen in the midterms.
Heads up, you need to keep up with the news. It's not cute anymore. That's why we've created a 5x weekly newsletter called The 'Sup that will explain all the news of the week in a hilarious af way. Because if we weren't laughing, we'd be crying. Sign up for The 'Sup now!