5 Last-Minute Summer Cocktails You Can Make From A Corner Store
Unless you're like, a Stepford Wife in training, the odds that you've promised to bring "like, really cute cocktails that will get us so drunk" to a dinner, pregame, or pool party, and then totally dropped the ball are pretty high. If you are a Stepford Wife-in-training, I'm going to need you to stop taking Snapchats of the mildly interesting meals you cook for dinner and captioning them "wife me." If you're like the rest of us, read on.
Nearly every single time I've ever promised to bring a cool drink to a get-together, I've spent an hour at work scrolling through Pinterest, saving ambitious cocktails, and forgetting about them when I realize that someone's probably watching me. Then, the event rolls around, and I'm already like, 20 minutes late, and have no interesting ingredients. I have found myself at so many bodegas, convenience stores, and even gas stations, desperately typing in the depressing selection of ingredients I saw in front of me into the Pinterest app with the word "cocktail" behind them. So here are some of the tastiest summer cocktails you can make when you are somewhere that doesn't even sell tampons with plastic applicators, let alone triple sec or peach schnapps. Oh, and, all of these recipes make enough to fill a pitcher. You're welcome.
Hawaiian Mimosa
1 cup Malibu

2 cups pineapple Juice

A full bottle of prosecco
Literally just pour a bottle of prosecco into a pitcher and add a bit of Malibu and pineapple juice. Feel free to play around with the proportions, but note that this basically tastes like a bubbly Capri Sun so you will end up texting someone you shouldn't.

Get the full recipe here.
White Strawberry-Lemon Sangria
2 lemons

1 apple

1 cup of strawberries

1 bottle of white wine

½ cup of rum

4 cups of lemon-lime soda
Sangria is a solid option, because it's such a vague kind of drink. I mean, what even is sangria? Just wine with a bunch of other sh*t poured into it? I think so. Anyway, this recipe is just a light suggestion. You can basically throw anything into a pitcher of wine and let it sit for like, four hours, and it'll be decent. For the wine selection, I'd advise a dry white wine or even white zinfandel, because even liquor stores with the lamest selections will have a box of Franzia or a bottle of Barefoot White Zinfandel. It's just a fact of life.
Get the full recipe here.
Paloma
1 ½ cups of silver tequila

4 ½ cups of grapefruit soda

However many limes you feel like using as garnishes
Okay, so there are plenty of ways to make a Paloma, but if you're just swinging by a corner store, you probably don't have time to find all of the garnishes or actual grapefruit juice. This recipe will make a pitcher of Palomas. It calls for the juice from six limes, but like, if you're swinging by a bodega last minute on a Friday night, your options may be limited. It's totally fine if you just grab however many you feel like slicing and use them for garnishes instead.
Get the full recipe here.

White Wine Spritzer
1 bottle of white wine

12 oz of lemon flavored seltzer

Sliced lemon or lime wedges
Wine spritzers are another really great cocktail to make when you're totally unprepared because again, what even is a wine spritzer? They can truly be as half-assed or as extra as you'd like. Just dump a bottle of wine into a pitcher, and then throw in some seltzer and lemon or lime wedges. If you're in the mood to blackout, you could even use a Spiked Seltzer.
Get the full recipe here.
Last-Minute Margarita
Coconut Water

Pineapple Juice

Tequila
Guess what? This recipe doesn't tell you how much of anything to use because it's not a real recipe. It's basically a non-disgusting version of the Redneck Margarita from Queer Eye. I literally just once texted my dad from a gas station while I was on my way to visit friends because I had promised to bring stuff to make margaritas, and forgot to. (Save the judgment. This is who I am as a person. Back off.) He was like "IDK, just throw some coconut water, pineapple juice, and tequila into a shaker and pour it in a cup. And also, when's the last time you got an oil change?"

Anyway, another gem I learned from this phone call was that you can actually just use two solo cups as a shaker. Because, obviously, I do not have my life together enough to carry a shaker everywhere I go, and you probably don't either. Sorry.
Images: Pexels (1), Giphy (3)
The 8 Best Outdoor Brunch Spots In NYC
Brunch is obviously a worthwhile occasion any time of year—if just for the mimosas. But there's something about digging into a towering stack of pancakes on an outdoor patio that makes us smile with satisfaction—vitamin D and all that. In fact, having an alfresco brunch attitude in the summer is the way to go for three reasons: you maximize your chance of seeing a Corgi waddle down the sidewalk, ensure sun exposure so you can get your glow on, and get tons of natural light for your Instagram food porn. (We all know how important that last one is.) Our recommendation? Make like the Europeans and relinquish yourself to the sun at our pick of the best outdoor brunches in NYC. Cheers to an endless summer…
1. Llama Inn 
Sometimes you need to get the F out of dodge but don't have any funds to travel. Head to Williamsburg to the Llama Inn for some urban oasis vibes courtesy of its rooftop patio that's overflowing with plants, decorated with Peruvian décor, and just generally gorgeous. It doesn't hurt that the food is inventive and delicious. Don't sleep on the spicy pork shoulder sandwich; it's one of our favorites. 50 Withers Street, Williamsburg. 

2. Harlem Tavern 
Into soccer on the big screen? Into large outdoor patios with picnic tables and umbrellas and pitchers of craft beer? Into being within walking distance of Central Park and Columbia? Yes, yes, yes! Great, head to Harlem Tavern, a restaurant and beer garden at 116 and Frederick Douglass Boulevard that will make you wonder why you don't go uptown more often. During the live jazz brunch on the weekend, all brunch entrees include a free a drink, so you can buy three more and not feel guilty about spending money. 2153 Frederick Douglass Blvd, Harlem. 
3. Mermaid Inn 
So someone told you you're In need of some Omega-3s, and now you're freaking out. Head to brunch at the Mermaid Inn on the Upper West Side for a seafood-filled occasion that will drown out your worries in no time. This neighborhood staple just launched a new brunch menu that includes one of the best smoked fish boards we've come across in the city, which makes heading up there worth having to weave in and out of families with strollers and octogenarians with grocery carts. Sit outside on the sidewalk patio right on bustling Amsterdam Avenue and see how many oysters you can slurp down before the waitstaff starts to look at you funny. It's fun, we promise. 570 Amsterdam Ave., Upper West Side. 

4. Barbuto 
You can't talk about New York and not mention this iconic West Village institution with walls that open up to allow fresh air from the Hudson (it's a stone's throw away) to filter through the restaurant on warm summer days. You're basically eating elevated Italian food in a garage, but it will be the best garage brunch you've ever had in your life—guaranteed. Start with a breakfast pizza, and don't you dare skip dessert. 775 Washington St., West Village. 
5. Gilligan's 
Head to Gilligan's in the summer to get shipwrecked on their delish frozen watermelon margaritas. This seasonal outdoor pop-up at the SoHo Grand Hotel will have you feeling so tiki chic, you'll forget we all actually are all stranded on a tiny island we can't afford to leave, just like the folks in this spot's namesake TV show. Our favorite part of this brunch locale? Getting dusted by misting fans while stuffing our face with lobster rolls. 310 W Broadway, SoHo. 

6. Grand Banks 
Pretend you've been whisked away into a French Riviera daydream while brunching on board Grand Banks. You'll be surrounded by finance bros and attractive wannabe finance wives within the confines of a thoughtfully decorated sailboat—and to us, there's nothing better. Sip on a heavy pour of rosé and shoot some of the freshest oysters in the city with an impeccable view and aspirations of one day getting to brunch without 50 random strangers on your schooner. Hudson River Park Pier 25, Tribeca. 
7. Magic Hour 
Magic Hour is this cheeky rooftop at the Moxy Hotel that is guaranteed to make you oddly uncomfortable and incredibly intrigued with its urban amusement park theme and a provocative putt-putt course cleverly named Foreplay. They recently launched brunch (look out for our review in July) with over-the-top versions of classic brunch dishes like a stack of 20 pancakes, Jenga-style stacked French toast, and a 200 oz. spritz—FYI, that's gigantic. So whether you want to drink away your summertime sadness alone under the Empire State building or bring your lame friends from your hometown to an unforgettable rooftop brunch, we suggest Magic Hour. Oh and if you get too tipsy, you can literally order a mini hotel room labeled "crashpad" on the bar menu. 485 7th Ave 18th floor, Times Square. 
8. Gallow Green
Live your best garden party life with your ladies at Gallow Green's brunch. You'll feel as if you've been dropped into a theatre production as you're escorted up a silent elevator to a dark train station and finally emerge into a lush, secret garden-esque rooftop. Best part? This brunch comes with unlimited coffee, cocktails, and farm-to-table food in an elevated, non-germy buffet way. You'll enjoy carbs on carbs and Southern fried chicken all with 360-degree views of the city and the Hudson river. Feeling posh under the sun and avoiding the summer stench of the NYC streets, the joy rooftops bring us is truly unbelievable. 542 W 27th St., Chelsea. 

For more brunch reviews and recommendations, visit bitcheswhobrunch.com and follow them on Instagram at @bitcheswhobrunch.
Images: Bitches Who Brunch (4)
Two Kombucha Cocktail Recipes For Your Next Hair Of The Dog
With America turning another year older, we needed a fucking patriotic cocktail. Actually, scratch that—we needed two. But like, instead of the usual alcohol + fruit/mixer = drunk, we decided to add in our good friend kombucha, who always seems to come through for us in times of hangover tough shit. You may think the fermented tea tastes a little weird, but this is America, where we experiment with weird vinegar-flavored things and see what alcohol we can add to make it better.
If you shop hard enough, you'll find plenty of flavored kombuchas which give you the health benefits plus not-gross flavor. So you can get your July 4th party on knowing that you're like, better than everyone else. And that's really what's it's all about.
Blueberry Mojito

– 1 cup blueberries
– 6 oz. white rum
– A bunch of fresh mint
– 2 tsp. sugar
– Juice from 2 limes or like, some bottled stuff if you're povo
– 6 oz. kombucha — we used LIVE Soda Pomtastic Blueberry because it's like, blueberry flavored and doesn't taste like vinegar and feet but still has kombucha goodness
Got all your patriotic shit? Good. Blend or otherwise smash your blueberries, mint, and sugar together until everything is like, relatively smooth. Stir in the lime and rum until everything is niiiiice and mixed. Divide the mixture between two glasses and top the rest with the kombucha. Add some ice and fuck yes, America.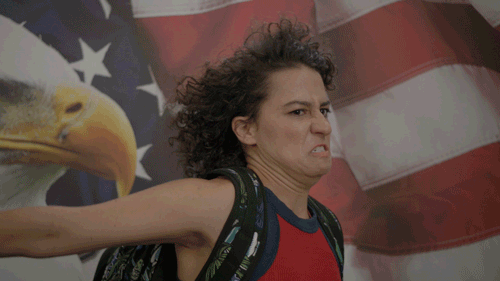 Kombucha Mimosa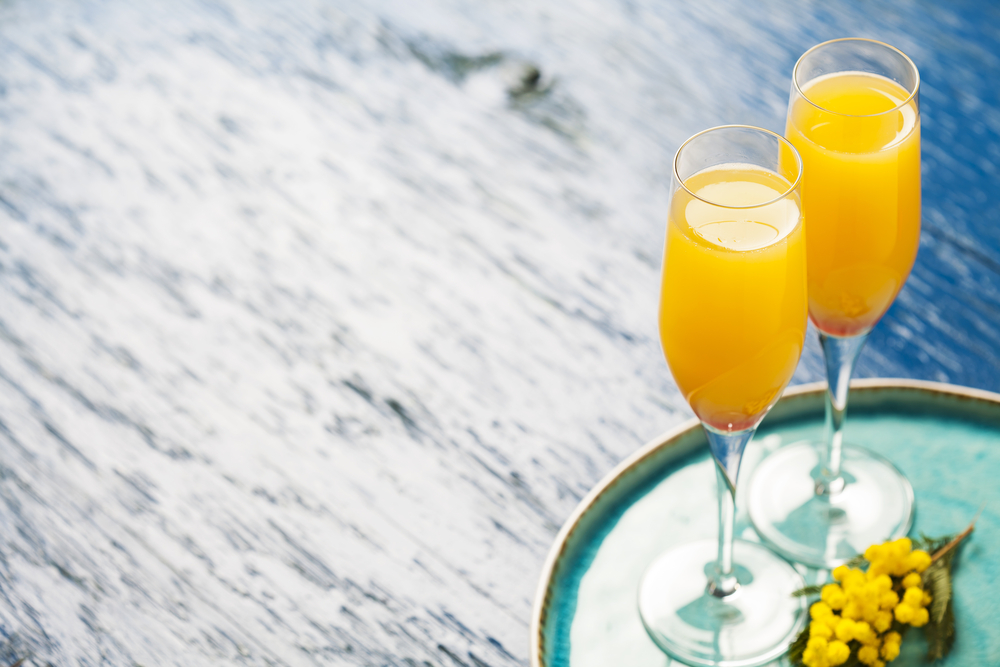 – 1 bottle Champagne or prosecco (as you do)
– 2 bottles berry-flavored kombucha — we used LIVE Refreshing Rhuberry
– 1 ½ cups orange juice
Have you made a mimosa before? Cause like if you haven't idk why you're on the site. Probably as a dare. Or you're a Russian spy. Anywho, grab a big pitcher and combine the Champagne, kombucha, and juice. Stir to combine, pour into glasses, and garnish with berries. Like honestly I shouldn't have to explain this to you. There's nothing like a mimosa to kick off a day of explosions and hot dogs for America.