4 Times Celebrity Influencers Were Terrible At Their Jobs
As much as we like to give influencers a hard time, they don't necessarily have the easiest job in the world. Working freelance is stressful, and if your livelihood depends on creating engaging content that'll get your followers to buy stuff they don't need, you have to be on top of your game. Shilling for subscription boxes might not be as important as like, curing cancer, but there is still some skill level involved, and not all sponsored content is created equal. Some influencers work hard to create content that feels authentic and like a natural fit for their brand, while others are happy to throw together an Instagram story for whatever brand cuts them a check, and it shows.
While some influencers have crossed the line into being offensive or making blatantly false claims about products, others are just guilty of being lazy and misleading with their ~content~. In particular, this seems to be an epidemic when it comes to makeup and skin care endorsements, and the results are both hilarious and infuriating. Honestly, the bar is on the floor for these people, and they miss the mark way too often. Even though sales is tough, it's really not that difficult to actually use a product you're getting paid a lot of money to endorse and use in a video! Just put the f*cking cream on your face! But no, they can't even do that. Here are some of the times celebrity influencers were terrible at their jobs, for your viewing pleasure.
Hannah Godwin
This instance is what inspired me to write this article in the first place. On Wednesday, Bachelor Nation's Hannah Godwin posted a series of Instagram stories about her nighttime skin care routine, highlighting her Ultimate Skin Spa Facial Cleansing System. Hannah didn't indicate that the post was an ad, but she added a swipe up link, so she wants you to know what product she's using and appears to be endorsing it. But in the video, it's painfully obvious that Hannah doesn't actually put any cleanser on the brush!
and if you don't use any product, one tube will last forever! pic.twitter.com/H4Tx75ohBj

— Dylan Hafer (@thedylanhafer) November 21, 2019
When I first saw this video, I had to go back and watch it a few times, because I couldn't even believe how obvious it was. She could have held the brush out of the frame for a second, but no, we can all see that zero product is going onto that brush. It looks like she's actually letting the brush touch her skin, but even that's being debated in the comments on Reddit. Hot on the heels of being roasted for her mispronunciation of "gnocchi" (still not over her thinking it's pronnounced "nosh"), you'd think she'd be a little more careful on her stories, but nope—she's getting roasted.
Shay Mitchell
While you might expect a cringeworthy skin care video from a former Bachelor contestant, major celebrities make the same exact kind of f*ckups. Case in point: Shay Mitchell. These days, Shay has a brand new show on Hulu and is busy being a first-time mom, but last year she was busy getting dragged for a Bioré ad she did. First, I have to point out that this was literally an ad on Snapchat… oof. I barely use Snapchat anymore, but if this is the kind of content celebrities are posting, clearly I'm not missing much. (Or, like, maybe I am, given how hilariously bad this was?)
Watch the video for yourself, then we'll talk:
SHE AINT EVEN ACTUALLY RUB HER EYE IM CRYING LMFAOOOO pic.twitter.com/JVbWbg5P1i

— jor ❄️ (@ohjlizzle) September 9, 2018
I'M CRYING. She's obviously using a filter with some kind of glowing effect, which seems like a weird choice for a makeup remover ad in the first place. But that's not the real crime here. Shay actually puts the cleansing water on the pad, but there is absolutely no way that thing ever touched her eye. It's not even close! After one quick swipe, she shows us the pad—covered in mascara and eyeliner—but her eye makeup is 100% untouched. Like, not even a smudge. Shay, come on!! I'm rooting for you, but this is just too damn much.
Millie Bobby Brown
Our next fail, from Stranger Things star Millie Bobby Brown, is really unbelievable. I had no idea that Millie actually has her own skin care line, but it exists, and it's called florence by mills. It's wild to me that anyone is taking skin care advice from a 15-year-old, considering everyone I know had horrible acne at that age, but good for her I guess. But what was less good for her was this video she posted of her nighttime skin care routine a couple months ago.
I'm speechless. Two full minutes, and not one drop of those products ever came anywhere near her face. First, she holds the mist bottle approximately a foot and a half away, and then the continually just rubs her dry hands on her dry face, all the while saying things like "applying now!" She might actually put on the lip oil at the end, but who even cares? This is really the work of an actress committed to her craft.
Unsurprisingly, Millie's followers weren't impressed with this "skin care routine," and she got so much backlash that she issued an apology on her Insta feed, hot off the Notes App presses. You all know I love a Notes App apology, and this one doesn't disappoint. LOL at Millie claiming that the video was only meant to "replicate" her personal process.
Millie Bobby Brown is still fully a child, so I don't need to be too hard on her, but hopefully she learned her lesson here. If you can't even commit to using your own products in a video, that's not exactly going to inspire people to spend money on them.
Kylie Jenner
Last, but never least, we of course have Kylie Jenner. From doing approximately 500 makeup and skin care videos over the past few years, you'd think she would be the best at this kind of thing, but she makes mistakes too, like this video from May where she showed off her new Kylie Skin Foaming Face Wash. In this video, there's no doubt that Kylie is actually using the product, but the question is whether it actually does anything.
After lathering up her face and rinsing with water, Kylie grabs a towel to dry off her face. But after, you can clearly see that the towel is COVERED IN MAKEUP. Kylie, what??
morning and night 💦 pic.twitter.com/y5jibIxnfM

— Kylie Skin (@kylieskin) May 29, 2019
I haven't tried any of Kylie's skin care products, but this video doesn't make me want to spend money on them. If your face wash leaves your face still caked in foundation, I hate to break it to you, but it doesn't f*cking work. For a $24 bottle of face wash, I expect a little more.
I don't always have high expectations for celebrities and influencers promoting products on social media, but I at least want them to physically use the products they're shilling. Are there other celebs you love to see mess up their endorsements? Please let me know in the comments, because I could watch these people be idiots for days.
8 Celebrities Who Are Way Younger Than You Think
This week, everyone is busy making their favorite celebrities look older with the FaceApp old filter, and it's really gotten me thinking about celebrities' ages. We've talked before about some celebs who basically don't age, but not everyone is older than they look. There are certain stars who are surprisingly young, whether they just look mature for their age, or it feels like they've been around forever.
While everyone knows you can stay young-looking by drinking lots of water, sticking to your skin care regimen, and getting lots of sleep (and minding your own business), looking older is a little more tricky. As someone who constantly gets told I have a baby face, I'd love to know how all these famous teenagers look so sophisticated. Here are some celebrities who are definitely younger than you think.
1. Shawn Mendes
Look at that fine-ass man and tell me you would have guessed that he is only TWENTY YEARS OLD. I am fully uncomfortable knowing how young Shawn Mendes is, because I am actively turned on by everything he does. He got famous on Vine, which should have been my first clue about his age, but it feels like his songs have already been on the radio for such a long time. Whatever, I'm still into it.
2. Zoë Kravitz
Despite the fact that she's super gorgeous, I was surprised to find out recently that Zoë Kravitz is only 30 years old. I think because her parents are so famous, it just feels like she's been around forever. She's also much younger than most of her Big Little Lies costars, so it's easy to forget that she was born in the late 80s.
3. Cardi B
Cardi B is one of those people who just kind of feels ageless. Like, I don't actually think that she's old, but she's been through a lot in her life, and the fact that she and I were in high school at the same time just feels wrong. Okay, I can't really picture her in high school at all, but you get what I mean. She's only 26, and it will never not be strange that she and Ariana Grande are the exact same age. I've known this for months, but it still gets me every time.
4. Millie Bobby Brown
When Stranger Things first premiered, it made sense that all the kids on the show were actual kids. But now, Millie Bobby Brown has fully broken out as a major star, and she's already turning into a mini fashion icon. She looks so sophisticated that I'm struggling to wrap my mind around the fact that she just turned 15 a few months ago. Did your skin look like that when you were 15? Because mine most certainly did not.
5. Sophie Turner
Sophie Turner was an actual kid when she was first cast on Game of Thrones, so it makes sense that she's only 23. Still, she's grown up fast, and she doesn't really seem young at all. Her whole thing now is chugging wine on Instagram, which she couldn't even legally do in the United States until a couple years ago! She's cool af, so I'm not even mad that she's younger than me.
6. Billie Eilish
Billie Eilish has quickly become one of the biggest stars in music, but I still get a lot of questions about who she is. That probably has something to do with the fact that she's only 17, so a lot of adults are just now hearing about her. Billie is very talented, and her attitude is definitely something different, so I would expect she'll be a major star for years to come. If you haven't listened yet, catch tf up.
7. Noah Cyrus
Noah Cyrus actually looks a little like Billie Eilish, but like, with lip fillers and lash extensions. She's slightly older than Billie, at 19, but she's been on our radar for years thanks to her famous older siblings. Her music is cool, but her relationship drama (remember Lil Xan?) definitely feels like high school bullsh*t. She'll grow out of it…maybe.
8. Bella Hadid
It's truly insane that Bella Hadid is only 22. Depending on the photo, she can either look like she's in her 20s or her 50s, and it really messes with my mind. She never looks old in a bad way, she just has such a mature looking face, mostly thanks to her cosmetic procedures, lol. 22-year-olds just aren't supposed to look like this!
And before you come for me in the comments for saying people look old, everyone on this list looks great! When you're 17, looking old isn't really a bad thing. There are definitely other celebrities who are deceivingly young, but these are the ones who really made me do a double take. I mean…Shawn Mendes. That's all.
Images: shawnmendes, zoeisabellakravitz, iamcardib, milliebobbybrown, sophiet, billieeilish, noahcyrus
The Best Feminist Moments From 'Stranger Things' Season 3
Stranger Things is one of my favorite shows ever. I am just so invested in all of it, and I'm super mad we waited two years for only eight episodes that I watched in one day, and now I have to wait another year to see more. Ugh. But in addition to being a love letter to '80s sci-fi and horror movies, Stranger Things season 3 really does such a great job writing female characters. Especially considering the show's creators are men. Normally, women in movies and TV are depicted as love interests, almost exclusively. It's so bad that we have things like the Bechdel test to determine whether women were accurately represented in fiction as more than just objects of desire for men. A movie passes the Bechdel test if it has at least two women who talk to each other about something other than men. That's it. And amazingly, tons of movies fail this test.
FYI? There are literally zero (0) movies that would fail if the test was graded on two men talking to each other about something other than women. Men in fiction are allowed to have interesting, complex lives, whereas women are often seen as motivators for men and nothing more. It. Is. Gross.
On that note, there are even fewer movies/shows that depict women in science, so Stranger Things is super important. Not only because it's badass, and the writing is great, but because it's one of the best shows that not only shows strong women, but especially strong girls, and in a male-dominated genre. And with that, here is a ranking of the 10 best feminist moments from Stranger Things season 3. It honestly was hard to just pick 10. In case you did not understand the title, THIS POST CONTAINS SPOILERS.
You realizing that you need to go finish the season before reading this:

10. Nancy's Mom Being Supportive
You would hope that parents are always supportive, but as we've seen in the past, Mrs. Wheeler consistently drops the ball. She's completely out of touch with what's going on in her kids' lives. Her interests include leading Billy on, ignoring her family, and purchasing neon swimwear. But in Stranger Things season 3, Mrs. Wheeler actually did something that was pretty cool.
When Nancy got fired from the paper for investigating a story she believed in, she confessed to her mom that her boyfriend didn't believe in her/was angry at her, and that she's been bullied extensively by the men in the office. Instead of being angry at Nancy for getting fired, Mrs. Wheeler stepped up and told Nancy that those men are "sh*theads, and that if she believed in the story, she just needs to do it herself. Go to a bigger newspaper, and all those men can shove it when she's a success. It was a great moment between them and let us know that although Mrs. Wheeler seems super out of touch, even she knows that a girl's got to stand up for herself in this male-dominated world.
9.  Joyce Figuring Out Everything

Joyce is so hilarious, but even though she's quirky and her approach is a little off, she was really the first to know (except for maybe Will) that something was seriously wrong in the universe. I loved when she was yelling at Alexei (RIP, you cherry slurpee king) about "WHY MAGNETS ARE FALLING OFF THE GODDAMN FRIDGE!" Joyce kept getting cut down by Hopper, who didn't take her concerns seriously because he was too busy trying to get into her pants. (I'm not giving Hop an RIP because I'm convinced he lived. We never saw the body and there was that whole American thing in the Russian prison.)
But Joyce didn't allow Hop's agenda to distract her from her goal, and not only was she totally right, it was thanks to her that they were able to help stop the Russians and save the kids. Oh and NBD, she was the one who turned the keys to stop the Mind Flayer and close the door. Even though it meant killing someone she loved (I mean, theoretically, because I won't accept this). She's tough as nails.
8. Everyone Yelling At Mike
Mike is a total douchebag, I'm just going to say it. But he's a super typical 14-year-old boy. And 18-year-old boy. And 30-year-old boy…seriously, at what age do men stop acting like this?? Mike, being male, insisted that he knew what was best for Eleven and what her limits were. I think his worry came from a good place—he didn't want her to get hurt. But the entire group, guys and girls included, piled on him for not trusting Eleven to know her own strength. I loved that they all stuck up for her and put Mike in his place.
7. Nancy Standing Up To Old, White, Male America

Nancy's internship really sucked. Yes, it was her job to get coffee, but the men in the office treated her like garbage and made fun of her suggestions any time she tried to help. When she discovered that there was something seriously wrong with the rats in Hawkins, they laughed in her face and called her "Nancy Drew." They even forbade her from doing further research. But Nancy didn't let them dissuade her, even when her boyfriend Jonathan essentially told her to back off and take it. (Which, I understand his reasoning, but also, no, f*ck off.)
She stood up to all of them and did what she knew was right, even when it resulted in her firing. And then she continued to pursue the story, which ultimately helped save the world from the Mind Flayer. I repeat: SAVE THE WORLD FROM THE MIND FLAYER. They didn't show it, but I really hope she does pitch her story to a big Indiana newspaper and those Hawkins jackasses eat their words.
6. Eleven Dumping Mike

Eleven and Mike go through teenage romance problems, including Mike being a little bitch and lying to her. After Max's guidance on how womankind should expect to be treated, Eleven confirms Mike's lies, and in a scene that is nothing short of iconic, she dumps his ass—by loudly shrieking "I DUMP YOUR ASS," which is really the only acceptable thing to say to a man who treats you as less than. It doesn't matter that he essentially rescued her, and that they've saved the world together several times, even Eleven knows that lying is unacceptable in a relationship. We could all learn a lesson from her (and Max) about how to deal with f*ckboys.
5. Max Teaching Eleven The Importance Of Female Friendship

When Eleven realizes Mike is lying to her—and very poorly, I might add—she's devastated. She turns to Max for advice, who immediately launches into action. We didn't get to see these two interact very much last season, so it was super cool to watch them bond. Max teaches El that men ain't sh*t, and that she's dumped Lucas five times already for bad behavior. You go, girl. She also shows El how important it is to have female friends and to do things together that don't involve men.
4. Robin Cracking The Code

This season, we were introduced to Robin, aka Maya Hawke, aka the child of Uma Therman and Ethan Hawke. In addition to shaming Steve Harrington for being 1) a douche, and 2) friends with A LOT of children, Robin showed up both Dustin and Steve by cracking the Russians' code without their help. Hey, she speaks four languages! It was really cool to see her take over and get credit for such a big win, although it got her involved in a lot of unnecessary danger when she could have just been scooping ice cream all summer with no knowledge of any of this sh*t.
3. Everything About Erica

Erica is hands down my favorite character. She is so sassy and hilarious, and just happens to be a genius. It was awesome to see her run sh*t this season by being absolutely essential to the Scoops Troop's plan. She was the only one small enough to get into the vent! In addition, though, we saw a very cool side to her: that she may very well be secretly a nerd. Her intelligence and bravery helped save the group more than once, and she was awesome at navigating the labyrinth of tunnels in the lab. Remember: you can't spell America without Erica.
2. Robin Coming Out

EVERYTHING ABOUT THIS. You never see a hot teenage girl with a potential male lead love interest without it turning into something by the end. And it almost, almost went that way. We were led to believe that Robin had a secret crush on Steve. After their adventure together, Steve tells her he was starting to have feelings for her. An American dream story. And given that Steve didn't have a love interest this season, it was pretty obvious it was going to be her. BUT THEN. Robin clarifies that she watched Steve in their classes because the girl she liked watched Steve, and she couldn't figure it out because he was stupid and always dropping bagel crumbs all over the place.
It was iconic. You almost never see LGTBQ characters on TV without it being a gimmick or part of the story. It's never like, "hey, this is a complete complex person who happens to also be gay." She and Steve had become platonic friends who she trusted to share this with. Their friendship continued afterwards, which was so cool to see, when she helped him get a job at the video store. More of this, please.
1. Eleven Carrying The Team

Every f*cking time, Eleven saves all of their asses from everything—monsters, bullies, Billy, and more monsters. This show would be lost without Eleven, which is a really interesting plot twist, btw, that she's now lost her powers. I'm excited to see what they do with this next season. But no matter how bleak it looks, or what a rough spot they're in, Eleven comes through and rescues all the boys, every single time. She's a badass, and we rarely see such a strong female character who doesn't expect a man to save her. Although I will mention that this last time, Billy did throw himself in front of her to the Mind Flayer, but as that was essential to his character arc, I'll forgive it. And really, it was Joyce that turned off the machine and stopped the attack.
Honorable Mention: Suzie
This was such a small thing but ESSENTIAL to saving the world and stopping the Mind Flayer. Suzie—Dustin's girlfriend from camp who we all believed was fictional—does actually exist!  She is the only one out of this group of science nerds, particularly an actual adult male scientist, that knows Planck's Constant by heart, which is the password needed to save the day. Good job, Suzie. I appreciated how she also took time to bitch Dustin out for not calling her until he needed something, and shamed him because he should know the number himself. I did not, however, appreciate the way-too-awkwardly-long musical number. There is a time and a place, people.
LMK in the comments what your favorite moments were from this season. I'm gonna go watch it again about 20 more times.
Images: Courtesy of Netflix; Giphy (9)
What Summer Haircut You Should Get Based Off Your Face Shape
Summer is just around the corner and suddenly I'm feeling personally victimized because I've spent the last 3-4 months sitting on my couch eating cheese and drinking wine and judging Bachelor contestants on Instagram. And I am certainly not ready to be, like, social or in clothing that covers less than 90% of my body. But I guess I'll have to make the transition to my summer self at some point and instead of, say, tackling the areas of my life that might actually take work and commitment like eating healthy and going to the gym, I'm going to actively avoid those parts and focus on an issue that money can solve. Like a new haircut. I'll most def be consulting my very trusted hair stylist, Susi, who may or may not give me an extra complimentary glass of chardonnay in exchange for a very overpriced haircut and 3-4 expensive AF beauty products that I did not need in the first place. What we have, you can't fake that, ya know? *laughs into empty wine glass* I recognize that we don't all have a Susi in our lives to con trick exploit guide us on our summer hairstyle journey, but that's why I've put together this super extensive and not at judgmental list of summer haircuts that are the best for your face type:
HEART SHAPED: Shoulder Length Bob
Picture Aria's haircut from PLL season seven or whatever fucking season is still somehow getting air time. I know, I know. Never did I ever think a haircut on Aria fucking Montgomery would actually be in season for summer, but then again I also didn't think people were stupid enough to spend 12K on a music festival that didn't actually exist. You learn something new every day.
But back to the haircut. Instead of assaulting my eyes with like, glittery graphic tees and metallic jeans, Aria's actually on trend. *questions entire existence* This cut looks good AF on Lucy Hale's heart shaped face and you should ask your stylist for a shoulder-grazing bob with layers placed around the bottom. Lower layers help create extra movement and dimension in your hair without you having to do a damn thing. Style it with a center part to add length to your face and create more symmetry.

HAIRCUT RISK LEVEL: Lower than all of the Liar's IQ's put together
ROUND SHAPED: Face Framing Bangs
I know what you're thinking, BANGS? Does everyone regret getting them? Yes. But should people with round faces still get them? Also yes. Baby faces of the world, pay attention because this is your time to shine. Face framing bangs are the perfect way to take your summer look from Wizards of Waverly Place to Justin Bieber Sends Me Dick Pics and that's really the best transformation you can ask for. The fringe is the focal point of this cut and it's v important that the stylist cuts your bangs to that focal point. Be sure to reiterate this to your stylist lest she feels the wrath of your Yelp review. And sorry if you end up hating your bangs. Feel free to skewer me in the comments.

HAIRCUT RISK LEVEL: Posting a selfie with the dog filter to your story
OVAL SHAPED: The Pixie
This cut can seem terrifying, especially if you have super long hair to begin. I bet it's because you have this theory that if you cut off all your hair you'd look like a British man BUT if you have a very petite, oval face shape then you were literally made for this haircut, so grow a pair and take the plunge. Plus you'll look like Millie Bobby Brown aka the betchiest preteen to ever grace my Netflix account (and a personal style icon of mine because, yes, I take style advice from 12-year-olds). Ask your stylist for a short, layered cut with a longer top that stops just below the cheekbone and tapers in the back toward the nape. That way your hair won't overpower your face and you'll just look sleek AF.

HAIRCUT RISK LEVEL: Day drinking on an empty stomach and literally hoping for the best
DIAMOND SHAPED: Angled Lob
You've got cheekbones and, as a person whose winter face resembles that of the Pillsbury doughboy, you should absolutely stop fucking around and get this haircut. Take a page out of Kim Kardashian's book for a dramatic, edgy summer look. Make sure your stylist emphasizes the clean angles of your face to really play up your features.

HAIRCUT RISK LEVEL: Posting the group vacation photo on Instagram when everyone else looks like shit in it
SQUARE SHAPED: The Perm
UGH I did not want to have to put this one on the list but apparently perms are back in style because people have lost their goddamn minds. And by people I mean me because I'm seriously considering this cut for summer 2017. You know something's in when your overpriced salon with 100k Insta followers is posting about it. If you have naturally curly hair then you should ask your stylist for a lot of short, vertical layers in the hair, which gives your curls a more bouncy/full shape.

​
If you don't have naturally curly hair then be sure to ask your stylist to use a larger rod when perming your hair. It's less overpowering on your face, but still gives you enough volume to resemble the less hot cousin of a lesser known Victoria's Secret model. Now, no one spread this shit around lest my mother find out. I've already been tagged in two very smug Facebook posts and I've reached my quota for told ya so's this week.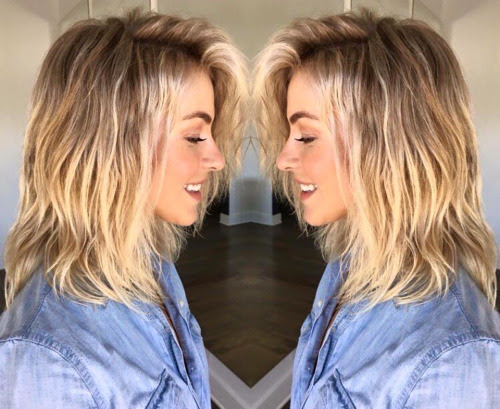 HAIRCUT RISK LEVEL: Having to tell your mother "You were right"
IDFK SHAPED: The Buzz
I had to address this one because this cut is all the rage among Hollywood's biggest cries for help stars. Technically, the right face shape for this cut is a diamond shape but I'm also thinking "lost your damn mind" or "my acting career is clearly struggling" are more accurate face types for this hair trend. I know this year has been, like, hard with our dwindling rights and Donald J. Cheeto casually leading us into WWIII but that's no reason to regress back to Britney Spears circa 2007. Handle your shit like an adult by taking slow, calming breaths and also consuming alcohol. N'amastay.