The New 'Gossip Girl' Is A Personal Attack On Millennials
Hey, Upper East Siders, Gossip Girl here. Just kidding: I'm actually just a millennial who has continued to allow a series about privileged teens define my personality for the last decade. And by "Upper East Siders," I'm really just calling out to anyone who spends the majority of their paycheck on student loans and Peloton financing, but still maintains that they're totally a Serena van der Woodsen. On the off chance that your efforts to make your weekly screen time report slightly less horrifying have finally paid off, you may have missed some major news: Gossip Girl is back. But this time, instead of simply serving designer looks and quotes sprinkled with alliteration, the new Gossip Girl is a reminder of our looming mortality. Yes, there's still fashion and scheming, but make no mistake: These new kids are coming for millennials' necks. 
Gossip Girl has always been savage, but the game has clearly changed this time around. While Blair Waldorf's punchlines typically targeted out-of-season Tory Burch flats and Tinsley Mortimer, the newest crop of Constance Billard kids are out to get us. I have never felt a gut punch quite like when Luna La declared in the premiere that Zara should be banned east of Lex. Actually, that's a lie. I legitimately began Googling crow's feet treatment when I realized Tavi Gevinson—the iconic influencer who came to fame at like, 12, back in the day when we were tuning into the CW to drool over Nate Archibald—was cast as an Old. And honestly, I'm not yet emotionally equipped to discuss the implications of a Gossip Girl that tolerates headband slander. 
Manhattan's elite went from banging out insults on the keyboard of an LG Chocolate to turning their noses up at REVOLVE partnerships, and even with a decade-long head start, millennials can't compete. I mean, these kids are 17-year-olds drinking dirty martinis at members-only clubs on school nights while you're hoping a crippling two-day hangover is enough of a distraction to prevent your coworker from realizing you still owe her a Venmo from after splitting a pitcher of frozen peach margaritas and buffalo cauliflower wings at happy hour. 
When the original Gossip Girl finale aired, you likely had a dorm room closet full of peplum tops and a dream that someday in the not-too-distant future, you'd be perusing the Chanel flagship store for an outfit to wear in the Hamptons with your bestie that weekend. You probably never envisioned that when you were finally old enough to see the series rebooted, the closest you ever got to becoming Blair Waldorf was that one time you broke 200 likes on a photo of yourself at Ladurée. 
If you watched Gossip Girl 2.0 without realizing this harsh reality, I have some bad news: you are not Julien Calloway simply because you force your significant other to pose for content for your Instagram Story. You may think you're a cool millennial, but you're most likely wrong. Here's a quick test: If, in our lord's year 2021, you still do not know that hashtags don't really work if you have a private IG account, you have officially aged out of Constance Billard's ruling class. You are no better than a group of private school teachers who legitimately thought they could go viral with a single tweet from a Twitter account with no followers. (Yes, even if you guffawed at the quip about Olivia Jade gaining followers when Lori Loughlin went to jail. We all should have had Gossip Girl referencing that scandal on our 2021 bingo cards.)  
Fortunately, what does not kill you makes you stronger, and I truly believe that the generation that spent months licking our wounds after learning that side parts aren't cool needs Gossip Girl now more than ever. We can love the series even though it may not love us back, like squeezing a squirming dog that does not want to be cuddled with. Go ahead, pat yourself on the back when a scene in the new series features a song that's already been on your Spotify playlist for months. I, too, gained a false sense of confidence when I recognized "A Palé" by Rosalia the second it came through the speakers at the Christopher John Rogers fashion show. We all deserve that much. Just don't forget to stay nimble: have a plan set in place for when these teens inevitably forge a trend that's simply unsustainable for anyone over the age of 20. Nobody wants to see you roll up to your 9 to 5 with like, shaved eyebrows.
Images: Karolina Wojtasik/HBO Max
This Barbie Influencer IG Makes Me Hate The World We Live In
Today, I bring you the Instagram account you never knew you needed to hate (you still following me?). Barbie Style is run by Mattel and posts as if Barbie was Eva Chen. The account has been around since 2014, but as of Monday, it hit a milestone two million followers. Let that sink in. There are two million people following the journey of a plastic figurine. Just to make matters worse, REAL HUMANS literally comment sh*t like "obsessed with you" and "omg that jacket is stuunnniiinnnnggg" on her photos. DO YOU THINK SHE READS THEM?
To sum it up really quick: Barbie Style reflects the worst that society has to offer. If this is her attempt at acting like a (slightly above) average millennial woman, I feel like the majority of us are pond scum. So, without further ado, let's mock the sh*t out of a plastic doll which in turn, satirically mirrors the dumpster fire that has become our society. Now that's f*cking meta. *hits blunt*
View this post on Instagram
Lolololol Barbie, you took a page out of Khloé Kardashian's book of bad photoshopping. There's a literal team at Mattel that  works, day in and day out, on creating and posting content for this account, yet not one of them noticed that your lips are literally two different colors? But maybe this is Barbie just trying to be relatable, you know? Everyone has a pic on their Instagram that's so obviously FaceTuned that you're not sure what happened to their nose. Also, I'm sorry Barbie girl, you're made out of LITERAL PLASTIC. What more is there you need to smooth?
Are you even surprised at this point that Barbie has an Insta with her birthday cake? And no, not just any cake—a Flour Shop cake. One that of course, when you cut into it, explodes with candy you obviously won't eat—a fact that is only compounded if you are an actual inanimate object who doesn't even have a functioning jaw and the aforementioned candy is actually beads. Can someone tell me if there's a white girl on this planet who doesn't have a full-fledged three-phone photoshoot with their overpriced cake? I mean, I had one so guess what, there's probably not. I mean I'll give her one thing, though, Barbie looks pretty f*cking good for 60. What fillers does she use?
Holy basic. The lob. The fake cab hail. The statement jacket. The Flatiron building. The bad meme-mimicking caption. It doesn't get more tragically influencer than this. Oh, and her outfit is from Arielle Charnas's SomethingNavy collection. There's not much more to say, mostly because this picture has muted me with rage.    
Okay Barbie, so you are officially the worst type of person. Way to literally f*cking insert yourself in someone else's tragedy. There is nothing quite like the celebrity death post trend. Like OMG Rebecca tell me again about how much of an impact Kate Spade made on your life. And we get it, you knew Luke Perry before his days on Riverdale. But do you really need to make a four post slideshow about how heartbroken you are when all you really want to show is that you're cultured enough to know who this person even is?
OMG this is actually so obnoxious, even for a doll. (Actually, I think it would only be worse if this caption were used on a real human's Instagram.) Do you also like to comb your hair with tree branches because hair brushes are too mainstream? Do you have an IV of Kombucha running into your bloodstream? If you're trying to be casual, how come your makeup is fully done? Why is there a professional photographer in your bedroom? Riddle me that, Barbie. Also, what kind of cruel being are you that you leave a perfectly good donut out in front of your dog? That's just evil.
This is the most tragic "Galentine's Day". Who the f*ck celebrates single life and the power of female friendships with SALAD? Try five bottles of champagne between four girls and a sickening amount of Chinese food. Also, Barbie, don't play the single role, we all know you have a literal man-toy made for your enjoyment. Not all of us are so fortunate. Count your blessings, idiot.  
Ugh, Barbie is just your everyday girl being environmentally friendly, chill, and sporty, riding a bike through NYC! #Goals! For starters, I would like to point out that this is in fact, not how you sit on a bike, so clearly, she's doing it for the 'gram. You're not fooling us, honey. As well, what New Yorker bikes around looking like THAT. New York bikers are either layered up to their eyeballs in the winter or half-naked come spring. And they're for sure swearing at you. Also, seriously Barbie, no helmet? What a terrible example you are for young girls everywhere?? *sips wine out of Swell bottle*
Is it just me, or does this picture look like that Prince George stirring the pot meme? I feel like there's some sort of underlying social commentary there, but besides that, the caption needs to stop. What in the f*ck are you reflecting on? I know on a Sunday the only thing I'm reflecting on is the damage I've done to my liver and whether or not my ex will file a restraining order after his 46 missed calls from me.
And to top it all off, Barbie is the girl who goes to the gym January first and has to post about it to prove to her high school friends that she's legit skinny now and they can't call her Round Ronda or Lardy Lisa anymore. 
PS: Mattel, if you want some relatable Barbie content that'll actually "speak" to millennials, this is the type of Barbie sh*t we're looking for:
View this post on Instagram
Images: barbiestyle (9); bedlambarbie / Instagram
How To Survive In Los Angeles On A $50K Salary: Realistic 'Money Diaries'
As a struggling artist/writer Betch in LA, I cannot believe how much I spend to live here. We recently covered the expenses of living in NY—a true account after Refinery29's batshit crazy Money Diaries, otherwise titled Daddy Pays My Bills and It's So Hard. So let's dive into what it costs to live in the other most expensive city in America, Los Angeles. Or like, that may technically be San Fran. Whatever, still talking about LA.
The Basics
Occupation: Artist (drawing/painting), Animator (what I went to school for), Writer (obvi, that's how you're reading this shit), Magician (a recent endeavor that sounds like a joke but isn't. Let's not discuss it further).
Basically, all my jobs are freelance and sound made-up (particularly magician). But I really, really love when my dad's douchebag, pretentious friends say things to me like, "Okay, so what's your backup career if artist/writer doesn't work out?" I tell them not to worry: I'm a magician now.

Hilarious.
Because I'm a fucking hustler, my income goes up and down depending on how much work I get. The cool thing about freelancing is that you can take on as much work as you want. The shit thing is sometimes there is no work. This is what credit cards are for.
Industry: Illustration, Animation, whoever will pay me to write or draw, etc.
Age: 27
Location: North Hollywood, CA
Salary: ~ $50k
Paychecks: I'm paid per project so this amount goes up or down. I spend about $3,000 monthly. Like, that is how much it costs to keep me alive here.
Bonus: The fuck. I'm lucky if people actually pay me what we agree on per project.
Shit I Pay For
Rent: $1,200/month for my own bedroom in a two bedroom apartment in an "up-and-coming" neighborhood that I share with a roommate and a dog. "Up-and-coming" means there was a shooting that killed 3 people on the next street over from us, but we're also getting a Whole Foods. The roommate pays less than me for the smaller room. The dog is a freeloader. I read recently that the ~smart~ person should only spend 1/3 of their income on rent. Like, what the fuck? If I made that much, the first thing I would do is move into a nicer apartment.
Utilities: $100-200 a month, for fun things like water, electricity, AC (a fucking necessity here unless you want to die in the summer), etc.
Car: I probably spend like $50 every week or two on gas. But tbh I usually work from home, so no one requires me to drive anywhere. Car service can be anywhere from $100-$600 a year (and God help you if you need new tires), which is why I just ignore it when the light comes on. #lifehack
Gym Membership: $40/month for a small private gym that I occasionally see celebrities at, like wannabe thirst trap Ariel Winter and Kylie Jenner's lips (unclear if she had a face under them).
Going Out/Eating Out/Stupid Shit: If my credit card bill exceeds $1,000, I cry. Does that clear it up?
Savings: lol
A Standard Work Day (Particularly, Today)
8am: Wake up. Cry because I hate mornings. I am literally an actual vampire person. I hate the sun and I'm nocturnal. Also, the whole drinking blood thing. That aside, since I work from home usually, I roll out of bed, get coffee, feed my dog (who doesn't get up to eat) and begin working looking like Nosferatu.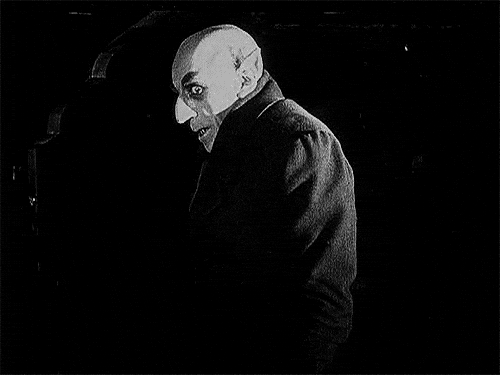 9am: Continue working. I'm illustrating a children's book today. It's about a kitty. Cry at the thought of my $200k film degree because I was going to change the world with my movies. My dog is snoring like a monster truck. Cute.
9:15am: On this page, the kitty says "meow, meow." Debate ending it all now.
11am: I'm meeting my friend who also works from home at a neighborhood coffee shop, so I force myself to get dressed (kinda) and put on makeup (ish). I get in an *actual* fight with my dog, who is still deadass asleep because she doesn't want to get up to use the bathroom. Like, I'm mad because she's making me late, but also: fair. Lift her 60lb ass out of bed and drag her outside and back.
11:30am: Go to coffee shop. Spend $14 on a nonfat chai latte barely bigger than a shot glass and a breakfast wrap. I tell myself I'm going to eat half the wrap and save the other half for later.
11:32am: Ate both halves. Fuck. I'm destined to be broke AND fat. Continue to illustrate kitties while bitching to my friend about how annoying our other friends are. My favorite way to work.
2pm: Go home, eat again. I told myself I was going to the gym at 3. Also, I hate the gym. I debate just being obese and not going. Why does it matter? I'm not dating. No one wants to fuck me regardless. I should just crawl back into bed with my dog (who is STILL FUCKING ASLEEP SOMEHOW) and give up. Think of the time I'll save.
3pm: The problem is, everyone at the gym is gross and sweaty. So then I have to touch the gross, sweaty things that they touched.
3:20pm: Late for the gym, but I somehow still go. Unsurprisingly, the gross and sweaty people are there. As is some chick from some show that I don't know the name of. She is soooo thin that she looks like an 8-year-old boy with blowup doll lips. It's a really good thing I'm not one of the many people trying to become some sort of actor or model in this city. I eat carbs, for one.

5pm: Come home but can't open my door because there are too many Amazon Prime boxes blocking it. What the fuck did I order? I don't even remember.
5:32pm: A new watercolor set (that can technically be for work), a sexy cocktail dress (from Amazon? Really? I don't remember this purchase AND I don't even go anywhere to wear this), cheap sunglasses that look identical to ones I already own, an Easter-themed bandanna for my dog with a bunny on it (necessary), and a pack of 100 candle wicks (at some point I thought I'd make my own candles). Total amount spent: $76.16. But I technically bought this shit two days ago so it really doesn't count as today's cost. Leave the boxes stacked on my kitchen table next to the other empty boxes I've been meaning to take out for three weeks.
5:33pm: Eat a Quest bar for post-workout protein. It is Birthday Cake flavor which is way better than the other Quest bars that all have this weird "Quest bar" taste, no matter the flavor. However, it does not taste like birthday cake. Strongly consider being obese again. Also, why do they all have that same flavor? It's like my college cafeteria. You could get a salad or a grilled cheese or a steak, and yet it all somehow tasted like the cafeteria. It's fucking wrong.
5:34pm: Write articles for Betches. You are SO welcome. I haven't even fucking showered yet, I'm just sitting in my sweaty (AND GROSS) workout clothes to get this shit done for you.
7pm: Feed my dog again. I really should cook something. Except I've already eaten everything I like and all I have left are frozen fish and chicken and turkey burgers and vegetables. I'd have to eat, like, super healthy. I decide to go grocery shopping tomorrow.
7:01pm: Oh sorry, by grocery shopping I meant, use Instacart to click on groceries and then have a struggling actor deliver them to my door for an additional $6 plus tip. Worth it.
7:02pm: Postmates my favorite pho place that I've been eating at twice a week because it's so fucking good I don't want anything else. Also? It's less than a mile from my apartment. Also? Between delivery, service fee (wtf is a service fee if I'm already paying for delivery though, Postmates?), and tip, the order costs twice as much. The filet mignon pho is $10, and I also get crab rolls which are literally lettuce wrapped crab for $6. The order total is somehow $32. What the fuck. Still worth it.
8pm: Eating my pho, super happy now. I think I'm going to take a bath. Well actually, because I went to the gym, I'm going to rinse off in a shower, and THEN take a bath. It's a huge waste of water but it's necessary because otherwise I will be sitting in gym germs and I will die.
8:02pm: I'm trying to drink less often but really, I need a glass of wine for a bath, sooo….

8:03pm: Good thing there's a liquor store next to my apartment. I spend $18 on rosé, but it's the one with the pretty rose carved into the bottom of the bottle. It's also the perfect shade of pink. So chic. Did you know a glass of rosé is only 86 calories? Like, a chardonnay is 120. This is basically diet wine.
8:10pm: Take a bath using no less than $50 worth of products from Lush. I smell amazing so it's worth it. Also, I didn't buy these today so it doesn't count.
8:20pm: Drank entire bottle of rosé. 430 calories. Fuck.
Total Spending for One Weekday: $64. Not counting my Amazon or Lush purchases because those were not done today. So yeah.
Total Spending for One Week if I Got Coffee/Breakfast/Dinner Every Day Like This: $448. That is fucking depressing.
Also, this is not including weekends, where depending on where we go, I may be drinking nine $3 margaritas (and ordering the $7 queso and chips) or four $12 vodka-soda-limes. Or, God forbid, if I go out to dinner WITH drinking. Or brunch, where it's $15 an entree, but only $15 more for bottomless mimosas which is seems like a good fucking deal. Because I drink like six of them. So I am saving money.
This day sucked in terms of spending, but I pay my rent and my dog sees a dermatologist, so I think we're doing pretty damn fine over here. Kudos to the Betches making it work in cities that clearly don't want us. In other news, my credit card bill is due in two days and tbh, after writing this out I don't even want to look at it.
15 Signs You're Dating A Fuckboy
Fuckboys are not always easy to spot in the wild, given their highly adaptive nature and ability to blend in. Any betch that's been through the Amazon jungle of dating knows that meeting a fuckboy now is like finding a Rattata in the original Gameboy Pokemon—it's common AF but you always hope it's something better. The key to getting rid of the fuckboys in your life is to know how to identify early signs of fuckboyism before you get too attached. Here are some telltale signs the guy you're dating is a fuckboy you should def ditch.
1. He asks you to hang out but doesn't text you to follow up, and when you ask if you're still on he's just like, "sure where should I meet you".

2. He says things like, "we should hang" but never initiates an actual date.
3. He says things like, "let me know when you're free" rather than proposing an actual time and place.

4. When you ask him if he's seeing anyone else, he avoids answering and says something like, "you don't have to worry about that"
5. He uses phrases like, "keep me posted" and, "let's stay in touch" when you invite him to come out instead of just giving you a straight answer.

6. His friends don't seem to know who you are, which means chances are slim he's raving about you to them.
7. Or his friends all know who you are but act like they know something you don't because they do: They know he's seeing other people.

8. He'll disappear for days without you hearing from him, and when he finally resurfaces he offers no explanation, like it's perfectly normal.
9. When you ask him what's up, he over-explains why he's been so busy and offers specific details like, "hey! just been super busy with this work presentation and my cousin's in town and also my dog is sick so I haven't been sleeping what's up with you?" which really translates to, "please don't ask me to hang out."

10. When other guys flirt with you in front of him he seems totally unfazed, not in a chill, do-whatever-you-want-because-I'm-a-feminist way, but in the honestly-could-not-care-less-about-you way.
11. When you run into other girls when you're out, he definitely doesn't introduce you as his girlfriend, and sometimes doesn't introduce you at all.

12. He's always texting other people when you're together, and they're def not all bros.
13. He shadily will not respond to you during prime date hours of 7-11pm, because he's obvs on other dates.

14. His friends avoid direct eye contact with you when there's other girls flirting with him, and more than likely some of them are also hooking up with him.
15. He's never initiated taking a picture with you, and he's never posted one of you guys hanging out on his social media.

If you spot, like, more than three of these behaviors, it's time to reevaluate your life and your choices (not to mention your relationship). For more dating advice, buy our new book, I Had A Nice Time And Other Lies, and stop falling for fuckboys.
Images: Elsa Donald on Unsplash; Giphy (18)
3 Ways Dating In College Is The Total Opposite Of Dating In Your 20s
Let's get something clear from the start: one of these is not actually dating. I don't care if the guy you took to five consecutive formals also made you a picnic that one time or whatever else people do between fucking asked you to hang out before 9pm: college is the best four years of your life oh my god I'm so old a complete joke. Whatever versions of adult life you attempt in that time, they can only be expected to bear a baseline resemblance to the real thing. So, here are a few ways you can expect your dating life to change once your parents take back their credit card you earn your degree.
You Will Have New Priorities
In college, that guy with piercing blue eyes who shit on your taste in music and had a surprisingly skinny dick slightly washed man bun was considered a catch. Now, any guy who self-describes as an "intellectual" is automatically vetoed: you are a busy and important woman who does not have time to hear whatever theories on the universe four bong rips yielded this time. You need a man with enough follow-through and determination to give you an orgasm hold down a job, and the ability to meaningfully listen to your inane work rants legitimate professional woes without interjecting about how closely this relates to his latest screenplay. TL;DR: If his Bumble profile lists actor/writer/musician/artist etc., save yourself the HPV and just swipe left.

"Busy" Actually Means Something
In college, "sorry, I'm busy" loosely translated to "you threw up in my bed and there's broken glass everywhere, please stop texting." To be less personal, it meant "we're not fucking right now." The point is, there's basically nothing in college that you really "can't miss," so this is an obvious excuse. So next time a college guy tries this on you, just text his mom all his dick pics get some reasonable revenge and move the fuck on. In your 20s, it's actually a pretty big red flag If he's never busy—he's either lying about his job, or so obsessed with you that he's willing to risk getting fired so he never misses a chance to hang. Either way, pass.

Your "Best Self" Will Change
I truly say this like once a day never thought I'd say this, but I miss the days when the "chill girl" was all guys wanted from you: wearing tiny denim shorts and pretending not to know half your ass was out, drinking way too much beer, and generally suppressing screams at the amount of dirt in your immediate surroundings. Now that guys are no longer in the land of no consequences college, they're just as freaked out about real-life shit as you are—so, they start caring more about qualities like emotional stability, or the potential that you will one day solve all their mommy issues cook them a meal. Obviously, you don't ever have to actually do this: just lend the impression your first few dates that you are a completely different person will actively improve their life, not feel like a second job.

Basic points: while your life will get worse in every way drastically change after you graduate, you do get slightly better taste, guys get more creative with their lying, and you'll be forced to act a tiny bit more your age. While you're in college, just wear a condom enjoy your freedom (because even if you think you're dating someone, you're really, really probably not).
Office In London Gives Employees Champagne On Demand With Press Of A Button, So We're Moving
Working fucking sucks. Sorry for all you college betches who watch too many movies where a hot 20-something has a cool job doing literally nothing and lives in a 3,000-square-foot Tribeca penthouse, but that's not what it's like out here. I've been out of college for what feels like forever just grinding away and I can barely afford to rent out a room in a shitty apartment in Queens, okay? And I'm not even poor-poor. I'm just millennial-who-graduated-during-the-Great-Recession-poor, which is like, America's new middle class. But for British betches, or those of us in the States who are looking for just one more reason to place an ad on Craigslist with the subject SEEKING BRITISH HUSBAND: ALL AGES WELCOME, a new office building in London has announced that it will feature a "Champagne On Demand" button at every desk, meaning you can be both miserable and drunk, which is honestly one of every self-respecting millennials' top five mental states after "tired and drunk" or "sad and sober." Bloody brilliant, mate!
But before you go downloading British Bumble, or re-connecting with that one weird exchange student with the fucked up teeth from high school, slow your roll because the building isn't ready yet, meaning you have some time to figure out your living arrangements abroad and what not. However, Enstar Capital, the luxury developer in charge of this incredible project has a pretty elegant plan for how to get Champagne into the hands of every thirsty (or bored) office member who needs it with this nifty button marked "Ring For Champagne" for those btton skeptics that don't believe such a wonderful invention could ever be possible:
Legit, it could only be simpler if they installed a Champagne tap at every desk, with a funnel that goes straight into your mouth. What a time to be alive. And in case you were wondering, you can also order other bougie shit like caviar if you want your coworkers to know you fancy.

And for the low, low price of $688 a square foot, you too can convince your boss to install some Champs on demand buttons in your office! So if you work at a hedge fund or like, Google, this could be possible. For everyone else, we're SOL.
If you're thinking that this sounds v familiar, you're probs like me and watch too much Bravo because Heather Dubrow from RHOC has one of these miraculous bubbly buttons in her closet. And while that's cool and all, I need a buzz way worse when I'm doing stupid work shit than if I were to be in a closet that's bigger than the aforementioned room in Queens. And while both sound amazing, a mansion in California with the world's biggest closet, a Champagne button and a personal butler to bring it to me probs isn't in the cards for a minute, so I guess for now I'm getting a job in London. Cheers!
Open Letter To Assholes Who Call Girls "Crazy"
Dear Chauvinistic Assholes,
I've been seeing a very, very unfortunate trend in modern millennial dating in which guys throw out the terms "crazy", "psycho", or "stage 5 clinger" when a girl so much as texts him to be like, "Hey u up?". News fucking flash: It's 2018. You know what's really "crazy"? Here's a refresher, losers.
Donald Trump being the goddamn President of the United States
ZAYN leaving One Direction and his last name in the dust (RIP)
North Korea lauching missiles … YES THAT IS HAPPENING
Permanent freckle tattoos. Somebody please tell me why that is even a thing.
This little thing called ISIS and global terror—ever heard of it?
I hope that puts things into perspective for you. Trying to communicate and show positive interest and affirmation (aka, texting you 1-2 times a week) doesn't make a girl "thirsty" or "insane." It makes her a normal fucking person—and BTW, you should feel #blessed that a betch is into you in the first place.
Of course, there are real "stage 5 clingers" out there, both men and women. Case in point: My (female) best friend once met a perfectly nice, cute guy in a bar. They exchanged numbers and went on one date which was pretty okay. Next thing she knew, she'd be looking at her Instagram notifications and he'd be tagging her in AT LEAST SIXTEEN posts per day. He'd send her paragraphs and paragraphs at a time, Snapchat her twenty times a day, and even put a down payment on a puppy that she mentioned she wanted, assuming they would raise it together when their one mediocre dinner date turned into a fruitful marriage. (He actually raises the puppy alone now because obviously she had to ghost him.) Does this guy warrant a "crazy" label? Absolutely. But unless you can honestly say that every girl you're calling "crazy" acts like this—in which case, you have bigger problems, like why you're a magnet for the mentally unstable—then it's time to reassess your vocab.
There is a very problematic, gendered paradox when it comes to men and women in romantic relationships. For example, T-Swift gets called "crazy" all the time for writing songs about her exes. When Robin Thicke wrote and performed Paula, AN ENTIRE ALBUM that was a desperate plea for his ex-wife Paula Patton to take him back after he got caught cheating, it was dubbed by the media as "a heartfelt reconciliation". WHAT FRESH HELL IS THIS?

Bottom line, the word "crazy" is a convenient term for men, and an often discriminatory word for women. Some men (#notallmen, wouldn't want you to get too butthurt) simply throw out the term because it's easier than getting down and dirty with their real emotions and addressing real issues within their relationships in a healthy way. So, next time you're about to call a betch crazy, boys, think before you speak. It's like, the rules of feminism.
Not your BSCB,
The Betches
Is This The Worst Hookup Disaster In History? Ask A Pro
Head Pro would never make you suffer the indignity of being turned down for a blowjob. Email him your most pressing questions (dating or otherwise) to [email protected]. For the same Head Pro advice with less public humiliation, buy our second book, I Had A Nice Time And Other Lies.
Dear Head Pro,
Long story short I got absolutely obliterated and started talking to a guy I barely knew in the club. This talking turned into dancing, and then somehow I went full prostitute on him and started sucking his face (not even kissing) front and centre in the middle of the fuckin club.
Brought him home. He started initiating sex and I told him we couldn't have sex b/c I was on my period (why the fuck did I bring him home). We spent the rest of the night talking. I found out he was a virgin, so I OFFERED TO SUCK HIS DICK (b/c he looked really embarrassed and I felt bad but seriously wtf), which he then POLITELY DECLINED.
We talked a bit more, for whatever reason I told him about a recent past hookup with a guy he knows (FUCK ME). End of story, we fell asleep, talked a bit in the morning then he left.
He's a nice guy and always says hi to me, but that's just the way he is. I've heard he's lost his virginity and since been racking up girls but apparently tells all his friends he really wants a girlfriend. He has gorgeous girls around him all the time b/c he is insanely nice and funny. What's sad is for whatever reason I cannot stop thinking about this kid. He is the first guy I have liked in a long time and I barely know him, and I feel like I ruined any chance I ever had with him.
Two things I need from this:
1) How do I fix things so that I could potentially maybe have another shot with this guy? Like do I apologize for publicly humiliating both of us?
2) If I've ruined everything and this will never happen again, how do I get over someone I was never even with?
This is my rock bottom please help me get back up. Thank you and pray that I wake up tomorrow a little less of a loser.
Loser
Dear Loser,
1) HAHAHAHAHAHAHA
2) Just keep offering to slob knobs until someone takes you up on it.
(But seriously, you just want what you can't have, and to make things worse he's now flaunting his awesomeness. Continue to delete him from your digital life and get on with it)
Losing his virginity riding the crimson wave would have been worth it for the story,
Head Pro
Hello Head Pro!
I've been seeing a guy for a couple of months, everything seems pretty good. We're not in a relationship because it's too soon for him, but I'm alright waiting as I don't want to dive in too soon either.
Anyway, I've noticed lately that he's not too interested in my feelings or emotional stuff…hard to explain. For example, if I text him saying I'm feeling a bit low or having a bad day, he won't respond for hours (but he will have been online, Whatsapp: destroying women's sanity since god knows when!) and when he does respond it will be about something else. I'm not expecting him to shower me with adoration or anything, but it's not hard to say something short and sweet, is it?
So the way he's acting is making me feel like I'm being lead on or that he isn't that into me as a person and it's making me feel worse. It's a vicious cycle! I have asked him if he's interested in a relationship with me down the line and if he's into me for me and not just sex and on both counts he's said yes and seemed pretty genuine, so I'm not sure what's going on.
Thanks!
Anxious and Hating Double Blue Ticks
Dear Why Denigrate The Blue Tick, The Noblest Of Tick Species?,
Fuck me, I WISH I had the balls some of these dudes have. In past situations where girls asked me if I was interested in a relationship, I'd just be like "nah, I'm good." That would be it, and I'd just find someplace else to get my pencil wet. But if I knew I could just give a noncommittal "sure," like my boss was asking me for help on a project I had no intention of doing, and girls would STILL sleep with me? Goddamn. I gotta keep this in mind.
Anywhere, there's your problem. The phrase "I could see a relationship with you, but I'm not ready for one right now" is HORSESHIT. It's a longer way of saying "I'm only doing this because you let me have sex with you." I'm not saying it's not real if you don't get engaged on the third date, or that "are we/aren't we" situations aren't common, but typically if people like each other, and they like having sex with each other, they don't waste much time making some kind of commitment, however small.
Basically, he doesn't ask about your feelings because he doesn't care, because he doesn't want to be your boyfriend. Whether you genuinely aren't "ready" for a relationship yet or are deluding yourself is actually kind of immaterial at this point.
I don't know what Whatsapp is,
Head Pro
Head Pro would never make you suffer the indignity of being turned down for a blowjob. Email him your most pressing questions (dating or otherwise) to [email protected]. For the same Head Pro advice with less public humiliation, buy our second book, I Had A Nice Time And Other Lies.