5 Public Places You Should Never Have Sex
If you're a thrill-seeker (is there a cooler phrase for this, anyone?) then you've probably either already had sex in public or at least entertained the idea. Mom, if you ever want to speak again, stop reading here. I, for one, am a thrill-seeker. There's something about having sex in a public place that is so hot, and I truly don't know which it is—the excitement of being watched or the excitement of being caught. Maybe it's both! In my opinion, public sex is best when it's not planned. No shame to those who choose their seats near the lavatories for a mile-high club membership, but maybe all that planning killed the moment? The smell, claustrophobic conditions, and knowing 500 other people have peed where you're doing the deed could also be to blame. All I gotta say about the MHC is been there, done that, am not impressed.
F*cking in public is a delicate art that is best served hot, so make sure there are no immediate boner-mood-killers nearby. There are certain elements—like sand and other people, among other things—that make public sex awkward and uncomfortable for both you and anyone in the passing vicinity, so make sure to choose your spot wisely. As should be assumed, don't look to the movies for help because, as always, they get it wrong. There are so many wonderful places to f*ck in public that I'll leave you to discover on your own, but for now, I'll just throw out a few places to avoid trying to turn into pound town. 
Beaches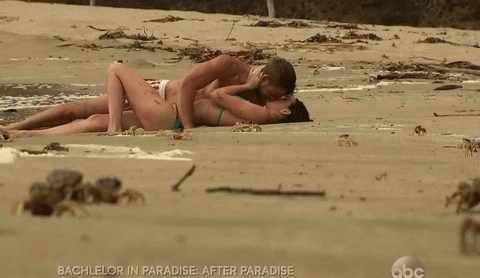 Sex on the beach sucks. I can't even claim to have done this because the thought of scrubbing sand out of my hair/genitalia for weeks in exchange for a half hour of action just isn't a concept I can get on board with. Also, unless you're staying at Lindsay Lohan's beach club in a private cabana (which, honestly, doesn't quite count), you have no reason to have sex on any beach anywhere. They are just too open, which, in my opinion, takes the intimacy out of it. If you have an anecdote that proves otherwise, hit me up in the comments. Until then, I'm sticking to my guns and am declaring the beach officially off-limits. Not that I took a poll, but I did ask a few of my friends for their opinions on the matter and got a unanimous and resounding "no." Like the keto diet, it's something everyone kind of wants to try, but ends up being really miserable and not worth it. 
Parks

I hope this is obvious, but people do it. You know how I know that? I WITNESSED IT. Look, I live in New York, which means almost nothing fazes me, but seeing two pasty teenagers humping against a boulder in Central Park made me want to claw my own eyes out. I was having a lovely stroll in the springtime air with my friend as we made our way back to the east side, and then we became eyewitnesses to what initially looked like a very tender homicide. Like beaches, most parks are so f*cking open (that's kind of the point) that someone is bound to see you and ruin it. From the ~lovers'~ perspective, f*cking in a park sucks just as much as it does for any unfortunate passersby. Like, are you doing it on the dirty grass? What if ants crawl inside you and lay eggs? Do ants even lay eggs? *Googles if ants lay eggs.* Ants aside, there are also so many nasty things on the ground that I can't even discuss, because it's grossing me out just thinking about how to remove tree sap from my cooch.
All I gotta say is that if you are still tempted to bang in the park after reading this, please let me know about the ant situation and if either of you managed to finish without getting caught by some dudes playing frisbee.
Public Bathrooms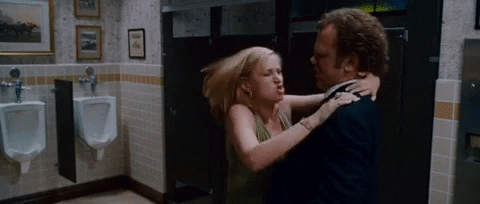 The only reason why I am against this is because it never takes place at like, The Ritz-Carlton. Instead, it's always at a gross dive bar where the floors are sticky with god-knows-what and, for some unexplained reason, there's water and toilet paper everywhere. My sexy good time in a bathroom was not planned; it was totally heat of the moment, brought on by many drinks and my aggressiveness toward a crush finally paying off. Am I saying I regret it? No. Would I do it again? Also no. Luckily for you guys, this was not my first romantic experience in a bathroom, so I can confirm that all bathrooms are not for f*cking! In all honesty, my main issue was the lights. They were too bright. Like, I was so drunk that the mess and extreme level of grossness didn't really bother me, but the blinding lights were so distracting that I had a really hard time focusing. 
Parked Cars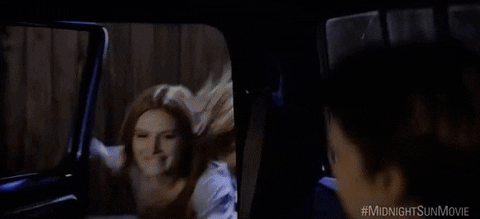 This is another experience that movies get totally wrong. Has anyone ever seen Skins? The British version, not the embarrassing American remake. There's a scene where James Cooke has sex in a car and it's like, so steamy. So my college boyfriend and I attempted this when I was visiting his family in Boston in the dead of winter, and it just didn't work. Maybe if we were in a limo? But not in a Jeep Liberty in sub-zero temps. Even if you're both super petite, there just isn't enough space to do anything except drive and be a passenger in a car. Period. Like, the only way to even kind of do it was for me to be on top, so that's what I did, but I kept hitting my head on the ceiling and there was no space, so I was just risking a concussion over and over, and he was just sitting there probably wishing it would end. There is no logistical way to have sex in a car. There just isn't. We even paused to Google what would work and even Google was basically just like, "Go back inside." 
Elevators

I will truly never understand the appeal here. I've never been in an elevator for more than 15 seconds, and I used to work on the 24th floor of my office building. I'd like to know what elevator is both big enough and slow enough for this?! If any guy could climax in 15 seconds, I'd be more disappointed than impressed. And for those of you who think that pushing the emergency stop button is the move, it isn't. It sends a signal to both the building manager and, sometimes, the local police, so you'd be in trouble real soon after. But, like, f*ck the police, amiright? Also, the only way for this to work, assuming that, by some miracle, the elevator stops on its own (which is def not a miracle) is if you have sex standing up. Worst position ever. You need to have the perfect height ratio with your partner for this to work, and also, how do you stop other people from getting in the elevator?
Look, I know that having sex in public anywhere is illegal, and nobody should be advocating for others to break the law, but the reality is that people still do it. And I'm actually not suggesting anyone go bang in public… in fact, I'm telling you where you should especially avoid doing it.
Images: Giphy (5); Unsplash
How To Join The Mile High Club Without Getting Caught
Have you ever found yourself watching Britney Spears' "Toxic" music video and thinking, "Wow, I should totes join the Mile High Club"? Of course you have, you're only human, babe. As a member of the club, I'm here to tell you all of the important tips if you're dying to join. First, I have to tell you that initiation isn't nearly as hot as when Britney rubbed her ass all over that guy's d*ck in the airplane bathroom, but it is fun and exciting. Plus, it's something you get to brag about and bring up constantly, which is what's really important. Whether you're playing it cool or bragging about it on your Instagram story for everyone to see, this will be one of your proudest achievements. 
No one:
Literally not a soul:
Me: I'm actually in the Mile High Club, so000.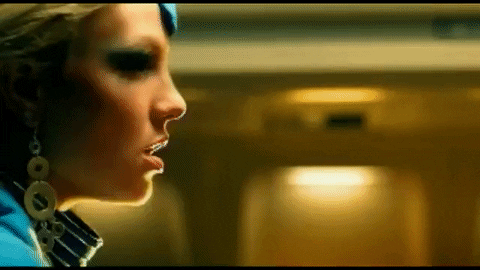 If this sounds like something you're interested in, I'm here to help. My partner and I had joining the mile high club on our bucket list for a while, and now that we have been able to check it off, we want others to feel the same sense of accomplishment, adrenaline, and excruciating leg cramps.
1. Get On The Flight Attendants' Good Side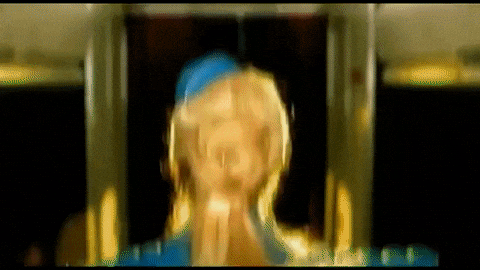 Like anyone in customer service, flight attendants are often treated like sh*t. So, just like anyone who has ever worked in customer service, they are one hundred percent over everyone's bullsh*t. The minute you walk on a plane, they have probably decided you're just another whiney, high-maintenance bitch who requires two lemons for your sparkling water, and will hand them your dirty tissues when they come around to collect trash. Your job here is to prove them wrong. I mean, you should always be nice to flight attendants, but in this case you should really go the extra mile (heh). Be gracious, compliment their shoes, laugh at their jokes. This way, the people who could potentially get in the way of you joining the club may consider looking the other way.
2. Make A Plan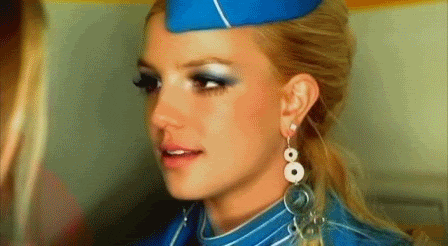 Even if you decide to embark on this journey with the hot stranger sitting next to you, you should work out an entrance and exit strategy before you dive in. You'll have to go one at a time, and you'll need a secret knock to make sure you know if it's your teammate on the other side of the door. As for exiting, this depends on how much you care about shame. If you wanna make a dramatic exit and walk out together to let the entire flight know you just hit up the bone zone, have at it. I personally ran out and made my partner wait a few moments before following, but this is mostly because I was raised Catholic and am terrified of getting in trouble with the grown-ups, even as an adult woman.
3. Wait Until Most People Are Asleep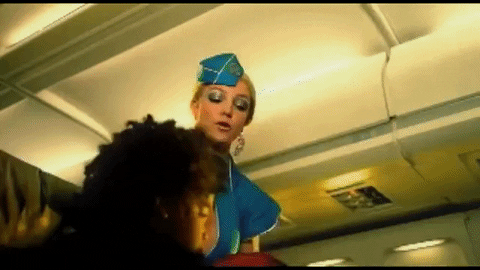 This is a lot easier if you are on 1) a long flight and 2) an overnight flight, but most people do fall asleep at some point during a flight. Pay attention to this, and at the moment when people start to go into their gross plane wine coma, make your move. During this time, flight attendants aren't walking up and down the aisle as much, so it's more likely that the coast will be clear. Plus, this will decrease the likelihood of other passengers getting up to use the bathroom and getting in the way of your fun. Let the nerds sleep while you become a new woman/man.
4. Don't Expect The Sex To Be Good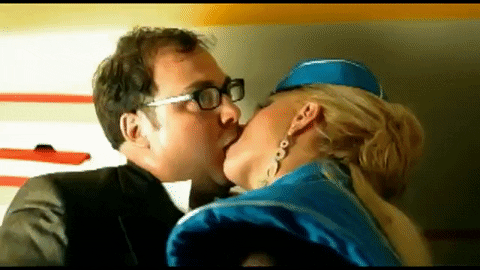 I cannot stress this enough. Airplane bathrooms are small and smelly, and for some reason every inch of them is always covered in water. It's not cute in there. There's barely enough room for two people (this feels like an intentional attack), let alone enough room for two people to comfortably f*ck. You can either try to have sex on the toilet, which is kinda gross, or you can try to do it standing up, which is also uncomfortable. Expect a lot of maneuvering, bumping of knees, and moments when the d*ck just won't stay in. Sadly, these probably aren't sex positions that will lead to higher confidence, but you win some, you lose some. I would be impressed by anyone who climaxes during this trying time. For me, we considered it good once there was approximately 30 seconds of intercourse, high-fived, and then GTFO.
5. Tell All Your Friends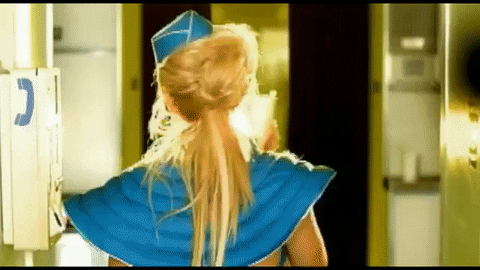 Congratulations, you are now officially a member of the Mile High Club, and are therefore given the right/privilege to ruin all social engagements by not shutting the f*ck up about it. Enjoy!
Any more questions? Hmu in the comments, and I'll be happy to pretend that I'm an expert. Let me know if you've had any luck joining the Mile High Club, because hearing these stories really never gets old. Life is short, so why not have sex on a plane?
Images: NeONBRAND / Unsplash; Giphy (6)
The 7 Most Overrated Places To Have Sex That Really Aren't Worth It
John Cusack royally fucked us (no pun intended) the night he decided to stand outside Diane's house and serenade her with a boom box over his head until she was forced to tell him to stfu. Since then, thanks to every other improbable modern-day romcom, we've been fooled into thinking borderline stalker romantic gestures like that are actual things. Like, I can't even get a guy to flirt with me long enough to get annoyed by it. Anyway, if there's one thing more pathetic than a classic romcom airport sprint out of pure desperation, it's the art of romcom fuckery and its unrealistic perfection no matter where the task is performed. Sure, crafty sex scenes make for great study material, but think about it—do you ever actually see the outcomes? The answer is no, because it's not a fucking thing. Look, I get it—duty calls, sometimes where you least expect it, and I couldn't give less fucks where you choose to fork it out, but taking your shag sesh into unfuckable territory is like signing up for a group project—great in theory, but 12 times out of 10, you'll end up frustrated and blaming your partner for their shitty performance. So whomever whatever you do, don't repeat my mistakes, and avoid boning in these v overrated places at all costs (unless maybe you're Christian Grey).
1. The Shower
I'm sorry, but who hasn't been personally victimized by shower sex? The main reason for this failure is that no normal, struggling adult human actually owns a shower bigger than a vacuum closet, but when it comes to sex, the last thing that should be wet and slippery is the playing field. The first thing? Fucking duh, but don't expect your platinum vagine to sustain prime-moisture (ew omg "moist!") once Harold from upstairs flushes the toilet, causing the water flow to surpass the average boiling temp and your leg to slip out from under you during mediocre standing-up sex. Music videos might make this shit look effortless, but nobody comes out of a shower looking like a naturally gleaming Shay Mitchell. Not even Shay Mitchell. So unless for some god-awful reason you're wearing waterproof mascara or a shower cap, that "glow" you're thinking of is nothing but a mixture of sweat and disappointment.


2. The Beach
We've all secretly dreamt of telling a story about lusting over a short-lived fling while doing the deed on a secluded beach during those warm summer nights…K, sit the fuck down, Danny Zuko. This is why they invented a cocktail called "sex on the beach", because actually having sex on a beach requires you to ease the discomfort with like, six of them right after. Think about it: since when is the beach ever not windy, so say goodbye to that overpriced Dry Bar blowout. And it's more likely you won't be conveniently prepared with a towel, so now you're forced to fuck on the lifeguard tower where half the high school population lost their virginities. Also, you knew this was coming: sand. The fucking sand. That shit is like the herpes of the earth—you'll still be pulling it out of certain crevices weeks later, so really, need I say more?
3. The Backseat Of A Car
Question for you: Are we still in 10th grade? Now where was I? Nobody who's had decent sex would ever resort to the backseat to bang one out. First off, idk what genius implanted into the Y.A.-millennial minds that "smaller" is better and more practical, but try having sex in the backseat of a Fiat and then we can talk. I'm also just gonna assume that if you're doing it in his car, his mom just gave him gas money after telling him to clean his room before he left to pick you up. And that musty stench you're probably wondering about? You're now breathing in his sweaty ballsack residue from last week's gym shorts.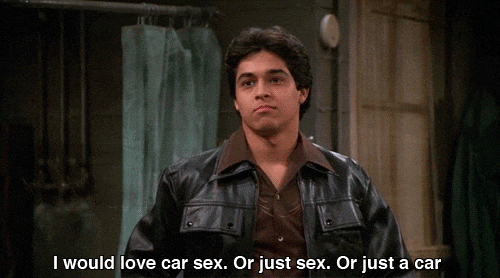 But mostly, I blame Kate Winslet for this mess. Honestly, the first time I watched the sex scene in Titanic, I saw everything through my hand covering my eyes (which says a lot about me now), so fast forward 15 years and too much car sex experience to shamelessly admit later, I now know that her hand sliding down the window was not the product of a steamy DiCaprio-gifted orgasm, but more along the lines of a desperate gasp for air in an overheated crammed space with a seatbelt buckle wedged under her ass. Spare yourself the torture.
4. The Jacuzzi
Oooooo jacuzzis are so sexual because you're already half naked, and the bubbles give added mystery! Remember that thing we learned about in 7th grade science class? It's called friction. Before you go in for kill, know that you're literally going against the laws of physics when the water washes away your natural lubricant you worked so hard to get during that 12 minutes of underwater humping. Also, I don't mean to go all WebMD on you, but it's fucking disgusting. It's gross enough soaking in your own bathtub filth, but jacuzzis are like the holy grail of community disease. So moral of the story, don't have jacuzzi sex. Because you will get pregnant. And die.

5. Your Parents' Bed
If somebody were to voluntarily tell me a story that began with "we fucked in my parents' bed", I would immediately make my way over to the nearest window, and plummet to my death. Next.
6. The Kitchen Counter
What is this, Discovery Channel? Unless you've actually inherited the kitchen of Gordon Ramsey, or the cleanliness of my mother over the holidays, I will not be placing my bare ass anywhere near your rotting fruit bowl or your 7-piece CutCo knife set. Sure, the kitchen is filled with necessary foreplay assets, like whipped cream and syrup, but chances are, if you feel the urgent need to set up camp on the kitchen counter, you'll have already decided to forgo said toppings, or foreplay, or hell, a condom for that matter. Plus, I've spent more money than I'm willing to admit on Pilates classes so my ass doesn't look like a fucking chicken cutlet, and the last thing any girl would want is to actually smell like one.
7. An Airplane Bathroom
I'd be lying if I said that joining the Mile-High Club isn't the top bucket list item on my phone notepad, but the idea itself is fucking dumb. Unless you're Kylie Jenner on a private plane and whatever ugly rapper she's fucking now, having sex in that tiny-ass bathroom without getting caught is virtually impossible. Honestly, what's the appeal here? It's awkward enough trying to maneuver around someone in the airplane hallways after they've just yacked up their lunch, but you can't even sit on that toilet without an entire butt cheek hanging off and feeling like you're going to be sucked into a black hole, let alone withstanding the smell of pee you just stepped in. What's the reward here? A bag of expired peanuts? An attempt for a cool story? At this point, you're better off giving a handy under the blanket until the fasten seatbelt sign turns on.