The Best 'Bachelorette' Recap You'll Ever Read: I Asked For Family Drama, Not Family Trauma
It's the most wonderful time of the yearrrrrr! And, no, I'm not referring to those unhinged enough to already be dousing their homes in holiday cheer. I'm talking about the most wonderful time of The Bachelor year: Hometowns. It's a pivotal time in the men's relationship with Michelle, a time when she can look around at her four remaining boyfriends and judge for herself who is ready for marriage and who is still letting mommy cut his meat for him. Fun for the whole family, really!
Last week, Michelle whittled her men down to four: Brandon, Nayte, Joe, and Rodney. I had high hopes that this season might allow for Hometowns to exist again in places like a home or a town, but alas, for the fifth season in a row we're going to be watching families interact in a sea of beige conference rooms. Boooooo. 
I cannot emphasize this enough: the Bachelorette needs proper Hometown dates if she's going to make an educated decision about her future. The Bachelor? Not so much. He just needs to see which of his girlfriends has the best-aging mom and the least psychotic brothers and he's good to go. But the Bachelorette? This date is crucial to seeing how the sausage gets made. Literally. And without a childhood home to fact-check if she's been dating an actual human being and not just a pile of loose-leaf garbage masquerading as a human being, that likelihood gets slimmer and slimmer. I mean, how else is she supposed to find out which of these guys still masturbates to their high school yearbook quote if we don't get a decent look at the house that built them? Hmm? How?!
Brandon's Hometown
Speaking of Hometowns, Brandon's is up first. We're told he is allowed to bring his mother, father, and brother into the hostage situation. I say "hostage situation" because I'm not convinced Brandon's family came of their own free will. My god, in order for the brother to be able to attend this sad little event he had to delay going into the Navy. The Navy! Imagine telling the Navy that you're too busy to report for duty, you've got to support your brother on The Bachelorette. He's either set himself up for a lifetime of mockery or his  presence on my TV isn't of his own volition. Watch his hands, people. See if his fingers start quietly tapping out Morse code for "help me." 
Before Michelle gets to meet the family, Brandon takes her to a place that feels like home to him: the skate park. Okay, how old is this guy? Aren't skate parks for, like, the shitty kid you babysit and guys in their 20s who think living in a van is a personality trait?
I think my problem with Brandon, and what makes it impossible to root for him, is that he looks too fresh-faced to be taken seriously. He's got poreless skin, good intentions, and a positive outlook on life. That would exhaust me. In fact, I know I would look absolutely haggard standing next to him at all times. 
MY COMPLEXION DATING BRANDON:

When we finally meet Brandon's family they are just as poreless and good-intentioned as their offspring. The star of the show, though, is not Brandon or even his parents—the people who instilled Disney Channel-level ethics into him—but his brother. I just can't stop thinking about the fact that his existence on my television screen came about because he told the US freaking Navy that his start date wasn't sitting right with his energy. And what a lewk he has about him! Like, are we sure he's in the armed forces? Or does he just have a TikTok account that references the US Navy in its handle? I'm gonna need some clarification here. 
Right off the bat, the brother grabs Michelle to "talk." It's less of a civilized conversation and more of a verbal assault of questions. He wants to know why Brandon is different than the other guys she's dating and I do hope she mentions Brandon's willingness to be semi-erect whilst wearing her father's intimates. If that's not a complete display of devotion, I don't know what is. 
As the brother keeps relentlessly quizzing Michelle, I just keep thinking about all the questions I have for him. Like, how long are you allowed to ghost something like the Navy? Do you already get a demerit for ditching basic training to participate in the saddest part of humanity, reality television? And will you be able to wear that chain during basic training? These are the things that keep me up at night. 
Brandon's dad also seems like a fun guy. He certainly seems to have more chemistry with Michelle than his son does. They're both talking about drinking beers and Sunday Funday and I'm like, okay, should we get these two a room?? I mean the tension is practically palpable. 
Overall, Brandon's family has a good showing. It's really too bad that she'll likely dump them all for someone taller and with more commitment issues. That's just the way the cookie crumbles, kids!  

You poor, stupid fool. 
Joe's Hometown
Joe is the only guy actually able to bring Michelle to his hometown as he's the only one actually from Minneapolis. It almost feels like production withheld normal Hometowns not for safety reasons, but so that this front-runner could have a clear home court advantage… 
Whatever the case is, Joe needs all the help he can get. Instead of taking Michelle someplace special, he takes her on a tour of his old high school. WHY?? Not only is this an essential regifting of Michelle's date idea from last week, but what is attractive about a high school exactly? Is it the stench of disinfectant and Axe body spray? Or the irrational fear that a 15-year-old in Uggs might verbally assault you if you even cross the threshold? Hmm?
The date gets even worse when he plans a two-person prom in the school's gym that has all of the creative vision of a Party City clearance section. This is an absolute no from me. If a guy led me into an abandoned high school and surprised me with this manifestation of my nightmares, I would not only suspect the date to end in a Josie Grossie moment that involved me at the receiving end of an egging, but also, possibly, an untimely death. I'm telling you, nothing good can come of a prom! 
THE COUPLE:

ME TO MY DOG: Mark my words, something wicked this way comes…
Despite the foreboding energy of this date (read: me screaming "the call is coming from inside of the house!!" and other melodramatic horror movie warnings as Michelle has a perfectly normal time), Michelle eats it up. I can tell that the idea of Joe manifests from some sort of high school wet dream that she's been harboring for the last 15 years. It's the only explanation, really, for how attached she is to him. I mean the man takes the trope of "strong and silent" to an unheard of level. Seriously, I cannot hear him at all. He never speaks. (Why won't you speak?!)
It's only after we meet his family that I understand exactly where Joe gets his quiet demeanor from. Michelle meets his mom, dad, brother, and sister-in-law and, in that meeting, it becomes abundantly clear that the men in the family use mumbled single-syllable words and strategic eye glances as their primary mode of communication. 
View this post on Instagram
The real star of the family is the brother's wife. She is milking this experience for all it's worth. I don't think her husband, you know, the guy WHO'S BLOOD RELATED TO THE REASON WHY THEY'RE ALL THERE, has said more than two words all evening. Meanwhile the wife is like, "I don't want to have to see her in the grocery store if this doesn't work out." Forget the rest of the guys, can we get a hometown date with the wife? I would watch two hours of  Michelle trailing behind her in a grocery store, watching her passive-aggressively terrorize her enemies in the produce aisle. This is the content the people want!
Nayte's Hometown
Nayte is definitely the date production wants to hype as the shit show. There's always one. One family that is so aggressively embarrassed to be on this franchise that they would launch verbal nuclear bombs at the family meet-and-greet so as to sabotage any chance of their offspring embarrassing them further by actually, like, legally binding themselves to someone who supports this marital farce masquerading as a show. Nayte's family is not that. Seriously, if these are the biggest, baddest monsters production could dig up, no one is getting that Christmas bonus this year. 
The worst that can be said about Nayte's family is that they seem hesitant about his relationship with Michelle. Mostly because he's never introduced a girl to them before. And they aren't even dramatic about their hesitancy! They're very calm, cool, and collected about it all.
MICHELLE: Do you think Nayte is ready for marriage?
THE STEP DAD:

Production would also like us to feel weird about the fact that Nayte doesn't talk about his emotions with his parents, but sorry! I don't think that's weird. Who talks honestly and openly to their family about topics that aren't what we want for dinner? I mean, my family expresses themselves entirely in movie quotes and passive-aggressive requests. In fact, if someone even discusses something remotely intimate, at least one of us makes an excuse about needing something from the fridge so that we can leave the room. What is weird about that? 
My favorite is when Nayte gets emotional and tells his stepdad that he loves him for the first time and we're all supposed to clap and feel things about this. If it took him this long to say "I love you" to a man who has been an emotional constant for almost the entirety of his life, I hate to see what that timeline looks like for Michelle. Perhaps he'll be ready to drop the "L word" when their first born goes off to college! 
You can tell ABC is desperately trying to sow the seeds of discord by using Nayte's small amount of Hometown family drama to emphasize that Nayte isn't ready for marriage and that Michelle won't know who to pick at the rose ceremony. To that I say, no shit, he isn't ready for marriage. But who cares! Commitment issues are female kryptonite. We've been conditioned from a young age to "fix" men, so OF COURSE his failure to drop the L word is getting her hot. Intimacy issues are better than foreplay. At the very least, she would like to see how this energy translates in the fantasy suites. Let the girl live!
Rodney's Hometown
Finally, let's talk about Rodney. I, personally, am very interested to see the kind of stock he hails from. It would not surprise me, for example, to learn that Rodney is actually related to the Charmin Ultra Soft bears. He's just got that kind of vibe about him. 
RODNEY'S FAMILY, PROBABLY:

Look, let me say this. Rodeny is a cinnamon roll of a human, but you also don't want to fuck a cinnamon roll. I'm getting big friend energy between the two of them, and it's making me uneasy. I'm having the conflicting urge of both desperately wanting to meet the Charmin bears who raised this sweet specimen of a human and desperately not wanting Michelle to meet them at all, lest she crumble their son like a snickerdoodle cookie. 
My initial suspicions about Rodney's family are proven correct. No, they aren't Charmin bears. Yes, they're actual human beings (or at the very least, full-grown marshmallows wearing human skin suits). His family seems so fucking tender I might actually have to look away from my screen. They are way too sweet. 
Knowing that his family is cute as shit does nothing to ease my dread. Michelle did say earlier in their date that Rodney is "definitely my best friend" which is how I know for sure that he's going home this week. Look at the way they even describe their relationship to his parents:
RODNEY: She makes me happy. She's perfect, she's beautiful, she's the future mother of my children.
MICHELLE: Yeah… it's been fun. 
It's been fun?! I've seen more heartfelt emotion in my yearbook from a high school acquaintance's half scribbled "HAGS."
In the end, no amount of family cuteness can save Rodney's fate. Michelle sends him home with a smile and a promise to stay pen pals (as all summer friendships end). Until next week, betches!
Images: Craig Sjodin / ABC; Giphy (2); @tvgoldtweets /Instagram (1)
The Best 'Bachelorette' Recap You'll Ever Read: Let's Get Ready To Rumble
Welcome back to the best Bachelorette recap you'll ever read! Last week's episode was certainly in keeping with the Halloween theme, as I've never been more scared for the public school systems than after watching grown adults butcher basic trivia questions. Spooky. What's scarier? Learning that Jamie, a man whose under-eye bags you can see from space, is only one year older than me. I'm already haunted by my bad decisions from last weekend, don't further traumatize me, ABC, by showing me this ghost of Christmas future! Excuse me while I go drown myself and my burgeoning fine lines in the leftover Halloween candy…
And it looks like I'm not the only one being haunted by Jamie! Michelle continues to struggle after last week's rose ceremony when Jamie revealed that the men were questioning her "character" after she decided to keep Joe around for another week. To those of us in the audience, we know this to be a lie. None of the men were actually talking about this. But he tells Michelle that he heard from a producer friend back home that she was "boo'd up" with a "light-skinned baller" before even coming on the show, insinuating that she and Joe were already an item and just wasting everyone's time. Honestly, I think the real crime is that Jamie continues to use the term "boo'd up" with a straight face as he barrels right into his mid-30s. 
As Michelle preps for the week she says that she doesn't know who to trust anymore. She just wants to know who still believes in her. Believes in you? Oh, honey. Look around you! I have a feeling the only "strong beliefs" they have in this world are in Bitcoin and their hair gel. I have more trust in my astrological sign than I do in these guys giving a shit about your character. 
The Adventures Of Dough Boy & Little Willie
Let's talk about the first group date of the week, which was Top Gun themed. Why Top Gun? Because ABC practically foams at the mouth at any opportunity to collab and increase their capital. Also, I just think they wanted to watch people throw up on that spinny thing. 
View this post on Instagram
Michelle says that she wants to find her maverick and thus will be hosting a maverick-themed competition judged by actors in the new remake of Top Gun: Jay Ellis and Glen Powell. This date boggles my mind. She's making them compete for a fake pilot title and have the competition be judged by fake pilots with no actual pilot experience. WHAT IS THIS DATE?! These men aren't mavericks! They read lines off a piece of paper and have a personal assistants hold their Juuls to their lips when they need a hit. My god, Pilot Pete has more credibility in judging this date—and he would have to run his ruling by Barb first!
So what makes you a "maverick"? How good your fake pilot nickname is. Will and Pizza Peter (who got into some beef during last week's episode) manage to come up with names that a fifth grade bully would use to belittle you behind the swing set: Little Willie and Dough Boy.
In addition to heinous nicknames, the guys will also have to compete in flight-themed drills and survive a g-force simulator as they profess their love to Michelle. The men act as if conquering the g-force simulator is on the same level as a Middle Earth quest to return the ring to Mordor. You guys, they literally had that apparatus at my playground growing up. I'm not impressed. 
Little Willie ends up scoring the Maverick title, but the real competition occurs during the cocktail after-party when Little Willie and Dough Boy face off for round two. Dough Boy is pissed that Little Willie called him a narcissist last week and bested him with a stick in the maverick games. Yes, there's more to their feud. No, I can't go into any more details than that as my brain cells are literally flaking into dust with every word I type. 
MICHELLE: I just love what a mature group of men I have here
DOUGH BOY: 

I honestly find nothing more tragic than the fact that the guy who owns a pizzeria and brought cannolis and red wine on the first night is actually a blight on the human race instead of being Jesus Christ himself. 
Dough Boy and Little Willie spend the entirety of the cocktail party verbally sparring—that is, if comments like "bro you hate my mouth because you wish you had it" count as "sparring." The stakes get even higher when Dough Boy throws Little Willie's bomber jacket into the pool and Little Willie cries about it in the corner. Wait, what's the sound? Oh right. Just my Masters' degree physically quaking at having to type that sentence. 
In the end, it's neither Dough Boy nor Little Willie who gets the group date rose. Instead, Martin gets that honor. I'm shocked by this development. Martin seems cool and all but Michelle can't be serious about this guy… right?? She's like "he has so many sides to him!" Yes, and is one of those sides is James Franco's character in Spring Breakers.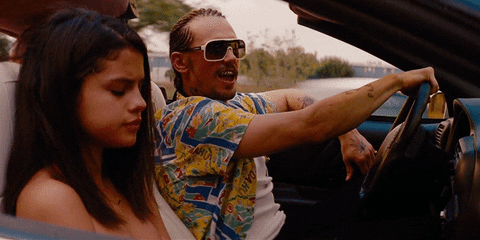 Tell me this isn't the same energy!! Is this really the father of your future kids, Michelle? Is it??
Best Boyfriend Material: Rodney & Nayte
And now for a scheduled break in your programming to rave about my two favorite men this season: Rodney and Nayte. Am I wrong or are these the only two men worth Michelle's time and attention? (I'm not wrong). Rodney scored the only one-on-one date of the week and proved that he is an Earth angel that deserves to be protected at all costs. For some reason the guys in the house don't think of Rodney as a threat and that's to their detriment. Not only did Rodney literally never stop smiling during their date (even when Michelle forced him to run naked around the hotel complex for ABC's sick enjoyment), but he also had the audacity to ask Michelle personal questions about herself. Imagine! What a guy! 
Michelle reveals some pretty personal stories about herself, including delving into an old wound with a past relationship. She describes a moment when a stranger called her the N word to her face and her boyfriend at the time wasn't supportive of her hurt feelings. Even with how heavy and personal the story is the two of them—who are virtual strangers, mind you—-handle this with easy, open communication. Is this what a healthy relationship looks like? I absolutely must stan.
And then there's Nayte. I don't mention him much in my recaps because I tend to focus on the absurd and unhinged (like calls to like and all of that). Nayte has consistently been a shining star this season. Every episode he finds a moment to sweep Michelle completely off her feet and, when possible, removes himself from any house drama. He's so cute I'll even forgive him for his excessive accessorizing. Watch out for these ones, y'all, I think we have some front runners on our hands…
View this post on Instagram
Jamie Digs His Own Grave
Jamie, Jamie, Jamie. What is there to even say? I never should have trusted a man with a good first impression. Last week Jamie and Michelle hit it off during their one-on-one date, but by the end of the episode Jamie had revealed his true form: a chaos demon who was summoned in the bowels of ABC studios by an overly ambitious producer. Seriously, where do they find these monsters?
Jamie spent most of the episode acting like a smug asshole and just generally digging his own grave in the confessionals. He wound up on the second group date which involved the men performing spoken word poetry. While the rest of the men showed surprising depth for a group who show that much ankle on a regular basis, Jamie's poetry was almost word-for-word a Vanessa Carleton song. The assignment was to be vulnerable not to talk about making your way downtown, walking fast, faces pass and you're homebound. 
View this post on Instagram
Later, Jamie took personal offense when Michelle offered Brendan the group date rose. By "personal offense" I mean he openly talked shit about Michelle to a producer after the group date ended. He's like, "you're telling me that Brendan and I are in the same league? Is this a fucking joke?" and then proceeds to laugh maniacally directly into the cameras. God, he's a fucking moron. How does he this footage won't air? THOSE THINGS WITH RED LIGHTS ON ARE CAMERAS, BUDDY. 
If that scene made your blood boil then just wait until the rose ceremony. I've seen gladiatorial rings handle their differences with more decorum than what happened here tonight. With the men still on edge from the last rose ceremony, Rick takes it upon himself to ask Michelle who confronted her with these supposed house rumors. 
MICHELLE: Jamie told me you guys think I'm a piece of shit
ME ALONE IN MY LIVING ROOM: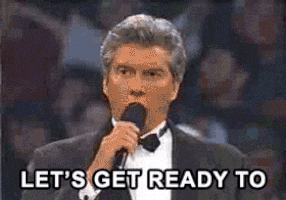 Once again I say, Nayte is a SAINT. While the rest of the guys are ready to tear Jamie limb from limb and bake his remains into one of Pizza Pete's pies, Nayte would like all of us to just calm down, take it easy. Let's hear it from the source first. Boo, you whore. 
Once confronted, it all starts to fall apart for Jamie. As it turns out, his spoken word poetry has more of a narrative arc than the story he fed Michelle about mysterious "men" passing judgement on her character. At one point Jamie says something about episodes and how things would look once the season aired and Nayte's like "why are we talking about episodes!" WHY ARE WE TALKING ABOUT EPISODES. I screamed. See, this is what I watch this show for. 
Jamie tries to save face by actively hashing it out with Michelle IN FRONT OF THE OTHER MEN. My favorite is when Michelle starts parroting back his questions. You know when a teacher starts asking rhetorical questions you're about to get your ass handed to you. She takes Jamie out back to finish the verbal skewering started at the rose ceremony and ultimately sends him home. You love to see it. 
We end things with a rose ceremony elimination: Spencer, Mollique, LT, and Pizza Peter all get sent home. Until next week!
Images: Craig Sjodin / ABC; Giphy (2); The Ringer (1); @bacheloretteabc /Instagram (1); @bitchelorette_ /Instagram (2)