This Twitter Thread About One Guy's Trip To Cabo Sounds Like A True Crime Documentary
There are certain wonders of the world that cannot be explained. Who built Stonehenge. Who was Jack The Ripper. Where is Cleopatra's tomb. How is Twitter free. That last one I ask myself at least once a day, especially when I come across content that is too premium to not cost money. That happened last night when, during my usual Twitter scroll, I came across a thread from Andrew Kimmel detailing his recent trip to Mexico. After reading it, completely captivated, I immediately sent it to my friends, telling them it is the most interesting thing I've read on Twitter. I know that's a bold claim, but I promise this thread will deliver.
The thread starts out like many disgruntled travel tweets, with Kimmel tweeting at American Airlines. "Ugh, here we go," I said to myself. "Another angry rant at an airline because someone's flight got delayed over circumstances beyond the airline's control." But that's not what happened at all—instead of your run-of-the-mill "f*ck you American Airlines for canceling my flight due to severe blizzards" tweet, I got a full-on action movie.
Dear @AmericanAir,

After arriving back to LA from Indonesia, I was $275 EQDs under (yet 25K miles over) from maintaining status. You asked me to pay $1875 (?!) to keep status, so instead I booked a $400 rt ticket to Mexico for 24 hrs. Here's how my fucking night went…

— Andrew Kimmel (@andrewkimmel) December 31, 2019
Okay, so I am not on any kind of status on any airline (except maybe "don't give this girl any wine" status), so I could relate to approximately zero percent of this tweet. But I'm guessing the gist is this (rich people, feel free to correct me in the comments): in order to be able to keep some perks, Kimmel would have to spend $275 more dollars on a flight, or $1,875 real dollars. That is some ridiculous math, but sounds about right for airlines. So Andrew says "f*ck it" and buys a trip to Mexico so he can keep that sweet, sweet status.
Things start out pretty good so far.
I managed to find a cheap hotel room and rented a car for $35. I went out for a nice dinner and met a family who surprised me and paid for my bill (perhaps I should eat alone more often!). I then decided to hit some bars. And this is where my 24 hour mileage run got interesting.

— Andrew Kimmel (@andrewkimmel) December 31, 2019
And then things go from "Instagram highlights" to First 48 Hours episode.
At the last bar of the evening, I was presented with a bill for over $300. I had two beers. The bar manager said I needed to pay or he'd call the police. I give him my credit card and it was declined due to fraud protection, which I found out today as my phone had died earlier.

— Andrew Kimmel (@andrewkimmel) December 31, 2019
First of all, never go to a bar with a dead phone. Second of all, that beer had better be fermented with liquid cold and come with a side of Tyler Cameron if they're going to charge $150 for ONE. (Yes, yes, I know it's plain extortion, just go with me on the joke here.) Then, things get crazier.
Of course the police were working with the bar manager w/ the tourist swindle, so the police handcuff me as the bar manager steals my debit card and passport. I'm put into a police car and sit up front with two officers. We actually got along quite well as I applauded their con.

— Andrew Kimmel (@andrewkimmel) December 31, 2019
I actually can't wait for the Scam Goddess podcast to cover this con.
The police bring me to a jail somewhere outside of Cabo. I asked if they could at least get my passport back. They laughed and said they're locking me up for 30 minutes then letting me go. I'm placed in a cell with a guy from the UK who got into a fight.

— Andrew Kimmel (@andrewkimmel) January 1, 2020
So then the next tweet is about how this guy from the UK is lamenting from Mexican jail about how his wife is going to kill him. It's not super necessary to the plot, but it does add some character.
Three hours goes by. "Capitan? Capitan?" I shout through the bars. It's now daytime and my cell mate tells me he's gotta take a shit, but there's no toilet paper. There is a blanket covering the window, so I suggest he take it off and use that. And he did.

— Andrew Kimmel (@andrewkimmel) January 1, 2020
Then, Kimmel takes a nap while his cellmate's wife posts his bail.
I doze off. I'm awoken several hours later by an officer. "Your friend pay bail." What the fuck? Im given my belongings and shoved outside where a woman from Kenya was waiting for me. "I heard what happened when you came in, so I figured you could use some help."

— Andrew Kimmel (@andrewkimmel) January 1, 2020
Obligatory "thanks, kind stranger!"
I thank her over & over and ask what she was arrested for. "I ordered an Uber and the driver said I didn't pay." Fuck Cabo. So now the two of us start walking to nowhere and spot a guy chilling in his car. We ask for directions back to the marina and he instead offers us a ride.

— Andrew Kimmel (@andrewkimmel) January 1, 2020
The Cabo tourism department (do they have one?) is probably sweating right now.
Imagine if a Mexican & a Kenyan came up to a car in the US & asked for directions. Anyways, we get to the marina & the Kenyan offers the guy cash… he refuses. It's now 2:00 & my flight leave at 3:26. The Kenyan joins me to the airport, but unfortunately her flight was at 8:30am

— Andrew Kimmel (@andrewkimmel) January 1, 2020
I have no fucking clue what I'm going to do. I call passport control in the States to report a stolen passport. They tell me to call the local embassy. I call and they're closed. I ask my new friend to wait in the car at the airport as I run to the airline desk. It's now 3:00pm.

— Andrew Kimmel (@andrewkimmel) January 1, 2020
Losing my passport is one of my biggest nightmares, so I can only imagine how Kimmel feels.
I tell the airline agent what happened and ask if there is anything I can do to get home. I show her my Real ID (what a stupid fucking name) and a photo of my passport. She gets on the line with CBP and somehow arranges for me to jump on the last flight out without a passport.

— Andrew Kimmel (@andrewkimmel) January 1, 2020
So, my driver's license expires in 2020, so I spent no less than a few hours during Christmas discussing with my family all the different types of IDs and what each one does. And isn't the point of the Real ID so that you can go to Canada and Mexico without a passport? Or is that the enhanced one? F*ck, they make this sh*t way too complicated.
I'm directed to the immigration desk as the airport and advised I need to purchase a new immigration form for $35. "All I have is my credit card," I tell them. I'm then redirected to another desk that accepts credit card payments. "We'll need your passport to process, sir." pic.twitter.com/WsAZQSuLCV

— Andrew Kimmel (@andrewkimmel) January 1, 2020
LOLLLLL what kind of insane episode of the Twilight Zone is this? I would have probably snapped and ended up back in a Mexican jail at this point.
I run back to my friend in the rental car, tell her I can make the last flight out, but I needed more money 🤦‍♂️ At this point, I'm losing my shit over just about everything, and she grabs my hand, tells me it'll be ok and then kisses me 😳 I kiss back. What the fuck is happening?

— Andrew Kimmel (@andrewkimmel) January 1, 2020
Okay, wait what? When did this go from "friends" to you're now kissing outside an airport before running to make your flight? I know that this is a Twitter thread, but a little foreshadowing that there was sexual tension here would have helped.
"If you don't make your flight, you can stay with me at my Airbnb," my jail crush tells me. Fuck. What once was "get me out of Mexico" turned into, "well this could be interesting." But of course I couldn't. I came to Mexico for a goddamn mileage run & I'm getting that status ✈️

— Andrew Kimmel (@andrewkimmel) January 1, 2020
Alas, it was not meant to be. Kimmel made it home (but no word on whether he made it to his friend's New Year's party, since according to another tweet he landed in LA shortly after 1am).
So to sum it up, I was $275 short for status… was given an offer to maintain for $1875 (!?), took a $400 flight to spend 24hrs in Mexico after 20hrs travel the day before & ended up in a Mexican jail w/ no passport, a $350 bail bill, & an African crush. Happy new year everyone!

— Andrew Kimmel (@andrewkimmel) January 1, 2020
So now I've got about a million questions. Did he and his Kenya crush exchange numbers? Will they see each other again?? And is he ever going back to Mexico? Just kidding about that last one. But I really can't wait until Netflix options this movie as a suspense drama/rom-com with Noah Centineo starring as Kimmel. This was seriously better than half the thrillers I've read this year.
The other amazing/terrible part of this? American Airlines responded to Kimmel's first tweet…. completely missing the mark.
Reaching Executive Platinum status isn't easy. For those who make it, the benefits are amazing! We're happy you'll make your goal!

— American Airlines (@AmericanAir) December 31, 2019
Yikes, read the room. Some intern at American Airlines is definitely getting fired, and I bet legit bars and hotels all over Cabo are going to be falling over themselves to offer Kimmel and his jail crush some free drinks and a place to stay. Not a bad ending to an otherwise traumatic experience!
I feel like the moral of this story is, if you're going to book a cheap flight just to maintain your mileage status, fly domestic. Oh, and don't go to a place called Urban Bar in Cabo San Lucas (with a name like that, though, it seems kind of obvious the place is a scam).
Images: JESHOOTS.COM / Unsplash; andrewkimmel / Twitter
The Betches' Bachelorette Guide To Tulum
Planning sucks, and bachelorette parties are a ton of work. So we're taking all the guesswork out of planning a bachelorette party by breaking down top bachelorette destinations. Our guides will tell you where to stay, eat, party, how to get around, and give you a sample itinerary that you can follow. You're welcome.
If the last time you went to Mexico was spring break senior year, you're in serious need of a below-the-border refreshment. I mean refresher…whatever. Any bride who loves a white sand beach, relatively affordable accommodations, and truly killer quesadillas needs to take her girls to Tulum, like, yesterday. This dream of a city may be a slight bitch to get to from anywhere that isn't another Mexican city, but once you're there, you will likely never want to leave.
Look, Tulum is famous for being Mexico's chicest beach town where you can chill as hard as you party. The best part? Heels are basically forbidden here, so you can stop worrying about coming home from a weekend of raging with a broken ankle. If you're already sold on Tulum, read on for specifics on where to get your bachelorette equivalent of GTL on.
How To Get There
Obv, if you live on the West Coast, you've basically already made it! The only thing that truly sucks about bach-ing in Tulum (or any other Mexican city) is that you can't fly directly there because there are only four international airports in the entire country of Mexico. Qué??? The closest one to Tulum is Cancún International Airport, which is still a solid two-hour drive away. Speaking of which, do not attempt to drive in Mexico because you will die. Hire a driver who knows the roads and wants to deliver you and your party safely, soundly, and still breathing to your hotel. There's also a shuttle you can take from the airport, but like, no. The shuttle drops you off in the center of the city and then you have to figure out your hotel, so, like, hablas español? Unless your only baggage is a Ziploc of snacks from the plane, navigating the streets of Tulum will stress you the f*ck out, so just spring for a driver and call it a day.
If you're coming from the East Coast, all of the above still applies to you, but give yourself a day of travel on either end since getting to Tulum will take even longer. Four hours on a plane may not be so bad, but when you factor in waiting around in the mosh pit TSA calls "security" in addition to the drive from the Cancún airport, nearly an entire century day has passed. If you are in the mood to save a little cash, plan your bach party during off-season, which will guarantee you the cheapest flights/hotel. The only downside to going during Tulum's off-season is that you may have to cancel your Halloween, Thanksgiving and Christmas/Hanukkah/Kwanza plans because October through December is the best time to go. Awkward. Lastly, and this may be the most important sentence of this story, do not drink the tap water.
Where To Stay
If your party is relatively small (I'll let you decide what small is), staying in a hotel is your safest bet, and we highly recommend La Zebra. It's technically a boutique hotel, but it has a private beach with chaises that more comfortable than most people's beds, restaurants, a pool, bars and a spa that will take away all traces of a stressful life in the real world. The only meh thing about this place is that the pool was def for swimming and not for, like, lounging on chaises to tan and take pics. In other words, it's in the shade, which, like no. Who goes to Mexico for the shade?
Anyway, the pool sitch aside, La Zebra is definitely where you'll spend most of your time because the food is good and the beach is huge. One more thing about the hotel before moving onto more important things, like where to party, whether you have a beach view or a garden view from your guest room, you can't lose because all of the rooms have huge windows with breathtaking vistas outside.
How To Get Around
Unless the restaurant/bar/excursion is exceedingly far, you'll want to walk everywhere, which is great because #steps, but also because the main area of Tulum is one long narrow street that's lined with charming and Instagrammable shops, hotels, and cafes. If adorable painted ceramic bowls are everything your dreams are made of, you will absolutely die on Tulum Beach Road. And if you want to shop for other things like espadrille wedges and crochet bikinis, be prepared to spend more than $100. But, like it's worth it because you get to respond to "I love your shoes! Where are they from?" with a casual "This little shop in Tulum. You can't get them in the States." Is there anything more satisfying than that?
Where To Eat
As is with any weekend getaway, good food is paramount and can make or break a trip. Full disclosure, La Zebra has delicious food (get the shrimp tacos), but if you don't want to be a hermit the whole trip, there are so many amazing holes in the wall and fine dining locales in Tulum, but for the sake of space and keeping your attention, I'm only going to talk about our tried-and-true faves in no particular order. Hartwood is famous for its food, and with most famous places, you need to book your reservation way ahead of time, but unless you're a man, that seems pretty doable. It's a tiny place that cooks and grills all of the food via open fire inside their hand-made wood-burning oven. I mean, can we get a Hartwood in New York please?
Next on the list is Rosa Negra, which means Black Rose in Spanish. If you don't love this place already, what is wrong with you? Anyway, the second you sit down at your table here, it becomes immediately clear that Rosa Negra knows what they are doing. The servers and the vibe make it feel like your table is the party. You order apps and drinks first, but the because the apps are exceptionally good, you'll most likely order, like, all of them and not be hungry by the time the mains arrive.Not to worry, though! They clear the table at the speed of light and then the music starts blasting. They play songs you'll want to scream to, like "Mama Mia" and "Sweet Caroline." The only caveat, which isn't really a caveat, is that you must be drunk. Otherwise you feel kind of weird living out your drunk truth while other people are just trying to enjoy their dinners.
Where To Party
Start the partying at Papaya Playa Project, which is basically the Mexican version of Project X…in a good way, though. Full disclosure about PPP: it's not fun if you are a group without a table. Tables are def expensive, but completely worth it because PPP is a gigantic rager on the beach, so if you don't want to repeat your weekend at Oktoberfest, where you lost your friends the moment you arrived, get and stay at a table. Otherwise you're wandering around alone in a giant crowd of drunken youths, which I can't think of anything worse, can you?
There's also a face-painting station, which makes you feel like you're a kid at the best birthday party in town, but in, like, a fun alcoholic way. The only thing about PPP that I won't rave about is the aggressively abrupt end to the party, which happens at exactly 3am. You may think the speakers accidentally got unplugged or the DJ f*cked up, but no, the party just ends and then you're on your own. K.
Friday, Day 1:
1.Arrive and check into your hotel.
2. Unpack and take obligatory shot of mezcal.
3. Change into your bathing suit and go to the beach or chill in your room (if you're a bad friend) before dinner.
3. Dinner at Gitano, which turns into a party as the night wears on, but it's def not a rager.
4. Party a little harder at bars that are close by, including but not limited to Casa Jaguar, Todos Santos, and Batey.
Saturday, Day 2:
1. Wake up! If you're an early riser (gross), head down to the pool and/or beach for some peace and quiet before the others wake up.
2. Lunch at either Ziggy's, Taboo, or La Zebra. Prob go to one of the first two options and then come back to Le Zebra (if you're staying there) for free chaises because #savedatmoney and chaises at other hotels are about $50 per person. No thx!
3. Visit cenotes, or underwater sinkholes, which, if you've seen Sisters, is nothing like what you think a sinkhole is. It looks like a beautiful underwater cave, and guess which city is famous for having the most beautiful cenotes? Tulum! Swim, snorkel or 'Gram the day away here.
4. Head back to the hotel to shower and get ready for the night ahead.
5. Pregame and party Papaya Playa Project, which will most definitely turn into a long and alcohol-infused evening.
6. Sweet sleep
Sunday, Day 3:
1. Buenos días!
2. Chill by the beach or shaded pool if you thought you could outsmart the sun and are now an unsightly shade of pink.
3. Lunch at one of the places you didn't eat at yesterday, then either fork of $50 or be cheap and head back to the hotel for a relatively chill afternoon because…
4. Dinner and best night of your life at Rosa Negra.
5.Sleep? At this point, it may already be the next day, in which case
Monday, Day 4:
1.For the love of God, sleep in
2. Last day by the pool/beach for a quick tan touch-up before checking out of the hotel and heading back to your lives where dinner is just dinner.
Images: Shutterstock; papayaplayaproject, hartwoodtulum, lazebratulum / Instagram
Where To Shop All Of Aleen's #Drexico Bachelorette Styles
If you're a true Betches devotee, you already know that CEO Aleen Kuperman celebrated her bachelorette in style down in Tulum, Mexico over Cinco de Mayo weekend. From day 1, Aleen was serving looks that will inspire any bride-to-be when it comes to packing for her own bachelorette. We're taking you day by day and night by night of each and every outfit, from sandals to earrings and everything in between, so you know exactly where to buy her favorite pieces. And don't forget to check out her hashtag #Drexico for a full look at the weekend.
Day 1:
View this post on Instagram
For the first day Aleen rocked a bikini top and bottom by L*Space accented by a knitted sarong by Lovers + Friends. Schutz slide sandals, and Quay sunglasses from FashionPass. Not pictured is her wooden/wicker bag, that can be found here.

When it came to the night time, Aleen kept up with the bridal theme with a white crop top by Amuse Society, a sparkly skort by Tularosa, tan slip on heels by Aldo, and of course, a tequila soda.
Day 2:
View this post on Instagram
Aleen ditched white for neon green for day two and has officially made neon bridal a thing. And her neon bathing suit by ZAFUL only costs $20. To cover up she went for a white button crop top by Privacy Please, cut off shorts by AGOLDE, and white Steven Slides.

For the night time activities, Aleen lit it up in a silver sparkly crop tank by Frasier Sterling, white cut off AGOLDE shorts, and PVC sandals by ZARA.

Day 3:
By day 3 Aleen was straight living in a PilyQ bikini top and L*Space bikini bottom. Honestly, at this point she was sick of putting outfits together, so skipping a coverup and shoes was a great way to keep things simple.

She did rally into the night and brought back festive white attire with a crop top, floral mini skirt, and the sandals from the night before.

If you were loving all of Aleen's looks, now you know exactly where to get them. Hangover sold separately, obviously.
The Betches' Bachelorette Guide To Cabo
Planning sucks, and bachelorette parties are a ton of work. So we're taking all the guesswork out of planning a bachelorette party by breaking down top bachelorette destinations. Our guides will tell you where to stay, eat, party, how to get around, and give you a sample itinerary that you can follow. You're welcome. Here's our Betches Bachelorette Guide to Cabo.
If you're near the end of your reign in Singletown, Land's End (aka Cabo) is where you should head to live out your last days pre-"I Do." Los Cabos is one of those no-brainer bachelorette destinations because you can either go Girls Gone Wild Baja style, or just chill by the pool sipping margs all day, not doing a lot and not giving a f*ck. If you're anything like us, you'll probably want to do both. Retox to detox, amirite? And considering more celebs and Insta influencers party here than most other parts of Mexico (or the world, quite frankly), there's always a ton going on. Day clubs, nightclubs, dive bars in the sand for all the tacos, pool parties, swanky hotels with major restaurants and bars, year-round sunshine, more clubs… Basically it's a dream vacay with the girls, right before your dream wedding day. But before you bust out the matchy-matchy bride squad bikinis, peruse our official Betches Bachelorette Guide to Cabo, then go forth and make us proud.
How To Get There
If you live on the west coast, congrats! You're already halfway to Cabo! Especially you LA betches. East coasters (and New Yorkers in particular), go a day early and leave a day later because most airlines and itineraries make you connect, and while Cabo is always worth the trek, it's a far one. 7-10 hours kind of far. According to our friends at Orbitz, January is the cheapest month to go (airfare ranges from the mid $300-400 mark, depending where you leave from), but you can also find serious deals on hotels and packages September through November. If you plan on reserving your tickets months in advance, just hold on. Three weeks out is when you'll find the low-budget prices, and forget waiting until a Tuesday to book. While this weekday was once the cheapest time to purchase flights, you can bank 36% in savings if you book on Sunday. More money for swimsuits, yasssss.
How To Get Around
Just delete your Uber and Lyft apps, because they're a damn waste of battery and storage in Cabo. Taxis are the way to go and relatively cheap, plus they all take US dollars. Plus, once you're on the main strip in Cabo San Lucas you can easily walk (or stumble) from one bar to the next. Many resorts are next to one another on the beach, so the same thing goes for pool party and day club hopping—by foot is fine. Just note that we wouldn't recommend this mode of transportation at night, as it can be rocky AF in the dark. Safety first, ladies. As for getting to and from Cabo San Lucas and San José del Cabo (the other side of Los Cabos, 20 minutes away), a one-way fare is roughly $40, but can go as high as $70. Time to put your bargaining skills to the test.
Even though these competing towns are semi-close, they're totally different in terms of vibe. Cabo San Lucas used to be a quaint fishing village that's turned straight-up scenester and boasts some of the best nightlife, biggest party hotels, and maritime activities, while San José del Cabo is way more chill. The legendary Flora Farms is there though, and Nido at Viceroy, plus Omnia Dayclub…but more on that later. If you can't decide on a side to stay, a few upscale resorts are situated in between the two (like Las Ventanas al Paraiso, A Rosewood Resort and One&Only Palmilla). Less time in a cab = more time at boozy brunch. Just sayin'.
Where To Stay
If you're trying to ball out on your bachelorette, there are serious crash pad options at The Cape in the form of penthouse suites and residential villas that come with cater-to-your-every-whim concierges and luxe perks. We're talking massive outdoor patios with private plunge pools, grills for BBQs, fully-stocked kitchens and bars, and everything you need to make getting wasted living your best life with your entourage easy peasy.
If you can't fit the entire squad in your cushy quarters (or only extended the VIP invite to a select few), not to worry. The 161-room hotel has plenty of other accommodation categories that all offer unobstructed views of the Sea of Cortés and famous arch rock formation. Another positive about going with a smaller scale boutique gem is you won't get drunkenly lost, like you would at a spring break hellhole. The Cape is serving intimate vibes (along with countless Insta opps with their modern architecture and open-air layout), so finding your way to the pool, spa, and rooftop lounge—or home at night tipsy in heels—is actually possible.
Then there are these epic soaking tubs to discuss:
Wine, bubbles, and a few blissful moments of ME time are really all we need in life, especially on a girls trip when the hostess demands are coming in hot. Did we mention there's a craft beer garden with rotating resident DJs? So if you're too hungover to actually leave the premises, the good times keep on keeping on at bach HQ. Foodie brides-to-be (and besties) will also be psyched to hit up onsite restaurant Manta, helmed by chef god Enrique Olvera. Go watch his Chef's Table doc on Netflix and you'll get it.
When you do choose to head out for shots, shots, shots, The Cape is only a short taxi to the Cabo San Lucas nightlife scene, and if anyone is feeling adventurous the next AM (although doubtful), it's situated on prime turf for surfing. Monuments Beach is less crowded than most other stretches of sand, which we can appreciate when we're in a no new friends mood.
Another hotel route is the all-inclusive, which is a great option if you're looking to save a few bucks. Le Blanc Spa Resort Los Cabos is the nicest (and newest) in Cabo and they're adults-only, which is the only way to roll on a bachelorette. Kristen Cavallari recently stayed here with her girl gang to shoot Very Cavallari, and they offer a ton of Betches-approved packages for groups, including perks like airfare credits for staying an extra night, early booking rewards, resort and flight bundles, and more ways to help you save coin for when you need them most—bottle service at the club.
Le Blanc's personal butlers will even unpack your luggage for you (because why should you lift a finger on your bach?) and be at the ready with a comfort menu, so you can select a bunch of bougie pillows, bath salts, aromatherapy oils, and handcrafted soaps. High-maintenance divas, just try to contain yourselves.
Where To Eat
When in need of fried fish tacos to soak up the booze and cure a killer headache, Mango Deck, The Office, Baja Cantina, The Giggling Marlin, and Zipper's will do the trick. As for more refined fare for the fancy group dinners you are really coming to Cabo for, commit these to memory:
Cocina Del Mar Restaurant at Esperanza: Besides the fact that this clifftop setting is beyond stunning (and probably splashed all over your feed when perusing the 'Gram for travel inspo), it's one of the most epic gourmet experiences you'll have in Cabo. Just be sure to pace yourselves throughout the culinary journey that is Cocina Del Mar, since you'll actually want to remember this meal from start to finish.

Nicksan: Damn fine sushi straight outta the Pacific Ocean that's been a mainstay in Cabo for years. Order the tempura oysters curry yaki, beef filet serranito, clear lobster rolls, and as many nigiri and maki as you can stomach before a big night of drinking.
Flora Farms: 100% brunch goals. If you didn't come to this magical farm-to-table restaurant and grocery in the foothills of the Sierra de la Laguna Mountains whilst in Cabo—did you even GO? The answer is no. From their veggie-centric libations (like carrot margs and a Bloody Mary made with heirloom tomato water) to their Neapolitan-style pizzas and every garden-grown delicacy on the menu, it's just so so delish. And cute.

Chileno Bay: Cabo is known for its desert-meets-sea appeal and for this visually-charged reason, Chileno Bay is high our list of places where we want to stay, spa, and die happy. For the bach however, we'll settle for dinner at Comal or lunch at beachside taco bar TnT.
Nido at Viceroy: Dinner in the floating nest needs to be on the Cabo bucket list for sure. Not only is the ceviche and catch of the day next level, but their house-made sangria and Pisco-based cocktails will get you feelin' loose in no time.

P.S. The resort just launched an Instagram Bestie program for bachelorette groups, which allows you to book their dedicated photog/tour guide. They'll lead you to the best spots, put you in the good light, and snap the pics. Yes, really.
Where To Spa


Even if you visit The Resort at Pedregal just for the champagne tasting at El Farallon, or to check in and brag to all your friends back home that you went, it's worth it. Constantly named Cabo's #1 resort, it's in a league of its own, but we suggest going for the spa offerings because to put it mildly, they're B-A-N-A-N-A-S. There are Mexican folk healing rituals that will make you forget what you did the night before, "the cure" detoxes to restore your body and mind to a working state, non-invasive "inhabit face lifts" that fill, tighten, and firm (because God knows we need that) and four different types of "moon phase" treatments that encourage self-discovery. Exactly what a bride could use post-bender and pre-walk down the aisle.
Where To Party
Every day's a nonstop party at ME Cabo, which has insane daytime pool ragers and one of the only swimmable beaches in Los Cabos. This makes it a must-visit for bachelorettes. If you're into wet t-shirt contests, rolling magnum champagne carts, and flirting with randoms three (okay six) drinks in, you'll have a blast at their day/nightclub Blue Marlin Ibiza Los Cabos.

Omnia Dayclub over in San José del Cabo is also a given for questionable shenanigans, and you should definitely check out their main event, Endless Sundays. The Hills hottie Audrina Patridge just celebrated her birthday there, and it's always crawling with reality stars and big name headliners like Zedd, Diplo, and Chantel Jeffries. While on property at Vidanta (where Omnia is located), swing by Casa Calavera when you need to come up for air, before downing more tequila. This beachside Day of the Dead-inspired cantina from Hakkasan Group will save your life in-between DJ sets in the form of crave-worthy nibbles and guac.
As for where to party it up, nightclub wise, El Squid Roe is a given for drunk girls blowing penis whistles in coordinating outfits, all while being sprayed by waiters wielding tequila guns. Too much to handle, or not enough? Other top contenders for drinking and dancing whilst getting slightly less obliterated include Mandala, Pink Kitty, and Crush, and Cabo Wabo Cantina, La Palapa, Cabo Lounge, Cabo Blue, Jungle Bar, and Rockstone Tavern for live music.
Thursday, Day 1
Pro Tip: If you're traveling from the east coast, book the earliest flight humanly possible—especially if you have to connect—and then drive over to Cabo San Lucas from the airport in San José del Cabo (the main international airport).
Check into the hotel, unpack, and claim your bed
Throw on your suit, rip obligatory welcome shots of tequila, then make your way to your hotel pool. Or if you want to start out with a bang, book a daybed or a VIP table at Blue Marlin Ibiza at ME Cabo (note: these sell out fast so book in advance)
Take a lunch slash happy hour break at Mango Deck or The Office and check fish tacos and margs off the list of to-dos
Nap time! Seriously at this point you're probably already drunk and even if you find a lone hammock to fall into a power nap is what you need to make it through the night
Head to drinks at The Rooftop at The Cape, then dinner at Manta (or vice versa)
Go big and don't go home. JK, obviously you should get some sleep at some point to do it all over again the next day. But not before club hopping at Mandala, Pink Kitty, and EL SQUID ROE
Friday, Day 2
Pro Tip: Sleep in, then wake up and drink as much tequila Pedialyte/Gatorade/coconut water as you can before ordering mimosas and Bloody Marys at brunch. Hydration is key for another big day ahead.
Brunch by the pool or make your way over to head to TnT at Chileno Bay for lunch and then you can take advantage of their swimmable beach (one of the only others besides the one at ME)
Use the app GetYourGuide to book a glass-bottom boat tour around the Sea of Cortez, go parasailing above The Arch, snorkel near Lovers Beach, or scuba dive around Cabo's protected coral reefs
Get dressed up and head to a sunset dinner overlooking the water at Cocina Del Mar Restaurant at Esperanza, or El Farallon at The Resort at Pedregal
Break out your bach party flair and roll in like a unit ready to take over Cabo Wabo Cantina
Saturday, Day 3
Pro Tip: Take three would be the time to switch hotels if you want to be closer to San Jose del Cabo—and the airport to go home. Las Ventanas al Paraiso is in-between both sides of Los Cabos, so not too far of a trek if you're hungover.
Brunch at Flora Farms and document every single moment on social media
Get ready for an all-day rager at Omnia (unless your flight leaves later on Sunday and you can go for Amazing Sundays)
TAKE A NAP!!!!!!
Head to Nido at Viceroy for your last dinner out
End your epic weekend at Mixology Fusion Bar, the one main nightclub in San Jose del Cabo—just be sure to find out the secret password to get in beforehand
Sunday, Day 4
GO THE F*CK HOME AND CALL OUT SICK FROM WORK ON MONDAY TO SLEEP OFF THE BENDER YOU JUST SURVIVED!!
5 Takeaways From Trump's Dramatic Meeting With Schumer And Pelosi
In this week's ep of the most dramatic reality show ever made – our literal government – Trump met with Democratic leaders Nancy Pelosi and Chuck Schumer for a heated "conversation" about "border security" aka the wall. Pence was also there but like, barely. More on that later. Anyway, because Trump is president and nothing is normal, this meeting had a lot of moments that will either make you lol or make you stare out your window and ponder how humanity has gotten to such a low point. A true rollercoaster of emotions! Check out some of the wildest things you can takeaway from this meeting, and then go talk sh*t about our government to your coworkers in the break room. You'll look like, really smart.
1. Nancy Came to Slay
Our lady in blue is not f*cking around these days. Because it's 2018, where sexism is still alive and well, Pelosi had to take on a more "tempered" manner during the meeting, while Schumer got to play bad cop. Like my mother whenever she notices I got a new crop top, Trump attempted to make a passive aggressive comment insulting Pelosi. "Nancy's in a situation where it's not easy for her to talk right now, and I understand that," Trump said. Pelosi fired back with, "Please don't characterize the strength that I bring to this meeting as the leader of the House Democrats who just won a big victory." Now that's a damn SLAY if I've ever heard one.
And our girl didn't stop there. After the meeting, Pelosi had some more words for the press, which tried to call her out for not being transparent by not allowing the entire meeting to be recorded. Nancy told them that this was because she didn't want to have to publicly say to the president, "you don't know what you're talking about," on television and described the wall as "a manhood thing" for Trump. Okay…go off, queen!!!
Any questions? pic.twitter.com/gTW0axihV4

— Andy Slavitt (@ASlavitt) December 12, 2018
2. Pence Came to Nap
Mike Pence showed up to do what he does best: literally nothing. The VP didn't have much to say and was caught on camera closing his eyes – either to pray or to power down his hard drive. Maybe he was trying my go-to strategy, where if you just pretend something isn't happening it will go away? Hate to tell ya, bud, but according to my current student loans bill, this tactic is not effective.
mike pence is in airplane mode pic.twitter.com/hdusIYLgp1

— Glazer (@glazerboohoohoo) December 12, 2018
3. Trump Is "Proud" to Shut Down the Government
Trump and Schumer went back and forth arguing over who was responsible for shutting down the government last time. Trump tried to say it was Schumer, who was quick to point out,"Twenty times you have called for, 'I will shut down the government if I don't get my wall. None of us have said it." Trump did NOT like that, and then walked himself into a corner by saying he was "proud to shut down the government for border security." However, the best moment came when Pelosi referred to is as a 'Trump Shutdown' and Donald looked like he was literally going to implode. Did I mention Nancy Pelosi came to slay???
4. The Midterms Are Still Causing Drama
The 2018 midterm elections are a lot like my high school breakup in that neither party will f*cking drop it. Pelosi noted, "Sixty people of the Republican party are losing their offices now because of the transition." Trump came back with, "And we've gained in the Senate. Nancy, we've gained in the Senate," and continued with some additional points, "Excuse me, did we win the Senate? We won the Senate." So sad that our leaders can't get over a loss…and for the record, I broke up with Jimmy, not vice versa!!!
5. Having a Conversation With Trump Is Nearly Impossible
This is something we already knew, but somehow it's always still shocking to watch happen. His tactic is to just repeat false statements over and over. Pelosi wasn't having that sh*t, and kept bringing up that his factual evidence was not there, and they needed to have a conversation based on actual facts. Seems reasonable, no? Not when working with Trump. Pelosi tried to tell Trump that he didn't have the votes he needs in the House (he doesn't), and he kept insisting that he does and that he "could get it passed in two seconds."
"If I needed the votes in the House, I would have them in one second, we'd be done. It doesn't help because we need 10 Democrats in the Senate," Trump said. "We're doing this in a very friendly way. It doesn't help for me to take a vote in the House where I will win easily with the Republicans." Pelosi responded,"You will not win." NANCY MOTHERF*CKING PELOSI, EVERYONE.

Heads up, you need to keep up with the news. It's not cute anymore. That's why we've created a 5x weekly newsletter called The 'Sup that will explain all the news of the week in a hilarious af way. Because if we weren't laughing, we'd be crying. Sign up for The 'Sup now!
Images: Twitter (2), Giphy (1)
The Best 'Bachelor In Paradise' Recap You'll Ever Read: Week 5, Night 2
Well, fam, once again I find myself shackled to a couch for two hours watching scantily clad twentysomethings butcher the meaning of "witchcraft." Ah, Bachelor in Paradise, it's good to be home! I didn't watch last night's episode because I was busy living my life, but I did see that Colton and Tia are no longer. I guess Colton wasn't emotionally ready for a relationship, which is why he just signed up to be in 20 relationships at the same time. Cool, cool. 
ABC: Colton is the next Bachelor!
ME: I'd like to be excluded from this narrative, one that I never asked to be part of since summer 2018.
Moving on. Tonight's episode starts off with a montage of all the happy couples and Venmo John. Seriously, HOW is this guy still here?
Astrid keeps saying that Kevin makes her feel like the most special girl in the whole world as the camera pans to a shot of them talking about salads. I've had a more meaningful conversation with my stapler, but okay.  
Chris Harrison shows up as everyone is knee-deep in tequila shots and announces that instead of getting sh*tfaced all day they'll have to be interviewed by former successful BiP couples: Tanner and Jade and Carly and Evan. Good going, Chris! Nothing kills a good buzz like Evan's disgusting facial hair. Meanwhile, Kamil looks like he'd rather peel his flesh off with a blunt spoon than listen to relationship advice. Same, Kamil. Same.
CHRIS HARRISON: Love can be found here if you really really really want to settle look for it.
They bring out the married couples who immediately start grilling everyone about their intentions. I'm sorry but, Carly, I'm pretty sure your intentions with Evan were to run as fast and as far as possible in the opposite direction. Please.
Jesus god. Every time Evan starts speaking and it reminds me why I'm glad I'm single.
EVAN: Don't you want what me and Carly have?
WHAT CARLY AND EVAN HAVE:

KAMIL: Yeah, I don't want that.
Kendall and Joe win the date because apparently they're the most "stable." What we don't see is while they're making this announcement Mike Fleiss is pointing a gun at Carly and Evan's heads from behind the cabana.
HAHA. Kendall and Joe aren't actually even going on a date, they're just babysitting for the married couples. Laaame. Astrid doesn't think Kendall should be trusted with a baby because she likes dead things in her hands, and it's an excellent point. I'll have child services ready and waiting on speed dial.

Joe is breathing the same air as a screaming baby and every woman in America's ovaries just exploded at the cuteness. I can't.
Cut to the rest of the house, who are discussing the prospect of marriage and kids as they pound enough tequila to tranquilize a miniature horse (RIP Lil' Sebastian). Jordan announces that he's ready for kids but only if he "finds the right breeder." Well Jordan, my dog Snowball is AKC registered and available, and after that comment I think she's about the only one willing to "breed" with you.
Okay, Cassandra is great. She's being super direct and calling Eric out on all his bullsh*t. He keeps telling her that he really wants a relationship but can't give her what she wants… which is a relationship. Tbh it kind of sounds like he just wants to bang in Paradise and then never speak to her again and have her be okay with that. Sounds like, oh I don't know, every guy in New York City.
Eric starts freaking out because Cassie isn't having it. She dared call him out on his bullsh*t and he starts having a mental breakdown. See, this is what's wrong with men in 2018. Cassie points out that he's essentially blowing smoke up her ass, and rather than apologize for assuming a grown-ass woman would like to be treated as his own personal summer toy, he feigns a mental breakdown and leaves Mexico. And everyone praises him for being in tune with his emotions! Meanwhile, if one of these girls *cough* Tia *cough, cough* pulled something similar then they're "crazy" and "batsh*t."
ERIC: Angela leaving was really hard on me. She was my girl.
ME: YOU KICKED HER OFF, THOUGH
See, this is a little confusing to me because I didn't see a gun to Eric's head forcing him to pick Cassandra over Angie?? I think Eric has multiple personalities or something, because sh*t isn't lining up.
Wow wow wow wow. He's waking Cassie up from a nap so he can break up with her. Soooo many levels of f*cked up right here.
ERIC: You awake?
CASSIE: No?
ERIC: Good cause I just wanted to say that I'm leaving. Have a great summer!
CASSIE:

Honestly, good riddance.
So I guess there are no new men coming tonight? Is that why production throws Chris a bone gives him and Krystal a date card? Chris keeps saying how he can't imagine his life without Krystal, and I love that he conveniently forgets comparing her to an order of calamari in a four-course meal of women. Krystal, does it make you feel better knowing that at least you weren't the hotel pillow mint he described Tia to be?

Yes, but at what cost sweetie?
Back at the beach, everyone is playing truth or dare like it's my seventh grade sleepover. Here's hoping Annaliese falls asleep early and Shushanna sticks her hand in a cup of warm water so she'll wet the bed. Fingers crossed!
Kamil says that Shushanna freaks him out because she's always staring at him, and yet he finds Annaliese, a woman who probably peed all over his belongings to mark her territory, normal. Interesting.
Kiwi Jordan also gets a date card and asks Shu on the date since he gave her his rose last week. Logical. She turns him down, though, because she says she's still into Kamil. She's like "Carly and Evan didn't like each other at first either and now they're married with babies." Tbh she's not wrong. Carly literally compared Evan's personality to a flaccid penis. #NeverForget
Shushanna pulls Kamil aside so she can tell him once again that she will never give up on them. Kamil following her rn is like his mom told him he has to clean his room and she's not leaving until he's done. I'm dying. This girl is bonkers. He's been pretty clear from the get-go that he's not into her.
KAMIL: I'm not into you AT ALL. Do you understand?
SHUSHANNA: 

Annaliese is no better, though. Kamil is really stuck between a rock and a crazy place.
Shushanna says she likes a challenge in a man, but why do I feel like her challenges always end in a restraining order?
Kamil starts exercising his 40 percent of the relationship and makes Annaliese confront the Russian for him. I don't like that Annaliese calls Shush a witch, though. Like, what, just because she stares at someone too much and may or may not wish bad things upon their significant other, that makes her a witch? 'Cause if so, then I'm a witch.
KAMIL: Shush has no beautiful inside, just a very beautiful outside which doesn't match my insides.
Diggy shows up in Paradise and tries to ask Shush on a date but she turns him down because she prefers her men emotionally and legally unavailable. It's a fair point. Diggy asks Olivia on the date instead, which I think is a wayyy better match anyway.
I love this pep talk Olivia is giving Shush rn. She's like "I can really see you with Jordan, NOT DIGGY, and you should go on more dates with Jordan, NOT DIGGY." Subtle, Olivia. V v subtle.
Okay, I'm starting to think Shushanna's strategy in Paradise might be similar to my strategy for dating in general: complain about being alone but never go on any dates when people ask you.
Fast forward to later that night, and Shu decides that she might actually be into Kiwi Jordan! I'm sure it had nothing to do with that hyper suggestive pep talk Olivia gave her and everything to do with their "connection."
Everyone keeps calling Shushanna a witch, but do they know what witchcraft actually involves? They're like "she's all over the map she must be a witch" but she's not acting any less insane then I do after five mimosas and a minute alone with my Snapchat followers.
SHUSHANNA: *is honest about her feelings and isn't afraid to pursue a man*
PARADISE:

Shushanna pulls Kiwi Jordan aside for a date she plans around the fire and he seems genuinely terrified to be anywhere near her and an open flame. Kiwi Jordan tells her "it's not me, it's you, because you literally told me to date other people" and she f*cking loses it. She's like "if you want dessert it's over there, bye" and then throws herself on the nearest daybed and starts sobbing.
Side note: Shu crying in this day bed is literally me when I can't find my headphones and want to go to the gym. True story.
SHUSHANNA: I'll never find love and I'm a f*cking witch!
KIWI JORDAN: That's just a stumble!
That's just a stumble! Ah, that's good. I'm going to use that the next time I vomit in my bathtub instead of the toilet.
IMAGES: Giphy (6); @bach3lornation /Instagram (1); @shushanna_mk /Instagram (1)
I Guess It's Time To Talk About Tom Schwartz's Drinking
For the past few weeks, one question has started to haunt me as I watch Vanderpump Rules. No, not "why am I still watching this drivel" (though that's a close second). Instead, I'm increasingly concerned about Tom Schwartz and his drinking. Don't get me wrong—I understand that this cast is pretty much contractually obligated to get shitfaced on camera. And I also know that drunken live footage is universally unflattering, and that's why I don't let my friends post Insta stories anymore. But even so, Schwartz has been toeing the line between occasionally sloppy party boy and straight-up hard to watch. I did a little digging to see how worried we should be about Schwartz's drinking.
Part 1: A Brief History of Schwartz's Drinking
TBH my memories of early Schwartz are as follows: dry spell, panic attack, afraid of commitment. So let's skip ahead to last season, for which Schwartz was problematically drunk roughly 90% of the time. Notable drunk moments include Schwartz screaming at Katie and calling her a bitch on their pre-wedding Vegas trip, vowing not to go through with the wedding, and then waking up as though everything was completely fine. Also, let's not forget how so many of these drunken pre-wedding fights began. Schwartz cheated on Katie with a girl in Vegas (a VPR rite of passage, I guess). You can take a guess as to whether alcohol was involved there too. Overall, Schwartz came into season 6 with a definite reputation as a heavy drinker. But for obvious reasons, the viewer's focus was less on his drinking and more on why TF the wedding wasn't cancelled.

Part 2: Tom "I Have No Recollection Of That" Schwartz
From episode 2 of this season, we were seeing a whole new side to drunk Schwartz. Namely, we see Schwartz doing what you do every Friday night and calling up his bestie Jax and sobbing about how he has no idea what he's doing in life. Relatable? Yes. But also a conversation that makes you hope Schwartz is getting a redemption arc this season, starting by sobering up. We get the opposite.
Starting in episode 4, drunk Schwartz drama starts to really heat up. Lala shares with the group that (married) Schwartz made out with her friend a few weeks ago. Schwartz doesn't remember this, but doesn't really claim it didn't happen, either. He seems to find this a sufficient explanation to his wife. Even more troublingly, when Katie responds to the incident with reasonable rules like "stop taking shots" and "this is the last time you're using 'I have no recollection' as an excuse," he acts like she's putting him on house arrest. Uh, no. Even if you weren't making out with random girls when you got blackout, that's still a perfectly reasonable request. In true Schwartz form, FYI, he chases with conversation with a round of absinthe shots.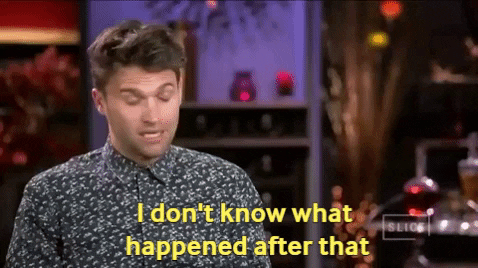 Part 3: Less Cheating, More Drinking
I'll spare you the details of every time we see too-drunk Schwartz fucking up, but here are the highlights. Katie continues to plead with him about his drinking. Schwartz continues to tell her to fuck off and refer to their marriage as a prison sentence. Gradually, the marriage dynamic improves, but the drinking doesn't. One night, he gets so wasted he can't make it home. Another, he's drinking straight from the bottle at 3am the night before an important TomTom meeting. (He of course shows up late and reeking of alcohol and possibly tweaked out on coke.) In Mexico, Schwartz reaches the height of sad-drunk aesthetic. He's mainlining tequila, he wanders into a different resort, he nearly pukes in a golf cart, and he tries to get Kristen and James  to ride bikes with him at 7am. If that isn't the saddest lost-drunk-boy thing you've ever heard, IDK what is.
*rare footage of Scheana making a good point*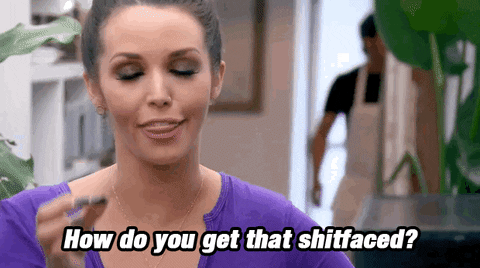 Part 4: Comments From The 'VPR' Cast
The couple spoke to US Weekly back in January, when Lala first aired the rumors of Schwartz's post-marriage makeout. When asked directly whether he has a drinking problem, Schwartz vehemently denied it. (The direct quote here is "I don't have a drinking problem, I'm not in denial or anything." Which like…no one had asked whether you were in denial, but now that you mention it…)
He goes on to admit that he has "a tendency to push to the extreme" and that he's "got to chill with the shots."  Katie, while standing 100% behind her husband in a way that's somewhere between heartwarming and enabling, chimes in with her very real concerns here too. "I don't want to have to worry about his safety," she says, adding that it's "really serious if you're black-out drunk and know what has happened."
Admittedly, most of my weekends could be classified as "really serious" by that measure. But Katie, in pointing out her genuine fear for his safety, is pointing to something a little darker. In Mexico, Schwartz slurs reassurance over and over that he's fine. Katie no longer even tries to make him a presentable companion, or bothers getting annoyed. "You didn't know where you were," she tells him. "That's not fine." And when you're speaking to your 35-year-old husband, that's absolutely correct.
*Schwartz, nodding thoughtfully*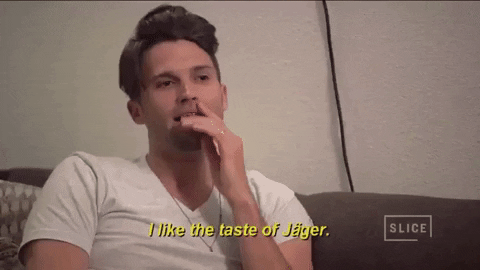 Before I wrap this up, I do want to mention that I think Katie's been an absolute angel this season. And if Schwartz is struggling with his drinking as much as it appears, I'm truly sorry for them both. Ever since Schwartz was weeping in the corner of Jeremy's birthday party, I've had a nagging fear that seems to keep coming true every episode. Even though Schwartz seems at the point with his drinking where he can tell that it's making him unhappy, and even actively tries to stop (like in Vegas), he doesn't seem to be able to. I hope he's faring better in his off-camera time, and I hope that Lisa maybe stations him somewhere other than the bar for his work at TomTom.
Images: Giphy (4)
The 7 Most Cliché Spring Break Destinations
After the literal shit show that has been 2017, the countdown to spring break is pretty much the only thing keeping me somewhat sane this winter. I mean, after following the summer's Rob and Chyna drama, keeping up with Miley's non-stoner revival, and dealing with the news that every man on TV is a sexual predator, it's been a hard year, and no amount of tequila shots or Kylie Lip Kits can get me through this time quite like spring break can. Picking a destination is so much more complicated than a JetBlue flight and a cheap Airbnb, so we thought we'd help you out. Here's where all your sorority sisters will probs be headed this year, so we came up with a few important points to consider before you book.
1. Cancun
Let's start with Cancun because it's basically the OG spring break destination. Betches have been flocking to Cancun for spring break since the concept first existed, and it's not because of our soft spot for guac (although it low-key makes for a good chaser). Cancun is the best place to go because it was literally built as a spring break city. Every hotel is on the beach, and they all have all-inclusive packages. The beach can get pretty ratchet during the day, but if you drink enough, you definitely won't care. Going downtown at night is the best part, because the clubs are huge and you can definitely get a great Instagram of you looking hot on an elevated surface.
2. Miami
Going to Miami for spring break is a little less ratchet than Mexico, but it's also amazing if you don't mind the fact that every girl looks like Sofia Vergara and every guy is an entitled douche who knows too much about house music. Keep in mind that Miami is a legit city where shit like Art Basel takes place so the night scene is a little more exclusive, but then again the slimy LIV bouncers don't seem to have a problem letting a hot group of college-aged girls in. You'll probably get a sick tan, see Jonathan Cheban in the Fountainebleau lobby, and avoid PV's food poisoning, which is always a plus.

3. Vegas
We've always loved Vegas, but then again we've been completely blackout every time we've gone, so we can't really remember deets. Anyway, if you're looking for a Hangover-esque trip minus Ed Helms and his missing teeth, Vegas is one of the only places to find it. It's basically Disney World for reckless adults and reckless pseudo-adults like you. Vegas is seriously a free-for-all, which means no one gives a shit if you're on molly in the hotel lobby or flirting with guys at the casino to get them to buy you a table at the club later on. Works every time.
4. Punta Cana & Puerto Vallarta
I know these are two different places, but let's group them together because they're basically the same vibe when it comes to spring break. PC and PV are both places betches go if you're looking to black out in the cheapest way on the prettiest beach. They always have group rates and all-expenses-paid hotel deals, so it's an ideal place if you're going with a huge group and can't separate from your 34 closest Tri Delt sisters. You'll probably be hungover on the beach at 8am, but then again you'll be surrounded by hundreds of other 21-year-olds in the same boat, so it's cool.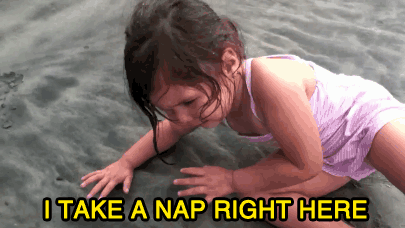 5. Bahamas Cruise
A cruise is a solid spring break option because of the open bar and the included meals, and even better if there's a casino or clubs on board too. Keep in mind that not all cruises are created equal, though, so don't just book a ticket to any cheap deal you find online that promises an "unforgettable week" with "no passport required." Like, are you trying to get killed? Also remember you'll prob end up vomiting over the side of the ship after one too many mojitos at the deck party, but then again I guess you'd be doing that anywhere. Just make sure that if you're going to puke, it's from alcohol and not Norovirus.
6. Myrtle Beach & Palm Springs
Depending on if you're an East Coast or West Coast betch, Myrtle Beach and Palm Springs are two classic spring break destinations, and they're both resort towns, which means you'll be blacking out with people who have been raging since Fourth of July. You'll probably end up drinking on the beach during the day and pregaming at Señor Frogs before you go out at night. I mean, the nightlife scene is kinda trashy, but then again you're in college, the flights are cheaper than the ones to Cabo, and you probably won't die from bootleg liquor.

7. Daytona Beach
If you've never heard of Daytona Beach, it's because it's basically Miami's younger cousin who shops at Forever21 and rages like she's on Jersey Shore season 3. Daytona Beach is only an option if you're literally broke and don't care about appearances, but you'll definitely feel the difference unless you're literally on too many drugs to care that you're partying on a dirty beach with 45-year olds. I mean, the city is known for their NASCAR race track and their Motorsports Hall of Fame, so don't expect a luxury spring break. But then again if you're 22 and all you care about is taking shots of Smirnoff near a body of water, go for it. Just avoid the geotags. They're not doing anything for you.