How I Lost 50+ Pounds On "The Fast Metabolism Diet"
For as long as I can remember, I've had a difficult relationship with food. I don't mean that as just something people say—the whole "as long as I can remember" thing. I literally recall being five years old, looking in the mirror, and thinking, "I'm fat." Pretty brutal for basically an infant to think about herself, but as the years went on, those critical thoughts only grew and evolved. I hated my thighs, the ones that smushed together when I sat, and I hated my wide hips, the ones that pushed me into the juniors section long before my third grade classmates joined me there.
It wasn't just puberty and the appearance of my childbearing hips that made living in my body feel unbearable. It was my addiction to food that caused the never-ending battle. One I didn't even realize I was fighting until I was fifteen. Until I started skipping meals, tracking calories, and eventually, throwing up everything I ate.
As a recovered-ish binge-eating-anorexic-bulimic with severe food anxiety (doesn't that sound like something straight out of a bullsh*t movie starring Emma Roberts?), diets have been my foundation since I started trading my lunch for a Diet Coke in 5th grade. As someone who was always just overweight enough to warrant comments from family members about her "plump" figure and "chubby" frame (*cough* assholes *cough*), I'm no stranger to viewing the scale as the enemy. Eating in moderation does not come naturally to me, and the sporadic "treat yo' self" meal can cause a spiral that results in a 10 pound weight gain in the blink of an eye.

So, naturally, I've done all of the diets. ALL of them. I've done all of the teatoxes. I've tried all of the bullsh*t shakes and supplements that girls from my high school who got knocked up and stayed in our hometown sold via Facebook messenger. I am that cliche. From Keto to Whole30 to The South Beach Diet and to my own special diet called "eat everything in your pantry in one sitting and hope your body won't transform it into fat"—I've tried them all. Most I've had some success on because when you cut out having cake after dinner and pizza four times a week, odds are you'll drop a few pounds.
The tricky part of my diet and health journey, however, has always been restriction and control. As someone with a LONG history of eating disorders, any doctor can tell you, diets are pretty precarious. It can take one slipup, one day of being too lax or too strict to completely relapse. So, sure, I can have success with these diets, but when they involve cutting carbs for months or foregoing fruit for weeks, it really f*cks with my head.
When a friend of mine told me about a diet where you're literally eating nonstop, not expected to work out like a crazy person, and don't have to give up carbs, I was intrigued. I was staying at her house for a weekend and she came into the kitchen, blurry-eyed, and said she needed to eat breakfast right then. She made a piece of toast, topped it with some turkey bacon and an egg, grabbed some carrots and a carton of raspberries, and went back to her room. When she emerged an hour later, bright-eyed and showered, and I asked her what that was about, she told me about the diet. The diet that requires you to eat within 30 minutes of waking up. That forces you to eat TONS of food. The diet she had been on for a week and already lost five pounds on. The diet that would quickly change my life.
Enter: The Fast Metabolism Diet (and by "diet" the author coined the phrase "Did I Eat Today?").
From the excerpt on Amazon, this pretty much sums up the whole eating plan:
"On this plan, you're going to eat a lot. You're going to eat three full meals and at least two snacks a day – and you're still going to lose weight. What you're not going to do is count a single calorie or fat gram. You're going not to ban entire food groups. You're not going to go carb-free or vegan or go cold turkey on the foods you love. Instead, you're going to rotate what you're eating throughout each week according to a simple and proven plan carefully designed to induce precise physiological changes that will set your metabolism on fire."
Created by celebrity nutritionist and best-selling author Haylie Pomroy, this is the first and only actually healthy diet I've ever been on. It encourages resting the body, not overworking it with tons of exercise, and eating delicious, wholesome meals. And before you think this is an ad, it's not. If Haylie wants to pay me, that's cool (my DMs are open, girl), but the truth is this plan just really f*cking works. Don't believe me? Take a peek. I was on and off the diet for a little over a year, and here are the results:


I lost 51 pounds on The Fast Metabolism Diet over the course of a casual 15 months. That was including indulging over the holidays, drinking at parties, and taking breaks in between months of being steadfastly healthy. I could have lost it faster if I did the month-long diet back-to-back, but that's just not how I function. I'm like, really popular, and giving up drinking (yup, you have to give up alcohol) for multiple months at a time was a no-go for me. While I did gain a decent portion of it back post-wedding (that's what going to Italy for a month will do to you), so now I fall somewhere between those two photos, I'm officially back at it. In the 12 days that I've been on the FMD, I've lost just over 10 pounds. And that's from eating a sh*tton, doing very light (if any, tbh) exercise, and messing up a few times when I forgot to go to the grocery store.
So, how does it work? Let's break it down:
Phase 1 (which happens every Monday and Tuesday) is all about healthy carbs and sugars. So, your meals are full of fruits and rice and pasta and sandwiches. Sure, you have to have sprouted grain everything, but honestly? Any diet where I can have quinoa and bread without shame is one for me. As for exercise, you need to do one day of cardio (which I skip a lot, tbh).
Phase 2 (which happens every Wednesday and Thursday) however, is where things get tricky. This is the only 2 days of the week I dread because honestly they're lame and they low-key kinda suck. Basically, you're restricted to meat and veggies these two days. That's it. But if you're on a strict diet and only 2 of the 7 days kinda suck, then I'll take it. Exercise? With all the protein, this is the time for strength training. You're required to do one day of weights or something similar (again, an activity I keep "accidentally" missing).
Phase 3 (which happens, you guessed it, Friday, Saturday, and Sunday) is a mix of both of the above phases, plus you get to add in healthy fats like oil, nuts, and avocado! Easily the best of the phases, this is where your meals are full of lots of colors and lots of variety. You can make almost any meal you love fit into this phase (one of my favorites is making a mock Chipotle bowl. WITH guac, of course). If you thought this was great, the exercise portion of this phase is even better. You're required to do something light that promotes blood flow like stretching, yoga, or getting a massage. Seriously. It says it in the book. GETTING A MASSAGE COUNTS AS EXERCISE IN THIS DIET. HAVE WE DIED AND GONE TO HEAVEN?!

What does a day on each phase look like? Glad you asked. Here's an idea of what I eat:
Phase 1:
Breakfast: Fruit smoothie and 10 brown rice crackers
Snack: Apple
Lunch: Open-face turkey sandwich on sprouted grain bread with carrots and berries on the side
Snack: Bowl of cherries
Dinner: Turkey chili
Phase 2:
Breakfast: Turkey bacon and egg white scramble with veggies mixed in
Snack: Deli turkey slices
Lunch: Salad with chicken with balsamic dressing
Snack: Turkey bacon wrapped asparagus
Dinner: Steak and asparagus or celery
Phase 3:
Breakfast: Sprouted grain toast with an egg and turkey bacon plus celery and berries on the side
Snack: Carrots and hummus
Lunch: Chicken curry
Snack: Nuts
Dinner: Steak, veggies, guac, and salsa wrapped up in a sprouted grain tortilla with some extra carrots on the side.
The pros: You get to eat a ton, you don't cut out full food groups, and you really will lose weight without feeling like you're totally restricting yourself. Plus, as someone who can backslide into disordered eating easily, there are no points, no counting calories, and no tracking grams of fat. You just eat the foods you're supposed to eat at the times you're supposed to eat them and you lose weight.
The cons: Like most diets, it's hard to go out to eat/have a normal social life. While, sure, you *can* manage it, it's easier just to make your own food. Which brings me to another con. You have to make A LOT of food. Plenty of it you can cook in bulk and freeze for later phases but ultimately, it takes a lot of cooking and prep (and pricey grocery runs) to pull this one off. And the worst part? No alcohol and NO caffeine. None. Nada. During later months when I was already losing lots of weight, I added a cup of coffee back into my life, but until then waking up without that jolt took a longggggg time to get used to.

Ultimately, despite the cooking and the lack of coffee and cocktails, I've never met an eating plan that I've loved as much as the FMD. And because Hayle (and her PR team) sum it up much better than I ever could:
"This is the silver bullet for the chronic dieter who has tried every fad diet and failed, the first time dieter attempting to kick her metabolism into gear, and anyone who wants to naturally and safely eat her way to a skinnier, healthier self."
A-f*cking-men. Follow along with me as I continue along with this plan or join the metaphorical club and start with me. The best part? When you finally drink again, your tolerance is so low you'll get schwasted on like, one glass of champs (which will save you time AND money). If that isn't the best reason to diet, idk what is.
Images: Gardie Design & Social Media Marketing / Unsplash; Rachel Varina (4); Giphy (1) 
4 Ways To Get Over A Weight Loss Plateau
A weight loss plateau is beyond frustrating, and the worst part is it's not even really about what you're doing right or wrong. A plateau is the result of our bodies' evolution and a survival mechanism that has helped our species thrive. (Caroline Dooner talks a lot about how our bodies' survival mechanisms are meant to thwart weight loss efforts in her F*ck Your Diet series.) A weight loss plateau is the outcome of our bodies needing less energy to function, and our metabolism slowing, when we lose weight. Our biology isn't that happy with our weight loss. It triggers a signal that we're about to go through some trying times. It thinks we're about to run out of food. So when we lose weight, our bodies start to tell us to hang onto the nutrients in the things we eat, and slows down our metabolism.
Here's the science behind a weight loss plateau (get ready for some math):
Metabolism (Total Daily Energy Expenditure) = Basal Metabolic Rate (the bare minimum number of calories you need to survive at complete rest) + Exercise (calories burned during exercise)  + Non-Exercise Expenditure (calories burned through other activities other than exercise) + Thermal Effect Of Food (energy used to digest the food we eat)
So, generally speaking, if your intake is greater than your metabolism, it will lead to weight gain, and if your intake is less than your metabolism, it will lead to weight loss.

Simple enough, right? We've heard of different variations of this same equation before (we've all heard "calories in vs. calories out" at one point or another), but our bodies are so clever that once we lose weight, the calories used at rest will also decrease. Therefore, if every other aspect of your energy expenditure stays the same (exercise, non-exercise expenditure, and thermal effect) then your overall metabolism will be lower. So what gives? Am I telling you that now you have to spend another 30 extra minutes in the gym to compensate? No, not unless you feel like it. Here are four other ways to get over a weight loss plateau.
Sneak In More Non-Exercise Physical Activity
A lot of people have the mindset that you need to be in a gym to get in physical activity, which kind of limits their ability to see the opportunities we have to be active in daily life. Take the stairs instead of the escalator or the elevator when you can, walk or bike instead of driving, and stand instead of sitting. Go for a walk with your dog, or go for a hike with a friend instead of going to get drinks (or hike to get the drinks). You can even just stretch while watching TV. Little things add up. A study was published that claims fidgeting and working to maintain correct posture burns up to 800 more calories than sitting still. So just get moving in some way.
Don't Work Out Longer, Work Out Smarter
You can still limit your workouts to an hour and increase the efficiency if you maximize your time. Working smarter in the gym means less rest, more resistance, and more sets/reps. Just make sure you're not doing the same workout at the same intensity as the day you started months ago, because your body needs you to step your game up. Another way I like to add intensity to my workouts is to add more combined movements, so instead of just doing squats, I'll add in a shoulder press at the standing part of the movement. More muscles worked means more calories burned in the same amount of time.
Don't Neglect The Weights
By now, you should know that weights don't make you bulky. If you have more muscle cells, you'll be burning more energy at rest than if you had more fat cells in your body. This will help you to maintain that same metabolic rate pre-weight loss.
If you've found your weight loss plateaued and your exercise routine consists of mostly cardio, it's time to incorporate weights in a more significant way. Cardio is fantastic, and those who are starting on their fitness journey can find great results with it. However, because cardio does very little in terms of muscle building, cardio-focused individuals will hit a plateau early on because they lose the weight and then their metabolism slows. My recommendation is to cut the cardio portion of your workout routine in half and use the other half of the time to complete a few resistance training circuits. So if you're used to doing an hour of cardio, do 30 minutes and use the other 30 to do three to four sets of five to six resistance training moves.
Choose Protein
So, here's a wild concept: your body actually burns calories when digesting. The dietary-induced thermal effect—sorry, more science—is the energy needed after we eat a certain food to digest and absorb the nutrients in our body. So if you're trying to get over a weight loss plateau, it might be time to eat a little smarter. And by that I mean, eat more foods that take more energy to burn. This is called the food's thermogenic rate. Fat, for example, uses 0 to 100 calories to digest for every 100 calories consumed (or, it has a thermogenic rate of 11-18% for non-obese individuals). Protein, on the other hand, has the greatest thermal effect of about 20-30%. This means your body uses the most energy to digest protein which means more calories burned! According to the same study, protein also helps you stay full the longest. By making protein the spotlight of your meals, you can increase your metabolism rate.
A weight loss plateau is something that is probably going to happen to you at some point. The good news is that we can mitigate the effects of it by controlling other aspects of our energy expenditure. A plateau could also mean that it's time to take a step back and appreciate your journey so far, because you didn't get to this plateau without having first put in the work! It is also a sign that you're ready to step your workouts to the next level if you've been stuck in a pattern or routine for a while. So while plateaus can feel discouraging, it's a sign that you're physically ready to advance to the next level. Your body is ready to take the stairs instead of elevators, to do faster sprints and that extra set of bicep curls. Instead of being down, pat yourself on the back and go do those sprints!
3 Eating Habits That Are Slowing Your Metabolism
If you're the victim child of a Jewish mother, you're more than familiar with the rhetorical question, "Do you want to mess up your metabolism forever?" I skipped breakfast once when I was 16 and I'm still hearing about it. Little does my mom know, metabolisms are actually really complicated and cannot be "messed up forever" by skipping one single meal. Much like your boyfriend who insists that cargo pants are very much in fashion, your metabolism has to be trained to do what you want. For the sole purpose of proving my mom wrong expanding my knowledge about the human body, we linked up with Samantha Cassetty, RD, Director of Nutrition at The Healthy Mommy, to talk about the metabolism and what habits could be slowing yours down.
Before we dive into some hard science, I will explain what the metabolism is in layman's terms. According to WebMD, the place I go to confirm I'm dying from my run-of-the-mill cold, "Metabolism refers to the process of converting food into the energy that allows your body to function. People who have a fast metabolism use up calories more quickly than those with slower metabolisms." Yes, we all want a fast metabolism, but how the hell do we get one of those? Read on for ways your eating habits may be slowing your metabolism down, from an expert.
1. Picking The Wrong Breakfast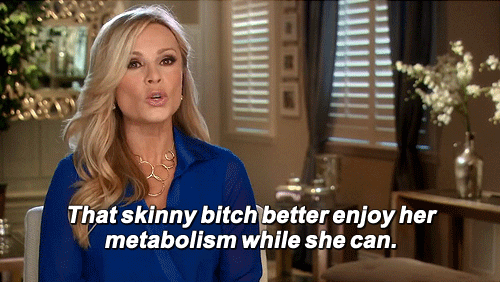 You are what you eat! Kidding…but, like, not really. Cassetty says, "One of the main issues I see is reaching for a carb-rich, protein-poor breakfast option. Common breakfast foods, like cereal, oatmeal, bagels, muffins, and even avocado toast don't supply enough protein to repair muscle tissue that's naturally broken down at night." Your metabolism does its best work at night, which is why you usually wake up needing to spend a few extra minutes in the bathroom in the mornings. Just me? Cool! But it's also why you need a solid breakfast. Cassetty continues, "In order to activate the repair process, you need a meal that provides adequate protein. If you skimp on this, over time, you'll lose muscle tissue, which translates to a slowing metabolism." So, okay, I guess we really do have to listen to what we've been told since middle school and eat breakfast because it is the most important meal of the day.
2. Eating Too Many Processed Foods

Your metabolism breaks down your food, but the speed at which it operates depends, in part, on what you eat. "Eating too many hyper-processed foods instead of whole foods will ultimately cause metabolic issues. Your body can more efficiently grab the energy (read: calories) from heavily processed foods, so if your diet is more heavily processed than whole, you might notice weight gain over time," Cassetty says. These foods also don't really fill you up, so you're probably eating more of them. Cassetty also says, "When you eat whole foods, your body gets a slight metabolic edge by breaking the food down to grab the energy and nutrients it needs. In other words, you're shortchanging your metabolism by making its job too easy." I guess that's why they call it Whole Foods? Everything makes sense now! For real, though, it should be obvious that foods with ingredients you can pronounce are better for you and your internal systems than say, Flamin' Hot Cheetos, which are made with something called thiamin mononitratea, but you can never take knowledge for granted.
3. Eating Too Lightly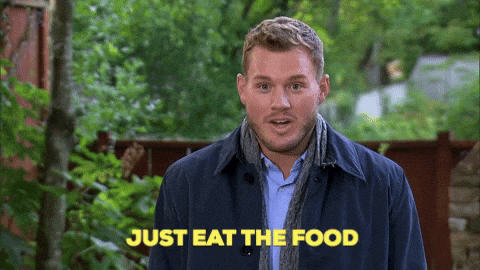 I feel like this is a "you already know the answer" situation. Cassetty explains, "Eating too lightly can slow down your metabolism because your body senses the food shortage and wants to hang on to its stores. Your body works better when it has the energy and nutrients it needs to thrive, and you'll feel better and more energetic when you nourish it properly." That's not that surprising since we've all been told about "starvation mode" probably around the same time we discovered skipping breakfast. Just don't do it! 
I'm loving that the theme of this seems to be "eat food". You don't have to tell me twice. And, in fact, you can eat certain foods to help boost your metabolism. "I usually recommend including two of the three food groups at snack times, choosing a fiber-rich fruit or veggie (the carb group) along with a healthy fat or protein," Cassetty says. It'll be hard to give up my honey mustard and onion-flavored pretzels, but it's for the greater good, I guess. Think of your metabolism as a car, but not like a Volvo or a Jeep. You're a f*cking Maserati, and you wouldn't put Kool-Aid in a Maserati, right? No, you'd put premium f*cking gas.
At the end of the day, everyone's body is different, but regardless of that difference, limiting processed foods and not skipping meals is the move. You'll feel better, look better and, most importantly, be able to talk about how healthy you are to people who really couldn't give a sh*t. And that's the best reward of all, isn't it?
Images: Giphy (3); Tarutoa / Unsplash
What Are Infrared Saunas For, And Are They Worth The Hype?
A few months ago, I came across an article from The Cut about the potential mental health benefits of infrared saunas. Even though I was in Los Angeles at the time, the sun was still setting at 4pm, and my mood levels had definitely been suffering for it. At that point, I'd tried exercising six times a week, meditating, and gratitude journaling to keep my Seasonal Affective Disorder at bay, and frankly, sweating it out in a sauna sounded like a way more appealing option. Once I was back in my beloved NYC, I promptly booked an appointment with HigherDOSE, an infrared sauna spa with locations all over NYC, New Jersey, and Connecticut. It's also the preferred spot of celebs like Leonardo DiCaprio, Michelle Williams, and Bella Hadid, if you're into that. Read on to find out the alleged benefits of infrared saunas, and what I thought after my 60-minute session.
What Do Infrared Saunas Do?
Simply put, infrared saunas claim to make you hotter in every way (obviously, pun intended). Not only does an hour of intense sweating knock off some water weight, but infrared heat may actually help boost your metabolism. According to Dr. Frank Lipman, who spoke to The Cut, just half an hour in an infrared sauna could help you burn up to 600 calories. (That's like, one million squats or an hour on the treadmill. If this is what celebs have secretly been doing instead of working out, I will never feel okay again.)
For those of you less obsessed with losing weight (tell me your secrets), infrared saunas also have major skin benefits. Again per Dr. Lipman, infrared heat boosts circulation, blood flow, and collagen production, giving you an immediate post-sauna glow, as well as long-term benefits from regular use. Lipman, along with HigherDOSE's co-founders, also hype up the detoxing capabilities of infrared saunas. Co-founder Lauren Berlingeri claims that infrared pulls "heavy metals, environmental pollutants, and radiation" from your system, and the instructional pamphlet inside the sauna room advised that some of your sweat may come out as black from all the toxins being released. (Sidenote: I'm still not sure that I believe "detoxing" is a real thing, but I really want it to be.) Other potential benefits include pain relief (from sore muscles to chronic headaches) and a boosted immune system.
Finally, the mental health benefits: a 2016 study showed that whole-body hyperthermia (whole body heating, specifically to 101.3º F, for the non-scientists among us), could have antidepressant effects lasting up to six weeks. Claims have been floating around for years that infrared heat can influence serotonin levels or release endorphins, but evidence is tenuous. The 2016 study, however, focuses on the "stress" aspect of sitting in a sauna—the extreme heat—and how these bursts of stress can better train your brain to deal with non-sauna stressors, like anxiety or depression. Again, no one's claiming that this is rock-solid science, but these studies, along with the fact that everyone seems to feel f*cking amazing after leaving one of these saunas, was enough to make me desperate to try it for myself.
So, What's An Infrared Sauna Like?
I visited the 11 Howard location of HigherDOSE, and was immediately thrilled by the spa-like room I entered. Each sauna room has a private bathroom (with a nicer shower than the one in my apartment), a Bluetooth speaker system, water, chilled eucalyptus towels, and of course, the sauna itself.

You're given a chromotherapy menu, which tells you the different light therapy colors available to you, and the benefits of each type of light. It's pretty intuitive (yellow and orange are more activating, blue is more relaxing), but given that I'm a type-A weirdo, I spent the first half hour cycling through all of them anyway. The first 20 minutes felt like sitting in a colorful, less-hot-than-normal sauna. I was warm, but I didn't have that slowly-being-cooked feeling I get after about 10 minutes in a regular sauna. At the 20-25 minute mark, things got really satisfying, by which I mean sweat started pouring down my entire body. Again, in regular saunas, I'll notice a drip here or there, then walk out and be surprised at how sweaty I actually am. In the infrared sauna, there was no doubt that I was coated in sweat, and steadily producing more.
I also have a pretty short tolerance for regular saunas; I'd say 20-30 minutes and I'm begging to leave. With the infrared sauna, I was happy to stay in there a full 50 minutes (I left 10 minutes to shower), and honestly could have stayed a bit longer. Promptly after showering, I noticed a few things. My skin was baby-soft, the dull full-body ache from yesterday's boxing class was greatly improved, and while I didn't suddenly feel an all-around calm or "mental high," my anxiety was noticeably tamed. I know this because my face, which is highly sensitive to many things, including heat, got some crazy red blotches about ten minutes post-sauna. But the last time I'd gotten blotches like this, I locked myself in a bathroom for two hours, crying furiously and sending my dermatologist selfies. This time, I washed my face, said "f*ck it," and moved on with my day. See? Anxiety calming.

I'm not including a description of my blotchy face to alarm you. Any discoloration was gone within the hour, and I trust that if you have skin like mine, you already know that heat is a trigger. But it was truly remarkable to look in the mirror at something that would have typically ruined my day and be able to let it go. In terms of a mental boost from the infrared sauna, I was expecting something like a runner's high (which I've also never achieved, possibly because I've never run long enough to get there). But the mental boost I got instead was actually way more valuable to my life—for the next few hours, at least, I didn't get derailed by minor sh*t. As far as superpowers go, I'll take it.
So, the only real major con of infrared saunas? The price tag. HigherDOSE sessions cost $45 and up for solo sessions, or $30 and up if you go with two people. As a one-time expense, it's not bad, but given that many of the benefits are unlocked by regular use, I wish the experience were slightly more accessible. Given my experience, I'd love to go more often, but until my wellness influencer career really takes off, I'll likely have to limit it to a once-monthly treat.
Images: Keziban Barry; @higherdose (2), @busyphilipps / Instagram;
I Tried Intermittent Fasting For 10 Days & It Was Not At All What I Expected
As I'm sure many of you can relate to, I did not enter January feeling the best I've ever felt about my body. Honestly, forget holiday weight gain—I hadn't successfully lost weight since a stomach bug last May, and the whole thing was starting to feel hopeless. In 2019, I'd already tried a juice cleanse (painful, results gone within a week), and macro counting (exhausting! very difficult without professional advice on what to eat). So finally, I turned to intermittent fasting. I am in no way a nutritionist, and I cannot tell you whether IF is "good for you," or give you a scathing review of whether or not the science behind it is legit. What I can tell you is that I had a tough 10 days, and a surprising set of results. If that's enough for you, read on for my experience with intermittent fasting
What I Expected From Intermittent Fasting
If you're interested in learning more about the science behind IF (intermittent fasting), or the different ways you can do it, I used these three articles as guides. Like I said, I'm not a nutritionist, and I truly don't want my advice here to be the last word on whether or not you embark on a major diet change. Please believe me—it is a MAJOR change. I understood the merits of IF in two ways before starting. First, I learned that periods of fasting decrease insulin production and boost growth hormones—both of which mean nothing to me, but they apparently help boost metabolism, burn fat, and gain muscle. Second, by limiting your "eating window" (a term my friends would literally pay me to stop hearing at this point), you're meant to limit overall calories (e.g. you can't eat breakfasts anymore; you skip seven breakfasts' worth of calories per week).
Have some objections to that second point? Yeah, me too—don't worry, we'll get there. But just to be clear with my intentions for IF: I wanted to lose weight. Not a drastic amount, especially not in 10 days; I know all too well that that weight just comes right back. But losing maybe 1, 1.5 pounds? If nothing else, just to prove that my body was still capable of weight loss after all the weird diets I'd put it through. So, I decided on a 16:8 routine (16 hour fast, 8 hour eating window), and set off on my 10-day journey.
Actual footage of me putting together diet plans and not shutting the f*ck up about it:
How Fasting Actually Felt
Despite most recommendations for 16:8 suggesting eating 12-8pm (or even earlier), I set mine from 2-10pm. First of all, I struggle way more with snacking at night than I do during the day, and I didn't want to set myself up for failure. Second of all, I have a standing Bachelor date Monday nights, and no way in hell was I sitting through Colton's journey for love without a healthy dose of wine and pizza. The first few days were mostly the same: I showed up to work around 10 (usually when I eat breakfast) and had unpleasant but bearable waves of hunger until 2pm. This included stomach cramps (worst when I woke up, or when someone ate a delicious-looking bagel near me), and a few headaches. Water and black coffee helped, but honestly more in terms of keeping me awake than making me feel better.
The first mistake I made that week? On Day 3, I went to a spin class at 8am (a disgusting habit I picked up in LA). Not only did I nearly die from hunger that morning, I forgot the parameters of my eating window and ate until 10:30pm that night. While I worried I'd messed everything up, and was starting to question how healthy it was anyway, I woke up on Day 4 "feeling LIGHT" (per my detailed notes). My stomach felt flatter, my digestion was good, and my hunger cramps were clearing up sooner. Everything seemed good. And then, as must happen to all diets, the weekend came along.
I was spending that particular weekend in Salt Lake City, crashing some friends' ski trip. (I don't ski, I just wanted to drink in a cabin for a weekend.) In preparation, I switched my eating window for the weekend to 4pm-12am. After all, if I was going to make IF my long-term eating pattern, it had to be something I could do while maintaining a social life. And my social life right now involves ingesting calories after 10pm. (I say "involves," but really that's all my social life is.) I also weighed myself Friday morning, but both of the scales turned out to be broken, and both told me I'd gained 16 pounds in the past two weeks.
So, even though I'd woken up Friday feeling light and lean, I spent most of that day questioning reality and trying not to eat my own hand. By the time I could eat at 4pm, my body went into full animal mode, terrified I would fast for another 18 hours at any moment. Basically, I filled the day with airport snacks, a pasta dinner, and bags of Cheetos and mini Oreos the Airbnb host had left behind. Yes, right up until midnight. Saturday and Sunday, I accompanied the non-skiing group to two massive brunches and fasted through both, for which I would like several medals. (Insta proof below.)

Throughout the weekend, I felt like the bloating and general gross-ness I'd kicked during the week was back—but mostly I blamed the type of food I was eating (processed garbage and desserts, yum), and it was more of an internal "yuck" than an "oh sh*t, these pants are not fun to button." The final few days I focused on drinking sh*t tons of water, eating more real foods and fewer snacks, and bringing my eating window back to a reasonable range. (AKA Monday I ate 4-11; Tuesday I ate 3-10; Wednesday I could eat at 2 again.) But honestly, I never quite kicked the bloated feeling from the weekend and I was still freaked out by the scale disaster Friday. By the time I went back to regular eating, it didn't come a minute too soon.
Pros & Cons I Felt On Intermittent Fasting
I would need a licensed professional to confirm or deny this, but I suspect that I messed up by making my eating window so late on the weekend. Like I said, I am a chronic night-snacker—which means I've read all the advice on how it's the worst thing you can do for your body and how you're meant to give your body 2-4 hours of not eating before bed. I've also been a yo-yo dieter for years, and heard rumors of starvation mode (when your body's metabolic rate slows down bc it thinks you're dying and need the food) if you deprive your body of calories irresponsibly. Again, IDK for sure what happened, but once I started eating from 4pm-12am it felt like my body panicked, shut down any fat-burning processes, and held onto whatever calories I did consume for dear life.
In other words, with a later eating window, my digestion slowed, my usual bloated feeling returned, and it quickly seemed like a terrible idea. And while my 2-10pm eating window had made me feel lighter after a few days, it had also allowed me to stop thinking so carefully about what I was eating. I would try to break my fast with a big, healthy meal, but I was way more relaxed about carb content, afternoon snacking, and eating desserts. As long as I stopped at 10pm, I was still technically on a diet—right?
Yeah, I wasn't right. People who promote IF assume that you'll eat fewer calories if given less time, but they've clearly never been to a timed buffet. I can't say for sure whether I was eating more calories while I did IF, but I really doubt I was eating fewer (and definitely not on the weekend). And overeating with 16-hour breaks isn't a diet: it's just eating the same amount and giving you a better shot at digesting it properly. By the time I found a less f*cked up scale that Friday, I found I was two pounds heavier from the whole experiment.
BUT—and again I have no way of proving this—I felt like it was possible that part of that weight gain was muscle. I'm the kind of person who can (and has) temporarily gained two pounds from a large meal, and I'm very familiar with what that feels like. This weight gain, however, felt different.
To sum up my very scientific impression of how my body changed during this process, I felt like I was roughly the same size but less jiggly—like my pants were maybe a little tighter in the legs, but looser in the waist. It wasn't my goal, and I still have five pounds I'd like to lose, but I've experienced worse results on more painful regimes.
Overall, would I recommend intermittent fasting, or ever do it again? Kind of! I would recommend trying a few different eating windows and seeing what works best for you, for sure. I might try incorporating a 24-hour fast once a week, since I'd had good short-term results with a few days of fasting. Ultimately, I think incorporating a couple fasting periods helped me shed some bloat and regulate digestion—but extending the fasts and confusing my body on when to expect food backfired. As much as I hate to say it, I have to accept that this wasn't a "weight loss hack" by any means. If I actually want to see a lower number on the scale, I will have to consume fewer calories. Until then, I'll be accepting tips on how the f*ck I'm supposed to enjoy an evening at home without eating until the second I fall asleep.
Images: louisabhaus, dietstartstomorrow (2), betches / Instagram
10 Metabolism-Boosting Foods To Help You Lose Weight By New Year's
The new year is nearly here—and just in fucking time. Like literally every year since like, 2012, this year was a symphony of hot shit hitting the fan. While we could totally take several paragraphs to get into men being pigs and finally being called on it, our president drinking water like a trash panda, or even Russia being our actual supreme leader, we're much more interested in how to lose three pounds before next year so we can say we totally stick to our New Year's resolution this year (even if it took us 12 months).
You have literally like 2 weeks (not even) to get in shape for 2018. We're helping you out of your cookie coma by giving you 10 foods that can help you speed shit up and be skinny(er).
1. Hemp Seeds
More of a salad topping than a food, hemp seeds go great sprinkled over your main dish and can help give your metabolism the help it needs. According to Red Book magazine, this shit contains alpha-linolenic acids, which studies have shown can boost metabolism. They can also help put a stop to DIABEETUS, which seems to really affect the chubbier of us.
2. Spicy Shit
Jalapeños, habaneros, ghost chilis, serranos—what do they all have in common? They make you LITERALLY sweat. A study from UCLA saw that participants who took capsaicin—the shit that makes peppers spicy—doubled their energy output, therefore making them faster, probs stronger, and on the road to being skinnier.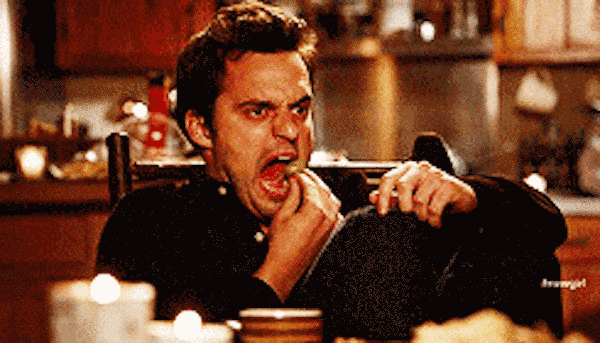 3. Green Tea
The Journal of Nutrition (which honestly sounds like a buzzkill) reports that "people who drank green tea and exercised regularly burned more calories" than those who probs chugged juice or water or whatever.
4. Bananas
Our fav dick-shaped fruit has a shit load of potassium, and that'll help you regulate your body fluids, increasing your metabolism. They're also literally full of starch, which keeps your blood sugar steady and you fuller.

5. Coffee
Apparently, one study found that "the average metabolic rate of people who drank caffeinated coffee was 16 percent higher than those who drank decaf." The moral of the story? Decaf sucks and coffee is life.
6. Water
So it isn't a food—fuck you. But if you're even slightly dehydrated, your metabolism is all like "slowwwww down bitch." If you chug cold water, you're forcing your body to use energy i.e. YOUR METABOLISM to warm it up and use it.

7. Tofu
Protein fills you up and keeps you from snacking, but according to Prevention mag, it also offsets muscle loss while you lose weight. So things that taste like wet sponges like tofu and tempeh but are literally full of protein are GREAT for your depressing New Year's diet.
8. Steel-Cut Oats
Turns out your mom's boring-ass breakfast is actually like, legit. Even though they're evil carbs, steel cut oats resist being broken down and help you feel fuller longer—therefore, helping you eat less and lose weight. YAY.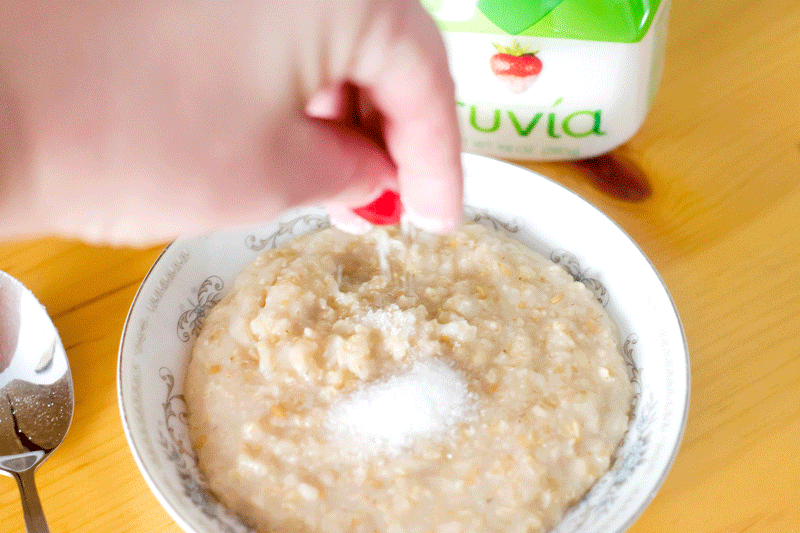 9. Whole Eggs
I know you're ready to dive into your SUPER DELISH egg white omelet, but if you're looking for flavor something to really boost your metabolism, don't ditch the yolk. New York dietician Tracy Lockwood says that the vitamin D contained in the WHOLE egg helps repair muscle. The more muscle you have, the easier you can burn evil calories.
10. Avocado
According to Women's Health magazine (which is like the Men's version without HOW TO LOVE YOUR DICK MORE articles on the cover), the omega-3s in avocado get your metabolism going without fucking with our blood sugar—which prevents a crash and neeeeeed for snacks later.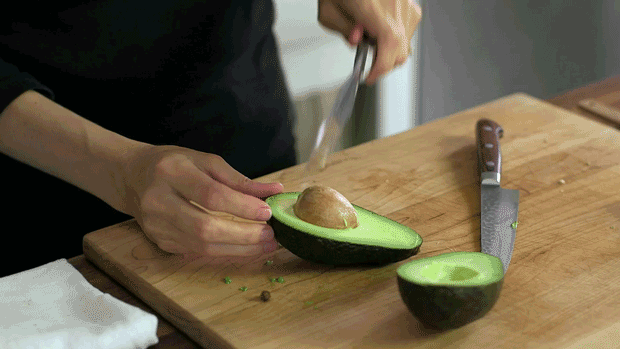 Images: Brooke Lark / Unsplash; Giphy (5)
10 Foods That Speed Up Your Metabolism So You Can Skip The Gym
Lucky for you, this article won't actually lead you to a spam site that'll likely infect your computer with computer Ebola. We're rounding up foods that may allow you to skip the gym for a day since they boost your metabolism with their super psycho food powers. Just think, by adding all this new shit to your diet, you may lose enough flab to be bikini ready in time for summer.
1. Water
It's literally number one on all of our lists all the time. Water is the answer to everything (and is the essence of wetness), including boosting your metabolism. Every time you're dehydrated (liiiiike every Saturday and Sunday morning), your metabolism starts crawling. Grab some cold water and chug—it'll force your body to use calories to make you feel warm and fuzzy.

2. Jalapeños, Habaneros, Serranos, & Other Spicy Peppers
Spicy shit equals a skinny waistline. Capsaicin, found in spicy shit, can increase your metabolism by like 25% for three hours after you eat it. So, yeah, the Thai hot Pad Prik may be painful, but just think of all the calories you're burning.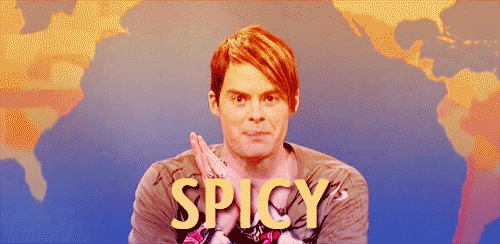 3. Green Tea
Do yourself a favor and just stock up on green tea the way I imagine cool college kids stock up on Adderall. As you should already be aware, green tea has EGCG, a plant compound that helps you burn fat. Green tea was a highly esteemed super food about five years ago, which it should always be based on all the extra calories it burns. Ditch your sleepy time chamomile tea and chug green tea.

4. Rolled Oats
We all know about the benefits of whole grains, so it shouldn't come as a surprise that rolled oats make the list. Whether you put them in overnight oats with chocolate and bananas (um, delicious but def not really healthy) or prefer plain, unflavored oatmeal (you're a psycho), rolled oats help you keep the hunger demons away. They also take a shitload of time to digest, so you'll be fuller for longer. And less likely to inhale a burrito bowl come lunch time.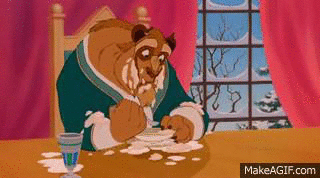 5. Ahi Tuna
Omg yay, our sushi habit is paying off! Although tuna is like, kind of endangered, if you DO end up eating it, you're giving your metabolism a boost. The Omega-3's in tuna stimulate your body's production of "you're full" signals, which, honestly, I wish I could bottle and inject into my body every goddamn day.

6. Grapefruit
We ALL know about the grapefruit diet, and it turns out those Monterey mommies who invented it were on to something. Grapefruit has a shit load of vitamin C, which I assume you all learned from Sesame Street or something. That shit keeps your insulin spikes down, which prevents a little thing I like to call die-a-beet-us AND keeps your metabolism at a steady rate throughout the day. So yah, load up on that shit at breakfast and ditch the doughnut. But make sure you eat something other than grapefruit throughout the day or you'll starve and turn into a monster.

7.  Coffee
I'm sure there will be another study in a few weeks that informs us that coffee causes cancer/zika/ebola in mice, but, it also boosts your calorie-fighting power. All that caffeine translates into your body burning an extra 80-120 calories per day. Just remember to drink that shit black to match your bag and soul.

8. Lentils
What happens if you aren't getting enough iron? You can't burn enough calories, you get fat and sad, and forever alone becomes your personal tagline. Lucky for you, one cup of lentils gives you about 35% of your daily iron needs, which will keep your metabolism revving and ready to burn off that extra cupcake I saw you stuff in your mouth at lunch.

9. Milk
We're surprised too. Turns out, milk and calcium in general can help your body figure out wtf to do with fat more effectively. So yah, have that white Russian. It's practically healthy.

10. Lean Meat
Yes, eating that piece of grilled chicken or bison (yes rly) is totally fine for your calorie-burning purposes. Lean meat has iron and, as we already fucking explained, iron equals higher metabolism. So yah, nom on that meat, you carnivorous betch.

One Cheat Meal Could Ruin Your Metabolism, Study Finds, So Put Down The Pizza
Everyone knows that just because you're juicing on the reg and going to SoulCycle religiously doesn't mean you can't have a cheat meal here and there, right? Actually, according to a new study, cheat meals can ruin your metabolism. Yes, even one.
Some researchers in Germany got together to ruin all our fun yet again look at how even one dose of saturated fat can fuck up your life. They took a bunch of "healthy, slim men" and gave them one drink of palm oil (compared to the control group, who got a glass of water—boring). "Yeah ok but like, my drunk slice of pizza is healthier than a straight-up glass of oil, right?" you're probably thinking to yourself. To which I say, HA! Those "palm oil drinks" had roughly the same amount of saturated fat as two fucking bacon cheeseburgers and a large order of fries. Or one salami pizza, though the experiment did not analyse what psychos are ordering salami on their pizza. But yeah, so basically even that ONE "cheat meal" (/drink) started fucking up these guys' metabolisms by reducing insulin action and increasing the fat content in their livers. And that, presumably, will happen to you too.

So the takeaway of this study is just because you've been good all week doesn't mean you should drunkenly order the chili fries Saturday night. Yes, even one drunk slice of pizza is going to make your metabolism take an L—and you're not Big Sean so you're not gonna bounce back. Sorry. I'll allow a moment of silence to mourn all that delicious fatty food you won't be eating guilt-free this weekend. Or like, ever again. 
But like, go ahead and get that burger if you want. I'm not here to tell you how to live your life. Just don't be surprised when sweatpants are all that fits you right now. Or just avoid palm oil, I guess. IDK, we're all screwed. Good luck out there.