Is Your State Voting To Legalize Weed?
The 2020 election is approaching quicker than I feel comfortable with, and if you're living in one of a handful of states, one of the many issues on the ballot may be if you can light up legally. Weed, I'm talking about weed. Already, 33 states and the District of Columbia allow marijuana for medicinal use, and 11 of these states (including D.C.) have also legalized marijuana for recreational use. Coming up on November 3rd, five more states will vote on whether not to legalize recreational cannabis and to allow it for medicinal use. As of now, the polls indicate that this measure will pass in these five states below, but here's everything you need to know about which states are voting to legalize weed this cycle.
Arizona
Since 2011, medicinal cannabis has been legalized in Arizona, but now they are looking to see if it will be legalized recreationally. I mean, nine years later you would think this would get passed by now! If this goes through, The Smart and Safe Arizona Act will legalize the use of cannabis for adults, and residents will be allowed to have up to one ounce of cannabis and five grams of THC concentrate, AND grow up to six cannabis plants in their household. Back in 2016, the polls were 51-48, and recently 62% of Arizonians support legalization. If you ask us, the polls are looking pretty good!
Mississippi
Being one of the most conservative states in the country, Mississippi is looking to legalize medicinal use. This seems like a long shot, but it looks like the polls are doing well. According to the state, Initiative 65 will allow cannabis to be prescribed to treat many medical conditions. The polls now show that 81% of residents are supporting this, so we're thinking it's going to pass. This support is probably bolstered by the fact that not only are there medical benefits, but apparently there are also economic benefits!
Montana
Montana voters accepted medicinal cannabis back in 2004, but now we are going to see if it will be approved for recreational use. The deets on this, according to Montana I-190, would be to permit selling and possessing for adult use. Residents would be allowed to have up to four cannabis plants and up to four seedlings in their homes. While some of the polls are pointing to a yes vote, a recent poll from Montana State University found that only 49% of voters support the recreational legalization—only time will tell.
New Jersey
New Jersey will be looking into recreational use, as it has already been approved for medicinal use since 2010. If it's approved, the New Jersey Public Question 1 will legalize the sale and possession of cannabis for adults (21 and over). Even though this measure failed to pass in 2018, it's looking like it'll pass this time around since recent polling has found that 65% of voters are in favor, while just 29% are opposed. Second time's the charm..?
South Dakota
This state in particular is looking to approve cannabis for both medicinal and recreational purposes. According to a poll released back in September, a majority of voters support both measures. The ballot will have two legalization measures: the South Dakota Initiated Measure 26 will allow doctors to prescribe cannabis to patients for many conditions and will also allow recreational use for adults. It'll be interesting to see how this one unfolds!
As more people continue to vote in the coming days, we will see which of these states will pass on legalizing weed. So on November 3rd, we will be finding out which states will be weed-free AND who our president will be for the next four years…yikes!
Images: ImagePixel / Shutterstock.com
Breaking Down The 5 Most Common CBD Myths
Lately, it seems like people can't stop talking about CBD. There has been a huge surge in all things CBD, from beauty products to dietary supplements—some companies even sell CBD-infused lubricant.  When it isn't already integrated into a product, CBD often comes in the form of an oil. The compound supposedly helps to alleviate a variety of conditions, including pain, anxiety, and inflammation. While cannabidiol (CBD) is safe and beneficial for treating these conditions and more, there are still a lot of misconceptions surrounding this versatile compound. Increased interest in CBD has led to a surplus of CBD-related products hitting the market—which also means a surplus of misinformation. Let's take a look at some of the most common CBD myths:
1. CBD Is "Non-Psychoactive"

When someone says CBD is non-psychoactive, they're referring to the fact that CBD does not get users intoxicated, or high, like THC from the same cannabis plant does.
But to call CBD non-psychoactive is incorrect, since a psychoactive substance is simply one that affects the brain—not necessarily one that causes intoxication. A psychoactive substance can affect mood, cognition, and behavior. CBD has been shown to have antidepressant and anti-anxiety effects, so it is psychoactive because it affects mood and mental processes.
2. CBD Is Used For Medicine And THC Is Used for Recreation

The human body has an endocannabinoid system, meaning it produces its own cannabinoids. External cannabinoids from plants (called phytocannabinoids) can also influence the endocannabinoid system, where pain, inflammation, and other processes are regulated.
THC and CBD both work on the endocannabinoid system, THC directly and CBD indirectly, to unleash their effects. Both compounds are medically recognized to alleviate a number of conditions.
To call CBD the medicinal part of the plant and THC the fun part of the plant is far from the truth. Anecdotal and scientific evidence has long suggested that CBD works better with some THC present. Many medical marijuana patients use THC on a regular basis for conditions like chronic pain, glaucoma, nausea, and more. To ignore the years of medically verified uses for THC while embracing CBD would be ill-informed.
CBD has gained popularity because it has therapeutic effects without intoxicating the user, which appeals to many people hesitant to use cannabis. That doesn't mean CBD is the only medicinal compound in the plant.
3. CBD Works Best When Isolated

The bulk of the CBD market is made up of either isolates or whole-plant extracts. Many mistakenly believe that isolating cannabidiol from the rest of the plant is the best way to get therapeutic effects, but evidence suggests that the opposite is true.
When using whole-plant extracts, all compounds of the plant are able to work synergistically with one another to boost their effects. Terpenes, the organic compounds that make up the taste and smell of cannabis, create a symbiosis with CBD and other cannabinoids in the plant, resulting in a stronger therapeutic effect.
CBD in its isolated form can still provide relief, but using full-plant CBD is more effective. This was shown in a 2015 study that stated, "Other components in the extract synergize with CBD to achieve the desired anti-inflammatory action." The study also found that isolated CBD only worked in limited dosage ranges.
4. CBD Is A sedative

This is a confusing one, because a lot of people claim to use CBD to help them sleep. It can help with insomnia, as CBD relaxes the body, which can help you fall asleep faster. One study has even shown that CBD increases overall sleep time.
This does not make it a sedative, however. In fact, it's been found to promote wakefulness, and many people consider their CBD dose to be energizing.
Those experiencing sedative effects from CBD may be able to attribute it to myrcene, a terpene found in high concentrations in many CBD strains. Myrcene is known for its sedation-inducing effects.
5. CBD Is Legal Everywhere In The United States

With CBD's mainstream uprising, you might think that it must be legal everywhere. But the compound is still in a gray area when it comes to the law. Since the passing of the 2018 Farm Bill, hemp is recognized as an agricultural tool and is no longer considered a Schedule 1 controlled substance. CBD derived from hemp is now legally in the clear anywhere in the country. However, marijuana-derived CBD's legality depends on the state where it is being sold, and that state's own cannabis laws.
To sum up, CBD extracted from cannabis (rather than hemp) is federally illegal, but may be legal at the state level. Hemp-derived CBD is legal everywhere in the United States.
This murky legality hasn't had much effect on availability. CBD can be found just about anywhere these days, and it's only growing in popularity. That makes it all the more important that you know fact from fiction when it comes to common CBD myths.
Images: Caleb Simpson / Unsplash; Giphy (5)
All The Drugs The 'Vanderpump Rules' Cast Has Admitted To Using
It's no secret that sobriety plays a small role in Vanderpump Rules. But while the Vanderpump Rules cast is open about their drinking, we've never seen so much as a bong on camera. (We know they're smoking weed. They've all admitted to smoking weed.) This isn't exactly surprising. But it was a pretty refreshing change when the Vanderpump Rules cast finally opened up a little bit about their use of drugs this season. Too many impressionable youths are watching this show for the cast not to disclose that their 72-hour benders, impossibly tiny figures, and frequent meltdowns are fueled by a little something extra. They're open about the damage alcohol has caused—I'm glad they're being open about this too. Here are all the drugs the Vanderpump Rules cast has admitted to taking, not counting drugs they are prescribed, because I don't want to get my ass in trouble with HIPAA.
Kristen Doute/Stassi Schroeder
Drugs: Adderall, Xanax, marijuana
Kristen and Stassi both made this pretty easy for me. They've openly discussed their Adderall and Xanax use—Stassi on camera as well as off. Quick highlight reel of Stassi's on-screen season 6 drug references: blackout on tequila and Adderall at her birthday party, Xanax and alcohol during the finale. For Kristen, we have her "Xanax and edibles" refrain about her travel anxiety in Mexico, plus some pretty explicit IG stories of late including her smoking a bowl and a collection of her beside prescription bottles. Side note: The Xanax may very well be prescribed. But mixing it with alcohol/other sedatives means they're def not taking it AS prescribed.
We've discussed Stassi's super scary mixing of alcohol and Xanax at some length. But in case you need a refresher: Side effects of mixing Xanax and alcohol may include: siding with your douchehat boyfriend, inappropriate smiling because you don't know WTF is going on, and literally dying. Do not do this.
As for the Adderall use, Stassi admits to abusing it to get through long shooting days, keep her weight down, and drink the required amount of alcohol for a reality star without passing out. Ugh. Bravo, take better care of your people.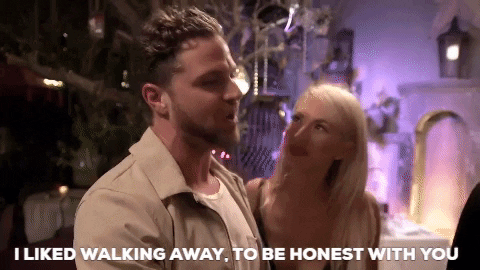 Scheana Marie
Drug: Marijuana
We all knew that Scheana was a "craaazy pothead", hence repeating herself every single episode of this season. What I didn't know is that Scheana was actually sued in 2016 for pot smoke pouring out of her apartment. Yikes. So ya girl does, in fact, smoke. But just in case we weren't clear enough at this point, she's also been IG storying what seems to be a weed tour through Hawaii. I guess once the entire internet roasted the use of weed as her excuse for her Robsession, she decided she needed to develop some receipts in a hurry. Which, yeah, if you're going to claim weed gave you the level of foresight and mental acuity of the cast of Pineapple Express, I'm gonna demand you back that up.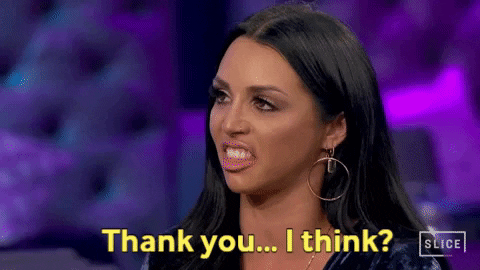 Lala Kent
Drug: Marijuana
Like Scheana, Lala too has referenced her own weed smoking at some length. Less than you'd expect for someone who claims that Tupac's "spirit lives inside her," but some. (I love a good stoner girl, but I can't help calling Scheana and Lala out here. They've always been in that weird guy's-girl, wannabe-hood zone that aligns itself with exclusively taking two hits for the 'Gram.) On her horrifying episode of Juicy Scoop with Heather McDonald, Lala says she's quit smoking, and switched to natural remedies. You know, like sucking on a "baba," or on a dick. Starting to think we disagree on what "natural remedy" means.
Lala, after one hit off a blunt:

Everyone Else
Drug: Marijuana
Katie and Tom both seem like they've been hitting the edibles fairly heavily this season, which Katie admitted to taking before her wedding. Katie specifically mentions going to dispensaries because "they have lots of candies and chocolates and I like to eat the edibles." And while Schwartz never admits to indulging himself, can we at least agree that he really, really seems like a die-hard stoner? (See: always wearing sandals, no real ambition to speak of, etc.)
Here's one of my fave Schwartz-HAS-to-be-stoned-here GIFs: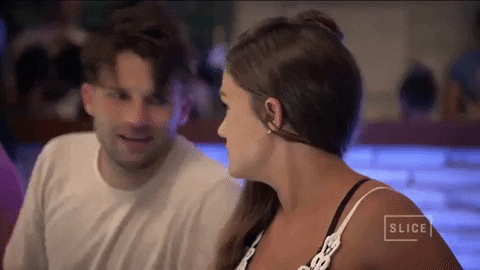 As for the rest of them, James Kennedy talks about having been "first in line" at "all the clubs and clinics" since they let you in when you're 18. (We get it James, you're young.)  Jax and Brittany have video evidence of them lighting up in an airport bathroom, and Jax mentions that he picked the habit up from Brittany's parents. Possibly the cutest fact about this couple. We know Ariana smokes as well from the time she referenced "hiding the bong" from Sandoval's mother. (God, I pay way too much attention to this show.) I don't have specific evidence for anyone else, but I'd assume Raquel at least needs some kind of memory-reducing drug to have not yet dumped James.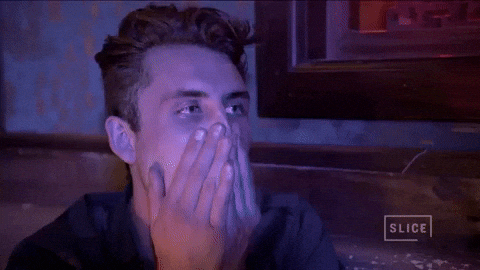 As for the burning question I'm sure you all had: We have no concrete evidence that anyone is doing coke. Plenty of people (Sandoval included) have suggested that Jax has a serious coke problem, but we don't have any evidence other than his six nose jobs and everything he says and does on camera. All around, it seems like we're dealing with a group of semi-stoners, a lot of anxiety disorders (don't act like you wouldn't develop one too), and a hopefully waning Adderall problem from the early years. Basically, your sorority pledge class. Celebs, they're just like us!
Images: Giphy (5)
Where Can I Get High Legally: A 4/20 Investigation
Today is 4/20, which means betches who love weed will be smoking in celebration and betches who don't will be pretending they do in order to look like, super chill. Whichever category you fall in to, I am here to update you on the current state of legalization in the US, because I am selfless and don't want you getting arrested or fined on this sacred holiday. You're like, so welcome.
It's 2018, Trump has been president for over a year, half of the people he's ever met have been subpoenaed by Robert Mueller, Zuckerberg probably sold the data on everyone you've ever instagram stalked to Russia, and it's snowing in New York in April. In other words, the citizens of America are in dire need of a stress-relieving drug. Public approval of marijuana legalization has never been higher, more than doubling since 2000 to clock in at 64% of US adults in 2017. Among anxious millennials, who have been gifted climate change, the gig economy, and mass incarceration, support is understandably even higher at 70%.

However, marijuana remains a schedule 1 substance in the federal classification system, rendering it equivalent to heroin or methamphetamines in the eyes of the law. Regardless of the fact that this is literally insane and I personally have had many more near death experiences related to alcohol than marijuana, this means that while states may legalize or decriminalize, federal prosecutors can still sue individual businesses. Jeff Sessions intends to keep it that way, and rescinded an Obama-era guideline that basically let states legalize without federal interference.Trump and Sessions appear to be divided on this issue, so stay tuned to find out who wins that battle. I'm sure they will deal with this right after Syria and gun control. Anyway, now that I've given you enough legal background to impress the next hot stoner you encounter at a party, let's get down to where you can and can't smoke legal weed.
Where It's Totally Legal and Totally Lit
Nine states and the District of Columbia have completely legalized marijuana, including its use for recreational purposes. In Alaska, California, Colorado, Oregon, Nevada, and Washington, you can fully purchase weed for fun at legal dispensaries. It's literally lit. In DC, Vermont, Massachusetts, and Maine, recreational sale is either not legal or pending legislation, but you are allowed to smoke, carry, and grow your own marijuana. Dude…nice.

Where It's Decriminalized, So Like, Kinda Illegal
Some states have decriminalized marijuana to varying degrees, so it isn't legal, but penalties for possession are usually just fines, and do not incite arrests. In many states, this is part of an important broader effort to reform the punitive and racist enforcement of stricter marijuana laws. The decriminalized states are: Connecticut, Delaware, Illinois, Maryland, Mississippi, Missouri, Nebrasksa, New Hampshire, New York, North Carolina, Ohio, and Rhode Island. Right on.

Where It's Medical, But You Probably Have  Anxiety So It's Fine
States that allow medical marijuana include decriminalized states, recreationally legal states (duh), and some states where non-medical use is fully illegal. The non-recreationally legal states that do allow medical marijuana are Arizona, Arkansas, Connecticut, Delaware, Florida, Georgia, Hawaii, Louisiana, Maryland, Michigan, Mississippi, Missouri, Montana, New Hampshire, New Jersey, New Mexico, North Dakota, Pennsylvania, Rhode Island, West Virginia, and Virginia. So basically, all you need to do is successfully convince your psychiatrist that you have anxiety, as you've already been doing for years to access your Xanax prescription, and you can get weed in these states. What a time to be alive.

Where It's Illegal, But You Didn't Want to Go To Kansas Anyway
Unfortunately, there are still some US states fully committed to outlawing weed (and joy). All forms of marijuana, including medically-prescribed weed, are illegal in Alabama, Idaho, Indiana, Kansas, Kentucky, Montana, Oklahoma, South Dakota, Tennessee, Texas, Utah, Wisconsin, and Wyoming. You probably weren't going to use your previous vacation days in Montana anyway. Land of the narcs, if you will.
Happy 4/20, betches! Get high and don't feel too guilty about ordering McDonalds via Uber Eats, it's a damn holiday.

Heads up, you need to keep up with the news. It's not cute anymore. That's why we've created a 5x weekly newsletter called The 'Sup that will explain all the news of the week in a hilarious af way. Because if we weren't laughing, we'd be crying. Sign up for The 'Sup now!