Tina Fey Is Handing Out Cheese Fries In Honor Of 'Mean Girls' Day
Read: Celebrate National Mean Girls Day With This Grool Drinking Game
If you didn't know that today was Mean Girls day, two questions for you. 1) Why are you so dedicated to shoving your head up your ass and 2) what are you doing on this website??? Go watch Mean Girls 600 times and get back to me.
Anyway, even if you didn't already know this, I can pretty much guarantee you're going to be psyched about this news: Tina Fey, queen of amazing ideas, and the reason we're all able to celebrate Mean Girls today, she's decided to help you celebrate in a truly inspired fashion.

On a traveling Mean Girls food truck (hello? Did anyone even know this existed?), Tina Fey's been rolling around Manhattan handing out cheese fries to people buying tickets for the upcoming Mean Girls musical. Brilliant marketing ploy for what's basically a dead art her musical? Check. Pettily fattening up her annoyingly skinny teenage fans? Probably not intentional, because Tina Fey genuinely seems better than that, but check. And most importantly, giving you the best possible mid-work drunchie (if you haven't been drinking since 10am, you're doing this holiday wrong) AND selfie opportunity you'll see for weeks? Motherfucking check.

Final note: please don't even bring up your "diet" right now. It's been a shitty week and a shitty year, and I think we all need to take a leaf out of Tina's book (I'm honestly not sure that's a saying but it sounds mostly right and I'm trying to get this out ASAP so you don't miss your cheese fry opportunity) and just embrace the edible joy that is cheese. Regina George knew it, and you're straight-up lying if you say you don't want to be at least a little more like her. NYC Betches, haul ass to this truck's next location immediately.

If you don't live in New York but still want to celebrate Mean Girls Day (why wouldn't you?) then you're in luck. With Shop Betches' two oversize T-shirt dresses, I'm A Mouse Duh and Boo You Whore, you can celebrate Mean Girls Day from wherever you are. These super comfy T-shirt dresses are here just in time for every Mean Girls fan's favorite holiday: Halloween. Buy them now because last year they sold out super fast.

Aaron Samuels Got A New Acting Gig And It's Definitely A Downgrade
In honor of October 3, the date Cady Heron asked Aaron Samuels what day it was, we thought we'd check in on the hottest guy at North Shore.
Well, the good news is that Jonathan Bennett is pretty easy to track down, meaning he hasn't completely fallen off the face of the earth. Even though he hasn't been in a movie as successful with betches as Mean Girls, his IMDb page has a consistent amount of entries.
Bennett is currently starring on the channel that has tricked us into thinking Bobby Flay is kind of hot because he can make a decent taco, The Food Network. He's hosting Halloween Wars, which I guess is like a Cupcake Wars type competition show, but with super gross-looking Halloween themed desserts.

His hair still has some Aaron Samuels-esque thickness, but the cut has been updated to fit 2017 and not… uh… 2004. Yeah, that movie came out a really fucking long time ago and I bet you feel super old now.
Instead of making out with Lindsay Lohan and Rachel McAdams, though, Bennett's acting chops are relegated, at least online, to goofy skits where he pretends to be Dracula and drinks cranberry juice.

On the show, I'm pretty sure he just introduces the challenges and contestants and says really lame puns like "You're in for a spooktacular time!" and "Grool". You know, shit that's kind of socially retarded and weird, but he's our friend, so just promise me you won't make fun of him.

I don't think that simultaneously hunky-yet-lame football player costume from the movie ever makes an appearance in this show, but people probably move on from that one role they did 13 years ago. It's not our fault that movie is so popular. Oh wait, yes it is.
Four for you, Jonathan Bennett, for staying out of jail and not getting a DUI (that we know of). I guess you can still sit with us, as long as you bring dessert and also maybe Bobby Flay.
If you don't care about Halloween Wars but still care about Halloween, then you're in luck. With Shop Betches' two oversize T-shirt dresses, I'm A Mouse Duh and Boo You Whore, you can combine your fave holiday with your fave movie and rep Mean Girls from wherever you are. These super comfy T-shirt dresses are here just in time for Halloween. Buy them now because last year they sold out super fast.

Buy your Mean Girls shirts here!
The Cast Of 'Mean Girls' Is Celebrating Mean Girls Day In The Most Amazing Way
As a wise woman once said: It's October 3rd. That means it is officially Mean Girls Day, and the cast is using this blessed occasion to push people into doing some good for the world by donating to their GoFundMe campaign aimed at raising money for the victims of the Las Vegas shooting. Breezing past the fact that we're at a place in our country where the cast of teen movies have to raise awareness about gun violence, this is obvs a great way to both celebrate your favorite movie, and do something good with your life for a change.
The idea was put together by none other than Jonathan Bennett (Aaron Samuels, asker of what day it is), Lacey Chabert (Gretchen Wieners, person whose hair is full of secrets), Amanda Seyfried (Karen Smith, has ESPN or something), and Daniel Franzese (Damian Leigh, too gay to function). It all started when Bennett posted a video announcing the GoFundMe with the caption "On #October3rd, he asked me to help." You see what he did there? Very clever, Aaron.
"On #October3rd, he asked me to help." #MeanGirls
Please help the victims of the tragedy in Las Vegas at https://t.co/YMwEV1SDsL pic.twitter.com/OhXNSMvCYC

— Jonathan Bennett (@JonathanBennett) October 3, 2017
Their goal is to hit $300,000 (approximately the same amount of money I have spent on Mean Girls related merchandise since the movie came out in 2004) for the National Compassion Fund, an organization that donates their proceeds directly to those affected by mass shootings. So wtf are you waiting for? The cast of Mean Girls has put out the call, and it's our duty as Mean Girls fans to answer. As the GoFundMe page states: "Let's hit this goal together. We might not make fetch happen, but we can make this happen."

Oh, and before you ask, no, Lindsay Lohan has not participated in the campaign, but in her defense, she probably has no fucking clue any of this is going on.
For news updates delivered straight to your inbox, sign up for The 'Sup!
Celebrate 'Mean Girls' Day With This Grool 'Mean Girls' Drinking Game
Jambo, plastics. Happy October 3RD aka the unofficially official National Mean Girls Day. In honor of this blessed day, we can stop talking about a Kardashian being knocked up for a full 24 hours to focus on the greatest film you'll ever watch. To celebrate, I'll be doing nothing I normally wouldn't do on an average Tuesday night, aka drinking wine alone with Taco Bell while still trying to memorize the "Jingle Bell Rock" dance. It's no question you'll be watching Mean Girls at some point today, whether it's while you're bored at work ditching gym class, or right before you fuck up your all-carb diet at happy hour because (hi), it's October 3rd. And being THE Betchen Wieners, I feel it's my duty to kick my favorite holiday into high gear with the one thing I'm good at besides three-way calling attacks: drinking. So stop what you're doing and play this game with friends (or just yourself), and since Mean Girls has been on Netflix for like 12 years, you have no excuse. But if you don't have Netflix, then I'd assume your ex found out you still had his password you're just some home-schooled jungle freak, but irregardless, get in loser, we're going drinking.
Directions: Pretty much just drink (fucking duh). Bonus points for not drunkenly word vomiting your actual feelings to your weekend hookup by the end of the game. Oh, and if you actual vomit, I don't think my father, the inventor of Toaster Strudel, would be too pleased to hear about this.
Take One Drink:
-When someone says "too gay to function."
-When a person's name in the Burn Book is mentioned.
-When someone spills a rumor about Regina George.
-For every piece Cady breaks off of her crown.
-When a different language besides English is spoken.

Take Two Drinks:
-When someone alludes to Janice being a lesbian
-When Karen Smith says something stupid
-When someone tries to make "fetch" happen
-When someone pronounces Cady's name as "Caddie"
-For every time Aaron Samuels helps Cady with her math homework
Assign Someone To Drink:
-When someone says "crack" or "cracked."
-When Regina eats a carb.
-When a character is terrified of Cady's Halloween costume.
-When Regina's mom acts like a cool mom, not a regular mom.
Take A Shot:
-When Gretchen Wieners flips her shit on someone.
-When Cady wins first place at a school function.
-When a character ends up in the projection room above the auditorium.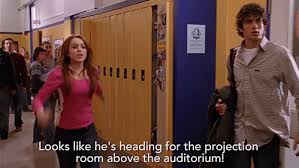 Waterfall Your Drink
-During Kevin Gnapoor's entire rap.
-While Coach Karr gives a sex-ed lecture.
Finish Your Drink:
-When someone gets hit by a bus.

And if you just can't get enough of Mean Girls (same), then you NEED to buy our Mean Girls Halloween costumes. We've got two this year: the classic I'm A Mouse Duh that sold tf out last year, and the new Boo You Whore. Buy one, but them both, it doesn't matter to us. They're 100% cotton and super soft, so you'll want to live in them.