3 Celebrity Diet Trends That Are Bad For You
We're all fascinated by celebrities. We study their every move: what they wear, what their skin care routine is, what they eat.
As dietitians, we know that nutrition can be overwhelming and it's easy to look to celebs for diet advice. After all, they look fabulous, and if it works for them, shouldn't it work for us? (Aside from the fact that they have a trainer, dietician, and probably an unlimited food budget, we mean.)
Unfortunately, celebrities can fall victim to diet culture just like the rest of us, and they usually aren't the best source for nutrition advice. Not to mention, they're working in an image-focused industry that prioritizes looks over health. So maybe, just maybe, we shouldn't take their diet advice after all. Need proof? Here are some trending celeb diets that may do more harm than good.
Adele's Sirtfoods Diet
First question: what are sirtuins? Silent information regulators, or SIRTs, are enzymes that regulate pathways in the body that may boost metabolism and reduce inflammation. The creators of the Sirtfood Diet claim that certain foods like blueberries, kale, and dark chocolate contain antioxidants that increase SIRT activity, thus helping you burn fat more effectively. Apparently, you can lose seven pounds in seven days by following the Sirtfood diet. 
Sound too good to be true? It is…
There is some evidence that SIRTs may benefit your metabolism, but the research on SIRTs is actually stronger when it comes to aging and longevity. More importantly, there is no research that specific foods activate the SIRT enzymes per se. Yes, some antioxidants in food stimulate SIRT activity, but it would take an exorbitant amount of those foods to make this happen—much more than you can reasonably eat in a day.
Another kicker: the first phase of the Sirtfoods diet requires a pretty extreme calorie restriction: 1,000 calories a day for three days, mostly coming from juices. No thanks.
RD verdict: Even if SIRTs help burn fat, we probably can't enhance their activity by eating normal portions of so-called "sirtfoods". Any weight loss you see on this diet is probably from limiting your calories and eating nutrient-dense foods. While the Sirtfoods diet is rich in healthy foods we love, it's basically a calorie restricted Mediterranean diet repackaged and sold with another name. Good thing the Mediterranean diet already exists, doesn't rely on intense calorie restriction, and has proven benefits.
The Kardashians' Flat Tummy Tea
The creators of Flat Tummy Tea claim that it "aids in the detoxifying and digestion process". This word "detox" is used a lot in diet culture, but what does it really mean?
Your kidneys, liver, and digestive systems metabolize and help eliminate harmful substances from your body, also known as detoxification. While some herbs may help to support these processes, your organs are pretty effective at doing them on their own, so you really don't need a tea to do what your organs were built to do.
Another important caveat: one of the main ingredients in this tea is senna leaf, a potent laxative that can actually alter your gastrointestinal motility and potentially do irreversible damage if used in the long term. Eek! That's not detox—that's diarrhea. Pass.
RD verdict: The best way to get a flat tummy, if that's one of your goals, is by eating a whole foods diet, limiting alcohol, controlling your blood sugar with regular, balanced meals, drinking lots of water, and eating foods that are rich in fiber and probiotics. While you're at it, add in 30 minutes of movement per day and voilà, a flat tummy—no harmful laxatives necessary. 
Beyoncé's Master Cleanse
The Master Cleanse, also called the Lemonade Diet, is a liquid-only diet consisting of four ingredients: water, lemons, maple syrup, and cayenne pepper. Proponents of the Master Cleanse (which also include celebs like Michelle Rodriguez and Demi Moore) claim that the specific combination of these ingredients helps detoxify the body and support weight loss. Spoiler: any diet that promotes you consume nothing but a lemonade mix for days on end is not going to be good for you, and if you need more convincing, check out this account from a brave soul who tried it.
RD verdict: While it might be true that short-term liquid fasting gives your digestive and detoxification systems a little break to work more efficiently in the future, a liquid diet usually leads to binge and overeating which taxes your detox systems even more! 
Yes, there's some evidence that spicy foods like cayenne pepper may slightly boost your metabolism, but any weight loss you see from doing this diet is likely from the severe calorie restriction from not eating. If you have enough willpower to drink this concoction, why not adopt a healthy diet and get more exercise? It's more effective and sustainable for long-term weight loss and supports overall health. 
The hard truth about celebrities is that they look fabulous because they have the money for chefs, personal trainers, and dietitians to help them eat and exercise for their personal and professional weight goals. They are not qualified to give nutrition advice, but if asked, most of them will tell you that the secret to feeling and looking great is not a fancy tea, but a healthy, balanced diet with regular exercise.
Vanessa Rissetto and Tamar Samuels are registered dietitians and co-founders of Culina Health, offering nutritional coaching and a science-based health and wellness education. Taking the complicated diets, numbers, and more out of nutrition, Vanessa and Tamar simplify healthy eating ideals and plans in order to stop stressing about food and start living life. Vanessa has over ten years of experience as a RD, and currently serves as the dietetic intern director at New York University. Tamar is a RD and National Board-Certified Health & Wellness Coach, with a unique and holistic approach that integrates functional medicine, positive psychology, and behavioral change techniques.
Images: Kathy Hutchins / Shutterstock.com
A Ranking Of The Most Ridiculous Fad Diets I've Tried
For upwards of four years now, I have been testing out various fad diets and writing about my experiences, typically to the detriment of my metabolism, mental stability, and overall health. Sometimes, people enjoy this. Sometimes they tell me to kill myself. It's a mixed bag, really.
Despite the many things I have written to the contrary, I love doing these diets. I love pushing myself to limits that literally no one asked me to push myself to. I love the adverse reactions I get from people when I explain why I'm buying Grade B Maple Syrup in bulk. But mostly, I just love attention and suffering, so this is truly my calling.
While doing research for my next diet, I decided to take a stroll down memory lane and revisit some of my more outlandish ventures. While this was initially a move of pure procrastination, it made me think that it could be fun to reminisce on the simpler times in my life when I walked around with ice cream in my purse or incited social media rants from unnamed wellness influencers.
Without further ado, here is the ranking of the most ridiculous sh*t I've ever put my body through in the name of art.
Full transparency, I loved Keto. I try to still adhere to it, albeit in the loosest terms possible. But in those early days when I had no idea what I was doing, before I truly understood macros or what it meant to measure food, sh*t got weird. How weird, you may ask? Please refer to the photo below of me, sitting on my patio, eating rotisserie chicken straight out of the bag at 9pm on a Tuesday because I had abruptly realized that I was still 790 calories short of my daily goal. This is not an ad for Frank's Red Hot, but also, I would not be opposed to this being an ad for Frank's Red Hot. Call me.
Keto is a dream once you can break down that mental barrier that tells you that you can't eat things like butter. If that sounds like an easy feat to you, congrats on never having had an eating disorder. The idea that I was not only allowed, but encouraged, to eat buttery, creamy, fatty foods on a daily basis was so outrageous that for a second I understood the extreme resolve with which Flat Earthers stand by their beliefs. The ground doesn't curve when you walk on it! Butter is fattening! These are indisputable facts, and I refuse to hear anything to the contrary!
But once you've moved past that simple obstacle, life is different. You know how many kinds of cheese are sitting in my fridge at this very moment? Six. SIX. Sure, there hasn't been bread in my kitchen in months, but SIX KINDS OF CHEESE. It's liberating, in a way that prison yards are liberating. Like yeah, there's lots of fresh air and more activities to take part in, but also you're still being held captive by a system built to deprive you of your humanity.
Diets are bad. Don't do them.
You would think that a diet that forced me to consume nothing but spicy lemonade for 10 straight days would be further up on the list of stupid things I've done, but that's because you don't understand the supreme comfort of not having options.
Most of the other diets on this list have a large margin for error. You can unknowingly eat the wrong ingredients or even too much of the right ingredients. You can be tempted by "safe" foods with hidden pitfalls or fool yourself with meaningless words like "moderation." But that's not the case with the Master Cleanse, because you're allowed one thing and one thing only: cayenne lemonade. Two liters of it a day. For 10 days.
There's no room to justify cheating, because there's no gray area here. Every day is the same question, a thousand times over. "Is whatever I want to eat in this moment a liter of spicy lemonade? No? Then I can't have it." It's crazy how easy life gets once choice is taken out of the equation. That's usually a sentiment that dictators in movies use to justify their regimes, but I won't waste time drawing any parallels there.
I'm gonna do this wack ass crash diet vogue printed in the 70s and die pic.twitter.com/DbHCWBJ4cf

— Open Heart (@Rayoflightray) April 28, 2019

No diet in my entire history of diets has gone off the rails faster than the Cabbage Soup Diet did. It came too early in my career, before I'd broken my will enough to truly understand self-control. Perhaps tackling it today would be a different story, but at the tender age of 23, I was unprepared for what the Cabbage Soup Diet would offer me: too many options.
Remember what I said about the Master Cleanse just few paragraphs up? This is the opposite, in every way. Every day the Cabbage Soup Diet gives you merely a parameter of the things that you can eat, without an inkling of portion sizes. To an adult with the ability to stop themselves from eating an entire flat of blackberries in a day, this probably wouldn't be an issue. To me, an animal without the foresight to realize the mass outbreak of canker sores that would result from eating that many blackberries in a mere 24 hours, it was a hellscape of my own making.
The Cabbage Soup Diet is not a diet, it's a social experiment. Some sadistic asshole wrote down on a website designed in 1984, "you can eat three steaks today" and then waited to see if some idiot would actually do it. Well, guess what! That idiot is here! And time has given her the wisdom to fight back! Or at the very least, yell about it on the Internet!
Despite the fact that I willingly opted into this experiment, I still somehow feel like the Cabbage Soup Diet took advantage of me. It's a sentient being from another universe, sent here to prey on weak-minded people who think eating four bananas a day is something moderately within the realm of healthy behavior. That cursed website is the dieting world's version of Tom Riddle's Diary: another second longer and I would have been found in a dungeon, cradling a bucket of mushy vegetable soup. I don't even know where I'm going with this anymore. F*ck you, Cabbage Soup Diet.
As far as diets go, Whole30 wasn't that crazy. Sure, I didn't remotely enjoy it. But, all things considered, it's not like the premise was insane. In fact I discovered, one of my favorite recipes of all time, a lovely Whole30 compliant Zuppa Toscana, during my 30-day trial. The entire experience was kind of like that time I (accidentally?) ate a bunch of edibles at homecoming senior year of high school and then puked all over my blackberry—it didn't ruin my life but I'm not exactly in a rush to do it again anytime soon, you know?
So why does Whole30 hold the number two ranking on this coveted list? One that could be taken by Kourtney Kardashian's godforsaken avocado pudding? For one very important reason, reader: this video.
(Please excuse the recording methodology—my roommate and I are incapable of grasping technology released past the year 1997)
On Monday, March 19th, 2018, the founder of Whole30, one Melissa Hartwig, posted a series of stories to her Instagram. This in itself isn't out of the ordinary; she's an influencer, that's what she does. Except, on this fateful day, these videos were about me.
I think it goes without saying when I tell you that this kind of thing doesn't usually happen to me. Except for that one time one of the kids from MTV's Scream retweeted one of my recaps about his show, this is the most public attention I have ever received for my work on social media. I am 100% sincere when I say that I will cherish this series of impassioned statements about what a sh*tty person I am for the rest of my life.
I cannot stress enough to you how often this video gets broken out in my day-to-day life. At work. At bars. In Lyfts. At bars. When I'm home for Christmas. Mostly at bars. Drunk people love this stuff.
The fact that this woman exerted the effort to not only post a swipe-up to my article but then immediately tear it to shreds over the course of five consecutive videos will never cease to delight me. It makes every bloated, exhausted, sober second of Whole30 worth it. Guess I did find that life-changing journey, just not in the way she expected.
Nothing will ever top this, in terms of preparation, dedication, fervor, or absolute insanity. The absolute wildest thing about about the Halo Top Diet was that it's not even justifiable; eating ice cream for seven days is, despite what I told everyone around me, not a diet. Period. This series is dedicated to the trials and tribulations of documented fad diets, and yet somehow I managed to convince a company, an editor, my friends, my family, and my coworkers that this was a viable idea. To this day, I don't understand how it happened.

To have known me during the Halo Top Diet is akin to having known someone during war, except only one of you was at war and the other was bemusedly watching from the comfort of their home while eating a hot dog. Also your friend at war kept asking if they could smell your hot dog. Shut up. It's fine.
Friends of mine still reminisce on the Halo Top Diet like it was a nostalgic era of their youth and not the most surreal seven days of my entire life. Let's ignore the obvious physical ramifications at play here—do you understand the mental strain you endure when you set out to eat ice cream and nothing else for a week? Can you even grasp it? Let me answer that for you: you can't. I thought I could, and I was wrong.
After two days, the laws of polite society cease to exist. There is no social norm too big to surmount, no simple civility that you aren't willing to trample. You transcend faux pas and exist in a serene yet somehow also ominous realm of ultimate inner peace, save the unrelenting headache and constant nagging reminder that every meal you eat for potentially the rest of your life will be cold and sweet.
That realm makes things possible that you would never have believed yourself capable of before. Things like standing in front of your entire office and begging them not to touch the ice cream in the freezer because it is both your breakfast and lunch. Things like looking at a waiter in the eye, saying "I'm good, thanks," and then pulling a pint of melted ice cream out of your purse to eat in front of them. Things like attempting to pour hot sauce onto your ice cream in a fevered search for something savory, only to be stopped by people who do, in fact, care about your dignity. You know, to name a few.
In short, if you can't handle me at my Halo Top, you don't deserve me ever. That's it. That's the deal.
Have an idea for a diet that could potentially rival the ones on this list? Leave it in the comment section and I just may hate myself enough to try it.
Images: Giphy (2), Instagram (@marykatefotch, @melissa_hartwig)
The Weird Things Beyoncé, Reese Witherspoon, & Other Celebrities Eat To Stay Skinny
I used to believe Us Weekly when they tried to convince me stars were "just like us." I mean, can you blame me? How can you look at a photo of Matthew McConaughey pushing a shopping cart and think otherwise? Needless to say, I was wrong, and I wasn't considering the fact that celebrities have homes on islands that can't be located on a map. Like, these people do cocaine to prepare for award shows and they've never swiped a debit card in their lives. They're extra. I recently enjoyed investigating/shit-talking strange things celebs do to stay healthy, and I've decided to dig even deeper into their bizarre diets. After doing some research, here are the diets worth talking about.
Something about the image of a 41-year-old woman waking up in her Santa Monica mansion and downing a jar of baby food for breakfast is just disturbing to me. In a world where you can literally hire a Michelin star chef to cook you gourmet healthy meals, you decide to crack open a jar of Gerber sweet potato mush meant for a 6-month-old. Honestly, I understand Reese is technically eating fruits and vegetables all day, but I really DGAF about how many nutrients are in these jars. You're an adult. Stop eating baby food and eat some food meant for grown-ups. Or like, just buy a Vitamix if you're that committed to eating blended produce.

We knew Megan Fox was a betch ever since she bitched out MK & Ashley in Holiday in The Sun, and her lifestyle choices since 2001 have only confirmed our convictions. Megan Fox has admitted that she literally hates dieting and exercising, so she basically eats whatever she wants and then goes on some extreme cleanse right before she has to look good for a movie. One psycho cleanse she loves is the vinegar diet, where she practically starves herself and takes shots of vinegar to flush water weight out of her body and cleanse her entire system, whatever that means. There's no way this shit was cleared by her doctor.
Before Bey and Jay started cooking vegan spaghetti for dinner, Bey was a crazy dieter, and she did this insane master cleanse diet back in the day to drop 20 pounds for Dreamgirls. Aside from liquid shakes and soups, Beyoncé literally only drank this cleanse drink, which is a mixture of water, lemon juice, maple syrup, and cayenne pepper. No solid food for 14 days. Personally, I'd die. Wouldn't everyone? I guess that's what differentiates the normal human from Queen B. Also like, her 50 Grammys and $350 billion net worth, but whatever.
It's not exactly breaking news that Victoria's Secret models starve themselves before the fashion show, but Adriana Lima's protein shake diet just confirms that fact, so please stop showing us videos of these girls boxing with a fake trainer in an XXS sports bra. Adriana admits that for a couple weeks leading up to the show, she cuts out all carbs and relies on protein shakes to survive. Oh, she also works out for two hours a day. I mean, I felt lightheaded just typing that. How is this girl still standing? Can we just hope she eats some bread after the show is over like Gigi claims to do? I'm concerned.
I used to wonder how Amanda Seyfried looked like she was glowing at all times, and I guess it's because she was eating raw celery everyday. Suddenly I'm not as jealous. A few years back, Amanda Seyfried ate an all-raw diet, which is exactly what it sounds like. She ate raw vegetables, nuts, and seeds. I seriously wouldn't even feed that shit to a bird. Like, she now admits that it was intense and awful, but seriously, what kind of results are worth that pain? I'm gagging just thinking about snacking on raw spinach. Can someone please pass me an Oreo before I vom?

Remember when you were little and your mom would yell at you for eating Play-Doh? It turns out this bullshit is now being encouraged as a "detoxification" method. Shailene Woodley straight-up eats clay, and she actually swears by it. Apparently clay helps build your immune system, balances your pH levels, and helps your body fight off diseases. I'm sorry, but don't Flintstones vitamins do the same thing?? This diet hack sounds like something your Pledge Master made you do and swear to never talk about again. This Hollywood alternative nutrition shit has officially gone too far.
Dirty Lemon Beauty Treatment Lets You Drink Yourself Pretty, Sign Us Up
Finally a beauty treatment that celebrates our strengths, like drinking flavored water and barely doing any work. Ladies, you can now drink yourself pretty (a motto I've always lived by) via Dirty Lemon, a new beauty treatment from a Brooklyn-based juice company that specializes in raw detox drinks. You're welcome.
Dirty Lemon has been on the rise for a while in super-secret millennial circles. The detox drink is meant to reset the body after too much pizza and rosé because there is a God and She is paying attention to my Instagram story.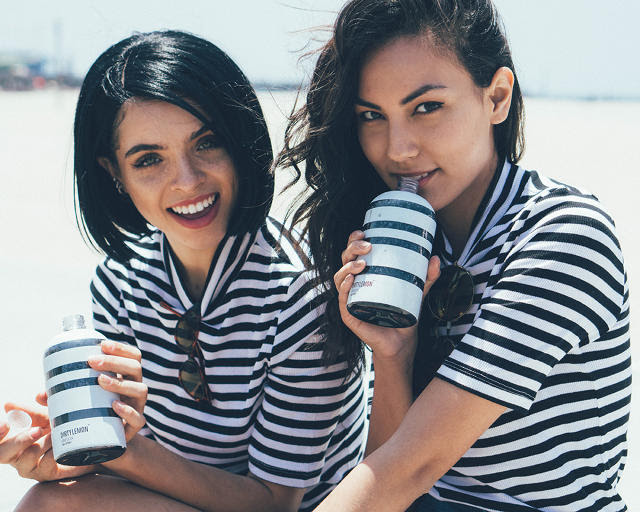 Made with cold-pressed lemon juice, dandelion extract, ginger root extract, activated charcoal, and filtered water, this shit tastes like a fucking dream—unlike that cayenne pepper and maple syrup mixture you've been forcing down your throat. Dirty Lemon Skin + Hair adds to the original recipe a fuck ton of Beyoncé's tears pharmaceutical-grade marine collagen, and other shit that's great for your hair and skin. In fact, it promises to give you better hair, skin, and nails in as little as two weeks. But so does Susi, my German hair stylist, every time she cons me into buying a $60 product on top of my haircut.

How Dirty Lemon Works
Drink one bottle a day on a full stomach, repeat. No lie, that's legit the only instructions. In fact—and this is verbatim—they suggest you ingest the drink "with a side of pancakes." Blessings.

Basically, instead of taking daily vitamins or supplements to stimulate the production of collagen you can now just take a bottle of it to the face. Not so different from what you'd be doing after work anyway but this is, like, good for you.
How To Buy It
You won't find this sleek as hell bottle of eternal youth Dirty Lemon in any stores. You can only order it in $65 quantities via text message because our world is going to shit. But feel blessed because all orders are shipped overnight and free of delivery charges (are you listening to this, Amazon??).

Final Verdict
So let me get this straight: This is a beauty treatment that lets me do nothing live my life, counteracts all the ways I fuck up my skin and body when I'm drunk, and encourages me to eat pancakes for, like, my health's sake? And it comes in a conveniently chic bottle that will look good AF on Instagram? So, like, does anyone know the founder of Dirty Lemon's number or? Asking for a friend…

The Top 10 Worst Diets Ever Invented
When we look back over the sad, failed history of dieting, one thing came to mind: "wtf." Diets alone are really fucking stupid, given the fact that most, if not all, are unsustainable. If you cut out a whole food group, eventually you're either going to slip up and eat from said forbidden food group OR crave it so much you go crawling back sans self-control or dignity. Same for any diet that considers soup your now only source of food. Do yourself a favor and eat HEALTHFULLY without restricting yourself to crazy, weird shit. By "crazy, weird shit" we mean any of the below aka the 10 worst diets of all time. Think of it like Nike, only the complete opposite i.e., just don't do it.
1. The Tapeworm Diet
In today's batshit crazy news, we learned that there literally used to be a tapeworm diet. Back in Victorian times, when a woman's biggest issue was fitting into a corset and pretending to not be interested in banging her husband, some medical professionals decided that swallowing a goddamn tapeworm was the answer to pesky chubbiness. We shouldn't have to explain why this is a terrible idea, but yeah, it is. To add to that, people are still buying janky capsules with tapeworm eggs inside/drinking the tap water in Mexico on purpoe. Earth to Matilda: This is really fucking dumb. Why doesn't it work? Because the damn tapeworm lives in your fucking intestines, eats all your food, can result in malnutrition, AND yes, you can die. 

2. The Cabbage Soup Diet
Any diet that literally has you eating one food for an extended period of time is a terrible goddamn idea. Can you imagine how insanely crazy you're going to feel on Day 7 of eating cabbage soup? It doesn't even SOUND appetizing. Yes, vegetables are good for you, but eating just cabbage soup will make you drop a ton of weight and then instantly gain it back when you stop dieting. Next.

3. The Grapefruit Diet
As is the case with No. 2 on the list, eating just grapefruit for an extended period of time is an awful, awful idea. Can you even IMAGINE your new aversion to citrus after a few days of this shit? Yes, you should be working things like grapefruit into your diet—shit, have one every morning for all we care. But if you go on replacing every meal with this sour af fruit, you're going to fail in the long run. You'll crave steak, fruit snacks, and all the carbs. Also if you're on the pill it could fuck up your medication and you could end up pregnant. JUST SAY NO.

4. The Cookie Diet
This sounds like my kind of fucking diet, since my spirit animal is and always has been cookie monster. However, upon further investigation, we can't believe this was ever—or even still is—a thing. Dr. Siegal, whose medical degree we question, came up with a diet that entails eating one to two cookies every few hours along with a 500-calorie meal of the dieter's choice. The catch? The cookies are made of some bullshit ingredient (probably from Sweden and isn't legal in the U.S., like phentermine) that is apparently going to make you lose weight. So, not only will the cookies taste like shit, but you'll start hating cookies. Additionally, this won't make you adjust your shitty eating habits AT ALL. Since, ya know, you're training your brain into thinking cookies are the answer. Which, in this case, they are not.

5. Cigarette Diet
This sounds like a theme from Mad Men. Apparently, back in the 1920s, tobacco companies started pushing their cancer sticks as a means of controlling appetite. Nicotine does, in fact, suppress your urge to eat, but at the cost of having disgustingly smelling clothes, hair, and hands. Is the cancer worth dropping a few pounds? Gonna go with no on this one.

6. The Apple Cider Vinegar Diet
Ok so yes we were all obsessed with the Master Cleanse a few years ago because we were really fucking stupid. How fast did you gain back all that weight? I'll hold while you crunch the numbers. Drinking a combination of apple cider vinegar, cayenne pepper, maple syrup, and other bullshit may have you drop a few pounds at first, but, like OF COURSE YOU WILL, YOU'RE NOT EATING ANYTHING. I could drink Blue Gatorade and Ensure and drop weight, too. To add to that, enjoy your gastrointestinal discomfort brought on by the whole drinking vinegar thing. Not to mention the terrible, terrible gas. Sexy.
We tried the Master Cleanse (and lived). Read Memoirs Of A Master Cleanse here!

7.  Detox Diets
Hey! You know how you have a liver and kidneys? The job of those apparently ignorable organs is to DETOXIFY YOUR BODY. So, these fucking diets touting extreme regimens like liver flushes, body cleanses, colonics, etc. are literally (and I mean literally) full of shit. Your body detoxifies itself all the goddamn time. Sure, if you want to add a few veggie juices and whole foods to your diet after a week of bingeing on pizza, it'll "detox" you in a mild way. But having shit literally sucked out your butt and calling it necessary is the shittiest shit we've ever heard.

8. The Air Diet
I can't even believe I have to address this, but, it's a thing. Probably started by Gwyneth Paltrow and her ungodly shitty GOOP blog (Hey, Gwyneth—are you going to go ahead and rescind that jade vagina egg post? No? Cool). How's it work? Dieters literally sit with an empty plate, fork, and pretend to fucking eat. Um, can't think of a faster way to a) starve and b) develop a high-key eating disorder. Man and betch do not live on air and sunlight alone. There need to be nachos and chocolate. On second thought, anyone who does this probably has a great future in miming.

9. The Clay Diet
Something else probably piloted by Diet and Lifestyle Professional, Gwyneth Paltrow, is the clay diet. Apparently, you stir clay—yes, literally clay—into water and drink it. Why? Because it'll totally detoxify your organs, of course! Wow, I can't even begin to wrap my head around how thrilled mothers of toddlers everywhere will be when they find out that, yes, their children can continue eating mud for health benefits. Seriously, whoever came up with this one: Go fuck yourself.

10. "Miracle" Diets
Any diet that starts with "miracle" or "what doctors don't want you to know" is probably going to be really fucking stupid. Additionally, any diet that tells you to drink green tea or chug acai juice or roll in memberberries to prevent eating more than 500 calories per day is going to make you gain double the weight back in the long run. Your metabolism will actually slow down, so when you do start eating like a human being again, you'll get fat. Congratulations, idiot.

May all of your diets fail and may you eat like a normal human being. Amen.