Jeffree Star Is Feuding With 10-Year-Old Mason Disick
If you read that headline and had to check to make sure that April Fool's Day was, in fact, yesterday, you're not alone. Jeffree Star, YouTube beauty guru and lover of drama, has beef with Kourtney Kardashian's 10-year-old son. If the global pandemic wasn't strong enough evidence, I think this is confirmation that we're officially living in The Bad Place. What is going on, and how the f*ck did we get here? Let's dive in.
Despite all the drama that's gone down since we got to know them, the Kardashians are generally known for keeping their sh*t tight on social media. They show us exactly what they want, when they want, which is mostly on TV and the fake Twitter fights they drum up to encourage us to watch them on TV. Like, Kylie Jenner is one of the most famous people on the planet, and she managed to keep her pregnancy a secret until after she had the baby! They might be tone-deaf or problematic, but the Kardashians are almost never sloppy on social media.
Well, I think it's safe to say that the Kardashian ship has officially sprung a leak, and it's none other than Mason Disick. Mason, Kourtney and Scott's eldest son, recently discovered social media, and it's been a f*cking trip already. A couple weeks ago, Mason made an Instagram account, and almost immediately went live for his followers. Normally, this wouldn't have been that noteworthy—but Mason is a messy bitch who lives for drama. A viewer asked if Kylie and Travis are actually back together, and Mason said no right there on Instagram Live! An icon, honestly.
Shortly after that, Mason's Instagram page disappeared, and Kourtney later explained that she shut that sh*t down. In her own IG Live, Kourtney said that her reason was that Mason is only 10, and Instagram's age minimum is 13. That's true, but I feel like the real reason was probably that Kris Jenner sent her a strongly worded text to get her son in line. The family that avoids PR crises together stays together!
So Mason's Instagram is sadly gone, but don't worry, he's still on TikTok. He's actually been on TikTok since January, and Kourtney has appeared in his videos, so it's a parent-approved platform. But that might not last long, because Mason has now figured out how to use TikTok's live feature. In his first live video, he talked about going viral on Instagram, and complained that he won't get to go to Coachella this year "because of corona." Aw, maybe he can do a Zoom Coachella with Vanessa Hudgens.
And, in a video from last week, he went live with major TikTok star Addison Rae, who has a casual 30 million followers. What am I doing wrong with my life? When a viewer asked Mason about his favorite beauty YouTuber, he answered honestly: "I don't really watch makeup YouTubers, but I think James —he's really nice. Because Jeffree Star is, like, spoiled AF." Lmaooooo. Considering that James Charles and Jeffree Star are two of the messiest YouTubers around, you already knew this was going to cause drama.
On Wednesday, Jeffree Star was made aware of what Mason said, and as he always does, he made his thoughts known on Twitter. After declaring that six years ago, he only had $500 in his bank account, he suggested that Mason might be "confused with his own privilege versus mine being self-made," and added that "hopefully his father can educate him soon." OUCH.

Okay, so is everything that Jeffree Star said probably correct? Honestly yeah, it's no secret that Mason has grown up extremely privileged, and with his aunt touted as a self-made billionaire, he might not really understand what that means. But does Jeffree Star realize that he's dragging a literal child in front of his millions of followers on Twitter, just for calling him spoiled?
This is both a bad look and an unnecessary one, and someone must have pointed this out to Jeffree, because he's since deleted his tweet about Mason. I'm hoping that Mason will go live again to address his beef with Jeffree, but I have a feeling that Kourtney won't let that happen and she will be changing the Wifi password immediately. That's probably for the best, because I don't need to be spending my time thinking about a feud between a 34-year-old and a 10-year-old child. This might be the weirdest feud of 2020 so far, but with the way this year is going so far, who knows what will happen.
Images: Rosdiana Ciaravolo / Contributor/Getty Images; jeffreestar / Instagram
Scott Disick Doesn't Have A Wikipedia Page So We Wrote Him One
Okay, so it's been brought to my attention that for some godforsaken reason, Scott Disick doesn't have a Wikipedia page. Even Rob Kardashian has one, and he's best known for…um, selling socks. How can one of the best characters on KUWTK and the most salacious riotmaker of the tabloids not have a Wikipedia page? Since Wikipedia helped us graduate high school (and, let's be honest, college), we decided to do them a solid and make a page for Scott. Check out the SparkNotes version of Scott Disick's life (with some opinions thrown in, obvi).
Childhood
Scott Disick was born to a wealthy family in the Hamptons. He was an only child, which is pretty obvious based on the fact that he's bratty and selfish. Scott attended a ritzy private school called The Ross School, which boasts other famous alumni like Alexa Ray Joel and Tessa Grafin von Walderdorff. And before you say, "who"?? Alexa's dad is Billy Joel, Tessa's husband is Barron Hilton, and Scott swindled his way into the Kardashians. So pretty much they get trained there to piggyback off of famous people in order to become famous.
Scott had his ups and downs in his adolescence. It's actually not known whether or not he really graduated high school. He modeled for a young adult series about horses, and I can't tell whether that's an up or a down. He also was nicknamed "Number One Scum" and "S.T.D." which just so happen to be his initials. He actually found those nicknames funny because they underscored what a party animal he was, and how he was such a player in high school. Scott also got arrested for a DUI under the age of 18, which is a huge foreshadowing of what was to come in his future.
"Career"
Entrepreneur
Okay, I don't even know what this means. I'm pretty sure it's a career you have if you're trying to make it seem like you do a lot of things when in actuality, you do nothing. There was an episode where Kourtney said she doesn't even know what it means, largely because he was so evasive about it. His evasiveness means that a) he doesn't know what it means either or b) he's involved in something sketchy like underground poker games or a drug cartel. With friends like Joe Francis, you never know what this guy will get himself into.
Reality Star
Let's not act like Kourtney was involved with Scott for so long because she was in love with him. I mean, he got caught cheating on her multiple times, he obviously had a substance problem that he barely attempted to get help for, and she was pretty open that she found everything about him annoying. TBH, I'm pretty sure she was only with him because they make adorable babies and he's probably the most interesting character on the show, so they needed a way to keep him tethered to the franchise.
Recently, Scott was given a new reality gig, a show called Flip It Like Disick about flipping houses. It's an eight-episode, hour-long series where Scott and a team of designers, contractors, and other people who actually know sh*t about real estate will renovate luxury homes. Tbh, the only thing Scott Disick is an expert in flipping is Kourtney's world upside down, but sure.
Almost An Actor
Remember American Psycho? Of course you do, because every finance f*ckboy has a quote from the movie as his dating app bio or he makes you watch it on a cozy night in. After all, what says romance more than Christian Bale slaughtering Jared Leto while blasting Huey Lewis and the News? Anyway, the writer of American Psycho announced on Twitter that the way he would ever do a remake is if Scott Disick or Miles Fisher played Patrick Bateman. No, seriously.
I have warned Lionsgate that I will not approve a new version of "American Psycho" unless it stars SCOTT DISICK or MILES FISHER.

— Bret Easton Ellis (@BretEastonEllis) December 9, 2011
Approve! RT @BretEastonEllis I have warned Lionsgate that I will not approve a new version of "American Psycho" unless it stars SCOTT DISICK

— Scott Disick (@ScottDisick) December 9, 2011

So, Bret never ended up making the remake, yet he was willing to make "The Canyons," which starred Lindsay Lohan. So Kanye West took it upon himself to do a remake of "American Psycho" starring Scott Disick and—get this—Jonathan Cheban. My dream come true.
Restaurateur
Remember when Kourtney and Kim took New York the first time around? You probably don't, because that season wasn't too memorable. You also probably don't remember Scott's restaurant, RYU, because it was doomed from the get-go and only lasted 191 days. Kourtney didn't even believe the restaurant would even open. But hey, that's more than 2.5 times longer than Kim's marriage to Kris Humphries, so at least Scott accomplished something.
Royalty
While the fam was in London, Scott had nothing to do because he basically does nothing for a living. He decided to become a Lord because anyone—even citizens of other countries—can be awarded this title. One of my majors in college was History with a concentration in Modern European History, and one thing we learned is that the try-hard social climbers that were so desperate to hang out with the elite would buy these "lord" titles to make themselves seem like they were members of high society. Scott leeches off the royal family of America and posts pictures of himself with overly priced watches and on private jets, so that sounds about right.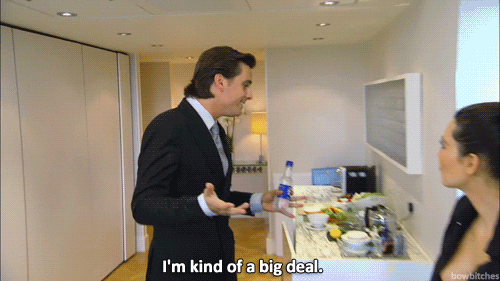 Designer
Scott started a clothing line, appropriately named "Talentless." Way to be self-aware for once, Scott! It donates 3% of the proceeds to a charity called "Fuck Cancer!" which is really sweet. The brand's mission statement is: "'Talentless' is an homage to the new wave of creators, innovators, and influencers who've made a name for themselves by going against the conventions of what it means to be 'talented.'" Okay, cool, that sounds super deep and inspiring or whatever, but how is selling plain old T-shirts with nothing on them for $42 an homage to creative people? This isn't some Derelict-level sh*t like most of Kanye's fashion shows are. But still, you're thinking way too highly of yourself here, Scott.
Influencer
Scott will throw up Instagrams about FitTea, cell phone cases, and asking his followers to follow Lala Kent's fiancé. Yet he barely posts pics with his girlfriend of two years. He also does appearances at clubs like 1OAK, which is where that bratty, try-hard girl from high school wears a leopard print outfit and takes tons of bathroom mirror pics to prove that she is better than you. But you know what? All of these jobs are probably less pathetic than Kourtney's CV. At least Scott tried(ish)!
Relationships
Kourtney
Kourtney and Scott met at the mansion of Joe Francis, best known as the creator of Girls Gone Wild. That in and of itself was a sign that their relationship would not work. First off, I would not wanna use the same toilet as Joe freakin' Francis, much less do body shots with him and his friends. Anyway, a year later, these two fell in love. Her entire family hated him at first. But soon, Kris, Kim, Rob, and Khloé fell in love with him too.
Sofia Richie
Sofia Richie is best known for being Nicole Richie's little sister, modeling (although I can't think of a single brand she's modeled for), and now, dating Scott Disick. But is their relationship serious? I'm not sure *grabs tinfoil hat*, and here's why. Before Scott and Kourtney broke up for the final time, Sofia was dating Justin Bieber. Also, Kourtney Kardashian and Nicole Richie have been friends since childhood. Kourtney's rebound after she broke up with Scott was Justin Bieber. So Scott came up with a conniving plan to hook up with Kourtney's friend since childhood and Justin's ex-girlfriend. Oh, and did I mention Sofia used to be besties with Younes Bendjima before he started dating Kourtney? That's honestly the most brilliant clapback ever—it's almost Shakespearean. Is Scott is totally in love with Sofia, or is this the most convoluted plan to make Kourtney jealous? I'll let you decide.
Hookups
Scott pretty much cheated on Kourtney all. The. Time. But the final straw was Chloe Bartoli. They were in the same group on vacation and she just so happens to be his ex-girlfriend, so inevitably they got handsy. Not too long after, Scott hung out with human glitter bomb Bella Thorne in Cannes, yet she denied any hookup took place. Scott also hooked up with Kourtney's best friend since childhood, Kimberly Stewart, and regulation hottie Madison Beer, who is probably the best catch Scott got out of all these hookups.
Children
Scott has three children with Kourtney (although it is unknown how many children he has had with his side chicks). His eldest, Mason, was always his mini-me, and will probably create a streetwear line that sells T-shirts with one logo on it for $400. Penelope is his only daughter, and the only gift he has ever given her is daddy issues. Reign is his youngest and clearly his favorite, so that little dude is set for life.
And that's pretty much all you need to know about Scott Disick's life! Wow, I have aged 10 years and lost most of my brain cells. If anyone works at Wikipedia, feel free to copy and paste this article directly in for Scott's page.
The Lowdown On The Kardashian Christmas Party
How did YOU spend your Christmas Eve? I spent mine pretending to understand my uncles' fancy finance jobs (I'm sorry, but how are BlackSTONE and BlackROCK NOT the same thing?) or acting like my cousins' PR jobs and Etsy shops selling festival accessories for Burning Man are legitimately rewarding and respectable career paths (LOL they aren't). But then again, I write about Shakespearean sh*tshows like Pump Rules and the Kardashians for a website my grandparents think is called "B*tches," so who am I to judge them? And yet I do judge them, because, like my grandparents said, I write for a site that's called "B*tches." At least I got to sneak off to the bathroom for copious amounts of time to vicariously live through the Kardashians and watch their Instagram stories from their Khristmas Eve party! (Special shoutout to lactose intolerance and eggnog for giving me a believable excuse). We've talked about how the Kardashians have the most iconic holiday celebrations, so of course I had to give you the lowdown on what I learned about the Kardashians while I was hiding away from celebrating Christmas with my own flesh and blood.
Over-The-Top Decor
So instead of Kris throwing their annual Khristmas party this year, Kim threw it instead. (Sidenote: do I seriously have to spell everything that has a C with a K for this article? Because I can't go along with this joke for that long.) Anyways, upon entering, there was a tunnel of lights that legit looked electric (no pun intended). That tunnel is literally what Thomas Edison invented the lightbulb for (that was his doing right?), and it is literally what environmentalists are protesting! But oh well, it looks cool on Instagram! The inside of her house was all white. Like, whiter than Sunday brunch at Bagatelle. Let me put it this way: it was as if P. Diddy's white party's event planner and Jeff Koons did a collab on an igloo. That's honestly the only way I can articulate it. Pictures do it way better justice.
And leave it to Kim Kardashian to make it snow in L.A. Because if this chick can make it from being Paris Hilton's closet organizer to being on the cover of Vogue, she can certainly make it snow in L.A. while it barely even snowed in New England. This may sound sacreligious, especially on his b-day, but Kim Kardashian frankly performed a miracle more impressive than Jesus turning wine into water. No offense, Jesus!
The Fam's Outfits
So let's start off with the hostess, Kim, who totally underwhelmed us by wearing a dress that's a knockoff from her Met Gala dress from 2017. Kourtney, on the other hand, looked leggy and gorgeous by wearing a black velvet mini dress with a bow accent (is that what it's called? I'm not Anna Wintour here!). Kendall must've gotten the memo that she was too boring to make our worst Kardashian makeovers list, so she decided to go against the theme and dress in a highlighter yellow full length dress. Sweetie, in a party that is all white, you look like a trail of dog piss that's left in the snow. But at least you got our attention!
Khloé and Kylie had matching outfits with their respective condom accidents–I mean–publicity stunts. But it wasn't some Laura Ashley level sh*t our moms used to make us wear. Kylie wore a sparkly dress and Stormi wore a sparkly onesie, and they both totally worked it. Meanwhile, Khloe wore a star-studded top that matched True's star-studded onesie, but she spared True the embarrassment by being the only one who wore a skirt that looks like…I can't…I don't even know what that monstrosity looks like. A wedding dress on the sales rack at David's Bridal that went through a woodchipper? That's all I got.
And can we please talk about Kris, while we're at it? Kris wore an all silver full length gown and a platinum blonde wiglet. Was Schitt's Creek's Moira Rose based off Kris Jenner or was Kris Jenner based off Schitt's Creek's Moira Rose? These are the questions that we should've answered when I was a Philosophy major instead of meaningless sh*t like "Does free will exist?".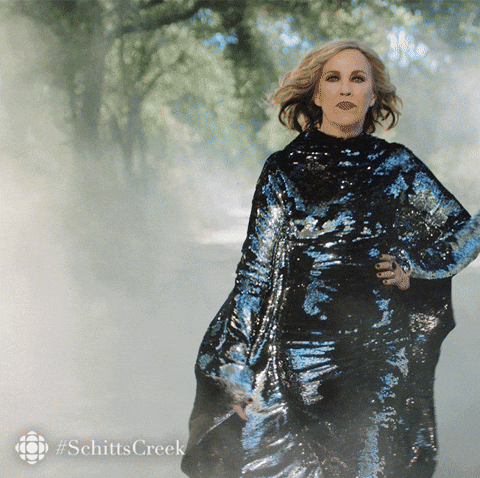 The Guest List
Of course, the Kardashian's annual Christmas Eve fête had the creme de la creme of the C-list with some A-listers thrown in. Jennifer Lopez showed up with her rumored fiancé A-Rod (I don't even know his real name-I just know that he has a giant painting of him as a centaur in his house). Kyle Richards of RHOBH and her fam also showed up. John Legend performed, but it doesn't look like Chrissy Teigen showed face because there's no photographic evidence of her being there and her Instagram stories were surprisingly dead on Christmas Eve. Kimora Lee Simmons was there because apparently they wanted to stay on theme for Christmas and stay on #brand for E! so they invited the Ghosts of Failed E! Reality Shows' Past. Look, if you're gonna do that, at least invite ones that know how to party, like Alexis Neiers from Pretty Wild or the Olly Girls from Sunset Tan. Those girls were my idols in middle school. It looks like Jonathan Cheban was a no-show, which is weird because usually he would be super in-your-face about how he was invited. I suppose they realize that he was so creepy as Santa on their contrived "Christmas Special" they had him dress as the Grinch instead. (Yes, they actually had someone dressed as the Grinch at this party.)
…And The More Interesting Guest List
Paris Hilton ended up showing up again this year, and she actually went sledding with Kim! It was some early 2000s level antics, but I can't help but think they're still frenemies. You know why? She was caught on Instagram cuddling up to Sofia Richie. They made a video selfie together with Paris saying her catchphrase "That's hot." #TBT to 2004 when we all had the dELiA*s t-shirt that said "That's hot" back when it was actually relevant. Stop trying to make "That's hot" happen again, Paris. It's never going to happen. She really is trying to make some Simple Life shenanigans again with the mini Richie, yet Sofia's big sis Nicole Richie clearly can't be bothered to relive the past. Anyways, kinda crazy that Sofia Richie showed up, right? Well, we all saw it coming since she just got back from vacationing in Mexico with Scott, Kourt, and their kids, like, hours before.
But the most controversial guest? Caitlyn Jenner. Kim and Kris both were up on their soapboxes saying how they'll never talk to Caitlyn again after she aired out Kris in her tell-all book, yet there she was. And she brought Sophia Hutchens, her much younger girlfriend? Or companion? Business partner? I'm not sure what they are, and Sophia doesn't either. Oh well! The craziest part is that barely legal Sofia and Sophia (weird coincidence) were up past their bedtimes and out at a party instead of waiting for Santa to come. At least Caitlyn and the Kardashians have made amends in time for the holidays. This was so touching, and if my shrink didn't increase my antidepressants to the point where I didn't feel emotion, I probably would've shed a tear.
Reign Is Still Kourtney's Favorite
I don't even know what Penelope or Mason wore that night. They may not have even shown up. Clearly Reign is the favorite. We told you so!
Kris Jenner's Cooking
First off, props to Kris Jenner for including Travis and Tristan on the family's gingerbread house even though they were no shows at the party to make it seem like their relationships aren't totally doomed. Anyways, Kris talking about getting up at 4 a.m. to make this meal that puts Martha Stewart to shame?
Kris is a queen, but she sits on a throne of lies. I am the proud owner of an autographed copy of Kris Jenner's cookbook, and I can assure you that none of the recipes in that book are this ornate or creative. The only highlight in that book is when she talks about her Hermes dishware. While she clearly is business savvy, she's no master chef and doesn't have a modicum of culinary finesse. Kris so obviously ordered this smorgasbord of diabetes from professional chefs. I mean, I do the same thing when I order off GrubHub for a date and pretend that I made it, so I can't really blame her for passing this off as her own.
I hope everyone had a merry Christmas, and I will be spending the next year trying to secure an invite to the 2019 Kardashian Khristmas.
Images: @kimkardashian / Instagram; @kendalljenner / Instagram; @khloekardashian / Instagram; Giphy; @foodgod / Instagram; @caitlynjenner / Instagram; @kourtneykardashian / Instagram; @krisjenner / Instagram
Ranking The Kardashian Baby Names From Bad To 'I'm Calling CPS'
The last Kardashian baby of the year has finally emerged from her mother's womb, wiped clean of her 24-karat gold amniotic fluid, and is ready to post her first topless pic on the Instagram account her grandmother so lovingly set up. She has been swaddled in Gucci blankets and her placenta has been commandeered by Kourtney for snacking purposes. True has officially arrived, and now it's time for reflection. Since we have a (probably brief) break in Kardashian procreation, I thought it might be a good time to take a look back at all the Kardashian baby names from over the years and rank them.
I realize most rankings usually go from best to worst, but so many of the names are terrible, horrible aberrations that I would not even deign to name my dog (Hi Macaroni! Mommy loves you!) so "best" is really a stretch. Our ranking will go from a scale of least ridiculous to I'm sending in Child Protective Services. Let's start the judging process, friends.
Me rn:


1. Penelope
Penelope is obviously the most normal of all the Kardashian baby names, and maybe Kourtney is on to something with all that placenta pill popping, because her children have the least insane names of the bunch. It's gotta be because they weren't as famous when Kourt's kids were born, right? I'm pretty sure the more famous you are, the more brain damaged you are, and therefore the more fucked up names you choose for your spawn.
2. Mason
Mason is also not a ridiculous name, so congratu-fucking-lations, Kourtney, you've impressed me and not made me want to jump out my window. But, I was poking around the internet trying to see where she got it from, and I stumbled upon an article in the Daily Mail that said Mason means the same thing in English that Kardashian means in Armenian. What a beautiful sentiment, Kourtney. But also a little weird because Mason's middle name is Dash, after David Schwimmer (her dad), and a part of the name Kardashian. I like that she's honoring her dad, especially since no one else seems to give a shit, but it's a little redundant, no?
3. Reign
This is where it starts to go off the rails for Kourtney. Reign is not a name. Reign is something a king or queen does. Your child is not royal, just the product of unprotected sex between the 4th best sister on a reality TV show and a basic white dude from Long Island. Prince George would spit in your face, Reign, and make you carry his knapsack like the peasant you are. Although, I guess Reign is descended from a Lord…

4. True
I don't even like the name True, so that's how you know what absolute dumpster fires I think the other names are. This name is bad, but I'm gonna give her a break because this poor baby girl is going to have other things to worry about. Like the fact that her dad's a cheating sack of shit or that she may or may not share DNA with the most famous murderer of the 90's.

5. Dream
I mean, Dream Kardashian is the product of a famous stripper and a man whose greatest accomplishment is the fact that his mommy bought him a sock company, so tbh this could be a lot worse. I guess it's like how my lawyer friends use the "Supreme Court Justice" test to give their kids names that would be appropriate on the bench; Rob and Chyna did the "Las Vegas Strip Club" test to give their kid a name that would be appropriate on the pole.
6. Stormi
I know Kylie Jenner is barely old enough to drive, so I shouldn't have expected much, but don't rich people get the news? Even if Stormi was Kylie's number one choice since she dreamed it up during recess in second grade, I would think the fact that it is also the name of the most famous porn star in recent history would at least give her pause. And no Kylie, the "i" at the end does not class it up.
7. Saint
Naming your kid Saint puts quite the expectations on them. Saints are holy, they live a life inspired by Jesus, they make sacrifices to help those less fortunate than themselves. They most certainly do not fly in private planes, have their diapers changed by a team of night nurses, and a mother that got famous because of a sex tape. Or wait, is that Mother Teresa's origin story?

8. Chicago
CHICAGO IS A CITY. IT IS NOT A NAME, YOU MORONS. It's windy, cold, and filled with murder. I don't care if that's where Kanye is from, that's not lovely imagery to associate with your brand new bundle of joy. Like what could have possibly possessed these morons to name their daughter Chicago? Did she look like a deep dish pizza coming out of the surrogate's birth canal? It's the only explanation.
9. North
Ding, ding, ding! North West, you are the winner of the fucking worst Kardashian baby name award! You get a blue ribbon, latent rage toward your parents, and a never-ending parade of expensive psychiatrists. I also was not even kidding about this ranking system, I legit called CPS on the Wests when I heard this name. Apparently they "have better things to do," and "don't appreciate prank calls." Well CPS, I was deadly serious. This is a living human, they should not be allowed to give her a name that is basically a joke. If you want to give something a punny name, get a goldfish for fuck's sake.

We've reached the end of our ranking, and honestly, that was exhausting. I guess in the end it doesn't really matter what these children are named, they're growing up on reality TV and being raised by plastic surgery-obsessed narcissists, so their mental health issues are inevitable. This family should have been sterilized.
Images: Wifflegif (2); Giphy (2); Gifer (1)