A Tube of This $5 Mascara Sells Every 10 Seconds
Is there anything worse than sifting through countless tubes of mascara, only to be disappointed by the lackluster results? Well your search may be over, because the internet agrees that Essence Lash Princess False Lash Effect Mascara is the holy grail of mascaras—so much that a tube sells every 10 seconds.
This mascara delivers the full, voluminous lashes of your dreams without breaking the bank. At under $5 a tube, you'll be wondering why you ever bothered shelling out for those expensive department store mascaras.
The secret to Lash Princess's magic is in the brush. Its conical shape allows for precision application and the ability to reach every lash, even those tiny ones in the inner corner of your eye. The bristles are densely packed, so you get maximum product with every swipe. The formula is also buildable, so you can layer it on for a more dramatic effect without any clumping.
But let's talk about the real game-changer: the false lash effect. With Lash Princess, you can skip the falsies and still get the same dramatic look. The mascara lengthens and thickens your lashes, giving you the appearance of falsies without the hassle of applying them. And since the formula is smudge-proof and waterproof, you won't have to worry about your lashes falling flat halfway through the day.
Not only is this mascara effective, but it's also cruelty-free. Essence is committed to using only the highest-quality ingredients that are safe for you and the environment. So, you can feel good about using this and know that you're not contributing to any animal testing.
One thing to note is that the formula is quite wet when you first open the tube. But don't worry, after a few uses, it'll dry out a bit and become easier to work with. And if you're someone who likes to apply multiple coats, you may need to wait a few seconds between applications to let each layer dry a bit.
The bottom line: It's affordable, effective, and cruelty-free. Plus, who doesn't want to channel princess vibes with full, fluttery lashes? So go ahead and add this mascara to your cart–your lashes will thank you.

Summer Beauty Products That Won't Sweat Right Off
Betches may receive a portion of revenue if you click a link and purchase a product or service. The links are independently placed and do not influence editorial content.
Summer is officially here, which means the temperatures are rising and your makeup is starting to melt off by noon. We all know the feeling when you want to throw out the thick shit and swap in some newer, lighter summertime alternatives. I feel like there are some people out there that can get away with no makeup but, *speaking for myself*, that's not everyone. So we've rounded up all the best summer beauty products that will give you that effortless, no-makeup-but-I'm-still-wearing-makeup look.
Face & Skin
Two words: Sweat. Resistant. Estée Lauder has been in the beauty business for longer than many of us have been alive, and they've really hit the nail on the head with this one. With a weightless feel and over 25 shades, your skin will glow all day long.

Double Wear Sheer Long-Wear Foundation
For those of us who tend to get a bit oilier in the summer (*cough* me *cough*) a powder foundation can keep you shine-free for a lot longer than some liquid products. Bonus points: there's a built-in primer.

Camo Pressed Powder Foundation

e.l.f.
This concealer is honestly everything you needed and more. It's a concealer, eye cream, and spot treatment all in one little tube. Less time layering products = more time day drinking on rooftops.
I know some of you are thinking, "Setting spray, really? Isn't it just overpriced water?" But I promise you this product is worth every penny. It's smudge-proof and transfer-resistant for up to 16 hours and perfect for those late summer nights.

All Nighter Setting Spray

Urban Decay
Merit's cult-favorite complexion stick is not a foundation or concealer, but it also kind of is? Offering breathable and buildable coverage, this lightweight product can also serve as a contour. I mean, what can't it do?

The Minimalist Perfecting Complexion Stick

Merit Cosmetics
Eyes
This base layer provides an incredible blank, crease-free (& vegan!) canvas for all the fun beauty trends you'll want to try this summer. If you're feeling brave enough to try them, that is. I heard blue eyeshadow is coming back and idk how to feel about it.

Eyeshadow Primer Potion

Urban Decay
Okay, this is definitely a cult favorite of mine. With its smudge-proof formula and shimmery pigments, this stuff is perfect for the golden-hour-every-hour vibe you're hoping to give off.

Long-Wear Cream Eyeshadow Stick

Bobbi Brown
Am I the only one whose eyebrows sweat? I didn't think so. Enter: this Brow Sculpt Shape and Hold Gel by REFY. Whether you want your brows to have that feathery effect or you simply want to make sure they stay in place, this wax/gel hybrid will work wonders.

Brow Sculpt Shape and Hold Gel

Refy
Talk about natural—the first ingredient listed in this mascara is water. It's vegan, cruelty-free, and makes people around you ask, "Are those your real eyelashes?" It's buildable so you can take it from day to night and the only thing that's flaking is you canceling plans.
Cheeks
For those of us who are locked in an office 24/7, it's still possible to look sun-kissed without going in the sun. This easy-to-blend formula is perfect for both the bronzing expert and the cosmetic newbie.
This cream-to-powder formula has a natural, yet visible shimmer to it. Highlight for the perfect dewy (not sweaty) look that won't budge. Also, it's Rihanna… Enough said.

Match Stix Shimmer Skinstick

Fenty Beauty
This blush boasts a 12-hour wear, and I can promise it lives up to the hype. Made with Amazonian clay, this blush glides on seamlessly and provides a true blush, not a fake flush.

Amazonian Clay 12 Hour Blush

Tarte
Lips
There's quite literally nothing worse than thick, sticky lip gloss in the heat. This Wet Lip Oil is the perfect balance of treatment and color. It's light, hydrating, and sheer for a perfect kiss of color.

Wet Lip Oil Plumping Treatment Gloss

Kosas
A lip stain is the ultimate summer lip product—it gives your lips natural color while staying in place virtually all day long. This best-selling cream lip stain is transfer-proof and full coverage—perfect for sweat-filled days or nights.

Cream Lip Stain Liquid Lipstick

Sephora Collection
If you are really going for that "no makeup" makeup look, a balm is perfect for you. This Vanilla Lip Butter Balm smells incredible and can even double up as an overnight lip mask. Great for the beach or bed—my two favorite places.

Vanilla Lip Butter Balm

Summer Fridays
Image: Martin Pisotti /Deathtothestockphoto.com
The Top Beauty Looks You Need to Try for Spring 2020
Presented by Ulta Beauty
Spring means relief from ice, cold, snow, etc. Unless you live in LA, where weather is just a myth, and then spring just means new trends are upon us! No matter where you live or what your current level of skill is at applying makeup, you can try (and pull off) these spring beauty trends. And even better is that on March 15 (technically still winter for you people on the East Coast), Ulta Beauty is starting their 21 Days of Beauty event, just in time for you to put all these trends to use. The event features daily beauty steals, offering 50% off top makeup and skincare products for one day only. That means you can't do your indecisive "add to cart and let it sit there collecting dust of a week" thing. If you want to take advantage of the amazing deals Ulta Beauty is offering, you have to act fast. If you want to be the most on top of the spring beauty trends this season, here's what looks to try, and which products will help you achieve the looks.
Glassy But Classy

Since everything we loved in middle school is back in, glossy lips are back, but this time we're elevating the look and doing it in a glassy, smooth way (aka no hair stuck in your lip gloss). To try this look out yourself (and make your 7th grade self super jealous), grab a Kylie Cosmetics High Gloss (an Ulta Beauty exclusive) that's on sale on 3/28, or the Buxom Full On Plumping Lip Cream on 4/2. The key is hydration, not lip superglue, this time around. You can just swipe it on and go!


Buxom Full-On Plumping Lip Cream
Speaking of hydrating, this also applies to your skin. We want to look fresh-faced and glassy instead of the super matte looks we've done for the last 10 years. I'm extremely oily, so THANK GOD, my time has come! But even with my oily skin, serums somehow keep my natural oil under control and give me a glow, as opposed to my natural look which is "greasy pizza". For life-changing serums, the Mario Badescu Vitamin C Serum is on sale on 3/15 and  the Peach & Lily Glass Skin Serum is on sale exclusively at Ulta Beauty 4/4. Serums are so easy—you just put them on after washing your face but under moisturizers or sunscreens. They make such a difference in your skin's texture, trust me. 


Make People Think You Got Microblading & Eyelash Extensions

Lashes are always in, but this season,  it's more important than ever to have them big and bold. If you're into falsies, select lashes go on sale on 3/19. Otherwise, a couple swipes of Tarte Maneater Mascara on 4/4 (also exclusive to Ulta Beauty), or Benefit Badgal Bang Mascara on 3/20 will finish off your look. 

Benefit Badgal Bang Mascara

But since your eyes are the window to your soul or whatever (wouldn't know, I've been told I don't have a soul), we can't stop at lashes, and have to give brows some love too. Is there ANYTHING more important than brows right now? The answer is no. And since the razor-thin brows have been out since we all graduated high school, we can grow out our brows but still keep them neat and well-groomed. If you have sparse brows from the days of overplucking, pick up the Anastasia Beverly Hills Brow Wiz pencil on 3/15. If you need to keep unruly brows tamed down, try the Benefit Gimme Brow eyebrow gel on 4/4.

Anastasia Beverly Hills Brow Wiz pencil

Benefit Gimme Brow eyebrow gel

Bold, Bright Eyes

The best part of spring is how everyone puts away their dark wardrobe in favor of fun, bright colors. Well, now we're doing that with our makeup colors too. Instead of going dark with your going-out looks, neon is now the way to play. You can do bright eyeshadows (select Lime Crime palettes on sale on 3/24), or lips (select Kylie Cosmetics lipsticks and glosses on 3/28), but unless you're a very skilled colorist or makeup artist, you probably should not do both at the same time. Think super hot pink lipstick or a bright blue eyeshadow (but not both, lest you look like a clown). Neon is a super fun and modern way to change your look and really easy to pull off well through summer.
Finish off your fun neon eyeshadow with a bold liner that's a little easier to apply than the traditional cat-eye. Apply it along your top eyelashes and flick it out towards the ends to imply longer lashes. You still get the drama, but it doesn't take quite the same level of hand-eye coordination. My holy grail favorite eyeliner of all time is Stila Stay All Day Eyeliner, which you can buy on sale on 3/26, or IT Cosmetics Superhero Eyeliner on 3/27.


IT Cosmetics Superhero Eyeliner
You guys are SO WELCOME for all the savings you're about to get from Ulta Beauty. Get your credit card ready, because you do not want to miss the 21 Days of Beauty event before it ends on April 4th. Now is the time to spring clean all your old, out-of-style makeup and start fresh with this amazing sale. 
Images: Ulta Beauty
Lash Extensions, Lifts, Or Tints? Which Lash Treatment Is Worth It
The more reality TV I watch, the more I notice one, highly specific effect: I become obsessed with the relative lushness of my eyelashes. It doesn't matter that reality stars openly discuss their extensions, falsies, or long-standing relationships with Latisse. Every time I see a new VPR cast member upload a selfie, then take a quick peek in my own front-facing mirror, I'm left disappointed. SO, I did what any self-obsessed part-time beauty blogger sane person would: sent some emails, booked some appointments, and tested out each lash treatment du jour for myself. In the past year, I've tried out lash extensions, lash tints, and lash lifts—here's what I found out.
Lash Treatment #1: Lash Extensions
Lash extensions were the first treatment I wanted to try, mostly because I didn't really know lash lifts and tints existed until a few months ago. I've gotten lash extensions three or four times now, and the best advice I can give is that the quality really, really varies by location—so do your f*cking research.
Pros: If you're going to be on camera, or you just really live for a dramatic lash, then extensions are the way to go. If you're the kind of person who wants to pretend their lashes are totally natural and not have anyone be able to tell: this treatment is not for you. It makes sense that this treatment has the most pronounced effect, since it's the only one that actually gives you more lashes than you were born with, in addition to making them darker, longer, and thicker.
Cons: First of all, they're expensive. Not to burst anyone's bubble, but if you're paying under $100 for a service, then the service they're performing is likely very questionable. I also find the process fairly unpleasant, given that it's up to two hours of someone repeatedly, if softly, jabbing your eyelid. I've also had some stinging reactions from the glue they use, but whatever, beauty is pain. The other downside I'd note is that my real lashes do seem distinctly droopier for a few weeks after the extensions come off. It could just be in comparison to how lush the extensions seemed, or it could be that my lashes are not quite as load-bearing as I hoped. Either way—once I started getting extensions, not having them seemed like a real bummer. And financially, constantly having them just isn't an option.
Please enjoy this heavily filtered picture of me 3 hours post-extension treatment:

Lash Treatment #2: Lash Tint
For those of you who don't know, a lash tint involves, well, tinting your lashes. Ideally to a darker shade, but I guess you could get weird with it if you wanted. I visited the Benefit Brow Bar back in February for a lash and brow tint, since I was in LA at the time and feeling intimidated by all the women marching out of hot yoga without mascara streaming down their cheeks. I'll just discuss the lash aspect below, but I'd like to mention here that I also LOVED the brow tint—I usually stuck to a brow pencil that was similar to my natural shade, but I loved the added drama of going darker.
Pros: This is by far the most affordable service: at Benefit, it's only $21. The process is also very easy and painless—you're in and out in under 20 minutes. And it definitely works: I had jet-black lashes for the next 3-4 weeks. 
Cons: Honestly, it just wasn't a dramatic enough change for me to want to do it again. (Unlike the brow tint). I can see where this service would be useful if you have super-light lashes (looking at you, my blond and ginger friends), and color would give your eyes more of a pop. But unless your lashes are also naturally as curly and thick as you want them to be, I don't know that it'll fully replace your mascara routine. It also only lasts 3-4 weeks—as opposed to extensions and lifts, both of which should last at least 6 weeks.
I couldn't find a picture of me post-lash tint that looks like anything, so here's a video of Benefit's tinted lash primer instead:
Lash Treatment #3: Lash Lift
Okay, admittedly the service I got at Lash Loft is both a lift and a tint—so I can't really speak to what it would look like if my lashes were only "lifted." Lash Loft uses a Keratin-based treatment that "turns lashes upwards" as well as tinting. They also offer a service called a "lash perm," which adds curl but not color, and which is slightly cheaper so I'm considering trying it next time. Anyway!
Pros: This was my favorite treatment of the three. The application time was shorter than extensions (under 90 minutes), the look is more natural, and I don't constantly have stray extensions shedding down my face two weeks after getting the treatment. Where extensions felt like a necessary evil for my natural lashes, this treatment actually feels like it's helping them—the lashes on my face are 100% my own, but they've never looked thicker, or framed my eyes so nicely. Simply put, I'm in love.
Cons: Also expensive! It costs $160 for the full lash lift treatment at Lash Loft, and $100 for a lash perm. Like extensions, they're meant to last 6-8 weeks (I'm in week 3, and will keep you posted), but my lash budget is just not that high. Also, if you're getting these specifically for a photo op, you'll want to add mascara on top—it's not quite the dramatic pop of extensions.
My newly lifted lashes; ignore how dead I look in the eyes:

All in all—and depending on what your natural lashes look like—extensions are likely the only method that will replace mascara for you completely. But if you're comfortable with a natural look, my personal preference for a no-makeup morning is the lash lift. So until my reality career is in full swing, I'll be sticking with lifts—and the occasional swipe of my favorite volumizing mascara.
Images: Victor Hughes / Unsplash; @benefitcosmetics, @louisabhaus / Instagram
The Beauty Product You Should Try According To Your Sign
January f*cking sucks. And February is honestly worse. It's dark, it's cold, and Colton's Bachelor season is making me concerned about the state of our future. So what better way to brighten up this dreadful time than with some beauty products specially chosen to fit your zodiac sign? I mean, who doesn't love a little customization, especially when your horoscope is involved?  
Aries

SKINFOOD Black Sugar Mask Wash Off
Although a spa day probably doesn't sound like the best use of your precious time, it's good to put that hard-working mind to rest for a bit, Aries. You're courageous, so you're totally into trying new products, but you're also super impatient and can't afford to sit and soak all day. SKINFOOD has been creating food-based beauty products since 1957, so you can bet they've perfected their method by now. This sugar-based exfoliating mask will have you feeling rejuvenated and refreshed in less than 20 minutes.
Taurus

Love Beauty and Planet Murumuru Butter Rose Blooming Color Shampoo
You're super responsible, Taurus, so your beauty products should be too. Love Beauty And Planet has the most luscious and sweet-smelling shampoo. Your practical self can find this shampoo at your local Ulta for under ten dollars. It's also sulfate-free so it won't ruin your Keratin-drenched locks or newly colored hair. The best part? It's infused with a ton of organic sh*t, has not been tested on animals, and comes in a bottle made of 100% recycled plastic. How boho of you, Taurus.
Gemini

Neutrogena Hydro Boost Water Gel
While being a social butterfly has its perks, most social events you've been attending involve an indulgent amount of alcohol. So let's give your liver a break and show your dried-out skin some love. Like you, the Neutrogena Hydro Boost Water Gel is gentle and affectionate, smoothing out your dehydrated skin. Don't let your indecisiveness keep you from trying this product. Besides, it's basically a cult classic at this point, so you really can't go wrong.
Cancer

Caudalie Vinopure Skin Perfecting Serum
Since the New Year, you've been in go-mode. Whether that be in your career, relationships, or Insta-stalking abilities, you've been putting a ton of effort into your passions. With that, though, can come some neglect, specifically of your face. Skipping a few morning face washes? Thought so. This lightweight Caudalie serum has everything you need in one bottle. The salicylic acid base flushes out excess oil, tightens your pores, and activates your skin's natural glow.
Leo

Becca Shimmering Skin Perfector Pressed Highlighter
You're stubborn as hell, Leo, so I can't convince you of much, but if you want one beauty product in your life right now, it's Becca's Shimmering Skin Perfector Pressed Highlighter. With colors to complement every skin tone and type, this highlighter takes any flat-faced makeup look to the next f*cking level. Even if you don't want to admit it, we all know you're dramatic AF, so don't deny your makeup look of the same impact. So try and listen to someone other than yourself for once, Leo—I promise it'll pay off.
Virgo

Guerlain Cils D'Enfer Maxi Lash Volume Creating Curl Sculpting Mascara 
It's been a rocky start to the New Year, Virgo, but things are finally turning around for you. Your constant anxiety will probably subside, but if it doesn't, let's at least make you look like you've got your sh*t together. In my mind, a great mascara can fix practically anything. My go-to is always Guerlain's Mascara Cils D'Enfer. Getting this mascara in any other color than black is a sin. Their serum is one of the darkest I've ever used, which is perfect for your all-black wardrobe, Virgo. It's reliable and loyal, just like you, so it's worth the splurge.
Libra

Anastasia Beverly Hills Brow Wiz
You may be the queen of fairness, Libra, but lately you've been acting like a bad bitch. And we love it on you. To match your bold new attitude (without straying too far from your comfort zone), try out a classy and defined brow look. The best of the bunch? Anastasia Brow Wiz. With its fine tip and waxy formula, you'll get an Insta-worthy brow every time. Even when life takes you for a turn, your harmonious personality can come through in the symmetry of your eyebrows—cause life is better with perfect brows. 
Scorpio

It's cold as ice, and I'm not talking about your heart, Scorpio. In this frigid weather you'll have to be taking extra good care of yourself, because we all know how f*cking dramatic you get every time you catch a cold. It's annoying. Instead, take a nice warm bath with a Lush Big Blue Bath Bomb. This lavender and lemon-scented bomb fills your bath with ocean-blue goodness. Light a few candles, grab a book, and in no time you'll have an Insta-worthy bath (but don't actually post it please).
Sagittarius

Tom Ford Shadow Extreme Eye Shadow
Ever since the start of 2019, you've been overly generous with your time, Sagittarius. So it's okay to be a little selfish as we slip into the icy month of February. While it may seem pricey for an eyeshadow, the Tom Ford Shadow Extreme Eye Shadow has been voted Allure's best in beauty, so it's totally worth the extra bucks. Choose from an array of vivacious and flirty colors that only a Sagittarius like yourself could pull off. It's time to start putting yourself first again, so bring on the bold eyes.
Capricorn

NEOM Organics London Perfect Night's Sleep Face Oil 
It's been an exhausting past few months for you, Capricorn, and as self-disciplined as you are, you haven't been the most responsible. Ever since that office holiday party, you've gone just a touch too hard (did I say a touch? How about a slap). Ending off the month, it's time for you to re-find your ~zen~ space. The NEOM Organics London Perfect Night Sleep Face Oil is full of rejuvenating vitamins. It also encourages sleep (IDK how, I'm not a scientist) so you'll be getting those eight hours in without stress.  
Aquarius

Take Me For Pomegranate Lip Whip
Happy birth month, Aquarius! You know what that means? A big-ol' birthday present for yourself. You're an independent and unique woman, so buying yourself a gift can be a little tricky. We know you don't want to go for anything too mainstream. Beauty Bakerie is an adorable indie makeup brand that packages and names all of their products in the theme of food or baking (could it get any cuter?). Get that bold birthday lip look with their Take Me For Pomegranate lip whip. Bonus: it's vegan, paraben- and cruelty-free, and smudge-proof.
Pisces

James Charles X Morphe Dare To Create Artistry Pallet 
It's time to get creative with your beauty game. With an artistic mind like yours, Pisces, you have the ability to pull off wild makeup looks that none of us mere mortals could ever dream of doing. This is why you need to get yourself the James Charles x Morphe Dare To Create Artistry Pallet. Your distrusting ways may give you hesitation about this purchase, but thousands of happy customers can't be wrong. The colors are super pigmented and are perfect for unleashing your wildest side. Even though the palette is currently sold out, you can add yourself to an email list. Besides, you have to work on your patience anyways.
Images: SKINFOOD; Murumuru; Neutrogena; Becca; Caudalie; Guerlain; Anastasia; Lush; Tom Ford; NEOM; Beauty Bakerie; Morphe/Ulta
Betches may receive a portion of revenue if you click a link and purchase a product or service. The links are independently placed and do not influence editorial content.
'Bachelor' Contestants' Go-To Mascaras That Can Outlast A Public Breakup
There's a lot that can be learned from spending two to six hours a week being held hostage by ABC watching The Bachelor (despite what my therapist tries to tell me). For example, if I didn't watch, how would I know what's in the latest FabFitFun boxes? Imagine what I'd be missing out on. RIDDLE ME THAT, THERAPIST. But the one lesson that's been drilled into my head more than any other, episode after episode, is that these women do not come to play. And by "play" I mean in any way ruin the carefully painted-on face they show to the cameras. Dismissed night one before the girl who showed up wearing a giant fucking shark suit? She still looks better than me in my last professionally done headshot photo. Dumped on national television by the man who two weeks ago literally vowed to "choose you today and every other day"? She looks fucking flawless. Like, is there some sort of witchcraft happening on my TV screen? Because I do not for one fucking second believe these ladies just woke up like that. Nah. There's something far more sinister going on here, like maybe that these ladies have extraordinary taste in makeup products. Luckily for you, betches, I do too. So here's a definitive list of the best Bachelor-proof mascaras that will literally save your life, whether you're dumped by a wet linguini noodle on national television or you just saw a cute puppy.
The Best Cry-Proof Mascara

Perhaps one of the most thrilling devastating moments in Bachelor history was when Becca got straight-up dumped on national goddamn television after saying yes to Arie's proposal on The Bachelor finale. And I do not at all believe that Arie uses this footage to get it up before banging the female version of C3PO minus the personality Lauren B (yes I do). Anyway, after the finale Becca said the one thing she learned from this experience was that men shouldn't be allowed to breathe the same air as the rest of us "it's always good to have waterproof mascara on hand—with this show, you never know when you're going to cry." Yeahhhh, that's what I'm taking away from this experience too… Becca said her favorite brand of cry-proof mascara is Too Faced Better Than Sex Waterproof Mascara, and I'm actually in total agreement with her on this one. It's a cult favorite for a reason. Not only does it come in the best Betches approved color, black (duh), but it's also suuuuper volumizing without making your lashes stiff and gross.

Too Faced Better Than Sex Waterproof Mascara
The Best Eyelash Extension-Friendly Mascara

Ah, yes. What would a list of Bachelor-proof mascaras be without Human Fountain of Tears, Ashley Iaconetti? If you're wondering why Ashley didn't get the coveted spot of "cry-proof mascara" example, then shame on you because Ashley is so much more than a (literal) cry for help. For example, Ashley also has some insane eyelash extensions that should also be represented here. She's well-rounded like that. Ashley did a makeup tutorial back in 2016 when she wasn't wearing eyelash extensions, and she said she uses L'Oréal Voluminous False Fiber Lashes Mascara when she doesn't have them in.

L'Oréal Voluminous False Fiber Lashes Mascara
But since I'd venture the amount of time Ashley spends without her eyelash extensions in is about equivalent to the time I spend at the gym, let's discuss some extension-friendly mascara options. As every Cosmo girl here knows, in order to make your extensions last as long as humanly possible, you're supposed to avoid using mascara, period. That said, if you think any of these bitches are going to show up on live fucking television with one single ounce of their real faces showing, you better think a-fucking-gain. That's where Maybelline Great Lash comes in clutch, especially if you have eyelash extensions but also if you hate revealing your true face (hi). For one, it's not an oil-based mascara so it won't fuck with the glue and loosen your extensions. It's also super lightweight and looks natural so, like Ashley, you can pretend to be a chill low-maintenance girl (at least in front of the guy your pretending hasn't friend-zoned your ass).

The Best "Surviving Paradise" Mascara

If you're less of a perfectionist and more of a Lace person in need of a keeper to supervise your every movement, then you're gonna need a mascara that keeps up with your ratchet ass. Blinc Mascara is some good shit and will be the only thing keeping you from looking like Lace seconds after she face-plants into her marg when you're out day drinking. Seriously. This shit does not budge, flake, or smudge, AND it's tear-proof. Like, it can survive you openly weeping when your Seamless guy calls you to say your pizza will be a few minutes late. The only downside is that it's not super buildable—this shit dries in literally 90 seconds or less so you better be quick AF when you apply it. But, like, if you're already planning to black out and ruin your life while looking flawless, then who tf even cares?

Blinc Mascara
The Best Nap-Proof Mascara

ABC did not know what a GEM they had on their hands when they let Corinne Olympios grace all of our lives with her presence on Nick's season, because that girl is a fucking wise-ass betch. Seriously. There's no one I learned more valuable life lessons from than the nap queen herself. And one of those lessons is that love can wait until after you've napped. Honestly, inspiring. So when you're napping on national television and then rolling out of bed for a shitty group date, you're going to need a mascara that doesn't rub all over your face when you sleep. We asked Corinne, and she said she uses Maybelline Total Temptation mascara.

Maybelline Total Temptation Mascara
If you're a little bougie and want to invest more than like, $9 in waking up looking like you didn't just claw yourself out of your own fresh grave, then you're gonna want to buy Clinique Lash Power Mascara, because it is a goddamn game changer. It's got an ophthalmologist-approved formula that lengthens the shit out of your lashes but, like, without any irritation. Also, it legit never smudges, even when you sleep. Blessings.

Images: Giphy (5); blincinc.com (1); toofaced.com (1); maybelline.com  (I);  clinique.com (1)
Betches may receive a portion of revenue if you click a link in this article and buy a product or service. The links are independently placed and do not influence editorial content.
Are Eyelash Extensions Worth It? What To Know Before You Book
For the past few years weeks, I've been getting increasingly restless. (I'd call it spring fever but given the weather, that seems cruel.) Specifically, "restless" meaning I want to replace my entire wardrobe, dye my hair, and suddenly burst out of a winter cocoon into Spring Self 2.0. And since eyelash extensions have been slowly creeping into the mainstream, this naturally means I'll need a set of those. To be clear, this is not suddenly an "expected" thing. I only have one other friend who's ever gotten them, and many more who have never even heard of it. But since I'm kind of obsessed with myself anthropologically curious about the beauty industry, I couldn't resist the idea of having Bachelor contestant lashes for six whole weeks,* no makeup required. Here are my thoughts on eyelash extensions: the good, the bad, the money etc.
*Duration absolutely varies. More below.
The Good
First of all, if you live somewhere hot and/or water-adjacent, I cannot recommend eyelash extensions enough. I mostly got them while living in LA, because I was physically incapable of not sweating off my makeup. When done well (more on this later), eyelash extensions are nothing short of magical. The lashes are thick enough that they add definition to your eyes, creating the illusion of effort and/or being awake. But, they're not so thick that it looks like you forgot to take off your falsies from the night before.
Overall, they slightly enhance your face like a good haircut—people notice you look better, but they won't immediately zero in on why. And when you do go full makeup on top, it finally looks like the Instagram you're using for inspiration. (You know why? Because they ALL HAVE EXTENSIONS. THEY HAVE TO.) If you're using a reputable place where you know you'll be happy with results, I absolutely recommend the summer splurge.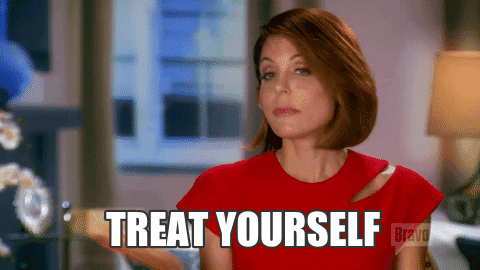 The Bad
Unfortunately, all services are not created equal. Last time I got extensions, I was living in DC (mistake #1) and suddenly decided I had to have eyelash extensions within 12 hours (mistake #2). This led to me paying someone $45 via Venmo, walking up three flights of stairs, and then submitting to three hours of torture, after which my eyes burned until 2am. My eyelashes have still not fully recovered, and the lashes were clumped onto my eyelids in a way that made me look half-asleep/stoned at work for the next month. So, don't make my mistake. Only go to a place that's been vetted (preferably by someone you know), do not pay under $80 for a full set, and if you feel something burning your eyes during the treatment, SPEAK UP.
Footage of me post-treatment: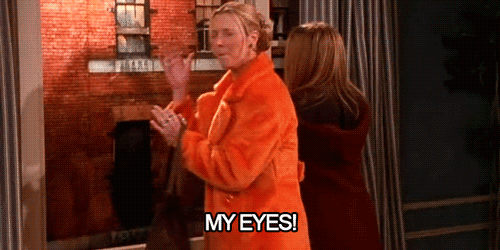 The Money
Like I said above, I really don't think you can get a good set of extensions for under $80. Be prepared to shell out $100-120 if you want it done well. The thing about cheap extensions is that they don't just look bad, they can seriously damage your lashes if you try to remove them yourself. (And you will definitely try to remove them yourself.) Then there's the question of how long they last. Most lash places will tell you up to 6 weeks with proper care, and recommend a touch-up after three weeks. They will also tell you that "proper care" is basically living in a dry windowless room for six weeks, so you definitely will fuck up some of those rules.
All in all, I've found that 3-4 weeks is a safe bet for the full effect. But by the end of week four, you'll be missing lashes in certain patches and in order not to look weird, you'll probably want to go in for that touch-up. Touch-ups are usually about half of whatever the original set cost you. So no, I can't really justify spending roughly $150 every six weeks to keep these year-round. (I wish I could, but that's $1,200 a year. So no.) But I'll go for it for summer vacations/when my paycheck hits special occasions.
Me, before and after payday: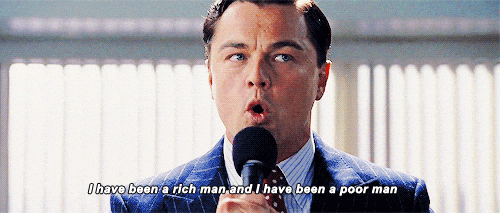 Choosing Your Style
When it comes to lash type, style, and length, you'll want to choose carefully. Do a little research beforehand and figure out your eye shape (some places will group styles by shape). Anything that calls itself "diva," "dramatic," etc. is going to be obvious AF, and look more like a party style. My favorite type of lash is faux mink—anything overly synthetic will look like one-night falsies. And the longest I've ever gotten is 13 mm, but make sure your technician measures your natural lash length and gives you a sense of how much longer you'll be going.  You obviously want it to be noticeable, but unless you regularly go full-glam, dramatic lashes will be way too intense for everyday.
(This is mostly an unrelated GIF but was anyone else traumatized by this as a kid??)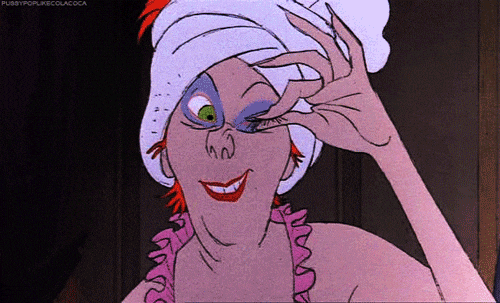 Overall, the idea of eyelash extensions appealed to me for the same reason laser hair removal did. It seemed like an at least semi-permanent solution to a daily (or at least bi-weekly) annoyance. While I've been pleased with the quality of my eyelashes more than my laser results so far, I can't say it offers comparable longevity. Then again, it's also a fraction of the cost. Go book your appointments and then Instagram yourself looking down while sipping iced coffee for the next four weeks. Thank me later.
Images: Giphy (4); Wesley Quinn / Unsplash
6 Drugstore Mascaras That Are Better Than False Lashes
If you want my honest opinion, there's no bigger beauty faux pas then false lashes that look super fake. There's something challenging about making eye contact with someone that has a row of thick black lashes that look like ginormous curtains over their eyeballs (*glares at Geles from Are You The One?*). What's even worse is when you can see the applicator glue on the eyelid. To help you avoid all of that, I've rounded up the best (and cheapest) voluminous drugstore mascaras that look way better than false lashes.

If you can't afford a trip to paradise, you can at least enjoy the thick, full lashes you'll get from this mascara. That's kind of like paradise for your lashes, if you think about it. The trick to getting lashes that look like falsies with this waterproof mascara is to apply multiple coats before the mascara dries. That way, you can easily lift and shape the lashes.

The design of the short and long bristles on this brush head comb every lash, which eliminates clumps and injects maximum volume. Plump up the lashes with multiple coats to get your voluminous lashes courtesy of the drugstore aisle.

Maybe you have limp lashes (ew), maybe you need Maybelline's Volum' Express to give each lash lift and separation. It requires minimal brush strokes, yet creates arguably the thickest lashes out of all of the drugstore mascaras on this list. (I said arguably, don't @ me.)

NYX's volumizing AND lengthening mascara is buildable. That means you can layer on the coats to make lashes darker and fuller and very hype-worthy. The brush tapers at the end to help with separation, which also makes sure the mascara is applied all the way to the end of each lash.

If your poor financial decisions have left you scrounging for coins in old jeans pockets, your lashes don't have to suffer thanks to E.l.f's $3 mascara. Apply a few layers and get to batting your lashes at that hottie at the bar. Your drinks aren't going to pay for themselves, after all.

If you're wondering what retro lashes look like, think Twiggy's circa the 60s. The hourglass shape of the brush head coats the lashes for a plump, bold, fanned look without clumping. In true retro fashion, the mascara is only available in different shades of black for the boldest look out of all of the drugstore mascaras listed.
Betches may receive a portion of revenue if you click a link in this article and buy a product or service. The links are independently placed and do not influence editorial content.