7 Signs You've Become The Boring Married Friend
After that trip down the aisle, it was only a matter of time before your friends started to think you're in a boring marriage. That's because you, yourself, have become boring. No offense, but it's true. With marriage comes weight gain (it's inexplicable and true), opting out of drinking (by choice), and a lot of really gross sweatpants. Being boring is an epidemic and it must be stopped so that, like, conversations and friend revelry (see: blackouts) can continue. Statistically speaking, there's at least one boring married friend in every group (provided at least one of you is wifed up). If you look around and you can't find the boring friend, it's you.
How do we battle this steady decline into boring marriage meh-ness? We learn to recognize the signs. If you're guilty of any of these actions, check yourself, because you've become the boring married friend.

1. You Forgot How To Hold Convos
You either respond with "wow" and "yeah" and "no way" constantly, or you just talk about yourself (and your amazing married life) the entire time. Remember that conversations are a two-way street, and no one is THAT interested in how you still haven't cleaned your wedding dress or how you haven't gotten gifts yet from your sister-in-law (I haven't, btw). Think about conversations you've had on really good and really bad dates. Apply the same rules to chats with friends. It shouldn't really be that hard, considering you presumably had friends before you had a spouse.
2. You Only Talk About Being Married
"Omg wow so the cable guy had to come and fix our router the other day so we could keep watching The Marvelous Mrs. Maisel. Then hubs had to cook all night to make his famous chicken soup for the company potluck. We're going to his parents' for Christmas and I'm not sure what to get them." Does this all sound familiar? Have you stopped talking about anything that doesn't involve your spouse in some manner? *Slap* YOU'RE BETTER THAN THIS. HAVE AN INDEPENDENT EXPERIENCE AND THEN TALK ABOUT IT. Go to the bar and order something weird. Work late on purpose. Join a hot yoga studio. Get food poisoning. Adopt a farm animal. Something!
3. You Never Go Out
If sweatpants are all that fits you right now and pizza has become your drug of choice (same), it's time to leave the boring marriage comfort zone. Don't get me wrong: Netflix and chilling is an under-appreciated lifestyle. But it should exist alongside out-of-the-box (and house) experiences along with real pants, curated outfits, and meals that don't come in a cardboard or Styrofoam container.

I'm all for chillin' in a hoodie and watching conspiracy documentaries with my hubby (the government killed JFK), but if you haven't had a night out in months and haven't seen friends outside of work for longer than you can remember, it's time to break free of your matrimonial prison and like, expand your horizons. How will you have new things to discuss with people who aren't your spouse if you never experience life outside your home? Deep thoughts, fam.
4. You Don't Think For Yourself
A lot of people who end up being the absolute worst, most boring married friends get that way by just parroting their spouse's opinion. It's fine to agree with your spouse on things (and for the sake of your marriage, I hope you do, in fact, agree on some things). It's also fine to not. Nobody expects you to be a unified front about everything from politics to pizza toppings (but for the record, pineapple is delicious on pizza). It gets really f*cking boring when you and your spouse go out together and just repeat what the other says. Talk to other people, read, form opinions and stories, then discuss. It'll make you a better conversationalist and more valuable during trivia nights. Speaking of, you should def play trivia since it takes place outside your home.
5. You Constantly Ask Other People About Marriage And Kids
There is nothing more annoying to any betch than to be asked questions about status or children. Just because you're super thrilled with married life doesn't mean other people want to be married, know when they're getting engaged, or want kids. If your friend brings it up, fine. But it shouldn't be the go-to topic of conversation just because you love the tax breaks joy of married life. It's boring, it's personal, and there are more interesting things to talk about—like conspiracy theories.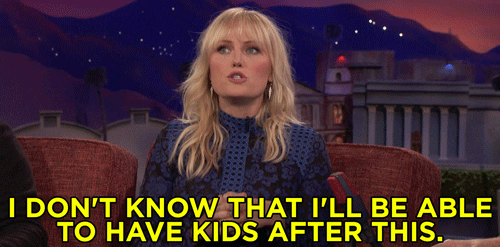 6. You Don't Stay Out Past 9 …
… and you don't have kids. C'mon, fam. This is the time in your marriage to be selfish. You have a rock-solid relationship and no kids waiting to be picked up from the sitter. You don't get points for going out if you ditch at 9pm because you're #sotired . From what? Being in a stable, committed relationship? Lend a hand and help your single friends get laid at 1am (or find an Uber home, whichever). Then you can go home. Be a team player.
7. You're Glued To Your Phone When Your S.O. Isn't Around
My mother once told me that a woman should want her husband around, but not NEED him there. My mom is (unfortunately, as always) 100% right. Nobody wants to hang out with you while you're constantly texting or checking in with your S.O. It makes everyone else feel less than important and like you would rather be texting about what he ate for dinner than taking shots and talking crap about the people you hate. If you are going out without your S.O., be in the moment and stop double-checking to see if he's sending you dank memes. You can look at them in the Uber on the way home.
Images: Jeremy Banks / Unsplash; Giphy (4)
5 Things You Need To Know About Choosing A Wedding Planner
You know, getting married isn't just about picking the most legendary wedding hashtag and making sure you look hotter than all of your bridesmaids. There's a lot of other stuff to think about too, like whether you're going to hire a band or a DJ, and I guess, if you're going to like, want to spend the rest of your life with your fiancé. Luckily, there's a whole industry of professionals who you can literally pay to help you get your sh*t together. Just make sure you're at least competent enough to pick the right event planner. Although I haven't actually ever planned a wedding, I do work in the wedding industry and have seen a f*ck ton of brides and event planners bicker over things as simple as the color of an RSVP envelope, so I feel pretty qualified to tell you what to avoid when choosing a wedding planner.
Don't Hire An Event Planner If You Don't Need One
Sure, an event planner can make planning your Big Fat Instagram-Worthy Wedding a lot easier, but if you have a really small budget or are just holding an intimate ceremony in like, Tulum, you probably don't even need one. If you're looking for someone to choose all your vendors and design every aspect from invitations to the farewell brunch napkins without much input from yourself, then yeah, you're going to want a bomb event planner. If you're not sure what kind of help you need, shop around a bit and think about what kind of services you'll need. Oh and, P.S., if you already have a venue in mind, see if they have onsite planners, because that will might make your life a lot easier.
Don't Hire A Planner If You Really Need A Coordinator
Can't decide if you need an event planner or an event coordinator? Approach the whole situation like most college dudes approach dating and ask yourself, how much time do you really want to spend with this betch? A wedding planner is basically the chick that will force you to apple picking in the fall, and a coordinator is more like that unsaved number you booty call in the final hour.
If you're looking to work with someone who will basically be your right hand from the moment you get engaged until the very last minute of your reception, you're going to need a wedding planner. If you're willing to pay for it, this betch will plan all of the tiniest details, from deciding whether you'll use a wreathed or a double monogram to picking the fruit that's going to garnish the mimosas at your bridal shower.

If you're looking to work with someone who will tackle the tasks you can only think about when you're on Adderall, you'll need a wedding coordinator. You'll typically work with a coordinator for a few weeks or months leading up to your wedding. They can do as little as just making sure the tables are properly set for your reception, or as much as planning your seating arrangements so your drunk uncle doesn't end up anywhere near your future mother-in-law.
Don't Wait Until It's Too Late To Hire Someone
If you're feeling totally overwhelmed, it's actually better to start making decisions about wedding planners as early as possible. That way, even if you only need someone during the month of your wedding, you can hire a planner before it's too late, and won't end up with someone sh*tty. Also, keep in mind that literally every aspect of your wedding will run on its own timeframe and event planners and coordinators should have a pretty solid grasp on that. If you have no idea when you're supposed to create a seating chart, send your guest list to a calligrapher, or pick your wedding cake, sitting down with a planner as early as possible to at least build out that timeline will be really helpful. 

Don't Just Hire Your Friend Who's Self-Described Type A
Oh, your best friend from high school had so much fun planning her own wedding that she now wants to become an event planner? Have you ever seen the episode of Friends where Monica basically ruins Phoebe's wedding? Don't let that happen. It's definitely a good idea to pull a Blair Waldorf and enlist her as a minion to put your hotel bags together or whatever, but if your wedding budget allows, hire an actual professional. Unless you want to lose a friend over table linens, it's better to work with a total stranger to whom you can send low-risk passive-aggressive emails back and forth. A real event planner will help your day go off without a hitch, and might even have connections with wedding vendors that could possibly help you cut costs elsewhere.

Don't Just Pick The First Planner You Find
I mean, I get it. Sometimes you see a really great photo of a tablescape on Instagram and you're like, "I want the person who is responsible for this beautiful creation to be responsible for my whole entire life." There's just something about a perfectly coordinated charger and table runner that makes you want to trust someone with everything you've got. But like, you're probably going to have to spend a lot of time with this person, and your wedding is kind of a really big deal, so don't just jump into this as quickly as you swiped right on your fiancé. If you're not really sure where to look, start with the major vendor lists, like Wedding Wire, Wedding Chicks, and The Knot. If you're overwhelmed by the bazillion options, try looking through more niche wedding websites that fit the aesthetic you're looking to create. For example, if you're into having everything blush, rose gold, and monogrammed, check out Style Me Pretty. If you're obsessed with the idea of making your bridesmaids do something edgy, like wear customized leather jackets, try Green Wedding Shoes. There is literally a wedding blog for every kind of wedding you could ever want to throw, so even if you're like, planning a Disney themed sh*t show, you can probably find the right event planner online.
Images: Unsplash; Giphy (3)