The Top Beauty Looks You Need to Try for Spring 2020
Presented by Ulta Beauty
Spring means relief from ice, cold, snow, etc. Unless you live in LA, where weather is just a myth, and then spring just means new trends are upon us! No matter where you live or what your current level of skill is at applying makeup, you can try (and pull off) these spring beauty trends. And even better is that on March 15 (technically still winter for you people on the East Coast), Ulta Beauty is starting their 21 Days of Beauty event, just in time for you to put all these trends to use. The event features daily beauty steals, offering 50% off top makeup and skincare products for one day only. That means you can't do your indecisive "add to cart and let it sit there collecting dust of a week" thing. If you want to take advantage of the amazing deals Ulta Beauty is offering, you have to act fast. If you want to be the most on top of the spring beauty trends this season, here's what looks to try, and which products will help you achieve the looks.
Glassy But Classy

Since everything we loved in middle school is back in, glossy lips are back, but this time we're elevating the look and doing it in a glassy, smooth way (aka no hair stuck in your lip gloss). To try this look out yourself (and make your 7th grade self super jealous), grab a Kylie Cosmetics High Gloss (an Ulta Beauty exclusive) that's on sale on 3/28, or the Buxom Full On Plumping Lip Cream on 4/2. The key is hydration, not lip superglue, this time around. You can just swipe it on and go!


Buxom Full-On Plumping Lip Cream
Speaking of hydrating, this also applies to your skin. We want to look fresh-faced and glassy instead of the super matte looks we've done for the last 10 years. I'm extremely oily, so THANK GOD, my time has come! But even with my oily skin, serums somehow keep my natural oil under control and give me a glow, as opposed to my natural look which is "greasy pizza". For life-changing serums, the Mario Badescu Vitamin C Serum is on sale on 3/15 and  the Peach & Lily Glass Skin Serum is on sale exclusively at Ulta Beauty 4/4. Serums are so easy—you just put them on after washing your face but under moisturizers or sunscreens. They make such a difference in your skin's texture, trust me. 


Make People Think You Got Microblading & Eyelash Extensions

Lashes are always in, but this season,  it's more important than ever to have them big and bold. If you're into falsies, select lashes go on sale on 3/19. Otherwise, a couple swipes of Tarte Maneater Mascara on 4/4 (also exclusive to Ulta Beauty), or Benefit Badgal Bang Mascara on 3/20 will finish off your look. 

Benefit Badgal Bang Mascara

But since your eyes are the window to your soul or whatever (wouldn't know, I've been told I don't have a soul), we can't stop at lashes, and have to give brows some love too. Is there ANYTHING more important than brows right now? The answer is no. And since the razor-thin brows have been out since we all graduated high school, we can grow out our brows but still keep them neat and well-groomed. If you have sparse brows from the days of overplucking, pick up the Anastasia Beverly Hills Brow Wiz pencil on 3/15. If you need to keep unruly brows tamed down, try the Benefit Gimme Brow eyebrow gel on 4/4.

Anastasia Beverly Hills Brow Wiz pencil

Benefit Gimme Brow eyebrow gel

Bold, Bright Eyes

The best part of spring is how everyone puts away their dark wardrobe in favor of fun, bright colors. Well, now we're doing that with our makeup colors too. Instead of going dark with your going-out looks, neon is now the way to play. You can do bright eyeshadows (select Lime Crime palettes on sale on 3/24), or lips (select Kylie Cosmetics lipsticks and glosses on 3/28), but unless you're a very skilled colorist or makeup artist, you probably should not do both at the same time. Think super hot pink lipstick or a bright blue eyeshadow (but not both, lest you look like a clown). Neon is a super fun and modern way to change your look and really easy to pull off well through summer.
Finish off your fun neon eyeshadow with a bold liner that's a little easier to apply than the traditional cat-eye. Apply it along your top eyelashes and flick it out towards the ends to imply longer lashes. You still get the drama, but it doesn't take quite the same level of hand-eye coordination. My holy grail favorite eyeliner of all time is Stila Stay All Day Eyeliner, which you can buy on sale on 3/26, or IT Cosmetics Superhero Eyeliner on 3/27.


IT Cosmetics Superhero Eyeliner
You guys are SO WELCOME for all the savings you're about to get from Ulta Beauty. Get your credit card ready, because you do not want to miss the 21 Days of Beauty event before it ends on April 4th. Now is the time to spring clean all your old, out-of-style makeup and start fresh with this amazing sale. 
Images: Ulta Beauty
6 Miracle Spot Treatments That Will Clear Up Your Skin Overnight
I have recently decided to become a good person kind of healthy and try, like, really hard to better myself inside and out. How long will this phase last? I give it a week, but for now, let's continue to let me feel productive and wholesome. Obviously, I want to have my cake and eat it too, so while I still have the frequent bottle glass of wine along with calorie-loaded food, I also want to have FaceTuned-looking skin by the time I wake up tomorrow. Luckily for me all of us, there are a bunch of acne spot treatments that basically perform miracles overnight. Here are the ones worth both your time and money that will make your breakouts disappear ASAP.
This is the first one I've tried, and it's my fave so far (which is saying a lot for someone who is insanely picky). The natural cream is full of super healthy ingredients including tea tree and other good-smelling plants. All you have to do is use a small amount of the cream on the affected area and watch your blemish disappear by the next day. Seriously, a little goes a looong way with this one. The formula helps reduce redness, unclog pores, and prevent future breakouts. TBH, there *is* a little bit of a sting when you initially apply it, but it's nothing to leave a bad review for, and it's oddly satisfying to know this shit is working.

This is next to add to the existing cart I have on Nordstrom.com simply because anything by Mario is essentially a godsend (and honestly, I'm just waiting for that Black Friday sale). The lightweight lotion is v gentle and soothing, which is ideal for those with sensitive acne-prone skin. It consists of major key shit like calamine and salicylic acid, both of which make zits disappear overnight without drying your face out. BLESS. After washing and toning, tap on the affected area, but don't rub it in—instead, wash off in the morning.

Oily skin sufferers, say no more. This spot treatment was designed for those who go through blotting sheets like it's their job, since it controls excess oil while reducing rude af breakouts. Even if you have sensitive skin, this will soothe it immediately without causing irritation. It's a fucking miracle. Start by applying once a day, and only increase up to three times a day if you find it v necessary.

First of all, anything with AHA or BHA is a plus. Both have really long names that I am most definitely not spelling out rn (that's what Google is for, guys) and have fab results for the skin. These clearing gels work to reduce the appearance of most types of blemishes, which include whiteheads and blackheads, and help rejuvenate the skin by correcting discoloration from previous acne. It also cleanses your pores, hides the fact that you're slowly aging, and produces healthier cells for better skin. Use just once a day or twice if you need a pimple gone like, yesterday.

Take it from me: This shit actually works, and you can low-key stock up by running to the nearest Duane Reade or CVS. It's a non-comedogenic gel that clears breakouts in just a few hours. So basically, it's the perfect solution to a pimple emergency, if you have a date or important photo opp planned. Apply directly on the affected area once a day to start seeing results in eight hours, or just leave it on while you sleep.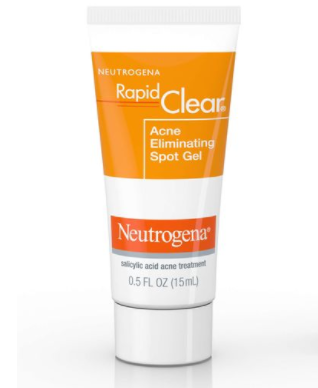 This moisturizing treatment clears and soothes irritated skin by the next time you check yourself out in the bathroom mirror. Okay, so not that fast, but you get the analogy. It not only gets rid of current and future breakouts ASAP, but it also eliminates the nasty-ass bacteria that causes acne to begin with. FINALLY, someone is doing something right in the world. The lightweight treatment will drastically take away unflattering redness, swelling, and all-around change your selfie game life as you know it.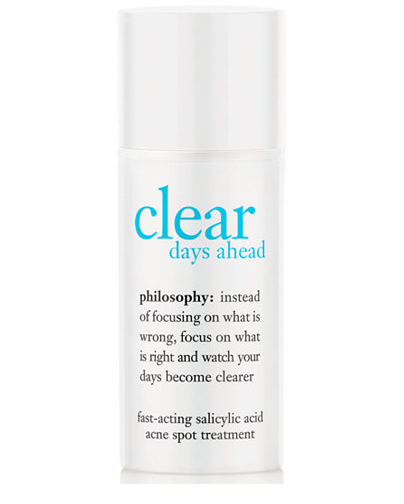 Images: Sam Manns / Unsplash; Ulta; Nordstrom; Sephora (2); Neutrogena; Macys