What Is The Bottle Cap Challenge And Why Do We Care?
Guys, I wish it hadn't come to this. I wish I wasn't writing an article about something called "The Bottle Cap Challenge," but yesterday I called a friend's new baby "alien-esque," so I guess karma works quick, huh? So what is the Bottle Cap Challenge, other than a stain on our history, an assault on my eyeballs, and a dumpster fire to my brain? Why I'm glad you asked, since I've got to write 800 words on the subject. Allow me to ruin your life enlighten you.
According to PopSugar, The Bottle Cap Challenge was started by Taekwondo instructor and fighter Farabi Davletchin on June 25th. Fine, Farabi, you seem cool. And, if you had only stopped there, I wouldn't have had to add you to my revenge spreadsheet. But this turned into a viral challenge, and that gains you automatic entrance onto my list. Sorry pal, I don't make the rules, I just enforce them. (Fine, I also make them.) Since the Bottle Cap Challenge began, celebrities have been participating in it, and also challenging their friends/colleagues/people they want to embarrass. Should we take a look at the best of the bunch? And by best, I mean "the ones that elicited a very strong reaction in me." Onward!
Mariah Carey
If I HAD to pick a favorite because some animal was threatening to rip the coffee IV out of my arm or something equally horrific, I'd have to pick Mariah Carey's. There's so much to like here. She's wearing a sparkly waist trainer.  She pretends to do some taekwondo moves in the beginning. It doesn't work the first time. She proves to us that she's STILL. GOT. IT. That voice! And, when it's over, she runs away with a healthy mix of shame and satisfaction. That's all I ask. Bow down.
Kendall Jenner
I hate the KarJenners and nothing they do will ever please me, so if you're a fan, you might want to put on the earmuffs right now. *Beginning rant* We know you're rich, Kendall. We know you're skinny, Kendall. We know you spend your days on jet skis instead of in darkened cubes surrounded by people who make sexist jokes that you're forced to laugh at in order to get that raise you begged for, Kendall. WE KNOW. You don't have to continue to shove it in our faces with everything you do, MY GOD. I'm not impressed. I'd only actually be impressed if she completed this challenge in the unfinished half of a friend's basement after drinking straight vodka for 6 hours like the rest of us were doing at age 23. Only then. *End rant*
Lizzo
First of all, hi Lizzo, where'd you get that jumpsuit? Help a girl out. Second of all, FINALLY someone speaks the truth! No one is actually completing these challenges, right? Certainly not while on a jet ski *cough* Kendall *cough*. Sorry sweetie, truth hurts. GET IT??
Ryan Reynolds
#BottleCapChallenge #Glass @AviationGin pic.twitter.com/joM20RhUid

— Ryan Reynolds (@VancityReynolds) July 3, 2019
Ryan Reynolds gets a special mention here, because I appreciate his commitment to self-promotion. Did you guys know he owns a gin company? If you didn't know, please see his 45-second commercial disguised as a viral challenge video. Does he successfully complete the challenge? I have no idea, because I lost interest in this one after 9 seconds, but now I am craving an ice cold G&T at 9 in the morning. Thanks, Ryan!
Jason Statham
There's no one cooler than Jason Statham. There just isn't. He once used defibrillators on himself. He put shards of glass in his eye. He jumped off a high-rise building with only a raincoat as a parachute and broke both legs. The Bottle Cap Challenge? A cake walk. This is the only video I can mildly tolerate. Call me, Jason! 
Did I miss any cool ones? KIDDING. They don't exist. I hope you got your fill of the Bottle Cap Challenge, because this is the last you'll hear of it from me. Fingers crossed it will pass quickly and we can all get back to watching our regularly scheduled YouTube makeup tutorials!
Images: mariahcarey, kendalljenner, lizzobeeating, jasonstatham/ Instagram; vancityreynolds/ Twitter
Celebrities Who Secretly Hate Each Other
It's hard to keep up with all the celebrity news these days. There are countless feuds between singers who hate each other that we are all aware of (hi Cardi B and Nicki Minaj). But there are some celebrities who hate each other that do so in a more tasteful private manner. Ever think actors really aren't that good at their job? Well, there are a bunch of co-stars who can't stand one another and you'll be shocked when you find out. I apologize in advance for possibly ruining your favorite movies or shows when you learn about these celebrities who hate each other. Whoops.
1. Rachel McAdams Ryan Gosling
This one broke my heart. Apparently, when they first started filming The Notebook the chemistry was not there. Gosling even asked the director to replace McAdams but instead, the two were forced into a couples therapy session. LOL. This ended up working because their acting in the movie is v compelling and the two even went on to date on and off for four years after filming.
2. Leonardo DiCaprio and Claire Danes
During the filming of Romeo + Juliet, Danes found DiCaprio to be immature and avoided him at all cost when they weren't in scenes together. DiCaprio was 21 while Danes was 17 at the time. She didn't like that he would prank others on set, while he reportedly thought she was uptight. I guess it's true when they say girls mature faster than boys.
3. Mariah Carey and Everyone
Carey has a reputation of being a diva. And the celebrity feuds she is involved in are endless. The list includes Nicki Minaj, J.Lo, Demi Lovato, and probably continues to grow as we speak.

4. Kelly Osbourne and Christina Aguilera
This one is rather one-sided. After Osborne said, referring to Aguilera, "Maybe she is just becoming the fat b–ch she was born to be. I don't know." Fat shaming is never cool. Although this duo has a long history of snarking comments to one another, Aguilera stayed quiet in this specific instance. Only time will tell if this feud will continue.
5. Sarah Jessica Parker and Kim Cattrall
Ugh. It's v depressing to know that your fav BFFs on TV are actually part of the list of celebrities who hate each other. That said, Parker and Cattrall have been pretty public about their *lack of* friendship. In February, Cattrall posted to her Instagram (see post here) to call Parker out for being a fake friend and to tell her to leave her alone after her brother's death. Ouch. Fans, including myself, were devastated to learn about this feud, especially since that meant no third Sex and the City movie.

Images: Giphy (3)
7 Celebrity Couples Who Barely Knew Each Other Before Getting Engaged
So we guess Ariana Grande and Pete Davidson read our article about how they're pretty strange as a couple, but kind of work well together. (Come on, Ariana Grande is definitely the kind of girl who Googles herself.) Anyway, it sounds like they took that article to heart and decided to get engaged. Um…okay. But before you judge them, check out some couples that dated for only a hot minute before getting engaged. Sure, almost none of their marriages lasted. But still, at least they got some (short-lived) marital bliss!
1. Lamar Odom And Khloé Kardashian
Khloé Kardashian and NBA basketball players go together like Adderall and double vodka Red Bulls. Sure, it's a euphoric buzz at first, but that buzz will eventually devolve into some fucked up shit. Khloé and Lamar knew each other for 30 days before they got married. And you know what? They were actually really sweet together—until he started cheating on her all the time and developed a horrific drug addiction. The four year relationship lasted longer than we thought it would. Khloé is easily the most likable Kardashian and the one we root for the most, so it broke our hearts a little to see her get screwed over, but at least we never have to hear her talk in that cringeworthy baby voice to "Lam Lam" ever again.

2. Nick Cannon And Mariah Carey
Mariah Carey is the ultimate diva, and while we may worship her for that, I'd imagine that it's got to be kind of hard to put up with that as a husband. So we gotta hand it to Nick Cannon for giving marriage to Mariah Carey a shot. He seriously said they listen to her music while they had sex. Usually I want to inject crazy celebrity sex myths into my veins, but even that was a bit difficult to stomach. But did you know they were only dating for six weeks before they got engaged? That's kind of a short time to get to know someone and get a sense of how difficult and high-maintenance they can truly be. So maybe that explains why he married her to begin with. 

3. Russell Brand And Katy Perry
Katy Perry has a history of doomed relationships. She dated playboy John Mayer on and off for a couple of years. And honestly, in spite of his sketchy history (remember when he dated Scheana from Vanderpump Rules?) we understood. Have you heard his music? You have two ears and a heart, don't you? Then she moved on to Riff Raff and Diplo, who both look like what you would find at the bottom of your shoe after a bender at Electric Daisy Carnival. But Russell Brand was the man who lead the revolving door of fuckboys that come in and out of Katy's life. Russell Brand. He's a comedian (red flag because of their emotional issues), admitted sex addict (red flag because emotional AND commitment), and spokesman for PETA (red flag because, again, emotional issues). After dating for two months, the couple went on to have an over-the-top wedding in India. We all know that how expensive the wedding is is directly proportional to how expensive the divorce will be. Russell reportedly ended his 14 month marriage to Katy over—get this—a text message. So wait, the guy shits on people who eat steak and Chick-fil-A because it's heartless, but ends his marriage via text? Okay then. He actually said a while back that he wants to be friends with Katy again. LOL sure.

4. That Tennis Player And Kaley Cuoco
Kaley Cuoco, star of The Big Bang Theory, married Ryan Sweeting, that tennis player who you don't care about, after three months of dating. They ended up getting married on New Year's Eve, which in and of itself is a red flag. Not because all holiday marriages are doomed for divorce, but because the only thing tackier than a holiday marriage proposal is a holiday wedding. They actually lasted for two years. Getting divorced so publicly sucks, but being on a show as terrible as The Big Bang Theory is still a much more embarrassing burden to bear in spite of the million dollar paycheck.

5. Kevin Federline And Britney Spears
Britney Spears has done some pretty shocking things in her career. How can we forget when she made out with Madonna or performed with an actual snake at the VMAs? Well, when she ended up making out with human snake Kevin Federline, that's when we threw our hands up and stopped believing in Britney. I mean, he had a pregnant baby mama when he started up with Britney. They dated for only a couple of months before getting engaged. The day of their wedding, the bride and groom parties had their own Juicy Coutoure sweatsuits. The ladies wore pink tracksuits with "The maids" bejeweled on their backs, while Brit had "The Bride" on hers. The gentlemen (and we use that term very loosely here) wore white tracksuits that said "Pimps" in black cursive. Literally the only sign worse than the groom having a pregnant baby mama when he first met the bride is wearing a tracksuit that says "Pimp" on it. We're sure they served Mountain Dew cocktails and a buffet of McDonald's at the reception. Still, Britney and Kevin lasted a surprisingly long time. Well, they lasted three years, but that's still a surprisingly long time for them.
6. Ken Todd And Lisa Vanderpump
Who would've thought the healthiest relationship on Vanderpump Rules was a couple that only knew each other for six weeks before getting married? They have been married for almost 40 years. My flirtation with the bartender at Make Believe has lasted longer than that engagement. My fake tan from Sugared + Bronzed has lasted longer than that engagement. Hell, my vibrator's battery power has lasted longer than their engagement. This almost makes us think Brittany isn't a total idiot for moving from Kentucky to L.A. after meeting Jax once in Las Vegas. She's just a total idiot for turning a blind eye to the fact that he's a manchild who will probably never change and getting engaged to him anyway.

7. Emily Ratajkowski And Sebastian Bear-McClard
Emily Ratajkowski is one of the sexiest women in the world, according to any men's magazine, any guy, and, well, anyone with a pulse, really. So it totally shocked us when she got hitched to Sebastian Bear-McClard. First off, she had just broken up with her long-term boyfriend approximately five seconds prior and only knew Sebastian for several weeks. Second of all, he proposed to her at a restaurant with a makeshift ring made out of a paper clip. And lastly, they got married at city hall with the Fat Jewish as their witness. You know it's a bad sign when your husband's best friend's job is highjacking memes and writing captions in caps lock. Sebastian is kind of cute because he's like Landry from Friday Night Lights, if Landry was a first-string quarterback who never got friend zoned by Tyra instead of a nerdy benchwarmer. But still, they deprived us of the fairy tale wedding that Emily deserved. Who the hell wears a mustard suit instead of Vera Wang?
Images: Giphy (3)
Mariah Carey Gives Her Boyfriend $25K A Month To Buy Her Gifts, Same
As part of a new philanthropy program that allows poor people to date her, Mariah Carey was reportedly donating $25,000 each month to her now ex-boyfriend Bryan Tanaka. This was not money to spend on rent, clothes, food, or any of those selfish things that Bryan thought were important before he became Mariah's number one bitch. It was his monthly allowance for buying her presents. Because she wants more for Christmas than you, Bryan. Sorry.
Who is Bryan Tanaka, you ask, other than a sad poor person? Apparently he's Mariah's very ripped 33-year-old backup dancer who quickly became a rebound after she broke off her engagement with Australian billionaire James Packer. The two started dating in February, but it didn't take long for Mariah to miss something about her fiancé, and it definitely wasn't his smile.
After realizing her insatiable need for attention and expensive shit, Mariah had two choices: either break up with Bryan while he still had some dignity intact, or start subsidizing his stingy dancer salary so he could buy her enough presents to get through a few more months of their doomed relationship. Being the decent and altruistic person she is, Mariah chose the latter.

Either Bryan is really bad at picking out gifts, or Mariah just got super fucking bored with it all because she just dumped him yesterday and seems totally fine with it. Better luck next time Bryan, maybe if you start saving up now you could afford to hang out with Mariah for like, one afternoon or something.
10 Iconic 90s Music Video Outfits That Inspired Your Slutty Middle School Wardrobe
Before style trends were dependent on the Kardashians, CW teen dramas, or even our Cheeto president there was the 1990s. Ah, the 90s. A simpler time, a time when Britney Spears was still a "virgin" and boys in matching denim ensembles were considered sex symbols. What a time to be alive.
It could be nostalgia kicking in or it could be this $8 bottle of red wine that's mostly empty, but either way I'm about to revisit some of my favorite shit shows fashion choices and beauty looks from the best 1990s music videos.
1. "JUST A GIRL" — GWEN STEFANI (1995)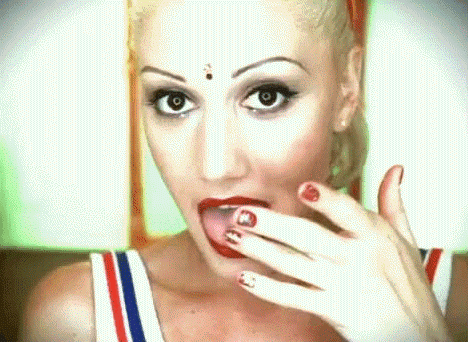 Oh, Gwen. Where do I even begin with you? Perhaps with the semi-culturally offensive red jewelry in the middle of your forehead? The fugly giant hair barrettes? Or the men's track pants you're wearing? Please also keep in mind that this person has a very successful FASHION LINE today, which I can only imagine Twitter is responsible for. Gwen's style is something I'll understand about as much as I understand clear plastic boots, which is to say I don't fucking get it. Let's also not let this moment pass without discussing how Gwen's eyebrows are thinner than my will to live. They are actually making me so uncomfortable. I need an adult.
2. "MMMBOP" — HANSON (1997)

Seeing prepubescent boys with better hair than me makes me want to heavily drink. Seriously, shouldn't you be getting head lice from kids on the playground, not giving a grown woman hair envy?
3. "I WANT YOU BACK" — N*SYNC (1997)

I mean seriously wtf were we thinking? To be fair, this music video actually features some of the less offensive fashion choices from their time in the spotlight. Shocking, I know.

Also #neverforget JT's ramen noodle hair. I love that since Justin went solo and didn't become a has-been like the rest of the band, he thinks he's better than everyone. Like, you might be married and successful and actually pretty funny anytime you appear on SNL, but you still wore a JEAN SUIT to the American Music Awards. Know yourself.
4. "(HIT ME )…BABY ONE MORE TIME" — BRITNEY SPEARS (1999)

An iconic Britney moment that forever made me want to dress like a baby prostitute. Thanks for giving us years of slutty Halloween costumes. You the real MVP, Brit.
5. "SAY MY NAME" — DESTINY'S CHILD (1999)

You know I had to add in the Queen here. And I guess I have to mention her backup singers band mates too. Aside from the fact that the lyrics in this song are fire and I use them in daily in my life, Beyoncé also looks like a fucking goddess in this music video. Groundbreaking, I know. I'll even forgive her for those gold hoops because we all know hoops are Regina's thing. An important note, though: If your skin burns in the sun, you should absolutely, under no circumstances, attempt her hairstyle at home.
6. "GOOD VIBRATIONS" — MARKY MARK AND THE FUNKY BUNCH (1991)

Fuck, this boy is ripped talented. The original fuckboy, his signature look was not wearing a shirt, touching himself, and giving white people hope of becoming a rapper. 10/10 would hit that.
7. "DIRRTY" — CHRISTINA AGUILERA (2002)

While not *technically* a 90s song, I'm still including it because Kylie Jenner made this video relevant again. Those dirty AF blue hair extensions, the assless chaps, THE BODY JEWELRY—she made slutty chic. Not all heroes wear capes, people. She was also single-handedly responsible for every dress code violation phone call my mother received about me from grades 8-12. *starts a slow clap*
8. "ALWAYS BE MY BABY" — MARIAH CAREY (1995)

Aka the reason I thought butterfly hair clips were a statement piece. She spends this entire music video swinging over a lake in a classic jean-on-jean ensemble, looking as angelic as her voice sounds.
9. "WANNABE" — THE SPICE GIRLS (1996)

The original Plastics, these girls are responsible for stereotypes in cliques and my hideous metallic mini dress in middle school. Also for giving my boyfriend an excuse to "get with my friends."
10. "AARON'S PARTY (COME GET IT)" — AARON CARTER (2000)

Again, not exactly a 90s song but I couldn't not include this one. First of all, Aaron Carter is, what, 9 in this music video? Maybe? And he's throwing fucking ragers while his parents are out to dinner? I applaud you, son. Also the fact that a third grader is rapping on a bicycle in a fur coat while middle school girls grind up on him. I'd be lying if I said I didn't want to be one of those middle school hoes. And you'd be lying too.
Anddd now I have "Aaron's Party" stuck in my head. Brb I'm just going to do something productive bang my head against a wall until I stop singing rap lyrics written by and for a 12-year-old.