The 'Barbie' Movie Is Too Over-Hyped
In case you haven't heard, there's a live-action Barbie movie in the works featuring Margot Robbie and Ryan Gosling. I'm kidding! Of course, you've heard—it's only been absolutely everywhere for the last several weeks.
The film isn't being released until next summer, but it's already primed to be a blockbuster hit. Don't get me wrong, I'm beyond excited about Barbie. Like every other millennial woman on the planet, I'll be spending July 21, 2023 squarely in the theater, reveling in all the pink and sparkly nostalgia on screen. After all, I did play with barbie dolls well past the age it was considered socially appropriate. But, with so much public anticipation, are we actually setting the movie up for failure?
The optimist in me wants to say 'No! Of course not!'
Sure, the famed doll has had its fair share of controversy over the years. Remember when Mattel decided 'Oreo Barbie' was a good idea? And not long after that PR disaster, they introduced 'Mexican Barbie,' which came with a traditional chiapaneco dress, passport, and chihuahua. Or how about the fact that Barbie's extremely unrealistic physical proportions work to promote an unhealthy body image in girls? If she were a real woman, her BMI would be so low that she likely wouldn't be able to menstruate (I guess that explains why we've never seen a 'Period Barbie.')  
Seeing as Barbie is being brought to life by Greta Gerwig, the Oscar-nominated filmmaker behind Little Women and Lady Bird, I think we can safely assume that this Barbie won't be nearly as problematic. Gerwig, who co-wrote the screenplay with Marriage Story director Noah Baumbach, is known for her progressive and feminist approach to storytelling.  
On top of that, Barbie boasts one hell of an all-star cast. I mean, Margot Robbie and Ryan Gosling were practically born to play Barbie and Ken. Just look at all the photos of them on-set! Rollerblading through the beach in bright neon, 80's-style workout gear. Or strolling down the street in matching his-and-hers cowboy outfits.
Lest you start to worry about this stereotypical blonde, blue-eyed depiction, though, other, more diverse versions of Ken and Barbie will appear in the film. So far, that includes Simu Liu, Ncuti Gatwa, Issa Rae, and Hari Nef. America Ferrera, Kate McKinnon, and Will Ferrell are also on the cast list, but so far, it's not entirely clear what their roles will be.
And that is one of the biggest issues with the constant hype surrounding Barbie—for all the on-set photos and publicity being generated, we still don't actually know what the movie is about. On IMBD, it's described as "a live-action film based on the popular 'Barbie' franchise." Which tells us exactly nothing. Elsewhere, the plot is said to center around a Barbie doll who leaves 'Barbieland' and enters the real world. Details which are only slightly more insightful and bring to mind images of Tyra Banks in Life Size.  
Other than that, no one really knows what to expect with Barbie. Having a screenplay by Gerwig and Baumbach, I'd be tempted to categorize it as some sort of heartbreaking and tender drama. (And, yes, I know that Marriage Story is technically billed as a Comedy/Drama/Romance, but I failed to see any comedic or romantic undertones in that one.) But a leaked on-set video of Ryan Gosling's hilariously high-pitched Ken-doll scream would suggest a more satirical take.    
While either of those options sounds promising, the fact that people are so excited about it already is risky. Right now, the expectations for Barbie are sky-high, and it could easily fail to live up to all this hype. Every other day we're getting tiny morsels of Barbie intel. And while I for one love knowing that all female Barbies got together for a slumber party, I do think they could stand to scale it back just a smidge.
Remember what happened with Suicide Squad? Constant stories about Jared Leto's method acting on-set and an A-list ensemble cast couldn't stop it from being an absolute critical and box-office flop. Compare that to films like Get Out and This Is The End. Both were unexpectedly amazing, in part because they weren't expected. We weren't bombarded with insider information and on-set photos to obsess over for a year prior to the release.
Barbie has the potential to be the next Lego Movie. It also has the potential to be the next Indiana Jones 4. And while I, too, love the photos of Ryan Gosling with bleached hair and hot pink shorts, I think seeing him decked out as Ken will be better on the big screen.
Image: MEGA/GC Images via Getty Images
We Turned This Year's Oscar Contenders Into Hallmark Christmas Movies
December is here, which means two things: Every movie you're watching is either Oscar bait or pure holiday trash. You have the Timothees and the Saiorses of the world dusting off their mantle for a trophy, and the Haylie Duffs of the world just dusting. Shockingly, there's no award ceremony for being in your 25th TV movie—although I'd argue Haylie's contributions to Hallmark movies warrant at least a Venice (Beach) Film Festival Award. Since I love to ruin things and act like I know what a movie is about before seeing it, I figured let's throw all of these movies into a blender and see what would happen if these Oscar films existed in the Hallmark Cinematic Universe (HCU). Will our movie smoothie be disgusting? Maybe, but worst case, we can just add vodka.
'The Favourite'
I personally (and emotionally) black out when it comes to British history, despite thriving during my time abroad in London—and by thriving, I mean drinking gallons of Pimms cups and asking everyone if my terrible British accent was any good. So, I kind of don't totally know what is going on here. But what I do know is that Emma Stone and Mr. Taylor Swift are in it, so there's that. What I also know is that it's about royalty and two cousins trying to be the favourite (with a 'u,' mind u). So when it's Christmas time, they're two cousins fighting over their neighbors love. One is engaged to her and has everything you'd want in a man: a steady income, a great hairline, and a job that requires him to talk about briefs. However, they don't have LOVE. Which is why, when she meets with the other cousin to prepare for their Christmas dinner and she realizes she doesn't need a retirement plan or a joint-bank account, she needs the Christmas spirit and… love, duh.
'Vox Lux'
Vox Lux is Natalie Portman as a pop star (girl, what?), but in the world of Hallmark, the pop star is actually the Christmas spirit, and the lux (or light, nbd but I did take Latin in middle school) is the north star that everyone follows to an amazing party on Christmas Eve. At the party, they do karaoke to holiday songs (my personal heaven) and… what's this? The quiet girl from high school has a gorgeous voice? This shocks everyone, but most of all the guy she had a crush on in high school. Who knows who the hell is having this party, but that doesn't matter—because of course, when the clock strikes midnight, they kiss! Does the girl with the amazing voice end up being a pop star? Of course not, because that would entail her going to the city at some point. In the HCU, cities are the root of all evil.

'Ben Is Back'
Ben Is Back is already set during Christmas, which is perfect. But it's mainly about drug addiction, which isn't super Hallmark. So, we sub that out for something worse in the HCU: NOT BELIEVING IN CHRISTMAS. Could you even imagine? The mom (not Julia Roberts, unless she REALLY wants to buy another house somewhere and needs the Hallmark cash, which I'm assuming is just Panera gift cards), spends all of Christmas Eve showing her son the magic of Christmas—aka, having a group of carolers sing to him and finding an old ornament. Suddenly, Christmas is saved! Sidenote, should we all go out this year as famous Carols and go around singing as Carol Carolers? Dibs on Radziwill.
'Mary Queen of Scots'
Okay, AP European History is truly trolling me this Oscar season. I somehow passed that exam, but it's almost definitely because I was next to the really smart junior that i'd give life advice to in exchange for him letting me see his Scantron. Whatever, my degree's in Communications anyway. ANYWAY, I do love that two Oscar queens from last year are in this together (Saiorse Ronan and Margot Robbie) and looking more gorgeous, talented, and wealthy than I will ever be. What I do know about this plot, though, is that it has had some historical inaccuracies so I'm going to say is that this is basically Hallmark's version of Miracle On 34th Street, but the saying is "every time an iPhone XR rings, an angel gets its wings."
'A Star Is Born'
A Star Is Born would basically be A Star Is Born, but set in the community theater world and their production of the night Jesus was born. Ally Maine here was the understudy for playing Mother Mary, and the eight grader playing Joseph would pick her out of the costume department and bring her up to sing. Weirdly, they sing "Shallow," but it works—because they're far from the shallows now. And by shallows, I mean the point in history where we switched from "BC" to "AD."
'Green Book'
Green Book tells the story of a famed NYC bouncer becoming a driver for beyond-talented pianist Don Shirley. In the world of Hallmark, though, who needs a car? The driver is obviously operating a SLEIGH. Because let's be real, Rudolph is drunk and no one knows where the hell the other reindeer are. He's not driving because it's his passion, but because he's been on Santa's Naughty List for decades and this is the only way to turn his fate around. Will he, or will he just give up somewhere over a fly-over state? TUNE IN TO FIND OUT.
'Vice'
Santa's in the (Snow) White House and we don't know WTF is happening. It doesn't matter, though, because an elf is his Vice President, and this elf ends up calling all the shots. He goes crazy shoving Christmas cookies into his mouth while trying to become the actual leader of Christmas and we see him going fully batsh*t while Santa is… just sort of standing there. Who knew we'd end up (almost) missing gentler-seeming (but equally ghoulish) Santa later on. Womp.
Images: JESHOOTS.COM/Unslpash, Giphy (7)
The Oscar Nominated Movies You Need To See & Where To Watch Them
The 90th Academy Awards are coming up, and unless you want to spend the entire night refreshing Instagram and wondering WTF Jimmy Kimmel is talking about, you're gonna need to watch some movies. This year's Oscars is gonna be good, and not just because of the endless shade-throwing at Harvey Weinstein. It's been a weird year for Hollywood, but the films have been great, so if you don't see some of the nominated movies beforehand, you're missing out on good movies and a ton of cultural references.  I've basically spent the past two months generously donating my paycheck to AMC Theaters, so I've seen like, every Oscar nominated movie. Here are seven Oscar movies you should watch ASAP, and some tips about where you can still find them.
1. Lady Bird
Lady Bird has been out for a while, so if you haven't seen it yet, I'm just really impressed that you've literally had social plans since Thanksgiving and haven't caved for a good movie night. I personally saw Lady Bird as soon as it came out, and I knew it would be nominated. It's like I have ESPN or something. It's nominated for best picture and four other categories too, so it's v relevant. Plus, Saoirse Ronan kills it as the lead and Greta Gerwig is the film's badass female director, so yeah, the future is fucking female. Unfortunately, the movie isn't in many theaters anymore, but it's being released on iTunes and Amazon on February 13th, so you have no excuse.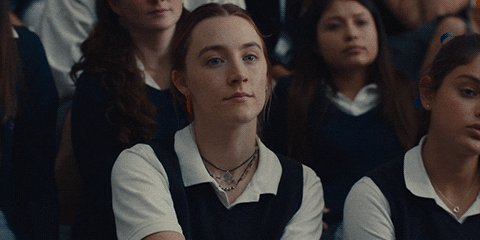 2. Three Billboards Outside Ebbing, Missouri
Also nominated for best picture, also amazing. If you're not familiar with Frances McDormand, she's the one who was cursing at the Golden Globes and accidentally wore navy when everyone else wore black. She DGAF and I'm kind of obsessed with her. This is one of those movies that you're literally passionate about after it's over. Go see it. It's still playing in a few theaters, but in case you can't find it, it'll be available on Redbox on February 27th.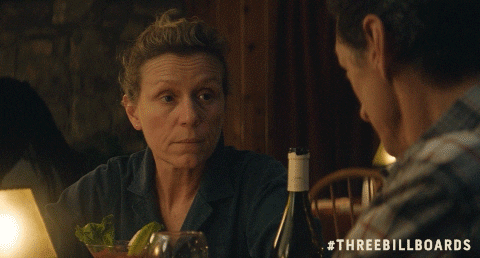 3. The Post
Some people told me they thought The Post seemed slow, but honestly I loved it, and it's not just because I have an actual crush on Meryl Streep. Tom Hanks kills it too. Have I mentioned Meryl Streep? The whole movie is about the Pentagon Papers being published in the Washington Post, and even if you don't care about journalism or politics, you'll love the story because Katharine Graham is literally an American icon. Oh yeah, and it's a true story. The Post is still playing in most theaters, so cancel your plans this weekend and go see it. Sorry, you're gonna have to leave the house. That's all.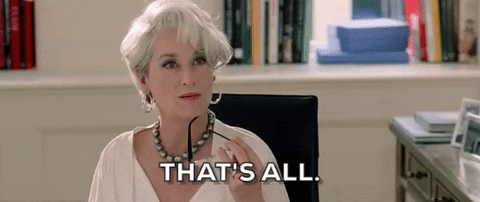 4. I, Tonya
Another American classic. I, Tonya is incredible because you basically follow a true story without really knowing what happened or who's telling the truth, even after the movie's over. The skating is sick, the costumes are great, and Margot Robbie might actually beat Nicole Kidman for my favorite Australian. Critics are saying the film is being snubbed this year because it only has three nominations, but, like, that's enough to see it. This one's also still in theaters. Go.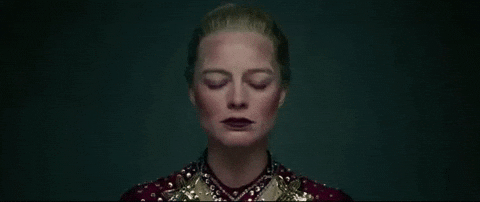 5. Dunkirk
Dunkirk is one of those movies that you hear about it and immediately dismiss it to go see Kate McKinnon in Rough Night, but then you hear everyone talking about it and reconsider your decision. Dunkirk is basically nominated for every category—best picture, director, cinematography, film editing, sound editing, production design—you name it. Again, even if you don't care about politics or war movies, it's worth seeing, because it's literally mind-blowing. It's also just a really important part of history, so like, it doesn't hurt to educate yourself a bit. The best part is that it came out in the summer, so it's already available for streaming on Amazon, YouTube, Google Play, and Blu-Ray. Blessings.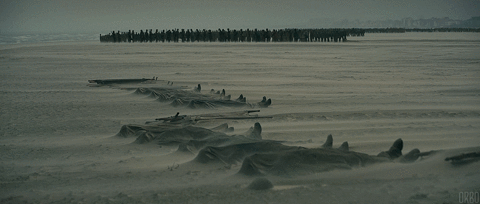 6. The Shape of Water
Okay, HEAR ME OUT on this one. When I first saw The Shape of Water, I was kind of weirded out by the whole girl/merman romance plot, and couldn't really get past that. But honestly, this movie has 13 nominations and it is sweeping every category. It's breaking records in film history, and for that reason alone it's worth seeing. Plus, the special effects and cinematography are actually really cool, if you're into that stuff. It's also v dramatic, so you're kind of on the edge of your seat the whole time. You know, once you get past the whole underwater sci-fi storyline. You'll be able to watch this on Amazon starting on February 27th, which gives you just enough time to squeeze it in before the Oscars.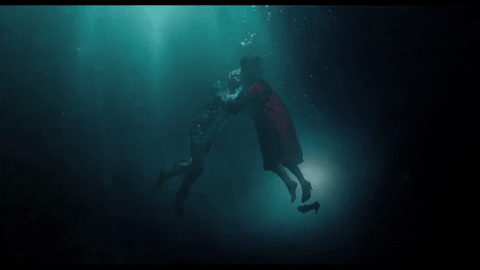 7. Molly's Game
People might hate me for this one because Molly's Game only got one nomination, and films like Get Out and Call Me By Your Name might be way more important. Those movies are good too, HOWEVER, I'm recommending Molly's Game because it totally deserved more than it got. I mean, aside from the fact that Jessica Chastain was literally at her all-time prime, the actual story is fascinating, and personally I'd like to meet the real Molly Bloom and ask her like, a million questions. It's a true story and it's fast-paced and super interesting. Even if you know nothing about poker you'll still love it. You just might need to Google a couple things afterwards. You'll also have to get your ass to a movie theater to catch this, but did I mention Idris Elba is in it? Yeah.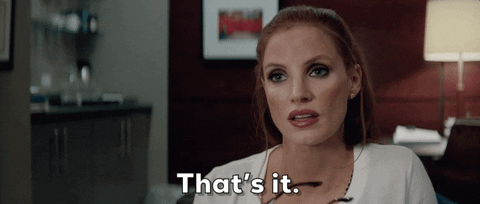 Images: Courtesy of NEON and 30WEST; Giphy (7)