Nail Polishes That Last As Long As A Manicure And Don't Chip
We're in full-on holiday mode, which means that instead of spending my hard-earned money on getting shitfaced at happy hour things I actually like to do, I'm spending it on the people I love. Those fucking bitches. And it's hard to always choose the right gift for people. I mean, sometimes it's not as easy as buying deodorant for Smelly Melly Melissa in accounting, ya know? Sometimes you have to put a little bit more thought into it. Like, what do I get the friend in my life who's been with me through all of my blackouts thick and thin? The friend who texts me "drinks later? ;)" at 10am on a Tuesday and who I can always count on to start shit with that bitch who just gave me side-eye? I would try and get her some good sense but, like, where's the fun in that? Nah. I'll stick with something she actually needs, like nail polish that doesn't chip, no matter how shitty she gets at bars. So here are five nail polishes that make the perfect gift for every ratchet bitch you know (including yourself).
While this brand might seem more random than the girl you exchanged numbers with in line for the bathroom last weekend, it's actually pretty top-notch as far as polishes go. When applied with the weekly top coat, nails can last for a solid 10 days or until it's socially acceptable to start peeling off your nails out of boredom.

Remember when everyone lost their shit because Essie was coming out with a gel manicure that you could do at home while binge watching shitty reality TV and drinking your weight in Chardonnay? Well, OPI Infinite Shine is even better. It looks, feels, and acts like a gel mani, but you don't have to go through that annoying AF process of taking it off, because it can easily be removed with regular old nail polish remover. BLESS UP, people.

Speaking of Essie, if you don't mind torturing yourself the upkeep of a gel manicure, then by all means, invest in Essie's Gel Couture Nail Polish. It's been one of the leading brands in nail polish and for good fucking reason. They have lots of color options, plus their whole thing is you can stay at home and do your own manicure instead of having to put on pants deal with trying to impress people at the nail salon.

If you want to say fuck all the bullshit and buy a product that does the work of three in one, then you should def invest in the latest nail polish from CoverGirl. Not only does this brand have a shitton of color options, but they also combine base coat, nail color, and topcoat into ONE PRODUCT. It's like there is a God and She's been watching me waste my paycheck at happy hour and knows how much I love an easy way out saving my dollars where I can.

Get this for the friend who is constantly lecturing you on her journey to veganism and her new "healthy" lifestyle but then gorges on Big Macs when she's blackout. Deborah Lippmann is formaldehyde-, toluene-, and dibutyl-free so it's, like, good for you and shit. Plus it's supposed to be chip-free and last a little over a week.

6 Cute Halloween Nail Art Ideas That Are Festive But Not Freaky
We're mere weeks away from the holiday most beloved by betches: Halloween. And what's not to love about a holiday that encourages you to drunk eat chocolate while you drunk dial your ex? Tbh Halloween is so much more than just showing up on October 31st ready to fuck up your life in a pair of poorly constructed animal ears. No, Halloween is all about the long game, about how you incorporate dressing up like a slut and poisoning your body with pumpkin flavored liquor the holiday spirit into your everyday life. Some people choose to do this by testing the literal limits of my sanity every casual Friday during the month of October by showing up to work in anime cosplay and telling everyone they're just being "festive." Then there are those who spend the first 30 days of October building up to the big event by tagging old college photos of themselves dressed like a baby prostitute at a theme party with the caption "More trick than treat! *Winky Face Emoji*". To each their own, but also I'm unfollowing everyone. Others choose to act less like a cry for help be more subtle about showing their love for Halloween, and one way to go about doing that are chic af Halloween nails. Now there's a fine line between chic and cheesy, so don't get it twisted. Here are 6 Halloween nail trends that aren't totally heinous.
1. Pastel Pumpkin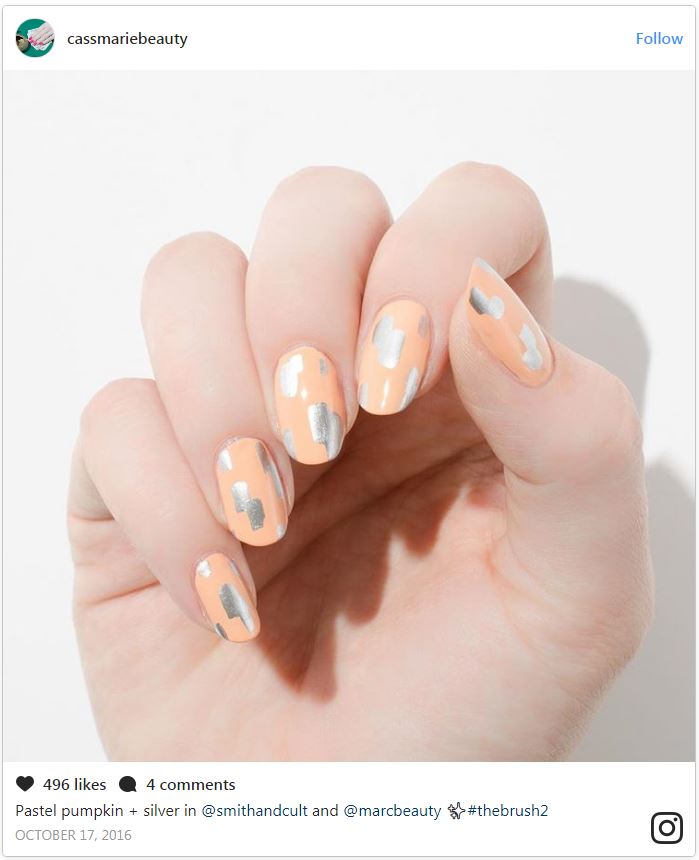 We all know that whoever said orange was the new pink was seriously disturbed, but it is Halloween, so I guess we have to tolerate it for time being. Believe it or not, pastel orange is going to be the way to chic this fall color up. I know, never did I ever think I'd use the words "pastel" and "fall" in the same sentence, but as long as pigs are flying maybe I should get back on Bumble and see if I can lock down a man for cuffing season? Lol, I crack myself up. Even though pastels are usually reserved for spring and summer, 2017 is the year that literally nobody could give a shit about rules and civility, so why not make pastels in the fall a thing. It's truly anarchy out there in the world.
2. Cat Claws

A cat costume for Halloween? Groundbreaking. Even though dressing up as a cat for Halloween all but screams, "I have the personality of low-fat yogurt," these bomb-ass nails will give a new twist to a basic bitch's go-to costume.
3. The Walking Dead Inside

If you're into staying up all night to rewatch all of Scandal and ruining your fucking life the zombified look, then you've got to try this ombre red nail effect. It'll make you look badass and be the perfect bloody accessory for your Halloween costume.
4. Halloween Accents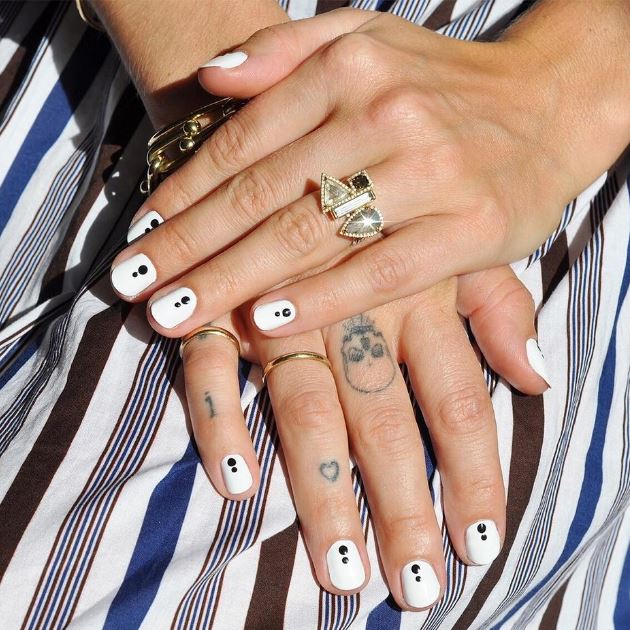 If you want to look like you don't give a shit when you give a shit be more subtle with your Halloween spirit, then try for some Halloween nail accents like white nails with black graphic accents or black nails with orange accents. It says you barely give a fuck about Halloween even though you 100 percent paid $35+ for that special manicure.
5. Witchy Vibes

I consider myself a basic witch pretty much 365 days of the year, but October is the one month where I truly get to express the fact that I'm vengeful AF someone who acts like she's an extra on AHS Coven. Lol I'm so random. Go for a basic black background and then add some witchy gold accents so that all of your ex-boyfriends will know that you're one "u up" text away from going all Madison Montgomery on their asses.
6. Basic Black

Obviously, you don't need a specific season or event to embrace the color black, but like, Halloween is as good excuse as any. Aside from the color black being iconic, it will also look amaze with any costume you choose.
6 Chic Neutral Nail Colors For Fall That Aren't Black
I feel like the only reason anyone says they looove summer is because temperatures are finally decent enough to emerge from our six month hibernation and day drink excessively. No one in their right mind actually enjoys the sweltering heat and ditching their all-black attire just so people don't think they're emo weirdos. By now, we've thankfully retired our rompers, wedges, and obnoxious bright nail polish. It's my fave time of year where I can step into a nail salon anxiety-free and choose my go-to color without any hesitation because when in doubt, always go black. I swear, I'm like, positive my manicurist said a prayer last week when I chose a color within 30 seconds. I mean, maybe with the exception of matte black, a basic black manicure is honestly so 2000s. Although you're too lame to try new things or you forget that 10 million other colors exist, fall def offers us a plethora of gothy polish options that are just as cute as black. They're just as smart as black. People totally like these colors just as much as black. We should all just totally stab black!
Uh, anyway, it's time to change it up so, here are the really effing cute neutral alternatives to step up your basic black manicure game.
Did anyone else know Christian Louboutin had a nail polish line? Yeah, me neither, but it's as dramatic and eye-catching as you'd expect. I mean, look at the fucking spike for a cap—amazing. This "daffodile" gray is the complete opposite of the cheery yellow flower (fucking obviously), making it the perfect cool neutral shade that looks good with any skin tone. The nail lacquer applies better than any nail polish you've ever tried (bible!) for glossy, long-lasting, chip-resistant results.

A summery light brown still works as the weather cools down because it's such an edgy nude that honestly works for any time of the year. The toasty taupe is a combo of light gray and beige, making it a light shade that takes on a cooler hue. We all know that OPI is life, otherwise our local nail salon wouldn't be stocked with it, so your nails will obviously look effortlessly chic regardless of if you DIY or treat yourself to ANC.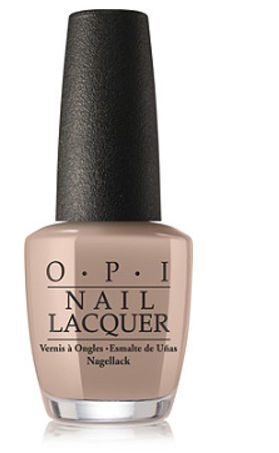 Deep navy is like the nicer, less aggressive version of black. It actually has a pigment of color that doesn't make you look seriously anti-social, but it's dark enough to claw someone's eyes out if they eat your leftovers get on your bad side. It's neutral and dark enough to *almost* become the new black this fall, so it'll def go with all the black ankle booties you wear this season.

Honestly, nothing is more betchy than a gorg red manicure. It's classy, sophisticated, and IDK why, but it just makes you look like a boss-ass bitch. There's just something about a deep merlot nail in the fall that makes me drink wine more than usual feel like I have my shit together. It looks fab with every single one of my generic black leggings and Adidas Superstars (persecute me), and yet, it still channels my inner homicidal persona.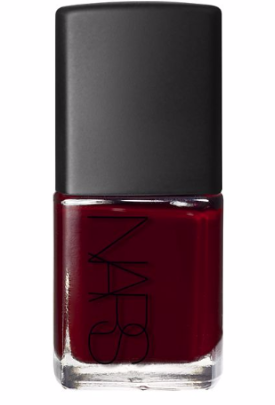 The description literally says "moody" so that's how you know you're in the right place. The cross of deep ocean and forest green is seriously v unique if you're looking for something to spice up your life, and it's totally not basic yet so you may as well cop this while you can. Jin Soon's collection is pretty clutch because it dries in like, five seconds and lasts forever compared to the shit you probs buy at Duane Reade.

Dark purple is my go-to on days I feel like being the sweetest bitch you'll ever meet. A dark plum is a neutral deep purple you can match with surprisingly everything and easily take from fall into the upcoming winter. Essie's 10/10 nail polish slays the game and will make your next dark mani look just as #flawless as this color.

5 Fall Nail Art Trends You're Going To Be Seeing Everywhere
With summer coming to an end, we don't need any more reminders about how depressing it is. We don't care about your dumb excitement for sweater weather or your so-called "PSL SZN." Our rosé is officially on sale and our favorite rooftop bar is now just a bar. What a literal buzzkill. Before your skin gets dry AF and your social life becomes obsolete, treat yourself to an expensive manicure to make yourself feel better. You'll be seeing these nail art trends all over NYFW this Fall, so why not get ahead of the trend and make it look like everyone copied you?
1. Metallic Mosaics
This trend is all about goth glam, so if you're the type of person to let someone go in front of you at Starbucks, it's probably not your thing. If you can't really envision metallics and mosaics going together, think rock 'n' roll meets random designs with some gold accents. We're actually really feeling this trend because it's allowing you to wear glitter on your nails without being a 12-year-old girl at her Lady Gaga themed bat mitzvah. These nails are dark enough for the fall, and the shimmer is pretty dope if you wear enough black.

2. Clean Lines
Symmetrical lines and color blocking will always be in style, but this season, clean lines are the go-to, and we approve. We were getting pretty sick of the half moons and french tips, so some clean lines are actually refreshing. Some designers are calling this look "industrial design," but like, all we see are lines. Horizontal and vertical are both being done, so it just depends if you're feeling more of a referee vibe or a lined paper vibe. Either way, you can't really go wrong with stripes on your nails. We did it at sleepovers in the third grade, so we can get with it again.

3. Pierced Nails
If candy crush existed in manicure form, it would be this. Pierced nails might be the least practical trend right now, but if you don't cook or clean or write or do any sort of exercise that involves your hands, this mani is ideal for you. We admit this look is extra AF, but you don't have to have a shit ton of piercings to pull it off. I mean, people are literally getting graduation cap tassels hanging off their nails. Then again, you could also get Jersey Shore hoops on your pinky. It sounds trashy and inconvenient, but then again, we're talking about a $90 manicure here. Let's not question anyone's values.

4. Dry-Brush
This look is inspired by modern art, and it's all about creating streaky effects by dipping the brush into a bit of color and swiping it onto the nail. Basically, think of it as one of those paintings you see at the MoMA and think "WTF is this," but then you find out its $10 million and you're like, "This is amazing." The dry-brush trend is a multi-colored look, so if you're strictly into neutrals and pale pinks, it may not be your style, but if you've ever owned a Harajuku perfume bottle, you'll appreciate this look.

5. Colored Tips
We haven't gotten a French manicure since we were 14, but it's making somewhat of a comeback with colored tips this season. This trend is best done with two colors, but people are also doing it with just a clean nail and then a colored tip, so like, it just depends on how many colors you're willing to commit to. This trend is perfect for the girl who panics when the manicurist says "pick your color" like it's the most important decision you'll have to make that day. Now you can pick more than one and not have to Snapchat your friends all of your options for a group vote.

Fall Nail Polish Colors You Need To Stock Up On Before The Basics Get To Them
Every summer, we put on the longest disguise to force ourselves into wearing bright colors and having pastel manicures so no one knows our hearts are as cold as a frozen marg all year round. Obviously, this summer was no different. Even if you were still stuck on wearing all black everything during the hottest months of the year, you probs couldn't resist giving in to subtle blonde highlights or a millennial pink manicure at some point. Since autumn is approaching v quickly, soon enough we'll put this masquerade of ours away to show our true colors—until next summer, that is, and I mean this both literally and metaphorically. It's something about the colder temperatures and dying nature that makes us feel as though wearing gothy sophisticated lipstick and edgy clothing that basically resembles our MySpace pictures in 2006 is totally fitting for our soul the occasion. Whether you're holding a PSL, throwing back spiked cider, or happily content on your couch sobbing over This Is Us (Just me?), here are the best nail polish shades to ask for this fall so your manicure goes perfectly with your temperamental personality.
Essie's fall 2017 collection is inspired by rebellious spirits of the 90's so like, a collection perfectly made for all of us and our moody selves. Swap out your bright summer red for a shade that resembles your fave wine—a Merlot grape. It's a dark wine with purple undertones and since it says it all in the name, it'll look phenom with an oversized cardigan and knee-high socks.

This fall, OPI wants you to travel to Iceland to see cool shit like volcanoes and glaciers. Thanks for the offer, but I can't even deal with east coast winters so I'm gonna pass. However, I will vacay there vicariously through their new Iceland collection, especially with this shade of shimmery blue and purple. Its sparkly cool tone and deep hue says sophisticated AF for a work-focused attitude you probs won't have for more than a week come next season.

Any shade of purple usually suggests you're into like, mysterious men solely for the reason that they use pickup lines you only hear in movies without showing any depth of character. Sounds about right, so it only makes sense to draw them in with a darker chic manicure. A deep purple such as this captivating shade complements every skin tone and gives off an intense secretive effect. Boys love that shit. I'd assume "roubachka" backs me up on this but I literally can't find any other translation other than "Russian blouse" so I'm rolling with it. Side note: Every time I use a polish from the Le Vernis line, my nails never chip and they last longer than my pedicures, which is unheard of, so I promise this one is worth the splurge.

Nothing says basic bitch fall like a pure orange to remind us of literally everything fall represents: Halloween, pumpkins, leaves, more pumpkins…etc. Most would stray away from an orange nail because well, it's orange and not really anyone's first choice, but with the weather getting cooler and skies getting darker, the bright shade will enhance your skin tone for a subtle warm glow and provide a nice pop to your depressing neutral wardrobe.

A combo of gray and that neutral beige we'll be wearing too much of is this gorg color. It's the new nude to hold you over during the next few months with brown hues and cool smokey undertones. Wear for a clean classy look to perk up your mood in the bland office or let it complement any bold outfit you choose to blackout in Labor Day weekend.

How To Take Off Your Gel Manicure At Home Without Losing Your Sanity
There are many forms of slow torture out there in the world that I willingly inflict on myself. For example, editing my Bumble profile or listening to Hannah Baker's extra AF voice for 13 episodes in a row. Also, gel manicures because they are secret sabotage. Don't get me wrong, gels are necessary for surviving vacation, Starbucks selfies or showing off your engagement ring. They look good AF and their lifespan lasts longer than the Thai food currently rotting away in my fridge rn so it's not hard to figure out why basics like myself love them. That being said, gel manicures are a trap and you SHOULD NOT FALL FOR IT. Sure, your nails might be living their best life now, but in 2-3 weeks they'll start to go through this weird phase where they peel and chip and just generally look like shit but you can't do anything about it because removing gels is more complicated than fucking rocket science. And over my hot, dead body will I spend the $10 removal fee at a rando nail salon. Like, you already get me for my monthly mani/pedi, eyebrow maintenance and bikini wax torture session. You don't get my dignity this too.
If you're like me and you've tried—and failed—at home gel removal it's probs because you didn't actually know wtf you were doing and/or you were too busy trying to decide if the crimes were especially heinous during a Law & Order marathon. So here's a guide for how to get rid of your gel manicure without having to earn a degree at MIT or visit one of the one million nail salons in NYC, you cheap asshole:
WHAT YOU NEED
Wine. As much as you can carry. This process could take longer than tonight's episode of The Bachelorette and you'll probably need just as much patience for this as you will to listen to all of the fuckboys try and explain their careers as "former athletes" to Rachel.
RACHEL: So, what do you do for a living?
FUCKBOY: Well, I'm a former athlete so
RACHEL: …………..
FUCKBOY:

RACHEL AND ALL OF BACHELOR NATION:

Trust me, you'll want the wine. But, like, in a more practical sense you'll also need a nail file, acetone, StarPro remover (aka the good shit you always ask your nail technician about and she feigns a language barrier so she won't have to give up her nail secrets), cotton balls, and aluminum foil. Jesus. Seriously hoping FreshDirect has this shit in their pantry section because I for sure don't think they carry all of this at the bodega down the street. Don't you wish you'd just spent the extra 10 dollars to have the professional remove them? No? Well just you fucking wait.
STEP 1
Buff away whatever is left of the top coat of your manicure. Consider this your arm workout for today because this shit is harder to get off than that guy you dated for 3 months who swears "this never happens to him".
STEP 1.5
Drink more wine. It's important to stay hydrated buzzed throughout this process lest you give up halfway and your nails look even more jacked then when you started.

STEP 2
This is where it gets weird. You'll need to soak cotton balls with acetone and put them on the top of your nail. Then use aluminum foil to wrap your finger. You'll know you're doing it right when you lose all mobility in your fingers. Fun. Soak for 10-15 minutes or when you feel like your skin might peel off your body. Whichever comes first. God, I feel so refreshed and nourished already.
STEP 3
Use a cuticle stick to push the remaining gel off your nail. Theoretically, this should come off pretty easily, especially if you soaked your nails for the right amount of time. If it's not coming off easily then you fucked up and should probably just commit to drinking the rest of that wine. Once you've gotten the rest of the gel off, file your nails to your favorite shape (lol like any of us know how to do shapes and shit) and then buffer to round out any snaggly edges.

STEP 4
Cleanse your nails with rubbing alcohol. Tbh if you replace rubbing alcohol with Champagne then this is legit my strategy every Sunday morning when I wake up and realize all the ways I ruined my life the night before. It's v therapeutic. Lastly, because your nail beds suck, apply cuticle oil to hydrate.
Congratulations, you've now removed your gel manicure. That or you're just drunk and your nails still look like shit. Tbh it's probably 50/50. But at least you can feel better knowing that you just spent 30 minutes of your life and $30 of your hard earned money (I'm including the wine and supplies here) doing something that would literally have cost you $10 at a nail salon with a complimentary neck massage thrown in. *chugs wine*
The Best Summer Manicure Trends You Need To Try
For all my New York betches, I know you're just as excited as me to know that Thursday is supposed to have perfect day drinking temperature (high 80's) so Mother Nature, please don't be psycho. For those of you somewhere on the west coast, you probably don't care because this is your average weather but like, let us rejoice in this moment. The first solid week where it's warm enough to go to a rooftop bar without a jacket basically means summer has officially arrived. You may think all you need is an artsy backdrop, pretty face with oversized sunglasses, and a colorful drink (that probably tastes like shit) to get 100,000 likes on Insta. Wrong. You are so wrong. You also need a fresh as fuck summer manicure holding that drink. Having sucky nail beds, bare nails, chipped nail polish—or worse: yellow nail polish—is honestly social suicide. This summer's manicure trends are all about bright red shades, natural nudes, negative space nail art, and "cuticle jewelry" (yes, I swear this is a thing). These go a little beyond just "picking a color."
1. Bright Red
This timeless color is going to be everywhere this summer. A perfect bright red such as Butter LONDON's Come to Bed Red is just glamorous and sexual as its name suggests. This will add just the right amount of sass to any outfit in the summer.

2. Playful Pastels
Essie is loved by anyone who's anyone, including many of the celebrities you follow on Instagram. The brand's collections are highly anticipated and usually fly off shelves anywhere they're sold. Essie's summer 2017 collection is apparently so good, stores have already been selling the colors a month earlier than they were supposed to. The light-colored and metallic shades were inspired by the city of love/lights (whatever you want to call it): the one and only Paris. With names such as Éclaire My Love and S'il Vous Play, even if you don't have a life travel the world this summer, these colors will look gorg with any calorie-loaded doughnut you're holding. Au revoir, bitches.

3. Rose Gold
You love rosé just as much as the basic bitch next to you and you're probably wearing a Michael Kors rose gold watch as we speak. So why wouldn't you let your basic-ness hang out, loud and proud, with a rose gold mani? This is essential for all the rosé you'll obvs be drinking at bottomless brunches.

Mark Jacobs Enamored Hi-Shine Nail Polish in Gatsby
4. Holographic Nails
If you think you've seen the last of the fucking unicorn trend, you have another thing coming to you. I'm saying this as if I didn't just a buy a choker with a unicorn on it, but anyway, really let your unicorn guilty pleasure shine with a trippy af holographic nail. Try Urban Outfitters Hologram nail polish in silver. I've seen this mesmerizing color in person and it looks ah-maze.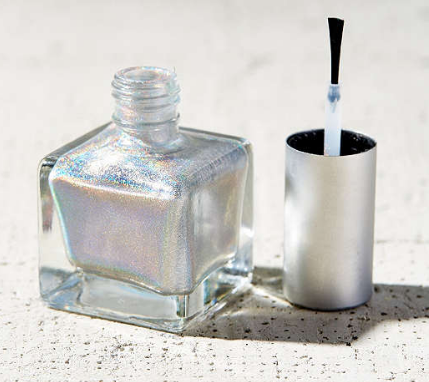 5. Negative Space Nail Art
This one is a little out there, but apparently it's cool nowadays to rock a chipped nail design, as long as it looks fashionable and artsy. This is ideal if you're trying to channel your inner hipster. If you are the Martha Stewart of nails, you can probably do this at home. However, if you're like me and have the artistic ability of drawing stick figures, then ask a manicurist instead. This nail art consists of using nail tape to create minimalist images and painting in between the lines to create designs that end up looking like this: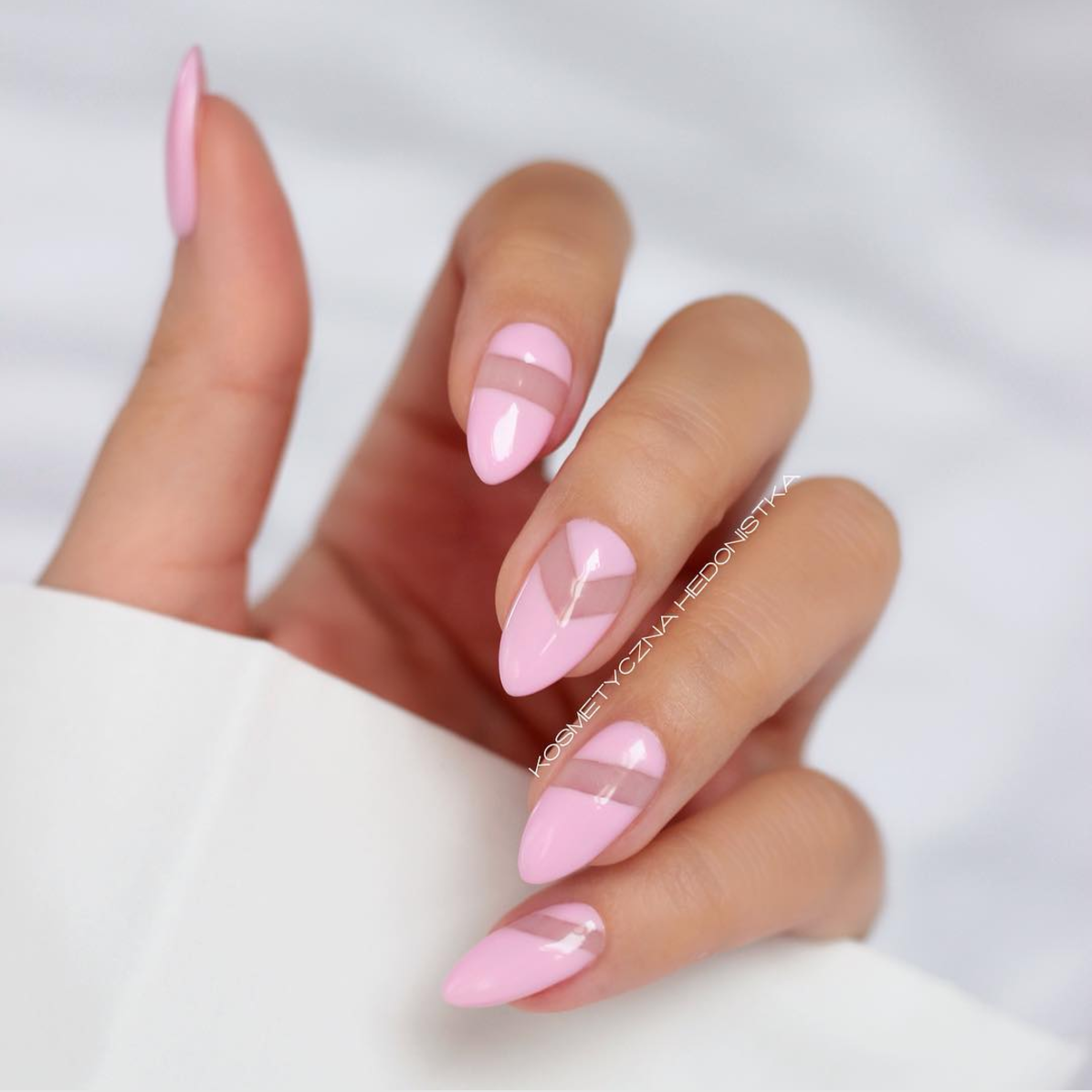 6. Cuticle Jewelry
I can't even with this term, honestly. The idea is supposed to create an illusion that your cuticles are wearing jewelry such as a gold necklace or a fucking choker if you must. The pictures are pretty self-explanatory so if this is your thing, you do you, boo.

7. Au Naturale Nudes
For a clean, professional look, get a basic mani with a nude color. This is perfect if you only feel like doing the bare minimum (which is all the time), but still want to look classy and chic. Deborah Lippmann's Undressed set comes with six colors that are great for any skin tone, whether it be trying a fair pink nude or a sable nude. Also, the next time you get a "send nudes" text, they obviously are talking about your nails.

Deborah Lippmann Undressed Nail Polish Set
8. Not A Regular Black, A Cool Black
If you still get unnecessary anxiety when you're asked to pick a color, it's okay to go for your usual black. But only if you spice it up a little by opting for a matte black or a shade of black with a color underlay, such as OPI's Black Cherry Chutney.

What Type Of Basic B*tch You Are Based On Your Engagement Manicure
In case you missed it, there hasn't been a snowstorm in New York in at least two weeks which means spring is finally fucking here. Ah, springtime. A time of year that signifies rebirth, hope, and thirsty bitches subtly emailing their boyfriends their ring size and Pinterest password. Which means it's almost time for me to engage in my favorite pastime: judging the fuck out of people's engagement photos. I would rank my tolerance for engagement photos somewhere around where I rank my standards for fuckboys on dating apps. So, pretty fucking low. And because I have ESPN or something I can almost immediately tell you the theme of your wedding based off of the manicure you choose to flaunt in your engagement announcement on Instagram. 
It's true that the most important moment of your life is not when your BF proposes to you (sorry, bro), but rather the moment you debut your ring on Instagram. That moment is huge and, whether you realize it or not, the type of manicure you have while showing off your ring speaks VOLUMES about you and your wedding. So because I want to put you in your place I care about you and your wedding, here are 6 manicures that say a fuck ton about your wedding theme, and therefore, basic level:
1. Millennial Pink: Hipster Barn Wedding
I'm not sure when we started referring to pastel pink as "millennial" but I'm almost certain it's around the same time that hipsters started referring to rustic as "chic." You already know how we feel about the hipster barn wedding theme, and your nail color is about as original as the mason jars that are sure to be included in your wedding decoration budget. Choosing this color is a safe bet and while your friends won't be shitting on you in their group chat, they will most certainly be rolling their eyes as they scroll through your feed.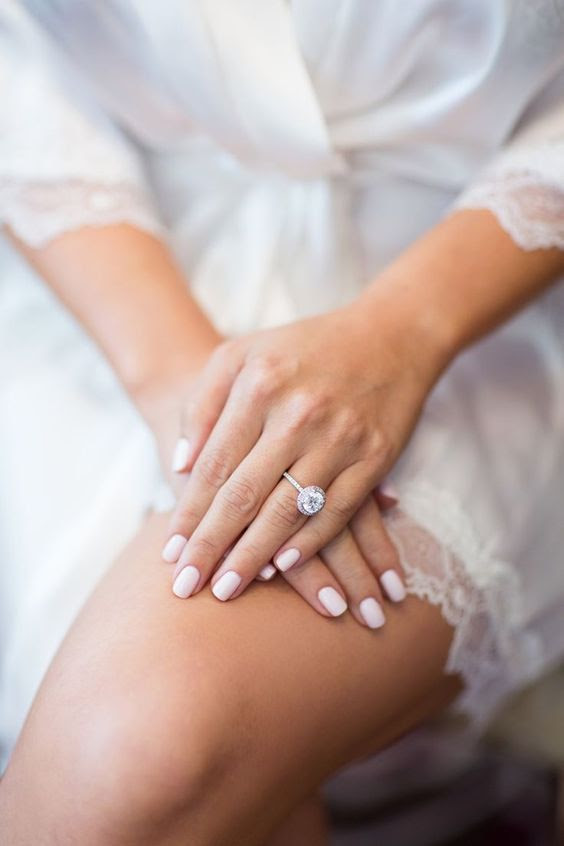 2. Red: Destination Wedding
This person probably thinks they're fun and spontaneous and the bikini selfies saturating their Instagram feed certainly are proof of that theory. They probably chose this color because Taylor Swift, a personal hero of theirs, is constantly sending subliminal messages singing about this color. It makes them feel bold and empowered and soooo fun. Which is why they are life ruiners and choose a destination wedding to celebrate their union to the poor guy that's about to spend the rest of his life as his wife's Instagram photographer.

3. Not Your French Manicure: Vintage Themed Wedding
This is the person in your friend group who is extra AF. They're always trying to be new and different and edgy when really they're just grown women wearing body glitter aka Unicorn Snot and calling it fashion. I usually object to 90% of their life choices and sporting a manicure like this ranks right up there with that one time they bought a shirt that said "Bushwick" on it for $40 from Urban Outfitters despite the fact that they live on the north shore of Long Island. They will try and reinvent the wheel aka hipster barn weddings. Instead of rustic chic they'll use the term "vintage" and refer to themselves as "old souls" in their vows. Lol, K. Like, you forget I've seen strange men take shots off your body to a Miley Cyrus song on spring break. You're fooling no one, Karen.  

4. Black Manicure: Black Tie Wedding
A true betch knows that black is the color of her soul and coincidentally every item of clothing in her wardrobe. While some people might doubt black as a bridal color, you know that these people understand nothing about taste and are about to get sat at the shitty reception table with your least liked sorority sister and your fiancé's weird friend from grade school. Like, of fucking course you're going to be wearing your favorite color during the most important photo moment of your life. Black is timeless and so will be your wedding. While everyone else is Googling "unique wedding themes" yours will be chic, tasteful, and most importantly, fancy enough to make all of your other married friends jealous. Mazel Tov.

5. Accent Nail—Ridiculous Themed Wedding
TBH I'm not even sure what to say about this. Like, is this you announcing your engagement or a cry for help? I'm assuming that the only reason you would get this extra with your manicure is because you're trying to hide that fact that you're about to marry the one night stand that turned into your boyfriend of six years. I'm also assuming that your fiancé is the type of guy that "lets" you carry all of the groceries to the car and still Snaps his ex girlfriend on the side. You've really found yourself a winner, Vanessa.

Anyway, the type of person who's doing this much with her manicure is also the type of person that's going to piss me off and do some sort of themed wedding. I'm picturing something Disney related—anything to distract their guests from noticing that the groom isn't captivated by the enchanting room decor but rather is checking out the maid of honor's cleavage.

6. Rose Gold: Romantic Basic Wedding
This one's for all my basic bitches out there—you know who you are. I don't need a crystal ball to determine that your ring is a princess cut and you'll be rocking a mermaid dress on your big day. Your bridesmaids will all be wearing some form of blush and/or sequined gowns that you swore to them they'd be able to wear again but instead will just taunt them, hanging in their closets as a constant reminder of the day they served you stood by your side. While on the one hand, I've seen your wedding done 1,000 times before, I can also appreciate you owning your basicness.