7 Amazing Beauty Products You Can Buy On Amazon
By now you're probably well aware that you can get just about anything on Amazon. Wine, face masks, food—you name it, Amazon delivers it to your doorstep. To add to your addiction, we've scoured the ecomm giant for the best Amazon makeup products. The only thing better than getting a vibrator delivered to your door without facing a cashier is the ability to get a same-day mascara delivery when you don't have time to stop at Sephora. Some are best sellers and some are just the fucking best, but regardless your face will thank both you and our guy Jeff Bezos.

Whether your eye bags are giving away the fact that you're hungover AF or you have serious period pimples popping up all over your face, NYX's Professional Makeup Concealer's creamy consistency will cover all of that. It's no wonder it's an Amazon makeup best seller—betches can't get enough of covering up their poor life choices and unfortunate hormonal acne.

The only thing worse than taking off waterproof mascara is trying to take off waterproof mascara with wipes that don't actually remove waterproof mascara. Thankfully for your lashes, wallet, and sanity, you can get Neutrogena's excellent wipes delivered to your front door. They work like a charm.

Too Faced's Better Than Sex Mascara is definitely better than the shitty sex you had with your ex-fuckboy. But you know what's better than the mascara AND subpar fuckboy sex combined? TWO Better Than Sex mascaras: the OG and the waterproof version. You can get the full size regular mascara and travel size version of the waterproof mascara right now on Amazon, and on sale no less. Using the waterproof to seal in the regular mascara will leave you questioning why you ever settled for lame mascara and lame sex.

Blending L'Oréal's Lumi Glow Amour Boosting Drops on your cheek bones is like dropping pixie dust into your foundation. It makes your cheeks shimmer, and the liquid drops blend a better than most powder highlighters.

Everyone needs a super-pigmented liquid matte lipstick that will last all night—no matter what activities you choose to partake in. That's why you need to get Lime Crime's Velvetines Liquid Matte Lipstick delivered to your doorstep ASAP. The best part is that Lime Crime's velvety texture won't cause the lipstick to peel or dry out your lips (*glares at Kylie*).

The fairy godmother of highlighters, Anastasia Beverly Hills' Sun Dipped Glow Kit is the answer to all of your highlighter needs. It'll have you looking like a bronzed goddess even in the middle of this fucking godawful winter.

Another Too Faced product made the list solely because, well, this foundation is the absolute tits. The amount of coverage this foundation gives without looking cakey is unparalleled. The best part? Its texture is still lightweight enough (and oil-free) so that it's suitable for those with acne-prone skin. Blessings.
Images: Jazmin Quaynor/Unsplash (1); Amazon (7)
Betches may receive a portion of revenue if you click a link in this article and buy a product or service. The links are independently placed and do not influence editorial content.
5 Household Items You Can Use As Makeup Remover When You're Broke And Out Of Wipes
I'm gonna go out on a whim and say that makeup remover should be free like the tampons I have to buy once a goddamn month. It's not my fault that a Game of Thrones episode occurs in my uterus 12 times a fucking year. Just like it's not my fault that I wasn't naturally born to be like, a YouTube beauty guru and get my winged eyeliner right on the first try. Doing your makeup is one thing, but doing it right is quite another. Not only are you forced to spend hundreds buying top-notch shit, but you also have to buy stuff to take that shit off. Will I ever have enough makeup remover on hand to account for all the times I fuck up my contour? With the way my life is going (being that it's August and I'm still poor and haven't left the U.S.), I'm thinking no. But, with Google saving the day once again, I've learned that you can use shit in your kitchen as makeup remover. Reason #1234 why I love food. From oil to milk (just stay with me on this), here's what'll get that waterproof lipstick off when you're too lazy to go to the Duane Reade down the block Neutrogena fails you.
1. Vegetable Oil
This might sound weird since we usually want to stay as far away as possible from an oily face, but surprisingly, this works like you wouldn't believe. If you combine one tablespoon each of olive oil, canola oil, and castor oil, you have a concoction that will take off even the most stubborn mascara. Veggie oils like these are actually really good for your skin because their ~healthy~ nutrients help moisturize and strengthen even the most sensitive skin types.

2. Petroleum Jelly aka like, Vaseline
Raise your hand if you have ever been called a slut stuck wearing some dark emo lipstick for days because you just couldn't get it off for the life of you. Mhm, girl. Same because fuck you, Kylie. When every lotion in Ulta and 10 face wipes won't do the trick, just rub a little bit of vaseline on your lips and voilà. Chapped lips and emo persona be gone.

3. Avocado
Name something avocado can't do. Go ahead, I'll wait. They're good to eat, good for your hair, good for your skin… I'm just saying, not all superheroes wear capes. You don't even have to smear this across your face to get your makeup off, so cut it in half (or, put a slice to the side you were planning on eating anyway) and swipe a Q-tip on it. The oil from this fruit—*still coming to grips with avocado being a fruit*—will take your makeup off easier than you've ever seen and help your face at the same time.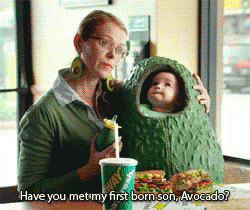 4. Whole Milk
This is one you probably least expected to use on your face. Oddly enough, the proteins in whole milk help hydrate and retain natural oils so you don't dry the fuck out. Dab some on a cotton ball and use where needed to remove makeup and feel fresh AF. And then maybe go take a shower so your face doesn't smell like dairy that's been left out. Just sayin'.

5. Honey And Baking Soda
This is a facial mask/cleanser/remover all in one. Add equal parts of raw honey (not the shit you get in a bear bottle) and baking soda into a bowl. Nothing crazy, like, half a teaspoon works. Make it into a paste and gently scrub. This works as a natural cleanser, moisturizer, and dark spot eraser for all the tough spots. I don't blame you for making this your new facial mask, honey boo boo child.

How To Remove Every Kind Of Makeup Stain From All Your Stuff
It's not an average day for me unless I wake up to some sort of self-inflicted sabotage that's ruining my life and my room décor. Usually it's from makeup stains on my pillows, bedding, or the only shirt I've ever paid more than $30 for after a happy hour gone wrong very right or a night spent avoiding human interaction re-watching Riverdale and getting so distracted by the onslaught of red heads on my screen that I forget to take my face makeup off. Either way the next morning I always have to take a good, hard look at my life choices destructive personality, ignore that moment of self-reflection, and figure out how the fuck to get rid of all these makeup stains. I'm assuming that you too are a garbage human so here's how to get rid of every makeup stain that ruins your shit. You're welcome.
Lipstick Stains
My aesthetic for my room is all white everything because apparently I enjoy torturing myself. As someone who is dead inside, I also only wear vampy lip colors, which is a problem because I'm constantly fucking up my white sheets when I'm blackout. Lol it's so fun to watch myself unravel in the mornings. ANYWAY, if you've got a lipstick stain I'm here to save you from wanting to jump out the second story window of your shitty apartment every time you wake up to purple lip stains and cuddling a half eaten bag of chips. First, spritz the stain with hairspray and let it sit for 10ish minutes. I know, it sounds a little batshit, but it works. Next, dab the spot with a sponge and throw it into the wash. If your sheets/shirt/pillow case need to be dry-cleaned then first of all, slow clap because you've made it in life, but also you should use tape of some sort to remove the stain. Try that or prayer.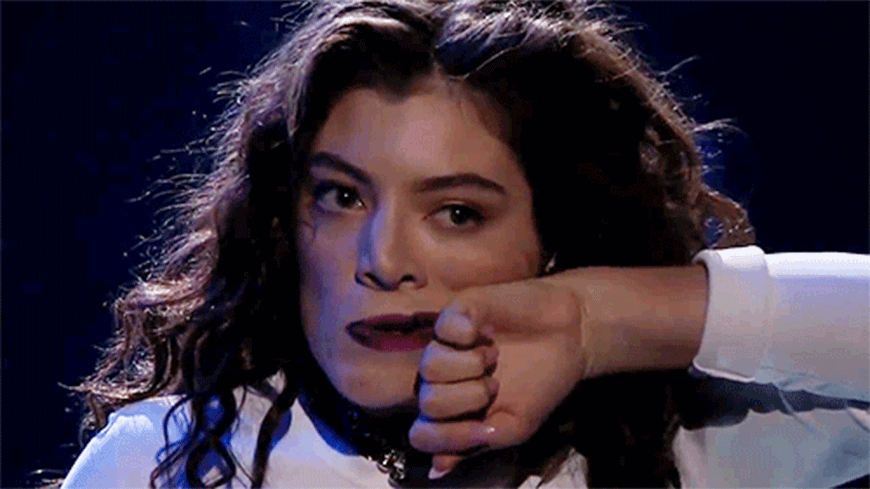 Foundation Stains
Tbh I don't wear a ton of foundation but when I do it 100 percent ends up on every surface in my apartment. Even places that don't make sense like my bedroom wall or the faux-fur rug I thought would make my apartment look less like I live on a peasant's salary and more like I live a Carrie Bradshaw lifestyle (Writer's Note: It did not). The first thing you should do when dealing with foundation stains is to not freak out and call your mother because she will most likely not focus on the issue at hand and instead ask you some v personal questions like why you were too drunk to remove your face makeup on a Wednesday in the first place. As if that's the real issue here. Next, treat foundation fuck ups spills with a clarifying product like shaving cream or shampoo because both of these toiletries have cleaning agents that need to break through the stain before you throw it in the wash. Unless it's your bedroom wall, then I would just recommend playing dumb with your landlord.

Glitter
If you wear glitter so much in your life that you need this tutorial then first of all I'd just like to say, BLESS. Here's to hoping all that molly hasn't rotted your brain yet. But if you're going to dress like an adult toddler, I guess I can give you some advice for how not to sabotage your living space with the glitter bomb that is your personal style and taste. If the glitter is a part of your outfit (i.e. a dress, skirt, or any other drug-induced music festival type attire) you should spray down the whole outfit with hair spray immediately. It will dull the shine of your outfit but it will also save your apartment floors from looking like a rental space for Forever21. If the glitter is incorporated in your makeup somehow—again, BLESS—use masking tape or a lint roller to remove the sparkles from your sheets, clothing, pillow cases, etc.

Self-Tanner Stains
'Tis the season to pretend like you enjoy leaving your couch by dousing yourself in enough self-tanner to not be shunned by your friend group. And because of this, everything I own is slowly turning orange through my best efforts to please my Instagram followers friends. Ugh. So buckle up because removing this shit ain't gonna be fun. First rinse the affected area under cold water. Then wet a sponge with any type of dish detergent to work the spot from the outside in. This will (hopefully) cut the oil in the tanning oil enough for the stain to come out. Other things that might work on the stain are hydrogen peroxide (but make sure to spot-check first in case the fabric's color won't lift and you screw yourself even more) or glycerin but only use that like the Bumble Bro you drunk Snapchat—when you're desperate.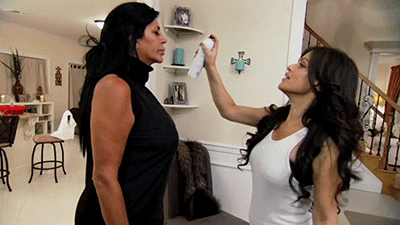 Waterproof Makeup Stains
Waterproof makeup stains are literal sabotage and also the reason I drink. Well, not so much the reason as the aftermath, but that's neither here nor there. For long-lasting makeup formulations, you should blot the stain with makeup remover and pray to Jesus and the lady who writes your monthly horoscope that this shit comes out. Make sure that the formula you're using is oil-free, though, or else you're in for an even bigger shit show.

Deodorant Stains
Deodorant stains have been ruining my life since 2002 and are also the reason my boss doesn't like to make eye contact with me at the 9am staff meeting. This how-to is going to be especially relevant to those whose wardrobe consists of all black at all times (Hi). If you find yourself with white lines all over your body and you can't pass it off as "Dylan's Candy mess" or table décor (you're fooling no one, Kimberly) then your saving grace is going to be a pair of tights or a dryer sheet. Rub the fabric against the deodorant mark and it'll almost immediately come out off of the clothing. Blessings.

Taking Off Your Makeup Expectations Vs. Reality
We all know by now that the number one thing you can do in life to fuck up your skin is fail to take off your makeup properly. That and like, not drink so much alcohol, but only one of those options is truly feasible for the average betch's modern lifestyle. Unfortunately for those of us who usually come home some combination of tired/drunk and are generally lazy, there are a lot of steps to actually taking your makeup off that go way beyond soap and water. Like, apparently Q-Tips should be involved? I'm honestly shocked. Also I continually fail to understand the presence of cucumbers in our beauty regimens. I mean, I don't hate it, I just don't understand it. Which is most things in life, I guess.
While we all hope to come home after work and completely remove every trace of dirt from our pores and thoroughly exfoliate our post-workday skin, we all know that this dream is basically bullshit. In reality you will most likely stumble home at the end of the night, splash water on your face, and walk out of the bathroom with the day's mascara still fully applied to your lashes.
In order to illustrate this phenomenon, check out Betches Video's latest "How To Take Off Your Makeup Expectations Vs. Reality" video and be like, "omg this is me." Subscribe to our Youtube channel for more funny videos just like this one.