6 Beauty Products To Keep In Your Purse At All Times
Guys, I have a secret to tell you. I am not low-maintenance. I know, you're shocked. But I am not only not  low-maintenance, I am violently high-maintenance. However, because of this, I am the actual Queen of Being Prepared. It's a gift, really. I keep a cosmetics bag in my purse at all times that has some key products to save any situation. I even have a smaller version that I fit into a coin purse for my small purses. My being comfortable is in direct correlation with my happiness, so I like to make sure I am never smelly or dirty and never have bad breath or chapped lips. I am all of my friends' go-to when they are without something, because I always have it. You too can now be that friend. Here is my list of key essentials for you to always keep on hand to prevent disaster.

1. Hand Sanitizer
So I guess this isn't technically a beauty product, but it helps me feel less gross, so I'm including it. I am a germophobe, but with good reason. It makes sense. The world is dirty and disgusting, and if I have to touch everything that the plebes who do not wash their hands after going to the bathroom touch, I need to be sanitized on the reg. I have a keychain sanitizer and a backup in my purse. Okay, two backups. But I never get sick, so there. Also? These keychain holders from Bath & Body Works are so obnoxious, I'm obsessed with them.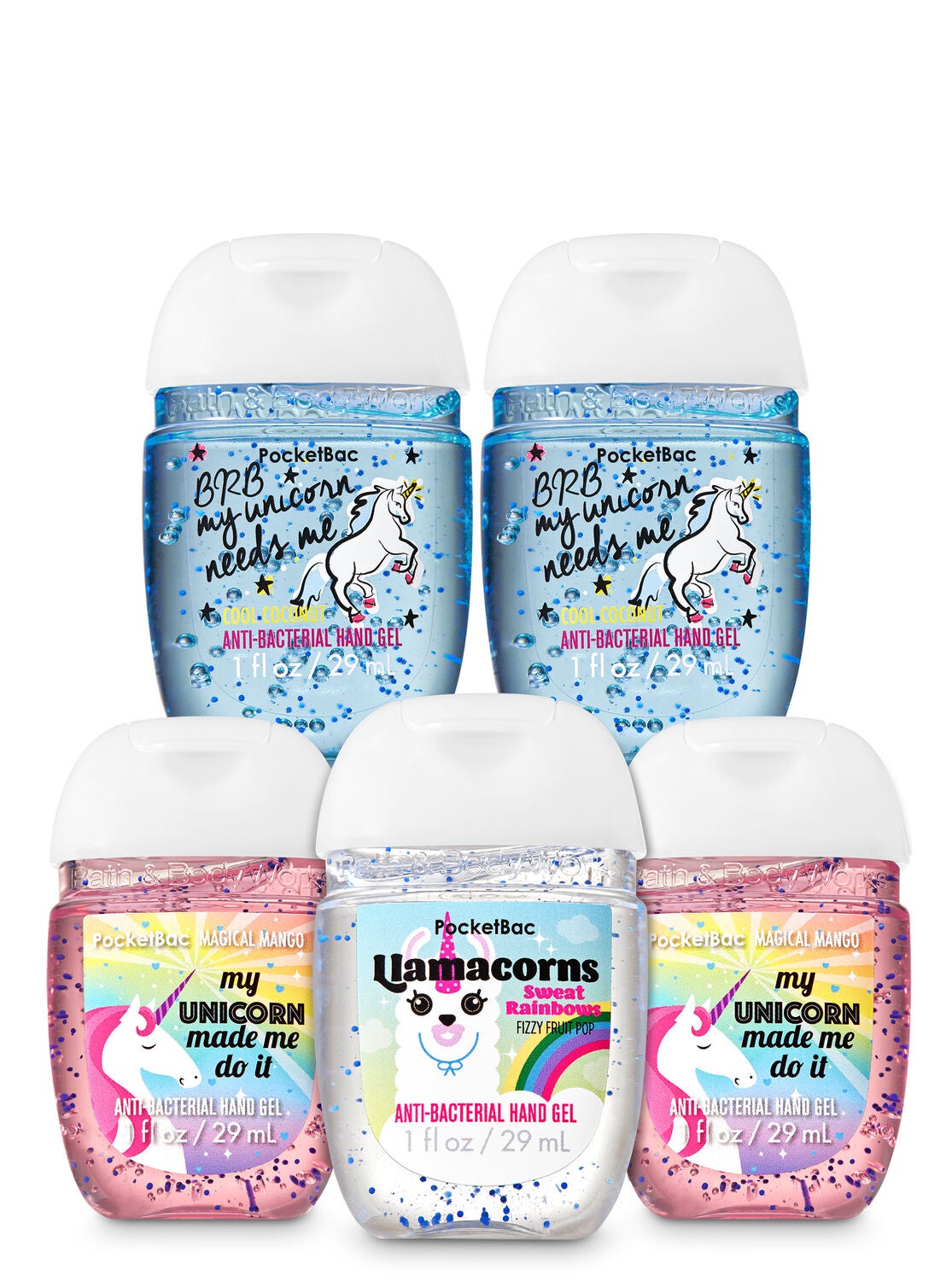 Bath & Body Works UNICORN SPEED 5-Pack Pocketbac Sanitizer

Bath & Body Works BLUSHING NARWHAL PocketBac Holder
2. Tinted Lip Balm
I hate, hate, hate when my lips are dry. It makes me want to stab people. Keeping lip balm in my bag at all times (and let's be real, I usually have 3-5 different ones) has saved many lives, probably. I like ones with a bit of a tint in case I don't feel like wearing a lip color but I also don't want my lips to blend in with my pale complexion. This Minted Rose balm gets the job done and lasts forever. ALSO, you can use it as a heavy lotion in a pinch, like if your face is peeling or your elbows are ashy.

ROSEBUD PERFUME CO. Minted Rose Lip Balm
3. Setting Powder/Compact
This one has dual purpose: first off, it's a mirror. Second, if you're oily or sweaty or have to take a surprise photo, you can matte your skin real quick and look like you actually have makeup on. You can use foundation, but I personally don't like having tons of makeup on my skin, so I prefer translucent powder just for oil control. Whatever you like to use, just have something to fix your skin in a pinch. I actually use/have cult-like obsession with Laura Mercier's powder (plus I only need to buy it once a year), but if you want to save cash, I have also included a similar product from e.l.f. that I cannot vouch for, so don't @ me.

LAURA MERCIER Translucent Pressed Setting Powder

e.l.f. PERFECT FINISH HD POWDER
4. Multi-Use Stick
Picture it: You're leaving the gym/didn't put on makeup today/sweated your makeup off because it's 115 degrees and you live in The Valley, and now you suddenly, unexpectedly have to be somewhere or may run into someone cute. You're ugly, and if you're like me, you don't even have a differentiating line between the whites of your eyes and your skin tone. It's bad. HOWEVER, if you have a multi-use product, like this one from NARS, you can swipe your eyelids, blush, and lips and look presentable in seconds. I accept thank-yous in cash form only.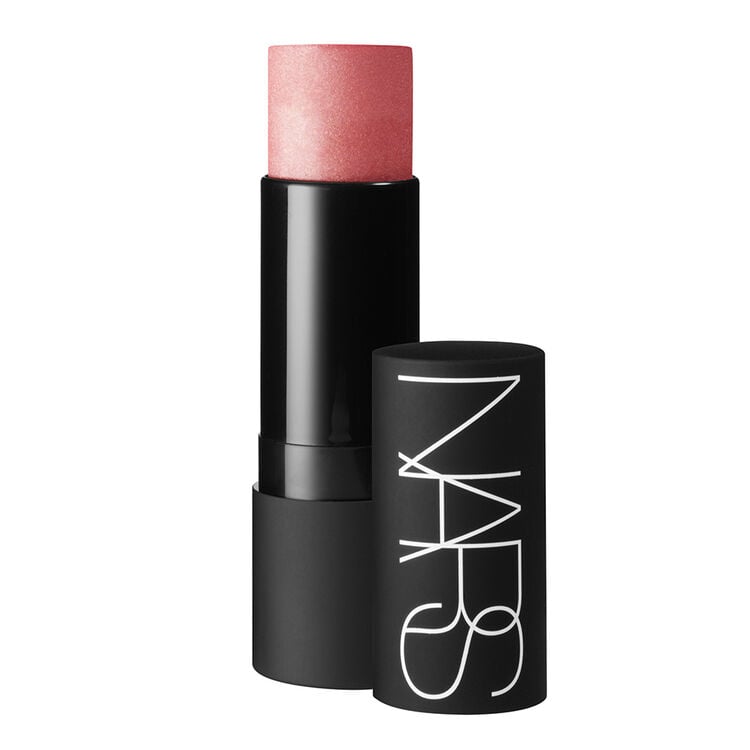 5. Travel Size Perfume
This goes with the same problem as above, or like, when you thought you'd have time to shower between your workout and happy hour but you kind of don't, travel perfume will save you in a pinch. I have a travel size version of my favorite perfume (Stella McCartney Stella, if you insist on also smelling like me, you creepy stalker), but I HIGHLY recommend not paying for this shit. Go to any makeup or department store and ask for samples, which are free, or use the ones they give you with purchase.

STELLA MCCARTNEY Stella & Stella Peony Rollerball Duo
6. Setting Spray With SPF
I get sunburnt just driving in my car, so I like to keep SPF with me at all times. I'm a huge fan of setting sprays with SPF, so they don't mess up your makeup and are so easy to reapply. BUT before you buy one, check if you can get samples at your makeup store, or sometimes Sephora has them for points aka free.

SUPERGOOP! Supergoop! x Milly Defense Refresh Setting Mist Broad Spectrum Sunscreen SPF 50
Images: Greg Kantra / Unsplash; Bath and Body Works (2); Sephora (3); e.l.f.; NARS
7 Amazing Beauty Products You Can Buy On Amazon
By now you're probably well aware that you can get just about anything on Amazon. Wine, face masks, food—you name it, Amazon delivers it to your doorstep. To add to your addiction, we've scoured the ecomm giant for the best Amazon makeup products. The only thing better than getting a vibrator delivered to your door without facing a cashier is the ability to get a same-day mascara delivery when you don't have time to stop at Sephora. Some are best sellers and some are just the fucking best, but regardless your face will thank both you and our guy Jeff Bezos.

Whether your eye bags are giving away the fact that you're hungover AF or you have serious period pimples popping up all over your face, NYX's Professional Makeup Concealer's creamy consistency will cover all of that. It's no wonder it's an Amazon makeup best seller—betches can't get enough of covering up their poor life choices and unfortunate hormonal acne.

The only thing worse than taking off waterproof mascara is trying to take off waterproof mascara with wipes that don't actually remove waterproof mascara. Thankfully for your lashes, wallet, and sanity, you can get Neutrogena's excellent wipes delivered to your front door. They work like a charm.

Too Faced's Better Than Sex Mascara is definitely better than the shitty sex you had with your ex-fuckboy. But you know what's better than the mascara AND subpar fuckboy sex combined? TWO Better Than Sex mascaras: the OG and the waterproof version. You can get the full size regular mascara and travel size version of the waterproof mascara right now on Amazon, and on sale no less. Using the waterproof to seal in the regular mascara will leave you questioning why you ever settled for lame mascara and lame sex.

Blending L'Oréal's Lumi Glow Amour Boosting Drops on your cheek bones is like dropping pixie dust into your foundation. It makes your cheeks shimmer, and the liquid drops blend a better than most powder highlighters.

Everyone needs a super-pigmented liquid matte lipstick that will last all night—no matter what activities you choose to partake in. That's why you need to get Lime Crime's Velvetines Liquid Matte Lipstick delivered to your doorstep ASAP. The best part is that Lime Crime's velvety texture won't cause the lipstick to peel or dry out your lips (*glares at Kylie*).

The fairy godmother of highlighters, Anastasia Beverly Hills' Sun Dipped Glow Kit is the answer to all of your highlighter needs. It'll have you looking like a bronzed goddess even in the middle of this fucking godawful winter.

Another Too Faced product made the list solely because, well, this foundation is the absolute tits. The amount of coverage this foundation gives without looking cakey is unparalleled. The best part? Its texture is still lightweight enough (and oil-free) so that it's suitable for those with acne-prone skin. Blessings.
Images: Jazmin Quaynor/Unsplash (1); Amazon (7)
Betches may receive a portion of revenue if you click a link in this article and buy a product or service. The links are independently placed and do not influence editorial content.
The Types Of Makeup Brushes You Actually Need To Buy
Ok, so if you've ever fallen into the black hole that is internet makeup tutorials (aka all of us), then you've probably been exposed to the endless makeup brushes that those 15-year-old YouTube stars use. But which makeup brushes do you actually need? I mean, we love contouring as much as the next betch, and we also enjoy a perfect smoky eye, but do you really need a different brush for your crease, brow bone, and smudging? Not so much. Read on to find out which makeup brushes your vanity can do without, and which ones ACTUALLY need (and where to use them), courtesy of Jane Iredale's new (and chicly designed) brush collection.

Jane Iredale's Chisel Shader Brush is perfect for both powder and cream eyeshadows, and can be used to lay down the eyeshadow from the lash line to the brow bone so you won't need another brush. The densely packed, short bristles make it easy to build layers of shadow without smudging.

A brush with long, soft bristles helps to blend a multicolored eye look so you don't end up with streaky raccoon eyes. If you've ever seen someone walking around with unblended eyeshadow, you know why a crease brush is necessary.

If you're into powder foundations or bronzers, then a long-bristled, flat-topped brush like The Handi Brush can be used to dab on the powder, then buff out after applying. Since the bristles are so dense, you won't lose or waste makeup in the application process.

If you're a liquid foundation kinda betch, you need a large, rounded, densely packed brush like a Kabuki Brush for an application that you can buff on evenly for the best coverage. Yes, you really do need a different brush for each type of foundation. Sorry, I don't make the rules.

If you want to properly achieve a transformation as dominant as Kim K's, then you're going to need a contour brush (and a lot of other work—but most importantly, a contour brush). The brush also doubles as a blush brush and is really used to enhance any/all features. Contour brushes should be of medium density and have an angled top. Those of you who still haven't figured out how to contour can save a little money by not bothering with this type of brush.

Ok, so you really only need this brush if you're obsessed with highlighters. Which, if you've read this far into the story, odds are you take angled selfies just to get a glimpse of your glowing highlighter. There's just something about having shimmering cheeks that makes us feel better about ourselves. A soft, long-bristled, fan-shaped brush should be dabbed into a highlighter and then spread above your cheekbones. If you're one of those people who doesn't believe in highlighter and thinks it's all a scam to get us to buy repackaged eyeshadow, you can skip the fan brush.

Short, thin, angled brushes like Jane Iredale's Angle Liner/Brow Brush will help to apply eyeliner and fill in your brows without making you look like Oscar The Grouch. So yeah, you need one of these in your stash.

A rounded, flat, dense brush with medium to short bristles allows you to apply and blend liquid or cream concealer evenly, and with control so you don't end up having white rings around your eyes when someone uses the camera's flash.
5 Stress-Fighting Skin Care Products That Do Wonders For Your Face
---
It takes a lot of patience, effort, and internal seething to act as heartless as Kourtney Kardashian. I know this because I try like, really fucking hard to only provide one-word answers to any question and mask any sign of emotion at all times. I give her so much credit for perfecting this act despite having three kids with a mentally unstable and alcoholic ex-boyfriend sleeps with Insta thots on the regular. All hail Kourtney Kardashian.

Regardless of how much I put on this little public façade, the second I'm behind closed doors, I am 1,000% Britney Spears circa 2007. Being in your 20s means becoming a workaholic (possibly also an alcoholic) while remembering to eat solid food before five consecutive tequila shots and turning off your straightener before leaving the house. Anxious is basically my middle name at this point, and if you didn't know that, all you'd need to do is take one look at my face to figure it out. At least my outside matches my inside, right? Some rich smart CEOs probs know of this struggle all too well, so here are fab skincare products to help hide your stress so you don't fuck up your ex's car with an umbrella.
For skin that manages to fuck up when all shit hits the fan, this serum calms down redness and swelling to prevent future breakouts. Glossier understands that junk food and that unpleasant moment right before our time of month are literally sabotage, and this serum is specifically formulated to stop your skin's biggest triggers. The super lightweight water-to-gel formula gets rid of excess oil and absorbs into your skin to drastically strengthen your cells.

The bags under my eyes will def be the death of me, literally. I look like a corpse if I'm not layering a shit ton of eye cream, especially after all the sleepless Saturday nights I've had in the past seven years lately. This is an instant brightening and hydrating eye cream that has a cooling effect and leaves you feeling wide awake. It de-puffs your eyes so you look refreshed and smoothes your eye area for makeup application. The formula is also free of oil and fragrance, and full of peptides that counteract against stress and lack of sleep.

The intense moisturizer is clinically proven to reduce signs of stress, including fatigue, dehydration, and blotchiness. Honestly, anytime something says it's clinically proven, I'm sold. I won't ask questions. This product is infused with roses and some other good-smelling stuff that detect signs of stress before they happen and help promote immediate recovery so you don't break out.

For a super quick and relaxing remedy after a long night of drowning your sorrows in wine, apply these pre-soaked moisturizing pads onto your eyes for about 10 minutes. They're composed of anti-stress and anti-fatigue ingredients to help soothe, hydrate, and massage your under eye area. Turn off your phone and listen to like, Mozart or whatever before taking them off and gently rubbing the excess serum in.

This is like, meditation in a bottle tbh. The product promotes sensory therapy, which is supposed to work wonders after a light application on your pressure points. When you're two seconds away from throwing your computer against the wall at work, apply two drops of this on the back of your neck, inner wrists, temples, and earlobes. A tingling sensation will occur (so, no, you're not going crazy) and soon, your bottled-up tension and stress will evaporate. This also works as a sleep aid and helps with migraines, so who the hell needs yoga when you've got this?

Images: Katerina Radvanska / Unsplash; Giphy; Glossier.com; Sephora (2); Nordstrom; Estée Lauder;
The 7 Best Drugstore Eyeliners That Cost Less Than Your Starbucks Order
I may or may not have talked a little bit about my ongoing battle with the woman who works the checkout counter at Sephora. Let's call her Sheila for the sake of this article. The root of my vendetta against Sheila probably has something to do with the ridiculous amount of money I spend on eyeliner. Because let's face it, I would be nothing without my eyeliner. Mostly because it enhances the Bitch in my Resting Bitch Face, but also because it serves as a sort of last defense against the psychopaths commuting from Brooklyn to the city. I sincerely believe my on-point eyeliner is the only reason why tourists do not ask me stupid questions like "will this train get me to Brooklyn" when they're standing on the Manhattan-bound side and it fucking says it on the sign right in front of them, or when children don't try and start some shit with me for stealing sitting in the open subway seat. So yeah let's talk about eyeliners. Drugstores actually have some really good shit in there—and for a price that doesn't make me want to question my priorities more than my mother already does. So here are seven eyeliners you can buy at any drugstore that won't break the bank (take that, SHEILA):
The Best Eyeliner For Cat Eye
Trying to perfect the cat eye technique is a bigger mind fuck than listening to a fuckboy try and evade the question of "what are we?"

And, like a fuckboy, my cat eye technique only does what I want it to do every day that is not Friday or Saturday. Like, some days I look like a very, very distant relative of the Hadids and other days I look like Jenny Humphrey after she became a drug dealer and it's really a toss-up every morning. That being said, Physicians Formula Felt-Tip Eye Marker is going to be your go-to for all things cat eye. This fine-tipped marker goes on super soft instead of super pigmented, which makes it perfect for attaining those bedroom eye goals.

The Best Eyeliner For Color Range
CoverGirl, aka a brand The CW is low-key keeping in business by shamelessly plugging the shit out of their products, has the best eyeliners for color range. We recommend using the CoverGirl Perfect Point Plus, which comes in more color selections than Kylie Jenner's wig room. Our three top picks are charcoal (perfect for taking your look from office professional to happy hour hoe), and if you're feeling more adventurous, hunter green and midnight.

The Best Eyeliner For Smokey Eye
Like the cat eye, the smokey eye takes actual patience and work, which is the last fucking thing I want to do when I'm drinking alone in my room getting ready to go out. Like, I can barely drink wine while trying to take a decent filtered AF picture for my Snap story so my ex and the three fuckboys on my rotation will know exactly what they're missing, and you expect me to also be good at making sultry eyes too?? That's a hard no. But the Rimmel Exaggerate Eye Definer makes a smokey eye v v easy. Not only is it a retractable pen, but it also comes with its own smudging tool and sharpener so it's like three things for the price of one. Praise Be.

The Best Liquid Eyeliner
WARNING: do not attempt to use liquid eyeliner after half a bottle of wine a casual night in watching beauty YouTube videos. You will look like this, and I of course know nothing about this from personal experience:

Using liquid eyeliner is an art form that I'm convinced should count as an accepted skill on your professional resume should you be one of the few that can pull this off. And Maybelline's Line Stiletto liquid eyeliner is the best one in the game. It glides on easy and gives razor sharp lines with zero dragging. Plus it can stay on throughout a nuclear bomb night out with your friends.

The Best Eyeliner Endorsed By Celebs
I had to include this category because celebs are doing this new thing where they pretend they're peasants just like us and visit CVS's for beauty products and not just for opportunities to be spotted by the paparazzi being "real" and "normal." Lol, K. But I also love them for this because I will buy any and all beauty products that celebs pretend like their assistants don't buy for them. That being said, Reese Witherspoon's makeup artist revealed that Reese would be nothing without L'Oréal Infallible Lacquer Liner (my words, not hers) and I squealed like a Belieber because apparently I only need to spend less than $10 to look like Elle Woods and that is a dream come true right there.

The Best Waterproof Eyeliner
Obviously I had to include this category because I've noticed this strange phenomenon where on any given weekend night after 2am, creatures start to prowl the streets of Manhattan looking for shitty pizza and their dignity. Ya know, the ones that look like this:

That's where Rimmel Scandaleyes Waterproof Kohl Liner comes in. Use this product if you don't want to turn into an (iconic) internet meme. This eyeliner is the best of both worlds because it gives you a creamy formula while also staying on through a night of vodka sodas, shitty street pizza, and a search for your missing dignity.

The Best Pencil Eyeliner
I will never understand the type of person that uses pencil eyeliners. Is it just me or do they seem sort of archaic? Like some sort of medieval tool Cersei would use to torture one of her offspring with? I mean, we live in a world where people can literally order alcohol to be delivered to their homes without moving from the couch, we don't need to be stabbing sharpened pieces of wood at our eyes anymore for the sake of beauty. But I guess some of you masochists like this sort of thing so I'm including it. YOU'RE WELCOME. If you're into being tortured, L'Oréal Voluminous Smoldering Liner is going to be your weapon beauty product of choice. It's perfect for smudgy "I woke up like this" vibes.

The 6 Makeup Mistakes That Are Ruining Your Selfies
In case the world wasn't already going to shit, apparently now your makeup could be sabotaging your Instagram photos. So should I just step in front of a moving car now or?
So if you were hoping to be the next face of hair vitamins or laxative teas on Instagram then listen up betch, because here's a full list of all the ways you're fucking up your Instagram photos with your makeup choices. You're welcome.
1. Over-Powdering And/Or Skipping Powder
Unless you are the next face of Maybelline, you need to powder your fucking face. But not, like, too much or your skin will look start to look flat and dull. Ew. To appear fresh-faced and like you didn't just spend last night making work happy hour your bitch, only powder the t-zone area of your face, i.e. your nose, forehead, and chin.

2. Not Matching Your Base To Your Face Makeup
This is a rookie mistake that is only acceptable to make your freshman year of college and that one time in Miami you got too drunk by the pool and just said fuck it when you were getting ready to go out. THOSE ARE THE ONLY TIMES. Because even though you might think you look fine you fucking don't. So for god's sake, make sure you blend your foundation down your face, neck, and chest because no one wants to see that shit.

3. Doing The Most With Your Eyebrows
PSA: Those eyebrows that you spent an embarrassing amount of time sculpting this morning might make you look like Olivia Culpo up close, but from afar you look like you should be preforming at a drag brunch. For selfies and your Bumble profile picture stick to the opaque and overly sculpted look, but for group photos and, like, life maybe go with a fuller, fluffier brow.

4. Going Batshit With Your Highlighter
There is a fine line between "gorgeous glow" and "dear god you're blinding my eyes with what's happening on your cheekbones rn." Too much highlighter can emphasize uneven texture and the size of your pores. Dab a cream highlighter like RMS Beauty Living Luminizer on the tops of your cheekbones, cupid's bow, and inner tear ducts. Avoid at all costs the center of your cheek and forehead or I will fucking call you out for it.

5. Being Stingy With Your Mascara
Tbh I feel like this one is sort of elementary, but don't be stingy with your mascara. Short, straight lashes can make the eyes look tired AF. Makeup artists suggest curling lashes for at least 30 seconds and then applying several coats of carbon black mascara to lock in the curl. Or you could just buy eyelash extensions like a fucking adult.

6. Ghosting
And, no, I'm not talking about your Bumble boyfriend who just fell off of the face of the earth after you used the term "monogamy" for the first time. I'm talking about the kind of ghosting where you're in the club and it's too dark to take a selfie so you turn on the flash and all of the sudden you look paler than Anne Hathaway at the beach. You can blame the SPF in your moisturizer/foundation for that. If you're trying harder than a former Bachelor contestant to get likes on a photo, then maybe go for a foundation with a lower SPF rating. Or just use a weird Instagram filter to make you look "artsy." Idk seems to be working for Kim Kardashian these days.