Does Anyone Actually Miss Award Shows? VMAs Red Carpet Recap
Amidst all the canceled events of 2020, somehow the VMAs managed to survive, and they were broadcast "live" last night on MTV. (I say "live" because many parts were actually filmed in advance.) But really, the VMAs of all things was the show that went on? Not even, like, the Met Gala? Don't get me wrong, the VMAs are a fun time, but I can barely be bothered to muster up enthusiasm for my job in these times, let alone an award that comes in the form of an astronaut and is determined by people who spend their free time learning TikTok dances. This year's ceremony was, by many accounts, a snooze-fest, but the socially distanced red carpet brought about some meme-able looks to discuss. Typically, it's hard to end up on our VMAs "worst dressed" list, because the vibe of the red carpet is really more about who can look more out-there than who can look traditionally "good". That being said, some celebrities still failed to impress—which is actually kind of an accomplishment considering they've had nothing to do for months than figure out an outfit for this event. (Things my friends will say to me at their 2022 wedding.) Some celebs looked amazing though, and we have to give credit where it's due.
As far as the actual show, while it was no "Britney and Madonna making out", there were still some noteworthy moments. Keke Palmer, the host, dedicated the show to Chadwick Boseman, whose death was confirmed on Friday night. MTV also put together a touching tribute to the late Black Panther actor that will make you cry. The Weeknd opened the show with a performance from over 1,000 feet in the air, and used his speech for Best R&B Video to call for justice for Jacob Blake and Breonna Taylor. Similarly, DaBaby's medley alluded to police brutality and the COVID-19 pandemic.
Miley recreated her iconic "Wrecking Ball" video during her performance of "Midnight Sky" when she swung from a disco ball (not naked this time, though). Lady Gaga came through with iconic outfits, as is to be expected, and wore a face mask all throughout her performance, effectively squashing any of the popular Karen excuses for not wearing a mask. Overall, while there were some interesting performances, if you didn't watch, you really didn't miss anything.
So without further ado, here's our rundown of the very limited socially distanced red carpet.
Madison Beer

This one falls under the category of "looks amazing but didn't go all-out". Madison looks great (even if this look feels like Kylie Jenner cosplay), but I'm just a little bored. This is exactly what I imagine every Gen-Z girl would be wearing to a frat party right now, or like, what NYU students would wear to 13th Step/Penny Farthing. Do I now want to buy this dress off Nasty Gal (where I presume it came from)? Kind of, but that's not the point.
Sofia Carson

Granted, I may not know a whole lot about fashion, but I do know that peplum tops and bubble skirts went out of style at around the same time I stopped flat-ironing my side bangs. So why this dress has both elements in one, and saw the light of day in 2020, is perplexing. All I can really say is that this prom gown just looks like a period. I don't know why, but I just know that it's true.
The Black Eyed Peas

They don't even go here!! I love that the Black Eyed Peas were at the VMAs, and I love that they dressed like three bros getting ready for any old Saturday night out at the bar. You'd think they would have gone a little harder, considering they have had like, no public appearances since 2013. This was your moment to make a splash, and ya blew it.
Joey King

Again, file this one under: I love this dress, but not for the VMAs. The dress is cute but feels like something I could have picked up from an Urban Outfitters, and the accessories are giving me "grandma's costume jewelry" vibes. I've also got to take this time to discuss how seemingly random the guest list is. Like, on the one hand you have Lady Gaga and Miley Cyrus. And then on the other hand, we have… the Black Eyed Peas minus the one member of the band who made them relevant in the first place, and Gypsy Rose Blanchard? It's like instead of using seat fillers, they just used random celebrities.
Bella Hadid

I'm actually dying at Bella stealing Jenna Rink's updo. Now, I don't hate this outfit—I actually like it and would probably wear it. However, see-through and black seems to be Bella Hadid's red carpet M.O. Her 2017 Met Gala look? See-through and black. Her 2019 Met Gala look? not see-through per se, but lots of cut-outs and black. I guess there is something to be said for consistency, even though this whole look is what you'd get if you typed "Goth Dollz" into one of those glittery gif generators from the early 2000s.
And now for the looks we didn't hate…
Nicole Richie

Nothing but respect for my Statue of Liberty. That's it, that's the description.
Miley Cyrus

Miley looks incredible, even though I'm pretty sure I own this bathing suit cover-up. This is kind of giving me knock-off Rihanna at the Met Gala vibes, but I feel like that's what we deserve in 2020.
Lady Gaga

Unsurprisingly, Lady Gaga had the best looks of the night, starting with her red carpet ensemble, which felt like "the moon man, but make it avant-garde". It worked out for her, considering she took home four awards, the most wins for the night. This outfit is basically proof that manifesting works.
Don't miss out on any pop culture or entertainment news. Subscribe to our weekly newsletter here. 
Images: Rich Fury/MTV VMAs 2020/Getty Images for MTV (5); Vijat Mohindra/MTV VMAs 2020/Vijat Mohindra/MTV VMAs 2020 via Getty Images; Kevin Winter/MTV VMAs 2020/Getty Images for MTV; Jeff Kravitz/MTV VMAs 2020/Getty Images for MTV
7 Celebrities Who Have Joined The Protests
It's been just over a week since George Floyd's death, and millions of people across the country have used their voices to demand justice. There have been huge protests in every major city, and while some have broken out into violence, the vast majority have been peaceful demonstrations. It's so important that we use our voices and platforms right now, and many celebrities have gone beyond just social media posts and joined the protestors in the streets.
Ariana Grande
hours and miles of peaceful protesting yesterday that got little to no coverage.
all throughout beverly hills and west hollywood we chanted, people beeped and cheered along.
we were passionate, we were loud, we were loving.
cover this too please. #BLACKLIVESMATTER https://t.co/vD90CEtF94 pic.twitter.com/GZ6uKDfPM7

— Ariana Grande (@ArianaGrande) May 31, 2020

On her social media, Ariana Grande highlighted the peaceful protest on the west side of LA over the weekend. She shared photos from Beverly Hills and West Hollywood, pointing out that, compared to more violent incidents, this peaceful demonstration got "little to no coverage." When all you're seeing on the news are images and videos of looting and fires, it's easy to think that all the protests end up in violence. That's not true, and the fact that Ariana Grande is showing a peaceful protest to her 74 million Twitter followers is huge.
Tinashe
Show up pic.twitter.com/jl9fkEh4eU

— TINASHE (@Tinashe) May 30, 2020

If you noticed, Ariana Grande's tweet about the protest she attended was in response to Tinashe's thread, where she also posted pictures of a peaceful protest in Beverly Hills. She posted inspiring pictures of huge crowds gathering and marching in solidarity. As one of many artists who's had to cancel tour dates due to COVID-19, she's also encouraged her fans to donate their ticket refunds to important causes like bail funds.
Madison Beer
Madison Beer been outspoken about police brutality for years, and she's been out protesting in LA multiple times in the last few days. While at the protest on Sunday, the group Madison was with got tear-gassed by police, despite the fact that they were being completely peaceful.
In addition to attending protests, Madison has been sharing lots of important information on her social media, including curfew information, numbers to call in case of unlawful arrests, and locations where police are using tear gas. In a post on her story, she acknowledged all the thanks she's gotten for her work, but made it clear that "it should be expected."


John Cusack
Cops didn't like me filming the burning car so they came at me with batons. Hitting my bike.
Ahhm here's the audio pic.twitter.com/tfaOoVCw5v"

— John Cusack (@johncusack) May 31, 2020

John Cusack, who is a huge Bernie Sanders supporter and posts constantly about his progressive politics, joined protestors in Chicago on Saturday night. Judging from his tweets, things were mostly peaceful, but at one point he came upon a car that had been set on fire. When he started filming the car, police officers came toward him with batons, hitting his bike and screaming in his face. This short video of the encounter is terrifying, so I can only imagine what it was like to actually experience it. In another tweet, Cusack added that he "would be very surprised if this is a one or two day event," and that it feels like "many streams of outrage coming to a head, a wave peaking."
Lana Del Rey
Lana Del Rey is no stranger to controversy lately, and despite joining protests over the weekend, she still got herself into hot water. She posted a series of images from the protests on her Instagram story, which is fine, but one of them was a video of a store being looted, in which people's faces were clearly visible. This is the exact kind of thing you're NOT supposed to post from a protest, and people understandably got very angry.
@LanaDelRey thank you for removing your post!!!!!!!!!!!

— TINASHE (@Tinashe) May 31, 2020

Lots of people tagged Lana on social media asking her to take the image down, which she did pretty quickly. An issue with posting pictures of videos of protests is that showing someone's face could potentially lead to them getting arrested, deported, or otherwise targeted by law enforcement. It's okay to make mistakes and learn right now, but everyone needs to be extremely careful about what they're posting.
J. Cole
J. Cole has joined the protest in downtown Fayetteville, NC. So remember all the rappers who were out here donating and supporting when its time to buy albums. pic.twitter.com/OjJWRLFtJy

— OBJ said ask about him (@evelynvwoodsen) May 30, 2020

J. Cole has been out protesting in his hometown of Fayetteville, North Carolina, along with NBA player Dennis Smith. According to reports from those at the protest, they declined to do any interviews or take photos with fans, not wanting to pull any focus from the cause at hand. It seems like most celebs at that protests have done the same, and it's great to see them just doing something because it's the right thing to do. Also?? If you're at a protest, it is NOT the time or place to try to take a selfie with a celeb for clout. Read the room.
Halsey
Halsey has done so much that she's getting her own article, but we'd be remiss not to mention her here as well. She was at a peaceful protest over the weekend, when police fired teargas and rubber bullets at the crowd. She warned her followers about the danger of rubber bullets (which are way more intense than they sound), saying that she "had to bandage a man who looked like his entire face had exploded today."
fired rubber bullets at us. we did not breach the line. hands were up. unmoving. and they gassed and fired. pic.twitter.com/K8YauF0APn

— h (@halsey) May 31, 2020

These are just some of the celebrities who have gotten out to join the protests recently, and surely this list will continue to grow this week. We're at a major moment in this movement, and it's more important than ever that we all show our support in whatever way we can. Whether this means attending a protest, making a donation, or working to educate yourself and become a better ally, we all have to do something.
Images: DFree / Shutterstock.com; arianagrande, tinashe, johncusack, evelynvwoodsen / Twitter; madisonbeer, halsey / Instagram
Scott Disick Doesn't Have A Wikipedia Page So We Wrote Him One
Okay, so it's been brought to my attention that for some godforsaken reason, Scott Disick doesn't have a Wikipedia page. Even Rob Kardashian has one, and he's best known for…um, selling socks. How can one of the best characters on KUWTK and the most salacious riotmaker of the tabloids not have a Wikipedia page? Since Wikipedia helped us graduate high school (and, let's be honest, college), we decided to do them a solid and make a page for Scott. Check out the SparkNotes version of Scott Disick's life (with some opinions thrown in, obvi).
Childhood
Scott Disick was born to a wealthy family in the Hamptons. He was an only child, which is pretty obvious based on the fact that he's bratty and selfish. Scott attended a ritzy private school called The Ross School, which boasts other famous alumni like Alexa Ray Joel and Tessa Grafin von Walderdorff. And before you say, "who"?? Alexa's dad is Billy Joel, Tessa's husband is Barron Hilton, and Scott swindled his way into the Kardashians. So pretty much they get trained there to piggyback off of famous people in order to become famous.
Scott had his ups and downs in his adolescence. It's actually not known whether or not he really graduated high school. He modeled for a young adult series about horses, and I can't tell whether that's an up or a down. He also was nicknamed "Number One Scum" and "S.T.D." which just so happen to be his initials. He actually found those nicknames funny because they underscored what a party animal he was, and how he was such a player in high school. Scott also got arrested for a DUI under the age of 18, which is a huge foreshadowing of what was to come in his future.
"Career"
Entrepreneur
Okay, I don't even know what this means. I'm pretty sure it's a career you have if you're trying to make it seem like you do a lot of things when in actuality, you do nothing. There was an episode where Kourtney said she doesn't even know what it means, largely because he was so evasive about it. His evasiveness means that a) he doesn't know what it means either or b) he's involved in something sketchy like underground poker games or a drug cartel. With friends like Joe Francis, you never know what this guy will get himself into.
Reality Star
Let's not act like Kourtney was involved with Scott for so long because she was in love with him. I mean, he got caught cheating on her multiple times, he obviously had a substance problem that he barely attempted to get help for, and she was pretty open that she found everything about him annoying. TBH, I'm pretty sure she was only with him because they make adorable babies and he's probably the most interesting character on the show, so they needed a way to keep him tethered to the franchise.
Recently, Scott was given a new reality gig, a show called Flip It Like Disick about flipping houses. It's an eight-episode, hour-long series where Scott and a team of designers, contractors, and other people who actually know sh*t about real estate will renovate luxury homes. Tbh, the only thing Scott Disick is an expert in flipping is Kourtney's world upside down, but sure.
Almost An Actor
Remember American Psycho? Of course you do, because every finance f*ckboy has a quote from the movie as his dating app bio or he makes you watch it on a cozy night in. After all, what says romance more than Christian Bale slaughtering Jared Leto while blasting Huey Lewis and the News? Anyway, the writer of American Psycho announced on Twitter that the way he would ever do a remake is if Scott Disick or Miles Fisher played Patrick Bateman. No, seriously.
I have warned Lionsgate that I will not approve a new version of "American Psycho" unless it stars SCOTT DISICK or MILES FISHER.

— Bret Easton Ellis (@BretEastonEllis) December 9, 2011
Approve! RT @BretEastonEllis I have warned Lionsgate that I will not approve a new version of "American Psycho" unless it stars SCOTT DISICK

— Scott Disick (@ScottDisick) December 9, 2011

So, Bret never ended up making the remake, yet he was willing to make "The Canyons," which starred Lindsay Lohan. So Kanye West took it upon himself to do a remake of "American Psycho" starring Scott Disick and—get this—Jonathan Cheban. My dream come true.
Restaurateur
Remember when Kourtney and Kim took New York the first time around? You probably don't, because that season wasn't too memorable. You also probably don't remember Scott's restaurant, RYU, because it was doomed from the get-go and only lasted 191 days. Kourtney didn't even believe the restaurant would even open. But hey, that's more than 2.5 times longer than Kim's marriage to Kris Humphries, so at least Scott accomplished something.
Royalty
While the fam was in London, Scott had nothing to do because he basically does nothing for a living. He decided to become a Lord because anyone—even citizens of other countries—can be awarded this title. One of my majors in college was History with a concentration in Modern European History, and one thing we learned is that the try-hard social climbers that were so desperate to hang out with the elite would buy these "lord" titles to make themselves seem like they were members of high society. Scott leeches off the royal family of America and posts pictures of himself with overly priced watches and on private jets, so that sounds about right.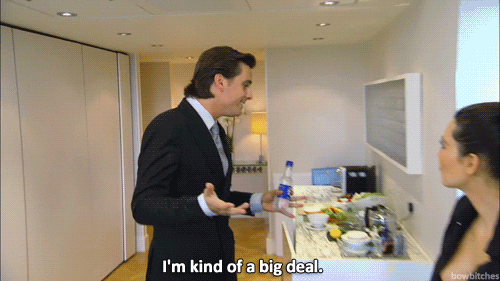 Designer
Scott started a clothing line, appropriately named "Talentless." Way to be self-aware for once, Scott! It donates 3% of the proceeds to a charity called "Fuck Cancer!" which is really sweet. The brand's mission statement is: "'Talentless' is an homage to the new wave of creators, innovators, and influencers who've made a name for themselves by going against the conventions of what it means to be 'talented.'" Okay, cool, that sounds super deep and inspiring or whatever, but how is selling plain old T-shirts with nothing on them for $42 an homage to creative people? This isn't some Derelict-level sh*t like most of Kanye's fashion shows are. But still, you're thinking way too highly of yourself here, Scott.
Influencer
Scott will throw up Instagrams about FitTea, cell phone cases, and asking his followers to follow Lala Kent's fiancé. Yet he barely posts pics with his girlfriend of two years. He also does appearances at clubs like 1OAK, which is where that bratty, try-hard girl from high school wears a leopard print outfit and takes tons of bathroom mirror pics to prove that she is better than you. But you know what? All of these jobs are probably less pathetic than Kourtney's CV. At least Scott tried(ish)!
Relationships
Kourtney
Kourtney and Scott met at the mansion of Joe Francis, best known as the creator of Girls Gone Wild. That in and of itself was a sign that their relationship would not work. First off, I would not wanna use the same toilet as Joe freakin' Francis, much less do body shots with him and his friends. Anyway, a year later, these two fell in love. Her entire family hated him at first. But soon, Kris, Kim, Rob, and Khloé fell in love with him too.
Sofia Richie
Sofia Richie is best known for being Nicole Richie's little sister, modeling (although I can't think of a single brand she's modeled for), and now, dating Scott Disick. But is their relationship serious? I'm not sure *grabs tinfoil hat*, and here's why. Before Scott and Kourtney broke up for the final time, Sofia was dating Justin Bieber. Also, Kourtney Kardashian and Nicole Richie have been friends since childhood. Kourtney's rebound after she broke up with Scott was Justin Bieber. So Scott came up with a conniving plan to hook up with Kourtney's friend since childhood and Justin's ex-girlfriend. Oh, and did I mention Sofia used to be besties with Younes Bendjima before he started dating Kourtney? That's honestly the most brilliant clapback ever—it's almost Shakespearean. Is Scott is totally in love with Sofia, or is this the most convoluted plan to make Kourtney jealous? I'll let you decide.
Hookups
Scott pretty much cheated on Kourtney all. The. Time. But the final straw was Chloe Bartoli. They were in the same group on vacation and she just so happens to be his ex-girlfriend, so inevitably they got handsy. Not too long after, Scott hung out with human glitter bomb Bella Thorne in Cannes, yet she denied any hookup took place. Scott also hooked up with Kourtney's best friend since childhood, Kimberly Stewart, and regulation hottie Madison Beer, who is probably the best catch Scott got out of all these hookups.
Children
Scott has three children with Kourtney (although it is unknown how many children he has had with his side chicks). His eldest, Mason, was always his mini-me, and will probably create a streetwear line that sells T-shirts with one logo on it for $400. Penelope is his only daughter, and the only gift he has ever given her is daddy issues. Reign is his youngest and clearly his favorite, so that little dude is set for life.
And that's pretty much all you need to know about Scott Disick's life! Wow, I have aged 10 years and lost most of my brain cells. If anyone works at Wikipedia, feel free to copy and paste this article directly in for Scott's page.
Celeb-Inspired Matching Sets That Are Perfect For The End Of Summer
Okay, so first let me start out by saying I am extremely lazy. The type of lazy where I won't even bother getting off the couch to get my remote and would rather just lay there bingeing Real Housewives episodes, even though I've seen them all 100 times. But I'm not complaining. Also, if someone asks me to go out after I've already gotten home, it's going to be a hard no from me. Because that also involves spending time picking out an outfit. So no, I think I'll pass. The good news is, the matching sets continue to be a trend, so that's like only having to pick one thing from your closet, so maybe I'll consider that. When the universe is against you and you are forced to socialize, matching sets are a good option to have in your closet. So here are my three celebrity-inspired sets that I have been wearing all summer.
Kylie Jenner
First off, Kylie Jenner. The new 20-year-old mom just got her pre-baby body back, and she certainly knows how to show it off. Even in the form of bathroom selfies. When she takes a picture in a bathroom it's cool, but when I do it it's trashy??? Life is unfair.
Kylie's tan set was my inspiration for this bright yellow set from Topshop. I've worn this about five times already this summer and it hasn't disappointed. It's great for a vacation and even better for rooftop Saturdays. If you're cool with looking like a sunflower, I recommend this set.

Topshop yellow hacked denim jacket; Topshop yellow denim skirt
Olivia Culpo
Next, is my favorite matching set and girl, gingham and Olivia Culpo. First off, congrats to her for getting back with Danny Amendola. I'm not upset about him not being single anymore or anything, I'll work through it.
Culpo is wearing a gingham pant and crop top set, and I found a very similar style but with a skort from Forever21. It's perfect for the picnics your boyfriend promises he's going to take you on but never does, so just wear this to a Sunday brunch with your friends. To complete the look, white heels or sneakers go perfectly with the outfit.

Forever 21 gingham crop cami & skort set
Madison Beer
Lastly, my inspiration for this look was Madison Beer. Now, it's not exactly what she is wearing, but her Clueless Cher Horowitz vibe really spoke to me.
I found this matching skirt and top at Zara which I've truly been living in. My co-workers probably think I got robbed and this skirt and top are all I have left. This look really is perfect for both work and post-work drinks you don't want to go to.

Zara tweed top; Zara tweed miniskirt
Images: Olivia Culpo/ Kylie Jenner/ Bamba Swim/Instagram (3); Maya Media (3)