Dorit Kemsley Told Us Why 'RHOBH' Is 'Stronger' Without Lisa Vanderpump
When Lisa Vanderpump essentially ghosted The Real Housewives of Beverly Hills halfway through season nine, it felt like a pivotal moment in the show's history. With an OG gone, and most of the drama out the door behind her, would the group crumble, or come back even stronger? Well, I'm happy to report that thus far, season 10 has been a major return to form, after a few seasons that struggled to hold viewers' attention. This week, we sat down with RHOBH star Dorit Kemsley on the Mention It All Podcast, and she shared her thoughts on Lisa's exit, and why things have really clicked this season.
Going into the current season, Dorit says that "none of us really knew what to expect, because Lisa has always been there—she's one of the originals." But once filming got going, things progressed naturally. "There was so much going on that it didn't feel like there was a missing part," Dorit says, adding, "none of us probably thought it would've been that easy of a transition, but it really was." Dorit credits this smooth transition with the fact that "the core group has definitely gotten stronger and tighter." She's now in her fourth season on the show, and she feels "comfortable and confident" around her fellow cast members, despite acknowledging that "you wouldn't guess that in some of the episodes." She also credits this season's two new cast members, Garcelle Beauvais and Sutton Stracke, for "really making it fresh."
While the show hasn't suffered from Lisa Vanderpump's departure, Dorit is still working through the loss of her long-standing friendship with her former costar. "As far as our relationship, sadly, we haven't spoken. And that's not because I haven't wanted to, or haven't made attempts, but we haven't spoken since last season. So there really isn't a relationship." While Dorit still says she's hopeful for a future with Lisa, she's "not stopping life and waiting for it to happen."
Though Dorit is positive about her relationships with the other women on the show, there are obviously some rough waters ahead on this season. When asked what we can still look forward to seeing, Dorit kept it vague, just saying, "There's obviously drama. And then the drama gets bigger. And bigger. And then bigger. And then there's a few bombs, so there's a lot to look forward to." Buckle up your seatbelts, because things are about to get messy.
To hear our full interview with Dorit Kemsley, check out the latest episode of the Mention It All Podcast:
Images: Eugene Powers / Shutterstock.com
Are Lisa Vanderpump's Restaurants Actually Good? I Went To All Four
As a local LA resident, I am subject to high rent, high crime, horrific traffic, no weather, and a high risk of murder. Luckily for me, though, it also means I get to go to and rate all of our lord and savior Lisa Vanderpump's restaurants. To be able to eat and drink at fun and nice establishments as "work" is literally my dream, so please let my editor know in the comments other fun/nice places in Los Angeles you really want reviews on. Seriously. That said, my super supportive and Vanderpump Rules-loving friends accompanied me to LVP's finest establishments so we could try as much as possible to give you an honest review of what these places are like IRL. Let's begin.
SUR
We started our adventure having dinner at the place that started our favorite reality TV trash, SUR. We'd been once before and while the food was great, it was 9:45pm on a Friday and there was a DJ. We literally ate our meals and screamed to each other like we were in "da club". I say that like a person that does not go to "da club" because I f*cking hate "da club". But knowing this, I booked our reservation far in advance and was able to get a v normal dinner res at 7:30pm, and we had a way better experience. We went to the famous SUR lounge first, where we ordered the most coveted of items, GOAT CHEESE BALLS, cocktails (Big Pinky's), and the chicken steamed dumplings.

First of all, the goat cheese balls are really f*cking small. Like, teeny tiny little baby balls. They were also amazing, so yes, Stassi is right about them.

Here is a photo for scale:

I look really sad, but I ended up being really happy because they are v good and their small size did not stop my friends and I from ordering 3 more plates of them. We spent $44 on goat cheese balls alone. There are 3 balls per plate, so it's roughly $3.67 for each tiny ball. Worth it? Yes. There is some sexual innuendo here that would hilarious, but I do not care to make it.
We sat down to dinner and our server was super helpful. Probably because he is not on Vanderpump Rules so he actually cares about his job. We got filet mignons and a roasted lamb (right), all of which were amazing.

We sat in the middle room near the host stand, which I decided is not where I'd like to sit in the future. SUR has a second room to the right, as well as tables outside that seem to be way better to sit at, especially if there is a DJ being loud in the lounge. Thankfully, we were not victim to any DJ this time, particularly woman-hating DJ James Kennedy, so we got out unscathed. Guillermo was there both times I've been to SUR. I love to see that he's around checking on the quality of the restaurant, because it shows.
We ordered many of Lisa Vanderpump's Big Pinky: a cocktail full of Vanderpump vodka, lime, mint, and cranberry. It is sooooo good.

We ran into Max Vanderpump Todd himself on the way out (he and I have other issues, we will get to that later). We also ran into Ariana's brother, to which my friend shrieked within two feet of him, "THAT'S ARIANA'S BROTHER", to which Ariana's brother turned and looked at us and it was extremely awkward. I do not remember the name of Ariana's brother. Overall, we loved SUR and would definitely go back.
Pump
Did I love Pump? Yes. In fact, it was almost my favorite. But let's just talk about it chronologically. When we first arrived, the two bouncers decided they are also struggling comedians, as they told us we were in "Jacob's Lounge" and welcomed us. This was super weird and awkward, also because the strip that SUR, Pump, and TomTom are all on is super crowded and the signs aren't necessarily visible when you're directly under them at night. Had I not been going there with a specific intention, I probably would have just assumed I was in the wrong spot and left. Pro tip: maybe don't tell paying customers they are in the wrong spot when they are not.
Despite the really awkward entrance, we went to the bar and were greeted by many a beautiful gay man. Like literally, everyone who works there is incredibly attractive. With really high cheekbones. The bartenders were very disinterested in speaking to us ("because we have vaginas," my friend interpreted), but the cocktails were really good, so we could not complain. We tried the famous Pump and Glory, Pumptini (both fabulous), and a new cocktail called the Smoke & Mirrors, pictured, which was the best. It tasted like orange blossom heaven and was our favorite cocktail out of all the restaurants.

The highlight, though, was when we were seated for dinner in the gorgeous garden (which my friend called a "magical elf garden"), and ran into LVP herself. She was there with Ken, Giggy, and Puffy (?). She's somehow even more gorgeous in real life (and TINY). She graciously took a picture with me and said she would definitely read Betches for my article (Hi Lisa, we love you!). They sat right next to us and put Giggy on the table like a little furry purse. Good thing we weren't the health department. Then again, I kiss my dog on the mouth so I don't care. I think we need more dogs in places and less people. And way less children.

Our server and busser were both adorable and super friendly, telling us exactly what to order. It was actually hilarious, the busser was chatting so much with us that he finally was like, "ooh sorry, I have to go work, my boss is right there," like yeah buddy, we are totally aware we're seated next to LISA VANDERPUMP. But I love that she's at her restaurants so often checking everything out. My favorite item was the Rock Shrimp Tempura appetizer. It was just sooo good. We also got the Chicken Milanese, the Pan Seared Sole (pictured), a Pump Burger, and a Mushroom Chicken.

All were really good, and our bill was somehow cheaper than SUR by a lot. I will be back in a heartbeat, and I particularly want to try the brunch menu. Also, I asked our server what Lisa usually orders here and he said, "Oh, Lisa does not order off the menu," which is my favorite thing I've ever heard.
TomTom
Okay, so I told Lisa I would definitely give her restaurants amazing reviews, but also, this was before we actually went to TomTom, so Lisa, please look away. Or also, maybe you shouldn't, because TomTom needs some work.

Can I just say I love the decor at TomTom so much? It's so steampunk chic. It's aesthetically my favorite, although it is way tinier than all the other restaurants. I wanted to love TomTom. My first experience here was actually a few months ago, when my friends and I were drinking in the beautiful garden, only to be told that the garden was closed and we had to move inside. We did so, moving to a teeny dark booth across from the bathroom, only to see Max Vanderpump Todd go out to the garden and take our table. Needless to say, I was a little bitter that we were obviously removed just so Max and his friends didn't have to sit next to "regular people". But I was like, "hey, fine, I'll go back to TomTom and have dinner. I love the decor, it will be fine."
TomTom is the only one out of the four Vanderpump restaurants that does not take reservations so we got there early (~7 on a Saturday) to ensure that we didn't have to wait long. We didn't have to wait at all and got seated out in the garden, next to the table that was stolen from us last time.
Okay, so here's what's hilarious. Betches recently did an article on the Worst Dressed of Vanderpump Rules. Betch Dressed wrote that Sandoval "always adds in some element that takes it over-the-top and makes it instantly repulsive", referring to his style. This is literally exactly how I feel about TomTom's cocktail list. Self-proclaimed master mixologist Sandoval treats his restaurant the same way he treats his hair—by adding an unnecessary gray streak to everything that could have been good. Every single cocktail had something in it that made it weird and unpalatable such as mezcal, bee pollen, and pea tea (wtf). Also? The menu here was somehow the most expensive.
I tried the Clockwork Pink first. I took one sip and was like "f*ck no". I stirred it a bit and it made it better. By better, I mean drinkable at least. Maybe the bartenders didn't make it right? We still had hope.

My friends ordered the Alchemy Rose, pictured left (which tasted like straight-up gin, who is mixing these drinks?) and the Kentucky Muffin, pictured right (which is a hilarious drink name, I'll give props for that).

It also prompted this text exchange with her boyfriend:

At least they look pretty. Our server—which btw, love their outfits, they wear little suspenders and it is adorable—recommended we try the Madame Butterfly, which tasted exactly like extremely watered-down Mike's Hard Lemonade except it also cost $16.

It was hugely disappointing considering Sandoval's "many years in the food service industry" and "mixologist" skills. Hey Ariana? You should probably finish your cocktail book because clearly your boyfriend needs help.
Unfortunately, it got worse with the food. The menu is all supposed to be shareable, but they have items like burgers and steak on it which is sorta weird to share. We started with the Cauliflower Wings (which were actually really good) and the Portobello and Zucchini fries (fine). We then got the Kobe Sliders (pictured), which were also good and came with a little piece of potato on top—like that little bite is your side of fries (kind of disappointing). So far, all of these things we could get at any other restaurant in LA, and tbh, for a lot cheaper.

But then we ordered the Shrimp Salad (unfortunately pictured) and the Shrimp Flatbread. Big mistake. Huge. The shrimp tasted like it was reheated from a frozen package, i.e., weird texture and kind of like cardboard. It was so bad, we were all eating just the lettuce out of the salad and avoiding the shrimp. What does that say? My friend that literally never eats bread, took the flatbread and scraped off all the toppings just to eat the bread. That is how strange and gross it was. Like, how do you ruin pizza? If the best thing on your menu is cauliflower, we have a problem. I think there is a reason Lisa was eating at Pump and not here. We seriously debated sending it back, but like, were we going to send back everything? Is it rude to ask our server to just send us something edible? So we did not.

TomTom was packed and we wondered if everyone else was as disappointed as we were. Then we saw the table next to us get up and leave their full cocktails on the table. We decided to look at TomTom's Yelp page, and what do you know? It wasn't just us. According to Yelp, TomTom has a policy where you can't return a drink, which I've never heard of. Also? Any bar that doesn't swap drinks obviously has no confidence in their cocktails. There were other accounts on Yelp of people leaving full cocktails on the table, so it wasn't just us.
Toms. We want to like TomTom so bad, but I can't even go there for a decent drink. I'm hoping maybe they were just having an off night, as they are a new restaurant. The bartenders and chefs were maybe all having an off night. Also? Our bill was the same price as Pump but we had one less person. You'd think shareables would make things cheaper. It was still so early in the night but we didn't want to spend any more money on drinks that sucked, so we left by 8:30pm to go to a bar in our neighborhood for some $8 amazing cocktails and good food. Sandoval, maybe these bartenders are butchering your genius cocktails? If you want to invite us for a redo with your supervision, I will write a new review.
Villa Blanca
Villa Blanca was a literal Godsend after our experience at TomTom. It is the only one in a different spot, being in Beverly Hills instead of WeHo. It's so beautiful, calming, and the perfect place to meet up with friends and talk sh*t about everyone you know. The decor is just incredible. But here was the real test: How are the drinks?

We tried the #RoséRules, Peach Bellini, Chambord Spritz, and a flowery take on a French 75 that I think was called something like a Gala 75 but it must be new because it's not on their online menu. Every drink was absolutely fabulous. They also have the Pump & Glory and Pumptini on their menu, which we already knew we liked as a backup in case the drinks sucked here too. They weren't needed, as everything was perfect, including the staff that were super friendly and amazing to us. Our favorite cocktail here was the #RoséRules.

We also got crab cakes at the bar, which also did not have anything weird and were amazing.

Now here is where I would post pictures of our calamari and artichoke appetizers and my divine lobster ravioli. But I was so excited to eat, I literally forgot I was supposed to take pictures and just unhinged my jaw like a snake and swallowed everything whole. I was basically licking the plate clean when my friend was like, "oh we didn't take pictures". But. It's really a testament to how good all the food was. The food here was easily the best of all four restaurants and I loved the relaxed vibe. I will definitely be back for brunch, dinner, happy hour, everything.
Here's the lobster ravioli from Villa Blanca's Instagram instead:
Let's be real, all these restaurants have weird, dark (and occasionally pink!) lighting, so this is way better than my sad photography skills anyway. Here's the calamari:
Seriously, just go look at their Instagram if you're bored at work and salivate. Here's the thing too: with Villa Blanca, both drinks and food and just overall experience are worth every penny. And the drinks there are actually $14, whereas at TomTom they are $16. That two dollars adds up when you have a bunch of people. Who are alcoholics. Villa Blanca cost us only a bit more than TomTom, but once again we had four people instead of three this night. Villa Blanca is nothing but class and I could eat there literally every day of my life. Except I would also not be able to pay my rent. SUR was the most expensive overall (but again—for four of us), but I think that was more user error considering we got four orders of goat cheese balls.
TL;DR: SUR is my pick for happy hour in the lounge or cocktails later in the evening. I would go back for dinner too, though. But you have to get all the goat cheese balls. Both food and cocktails were equally great. Pump has the best cocktails overall. It's such a close second favorite for me, but also the vibe is so different than Villa Blanca, I'm going to go ahead and call them dual favorites just for completely different evenings. Pump is like the perfect place to get dinner before you're going to go out. I also cannot wait to go back for brunch because the garden is just so pretty. TomTom sucked. Go in, look at the gorgeous steampunk decor, order nothing, leave. Villa Blanca is my true favorite hands down, but it's more for a relaxed, nice dinner, like for date night or catching up with friends over a bottle (or four) of wine. But also get cocktails because they were awesome. Villa Blanca's food is also easily the best and the staff doesn't even judge you when you ask for more bread five times.
Overall, I loved the restaurants (not you, TomTom) and I love being paid to go eat and write about it even more, so if there are other places you want me to review, let me know in the comments. PLEASE.
It Looks Like Lisa Vanderpump Is Done With 'Real Housewives'
It just might be the end of an era. Rumors about Lisa Vanderpump leaving Real Housewives of Beverly Hills have been swirling for months, but now it seems like it's actually happening. On Tuesday, sources told E! News that LVP is really done with the show, and that she'll be leaving the cast after the upcoming ninth season. If you've been watching RHOBH until now, it's no secret that Lisa has been kind of over it the last couple years, and she definitely doesn't bring the drama like she used to. Still, it's a big deal that one of the OGs will reportedly be making her exit, so let's go over some of the most important points.
For the past few months, the Beverly Hills ladies have been in high gear filming the new season. They've been pretty open about posting photos together at filming events, and Lisa Vanderpump has been absent from most of them. She definitely showed up to some things early on, but a production source tells E! that "Lisa has only filmed on a few occasions during the beginning of filming this season, and has been absent the remainder of the time." Currently, all the ladies (except Denise Richards, who is at home dealing with the wildfires) are in France filming what is presumably their big end of season trip, and Lisa V. is nowhere to be found.
Here's the French gang, complete with Lisa Rinna in a classic leopard coat, and Erika Jayne in a Fendi puffer coat that I need right now:
Honestly, they all look amazing. I'm excited for this season, even if it's boring AF like the last one. But in more important (and more shady) Instagram news, Kyle Richards had the absolute best response to a commenter asking about the whereabouts of LVP. Thanks @cbcbravo, you make my life complete.
No doubt the other ladies are all sick of being asked about Lisa Vanderpump leaving Real Housewives, what she is doing, or why she's not at filming. According to the source, on the few occasions Lisa has shown up to film, "her interactions with the ladies have been solely negative." Lisa has always been a bit of a princess about things going her way, but she usually has at least one ally, or someone who she can boss around (recently Dorit, formerly Brandi Glanville). It really seems like LVP is on the outs for good this time.
So what does Lisa Vanderpump leaving Real Housewives mean for RHOBH, and especially for Vanderpump Rules? It looks like Lisa will at least be on parts of this season of RHOBH, but it's unclear whether she'll remain a full-fledged Housewife, or be demoted to "friend of." I don't know how all those contracts work, but I'd imagine part of being a Real Housewife is actually showing up to film the show. I don't have a law degree, that's just a guess. In terms of VPR, I'm guessing not that much will change. The new season is already filmed, and also Lisa has way more personal interest in that show's success. Maybe she'll make fewer on-camera appearances, but I'm sure she'll still get in everyone's business and treat Kristen like dirt. Some things never change.
So for now, we'll wait for some sort of official confirmation about Lisa Vanderpump's future on Bravo, but until then, I'm going to rewatch old episodes and reminisce on all the times she tried to act like Brandi wasn't the devil, or treated her son Max like the hired help. Let's hope Denise Richards and the other returning ladies are ready to bring the drama this season, or else we're really in trouble.
Images: @doritkemsley / Instagram; @cbcbravo / Instagram
These Moments Are Proof That Lisa Vanderpump Is An Icon
Moment of silence, because today is a very important day in the Bravo universe. Which is the only universe that really matters. My dear friends, today, September 15th, is the birthday of the Queen herself, Lisa Vanderpump. Despite claims from jealous housewives that she lies about her age, Lisa is turning 58. Sorry Ramona, but Lisa will always be younger. As the star of not one, but two iconic reality shows, it's only right that we look back at some of LVP's most iconic moments, conveniently presented in GIF form.
When Your Friends Aren't Sure If They Want To Go Out

Listen up girls, LVP doesn't want to hear it, and neither do I. I have no idea what this original quote was in reference to, because Lisa has probably said the same thing 10,000 times, most frequently when Dorit won't shut up about her swimsuit collection.
When You Have To Be Honest About Why You Ghosted

Look, sometimes honesty is the best policy.
When A Guy F*cked Up But You Want To Keep Him Around

Ugh, this GIF is everything. The hat, the outfit, the quote. I am 100% here for Gangster B*tch Lisa, but I also understand the feeling of when you should just cut someone out of your life, but you just can't do it. LVP is the relatable queen we need.
When Your Friends Give You The Tough Advice You Need

Much like the waiters and bartenders at SUR, my friends need to understand that they could be dumped at any moment. I am a reckless individual, and I don't need anyone trying to tame me.
Literally Always

Honestly, what am I working for in life if I can't sit at the restaurant I own and just pound shots by myself? LVP looks stunning anyway, so it's barely even sad.
When A Guy Actually Takes You Out On A Nice Date
But actually, it's always your choice. Remember that, ladies!! Lisa and Ken have their own weird arrangement (birthdays and Christmas!), but clearly it works out okay for them.
When You Realize You're Feeling Human Emotions

Just like Lisa, people frequently accuse me of being cold and unfeeling. I usually strive for this as much as possible, but sometimes I just can't help it. Lisa has feelings when she sees puppies, and I have feelings when I see hopeless f*ckboys.
I want to sincerely wish Lisa Vanderpump a happy birthday, and I hope she doesn't have to deal with her nemesis Kristen today. Have fun at whatever lavish garden party Ken is throwing for you!
Images: Giphy (7)
Lisa Vanderpump's Top 10 Betchiest Quotes of All Time
Bravo is pretty much a channel dedicated to being a betch. It's just a bunch of rich women being hot and passive-aggressive with each other and just all in all living their best lives. But there's no Bravolebrity betchier than Lisa Vanderpump. I mean, I wouldn't dare be named after some mid-level Bravo betch. Fucking duh. And yes, Lisa Vanderbetch is obviously the real name my parents gave me at birth. Despite the fact that Lisa is a wealthy boss-ass bitch and pretty much runs the entire Bev Hills social scene, her real betchhood shines when she's talking shit. So as an ode to the queen, here are her top 10 betchiest quotes of all time.
1. That Time Kyle Said Being LVP's Friend Was Like Playing Chess And Instead Of Being Insulted She Took Being Smart And Powerful As A Compliment.

Me whenever the waiter asks if Diet Pepsi is okay and I say "no."
2. Because What Betch Doesn't Do This?

Don't lie.
3. That Time Her Husband Did Something Nice And She Knew Exactly How To Say Thanks

Every betch on Valentine's Day knows this feeling.
4. When She Hit Below The Belt So Taylor Would Finally STFU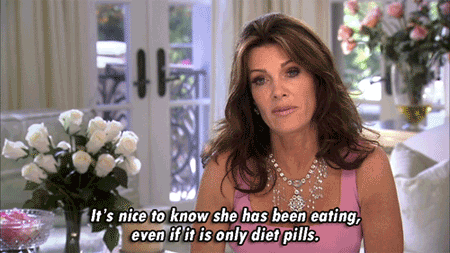 Way harsh, Tai. 
5. That Time She Read Stassi For Filth

Iconic.
6. Because Who Wants To Be At A Party Sober?

Me re: the water cooler at work.
7. When She Knew She Was Being Bitchy And DGAF

Also the appropriate response to "I wish I hadn't eaten that donut."
8. Because Fuckboys Aren't Safe From LVP Shade Either

Just save this gif and keep it on hand the next time you get a spontaneous dick pick. You're welcome.
9. Because These Wives Ain't Loyal

Lisa Vanderpump has many a frenemy, making her extremely betchy.
10. That Time She Told Moderation To Go Fuck Itself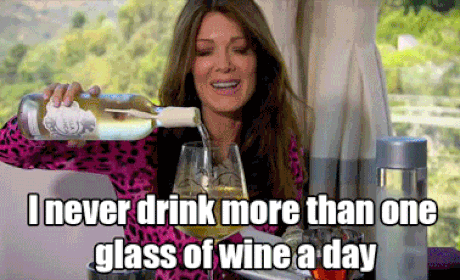 I'm gonna start saying that to my doctor. But first I need to buy a bigger wine glass.