These $23 Amazon Leggings Are Just As Amazing Your Lululemon Faves
Betches may receive a portion of revenue if you click a link and purchase a product or service. The links are independently placed and do not influence editorial content.
While I typically support shopping for the real deal, I (along with nearly 47,000 Amazon shoppers) approve of buying these $23 leggings inspired by Lululemon's Align collection. Instead of dropping over $100 on another pair of Lulu's, consider adding Colorfukoala's Buttery Soft High-Waisted Leggings to your shopping cart. These leggings are a lot more than just a budget-friendly find on Amazon—think moisture-wicking, squat-proof leggings that'll work for everything from burning calories in your next reformer pilates class to your Saturday morning Target haul, or of course, your daily hot girl walk.  
We know what you're thinking—there's got to be a catch, right? You'd probably expect leggings with a price tag as low as this to fade after a few wash and dry cycles, or display some much-dreaded pilling at the seams, but that's not the case at all. I put the black pair in my normal rotation and ater owning them for six months, they look just as good as they did on day one. 
Another plus? Their wide, high waistband won't slip or roll down even during an intense workout, thanks to the 80% nylon and 20% spandex they're made with. And, like I said before, they're squat-friendly and moisture-wicking, so sheer fabric and lingering sweat aren't major concerns. 
As someone who owns more than 30 pairs of leggings (yep, you read that right) these have earned the top spot as my favorite.  I can also guarantee that outside of a fancy night out, there isn't a time where you won't spot me wearing these comfortable leggings. And, I'm not alone. The #ColorfulKoala hashtag on TikTok has also gained over 19 million views thanks to creator reviews and try-on hauls. 
If black leggings aren't your thing, don't worry. You can snag these in a bunch of different colors, including seafoam green, coral pink, and lilac blue. They also have more neutral tones like beige and charcoal gray. Colorfulkoala's Buttery Soft High-Waisted Leggings are also available in sizes XS to XL and they come in three different lengths including capri, 7/8, and full-length. Some customers recommend sizing up if you don't like a snug fit, but I own these in my usual size medium and find them to have just the right amount of compression and stretch.
If I haven't convinced you to buy these already, maybe the fact that you can get them in two days will make you *add to cart*—shoutout to Amazon Prime shipping, amirite? Come on, can you ever really have too many pairs of leggings in your closet?

Colorfulkoala Women's Buttery Soft High-Waisted Full-Length Leggings, $22.99, Amazon
Lululemon Is Getting Clowned For This $250 Hogwarts Dress
I'll be the first person to admit that I know next to nothing about fashion. All I wear are variations of crop tops and high waisted bottoms (quarantine looks notwithstanding), and I basically never sign onto a trend until I've seen it at every music festival (RIP) and I can no longer pretend it's too impractical to be worn. So maybe I'm not the right person to be writing this article, or maybe I'm the exact perfect person to write it. In any case, I'm here to comment on an extremely puzzling choice by Lululemon, so that's that. While I may not be on the cutting edge of the latest fashion trends, I'm not the only person who was straight-up bewildered by this Lululemon dress, that looks sort of like something you might find in the halls of Hogwarts or on a Handmaid, because it's getting absolutely clowned in the reviews.
The Face Forward dress, a collar between Lululemon and London-based designer Roksanda, features black and navy color blocking, secured zipper pockets (pockets!), an interior card pocket (sure, why not), mesh ventilation, and a whole slew of other features, including a weird cord tie situation in the front. I've never looked at my mom's 30-year-old bungee cords and thought to myself that they would look great plastered on my hips, but I guess that's why I'm not a fashion designer. I never thought I would hate on a dress with pockets, but then I never thought that I would be confronted with… whatever this is:

lululemon x Roksanda Face Forward Dress
My first thought was that this looks less like a dress and more like a graduation robe. All it needs is one of those puffy funny-shaped hats the professors wear, a sash, and we'd be set. I guess I could see why you'd purchase this, if you were supposed to walk with the Class of 2020 and had your commencement ceremony reduced to a Zoom call? With the maroon-and-gold sweatshirt draped over the model's shoulders (why? the dress already has long sleeves), I was getting serious Hogwarts vibes.
And according to the online reviews, I was not the only person who found the vibe of this dress oddly familiar, though a few people thought it would be more fitting for a certain Hun-fighting Disney character than a member of the Ravenclaw house.


Others just picked up on the general warrior aesthetic.


One reviewer pointed out how truly versatile this dress is for the fashion-forward time traveler. Talk about an investment!

Finally, another theme that emerged amongst the reviews was how perfectly the Face Forward Dress would fit in with an authoritarian regime. (So maybe we should all stock up now?)

Yet, despite its perplexing aesthetic and hefty price tag (at $248, I wouldn't pay that, even for the most realistic Hunger Games costume in the world), the dress is sold out in four sizes. So it seems that people are really buying this! One earnest reviewer wrote the following glowing praise:

If it really is snug in the shoulders, it may not be so useful on a battlefield after all. Buyer beware!
And there was one review that seemed serious, but could have just as easily been a joke:

Okay, after Googling "Celine Dion wig", I'm inclined to think this was a joke. Moving on.
There was only one negative review, which, if you can believe it, is even more perplexing than the fake positive ones.

Why would you leave a review for something your friend bought? Why would you buy a dress, only to turn around and try to sell it to a friend? And most of all, why would you defame the good monkey name? Those creatures had nothing to do with this.
The Lululemon x Roksanda Face Forward dress also comes in a shade called "Caliente/Rustic Coral", that is really just red, if you want to dive all the way into the Handmaid vibes. And, even better, it's on sale, for an affordable $179!
Much like watching any given episode of Project Runway, examining this dress has made me realize that I know absolutely nothing about fashion—but at least I'm not alone. I know that some of us have money to blow after receiving our stimulus checks, but there are way better things to spend it on than a bougie athleisure company's answer to Hogwarts/Mulan/medieval cosplay.
Images: Lululemon
The Cutest Workout Leggings You Need Right Now
As much as Christian bloggers wish otherwise, leggings are here to stay. They're comfy, fashionable, and they make our asses look great (/existent), what's not to love? But there's nothing more embarrassing than rolling up to brunch in the same leggings you worked out in… and slept in… and  wore to work the day before. I mean, okay, I can think of a few more embarrassing things just by quickly recalling my adolescence, but that's not the point. The point is, you need to buy some new leggings, and what better time to do so than with spring right around the corner? This season's all about pastel colors, cute color-blocking, and interesting cutouts. We rounded up the cutest workout leggings that you just need to add to your leggings drawer.

Outdoor Voices leggings are kinda becoming the new Stan Smiths, but the seasonal yellow shades are low-key amazing. Get the matching top to look like your favorite SoulCycle instructor.

LOVE the coral/peach color on these—it's like, the most on-trend shade for workout leggings rn—and I love how they're sleek without being overly shiny in a tacky way. The lining is super trendy, too. Honestly these are my favorites. Should I stop now?

These are sick. A little colorful, but not in an offensive way. Pair it with a plain white or navy tank so you don't assault anyone's eyeballs with an overly busy outfit.

Again with the pink. Very in this season. Also, ombre is totally back, but like, just for workout leggings right now—still not for your hair. It was a bad call in 2013, and it's a bad call today.

The vintage rose color on these workout leggings is so trendy, and the little detailed cutouts are amazing. May need the matching sports bra too.
Image: Marion Michele / Unsplash
Betches may receive a portion of revenue if you click a link in this article and buy a product or service. The links are independently placed and do not influence editorial content.
5 Workout Headbands That Will Convince People You Actually Exercise
There are plenty of things that OG Betch Blair Waldorf would love to complain about in the year 2017. For example, she'd never use Snapchat filters and would probably yell at Dorota for playing around with them. Another thing she'd totally hate is the athleisure trend. Queen B (the other Queen B…) would never be caught dead in a sports bra. However, she'd probably just have to learn to deal with it because athleisure is literally the only way it's socially acceptable to wear headbands anymore. Unless you're like, a super bohemian chick, headbands just don't hold up your wardrobe like they did in 2008. Here are a few workout headbands to keep your hair out of your face during spin class, or just while you're elbow deep in a Chipotle burrito, wearing clothes designed for exercise for their stretching capabilities.

Can you already see yourself wearing this with a messy bun to get an Iced Green Tea Latte at Starbucks next time you're too hungover to know your own name? I can. You look good. (All things considered.)

You probably already have 100 of these anyway, but Lulu is the real MVP and releases new colors and prints all of the time. This new black-and-white daisy print is so cute. You should probably get two because your roommate will definitely take one.

This probably does like, literally nothing for you while you're exercising, but you never do that anyway, so what's the point? I kind of hate this, but I feel like I vaguely remember Bella Hadid, Hailey Baldwin, or some other random famous chick who can convince me to wear ugly shit rocking one. If you're the kind of girl who actually looks good in Brandy Melville's one size fits all shit, you can probably pull something weird like this off.

Athleta made this headband out of a super lightweight fabric that holds down flyaway hairs without like, literally flying away itself. This is awesome, because lightweight headbands help prevent the headband/ponytail headaches that totally ruin lives. Now you only need to pop Advil for your hangover.

This headband is kind of like the one friend you have who never blacks out, because it might just be the most functional one on this list. It's made out of fabric with wicking capabilities to help deal with sweat. If you're the kind of betch who doesn't want to let a workout get in the way of your blowout lasting a few days, this should def help do the trick.
The Most Flattering Leggings Pattern For Your Body Type & The Flaws You're Trying To Hide
Wearing leggings is pretty much the greatest experience in life, other than napping or being told that you're pretty. They're like, one of the very few things that betches don't really complain about because they're comfortable AF. You probably never thought that it would be possible to love leggings anymore than you already do, but if you start buying ones that are super flattering, you'll reach a level of obsession that will probably piss everyone around you off. Here are the perfect patterned leggings to get for your body type.
Horizontal Stripes: Scam People Into Thinking Your Butt Is Huge
I personally know that horizontal stripes will make a flat ass look dope because every time I say "my butt actually looks like a butt today," my friends tell me to shut up because it's just my horizontally striped leggings. Honestly, if I had a dollar for every time that happened, I could finally afford butt implants. Please spare me the judgement and stop acting like you'd be above that. It's a pretty well known fact that horizontal stripes make you look wider, so if you have an area of your body that you would like to have appear larger, they actually come in clutch.

Athleta Stripes Chaturanga Capri
Vertical Stripes: Make Your Legs Look Longer
In the same way that the insanely stupid nail contouring trend makes your short sucky nails look long (but still sucky), leggings with vertical stripes will make your legs look longer. However, unless you're hoping to channel your inner Beetlejuice, I'd probs advise against leggings that have vertical stripes the whole way around. Instead, go for something that just has them down the side.

Adidas Originals 3 Stripes Legging
Large, Bold Patterns: Avoid Looking Lanky
If you have long, skinny legs and are worried about looking lanky (cry me a fucking river), the most flattering legging print for you is any large, bold pattern. It'll basically break up the two mile stretch that is your legs.

Nike Legend 2.0 Mega Liquid Tight
Diagonal Panels: Play Up Curves
Anything with a diagonal vibe is ideal for flattering curves, because it will elongate but also enhance what ya mama gave ya. Because diagonal stripes aren't really a popular pattern for leggings (unless you somehow grabbed a pair out of like, an elf costume or something), opt for leggings with diagonal panels.

Tiny Prints: Spark Rumors That You Have A Fake Butt
If your butt already looks like one of those rap guy's girlfriends (oh my god, Becky), then you should go with something with a small print that will make people assume you're wearing butt pads or something. Like seriously, you might end up having to get a butt x-ray to prove that it's real, like Kim K did.

Lululemon Wunder Under Hi-Rise Tight
The 9 Best Leggings For Spring
We're not sure why, but brands always seem to come out with their coolest leggings toward the end of winter. It's like, we just spent the past four months cuddled up with in bed watching This is Us while eating enough sushi for a large family. Is this really the time to come out with the hottest, most form-fitting leggings you can think of? Sweatpants are all that fits me right now.
Either way, we rounded up our favorite leggings out right now, so you can avoid putting on skinny jeans and stock up on the pants that Kendall Jenner made acceptable to wear in public. Here are the ones you need:

All betches know that Lululemon was our OG $100 pair of leggings, so we can't make a leggings roundup without the pant that started it all. Lululemon leggings are basically as timeless as an engagement ring, and their new styles somehow keep getting better. We'll always love their classic Wunder Under leggings, but these Body Con Tights are so cute and just edgy enough with the mesh cutouts on the sides. We're obsessed.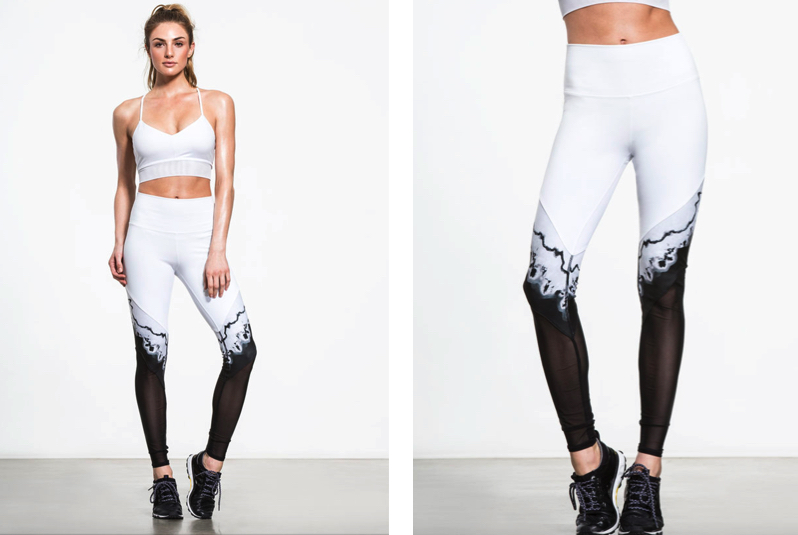 White leggings are pretty much reserved for betches who are so skinny that they're not even expecting to get their periods in the next six to eight months. These ones are high waisted and have a sick print at the bottom, so they're pretty much the best things ever. Plus, they're actually made of breathable material that keeps you cool and dry during a workout, so you can actually put these things to use when you feel like moving. In other words, no crotch sweat marks. Hallelujah.

Basic girls tend to stay away from grey leggings, but not many people know how amazing they make your ass look. The cutouts on these leggings are amazing, and we're obsessed with the color. The pastel grey is subtle enough to match with more than one colored top, but is light enough to accentuate your ass, even when you've neglected your squats since last summer.

These leggings look like they're too dope to actually sweat in, but they're surprisingly made with a ton of support to move with you while you work out. Don't let the trendy cutouts fool you. These leggings are elastic-free so they're super comfortable on your waist, and they're made with four way stretch to expand with your muscles while you move. Plus, they're slutty looking enough for you to wear on a night out when you're feeling fat or lazy or both.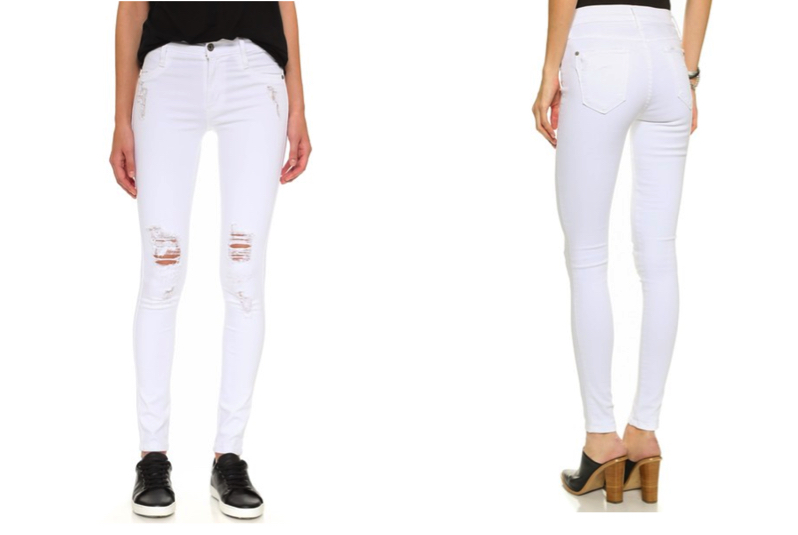 These jeggings look like your best white jeans, and they're super comfortable too. I mean, any pants that say the words "ultra flex" in their name have to be pretty sick. Every LA betch is freaking out over James Jeans right now, and we get the hype. It's prob too soon to wear white right now, but drop a few pounds by July Fourth and you'll kill it in these.

Terez is the brand that SoulCycle instructors and their overexcited 6am riders wear while jamming out to Sia in a dark room while channeling all their good vibes. That sounds like the last type of person you'd aspire to look like, but hear us out. The pants are usually too colorful for us, but we happen to love these ones. They're awesome for working out and if you pair them with a black sports bra and black Nikes, you'll look like the super intimidating betch at the gym who takes her workout extremely seriously. AKA no fuckboys trying to pick you up at the gym. AKA success.

These leggings are called "power leggings" for a reason, and they're ready to be put to work. Not only is the colorblock pattern so hot right now, but they're also insanely versatile. The sweat-wicking fabric is stretchy and supportive, and the high waist is super flattering. They've also got a little zip pocket in the back, so you can work out and go meet your dealer right after without changing pants.
Karen Millen Faux-Leather Leggings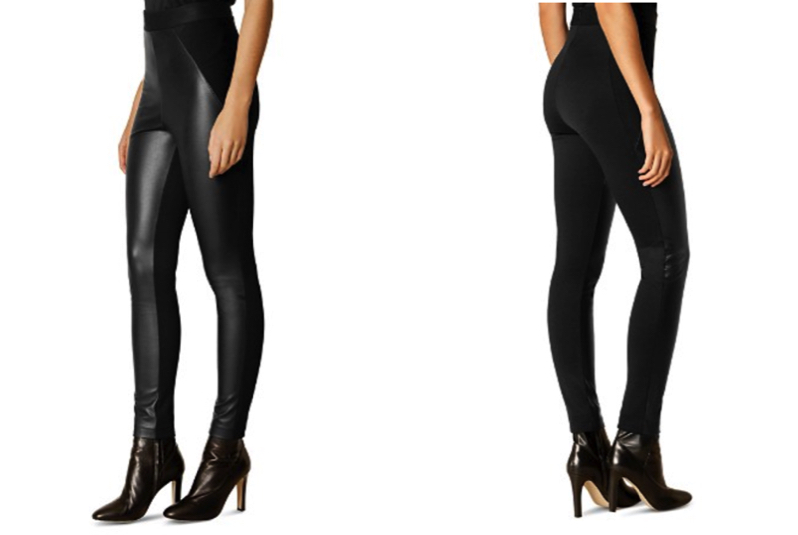 Faux-leather can be a risky move if they look too over-the-top and trashy, but these leggings are chic AF. These pants are perfect for when you're not feeling jeans but still need to get dressed up. Plus, the concept of a pair of leggings that you can also wear on a night out is basically the best invention since sliced bread—whatever that is.

We've always been fans of the Rivington jegging from Asos, and this new seasonal edition of the jegging is so on trend for spring. The combo of the ripped knees and light wash color is perfect when you're sick of black jeggings and aren't ready to pull out the white jeans yet. Your mom will give you shit for buying pants that are already ripped, but it's worth it. These are 45% cotton, so you can be somewhat comfy in jeans that look like they're tighter than saran wrap.