Lucy Hale And Colton Underwood Are Reportedly Dating
For most of us, 2020 has probably not been the best time to get into a new relationship. With the combination of bars and restaurants being closed, social distancing guidelines in place, and some areas under literal stay-home orders, meeting new people isn't an easy thing right now. But that's apparently not the case for celebrities, because  we're still hearing about new couples all the time. In fact, lots of famous people have ended one relationship and started another, all during "quarantine." We've all seen the million walks Ana de Armas and Ben Affleck have been going on, and now there's a new celebrity couple going on walks together. Colton Underwood and Lucy Hale are apparently dating.
If your immediate reaction to this piece of news was "Lucy, WYD???", then congratulations, you have taste. As we all know, Colton hasn't been single for long—he and Cassie announced their breakup at the end of May. But while Cassie recently called him out for being shady on social media, it looks like Colton has moved on. On Wednesday, TMZ spotted him and Lucy on a hike together in Los Angeles, and there was not a mask in sight. According to TMZ's sources, they've been seeing a lot of each other recently, and have gone on several "casual hike dates" in the last few weeks.
Colton Underwood and Lucy Hale are Casually Dating, Hiking Together https://t.co/EzI9gdAoFE

— TMZ (@TMZ) July 17, 2020
But in the most shocking twist to this story, Colton didn't even have to do the work here! TMZ's sources say that Lucy "reached out to Colton soon after his split from ex-girlfriend Cassie Randolph." In this case, I feel like "reached out" is definitely a fancy way of saying she slid into his DMs, and good for her I guess. Considering Colton has already had COVID, maybe he's the safest person to start dating right now?
While their IRL relationship is definitely recent, it turns out that Lucy Hale has been a fan of Colton for a long time. Back in 2018, when he was selected as the Bachelor, she told PeopleTV that she was "super excited" to see him as the lead. She added that he seemed "wholesome" and like a "good guy," and that he was "beautiful to watch." Tbh, if someone called me "beautiful to watch" I'd probably take out a restraining order, but I think she meant it as a compliment. I can't wait for the conspiracy theories about how Lucy Hale manifested Colton and Cassie's breakup just so she could shoot her shot with him—season 18 of Pretty Little Liars is getting crazy!
Even though Lucy Hale and Colton Underwood seem like a strange pairing, it's definitely not the first time that a real celebrity has dipped into the dating pool of Bachelor Nation. Most notably, there's Wells Adams and Sarah Hyland, who are currently engaged. Much like Lucy and Colton, Sarah had a crush on Wells during his initial run on The Bachelorette, and by the time he became the bartender on Bachelor In Paradise, they were openly flirting with each other on Twitter. Eventually the flirting started happening in real life, and the rest is history. Ah, modern love.
And who could forget last year's whirlwind relationship between Tyler Cameron and Gigi Hadid? Truly, how did that happen less than a year ago? That was most likely another case of a super famous woman sliding into a Bachelor guy's DMs, seeing as Gigi followed Tyler on Instagram before his time on Hannah's season even came to an end. They were only together for a few months, but things seemed pretty serious, with Tyler meeting Gigi's famous friends (including Serena Williams and Taylor Swift) and even going to Holland for her grandmother's funeral. But that didn't last too long, and soon Tyler was hanging out with Kylie's BFF Stassie Karanikolaou.
And Tyler wasn't the only one of Hannah Brown's contestants who caught an A-lister's eye. During the season, Demi Lovato posted on Instagram about Mike Johnson, and before long, they were flirting in each other's comments. In September, they were seen at dinner together, and in a podcast interview, Mike said they had been on multiple dates, and that Demi "kisses really well." Things fizzled out before long, but wow, 2019 was a year.
The most random celeb/Bachelor Nation couple of all time, however, has to be January Jones and Nick Viall. Rumors that they were an item started back in 2018, but neither of them said anything at the time. But earlier this year, Jones finally confirmed the story. In this case, it was Nick who slid into January's DMs, after he saw her "blasting" him on social media during his time on the show. He offered to take her out to "see if I can change your mind," and they went on a few dates after that. Jones said they mostly just talked about his time on the show, and that she "got a lot of juicy inside stuff." Clearly things didn't last that long, but I still can't believe it happened in the first place.
So based on these past examples, it's impossible to predict how Colton and Lucy's new romance will end up—marriage could be in their future, or they could be over as soon as Lucy gets all the Bachelor tea she wants. Either way, hopefully they're taking more s0cial distancing precautions than the paparazzi photos would suggest.
Images: DFree / Shutterstock.com; TMZ / Twitter; sarahhyland / Instagram
Photoshop Fail Of The Week: The 'Pretty Little Liars' Posters Are Full Of Lies
In our weekly Photoshop Fail, we choose one celebrity or influencer Instagram that's been edited poorly and show you what the tells are of a botched Photoshop job. This is to show you that the bodies you see on Instagram aren't real, and pretty much every celebrity is editing their pics—even the people you wouldn't expect. Moral of the story: don't trust anybody on social media.
This week's Photoshop Fail is one I mentioned previously, and a ton of you guys wanted me to analyze it. This is what's so scary. To me, the second I saw this Pretty Little Liars poster years ago, I was like, "oh God, kill it with fire." It's a horrendous mutation of what women—even these drop-dead gorgeous women—look like. But So. Many. People. saw this poster (and others) and thought, "Wow they're so beautiful, how can I look like that?" Spoiler: you can't. Even the women in the poster do not look like that. It's not real, nor should you want to look like this poster. When you consider that most of PLL's fanbase is young women/teenage girls, it's straight-up irresponsible to put out posters like these, and even the cast agreed.
Now, all of PLL's posters were problematic, but this one was absolutely the worst. I mean, you expect Photoshop in professional ads/photoshoots. Hi, I do it as a side gig for quick cash because it takes a lot of education to be good at it but not a lot of time to do. To me, that means evening out lighting, fixing minor imperfections (stray hairs, lines in the clothes, etc), color adjustments. It does not mean making alien mutations of already insanely beautiful women. Seriously, does it get more attractive than this cast? And it still wasn't good enough?
Both Ashley Benson and Troian Bellasario publicly commented that the poster was scary and looked nothing like them, and they both found it super disappointing. And according to Ash, these were actually photos taken four years prior. Instead of just taking new pics, they digitally amped up their makeup to Bratz doll levels and made their hair giant. Why do I somehow suspect the photo editors were men? Like, "Hm yes, bigger hair, automatically sexy."

The part of this that is most insulting is that the PLL costume designer is goddess Mandi Line, who I am obsessed with. The outfits in the show were to die for. I just want Mandi to dress me like Aria every single day. The show could have easily paid for and styled an amazing photoshoot that didn't make them all look like the aliens from Dude Where's My Car?. SO weird how these huge budget shows keep doing this, like that one season of The Real Housewives of Orange County. Bad Photoshop is not a solution to skipping a photoshoot!
So, how much work was actually done here? I don't know where the original photos were from, but let's just compare based on what the stars really look like.
Lucy Hale

Firstly, it's so weird that they all have half of a face. Lucy and Shay apparently weren't good enough to have a full nose, either. But aside from the strange cropping, I tried to match it up with a real pic of Lucy at a similar angle. Aria was always my favorite (I had secretly hoped she would be A… such a good twist!). However, you can see from the photo that there's a big difference between a gorgeous woman with makeup on and an airbrushed-to-sh*t ad. Her skin texture is completely gone, she's smoothed out like a plastic doll, they went crazy with the burn tool all over her eyes to make them sunken, and pulled them bigger. They cleaned up her brows, and my favorite part—the hair. They gave her some kind of bulbous skull deformity that is the only excuse for why her hair reaches back four extra inches from where her actual head is. This is what I don't understand about extreme editing. It would have looked better just as an actual photo that was posed that way!
Ashley Benson

Sooooo they removed Ashley's other eye. It's so funny because it's such a close call. It's almost possible that the wasp's nest on Lucy's head could have covered up Ash's eye. Almost. However, the comparison photo I grabbed is a straight-on shot. As we can see, in the edited poster one, she's slightly tilted to the side, which in perspective, would push her eye more towards the nose. They literally just took it out. When you have these weird close calls in editing, you just fix it. Like either expand the hair even more (what difference would it make at this point, honestly) OR leave a little bit of eye showing. But no. It's been removed for the sake of beauty. And just look at that hair. She looks like she's going to star in a Vegas drag show after this. In addition to the plastic smoothing and eye job Lucy got, they clearly shaved down Ash's nose and blurred it into her face. She got to keep her full nose unlike the other girls, but it still was not good enough for ~*beauty*~. Also? Ashley Benson is the epitome of the hot girl, just ask her girlfriend, supermodel Cara Delevingne. She! Does not! Need! Nose shaving! Or an eye removal. Who knew we'd be taking fashion tips from The Handmaid's Tale?
Troian Bellasario

This just speaks volumes to how good of an actor Troian is—it's been years and I still can't accept that she isn't Spencer IRL. Like, it feels wrong calling her another name. Soooo this one was really interesting. First of all, Troian definitely got the worst hair. It's actually twice the size of her whole head. But I actually had trouble getting the faces to line up, which means they edited her entire face. Some of it could be the angle—I'm matching up different pictures, years apart of course, but Troian's jawline is clearly just straight-up in a different spot than it appears in the ad. Which is weird because I feel like having a perfect, defined jaw like that is normally coveted? They moved it, softened it, murdered Troian's nose, and even stretched her eyes into more cat-eye shapes, and her eyebrows are in a completely different spot. Some of that is just her expression, but it's really, really far away from the actual shape. They even diminished her high cheekbones—also a supposedly attractive trait. I can see why she was so offended—these women don't even look the same when you see the side-by-side. And real Troian is way prettier (and less terrifying).
Shay Mitchell

Okay, this one was harder, because Shay was posed at a weird angle and I couldn't find an *exact* pose to match. So I flipped a photo of her. So if you're like but "omg Shay has a mole on this side," yes, you're right, because I flipped it. Anyway. Um, the first horror with this photo is they bleached Shay's skin, which I never noticed in the original. I guess I just figured it was the lighting, but you can clearly see that regardless of color tone, her skin is way, way too lightened in the edit. Horrible. While it's not an exact angle match, I will say they seemed to have shaved her chin a bit, and got rid of her cheekbones (again… why?), and diminished her nose. In addition, of course, to the big hair, scary plastic skin, and sunken eyes, of course. If you're messing with Shay Mitchell, you obviously don't think any woman is attractive.
I hope this shows you how horrific Hollywood is. Every poster you see is edited to this extent—some just are better at hiding it. Kudos to the women of PLL for calling it out themselves. They help get rid of the toxicity associated with this level of quasi-perfection. But really, does anyone find this attractive? I think it looks crazy.

In happier news, I am pleased to say that Katie Maloney did something that I found both hilarious and body positive.
She posted an UNEDITED video zooming in on her ass, with the caption "I dongivafuck", which, respect. I generally don't care for/seek out ass videos, but for how much flack this woman gets about her body, I appreciate that she's owning her shape, her ass, and telling you to GTFO. We need to see more female celebs and women on TV that own their shape at any size. Good for you, Katie! Your body looks awesome, and people pay a lot of money for asses like that—just ask the Kardashians. More of this, please!
Images: Instagram (@sleepinthegardn); Giphy (2); Getty Images (4); Instagram (@musickillskate)
What Summer Haircut You Should Get Based Off Your Face Shape
Summer is just around the corner and suddenly I'm feeling personally victimized because I've spent the last 3-4 months sitting on my couch eating cheese and drinking wine and judging Bachelor contestants on Instagram. And I am certainly not ready to be, like, social or in clothing that covers less than 90% of my body. But I guess I'll have to make the transition to my summer self at some point and instead of, say, tackling the areas of my life that might actually take work and commitment like eating healthy and going to the gym, I'm going to actively avoid those parts and focus on an issue that money can solve. Like a new haircut. I'll most def be consulting my very trusted hair stylist, Susi, who may or may not give me an extra complimentary glass of chardonnay in exchange for a very overpriced haircut and 3-4 expensive AF beauty products that I did not need in the first place. What we have, you can't fake that, ya know? *laughs into empty wine glass* I recognize that we don't all have a Susi in our lives to con trick exploit guide us on our summer hairstyle journey, but that's why I've put together this super extensive and not at judgmental list of summer haircuts that are the best for your face type:
HEART SHAPED: Shoulder Length Bob
Picture Aria's haircut from PLL season seven or whatever fucking season is still somehow getting air time. I know, I know. Never did I ever think a haircut on Aria fucking Montgomery would actually be in season for summer, but then again I also didn't think people were stupid enough to spend 12K on a music festival that didn't actually exist. You learn something new every day.
But back to the haircut. Instead of assaulting my eyes with like, glittery graphic tees and metallic jeans, Aria's actually on trend. *questions entire existence* This cut looks good AF on Lucy Hale's heart shaped face and you should ask your stylist for a shoulder-grazing bob with layers placed around the bottom. Lower layers help create extra movement and dimension in your hair without you having to do a damn thing. Style it with a center part to add length to your face and create more symmetry.

HAIRCUT RISK LEVEL: Lower than all of the Liar's IQ's put together
ROUND SHAPED: Face Framing Bangs
I know what you're thinking, BANGS? Does everyone regret getting them? Yes. But should people with round faces still get them? Also yes. Baby faces of the world, pay attention because this is your time to shine. Face framing bangs are the perfect way to take your summer look from Wizards of Waverly Place to Justin Bieber Sends Me Dick Pics and that's really the best transformation you can ask for. The fringe is the focal point of this cut and it's v important that the stylist cuts your bangs to that focal point. Be sure to reiterate this to your stylist lest she feels the wrath of your Yelp review. And sorry if you end up hating your bangs. Feel free to skewer me in the comments.

HAIRCUT RISK LEVEL: Posting a selfie with the dog filter to your story
OVAL SHAPED: The Pixie
This cut can seem terrifying, especially if you have super long hair to begin. I bet it's because you have this theory that if you cut off all your hair you'd look like a British man BUT if you have a very petite, oval face shape then you were literally made for this haircut, so grow a pair and take the plunge. Plus you'll look like Millie Bobby Brown aka the betchiest preteen to ever grace my Netflix account (and a personal style icon of mine because, yes, I take style advice from 12-year-olds). Ask your stylist for a short, layered cut with a longer top that stops just below the cheekbone and tapers in the back toward the nape. That way your hair won't overpower your face and you'll just look sleek AF.

HAIRCUT RISK LEVEL: Day drinking on an empty stomach and literally hoping for the best
DIAMOND SHAPED: Angled Lob
You've got cheekbones and, as a person whose winter face resembles that of the Pillsbury doughboy, you should absolutely stop fucking around and get this haircut. Take a page out of Kim Kardashian's book for a dramatic, edgy summer look. Make sure your stylist emphasizes the clean angles of your face to really play up your features.

HAIRCUT RISK LEVEL: Posting the group vacation photo on Instagram when everyone else looks like shit in it
SQUARE SHAPED: The Perm
UGH I did not want to have to put this one on the list but apparently perms are back in style because people have lost their goddamn minds. And by people I mean me because I'm seriously considering this cut for summer 2017. You know something's in when your overpriced salon with 100k Insta followers is posting about it. If you have naturally curly hair then you should ask your stylist for a lot of short, vertical layers in the hair, which gives your curls a more bouncy/full shape.

​
If you don't have naturally curly hair then be sure to ask your stylist to use a larger rod when perming your hair. It's less overpowering on your face, but still gives you enough volume to resemble the less hot cousin of a lesser known Victoria's Secret model. Now, no one spread this shit around lest my mother find out. I've already been tagged in two very smug Facebook posts and I've reached my quota for told ya so's this week.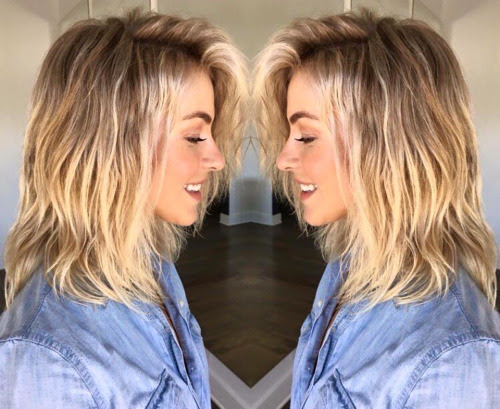 HAIRCUT RISK LEVEL: Having to tell your mother "You were right"
IDFK SHAPED: The Buzz
I had to address this one because this cut is all the rage among Hollywood's biggest cries for help stars. Technically, the right face shape for this cut is a diamond shape but I'm also thinking "lost your damn mind" or "my acting career is clearly struggling" are more accurate face types for this hair trend. I know this year has been, like, hard with our dwindling rights and Donald J. Cheeto casually leading us into WWIII but that's no reason to regress back to Britney Spears circa 2007. Handle your shit like an adult by taking slow, calming breaths and also consuming alcohol. N'amastay.