Why You're Breaking Out Like Crazy In Quarantine & What To Do About It
As we approach week 9 (58? 102??) of quarantine, many of us are noticing that our skin is reverting back to its acne-riddled high school days. Seriously, what the hell? We're not spending much time outside getting attacked by free radicals and pollutants, and we have more time than ever to do our involved skin care routines. So, what gives? Dr. Shari Marchbein, a New York-based dermatologist and Clinical Assistant Professor of Dermatology at the NYU Grossman School of Medicine, spoke with us about why our skin is still not behaving even when we're in quarantine, and what we can do about it.
Why Quarantine is Causing You to Break Out

According to Dr. Marchbein, hormones are a crucial reason our skin is breaking out rn. There's no way to pinpoint just one culprit, she says, since our sleep, work, and skin care routines are all out of whack from sheltering in place. The key ingredient in all of these, she says, is stress. 
When we think about hormones, our minds typically wander to testosterone, progesterone, and like, things that relate to the pill or middle school health class. However, Dr. Marchbein explains, the hormone causing our current skin woes is cortisol, "which increases in the blood at times of stress or with lack of sleep and can trigger acne breakouts by stimulating sebaceous glands to make more oil." Increased cortisol, she says, "can worsen other skin conditions such as eczema, acne and psoriasis, as well as cause an increased breakdown of collagen and hyaluronic acid, which is the good stuff that gives skin its glow and plumpness." Yeah, no thanks.
How to Prevent Stress-Related Flare-Ups
To avoid flare-ups in the first place, Dr. Marchbein recommends several ways to de-stress. "First and foremost, get plenty of sleep," she says. When our body is sleep-deprived, it makes more cortisol, causing inflammation and bodily stress. Staying active is also important, according to Dr. Marchbein. Her go-to ways to de-stress are meditating and taking a yoga class. To help reduce your cortisol and stress levels, you can also go for a socially distanced walk, if possible. 
And just like your mom's been telling you for years, "maintaining a healthy, well-balanced diet and drinking plenty of water are key." By following this advice, which tbh you should be doing anyway for your general health, you can be like that meme that's like, "my skin is clear, my crops are flourishing, my depression is gone" (but like, with actual, non-sarcastically clear skin).
How to Treat Acne Flare-Ups

If you've got a particularly aggressive breakout, don't freak out, because here are a number of treatment methods to try. Under normal circumstances (lol what are those), Dr. Marchbein would advise visiting your dermatologist for a steroid injection. These injections "reduce the pain and inflammation of cystic breakouts," she says, but at this point, "most medical visits are being done by telemedicine, and in-person visits should be for true emergencies only." So that's out.
Then what to do about the acne glaring back at you in your reflection? For starters, Dr. Marchbein recommends certain over-the-counter products to treat existing flare-ups. Retinoids are one useful treatment for acne breakouts—Differin 0.1% gel is the strongest non-prescription one available, she notes. Salicylic acid, a type of acid that can unclog pores, is also helpful. 
"I like St. Ives Blackhead Clearing Scrub with salicylic acid and green tea as a gentle scrub, and I use a St. Ives salicylic acid gel cleanser once daily," Dr. Marchbein says. She also recommends stronger 1-2% salicylic acid gel for spot treatment. Products with benzoyl peroxide, which is anti-inflammatory and anti-bacterial, can help calm irritated skin too. Dr. Marchbein likes 10% Panoxyl wash and 4% CeraVe wash. 
Finally, acne patches deliver active ingredients to a pimple. "By occluding the pimple, these active ingredients are able to penetrate the skin more deeply allowing them to potentially work better," she explains. Watch out if you have sensitive skin, though—acne patches might be too harsh for you and could make the situation worse. 
"Most importantly," Dr Marchbein warns, "do not pop or squeeze a pimple, as this will cause even more inflammation and can make a potentially bad situation even worse." I know Dr. Pimple Popper videos can be satisfying, but seriously, don't do this to yourself.
Skin Care Advice in the Time of Public Face Masks

As much as we've been staying indoors these days, we occasionally have to venture out into the real world to stock up on supplies or grab our curbside pick-up order of pad thai. For those of us responsibly following the CDC's recommendation to wear cloth face masks in public, our skin might be suffering. Dr. Rajani Katta, a dermatologist and clinical assistant professor at Baylor University, warns against using masks made of irritating materials like polyester that trap sweat, in a blog post for the Baylor College Of Medicine. She suggests masks made of absorbent materials like cotton, which can help absorb sweat and prevent breakouts. 
If you've got dry skin, Dr. Katta advises moisturizing before putting on your mask, but if you're particularly acne-prone, she recommends skipping greasy products like foundation. "These products can get trapped under the mask and possibly cause more skin issues," she explains. For healthcare workers on the front lines, Dr. Marchbein recommends avoiding retinoids and exfoliants. Wearing abrasive N95 masks daily, she says, "could cause further irritation and shearing of the skin."
If your quarantine = breakout central, all hope is not lost. There are plenty of products and habits that can help repair your skin and prevent further flare-ups. Plus, it's not like many people are seeing you these days. If you've got a particularly nasty zit, just turn off your video on Zoom.
Images: Andrea Piacquadio / Unsplash; Vera Davidova / Unsplash; Breakingpic / Pexels
8 Drugstore Moisturizers That Will Fix Your Dry Winter Skin
Colder weather brings a lot of shitty things, one of them being dry af skin. I swear, I try my best to not look or act thirsty, but my own fucking skin betrays me, looking more cracked and dry than the Sahara desert. The solution: moisturizer. The worst part about writing this is trying to spell moisturizer. Aside from my inability to sound out the letters, moisturizer doesn't have to be complicated. If you WANT a drawn-out trip to the makeup section of the department store, then by all means. Like, yes, there are some legit brands there that'll probably make you look 20 years younger and erase all fine lines, wrinkles, dark spots, improve your relationship, allow you to drop 15 pounds while eating pizza, etc. But unless you're super into throwing down upwards of $85 on a 3 oz. glass jar of the shit, heading to CVS or Walgreens is perfectly acceptable. These are the best drugstore moisturizers to fix your gross, scaly winter skin.
It isn't sticky, it's a nighttime formula (so naturally thicker and more of a treat for your skin), it's gentle, and has hyaluronic acid for extra hydration. it's literally great for all skin types, so whether you're dry and crusty or greasy like a pizza, CeraVe remains a trusted ally.

Although I hate Jennifer Aniston with the fiery power of a thousand burning red hot suns (CHANGE YOUR FUCKING HAIR CUT. IT ISN'T 1998), I cannot deny the power of Aveeno. This shit has an SPF 30 built in, leaves your skin with a subtle glow, and absorbs super fast. I still hate Jennifer Aniston, but I will buy this product.

This sounds French and fancy, so I'm not surprised it's listed on like, every roundup of fucking amazing moisturizers. if there's one thing the French know, it's looking better than all of us fat fuck Americans without trying. This little Parisian miracle contains thermal spring water (of course if does) and goes on like a fine French custard. So buy this if you're into rubbing dessert on your face.

Kristen Bell told me to use this, so I did. This whipped gel contains hyaluronic acid, so it's like adding water to your skin without the shine or like, wetness. You can wear it under A LOT of makeup, so this is perfect for looking not crusty and dry when you're needing extra foundation.

Your grandmother definitely slathered this on, since this brand has been around for literally ever. It works really well if your skin is a pussy sensitive, and also helps your skin be much smoother overall.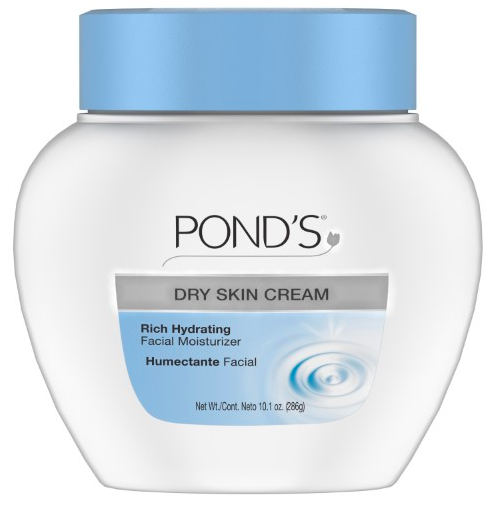 B vitamins, more hyaluronic acid, and other v important ingredients help this magical concoction lift and hydrate your skin to help with not only dryness, but wrinkles that are like, right around the corner for most of us.

For like $6, you can grab this little jar of magic. You can use it on your face and body, and it's great for sensitive skin. It's incredibly gentle, too, which is good if you're prone to shitty, dry winter skin.

It's got sunscreen. It's lightweight. Your mom probably used it. It contains a shit ton of vitamins. There's a reason Olay has been a go-to for decades.