How I Won My Battle With Emotional Eating
If you and I met today, you might think I was naturally lean. Born with a high metabolism. Able to eat whatever I want without gaining a pound. Not going to lie, that would be amazing. But the truth is, growing up, I was always the big kid.
By the time I was 13 years old, I weighed over 200 pounds and struggled with losing weight, emotional eating, and diets that didn't work. While most kids dreamed of becoming movie stars or famous athletes, my early inspirations were the knowledgeable dietitians I met every summer at fat camp. I was never normal. I was never small. The pediatrician's office constantly told my parents, "She's obese. She's over the 100th percentile, she's not even on the chart!"
At eight years old, I was sent to "fat camp." Can you imagine how that felt? But the truth is, I loved it. I made lots of friends. I was surrounded by people who didn't judge me. I lost 30 pounds. It was amazing. Then I came back to school…and gained it all back. This yo-yo-ing went on for years. Every summer, I'd lose 30 pounds. Every school year, I'd gain it all back—and more—until I peaked at 215 pounds (my highest weight) and a size 20, going on size 22—which meant I couldn't even fit into Gap or Old Navy's extended sizes, forcing me to shop in plus-size only stores. This was a particularly difficult thing to accept given that my friends were still shopping for single-digit sizes.

I loved myself, but I hated by body, and I had to finally realize that one was not separate from the other. If I was having a good, confident day, but then tried something on, my whole mood would dampen. And if I were having a bad day, my weight would only make me feel worse. I was the "fat," "chubby" girl for as long as I could remember. I hated doctor visits, because my pediatrician would show me a graph of how much I kept gaining. I hated sleepovers, because my friends would share clothes and talk about the boys that flirt with them, and I couldn't participate. I hated shopping and getting dressed, because nothing ever fit or looked the way it was supposed to. It was all so hard and such a drag. I was officially worn out from my weight. 
I finally had the epiphany: "Ilana, you only have this one body, you might as well make it rock!"
I had to get real. I had to understand that just because some people stay thin ordering pizza and fries didn't mean I could. These were the same people who could also eat one cookie, be satisfied, and stop, and I didn't have that in me just yet. One cookie felt like permission to have more, and more, and more. I like to eat a lot, so I had to figure out a way to fill up and lose weight at the same time. I also couldn't tell myself not to eat any dessert or junk foods, because that would only ever last a few days before I found myself eating them again. I grew up hearing about every diet because my parents tried them all and time and time again, but I knew there was a missing element. 
I needed a more positive approach that felt more fun than force. By that time, I had taken over 100 hours of nutrition courses from dietitians at weight loss camp so I knew what to eat, I just needed to connect it to how I would get myself to want to eat it. I brought in forms of accountability that kept me aware and kept me learning what was working and what wasn't. 
At weight loss camp, food was restricted, so you couldn't eat even if you wanted to. But at home, I had access to whatever I wanted, so I needed to understand how to eat well within a real lifestyle. I realized that I could microwave two frozen blocks of Birdseye broccoli with butter spray and salt and eat it in front of the tv like I used to eat popcorn, and the scale would still drop. I realized that if I made whole eggs in a pan, I would be tempted to soak up the yolk with a slice of bread, but if I made egg whites, I was more in control. I realized fruit wasn't unlimited, so I had to figure out where fruit fit in. I realized I could actually weave in some desserts, and later, cocktails, and still see that scale drop.
View this post on Instagram
Through college, I also joined a sorority and had to figure out how to lose weight and keep it off with all the drinking, partying and late-night eating, so I took the challenge and found more creative ways to make the most of it. I would skip the sugary mixers and stick to the straight stuff, and when everyone came back to pizza and bagels, I would raid the salad bar for artichokes and hearts of palm, and dip them in sesame miso dressing (you should try it!). I had to figure out how I could eat at Chipotle, Noodles & Company, and Jimmy John's with my friends, but still fill up and lose weight.I never skimped out on flavor or portion, but I had to get smarter about swaps and better control techniques throughout the day to set myself up for success. 
Sure, it would get annoying when I felt like I was putting in more effort than my skinnier friends, but rather than get jealous, I would always choose to be inspired and see what other things they were doing, besides their gene pool, that were helping them out. Any time I'd discover another helpful tool or tip, I'd add it to my system and I'd lose more weight happily. I had discovered the formula that worked for me. It wasn't a new diet—it was a new mindset. And once I embraced it, I kept on losing weight.
I never fell for any quick-fix suggestions that seemed unsustainable. I suffered with being uncomfortable and morbidly obese for long enough to realize I never wanted to rebound and go back to that place again. So, if it weren't something I felt like I could live with and enjoy a positive life with, I wouldn't do it or recommend it to others. For instance, I have still been able to enjoy cocktails, sweets, eating take-out, traveling, socializing, loving food, and living. I never let losing weight interfere with that, as long as I kept my simple and sensible principles in place and at the forefront of my mindset. 
Eventually, I got down to 145 pounds. Finally, for the first time ever, I felt strong and confident enough to post a photo like this:

I was so happy at 145 pounds. I was a size 8—the lowest size I'd been since I was literally eight years old. My first summer without "chub rub" (irritation between my thighs) felt like a dream come true! I used to have to use baby powder in between my legs to control the pain and redness, and once I realized I was wearing shorts on a really hot day and my thighs weren't burning, I felt like I had made it! And the best part was that I was able to maintain that weight, without denying myself or telling myself "no" all the time.
Intrigued, amped, and motivated by the success and maintenance of my results, I began to further develop my own customized weight-loss program and mindset. I took my interest in this to the next level, studying Nutrition and Dietetics in college, and earning a Bachelor of Science degree in the field. My studies quickly turned into my passion, and I became a registered dietitian. Soon after, I earned a Masters of Science degree in Applied Nutrition from Northeastern University (the highest standard in the field of nutrition) to apply evidence-based practices for weight loss into my own personal plan.
Pregnancy for me was wild. For years, I was in such control of my body. Then suddenly it took a whole different shape. But instead of fighting, I let the pregnancy be what it wanted to be. Until the third trimester, it was like a switch flipped in my head. It was time to get back to my weight-loss mindset to lose the baby weight. So, I refocused and thought about the hundreds of clients I'd helped and the principles that had worked not just for them, but for me as well.
After I delivered my beautiful daughter Olivia, I got right to work. I wasn't just ready, I was excited. I had a new purpose now—my daughter. And I wanted to be the best I could possibly be.

Although I dreaded taking these "before" pics in tight clothes, I had to do it. Because, as I got ready to use all the weight-loss tactics I'd collected over my lifetime, I wanted a detailed record of this journey so I'd know exactly what worked and what didn't in real time. And the good news is, it worked better than I could have ever imagined. I not only got back to my 145 mark, I kept going. I went from post-baby body all the way down to 120 pounds—and maintained the same weight for over two years and even did it again with my son, Julian.
You know what might be the most amazing part? It was a lot easier than I thought it would be. I always felt full and satisfied. I never deprived myself. And I never missed a meal. I just relied on a few simple principles that allowed me to lose weight while still living my life. Because that's everyone's ultimate goal, right? To be happy. That's still my goal as a registered dietitian nutritionist. That's why I took the principles that worked for me and used them for my hundreds of clients, combining them into a convenient, healthy, and practical approach, which gets rid of all the calorie counting, point tracking, and cutting out whole food groups (because who really has the time these days?!). It just became second nature, and I called it the 2B mindset. I'm proud to say it didn't only help me lose over 100 pounds and continues to help me maintain my best self, but it has helped THOUSANDS of people!
I'm so grateful that now people can experience positive weight loss with the 2B mindset and the results have been groundbreaking. Thousands of people have lost 10-50 pounds and a handful of people have lost over 100 pounds the same program! But of course, there is always a need for personalization, and I love meeting with clients one-on-one and in group settings to understand their personal story and help them best succeed. I recently launched my Mind & Body Reset Retreats that are truly life-changing. In these private settings with 20 women (hosted at resorts that are pure luxury), I am able to get to the core of the person and create a specific action plan for her. What has been getting in her way? What are her work hours and romantic life like? What medications is she on and what does she have coming up in her calendar?  
Every change brings on a new obstacle that we must overcome because life doesn't get easier, we need to get stronger. You can do this! We all can! 
Join Ilana Muhlstein at her next Mind & Body Reset Retreat September 19-22 in Carefree, AZ. Spots are limited.
Ilana Muhlstein M.S., R.D.N. is a Registered Dietitian Nutritionist, Wellness Enthusiast and Educator, and has become one of the most sought-after weight loss experts and influencers around. She's the author of You Can Drop It!: How I Dropped 100 Pounds Enjoying Carbs, Cocktails & Chocolate – and You Can Too! She leads the Bruin Health Improvement Program at UCLA and also heads up her own private practice in Los Angeles. Ilana is the creator of the popular 2B Mindset™ weight loss program and also sits on the prestigious Executive Leadership Board for the American Heart Association, Go Red for Women campaign. Ilana has consulted for several prominent companies on nutrition, including Beachbody, Whole Foods Market, Curves Gyms, PIMCO, Zevia, BFree, and The Wonderful Company.  She is also a renowned public speaker and delivers nutrition seminars, cooking demonstrations and most recently started luxury Mind & Body Reset Retreats which she conducts throughout the year all over the country.
Facebook: @ilanamuhlstein
Instagram: @ilanamuhlsteinrd
Twitter: @ilanamuhlstein
YouTube
Website: www.IlanaMuhlstein.com
I Tried Non-Invasive Fat Reduction & Here's How Much I Lost
You guys should know by now that I've recently become all about weird beauty/aesthetic treatments. I went to a sweat lodge, I have a coupon for cryotherapy I have yet to cash in, I'm in the midst of a Brazilian laser hair removal regimen. (OK so maybe that last one was less weird but more straight-up painful. It still stands, IMO.) So when I was given the opportunity to try Vanquish ME, a body contouring procedure that is supposed to kill fat cells in a non-invasive way, my exact response may or may not have been "sign me the fuck up."
If you haven't heard of Vanquish ME, it's because it's a fairly new treatment—it came out two years ago. Vanquish uses radio frequency energy to heat up and kill fat cells, and it does it without even touching your skin. Basically, this machine burns your fat cells and then, over the course of a few days, your lymphatic system gets rid of the cells—in other words, you pee them all out.
Ever since I learned the non-culinary definition for "muffin top" I've been preoccupied with my love handles. As far as I can remember, they have always been there, and they have been prominent. I haven't bought real pants since probably about 2009, since it becomes a Sophie's Choice between pants that fit my legs but make my muffin top protrude and make me suffocate, or pants that accommodate the muffin top but are MC Hammer pants in the legs portion. I live in leggings and jeggings, but more often skirts because they just don't test the limits of conventional sizing and my self-esteem in the same way. It's important to know yourself, you know?
And before you even ask, nothing so far in the past 26 years has made my love handles go away. I've lost and gained weight, reaching and losing a Weight Watchers lifetime membership a few times over in the process. I've spent hours in the gym lifting weights. Nothing so far has seemed to work. So when I found out that Vanquish targets whatever problem area of your body you choose without requiring you to go under the knife, or experience any pain or serious discomfort, I was fucking in, and you already know which body part I was targeting.
While FDA approved, Vanquish ME is not a super common treatment, and there are only a few places in New York that do it. NKD NYC in Columbus Circle is one of them. It's a brand-new facility that offers all types of luxury wellness treatments, like cryotherapy, infrared light therapy, vitamin IV drips, and more. 
I stepped into NKD NYC and I was pretty nervous, because I hadn't researched the Vanquish treatment too much—if I had, I would have gone into an anxiety spiral and talked myself out of trying it. Better to go into these things blind. Luckily the staff were incredibly nice, and there was a NP on site, and also a technician who had performed the procedure numerous times before. The facility itself was immaculate, very clean and calming.
The most important things to know before getting the Vanquish ME treatment are that you need to be well hydrated, and you can't have any body jewelry on. It's also not recommended that you be on your period because it can cause it to become heavier (which nobody wants, least of all me). Other that that, it's pretty straightforward. Vanquish ME has been referred to as a "lunchtime" procedure, because you can pretty much just waltz in, get the procedure, and go straight back to work. There's no down time or recovery required.
The best way I can describe the actual process of getting Vanquish ME is that you literally just lie on a reclining chair. The technician maneuvers this machine around you that kind of looks like an open claw (but less scary). They adjust the machine to fit just over the area you want to treat, making sure it's not actually touching you, but rather, hovering right above you. Then they turn it on and you chill there for 45 minutes. You can watch TV, meditate, talk to the aesthetician—you just can't have your phone and you can't move.
At most I would describe the process as mildly warm—about a 3 on a 1 to 10 scale. It sort of felt like putting a heating pad on my lower abdomen—but honestly not even that hot. It was pretty much the easiest thing I've ever done, even easier than sleeping, since I low-key have insomnia. But whatever. I'm sorry this account isn't more interesting; but that's how simple the Vanquish treatment is.
Most people receive between 4 to 5  Vanquish ME treatments spaced 7 to 10 days apart for maximum results, but I received two. NKD NYC also usually combines the Vanquish ME with an IV Vitamin Drip to make the treatment even more effective, but I didn't do the drip. I went no more than two weeks in between appointments and didn't change my diet or exercise routine between that time—I subscribe to the health regimen of "doing the bare minimum to still look okay naked". I did not lose any weight from Vanquish ME. That being said, when I came back for my first treatment I was measured, and I lost a half an inch around my love handle area. That's not bad at all for something that required literally zero effort. Overall I would say that I can feel the results more than I can see them. Like, every time when I'm sitting down and I go to pinch my love handles just to see how bad the situation is (a compulsive habit I've developed over the years—thanks body image), there's less to pinch. My sides and back feel smoother and there's less spilling over the top where my waistband meets skin.
Unfortunately I spaced out and forgot to take before and after photos at NKD. Fortunately for you all, though, I went to a music festival days before I received my first treatment, and I took a picture that will haunt me forever because of how my love handles look. It's time like these that I'm so grateful to be a woman—I'd like to meet ONE guy who spends approximately 56% of his time thinking about his love handles. ANYWAY. I decided to recreate that same photo with the same outfit to give you an idea of how my muffin top situation has improved since Vanquish.


My pictures are not a perfect science, and the results are not like, life-changing (like I said, I didn't receive nearly the recommended amount of treatments), but it's enough to make me feel better.
The only catch? The price, as you probably guessed. Vanquish isn't cheap—a session costs $750—and like I previously mentioned, it takes 4 to 5 sessions to achieve the best results. But if you have a rich sugar daddy who's bankrolling your lifestyle, or you're considering getting lipo anyway, you might want to try Vanquish since there's no recovery required. NKD NYC is also currently offering summertime packages and discounts for Vanquish ME.
If you're not made of money, NKD NYC has a less permanent body sculpting option: localized cryotherapy. For $55  per session, a technician will perform localized cryotherapy on an area of your choosing. It's the opposite of Vanquish ME—it works by freezing your cells to give the appearance of firmer, smoother skin. Your results will only last for about a day, but if you're going to a pool party or something and want your skin to look a little firmer, you're probably going to get better results from cryotherapy the day before than you would from binge-eating spinach and doing extra crunches.
Images: Siora Photography / Unsplash 
10 Foods To Help You Debloat If Sweatpants Are All That Fits You Right Now
Bloating is LITERALLY the worst. It's like, you could be eating healthy and totally not shitty, but your jeans claim otherwise. Learning to avoid the shit that makes your stomach hang over your pants is a lesson that should be clutched and held close like a vintage Chanel purse.
Here are the top ten foods that make you NOT bloated, so eat this shit to avoid feeling (and probs looking) like that chick from My Big Fat Fabulous Life.
1. Cucumbers
This shit has been a mainstay in spas for year, and it turns out, for good reason. Cucumbers make you the opposite of bloaty and farty because of an antioxidant that helps reduce swelling in ALL of its forms. So put these shits on your eyes, in your belly, and anywhere else you feel could use a nip and tuck.

2. Bananas
Our fav dick-shaped fruit has ANOTHER use —this time, to help us fit into our jeggings. Since they're so rich in potassium, bananas prevent water retention by telling all the extra salt in your body to get its shit together. An even bigger plus—they'll help you poo, making you feel EVEN SKINNIER. Hooray, bananas.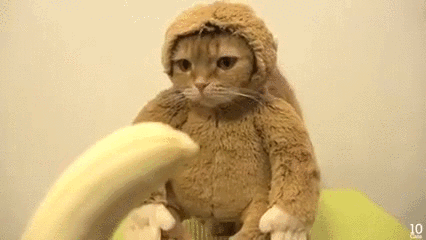 3. Asparagus
Battling water retention is apparently on asparagus' to-do list, and we're thankful for it. Eat it raw, roasted, steamed—what the fuck ever, and you'll feel light and airy despite having had a delicious meal.

4. Ginger
Battling hangovers? Check. Fixing nausea? Check. Making sure your stomach doesn't repulse those around you? Check. Because it's a natural anti-inflammatory, ginger relaxes the whole digestive tract, which makes you feel less like you have to suck it in. Add this shit to any smoothie or tea to help beat the bloat.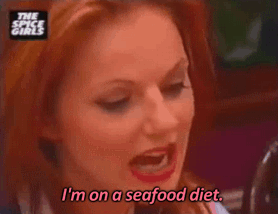 5. Watermelon
Oh yay! Our fav (sorta) calorie-free fruit makes the list. Because watermelon is so full of well, water, it makes you feel fuller without puffing you up. Add the fact that it has little to no sodium (a notorious bloater) and you better be adding this to your diet this week.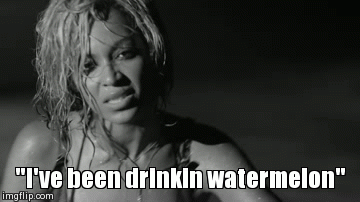 6. Greek Yogurt
A betch fav, Greek yogurt makes the list for showcasing its super good/yummy bacteria. Additionally, since it's high in protein, it'll keep the carbs at bay and keep your tummy flat. Just be sure to say "lol no" to those yogurts with the add-ins or added sugars. That'll do the opposite of giving you a flat stomach—just saying.

THERE IS A GOD. If you need a coffee, keep it iced to add water (duh, an anti-bloater) and skip the sugar. We know coffee will give you a nice little caffeine jolt and the water will like, hydrate you.

8. Avocado
Once again, there's literally no excuse for you to be bloated, having read this list. Avocados and iced coffee? Yah, we can hang. Avocados are super high in potassium like our friends, bananas, which keeps us from retaining water. Once you get rid of all the water, you drop three pounds just like that! We assume.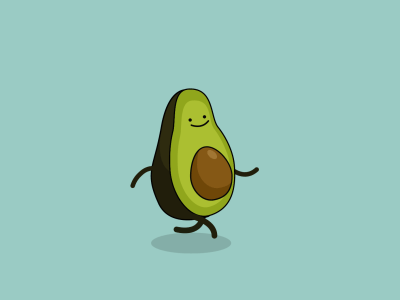 9. Zucchini
Since it's literally a denser, slightly less delicious cucumber, the presence of zucchini on our list shouldn't surprise you. The plus side is that, unlike cucumbers, you can grill, roast, or make chips out of these dick-like veggies. Additionally, they're super filling without the added calories like our good friend, sugar. Thanks, zucchini.

10. Egg whites
Start the day off the WHITE way (no racism intended). Unlike a regular omelette, or doughnut, or whatever, egg whites have basically no sugar, no carbs, and tons of protein. That'll result in a full but flat tummy AND relieve you of some of that extra water.