The Betches' Study Abroad Guide To London
Not to literally be the f*cking worst, but I can definitively say my semester abroad was the best semester of college so far. Admittedly, it could be because I didn't cry over boys, have stupid drama, or fall down the steps of a frat house. I might not have gotten a Madonna-esque accent or pulled a Meghan Markle and married a prince during my three months abroad in London, but I'm still chuffed with the way I spent my time here.
While London may not be every student's first thought when picking where to go abroad, it should really at least be in the top of five (if not top of the list). During my semester across the pond, I balled out in pubs, shopped waaaay more than I should have, and ate some of the best food I've ever tasted. London is a crazy, huge, exciting place, and I sadly didn't experience everything. However, whether you're thinking of a semester in the best city in the world (seriously, don't fight me on this) or you're just taking a short trip, think of this list as a starting point. Cheers!

General Living
One of the significant perks of studying abroad in London is that it's pretty much New York, but with accents. While the U.K., and, specifically London, is definitely more western and modern than places like Madrid or Rome, some random things may be confusing at first. 
Your home in London will likely be a dorm or a flat (aka an apartment). I really lucked out and lived with three other girls in a 2br/2ba apartment. While this may have made things difficult when we were getting ready to go out, it was a perfect set-up for a transition between on-campus and off-campus housing. 
Your flat will likely have some weird washer-dryer hybrid (if you have a dryer at all), and you'll probably have a dishwasher, which is honestly super nice.
If, upon arriving abroad, you discover the sheets and towels your program gave you are grimy and insufficient (seriously, we were each given one small hand-towel and that's it), don't freak out. The city is littered with home goods and department stores. While literally nothing could ever compare to Target, chains like M&S and TK Maxx (the British TJ Maxx) will have everything you need to get.
If you're looking for something like Walgreens or CVS, I have great news for you. Boots, my new favorite store, is basically what I imagine CVS and Ulta's love child would be. Seriously, I got my eyebrows done in a Boots that was located in a Tube station. I could write an essay about it and will go on for days, but truly, where else can you buy Calpol (British Tylenol) and YSL products in one place?
As far as food shopping goes, the most common grocery stores are Sainsbury, Co-op, Waitrose, and Tesco. M&S is the closest you'll get to something like Target since they carry food, clothes, and a ton of random things. There are also a few Whole Foods locations scattered throughout the city if you're into that, but they tend to be far from where students are based. When you go grocery shopping, they do charge for bags, so I found saving bags or purchasing reusable ones to be both fiscally and environmentally responsible. 
While London has a thousand amazing restaurants, many of them are pretty expensive, so I recommend saving those for when your parents come to visit. London can be a pretty expensive city overall, so it's essential to keep track of your spending, especially as it pertains to food. I promise that while the local cuisine is good, it isn't worth bankrupting yourself within the first month. 
When it comes to electronics, sh*t gets dicey. Due to my lack of understanding of voltage conversion, I accidentally blew the battery on my laptop during my first week here. Do yourself a favor and make sure you're getting the right type of chargers that will properly adapt to the outlets, and won't break your stuff. 
Keep in mind the outlets in the U.K. are different from those in the rest of Europe (because I guess having different currency isn't already enough of a pain in the ass). If you're planning on traveling during your time abroad, which you should, I recommend getting one of those converters that let you change its settings so you don't have to buy separate ones. 
Travel/Transportation
London is very walkable, and there is ample public transport thought the city, which makes it easy to be sustainable and to ball on a budget! While the transportation system is admittedly confusing at first (I accidentally got on the Tube alone my first week and had a minor panic attack), it is super easy to adjust to and figure out. I recommend downloading the app CityMapper. It has minute-by-minute updates of line closures and shows you every way to get to a location by comparing the costs and travel time.
Flying: While London isn't the cheapest place to travel to and from, flying is definitely the easiest way to get to most cities in Europe. Flights in and out of Heathrow are pretty pricey, but there are a ton of other, more affordable airports surrounding the city. Look for flights on Ryanair and EasyJet, they're basically the European equivalents to Spirit.
When it comes to getting to the airport, I recommend taking the train from the city. Train times are predictable where London traffic is anything but. If you decide to Uber, give yourself tons of extra time. 
Trains: Trains are great to get anywhere else in the U.K. and places like Amsterdam and Paris. I took the Eurostar to Amsterdam and flew back, and the train was 100 times more pleasant. Make sure you book a ticket beforehand, and I recommend paying extra for a seat; otherwise you might end up standing for three hours, and I know from experience it's the f*cking worst. 
Buses: Public transport is everywhere in London, and there's a bus stop every hundred yards. While the buses are super convenient, they aren't the fastest way to move around. Again, traffic in London is literally terrible. 
The Tube: The crown jewel of London's public transport system. Seriously, picture the subway but way cleaner and way more chill. The Tube is usually the fastest way to get from place to place. We were given oyster cards (aka transit cards) at the beginning of the semester and refilled a few times before we realized we could use Apple Pay to get in and out of the stations. 
Uber: Uber is a little uncertain in London right now, as there's an ongoing legal battle about whether they can keep their license to operate there. However, they left before and made a comeback. There are a variety of ride-share apps that are specific to the city and similar to Uber if it isn't around when you visit. Uber can be a necessity, especially late at night, because public transport stops around 1am. 
Style
One of the most significant aspects of culture shock I experienced in London is that people actually dress up for class. Leggings and the frat sweatshirt you stole from the guy you hooked up with freshman year won't cut it. I obviously dressed cute on the first day to make a good impression on hot guys from across the pond, but I was shocked to discover my classmates wearing, like, dresses to class in the second week. People in London tend to dress really well, so be prepared to step up your game a little bit when it comes to daily attire.
When it comes to hair and skincare in London, there are a few essential things to remember. The weather is somehow frigid, humid, and dry all at the same time. The air quality is also no friend to sensitive skin. While drinking water might combat some of this, I also highly recommend investing in a few good face masks (I like Drunk Elephant's Babyfacial and Glossier's Moisturizing Moon Mask), deep conditioner, and some sort of hydrating hair product. 
If you're like me, and super reliant on your heat tools, I highly recommend investing in those made explicitly for European or British outlets. It'll save you a whole lot of heartbreak when the flat iron you've had since junior year of high school burns out on the first week. RIP.
Food

Breakfast and Brunch
There are many fantastic breakfast and brunch places here. While I'm not huge on breakfast, there were a few spots almost every study abroad student will consider a "must." I recommend exploring your area to find breakfast places because there are cute cafes all over the city. 
EggBreak: EggBreak, located in Notting Hill, is the best brunch I had in London. We ordered half of the menu to split, but I honestly wish I had gotten everything. The neighborhood is super cute, which makes the long wait bearable.  
The Breakfast Club: There are a few locations throughout the city, it's pretty affordable and has a huge menu.
View this post on Instagram
High Tea
If you're of the mentality that there's no point in going to London if you aren't going to high tea, you're not necessarily wrong. Most of the time, champagne is included, which is super fun, especially if you're not a huge tea drinker. Tea will typically eat up a few hours and take a sizable chunk of your abroad budget, depending on the place. I recommend a nicer, more traditional tea with your parents if they visit, and one of the trendier ones with your friends. 
Sketch: THE place to go for bathroom mirror selfies. It is super vibey, and the restaurant is totally gorgeous, and the tea itself is also great. As a bonafide allergy kid, I really appreciated their nut-free option, mainly because most high tea places have set menus. 
Beas of Bloomsbury: This place is super cute and there are a few locations. It's a pretty traditional tea, but definitely worth going to. 
Mad Hatters (Gin &) Tea Party: No words can do this justice, but it's a crazy-fun experience. You'll never do anything else like it, and it's a must if you're visiting London. 
Peggy Porschen: We went here for tea on my friend's birthday. It was super cute and the brunch food was delicious. We didn't get the high tea menu, but the atmosphere was super pretty. 
Dinner
CocoChan: CocoChan is hands down my favorite restaurant in London. Its Asian fusion menu has something for everyone, even super picky eaters. The restaurant is aesthetically pleasing, and the drinks are amazing.  
Coppa Club: Coppa Club is super yummy, if a little expensive. It's perfect for sharing a ton of stuff. They have igloos you can dine in that fill up months in advance, so make sure to plan ahead.
Nandos: Your London experience isn't complete until you've had a cheeky Nandos with ~the lads~. It's really just chicken and variations on normal chicken dishes with killer sides. Get the Peri Chips; you won't regret it. 
View this post on Instagram
Dishoom: There are a few locations of Dishoom around the city. It's really great Indian food. 
View this post on Instagram
Gloria: This is part of a restaurant group that has locations in Paris and other cities. It has incredible Italian food and is great for both brunch and dinner. The second location in London is called Circolo Popolare, and it's equally as amazing. 
View this post on Instagram
Santore Italian: We found this place on the second day of the semester by accident, and it was our go-to. Tbh, it isn't, like, the best Italian ever, but it's close. The thing that really drew us in was the pizzas—you can order a half, ¾ or full meter pizza which can be split up with whatever toppings you want. I'm not saying three of us finished the full meter, but I'm also not not saying that.  

Gordon Ramsay Bar and Grill: Honestly, I've never watched his shows, but if they are half as good as the meal I had at his restaurant, I might have to start. Save yourself the stress over what to order and go with the Truffle Burger. Trust me. 
Quick Bites and Others
Ben's Cookies: These cookies were THICC. Always ask for them fresh out of the oven. 
Hummingbird Cupcakes: We got my friend's birthday cake here, and it was terrific. Honestly, it's similar to Magnolia Bakery in NYC but still worth visiting. They have a few locations around the city and are very accommodating with allergies. 
Itsu: Itsu is a chain sushi place. It might not be Nobu quality, but the food is good and the service is always fast. 
Harrod's Food Hall: These are fantastic food stands on the first floor of Harrods. It's so worth a visit, and you can find literally every type of food there. 

Going Out
I'm not a huge club person, but London has an incredible nightlife with a ton of things for everyone. Clubs, bars, and pubs are all different things, with pubs being the most chill option. 
If you're looking for a good night out and don't want to spend a ton of money, check out Wicked Student Nights. It's a website that shows you all of the deals in the city for students, and where you'll have the best chance of meeting people your age and other students who are abroad. 
Barrio: I have a few friends who are local to London, so when I went out with them, they always tried to take us to places tourists tend to stay away from. Barrio was one of my favorite places we went out, and I definitely wish we went more often. It's almost a frat party vibe and is the perfect mix between a bar and a club. However, it's weirdly 21+, even though the legal drinking age is 18. Nevertheless, we were friendly to the bouncers and ended up not having any issues getting in as 20-year-olds. 
Big Chill: I wish I went here the first night, but I waited till my last week to visit. It's in Shoreditch, which is the best area in the city to go out because it's super easy to hop around from place to place. Like Barrio, it's a mix between a bar and a club and has a really cute outdoor area for the rare nights it's not negative 100 degrees! The drinks weren't crazy expensive, and the atmosphere was (excuse the pun) very chill. 
ICE BAR London: Very hyped up, but way worth it. Really, we paid like, 20 pounds for one drink and an Insta pic. However, I'm totally comfortable saying that I did it for the 'gram. This is a place you go with a small group of friends, and not somewhere you stay all night. You book your ticket in advance, and it includes a drink, a jacket and gloves, and forty-five minutes inside the bar.
View this post on Instagram
The Alchemist: One of the coolest bars I went to, with locations scattered around London. If you know anyone who's basic and ever visited London, I'm sure you saw 100 pics and Boomerangs of a smoking cocktail on their Snapchat and Instagram stories. All of their drinks have some science element to them and taste amazing. It isn't the cheapest option, but truly worth every penny. 
Old Street Records: I'll be honest, I never went here, but plenty of people I know did. It seems fun enough and similar to Big Chill. From what I've been told, it's good vibes and pretty relaxed. 
Slug and Lettuce: I said it to my friends, and I'll say it here: scatter my ashes in Slug and Lettuce. There are dozens of locations throughout the U.K., and all of them are super different. Still, the drink menu is pretty much the same at all of them (order the Pornstar Spritz, it's the best drink I've ever had). My favorite location is located right next to the Gherkin. It's always filled with cute finance boys who just got out of work. 
Ballie Ballerson: Similar to ICE BAR, Ballie Ballerson is more the type of thing you do for the experience and isn't the move for a real night out. It's best with a small group of people as you have to book your tickets in advance. Ballie Ballerson is the type of place you go to for good pics and good company, not for a clubbing vibe. 
O'Neill's: This place is an American student magnet on Thursday nights. Seriously, almost everyone you see here is someone studying abroad or a creepy older guy. Go with a big group and pregame hard, and you'll have an enjoyable night. If you go there earlier in the night, you can expect to see a live band playing classic rock. 
Tiger Tiger: If you're looking for a place to peak, look no further. Tiger Tiger was one of the most fun places I experienced. It has several floors, an entertaining crowd, and is great for a proper night out. 
Piccadilly Institute: Similar to Tiger Tiger and O'Neill's. I loved Piccadilly Institute and wish I had more chances to go. They frequently have deals for students and are always playing good music. 
Markets, Sights, and Activities
There are more things to do in and around London than there were days I had studying abroad, so I sadly didn't get to visit every single attraction. Something I wish we'd done at the beginning of our time abroad was list everything we wanted to do so we could make real plans and fit in all of these sights. London has tons of museums, many of which are free or affordable for students, and are totally worth taking advantage of. 
Abbey Road: Home of the famous Beatles album cover picture, f*cking obviously. If you're super committed to taking the perfect Instagram pic there, you better get there as early as possible because it's just a normal crosswalk and is located at a pretty busy intersection. There is also a store dedicated to the record label and The Beatles that is super cute. 

Big Ben: The entire thing is under construction until next year, so there's scaffolding everywhere, but I couldn't just not mention Big Ben.
Borough Market: Okay, this was the BEST food market I went to in London. When my mom visited me, we got spiked cider and walked around the market for a little bit. It's excellent for artisan food shopping (if that's your thing) and even better for getting a few things to split for lunch. Honestly, some of the best food I had abroad was in Borough Market. 
British Museum: The British Museum is a super cool place to visit. They house the Rosetta Stone, which, if you're like me (aka a huge nerd), is a pretty big deal. 
Buckingham Palace and the Changing of the Guard: They don't do the Changing of the Guard every day, and it's honestly kind of confusing if you aren't able to see the whole thing. Make sure you check the dates and get there early enough to get the right spot. If you aren't able to see the Changing of the Guard for whatever reason, the palace is still really cool to look at. 
Camden Market: Camden Market is one of my favorite places to go in London. There is an art market and a dozen or so food stalls that are all, like, out of this world. As the Taylor Swift song suggests, Camden is a really cool place to walk around and explore. 
Churchill War Rooms: I can't say enough about this. The Churchill War Rooms are tunnels and rooms underneath Westminster that protected Winston Churchill and his team while they strategized during the Second World War. It was easily the best thing I did in London, and I may or may not have been so moved by the museum inside that I cried a little. This is a major must-visit. Seriously, you have to go.  
Covent Garden: A little bougie, but super fun to visit. There's a ton of small, cute restaurants and an art market surrounded by high-end stores. It's a great place for people watching and walking around. 
Football Games: I'm not a huge sports girl, but, when in London, right? There are a ton of Football Clubs (teams) in the area, and while one of my frat guy friends passionately told me which team to root for, I had no idea what he was saying. Anyway, if you want the authentic British experience, it is definitely worth attending a game. 
Hampton Court: While not quite as far as Stonehenge, Hampton Court is still pretty far from the city. I recommend carving out a little more than half a day to tour this stunning palace and the gardens. Since most of the palace and the coolest things to see are outside, I'd recommend doing this in warmer weather. 
Ice Skating at the Natural History Museum: If you're abroad in the winter, going ice skating is totally worth it. Honestly, there are a ton of places to ice skate, including a really gorgeous rooftop bar. 
London Bridge: It's right above the Borough market, and the coolest thing about it was the view you get of Tower Bridge. Nonetheless, the cool history makes it worth a visit. 
London Eye: The London Eye offers an incredible view of the city (duh). As someone who is terrified of heights, I can confirm it's not as scary as I thought it would be!
Museum of London: The Museum of London takes you through decades of London's history and has incredible exhibits featuring musicians and other interesting Londoners. It's no Lady Gaga's Meat Dress, but it's still awesome. 
Parent Trap House: My mom and I were really excited to go to the Parent Trap house for obvious reasons. However, it turned out to be a bit of a letdown. Someone actually lives there, so it's not like you can tour the inside or even get that close to the house without being super awkward. While I recommend going if you love the movie and have the time, it isn't a must-see. 
Portobello Market: This market is in Notting Hill, and honestly has the best crêpes ever. There are tons of food and art booths, and it's a great place to walk around for a while. 
St. James Park: Right near Buckingham palace, this park is super pretty to walk around when you visit the palace or are in the area. 
Stonehenge: Ok, full disclosure, I didn't make it to Stonehenge, and that might be my biggest regret of abroad. It's super far from London, but I genuinely think the trip would have been worth it.
Tower of London: This is where the Crown Jewels are. The line is always super long, but it's worth the wait, and it moves really fast. 
West End: Seeing a show on the West End is a must. The tickets are waaay cheaper than Broadway, and the shows are just as good, if not better. If you go on a Wednesday afternoon, you can stop by a ticket office to find really cheap tickets. 
Westminster Abbey: This historical church is totally stunning. A trip to London isn't complete without a visit. Seriously, no words can do it justice. 
Working Out
As I mentioned above, living in London has a few similarities to living in Manhattan, and many of the workout class options are similar (if not the same) as what we have in the states. 
SoulCycle: I don't really think this needs an explanation. My friends usually went to classes at the Mayfair location, but there is a Soul in Notting Hill. 
Barry's Boot Camp: Similar to SoulCycle, this really doesn't need an explanation. My understanding is that Barry's is a HIIT-style workout where you run on the treadmill and then lift weights. There are a few Barry's locations in London, and I've never been to a single one, but I have friends who are obsessed with it.
KoBox: KoBox is the hardest workout I've ever done. If you are familiar with Rumble boxing, it's pretty similar. You'll spend your class split between bodyweight workout and hitting the bag. I frequently go to more traditional boxing classes at home, and while this isn't what I was used to, it is my new favorite. There are a few locations throughout London, but my favorite studios are Mayfair and City. 
Studio Lagree: Again, this studio has locations scattered throughout  London. It offers a traditional mega-former workout, so if you've hopped on the SLT bandwagon, this is your best bet at finding something comparable when traveling in the U.K. 
Fitness Clubs: This is what gyms are called in the U.K. I recommend looking into joining whatever your Uni has to offer, since they tend to have the best student rates. However, although my roommates and I all joined our Uni fitness club, it was really far from our flat, so we rarely used it. Distance is essential to consider if you're going to sign up for a gym. 
London is enormous, and there's no way to experience everything the city has to offer in one semester. It can be hard to truly take advantage of everything in the city and still maximize your weekend trips. Like I said before, studying abroad in London is really the best of both worlds. You get close enough to a real ~European~ abroad experience, without having to deal with language barriers or people who like, really dislike Americans. 
Honestly, and I know it's so obnoxious to say, but abroad did change me, and I wouldn't trade a second of my time here for the world. 
Pip pip, cheerio, mates! 
Images: Aron Van de Pol / Unsplash, Santore Restaurant, Harrods, Giphy (3)
How Watching Reality TV Makes You A Worse Person, According To A Study
At the end of a long day scrolling through memes, there are a few things we can reliably turn to for comfort. Specifically: removing your bra, grabbing a bottle glass of wine, and turning on Bravo. Unfortunately, according to a new study, one of those things (Bravo) is making you a monster who hates poor people. Honestly, I'm a little sad that these researchers are spending their money on ruining reality TV. But I'm even sadder at what the study results showed. Let's dig in.
The Study
This London School of Economics study tested participants in two ways. First, they polled the group about their TV watching habits, focusing on shows like The Apprentice (BBC version) and Keeping Up With The Kardashians. Overall, they found that regular watchers were more likely to have materialistic and "anti-welfare" attitudes. (To be clear, they demonstrated anti-welfare attitudes when specifically questioned about the issue. Watching KUWTK has no correlation with randomly railing against the existence of welfare, unless you happen to be Paul Ryan.)
Second, the researchers showed some participants ads for luxury goods and pictures of celebrities. The other participants looked at ads featuring nature or animals. The researchers then polled all participants on their "views on wealth, success and government benefits for impoverished people." The results? With only 60 seconds looking at the ads promoting wealth/expensive goods, people were way more likely to back anti-welfare policies.
After looking at a Prada ad for 60 seconds, apparently: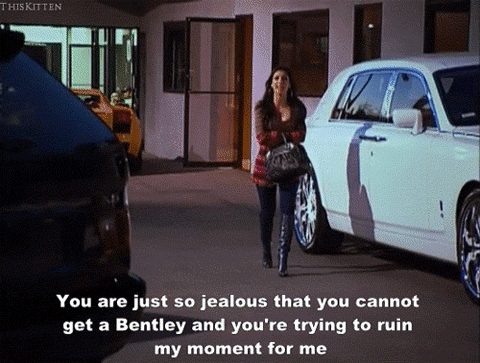 What It Means
So, why would this be the case? Obviously, they can't know for sure—but if you watch reality TV on a regular basis (think: all Real Housewives, Vanderpump Rules, KUWTK, etc), you probably have a pretty good idea. The study author, Dr. Rodolfo Levya, phrased it like this:
"Programs like 'The Apprentice' and 'The X Factor' are engineered to absorb audiences into the world of wealth and celebrities so act as 'cultivators' of materialistic values and attitudes…If there is more emphasis on materialism as a way to be happy, this makes us more inclined to be selfish and antisocial, and therefore unsympathetic to people less fortunate."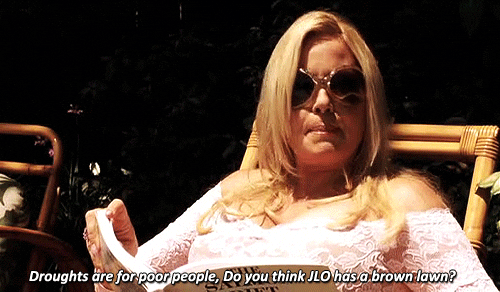 As much as I'd love to poke holes in this, I have to say that it holds up. What I watch on TV has a strong influence on my purchasing habits. (Exhibit A: I never would have gotten eyelash extensions if I hadn't been bingeing Vanderpump Rules.) And I do pretty firmly believe that a trust fund would solve most of my problems. So yeah, I've definitely bought into the whole "materialism as a way to be happy" thing. That being said, the idea that money = happiness is not exactly new to our generation. So it feels a little cheap to pin all of that on the advent of reality TV. If anything, it's just exaggerated the phenomenon.
As for the other finding (that people became anti-welfare and generally unsympathetic), I find this harder to explain. Personally, I don't feel a strong correlation between wanting to buy a designer bag and supporting Medicaid budget cuts. Then again, Trump rose to fame through The Apprentice, and his 2019 budget proposed cuts to Medicare, Medicaid, food stamps, and housing assistance. So on a national level, we're definitely seeing a lack of sympathy in that direction.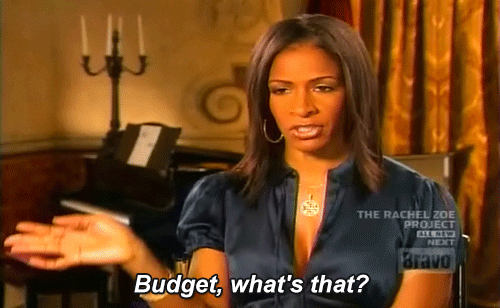 Overall, as much as I love blaming any bad character traits on external factors, these study results are disappointing. (And not all that surprising.) Am I going to advocate that you throw out your TVs and/or boycott the Kardashians? Def not—for one thing, I'd be out of a job. But in your quest to live half as luxuriously as Blue Ivy Carter, maybe consciously take the time to remember that other people are struggling too. In other words, make an effort to care as much about the homeless population in your city as you do about Kim and Kourtney's latest feud, or they're going to label Bravo a public health risk and take it away from us.
Images: Giphy (3)
Office In London Gives Employees Champagne On Demand With Press Of A Button, So We're Moving
Working fucking sucks. Sorry for all you college betches who watch too many movies where a hot 20-something has a cool job doing literally nothing and lives in a 3,000-square-foot Tribeca penthouse, but that's not what it's like out here. I've been out of college for what feels like forever just grinding away and I can barely afford to rent out a room in a shitty apartment in Queens, okay? And I'm not even poor-poor. I'm just millennial-who-graduated-during-the-Great-Recession-poor, which is like, America's new middle class. But for British betches, or those of us in the States who are looking for just one more reason to place an ad on Craigslist with the subject SEEKING BRITISH HUSBAND: ALL AGES WELCOME, a new office building in London has announced that it will feature a "Champagne On Demand" button at every desk, meaning you can be both miserable and drunk, which is honestly one of every self-respecting millennials' top five mental states after "tired and drunk" or "sad and sober." Bloody brilliant, mate!
But before you go downloading British Bumble, or re-connecting with that one weird exchange student with the fucked up teeth from high school, slow your roll because the building isn't ready yet, meaning you have some time to figure out your living arrangements abroad and what not. However, Enstar Capital, the luxury developer in charge of this incredible project has a pretty elegant plan for how to get Champagne into the hands of every thirsty (or bored) office member who needs it with this nifty button marked "Ring For Champagne" for those btton skeptics that don't believe such a wonderful invention could ever be possible:
Legit, it could only be simpler if they installed a Champagne tap at every desk, with a funnel that goes straight into your mouth. What a time to be alive. And in case you were wondering, you can also order other bougie shit like caviar if you want your coworkers to know you fancy.

And for the low, low price of $688 a square foot, you too can convince your boss to install some Champs on demand buttons in your office! So if you work at a hedge fund or like, Google, this could be possible. For everyone else, we're SOL.
If you're thinking that this sounds v familiar, you're probs like me and watch too much Bravo because Heather Dubrow from RHOC has one of these miraculous bubbly buttons in her closet. And while that's cool and all, I need a buzz way worse when I'm doing stupid work shit than if I were to be in a closet that's bigger than the aforementioned room in Queens. And while both sound amazing, a mansion in California with the world's biggest closet, a Champagne button and a personal butler to bring it to me probs isn't in the cards for a minute, so I guess for now I'm getting a job in London. Cheers!
Get In Loser, We're Going Drinking: London Is Having A Prosecco Festival
Earlier this year, Italy tried to scare the shit out of us and say that they were probs going to run out of prosecco soon because we're all drinking so much of it and they can't keep up. Tbh, I don't remember when they said this tragedy could happen, because I repressed it from my memory. All that matters is they haven't run out yet, and I know this because I currently have three bottles of Lamarca in my fridge. Personally, I think this is cause to celebrate and the UK agrees with me, because they're throwing a big prosecco festival in London this spring and we're all fucking going because it's a trip abroad and an excuse to get Champagne wasted.

This shindig is called Prosecco Springs and it's literally just a bunch of prosecco producers offering up tastings, masterclasses—basically, classes that will teach you how to be a Prosecco douchebag—and some sort of prosecco pop-up store. The best part is that a festival session is only $45 and that includes a glass of bubbly from all of the eight prosecco makers who are going to be there. Is this real life? You can pay an extra $60 for the masterclass if you're boujee af. But like, that's still super cheap. I'll probably spend more money at one bar this weekend than the price of a ticket for this festival. It's cheap enough to distract you from how much a flight to London actually costs.
So go ahead and buy your tickets because god knows betches will flock to this alcoholic wonderland from all over the globe and probably cause that very shortage of prosecco they warned us about.