6 Facts You Didn't Know About Your Favorite 2000s Shows
With all the free time we have during this pandemic, so many of us are ripping through TV at a pace production companies can't keep up with. We've binged all the new shows—Tiger King, Too Hot to Handle, Selling Sunset—and we're now reverting back to the shows we loved as teens. Nothing wrong with a little nostalgia, right? I'm talking Gossip Girl, The Hills, Gilmore Girls…the good sh*t.
Given that we've watched these shows from start to finish more times than we'd like to admit, the plot lines, character arcs, outfits, and drama frankly no longer surprise us. Hell, I can quote some of the lines by heart as I watch Blair and Serena fight. 
With that being said, let me bring back an element of surprise for you and give you some fun facts you've never heard before about the shows—everything from BTS drama between cast members to tea on certain people's auditions and more. 
1. 'The Hills'
 The cast provided their own wardrobe and styling.

Adam DiVello, producer of The Hills, revealed that the cast had to supply their own wardrobe during the show. Since this was the time before brand deals and Revolve sponsorships (can't believe such a time period existed), this meant the cast was styling and dressing themselves out of their own pocket. 
DiVello explained this decision in an interview with InStyle, saying "We always wanted the girls to wear their own clothes….What you wear represents who you are. It's an extension of your personality." 
He also disclosed that the cast wasn't provided any on-set hair or makeup either. NGL, I'm annoyed that I have to do my own hair and makeup, and I'm not even on TV—so I can't imagine the cast was too thrilled about that rule. 
So even though the cast ultimately made a sh*t ton of money as the series went on, Heidi Montag revealed that much of her season one looks were thrifted outfits, and Stephanie Pratt said she only hired makeup artists and hair stylists during season three. 
The burning question: is Adam DiVello making the Selling Sunset cast supply their own wardrobe and looks as well? If he is, can someone get me a quote on how much Christine Quinn charges for styling consults? And hair braiding lessons? I need to know.
2. 'How I Met Your Mother'
Neil Patrick Harris was against Britney Spears being cast. 

Remember when Britney Spears had her infamous meltdown in 2007 and was put under a temporary conservatorship ("temporary"…and here we are a decade later…)? Well, the one thing you may have had in common with Britney at the time was that she was watching a lot of How I Met Your Mother. 
She reportedly loved HIMYM so much that, in early 2008, she asked her management team to reach out to the show and see if she could be cast in an episode. The show's creators liked the idea, and gave her a role that was set to appear in a single episode only.
For anyone who's ever seen Britney perform before, here's the surprise we all saw coming: she absolutely SLAYED her performance in that first episode (duh), so the show wrote her into a second.
It wasn't just the show's producers and creators who loved Britney; the viewers did as well. In fact, viewership and ratings went up significantly during the episodes in which she appeared. Despite the healthy bump in numbers, Neil Patrick Harris—who played Barney in the series—was opposed to having celebrity cameos on the show. Although it was nothing against Britney herself, he made it clear that he believed the show didn't need celebrity drop-ins to generate a following. 
My opinion? There's never enough Britney content. If it were up to me, I would have pulled an Oops! I Did It Again, and written her into episode after episode after episode. 
3. 'Gossip Girl'
Leighton Meester and Blake Lively weren't IRL best friends.

Blair and Serena may have been BFF goals on-screen, but apparently they weren't as close off the set of Gossip Girl. So I hate to break it to you, but when you and your sixth-grade bestie pretended to be Blair and Serena, you were kind of modeling your friendship after something that wasn't real. 
Although the off-screen relationship between Leighton Meester (Blair) and Blake Lively (Serena) wasn't as tumultuous as their scripted fighting scenes, it wasn't much different than the relationship you have with that random coworker whose name you can't remember (Is it Christine? Kristina? Didn't she, like, get transferred to another department? Or…maybe she quit?). 
Joshua Safran, a writer for the show, was quoted in Vanity Fair saying, "Blake and Leighton were not friends. They were friendly, but they were not friends like Serena and Blair." He went on to speculate that the reason behind their non-friendship was their differing personalities: "You talk to Blake on a very contemporary level, and she would be like, 'I'm doing this thing tonight. Have you been to this restaurant?' Leighton was very removed and very quiet, and, after her scenes were done, she would wander the stage."
NGL, seems like Leighton circa the Gossip Girl era was more prepared for this pandemic than Lively. 
4. 'Gilmore Girls'
Ryan Gosling was almost cast.

How many hours have you spent watching Gilmore Girls? Upwards of, like, 1,000? Guess what—some of those hours could have been spent staring at Ryan Gosling, who was almost cast in the series. 
At the Gilmore Girls Fan Fest in 2016, the show's casting director, Jami Rudofsky, revealed that she brought in Gosling to audition for a minor role. She'd previously cast him in an independent film, so she knew his work and wanted to bring his seemingly impressive talents over to Gilmore Girls. 
To the misfortune of Gosling stans everywhere, he apparently bombed his audition, and that's why he didn't get the role. UGH, Ryan! We were all rooting for you!
So who was burned worse: the viewers who were robbed of precious Ryan Gosling screentime, or Rudofsky when her casting team was pissed she brought in such a sub-par candidate? Personally, I say us viewers suffered more. 
5. 'One Tree Hill'
Producers wrote Sophia Bush and Chad Michael Murray's IRL breakup into the show.

As a One Tree Hill fan or pop culture junkie, you know all about the fact that Sophia Bush (Brooke) and Chad Michael Murray (Lucas) had an IRL relationship. Sure, their marriage may have lasted longer than Kim Kardashian and Kris Humphries' infamous 72-day union, but it was still over pretty damn quick. 
The couple split in September 2005, five months into the marriage and around the time that season three of One Tree Hill was airing. 
The tea? Bush has recently come out and publicly exposed the show's producers for exploiting her and Murray's breakup to stir up interest in the show. She claims they did everything from discussing it on set to writing it into the story lines to even running ads about it on TV. 
TBH, this makes them look like assholes. A girl needs to deal with her breakup the proper way—privately and/or with her friends, wearing pizza-stained sweats, and eating pint after pint after pint of ice cream. 
And, unfortunately, the exploitation didn't stop there. Bush was quoted on Dax Shepard's podcast, saying, " made practice of taking advantage of people's personal lives. Not just for me and for my ex—for other actors on the show who would share as you do when you get close to people. Deeply personal things that were happening in their lives and they would wind up in story lines."
Soooo…were those producers trying to build a resume so they could apply for The Bachelor? That type of real-life romantic drama belongs on reality dating shows, not scripted teen dramas. 
6. 'Lizzie McGuire'
Hilary Duff beat out Lindsay Lohan for the part of Lizzie because of outfit choices. 

Hundreds of girls, including Lindsay Lohan, had reportedly auditioned for the role of Lizzie McGuire. So why was Hilary Duff—who wasn't a household name at the time like Lohan—cast over the Parent Trap star? Apparently, it was because of Duff's style and outfit choices. 
Okay, that's probably not the only reason she was cast, but it made her stand out according to Rich Ross, president of Disney Entertainment at the time: "When we were casting Lizzie McGuire, we called her in four times. She wasn't doing anything wrong. She just wore such great outfits, and we wanted to see what she'd come in with next."
So I guess when my college professor said to "dress for the job we want", that was good advice? If I had paid more attention to his interview tips, then maybe I wouldn't be stuck living at home with my parents.
Don't miss out on any pop culture or entertainment news. Subscribe to our weekly newsletter here. 
Images: Everett Collection / Shutterstock.com; Giphy (6)
Why The 'Lizzie McGuire' Reboot Might Not Be Happening
By now, I think I can speak for us all when I say that TV reboots are pretty played out. Sure, it's exciting that the Friends cast is coming together for an interview special or whatever, but most of these just feel unnecessary (looking at you, BH90210). BUT there is one major exception, and that has to be Lizzie McGuire. When the Disney+ Lizzie reboot was announced last year, it felt like something everyone could get behind—who didn't love Lizzie McGuire growing up? But in the last couple months, the show has hit some major speed bumps, and now the Lizzie McGuire reboot might not even happen. Yup, we officially can't have nice things.
Late last year, excitement for the show was ramping up, with most of the original cast announced to return, along with the creator of the original show, Terry Minsky. Shooting began in November, and it was assumed the first season would be released sometime in 2020. But things hit a snag in January, with production screeching to a halt after just two episodes had been shot. While on a break for Hilary Duff's honeymoon, Minsky was fired as showrunner due to creative differences, and based on a new report in Variety, it sounds like the circumstances around the firing were pretty sketchy. Variety also initially broke the news of Minsky's firing, and, "According to multiple sources, Minsky, her writing staff, the production team and Duff learned that Minsky was being removed as showrunner only after the Variety story was published." That is… not a good look for Disney if it's true. Minsky declined to say how she learned of her firing, but something here definitely seems sus.
It sounds like the main disagreement between Disney and Terry Minsky was the subject matter and age range of the new show, and interestingly enough, it looks like Hilary Duff is taking Terry Minsky's side here. Variety says that Minsky and Duff wanted to show "a more adult version of Lizzie," which was at odds with Disney's desire to make a show that was kid-friendly. Sorry Disney, but you're wrong here. I want to see Lizzie McGuire get drunk! I want to see the cartoon Lizzie cursing like a sailor! It's really what we all deserve.
Speaking to Variety about her work on the reboot, Minsky said, "I am so proud of the two episodes we did. Hilary has a grasp of Lizzie McGuire at 30 that needs to be seen. It's a wonderful thing to watch." Hey Terry, feel free to DM me some of the raw footage, because I need to watch this ASAP. She went on, saying, "I would love the show to exist, but ideally I would love it if it could be given that treatment of going to Hulu and doing the show that we were doing." @Hulu, u up??
The Hulu part of that is where things get interesting. Disney owns Hulu, and they've set a precedent of putting more ~mature~ content on Hulu, while keeping things on Disney+ more family-friendly. Apparently all the violence in the Marvel and Star Wars movies passed the Disney+ test, but we couldn't see Lizzie McGuire, like, do a shot of tequila? Yeah, idk.
The whole Disney+ vs. Hulu thing was in the news for a different reason this week, as an upcoming Love, Simon spin-off series was moved to Hulu because it's not "family-friendly" enough for Disney+. Whatever, not my call. But that's when Hilary Duff hopped into this whole conversation, and I am HERE. FOR. IT. On her Instagram story, she reposted a headline about the Love, Simon show, and added the caption "Sounds familiar…"

Did Hilary Duff just fire shots at Disney??? God damn, she is more powerful than Thanos. What a queen. While she hasn't given interviews or made a lot of public comments on the situation with Lizzie McGuire, this post seems like confirmation that she's not super happy with how things have gone down.
According to Disney, they expect this break in production to be relatively short-lived, saying in a statement that, "Our goal is to resume production and to tell an authentic story that connects to the millions who are emotionally invested in the character, and a new generation of viewers too." Sure, Jan. Variety's sources say that meetings are ongoing with potential new showrunners, but that many industry insiders are starting to think the show will likely be scrapped.
Like I said, we just cannot have nice things. Obviously, my preference would be the more adult version of Lizzie McGuire, because I'm not a 12-year-old, but I'll really take anything at this point. Like, if this doesn't end up happening, I will officially have trust issues until the day I die. We deserve this reboot, Hilary Duff deserves this reboot (and the world), and that's that. Disney, please get your sh*t together, k?
Images: Dfree/Shutterstock; hilaryduff / Instagram
For more, subscribe to our Betches newsletter.
TV Shows From Your Childhood You Didn't Realize Were Empowering
From one betch to all the betches out there, happy International Women's Day! May we take no sh*t from men neither today nor any day! According to the UN, "International Women's Day is celebrated in many countries around the world. It is a day when women are recognized for their achievements without regard to divisions, whether national, ethnic, linguistic, cultural, economic, or political." So basically, it is a day that women are actually acknowledged for being badass bosses, regardless of extenuating traits like race or politics. Recognition of women's existence and achievements seems like it should be an everyday thing, but whatever, I'm not here to complain. On the contrary, I'm about to make y'all really happy with some flashback Friday feminist empowerment from our favorite television shows circa the '90s and early 2000s.
That's right, some of our favorite childhood shows made a legit and impactful effort to instill feminism in our young and impressionable minds so that we would be prepared to enter young adulthood with the betchy confidence of Angelica Pickles circa the early years. Let's get to it.
 'Rugrats'
I'm going to start with Rugrats because it is the freshest in my memory. A few weeks ago, my roommate and I were watching that Friends episode guest starring Elizabeth Daily, AKA the voice of Tommy Pickles. (For those of you who are wondering, her actual real life voice is the literal same as that of Tommy Pickles.) So, like any sober 25-year-olds, we got nostalgic and wanted to relive the joy of a Rugrats episode, but because cartoon quality has gotten significantly more legit since the '90s, Rugrats no longer graces our television screens via cable. It is, however, on available for purchase. So without hesitation, we threw our hard-earned dolla dolla bills at the entire first season of this show, and literally watched the entire thing within a week. I am not impressed with us, but I am impressed with the astute level of feminism in this gift to humanity.
For those of you who may have forgotten, Angelica is low-key the star of the show because she was bossy as hell, and I am here for it! How could she not be when her boss bitch mom actually uttered the words, "Angelica will make it in a male-dominated power structure." Um, YES. Let's not forget about DiDi Pickles, who was the glue that held her weird little fam together. Let's face it, her hubs was a toy inventor with the mental capacity of a stale cracker, and Tommy is a textbook case of ADHD's early symptoms. She was progressive af and we aren't mad about it. Betty Deville is another top contender for most feminist queen of Rugrats. She was always donning her athleisure because she gotta #werk, raise a family, and crush souls of judgmental trolls all day everyday. Last but not least, Charlotte Pickles, who was gloriously terrifying and got whatever the f*ck she wanted. This human form of a power stance knew how to command a room and didn't have time to deal with your sh*t. Claps for you, Charlotte.
'The Amanda Show'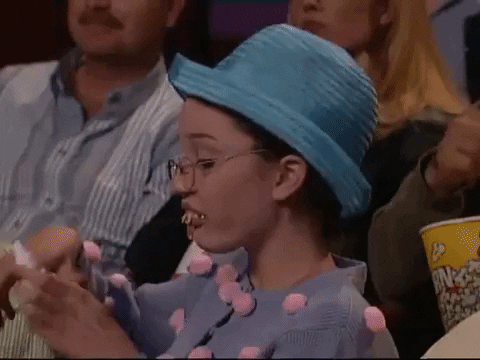 The Amanda Show was SNL for '90s babies. She was Kristen Wiig, Kate McKinnon, Maya Rudolph, Leslie Jones and Tina Fey all rolled into one sassy betch. Because Amanda played upwards of 800 different characters in countless sketches on this blessing of a television show (#MoodysPoint), I just don't have the time to go into all of them, and I refuse to focus on only a few because they all deserve recognition. So instead, I'm going to focus on the show in general. The Amanda Show made humor accessible. I know what you're thinking, "What?" But think about it, The Amanda Show was just an endless sea of hilarious jokes from a group of really attractive kids who were not afraid to don heinously ugly wigs, outfits, or fake teeth for a laugh. I feel pretty confident in myself, but idk if I could have thrown on a pair of fugly overalls, a bucket hat and dentures in front of a 1) live studio audience and 2) millions of viewers at home. Kudos to you, Amanda. We love you!
'The Powerpuff Girls'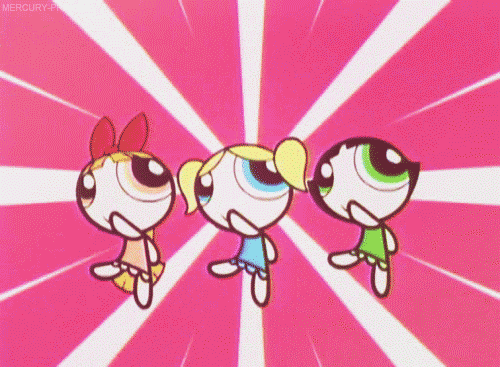 I watched this show a looong time ago, so I'm going to keep this brief. If there is another definition of girl power that isn't "Sugar, spice, and everything nice," I don't want to hear it. These were the ingredients chosen to create the perfect little girls, but Professor Utonium accidentally added an extra ingredient to the concoction: chemical X. Thus, the Powerpuff Girls were born using their ultra-superpowers. Blossom, Bubbles, and Buttercup have dedicated their lives to fighting crime and the forces of evil, and I'm impressed. These sister were like, what, seven years old and fighting crime? I can't even find a dude who washes his hair, and these girls were out here making the world a safer place. Good for them.
'The Fresh Prince Of Bel Air'
Each of the three main women in this amazing show were absolute queens in their own right, but I am just going to focus on one, the matriarch and feminist icon, the OG Vivian Banks. (Not her replacement who looked literally nothing like her in any way, and I need an explanation from the producers for this abomination). Anyway, Vivian 1.0 showed all of us plebeians how to rock a mint green power suit and raise a family, both of which are impressive. So in like, basically every episode, Aunt Viv stood up to sexism, ageism, racism and a slew of other -isms, because she's a hero who's too stylish to wear a cape. Her education about cultural references was truly unparalleled. Let's not forget her absolutely schooling Will when he acted like he was an expert in black history because he read Malcolm X's autobiography. The exact quote was: "You can read that book, you can wear the t-shirt, you can put the posters up and shout the slogans, but unless you know all of the history behind it, you're trivializing the entire struggle." YAS, AUNT VIV, YAS. The bottom line is Vivian was a woman who was unabashed to speak her mind, especially when dealing with her moronic male counterparts. Sorry, Carlton, we love your mom and her dance moves more.
'Sex and the City'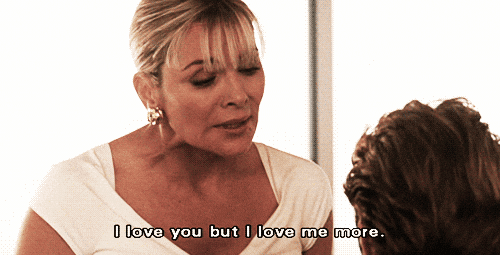 Ok, before everyone judges my mom for letting me watch this show, she didn't know I binged harder on SATC than I did on Halloween candy. Skip your eye rolls and scoffs for calling this show feminist, but what would you call a squad of women who subconsciously discussed the bs behind the coveted fairytale ending and openly shut down slut-shaming? This group of revolutionary women (I'm a total Carrie) made it okay to engage in sex with guys you aren't Facebook official with, to have fun without worrying about the haters and, of course, to prioritize Manolos over all else. Idk if this was intentional or not, but these four women make up one perfect betch: Charlotte is romantic, Miranda is brilliant, Carrie is funny, and Samantha is Samantha. Of course, no one woman is actually perfect, which is why all of these traits are separated into four individual women, but they are all great and I love them. On a side note: it truly breaks my heart that SJP and Kim Cattrall aren't actually friends IRL, because their characters were the most likable on the show. Truly, no one could pull off jewel tones and feathered accessories like they could. I'm hoping that somewhere in lower Manhattan, Carrie and Samantha are getting afternoon cocktails rn.
'Lizzie McGuire'
This show was my life, and I have no shame in my game. Lizzie was a cultural icon who struggled between staying true to herself and wanting to fit in, but then she realized how much the popular kids sucked and got over it. Snaps. Lizzie's main feminist feat is that she was not afraid to go through all of the same struggles all teenage girls go through: heartbreak, annoying siblings, eating issues, and, most iconically, bra shopping with your mom. Lizzie facing all of these preteen issues made all of us realize that these are just normal parts of life, and we shouldn't feel embarrassed to be experiencing them. Lizzie came into her true feminist self in the final scene of the movie, though, when she chose herself and her hair extensions over a guy. Nevermind that he lied, cheated, and tried to pass Lizzie off as Brunette Lizzie Isabella, but he tried to play her for a fool, which just isn't how you save your career, sweetie. Lizzie's too smart for that sh*t, you Italian meatball!
Images: Nickelodeon; @stephdelucaaa, @freshprince.ig; @wearemitu / Instagram; Giphy (3)
Hilary Duff Gave Her Baby A Very Confusing Name
We've come so far since the days of Lizzie McGuire, so it's pretty crazy that Hilary Duff is still only 31 years old. These days, Hilary seems like she's doing great, and last week she gave birth to her second child! She previously had a son, Luca, in 2012, with her then-husband Mike Comrie. They divorced in 2016, and now Hilary is with musician Matthew Koma. He's very cute and a little bit edgy, and they seem super happy together. Overall, things seem great in the life of Hilary Duff. Unfortunately, we need to talk about her baby name choice.
Banks Violet Bair.
Banks? Banks?? Is this a name? Honestly, my first thought was Banksy, the famously mysterious graffiti artist. Cool guy, but not what I want to think about when I look at an adorable photo of Hilary Duff and her brand new bundle of joy. There's also the singer Banks, who is cool—she's kind of like an edgier Lana Del Rey, I guess—but still, not really the name I would choose for my child. (Also, Bair is Matthew Koma's real last name, so that's not like, a weird third middle name, don't worry.)  But if you ask me, Violet Blair would have been a great name on its own—it sounds like the name of the slightly bitchy popular girl on a CW teen drama who really has feelings deep down—so why prefix it with the plural form of a financial institution?
Anyway, here's *sighs* Banks.
Okay, this photo is glorious. Hilary looks radiant and so happy, and that really is a cute baby. A+ for this photographer, because I want to frame this and it's not even my kid. In the spirit of nice things, I will also say that I really like Violet as a middle name. Violet is getting more and more popular, making a top 50 appearance the last few years after being below 200 just a decade ago. It's a pretty name, but I always just think of Ben Affleck and Jennifer Garner's daughter, so maybe that's why Hilary didn't choose Violet as the first name. Still, I feel like they could have chosen literally anything but a name that sounds like what you'd give to a preppy white guy from Connecticut who's always threatening to call his lawyers.
In any case, Banks is adorable, Hilary looks happy, and it's not my life so good for them. Now who knows how I can hire this photographer to take all of my Instagrams?
Images: Shutterstock; @hilaryduff / Instagram
The 10 Best 90s Female TV Characters, Ranked By Betchiness
Thanks to the tireless efforts of The Spice Girls, the 90s were all about girl power. That's why the decade served up a healthy dose of crimped-haired role models, most of whom were portrayed by Melissa Joan Hart, to provide us with hours upon hours of unrealistic expectations of what middle schoolers look like. Whether they were on Nickelodeon, Disney Channel, or a part of ABC's TGIF lineup (aka the best night of television that has ever existed), these 90s female protagonists helped us to answer some of life's most difficult questions like, "When should I get a bra," and "Is butter a carb" in a time when Googling shit on your phone was not an option and logging onto the internet took like 45 minutes. These chicks range from narc-y AF to full-on badass betches that have absolutely 0 fucks to give, especially with regard to the rules set by their parents. So you're probably wondering who is the most, and least, betchy of them all? Well, I'm about to fucking tell you. Chill. 
10. Ren Stevens (Even Stevens) 
Ren Stevens is a fucking narc. In all 65 episodes (ya I Googled it) and one Disney Channel Original Movie, we never figured out WTF Ren's problem was. She was supposed to be the older, smarter, more responsible and generally just put-together sibling—so why was her #1 hobby ratting on Louis? I would say get a hobby, but Ren is the editor of the school newspaper and the yearbook, did cheerleading for a hot second, and is the assistant to the principal, so where does she find the time to be a snitch on top of all that? That's not a rhetorical question, btw. Pls lmk. And let's discuss "Ren." What kind of wack-ass nickname is "Ren"? Your parents gave you a p betchy name, Renee, and you abbreviate it to a monosyllabic name for a small bird? WHY? 

9. Alex Mac (The Secret World Of Alex Mac)
Alex Mac is a total WGG. First, her name is Alex Mac—you know anybody with a name like that "prefers hanging out with guys" because "girls are too much drama." Her signature look is a backwards baseball cap and some overalls, FFS. Are you a high school girl or my plumber? I can't tell. And her main super power was the ability to transform into a puddle of silver liquid. What the shit is that? Why don't people on this show notice when a puddle of silver liquid THAT MOVES suddenly appears on the floor? This is the worst invisibility knock-off I've ever seen. Eighth place for you.

8. Ginger Foutley (As Told By Ginger)
Ginger, Ginger, Ginger, where do I even start with you? Your name is Ginger and you're a Ginger, which is real inventive baby naming on the part of your parents. Okay, back to third person because this apostrophe is getting confusing. Ginger has some pretty lame-ass friends. She's got Dodie who, if you couldn't tell by her name, is the mom of the friend group in heinous purple lipstick. And not even the mom in the good way like she'll take care of you when you're drunk—the overprotective mom who won't even let you have a sip of her wine at your 18th birthday party. And then you've got Macie, the fucking Little Seal Girl with the perpetual sinus infection who sounds like she was fathered by Darth Vader. Ginger would be on her way to popularity with Courtney and Miranda if she would just drop her loser friends.
"But shouldn't she get points for loyalty?" you ask. Not when one of your friends is basically the kid version of Susan, the overweight office gossip, and the other is that kid from Hey Arnold! who just breathes loudly all the time. Now that I've spent half my life bitching about minor characters, let's talk about Ginger. She journals, which is probably an activity in the nicegirl Olympics. However, she is a pretty good writer so at least she makes use of it. She's so good, in fact, that when she writes an emo poem she's able to convince half she school she's legit suicidal, which earns her a ton of attention. Nicely played. Ginger definitely has betch potential. Right now she's in betch-in-training mode, and if she ever drops the nice girl routine she'll be the baddest betch in high school. Also I just wanted to make a shoutout to Daryl, who had the best glow-up of all time. That is all.

7. Lizzie McGuire (Lizzie McGuire)
Lizzie McGuire has all the makings of a betch-in-training, and I wish I had my own personalized cartoon following me around to say what I was really thinking. Hold up, is that like, a bitmoji? Did Lizzie McGuire invent bitmojis? She certainly invented trying to fit over a thousand butterfly clips into your hair at once. Or at least, she perfected it. Lizzie spends most of her time during the show bitching about Kate Sanders, who used to be her best friend but now is too popular for her and also has a comparable collection of butterfly clips, which is probably the real reason Lizzie is so pissed. What Lizzie really needed to do to become a full time betch would be to push Kate in front of a bus and take the Spring Fling crown for herself, but Lizzie is too much of a nicegirl to do that. And that's why you ended up with Gordo, whose name means "fat" in Spanish, and not Ethan Craft, whose hotness honestly defied all laws of physics.

6. Brace Face (Braceface)
Brace Face's real name was Sharon Spitz—could she possibly have been more of a JAB? Answer: Yes, if her character was voiced by Alicia Silverstone aka Cher Horowitz. Which it was. For the first two seasons. Anyway. Like any JAB, Sharon's BFF is the TAB aka Token Asian Betch, but her reputation takes a major hit for hanging out with a dude named Connor who's literally known as "the walking sneeze." Sharon's had some betchy moments, like when she harassed her mom into letting her get a tattoo of "Freedom" in Chinese—which later turned out to actually translate to "grapefruit." Classic. However, basically every time Sharon opened her mouth something embarrassing would happen with her braces—like her braces tuning into some nearby radio waves. For most betches with an ounce of awareness, this would be a fucking jackpot. You'd recruit some nerdy nicegirl to help tune your braces so you could add your name to the Oscars invite list, or like, at least unsend that embarrassing drunk text you sent. Sharon, however, did none of those things and instead adopted the "Why is everything happening to me?" attitude. She had real potential considering the hand that was dealt to her, so she's not last, but a true betch would manipulate the fuck out of this situation to her advantage.

5. Daria (Daria)
Sure, Daria is cool and hilarious now, but that's only because it's trendy to stay in and be clinically depressed. A little history on Daria: She began as a character on Beavis and Butthead before getting her own show. Like, congrats on making it out of the trailer park. Her RBF is top-notch, and her resting betch voice is unparallelled. Daria takes shots indiscriminately at everyone, with no regard to human life. I really aspire to be that savage at all times, even/especially to my therapist. "I don't have low self-esteem. I have no esteem for anyone else"—I'm putting that in needlepoint and hanging it on my wall.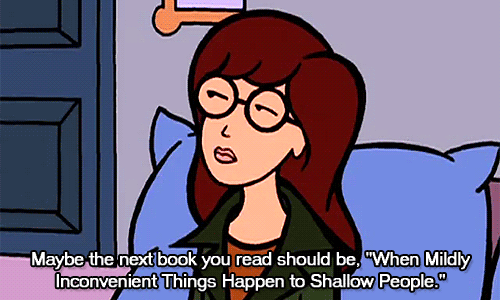 4. Patty Mayonnaise (Doug)
Patty Mayonnaise was a bad betch, and she knew it. Why else would she have all these "guy friends" following her around all the time and taking her to The Honker Burger? Doug, Roger…come the fuck on. She could play dumb all she wanted, but anyone with half a brain could see Doug was obviously writing love letters to her in his journal. She was basically Rachel Greene-ing Doug for the entire series, which we can respect since Doug is such a nice guy/potential neckbeard (another one with a penchant for journaling), and Patty's like what, nine? She's got plenty of time to sow her wild oats. I'd also like to recognize her vaguely Southern accent, which made no sense considering she's supposedly a "Bloomington" native and no one else spoke with a drawl like that. Perhaps that was part of her allure? IDK. One of the greater mysteries of our time. Also, there was an episode once when Patty went on a pretty insane crash diet where all she consumed was an edible sandwich-flavored spray. That sandwich spray inspired many a betch's master cleanse. Now who's got that patent on sandwich spray, and when is that coming on the market? I really need to lose three pounds.

3. Topanga Lawrence (Boy Meets World)
Topanga Lawrence starts out BMW as the weird AF hippie girl in Cory and Shawn's class, but graduates quickly into the hottest/only girl in Cory and Shawn's class. Topanga can be a bit of a TTH, and has a very Hermione-esque streak of caring about rules, homework assignments, general knowledge, and other bullshit, though she does eventually chill out. Topanga gives Cory his first kiss early in middle school, and uses that to lock his ass down for the rest of his goddamn life. Cory dates maybe like…one other girl? Kind of? Topanga also turns down her acceptance to Yale in favor of fucking around at the fake party school invented by the show, proving that she did eventually grow out of some of her TTH tendencies. She does all of this without ever sleeping with Cory, and instead is able to somehow lock down his lifelong devotion despite stopping all makeout sessions at second base, and waiting until college to show him her butt, which she only does once and for 30 seconds. Must have been a pretty amazing butt. 

2. Sabrina (Sabrina The Teenage Witch)
I think it's safe to say that every middle school girl's fantasy wold be to wake up on your 16th birthday and find out that you have magical powers and you can totally use them to become the most popular girl at your high school. Sabrina Spellman did all this and more, using her incredible powers to change outfits at will, turn the most popular girl in school into a pineapple so that she can assume her powers, and generally do everything she could to get Harvey to like her. In everyting Sabrina does, she succeeds. The only issue here is, if you're a witch, why tf are you bothering with school anyway? Why not tell Hilda and Zelda to fuck off, hop on a broom, and hit the skies? Also, if you're gonna go to school, shouldn't you be at Hogwarts or some shit? You're seriously gonna tell me that a teenage witch who is going to live for 100+ more years needs to waste her time learning calculus? SMH. 

1. Clarissa (Clarissa Explains It All)
Oh hell ya Melissa Joan Hart, I see you. Clarissa was a badder betch than me; I ain't afraid to admit it. When you've got a fuckin cool-ass name like Clarissa Darling, how can you not be a bad bitch? This betch had her own show that was solely dedicated to talking about herself, to the audience, because she DGAF about breaking walls—unlike me, according to my therapist. Anyway, Clarissa has mastered the art of sarcasm at the tender age of 14, and her main hobby includes sneaking guys into and out of her room without her parents having any fucking clue. She is also extremely gifted at coming up with codenames for her brother Ferguson, which include things like "Ferg-face," "Fergwad," or the ever-imaginative "Ferg-breath." Sick burn, Clariss! The only not-perfect thing about Clarissa was the fact that she had a pet alligator for a hot second. Like, who the fuck does that? It's a real fine line between owning an alligator and becoming a reptile freak. But other than that, Clarissa was definitely the betchiest of them all. I mean, check out that eye roll.

Case closed.