The Best Nude Lipsticks To Make You Look Tan
I think I can speak for most people when I say that the two main summertime activities are day drinking and doing just about anything to make yourself look tanner. From carefully selecting nail polishes to make your hands look tanner to trying out all of the best self-tanners to get a bronze glow without the harmful UV rays, it seems like we're willing to go to great lengths just to make our skin look more bronzed than it actually is. Well, to add to your list of secrets to give you more of a bronze glow, we've rounded up the best nude lipsticks to make you look tanner, since picking out the right nude lipstick for your skin tone is more of an art form than a simple stroll down the beauty aisle in the drugstore. If you've ever  found yourself wearing the wrong nude shade, it was probably one of three things: too light so it looked like you have powdered donuts (or worse) around your mouth, too pink so it pulled out the red undertones in your skin to make you look like you're blushing all of the time, or too dark and so it looks like you got done sneaking into a jar of Nutella. Well, those problems should no longer be an issue, thanks to our lest of the best nude lipsticks to make you look tanner.
Read on if you don't want to look like a pale naked mole rat this summer.
The Best Beige
ColourPop Ultra Matte Liquid Lipstick in Times Square
If you're SUPER fucking pale, like transparent pale, odds are your skin will have reddish undertones that you'll want to make disappear. If that's the case with you, then you'll want to cop a light beige that will cancel out rosy shades and promote a glow. Therefore, get your hands on ColourPop's Ultra Matte Liquid Lipstick in Times Square. The color is intense (just like the amount of tourists sightseeing in Times Square), so it can be easily applied in one swipe and will dry to a super matte finish.
The Best Mauve
Maybelline Superstay Liquid Lipstick in Dreamer
If you have medium skin with cool undertones and want to make your face look tanner with the swipe of a lipstick, grab Maybelline's Superstay Liquid Lipstick in Dreamer from your corner drugstore. This shade of mauve will enhance your pout and glow all day (and night).
The Best Taupe
Kylie Cosmetics Matte Liquid Lipstick in Maliboo
So, if we're being honest, it took me multiple failed attempts at finding the right nude lipstick before I tried (and became obsessed with) Maliboo by the youngest Jenner sister. Call me a sell-out, but Kylie's Liquid Matte Lipsticks are actually really good quality that dry matte without the flaking, have really good colors, and last a really long time—even through some really long nights. So good that one time, I left one of the liquid lipsticks in the backseat of an Uber and filed five "I lost an item" claims and by the sixth one, I still hadn't heard back so I claimed that I left my kidney in the backseat. (It was never returned.) And still, I continued to dump my (sorta) hard-earned money into Kylie's empire all in the name of finally finding the perfect nude lipstick. The beauty empress' lippie collection has a shit ton of nudes but this light, cool-t0ned nude that dries a nudish taupe is good to make pale- and medium-toned people look much tanner (hence my obsession).
The Best Pinkish Nude
Nudestix Magnetic Matte Lip Color in Blossom
If you've never tried (or heard of) Nudestix, they're multi-use pencils can be used as a lip liner, lipstick, or lip stain and come in wide range of super pigmented nudes. The stick is like a grown-up version of a Crayon that can be easily applied to the lips for a lipstick that is creamy yet dries matte and lasts all day long. Blossom, a pale pink shade, is good for pale people who want to play up their rosy shades to give them a more of a reddish tan.
The Best Peachy Nude
Fenty Puma Mattemoiselle Plush Matte Lipstick in Nude Peach
Nudes with hints of orange will do the trick for those that have medium skin with olive tones. The warmer nude will help the skin appear brighter and cancel out the yellowish/greenish undertones in the skin. The number one rule of thumb for those with olive skin tones is to avoid nudes with hints of yellow, as they wash you out. So for those with olive skin, reach for Rihanna's Fenty Puma Mattemoiselle Plush Matte Lipstick in Nude Peach. The rich, highly pigmented color goes on smoothly and sets in with a weightless matte finish, so even if you can't have the same closet and bank account as Bad Girl Riri, at least you can have a similar pout.
The Best Golden Nude
NYX Round Case Lipstick in Circe
NYX's Round Case lipstick in Circe is a sheer golden nude that hydrates the lips and leaves them with a shiny, golden pout that will make medium skin tones with warmer undertones look tanner. While the lipstick isn't as pigmented as the other shades on our list, the golden nude will give your mouth a soft, shiny finish.
The Best Brownish Nude
Profusion Cosmetics Mixed Metals Lip Set in Cocoa
For those with darker skin tones, bronzish brown nude lipsticks will enhance the skin's natural glow. This three piece set in Cocoa by Profusion Cosmetics features a creamy lip liner, a matte liquid lipstick, and a metallic lip topper to create a metallic look. The set dries to a creamy matte finish that is a chocolatey brown shade. The best part? The entire kit will only set you back five bucks, so you'll still have plenty of money left over to partake in the other main summer activity: day drinking.
Image: Atikh Bana / Unsplash
5 Lipstick Trends You Need To Try For Valentine's Day
There's like, nothing lipstick can't fix. Too lazy to put on a full face? Just lather on lipstick. Reminding a fuckboy of the fucking queen you are? Swipe the sexiest nude shade on. Need to mask controversial lip fillers? Start a lipstick line. I'm just saying, the limit for our obsession with lipsticks does not exist for many good reasons. Some of which our parents can't understand when we blow half of our rent money at Sephora, but it's totally justifiable. With the pregame to Singles Awareness Day Valentine's Day tomorrow, it's basically a big af deal to make your lips look on point. Whether your plans include a makeout sesh or taking numerous bottles of wine to the face, here are the lipstick trends you need to try just in time for V-Day.

1. Barely There Pink Nudes
This is clearly one of a few ongoing lipstick trends that's about as timeless as your go-to red lip. They're def perfect if you're not even that into lipsticks to begin with, but still want to add some color to your face. Plus, they're clearly a life-saving backup when you get hit with the "send nudes" text. What? He didn't specify. Find a shade that's glossy and rosy if you're looking pale af this winter or opt for one that's more on the coral side you already have a bronze glow.

KKW Crème Liquid Lipstick Collection
2. Rose Gold Shimmer
Sure, rose gold is about as overplayed as Cardi B, thanks to our iPhones and Michael Kors watches, but we're making a metallic twist on the old school trend. #TBT to the days we'd apply like, dozens of layers of glitter Lip Smackers. (I'm cringing just thinking about it, tbh.) This year, layer a rose gold shimmer shade if you're feeling bougie, or keep a tube in your crossbody for nights you want to keep your look minimal.


Kevyn Aucoin Molten Liquid Lipstick in Rose Gold Metallic Finish
3. The Color Of Your Soul
As if our inner 90s grunge spirits weren't enough, now we can freely wear a betch's true fave color on our lips. I'm assuming that we're both on the same page when I say the color I'm speaking of is fucking black. DUH. It's a bold move, but is it even really that bold if we're probs doing worse things on a Saturday night after 2am? Hardly. To ease yourself into this one, start with a vampy shade like this one.
4. Clear Gloss
Because if it's not black, then I don't want it. A clear gloss is definitely an essential to buy, just to like, spend more money on something you don't necessarily want, but will end up needing. Leave it to none other than Glossier to give us the best no-bullshit high-shine gloss without glitter or stickiness,

Glossier Clear Lip Gloss
5. Bright Colors Because We're Extra AF
Out with the old lame shades, and in with the new bright hues. Although we're still (very unfortunately) suffering through this depressing winter, we can prep for day drinking seasons warmer weather by adding bold bright shades to your look. Come spring, you'll already be rocking one of the biggest trends of the year.


MAC Cosmetics Lipstick in All Fired Up
Images: ian dooley / Unsplash; Giphy (1) KKW Beauty (1); Sephora (1); Ulta (1); Glossier (1); Nordstrom (1)
The 6 Lipstick Shades For Fall You Need To Add To Your Makeup Bag
Say goodbye to bare eyelids, pale pink lips, and tirelessly trying to perfect the bare minimum I-just-woke-up-like-this look. It's almost fall, which means it's time to start darkening our beauty routine, just like we do for our wardrobe. Now, the true me will emerge from hibernation this summer so I can wear my lack of heart on my sleeve again. Although it's still a learning process for many, we're prepared to hide our hangover lack of sleep with a good ol' smokey eye. We've already got our first fall manicure picked out, so now it's time for our guilty pleasure: lipstick. We all get weak in the knees for a lipstick that's yet another nude you'll insist is different (it's not), or a really intense vampy red. The darker, the better—fucking duh. Even if you're the type to settle with your fucked up coffee order rather than complain for the barista to make it again, it's at least fun to pretend you're intimidating af with the right shade of lipstick. Whether you're a true lipstick guru or recently turned Kylie fanatic, you've come to the right place for the best lipstick shades to get you psyched for next season.

Cherry red lips are always a basic look for fall since we're turning away from true reds and looking for something deeper in color. MAC's best-selling lipsticks are v creamy, highly pigmented, and dry matte. The wine lip goes hand-in-hand with dark eyeshadow for that trending vampy look you'll soon be seeing everywhere. Why this Twilight thing is a fad next season, I couldn't fucking tell you.

A classy elegant nude never goes out of style which is why I've saved my nude pics from back when I was skinny in college and with all the dull colors you'll be dressing head to toe in, you'll need a simple nude to go with them. This shade is the most ideal and won't wash you out or make your lips look pasty or diseased. Like, summer is just finishing, we need to make some of your racial ambiguity lasts, damn it. The modern collection is full of pinks and reds made for every skin tone. Each lipstick protects against cancer-causing rays, leaves them hella moisturized, and contains brightening pigments so both you and your lips stay looking ~lit~ all night long.

NGL, any dark lip color makes me think you're channeling my spirit animal an inner homicidal Wednesday Addams, but in girl world, the fighting has to be sneaky this silky-smooth plum shade is considered a v trendy twist. Bruised/borderline hypothermia-looking lips look cool as temps begin to drop because like, fashion, and the color def pops in all your Instas. If you're too hungover to do any other makeup, just swipe on a bold lip and no one will ever question it. It's literally the best last-minute accessory.

Since pale pink is already sooo last season, swap the basic betch shade for a slightly darker replacement like a peachy rose. It's not too pink or too light, so go for a shade that's more on the orangey side for a luscious combo that looks something like peach and rosé. Yeah, I'm also going to need that in a bottle like, pronto. When your lipstick matches the color of your drink, you know it's going to be a good fucking night.

Finding a brown for every skin tone can be tricky because we're not trying to walk around with something that resembles shit on our lips, so be sure to go for one that's on the warm beige-y side like this warm tan shade… even though it's called Cold Brown. IDK, I don't make the rules here. The color cools down your look for an effortlessly chic style that doesn't have a totally nude lip but gives a subtle enough pop where you're not getting stared at on the street. This lipstick literally has the most smooth application ever, so it's def non-drying and is guaranteed to stay on for multiple rounds of shots.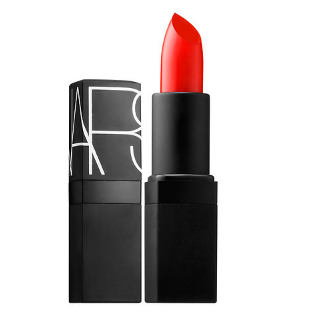 Fall is all about going darker (fucking obviously if you haven't caught on by now) so if you can't let go of a bright red, at least don't go for the firetruck red. Try not to be basic for like, two seconds and find a color that's more on the orange-red side. The orange pigment will really warm up the rest of your face, regardless of skin tone. Pair with a deep pink blush to make yourself look so much tanner, even if your equivalent of spending time in the sun this summer was walking to work. This lipstick is only semi-matte so if mummy lips aren't your thing, no stress. It still glides on super soft and leaves a sheer finish for a duckface-worthy Snapchat to your Bumble boy. Priorities.