I've Tried Every Lip Plumping Product Short Of Fillers—Here's What Works & What Doesn't
Not to be one of those people who claims to have liked a song before everyone else did, but I was into big lips before self-made billionaire, Kylie Jenner, came along and made it a "thing." No, but seriously…I started the trend. I've always had small lips, in fact, in seventh grade, this boy told everyone he had a crush on me, and that his favorite thing about me was my small lips. And that's probably the meanest thing anyone has ever said to me. Given my obsession with big lips, I've tried everything on the market besides actually getting fillers. Look, I want them badly, but I'm also scared my dad may disown me if he knew I got them done. That being said, I've tried everything from lip liners, to plumpers, to dermarolling, to try to enhance my naturally small lips. So, in my continued efforts to always help you guys out, here are my findings of lip plumping products that work—and the ones that don't.

Sooo this one is probably my favorite product for immediate results. Like, if you're going out that night, and want some more bodacious and supple lips, this is the product to use. Although, disclaimer, put it on at least two hours before you're planning to see people. It not only enhances your lips with plump and color, it also reddens the skin around your lips, which isn't a great look. But, if you do it as the first step in your getting ready routine, you should be good to go by the time you're ready to face the world! And by "world" I mean the bartender you're trying to schmooze for free drinks that night. 

This is another great option for immediate results, because it's a pulsating device designed to stimulate collagen production. However, it's time-consuming and tedious. When I say time-consuming, I mean it takes like, five minutes. But I have places to go and people to meet! That's a lie, I've cancelled all my plans for the weekend so I'm just sitting around watching Netflix and stuffing my face, but STILL. I prefer to use the aforementioned lip serum for immediate results because it requires no effort and is almost half the price. I'm not lazy, I just work smarter, not harder, baby!!!!!

This product is overall geared for long-term results. Which, like all things that require time and dedication, this product's efficacy requires diligence and patience… which aren't exactly my strong suits. Although, I was very dedicated to using it as instructed for like, a week, and didn't really feel I could see a difference. Now, I still keep this product in my arsenal and use it nightly because it's definitely hydrating and makes my lips look younger. (Whatever that means?) It primarily uses hyaluronic acid to directly fill and plump, and given how trendy hyaluronic acid is right now, I got to believe it's doing something. Maybe it's a placebo effect, maybe it works. I guess you can spend $129 and decide for yourself.

This is another lip-plumping product I had high hopes for and was certainly disappointed. It comes in the form of a gloss, and the instructions say to apply it and then let it sit for 2-3 mins before putting any other lip products on top. This didn't really work because of the fact that the gloss itself is so sticky. So when I went to go over line my lips post-gloss, it became a sticky mess. I realistically had to let it sit for 20 minutes before being able to even attempt to put any color on them. If you want to try this product, I suggest ordering one that's already colored, so you don't have to worry about having to add the color on top.

This is another product that's more about the long-term effect. It will provide minimal immediate results, but it's more so about the end game with this one. Over time, it claims to stimulate collagen production in your lips. To ensure the best results, use a hydrating lip plumping product (such as Fillerina) before and after dermarolling your lips. Apparently, you're not actually supposed to dermaroll yourself these days, but I've been doing it for years and haven't had a problem. Just make sure you don't push too hard and that you keep the roller clean and disinfected. But then again, I'm no dermatologist here, so take whatever I say with a grain of salt. You see how much I'm spending on these products, I can't afford a lawsuit on my hands.

This one is made by the company that creates Botox and Juvederm, so I had very high hopes for it. But then again, if I think about it more analytically and put my useless college education to the test, why would they make a product that actually works that well? If they did that, people would stop paying for their more expensive products to actually get their lips done. Well, as logic would suggest, this product was pretty much a flop. So if you're going to buy one of their products, might as well just go pay for their fillers instead.

This was another product that felt way too thick for everyday use. Dr. Lancer like, knows his sh*t, but he's got to fix the consistency of this product. Because I trust Dr. Lancer, (I mean he is a legit doctor right???) I keep trying to make this product work. Oh, and also because I paid $42 for it so like, got to get my money's worth! But honestly, I always find myself avoiding it when I reach into my purse, because it's really just too thick.
Obviously, these lip plumping products aren't cheap, so hopefully this article at least helps you narrow down which ones are worth trying. And don't you worry! Just like Tristan Thompson won't ever stop being a cheating sleaze-bag, I will never stop searching for the ultimate lip enhancing product for us small-lipped gals everywhere! And, unlike Khloé in the whole Tristan-Jordyn scandal, you guys will obviously be the first people I tell when I do find it.
Images: @aiony / Unsplash; NIOD; Dermstore (4); City Beauty; Sephora
Betches may receive a portion of revenue if you click a link and purchase a product or service. The links are independently placed and do not influence editorial content.
8 Drugstore Lip Products That Are Better Than Kylie Jenner's Lip Kits
Nothing says more about my personality than a dark, vampy lip. I mean, do I own other lip colors? Yes. But do those other colors accurately describe my cold, dead heart? Fuckkk no. That's not to say that I don't buy a shit ton of lip products in every shade of the rainbow. I will buy anything that any celebrity only slightly endorses because I am a garbage human. And while I do love throwing my hard earned money at people who make millions of dollars by taking selfies for Instagram with, like, a bottle of Sugar Bear Hair somewhere in a very corner of the frame *cough* KYLIE *cough*, I also value being able to eat and afford rent. So for those of you who want to look good AND avoid living in a cardboard box, here are 8 lip products that are better than Kylie Lip Kits (a bold statement, I know).
BEST PLUMPING LIP PRODUCT
It's a hard world out there for a girl working with the lips she was born with. Take it from me, someone who is 100 percent silicone- and filler-free, and also someone who does not have Instagram sponsors lining up for me to pimp out their products. Coincidence? I don't fucking think so. So thank god for Soap & Glory's Sexy Mother Pucker Lip Gloss. We've repped this shit before but that's because it fucking works. I'm not saying using this product will give you an Instagram ad endorsement deal, but I'm also saying it won't give you an Instagram ad endorsement deal. Seriously. It won't. But it will make your lips rival somewhat resemble that of a Kardashian's and that's really all I ask for in this life.

BEST LONG LASTING LIPSTICK
There's not a lot that can outlast me when I'm blackout except maybe the texts I sent my ex last night. But Rimmel London's Provocalips 16 Hour Kiss Proof Lipcolor certainly gives me and my bad decision-making skills a run for my money. This shit could last through a nuclear bomb or, conversely, six vodka sodas, a drunken makeout session with the bro I matched with on Bumble, and an unattractive amount of Joe's Pizza. Give or take. What it won't outlast? A night in your bed. Expect to wake up with this shit all over your face but, hey, at least you have flawless lips in your Insta story.

BEST MATTE & LIP CREAM
NYX Soft Matte Lip Cream is the beauty product that I can only imagine keeps Kris Jenner up at night. Literally everyone is saying that this shit is just like Kylie's Lip Kits, but instead of risking your life at a pop-up shop or camping out in front of your laptop to spend the rest of your rent check on blue fucking lipstick that you will never ever wear, you can grab a tube of NYX for a cool $5.99 at any local CVS or Ulta or whatever. Idk if you can fake that kind of good publicity, Kris.

Seriously though, this product is winning at life and that's why it's the best matte and lip cream. It's got highly pigmented colors and a long-lasting finish, plus it glides on better than Demario sliding into Rachel's DMs. Sorry, Kylizzle, you may not want to cross sex tape off your list of potential business ventures just yet.

BEST LIP GLOSS
A few weeks ago someone was feeling v nostalgic at The W and gave Paris Hilton a voice to tell everyone that not only did she create the Kardashians but also literally everything we like wearing. According to Paris the '90s trend is officially over and the '00s are back in. So I guess I'll just go dig my Juicy tracksuit out of storage now. Can someone please tell the very condescending girl at Plato's Closet that this was never out of style to begin with?? But now that the '00s are back and better than ever so too is lip gloss and you definitely need to try L'Oréal Paris Infallible 6HR Never-Fail Lip Gloss. At $11 is v cheap and it'll low-key make you look like Rachel Lindsay on night one of The Bachelorette before she started wondering why she put being a lawyer on hold in favor of being courted by a grown man who refers to himself as "whaboom."

BEST NUDE LIPS
Leave it to a model to come up with the best nudes. And just to clarify, I'm not talking about the kind of nudes they're sending Leo rn in an attempt to become his next serious girlfriend a girl he'll date until she ages out turns 25. I'm talking about lip shades. And if you thought I wouldn't make a joke about models and nudes because that's kind of seemed like low-hanging fruit just there, then you don't know me at all. ANYWAY, Rimmel London's Kate Moss Nude Collection is the best in the game if you're looking for a nude lip color. It has a semi-matte finish, but it's also v hydrating and you'll find your perfect shade every goddamn time.

BEST DAY TO NIGHT
If you know anything about me it's that my transformation from office professional to Happy Hour Hoe is something that should legit be listed under the "skills" section of my resume. And E.L.F Day to Night Lipstick Duo is def being added to that transformation process ASAP. It's a dual-ended lipstick, with one end a work appropriate day shade and the other end a bolder color for night time shenanigans. The velvety satin formula is enriched with Shea and Vitamins A, C, and E to keep your lips nourished and hydrated throughout all the shit you're bound to put them through. But I care less about that and more about the fact that I can buy two lip products for the price of one because I'm just a cheap asshole at heart.

HONORABLE MENTION: Milani Color Statement Lipstick
You'll recognize this product because it looks sketchy AF and, even though online it says it costs $5.99, I swear I've never paid more than $2 for this shit. Whether that's from me and my great bargaining skills with the cashier at CVS or because this product is legit never marked at full price is neither here nor there. Just know that Milani will save your life work in a pinch and plus they have sooo many dark wine colors that speak to my soul.

The Best Summer Lipstick Colors For Your Skin Tone
I never included lipstick into my makeup routine until I decided to become a basic bitch v trendy by giving in and slowly selling my soul to Kylie Cosmetics. I bought my first lip kit to give the youngest Kardashian with the most lip injections a chance in this lipstick biz and to feel a sense of belonging in my sorority. Once it received my approval, I started losing originality in every sense of the word and became one of those psychos who minimized tabs at work to constantly refresh Kylie's website in secrecy so I could get one of her limited edition shades. I'm not proud to admit that I've spent more money on a product solely just for the name when I can literally buy the same shit at Sephora but, because I can't stop, won't stop, I'm still finding the perfect shades to add to my lipstick collection that don't make me look a corpse or attention-seeking freak. I've done enough trial and error to find which colors look glam with my tan this summer, aka I've done the swatch work for you. Here are the best lipstick colors for your skin tone so you don't look absolutely ridiculous in public this summer.
If You Have Fair Skin:
Bright Pink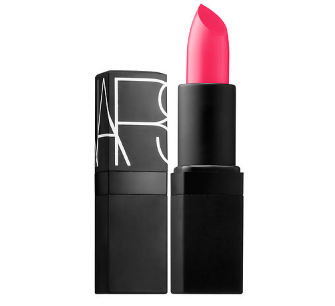 One of summer's most overly worn colors in a bright shade looks super flattering for those with pale AF complexions. Whether it's because you don't have time to roast your skin or you simply turn straight into a lobster, a bright pink like NARS Lipstick in Schiap gives you a bold lip without looking v extra. The loud color enhances your facial features by creating a rosy, bright, natural glow so you look like the perfect combination of both slutty sexy and cute.
Light Orange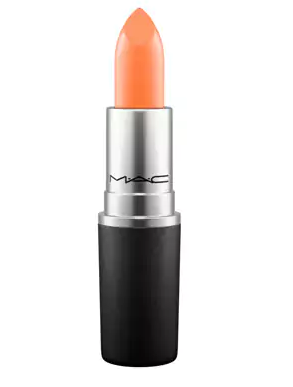 Orange is taking a bit of a risk when you use it on your lips, just like choosing yellow for your next mani. Will you be roasted in your group chat, or will your snobby friends ask for the name of the color? It could go either way. However, if you opt for a light, warm, orange cream like MAC Lipstick in Tangerine Dream (I'm the next Iggy Azalea, I know), the peachy hues will appear to soften out your skin. It's the perfect replacement for your current nude with a pop of color, just in time for summer and with fall (dreadfully) nearing the corner.
Red

Red is the most iconic versatile lipstick color for just about anyone but, if your skin is that of a vampire's, you look fiercer than ever with a red lip. If you're towards the ghostly white side, you'll want to find a true red that warms up any "cool" skin tones. For those that have a hint of color, you'll want to find a red with blue hues so it warms up your skin tone. When in doubt, Smashbox Be Legendary Lipstick in Made It is your go-to color for the awk in-between neutral tones.
If You Have A Medium Skin Tone:
Light Tan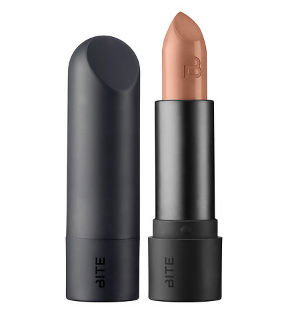 If you can pull off a brown shade on your lips that doesn't like you literally just ate shit, then you go, Glen Coco. Like, please, let me be you. A light tan such as this chic Bite Beauty Edgy Neutrals Amuse Bouche Lipstick in Enoki really accentuates facial features on golden skin tones, becoming an essential for a nude lip or "natural look" days. Apply just before heading out the door on the days you feel like doing the bare minimum – which is like, literally always – for creamy lips with an edgy flair.
Pale Pink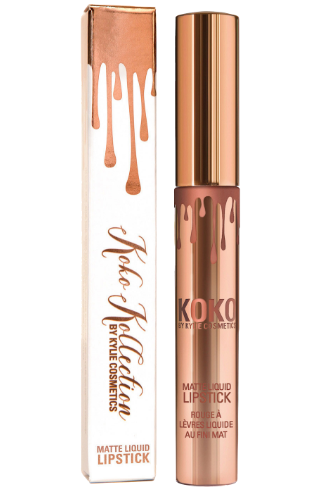 I personally have super tan skin (I know, I would want to be me, too) so finding the perfect pink without looking like a doll is like, kind of hard for me. I don't want a neon pink that's all, "everybody look at me," nor do I want a pink that washes my skin out. So of all the Kylie lip kits that have stolen my money heart, this one is def my fave. The Kylie Cosmetics Matte Liquid Lipstick in Khlo$ is my go-to for everyday wear because it's honestly so light and since it has cool undertones, it makes them look fuller and well, like a pouty Kylie. Go figure. I wear this before blacking out with my BFF Jill, but I can also wear this to work without being dramatic.
Soft Purple

Hypothermia lips, or purple lips, are one of the biggest lipstick trends currently. Probably because it's a color that's about as moody as you were in 2008, but, leans towards the pinker side just for a touch of femininity. A soft purple is the bright pink for medium skin tones. The Bobbi Brown Art Stick Liquid Lip in Plum Noir provides a long-lasting bold lip while reducing the appearance of wrinkles. Bless.
For Darker Skin Tones:
Deep Red

A deep, dark red such as Urban Decay Vice Lipstick in Spiderweb looks seriously so gorg on dark skin tones. The warm color delivers a natural-looking rosy glow that will make you stand out anywhere you go on a Saturday night. It's a must-have color for anything, really, but especially ideal for long summer nights and drunk brunch.
Dark Brown

As I've already mentioned like, a million times, finding a flattering brown for your skin tone can be v tricky. For those with darker skin tones, you'll want one that's rich in color with warm undertones. If it tends to go on the cooler side of the spectrum, it can give the appearance of gray, zombie lips which will just discolor your skin tone. A rich chocolate brown like Lorac Alter Ego Lipstick in Snow Bunny compliments darker skin tones and reduces skin discoloration so you can have the most fab nude lip. Wear with a darker lip liner for extra goth, teenage angst vibes since you're sooo 90s.
Fuchsia

Bright purple tones stand out amazing against darker skin tones. The pop of a color is guaranteed to make a statement and make heads turn everywhere you go. You'll want to find a fuchsia with purple hues like the Yves Saint Laurent Rouge Pur Couture Kiss and Love Collection in Le Fuschia for a shade that's perfect in the summer and brings all the boys to your yard. Get it, girrrl.