Chris Harrison Reveals Which Contestant Wasn't Invited To The Men Tell All
This season of The Bachelorette is almost over, with only the Men Tell All and the finale ahead of us. Usually the Men Tell All is kind of a snoozefest where they rehash old drama we've already forgotten about, but this season's could be interesting given all the drama that's happened off-camera. However, it seems like we won't get answers about one major news item this season, and that's because everyone's least favorite flat-earther and sexual offender, Lincoln, is donezo inside the Bachelor franchise. Chris Harrison told ET that Lincoln was not invited to the Men Tell All taping, so we probably won't get answers from ABC on how he ended up on the show in the first place. We can also rule out seeing him on Bachelor in Paradise Season 5, too. Not that anyone really cared if he was there or not anyway.
All of Bachelor Nation re: Lincoln: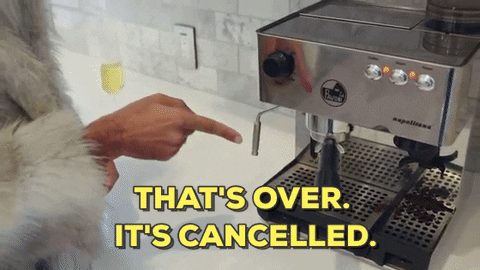 "I did not want him here nor did he deserve to earn the right to be here. He forfeited that right obviously with what he did, and lying to us and deceiving everybody," Harrison told ET's Lauren Zima after the Tell All taping last Friday. "So no, I'm very glad that he was not here and he was not extended an invitation."
Way harsh, Tai Chris. Wait, I take that back. Lincoln is a scumbag who not only assaulted a woman on a cruise ship, but also likes to poop on floors. Good for you, Chris, for calling a spade a spade.
As you recall, Lincoln was convicted days before The Bachelorette premiered for a 2016 case where he groped an adult female on a harbor cruise ship in Suffolk County, New York. So, yeah, this guy totally knew he was in the middle of a case and pretended like it was NBD to go on The Bachelorette with all that pending litigation. For the dense among us, that is not allowed.
Warner Bros, the company responsible for making this show, told Us Weekly, "No one on The Bachelorette production had any knowledge about the incident or charges when Lincoln Adim was cast, and he himself denied ever having engaged in or having been charged with any sexual misconduct. We employ a well-respected and highly experienced third party who has done thousands of background checks consistent with industry standards to do a nationwide background check in this case."
So, let me get this straight. My friends can find the date of birth, dating history, blood type, and GPA in high school and college of a guy I matched with on Hinge, but this "highly experienced third party" missed this guy's pending court date and criminal records? Something seems awry, but whatever.
Anyway, according to the Suffolk County DA's office, Lincoln was sentenced to one year in a house of correction, with that term suspended for a two-year probationary period. Meaning, he's out and about, but not allowed to be near his victim and has to attend three AA meetings per week for two years. If he fails to comply with the judge's orders he might have to serve out his sentence behind bars. Oh, and he totally has to register as a sex offender.
Lincoln, probably: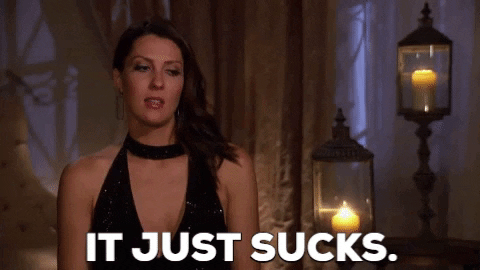 Chris did not comment on whether the controversy behind Garrett's Instagram likes will come up on the Men Tell All, because I guess they still need to give us a reason to watch it.
Images: Giphy (2)
One Of The 'Bachelorette' Contestants Is A Convicted Sex Offender
Just when I thought I could live my life Bachelor drama-free for one goddamn day, ABC has to go and pull me back in with some seriously fucked up news about one of Becca's contestants. That's right, people, another one of Becca's suitors has turned out to be trash. In other news, the sky is blue. Yesterday news broke that Lincoln Adim, aka the one who constantly butchers the English language and likes to shit on floors, was convicted of indecent assault and battery last month. So I guess it's true what they say: all the good ones really are gone. Or, in this case, disgusting and criminals.
The Hollywood Reporter reported that Lincoln was convicted of indecent assault and battery for "groping and assaulting an adult female on a harbor cruise ship." Idk what's more disturbing here, that cruise ships are still a thing or that a woman can't get fucked up on her own vacation anymore without a guy trying to grope her. Like, is no place sacred to you animals??
As per his sentencing agreement, Lincoln is not allowed to be near his victim and has to attend three AA meetings per week for two years. If he fails to comply with the judge's orders he might have to serve out his sentence behind bars. Also, he has to register as a sex offender.
Register. As. A. Sex. Offender. Becca, you are one lucky girl!

I guess now we understand why Lincoln was sobbing over that damaged picture, though. On the one hand, that might have been the closest he'll get to a woman for the next year BECAUSE HE COULD BE GOING TO JAIL. Jail! On the other hand, it's a little ironic that he was crying about how violated he felt OVER A PICTURE when clearly he has no issue violating other people's' bodies. 
BUT WAIT. The plot thickens! Even though Lincoln was only convicted of the crime last month, the incident took place over a year ago. Now, I'm no mathematician but I'm pretty fucking sure that an unresolved criminal charge that occurred in 2016 should have popped up on even the most basic of background checks. Like, if I still have to explain to job recruiters the circumstances surrounding the drinking ticket I got in college, then you would think Lincoln would've at least had to acknowledge to ABC that he had pending charges for A SEX CRIME.
And if you're wondering how ABC is faring from all this news, well, NOT WELL, BITCH. Kidding! They're probably thriving off of Becca's continued humiliation. In a statement to Us Weekly, Warner Bros. basically gave the equivalent of the ¯\_(ツ)_/¯ emoji. They said, "No one on The Bachelorette production had any knowledge about the incident or charges when Lincoln Adim was cast, and he himself denied ever having engaged in or having been charged with any sexual misconduct." Well, yeah, no shit he'd lie about it. There's a lot of MVMT watch money on the line here—he's not just gonna show up during the final casting call and be like, "Oh BTW I am being accused of indecent assault and battery, but you guys know I'm a good guy, right?"
Warner Bros. continued, "We employ a well-respected and highly experienced third party who has done thousands of background checks consistent with industry standards to do a nationwide background check in this case."  I mean, Darius did tell us ABC hired P.I.s to look into everybody's social media, so how could they have missed this?? Like, ABC won't let people on the show if they have an STD (I learned that from Bachelor Nation), but criminal offenses are chill? Is that where we're drawing the line, Warner Bros.??
Warner Bros. concluded their statement by asserting, "The report we received did not reference any incident or charge relating to the recent conviction – or any other charges relating to sexual misconduct. We are currently investigating why the report did not contain this information, which we will share when we have it." Like I said, Japanese shrug emoji. Honestly, the fact that they missed this is highly alarming.
So let me get this straight, ABC. You searched the country far and wide for America's most eligible bachelors, only to come up with a woman-hating, racist homophobe, A REGISTERED SEX OFFENDER, and a man who needs baby bumpers for his bunk bed? This is what you're telling me?! At this rate, the next season of The Bachelorette will include stand-up contestants including Harvey Weinstein, The BTK Killer, and that 30-year-old who was sued by his parents because he wouldn't fucking move out of their basement.

And you, sir, are a sex offender!!
Well, folks, if you need me, I'm just going to spend the rest of today researching my next vacation at the chicest convent near me, because apparently no place is safe anymore.
Images: Giphy (3)
The Juiciest 'Bachelorette' Spoilers We've Read So Far
We're in that weird stage of spring where nothing good is on TV. More importantly, there's no one good on TV to mock. How am I supposed to live a fulfilling life without a healthy dose of The Bachelor, watching 20 beautiful, smart, Instagram famous women fight for the attention of a guy on whom they would have otherwise swiped left? Tbh I have no idea what to do with my Monday nights anymore. I feel aimless and depressed, because reality TV gives me structure as well as something to mercilessly mock other than my coworker's new bangs. Never get bangs, ladies! And now that Summer House is also over, I'm just walking around my apartment clapping "Monday nights should be fun!" Thankfully, I have Bachelorette spoilers from the upcoming season to fill the void in my soul. Reality Steve is doing God's work, y'all. Since his site/Twitter constantly shuts down my computer, I figured I'd relay some of the juiciest spoilers for you here, and save all of you the trouble of getting an email from HR. (Step OFF, Heather!) Obviously major Bachelorette spoilers ahead, so exit this page now if you're a purist or whatever.
1. The First Impression Rose
If you know anything about The Bachelor, you know that they're all there for the Insta followers the first impression rose is the holy grail. The bachelor/ette hands it out on the first night to the person they think is the hottest. I'm sorry, did I say hottest? I meant the contestant they have an instant "connection" with.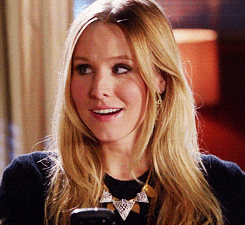 So basically, Becca wants to bang this dude named Garrett Yrigoyen. Reality Steve reveals Garrett lives in Reno, is a surgical technology consultant, and is a former baseball player. Garrett's Instagram is currently set to private, but thankfully he forgot to watch the news and didn't realize that Mark Zuckerberg would step over his mother's dead body to grab a quick buck. Thank you Facebook! Now I have some pictures of our new frontrunner:
Our friend Gary (Can I call you Gary?) is clearly an outdoorsman who likes to wear light makeup on a reality dating show. The last three Bachelorettes have all picked their first impression rose as their winner, so I'd say Garrett's chances of winning and then breaking up with Becca in six months to be the next Bachelor are pretty good. Reality Steve also reports that Garrett has been divorced, which means that he already knows how to make a big commitment and then irreversibly fuck it up. Dream guy!
He recently went on a 1-on-1 with Becca where he danced like I imagine every white dude from Reno does:
(SPOILER): More pics… pic.twitter.com/ivwNLDNZ0l

— RealitySteve (@RealitySteve) March 28, 2018
2. One Of The Guys Used To Date Tia And Aly Raisman
Ok ladies, get ready to light the next man you see on fire. One of the Becca's contestants is rumored to be Colton Underwood, the thirsty benchwarmer NFL player that asked Aly Raisman out via video. Remember that? They started dating and eventually they broke up because she is Aly FUCKING Raisman, and she was put on this earth to do more important things than stroke the ego of practice-squad fuckboys. Too harsh?
After they broke up, Colton grabbed a glass of rosé, started a bracket challenge with his girlfriends, put together a nice charcuterie platter, and watched Arie's season of The Bachelor to scout his newest conquest. He set his sights on Tia, proving that the only thing he is a professional at is sliding into DM's. And it worked! He flew her out to see him, which seems like an expensive booty call, but Tia did seem freaky tbh. Maybe Raven loaned her a pair of stilettos for some BDSM play. Apparently Colton thought Tia was going to be the Bachelorette, as even a trash bag like him couldn't predict the ways in which Arie would completely obliterate the competition for "Shittiest Bachelor of All Time." When broken-hearted Becca was announced as the Bachelorette, Colton ghosted Tia and went on her season.
Then, THE PLOT THICKENS. Becca had one of those group dates where she brings three sets of fake tits her friends on a group date with some of the guys. Tia and Colton were both on this date, and admitted to Becca that they had seen each other before filming. And Becca KEPT COLTON. Girl, red flags left and right. Colton is just a red flag with a dick. Would you like my lighter to set him on fire?
Me trying to keep this Colton drama straight: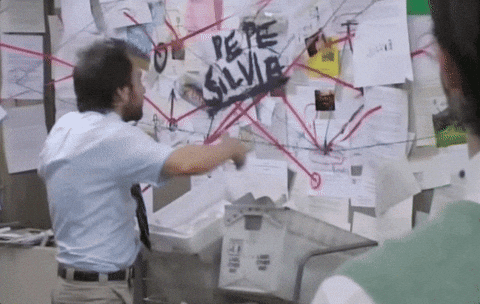 3. Lincoln Sucks
We all remember Lincoln, right? He was the first guy to introduce himself to Becca on After the Final Rose, and had some sort of accent that was apparently not just a speech impediment. He called Arie a wanker, so most of us liked him immediately. Hopefully you didn't fall for his act, though, because it turns out Lincoln is a flaming pile of shit. Literally.
Lincoln and some dude named Chris make it to the traveling stage of the show, and go on a group date in Richmond. Lincoln proves he has all the emotional maturity of a gum wrapper, saying that Becca would only be into Chris "if she was a lesbian," and asking him if he needs a tampon. BURN. Personally I like to save the jokes about tampons for ten after never, but not everyone is as funny and eloquent as I am. So we've now established that Lincoln is weirdly homophobic, and definitely a bully. If only that were the worst of it!
Life & Style Magazine, a magazine that's usually such garbage I wouldn't even deign to cut up its pieces and use them on my vision board, reported some very alarming news about Lincoln. Both Reality Steve and THREE of Lincoln's former coworkers have confirmed that while at work, Lincoln would rather shit on the ground than in a toilet. Apparently, he thinks the toilets are unsanitary. So, he would rather just build a mound of toilet paper on the ground and poop on that? I AM CALLING THE POLICE.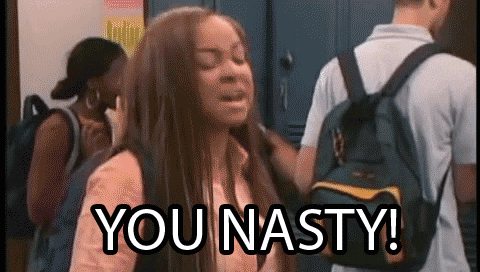 No word on what he would then do with the poop. Fingers crossed he slipped on it at least once! I don't have the best track record with men, but I do have one piece of advice: Find you a man that can poop in the toilet.
4. Banjo Guy Is Already Gone
I just threw a lot of info at you, so I'm going to keep this simple. The dude that introduced himself to Becca by playing the banjo and wearing his grandmother's drapes is already gone. We do know he went on at least one group date, so the others didn't immediately maul him to death on the first night. See you and that banjo in Paradise, Ryan. I hope you saved enough material to make a bathing suit.

5. Impressive Celeb Cameos
As always, ABC is breaking the budget on celeb cameos. This year they managed to secure the ONE AND ONLY Wayne Newton. Ya know, the guy who tries to steal Clark Griswold's wife in Vegas Vacation? I'm sure the producers never took into account that that movie came out before half the contestants were even conceived. I'm honestly praying that Beyoncé and Jay-Z fall on some dark and desperate times so we can get them on next season.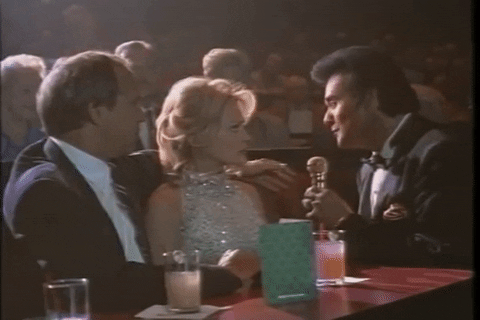 Based on these Bachelorette spoilers alone, Becca's season and the men's bathroom is bound to be a shit show. So stock up now on your wine, cheese, hopes, and dreams, and prepare to have them all crushed by episode 1. Is it May 28 yet?
Images: Giphy (4), ABC