The Most Garbage Men To Compete On 'The Bachelorette', Ranked
In case you haven't been paying attention, The Bachelorette is not a show about finding love. It is not a show about reality. It is a money-making empire designed to f*ck with our feelings, pad Mike Fleiss' dirty, shameful pockets, and pluck a few pretty people from obscurity and throw them into moderate internet fame. For the few of you that still believed, I'm sorry I ruined the show for you, and also my pal Jack just sold me some magic beans I think you might be interested in! Venmo me! 
Because it's a TV show designed to bring in viewers, obviously the producers try to pick contestants that will bring the drama. But lately, instead of bringing the drama, they have been bringing the sex offenders, the racists, the cheaters, and the misogynists. I'm not sure if they're stupid or just don't give a sh*t. One day I'd like to investigate that, so if you're a Bachelor producer please hit me up, and also I'm sorry I just called you lazy and stupid. And I'm sorry for repeating it here now. So, I decided to take a look back at some of the worst contestants to ever grace The Bachelorette, ranked from "you're a douche" to "I'm calling the police. Oh wait, someone else already did." Let us begin! 
Bentley Williams
Bentley is a throwback to the simpler days, when reality TV show villains were just your garden-variety f*ckboys, instead of your garden-variety convicted felons. My, how times have changed! Bentley was on Ashley Hebert's season way back in 2011, a beautiful time when my parents still paid for everything and three drinks didn't make me throw up. Bentley went into the season hoping the Bachelorette would be Emily Maynard, and when it wasn't, decided to have his fun, pretend to be into Ashley, and emotionally torture her instead. A man after my own heart. He called breaking up with Ashley a "huge performance," and said she was an "ugly duckling." Yes, I also can't believe this guy made it to the "best" spot on my list. 
Be nice to this one, Bentley! 
Chad Johnson
Chad Johnson, aka Mr. Meats, showed up to Jojo's season of The Bachelorette with an unsettling smile, a lot of rage, and likely, the steroids he smuggled through security up his butt. He outwardly sneered at the other men, and looked down on them for being on a reality show… that he was also on. He also threatened to "cut everyone's arms and legs off" which is apparently a "violently inappropriate" phrase, according to the official reprimand I received from my office that one time. 
And as if all that wasn't enough, Chad then went to Paradise, shat his pants, and was kicked off for "offensive antics", which included the aforementioned pants sh*tting, and telling Chris Harrison, the Godfather himself, "f*ck you." Single ladies, this is what we have left! And he was "vetted"! 
So I guess he's still hitting the steroids pretty hard 
Jed Wyatt
I'm not going to waste too much time on Jed, because we already know he went on The Bachelorette with the intention of getting famous and returning to his girlfriend when he was done. You ain't sh*t, Jed. Also, everyone goes on this show to get famous, but Jed was just too stupid to to hide it. Try harder, Jed! It makes it even worse that we know he's in the final three. At least have the grace to see yourself out before the fantasy suite, you two-timing Tim McGraw wannabe. 
Also every time he sang the words "I want to be your Mr. Right" it sent a violent shiver down my spine and an angel lost her wings. 
I should have known he was a cat person.
Garrett Yrigoyen
While Becca's season was on, it was revealed that Garrett had liked a number of problematic Instagram posts. So, instead of ending up with a middle-aged, washed-up race car driver with a limited vocabulary, she ended up with a dude who thinks the Parkland students are crisis actors and probably says things about her friends like, "they're a 2 at 10 and a 10 at 2!" Becca got so lucky. 
Luke Parker
He took up way too much of our time at the Men Tell All, so I'll just say that this list is so bad that slut-shamers land solidly in the middle. Congrats, Luke! You're not the most vile! And that's the nicest thing I'll ever say about you. 
You, sir, are not guac.
Lee Garrett
Rachel's season of The Bachelorette was historic—she was the first black Bachelorette in the history of the franchise. To celebrate, the producers rewarded her with a suitor that was racist. So sweet! Again I ask, are the producers lazy, or just stupid, or are they actually all puppies dressed in suits pretending to run background checks? Twitter is not the dark web! It is pretty easy to find out if one of your contestants has tweeted that, say, Black Lives Matter is a terrorist group, or, maybe, really hates women. As my mother says to me when she's found the man I'm dating has fathered multiple children, "did you not just conduct a simple Google search?"
I WOULD SUGGEST YOU CONDUCT A SIMPLE GOOGLE SEARCH, ABC. 
Leo Dottavio
We've now moved into the sexual harassment portion of the article. Leo was the romance novel cover model (I could be making that up, but it's true in my brain), who finished in the top six on Becca's season. Then he went to Paradise where he proceeded to try and fight America's Sweetheart, Grocery Store Joe. After he left the show, Bekah Martinez revealed screenshots of a woman accusing him of sexual harassment. Leo's response was "I'm sorry that girl was offended that I assaulted her," (I paraphrase), and then proceeded to threaten Bekah with a lawsuit as all truly innocent people do. 
Lincoln Adim
And finally we have Lincoln, who was actually CONVICTED of indecent assault after attacking a woman on a cruise ship, and is required to register as a sex offender. They let a sex offender pursue our Bachelorette! People think I'm extreme for bookmarking the sex offender registry, but I think ABC producers would really benefit from having a look at my browsing history. It would save everyone a lot of lawsuits trouble. Oh, yeah, and this guy used to sh*t on the floor at work. That's too many contestants that have trouble controlling their bowels, man. 
His last post was over a year ago, because he's in jail, I presume?
I'm sure I'm forgetting so many trash men that have been vetted and let on this show for our entertainment, but I only have so much time, energy, and brain power that I can dedicate to this show before it melts my organs. Throw the losers I forgot in the comments, please! 
Images: bentley_w, realchadjohnson, jedwyatt, gy_yrigoyen, luke_parker777, leegarrett_, leofdot, linkin_/ Instagram
Chris Harrison Reveals Which Contestant Wasn't Invited To The Men Tell All
This season of The Bachelorette is almost over, with only the Men Tell All and the finale ahead of us. Usually the Men Tell All is kind of a snoozefest where they rehash old drama we've already forgotten about, but this season's could be interesting given all the drama that's happened off-camera. However, it seems like we won't get answers about one major news item this season, and that's because everyone's least favorite flat-earther and sexual offender, Lincoln, is donezo inside the Bachelor franchise. Chris Harrison told ET that Lincoln was not invited to the Men Tell All taping, so we probably won't get answers from ABC on how he ended up on the show in the first place. We can also rule out seeing him on Bachelor in Paradise Season 5, too. Not that anyone really cared if he was there or not anyway.
All of Bachelor Nation re: Lincoln: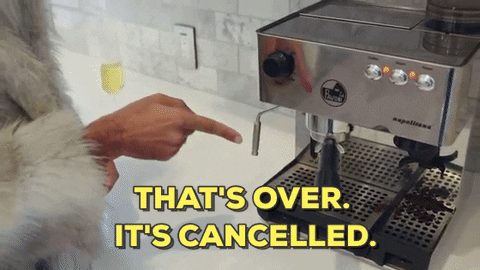 "I did not want him here nor did he deserve to earn the right to be here. He forfeited that right obviously with what he did, and lying to us and deceiving everybody," Harrison told ET's Lauren Zima after the Tell All taping last Friday. "So no, I'm very glad that he was not here and he was not extended an invitation."
Way harsh, Tai Chris. Wait, I take that back. Lincoln is a scumbag who not only assaulted a woman on a cruise ship, but also likes to poop on floors. Good for you, Chris, for calling a spade a spade.
As you recall, Lincoln was convicted days before The Bachelorette premiered for a 2016 case where he groped an adult female on a harbor cruise ship in Suffolk County, New York. So, yeah, this guy totally knew he was in the middle of a case and pretended like it was NBD to go on The Bachelorette with all that pending litigation. For the dense among us, that is not allowed.
Warner Bros, the company responsible for making this show, told Us Weekly, "No one on The Bachelorette production had any knowledge about the incident or charges when Lincoln Adim was cast, and he himself denied ever having engaged in or having been charged with any sexual misconduct. We employ a well-respected and highly experienced third party who has done thousands of background checks consistent with industry standards to do a nationwide background check in this case."
So, let me get this straight. My friends can find the date of birth, dating history, blood type, and GPA in high school and college of a guy I matched with on Hinge, but this "highly experienced third party" missed this guy's pending court date and criminal records? Something seems awry, but whatever.
Anyway, according to the Suffolk County DA's office, Lincoln was sentenced to one year in a house of correction, with that term suspended for a two-year probationary period. Meaning, he's out and about, but not allowed to be near his victim and has to attend three AA meetings per week for two years. If he fails to comply with the judge's orders he might have to serve out his sentence behind bars. Oh, and he totally has to register as a sex offender.
Lincoln, probably: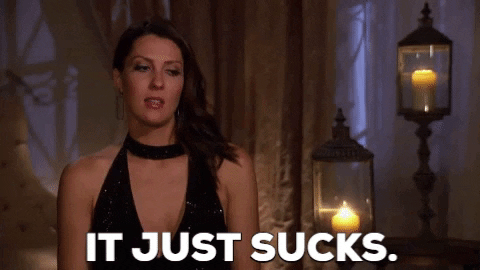 Chris did not comment on whether the controversy behind Garrett's Instagram likes will come up on the Men Tell All, because I guess they still need to give us a reason to watch it.
Images: Giphy (2)
One Of The 'Bachelorette' Contestants Is A Convicted Sex Offender
Just when I thought I could live my life Bachelor drama-free for one goddamn day, ABC has to go and pull me back in with some seriously fucked up news about one of Becca's contestants. That's right, people, another one of Becca's suitors has turned out to be trash. In other news, the sky is blue. Yesterday news broke that Lincoln Adim, aka the one who constantly butchers the English language and likes to shit on floors, was convicted of indecent assault and battery last month. So I guess it's true what they say: all the good ones really are gone. Or, in this case, disgusting and criminals.
The Hollywood Reporter reported that Lincoln was convicted of indecent assault and battery for "groping and assaulting an adult female on a harbor cruise ship." Idk what's more disturbing here, that cruise ships are still a thing or that a woman can't get fucked up on her own vacation anymore without a guy trying to grope her. Like, is no place sacred to you animals??
As per his sentencing agreement, Lincoln is not allowed to be near his victim and has to attend three AA meetings per week for two years. If he fails to comply with the judge's orders he might have to serve out his sentence behind bars. Also, he has to register as a sex offender.
Register. As. A. Sex. Offender. Becca, you are one lucky girl!

I guess now we understand why Lincoln was sobbing over that damaged picture, though. On the one hand, that might have been the closest he'll get to a woman for the next year BECAUSE HE COULD BE GOING TO JAIL. Jail! On the other hand, it's a little ironic that he was crying about how violated he felt OVER A PICTURE when clearly he has no issue violating other people's' bodies. 
BUT WAIT. The plot thickens! Even though Lincoln was only convicted of the crime last month, the incident took place over a year ago. Now, I'm no mathematician but I'm pretty fucking sure that an unresolved criminal charge that occurred in 2016 should have popped up on even the most basic of background checks. Like, if I still have to explain to job recruiters the circumstances surrounding the drinking ticket I got in college, then you would think Lincoln would've at least had to acknowledge to ABC that he had pending charges for A SEX CRIME.
And if you're wondering how ABC is faring from all this news, well, NOT WELL, BITCH. Kidding! They're probably thriving off of Becca's continued humiliation. In a statement to Us Weekly, Warner Bros. basically gave the equivalent of the ¯\_(ツ)_/¯ emoji. They said, "No one on The Bachelorette production had any knowledge about the incident or charges when Lincoln Adim was cast, and he himself denied ever having engaged in or having been charged with any sexual misconduct." Well, yeah, no shit he'd lie about it. There's a lot of MVMT watch money on the line here—he's not just gonna show up during the final casting call and be like, "Oh BTW I am being accused of indecent assault and battery, but you guys know I'm a good guy, right?"
Warner Bros. continued, "We employ a well-respected and highly experienced third party who has done thousands of background checks consistent with industry standards to do a nationwide background check in this case."  I mean, Darius did tell us ABC hired P.I.s to look into everybody's social media, so how could they have missed this?? Like, ABC won't let people on the show if they have an STD (I learned that from Bachelor Nation), but criminal offenses are chill? Is that where we're drawing the line, Warner Bros.??
Warner Bros. concluded their statement by asserting, "The report we received did not reference any incident or charge relating to the recent conviction – or any other charges relating to sexual misconduct. We are currently investigating why the report did not contain this information, which we will share when we have it." Like I said, Japanese shrug emoji. Honestly, the fact that they missed this is highly alarming.
So let me get this straight, ABC. You searched the country far and wide for America's most eligible bachelors, only to come up with a woman-hating, racist homophobe, A REGISTERED SEX OFFENDER, and a man who needs baby bumpers for his bunk bed? This is what you're telling me?! At this rate, the next season of The Bachelorette will include stand-up contestants including Harvey Weinstein, The BTK Killer, and that 30-year-old who was sued by his parents because he wouldn't fucking move out of their basement.

And you, sir, are a sex offender!!
Well, folks, if you need me, I'm just going to spend the rest of today researching my next vacation at the chicest convent near me, because apparently no place is safe anymore.
Images: Giphy (3)