Definitive Proof The Victoria's Secret Angels Are All Related
As I was finding corresponding gifs for the ranking of the Victoria's Secret Angels, I came to the stark realization that all these women look the fucking same. No, seriously. Looking back and forth between gifs of like, Alessandra Ambrosio and Izabel Goulart (who is not an official Angel this year, but is Alessandra Ambrosio's identical twin as I learned), I realized I could not pick these women out of a lineup of two. So I think it's only fair that I back up such a seemingly absurd statement with real evidence so you can all see what I mean. I'm convinced all the Angels came out of the same genetic pool, so I organized them by families into the very official and accurate Victoria's Secret Angel family tree.
Family #1: Team Tall, Dark & Handsome
I have a working theory that Adriana Lima and Alessandra Ambrosio had children, and those children are Sara Sampaio, Lily Aldridge, and Taylor Hill. Look at them. Sara has Adriana's black hair and blue eyes, and Taylor has Alessandra's hair, Adriana's eyes, and Adriana's nose. Sara's nose is kind of a mix between Alessandra's and Adriana's. Now, Lily is basically just Alessandra's direct doppelganger—she's just as tan, she has the exact same nose, she has dark eyes—but her hair is slightly darker, a gene she obviously got from Adriana.

Family #2: Team Blondes Have More Fun
Then you have Behati Prinsloo plus Elsa Hosk/Candice Swanepoel/Martha Hunt/Romee Strijd. That latter group of women are the same fucking person, and you cannot tell me otherwise. They all have blonde hair, big blue eyes, and noses so tiny they almost don't exist. They are interchangeable. They could be each other's stunt doubles in movies. One of them could walk down the VS Fashion Show runway four separate times, and I would not know the difference. Please note that Romee Strijd is not Martha Hunt's daughter, as the chart might imply; I just ran out of room and couldn't fit them all in one horizontal line. Anyway, these Angels all mixed up their genes in a test tube or some shit and came out with Josephine Skriver, who has Candice/Elsa/etc.'s face and Behati's hair. Then you've got Stella (who I would just like to note should have gone into porn because she has the best porn star name of all time), who kinda-sorta has Behati and Romee's face, with Candice et. al's hair and eye coloring. Boom.

Family #3: Team Not Actually A Family
Then we're left with Jasmine Tookes and Lais Ribiero, who don't resemble each other at all—or really any of the other Angels, for that matter—so I lumped them together by virtue of the fact that they actually look like individuals. Good job, ladies/Victoria's Secret. We got two. I didn't make a very informative infographic for it because, like I said, I don't think they're actually related in my conspiracy universe. But I tried. (They will put that on my tombstone.)

So that's it. My life's work. All I can do is pray that I never get mugged by a Victoria's Secret Angel, because I will be of no help to the police.
The Official Ranking Of The Victoria's Secret Angels
Head Pro will watch the VS Fashion Show this year, just like every year, because he's a sucker. Follow him as he makes mean jokes on Twitter at @betchesheadpro, and tell him how badly this list sucked at [email protected].
Perhaps more than anything, humans enjoy order. That's why, as surely as winter brings 2pm sunsets and misery, it also brings the Victoria's Secret Fashion Show: an institution that endures largely unchanged, persisting by only making slightly fewer alterations than Kim Kardashian's plastic surgeon. The models starve themselves. A safe, bland pop act performs. One of the models has an OMG SO CUTE "improvised" interaction with the musical act if she's fucking him. Someone stuffs their cans into a $2 million bra. The sun rises on another day.
But that's not enough! No, we demand even more order, especially when it comes to judging our fellow humans. That's why, beyond running the same hour-long porno flick for women (that's also porn for men), we're compelled to "rank" the models involved. "But Head Pro, didn't you do this last year?" you might be wondering. "Wait, that link just redirects to this page, this is the same URL, this is all a naked SEO grab, isn't it," a reasonable person might conclude. I don't have answers for that. I definitely voluntarily re-wrote my own list. I'm a Company Man, after all.
It's not especially cool to "rank" human women based on their "hotness" or "how nice their boobs look." I would never do that anyway because I respect women so much that you wouldn't have to ask me if I respect women, because I would come out and tell you I respect women before you even asked. Instead, I will rank them based on their biography responses on the VS website, from least amusing to most.
14. Jasmine Tookes
Victoria's Secret asked all of the Angels what spice they would be, and 90% of them said "cinnamon." That includes Jasmine, who had literally nothing interesting to say. Being pretty but boring is a shitty stereotype, but living up to it gets you on the bottom of the list.

13. Stella Maxwell
Most people pretty clearly identify as a morning or night person, but Stella? Oh, she's a midday person. Her profile is full of contrarian bullshit like that. Righty or lefty? "I'm actually ambidextrous." Pink or red? "I prefer blue, but I guess red if I have to choose." Unlike Jasmine, who is boring, Stella tries WAY too hard to seem cool and different.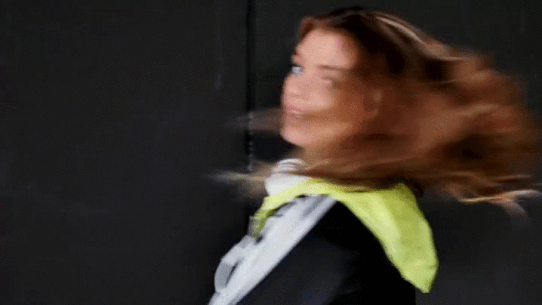 12. Lily Aldridge
Literally every model loves shooting in beautiful locations, but they all hate flying on planes. But really, that's the LEAST glamorous part of the job, not starving yourself or strutting around in your underwear in front of leering strangers? Get some fucking perspective, Lily.

11. Josephine Skriver
Josephine can't live without her phone, friends, family, sleep and food. Well, yeah. You'll die after not eating for about 30 days, and a lot sooner without sleep. Jeez, why do you always have to take things so literally, Josephine?

10. Taylor Hill
Taylor is extremely not here for this shit, and I appreciate it. The most glamorous part of working for Victoria's Secret? "Working for Victoria's Secret." She also wants to jump out of a helicopter with her snowboard, which is pretty fucking metal.

9. Candice Swanepoel
Oh sweet, sweet Candice—such an unrequited life. While most of the models wish they could see the Great Wall of China or some trivial shit, Candice casually drops that her greatest regret is that she hasn't started her "own shelter for abused animals or an environmental protection organization." Extremely same. Also like, you know you probably can start an animal shelter, right?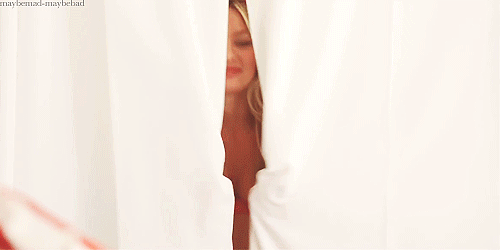 8. Romee Strijd
One thing Romee wishes she could do? Travel stateside with her family. Uhhh you might want to rethink that, girlfriend. I mean have you ever seen an episode of Cops? The U.S. is a trash fire that absolutely deserves everything we've brought upon ourselves.

7. Martha Hunt
Unlike Josephine, who sagely acknowledges that she can't live without the very essences of life, Martha is a little more… metaphorical. She can't live without her dog, purse, family, diamond earrings and favorite watch. She literally listed "dog" and "purse" ahead of family. The honesty is refreshing.

6. Sara Sampaio
Sara is a cool girl who's just like one of the guys. Wanna know how I know? Because she had pancakes for breakfast the morning of her interview, and in fact eats pancakes "all day every day." I call bullshit. She has never so much as smelled a pancake.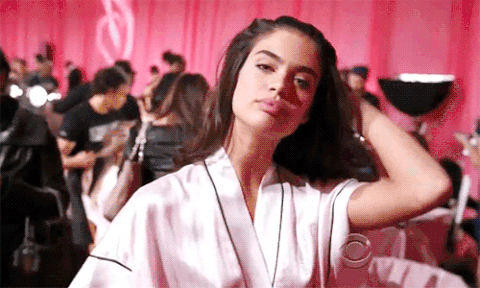 5. Adriana Lima
O.G. Adriana Lima is a simple gal. While other girls want to see the Northern Lights or start entire government agencies, all she wants to do is star in a Quentin Tarantino film. As long as she's down with having her toes sucked, I think that can happen.

4. Elsa Hosk
Does Elsa prefer chocolate or vanilla? "Neither." Goddammit, now I wanna know her deal! What's this woman's hangup with conventional ice cream flavors? Does she only eat sorbet? Is she lactose intolerant? There's nothing sexier in a woman than dessert intrigue, I always say.

3. Lais Ribeiro
What's one thing that Lais would like to accomplish? Literally nothing, because becoming a VS Angel was her only dream, and she's achieved that. Laugh all you want, but when was the last time you accomplished something with such laser focus, Mrs. I've-Been-Thinking-Of-Going-To-Law School-For-Almost-A-Decade?

2. Alessandra Ambrosio
Pink, or red? Lilac! WILDCARD, MOTHERFUCKERS!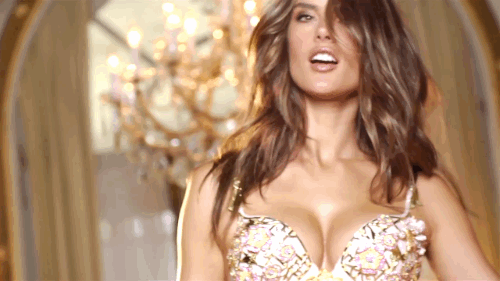 1. Behati Prinsloo
Hey did you know that African native Behati Prinsloo is from Africa, which is where Behati Prinsloo's from? Well, unlike most girls, who picked "cinnamon" as their spice, she grew up on an African seasoning called aromat, so that's what she would be. Because she's from Africa. Which, if true, why is she white?

Head Pro will watch the VS Fashion Show this year, just like every year, because he's a sucker. Follow him as he makes mean jokes on twitter at @betchesheadpro, and tell him how badly this list sucked at [email protected].