Time To Slow Your Roll: Weekly Horoscopes October 19-23
This week, the stars are here to wreak havoc on your plans. With Mars in retrograde, Mercury in retrograde, and Venus in Virgo, this can only mean one thing: slow tf down. Now is not the time for rash decisions, major moves, or overly aggressive Instagram stories. Take this as a sign from the stars to hold back, chill out, and continue main-lining reality television per usual.
Aries

With 2021 fast approaching, you're itching to cross more of your end-of-year goals off. Unfortunately, with Mars retrograding in your sign, now is not the time to try to speed up your timeline to hit some arbitrary "completed by" goal. As they say, slow and steady wins the race. It's okay if you don't do everything you planned to do this year. There's kind of been other shit going on.
Taurus

We all know you pride yourself on being chill, but there is such a thing as being too chill and you're dangerously approaching that this week. Your go with the flow attitude might lead you down a path you don't actually want to follow. Check in with yourself and make sure you're headed in a direction you actually want to go. You can hit the vape pen and resume maximum chillage the moment you're back on track.
Gemini

You're not normally afraid of a little TMI, but this week you might want to keep your cards a little closer to your chest. With so many planets retrograding the line between "quirky overshare" and "creeping everyone the fuck out" might be a little blurred. No need to give yourself a reason to look back on the night before and wish you hadn't said half this shit you said (though TBH you'll be doing that anyway).
Cancer

A plan you're dying to hatch might actually need a little more time to incubate this week, Cancer. Sure you might *feel* like it's time to launch your big idea, but as we in astrology like to say, the stars are not aligned. Continue to tweak around the edges, do another proofread, and hold off on the big day until every planet isn't conspiring to fuck you up.
Leo

The world has set an impossible task for you this week, Leo: stay humble. With the planets all out of whack, your self confidence can veer into overconfidence, which can veer into annoying the shit out of everyone which can veer into screwing yourself over. Basically, it's a check-yourself-before-you-wreck-yourself-type scenario. You've been warned.
Virgo

Your usual ability to keep your cool goes out the window this week. Given all the astrological shakeups going on, you're due for an emotional overload. This isn't necessarily a bad thing! You may find yourself ready to take the plunge with your current on-again-off-again thing, or give your current partner a little extra lovin'. That should help them get through the cold, long winter sleeping next to your cold, dead heart.
Libra

Get ready for your least favorite thing: conflict. Your diplomatic sign usually prefers to handle things like adults, but there's no use in that when everyone else is acting like they're on the playground. Yes, Michelle Obama says to go high when they go low, but might I suggest going… medium? No need to go full real housewife, but you don't have to hold back all your sick burns either. It's not your fault the person you're arguing with is a virgin who can't drive.
Scorpio

Time to turn down the sarcasm, Scorpio. Yes, you are smarter than everyone, but nobody likes hearing that and it's not helpful. Especially if you're trying to convince them of anything election-related. Tone down the superiority for a minute and treat people with respect. Then you'll actually be the badass genius you imagine yourself to be.
Sagittarius

To spend or not to spend? That is the eternal question. This week you might find yourself caught between the desire to buy yourself a shiny new toy, and the desire to continue to pay rent in a pandemic. Why not split the difference? There has to be a way to treat yourself without draining your entire checking account.
Capricorn

Your mission this week: conserve, conserve, conserve. Energy, water, f*cks to give, whatever you can. You might be tempted to overextend yourself this week thinking it'll help get you over the finish line, but it'll actually set you back (and f*ck up your skin). Nobody wants that.
Aquarius

That juicy piece of gossip you're dying to share? Be sure to check, and double check, that you're sharing it with the right people. Impulsive Mars might push you to shit talk in mixed company this week, and it could cause you some unnecessary drama. Remember the golden rule: if you don't have anything nice to say, wait a little bit, then put it in the group chat.
Pisces

Is there a relationship in your life where you've been doing all the heavy lifting? Time to let that sh*t go, Pisces. All the energy you've been putting in to try to make things work with this lover/friend/coworker could be put towards literally anything else. Seriously. Anything. (Like finally cleaning up that pile of clothes that's been accumulating on a random chair since the start of the pandemic.)
Images: Giphy (12)
It's Not Winter Yet: Weekend Horoscopes Sept. 27-29
BYE VIRGO SEASON! Here come the Libras to keep everything fair and balanced…just like FOX News! Even though it's still like, definitely summer outside, the arrival of October next week has us feeling extra spooky and embracing sweaters. Who cares if I'm sweating through it? Let me live my best life, k? Speaking of, everyone is thriving this weekend so long as we avoid fights over fridge leftovers, watching the news, and fast food. Thanks, planets, for helping me map out my agenda. Check out your weekend horoscopes below.
Libra

The best vibes are all yours this weekend, Libra. You'll be feeling extra social, charming, and sexy all weekend long, so f*cking own it. Head out somewhere with friends where you'll see and be seen, like that late-night bar where D-list celebrities tend to hang. So long as you don't overdo it with drinking on Friday and Saturday, the weekend will be smooth and fun.
Scorpio

It's a great weekend to get in touch with your spiritual side, Scorpio. That may seem weird, but really it just means you should sign up for meditation. Pay a lot of attention to your dreams this weekend and listen to your gut. If you end up going out with friends and have immediate feelings about that guy your BFF is telling you about, share them. You're intuition is spot-on through Sunday.
Sagittarius

You're a ray of sunshine this weekend, Sagittarius. Your social gathering center is revving up, which means it's prime time to get social with friends and/or family. Head out to the farmers market so you can feel extra hipster and crunchy. Then, drink your weight in mimosas at brunch. Literally nothing will bring you down this weekend.
Capricorn

You're feeling moody, Capricorn. Take the weekend to chill out, since everyone and everything is pissing you off. Be aware of your feelings and try not to jump down anyone's throat unless they, like, really deserve it. Saturday calls for sleeping in, ordering waffles for delivery, and binge watching Property Brothers so you can make fun of the terrible design choices happening there.
Aquarius

Time for some f*cking adventure, Aquarius, and that doesn't mean trying out the Extra Hot flavor level at your favorite Thai restaurant again. That isn't adventurous, it's masochistic. Head out of town with your partner or bestie and do some low-key exploring. The moon is pushing you to explore sh*t, so listen to the planets for once and get out there.
Pisces

Time to get sexy, Pisces. Your intuition and feelings are on high alert all weekend, so it's a great time to get closer to your partner or explore a new romance if you aren't paired up. Break out some fuzzy handcuffs, chug some wine, talk about the future (within reason) then get weird all day Saturday. Take a breather on Sunday and cuddle up to watch some murder documentaries on Netflix. Nothing brings couples together quite like watching people try to solve a murder.
Aries

Focus on relationships this weekend, Aries. It's a prime weekend to get closer to your partner, whether it be a weekend getaway, dinner out, or just a staycation in your own city. If you're single, head out on Friday night for the best chance at a connection. Note: said connection is less likely to happen if you're pounding vodka sodas, trying to get blackout, and lamenting that it's been months since you got laid. Suck it up, put on your game face, and get the f*ck out there.
Taurus

Even though it's officially winter body season, it's time to take a long, hard look at your health habits, Taurus. Focus this weekend on eating salads, chugging water, and finally pushing yourself to check out that yoga class. We know that pizza and terrible Chinese food have their beloved place in your heart, but it's high time you thought about the future and your arteries.
Gemini

It's a great f*cking weekend to be a Gemini, and you need to indulge in that sh*t. You're feeling sexy, gorgeous, energetic, and creative this weekend, so this is not the time to hang out around the house in your bleach-stained college sweats. Take one of those wine and painting classes with a friend on Friday, then head out for drinks with coworkers you don't hate. Make special time for your partner or bestie on Saturday and be as social as possible. Top it all off on Sunday by inhaling tacos and wine as a reward for being you.
Cancer

'Tis the weekend for home and family, Cancer. Concentrate on straightening your nest this weekend. Go ahead and buy those new curtains you've been eyeing to freshen up your space. You earned it. Saturday calls for a home-cooked meal, courtesy of your slow cooker or Insta Pot. You'll head into Sunday feeling relaxed and refreshed, so long as you don't neglect the chores that have been on your to-do list for the last three weeks.
Leo

Try not to be argumentative this weekend, Leo. You have a knack for always wanting to be right, and, while that's great and all, Friday, Saturday, and Sunday are not the time for it. You're in a great planet position to learn new sh*t this weekend, so go ahead and sign up for a cooking class or hot yoga class if you're into that. Sunday is ideal for a short trip outside town, so take some time for yourself to grab a glass of wine and go antiquing. That's what all the cool kids are doing.
Virgo

Time to look at your finances, Virgo. You've been putting it off, but Saturday is a good time to finally open the banking app and see just how much damage you're doing week to week on wine, nachos, and other important food groups. You may need to readjust your outlook, so meet with a financial advisor or talk to your Dad and see if he'll give you $20 to cover alcohol next week.
Images: Giphy (12)
Welcome to Libra Season: Weekly Horoscopes September 23-27
Goodbye Virgo, hello Libra! Not only are we transitioning between astrological seasons, but it's also the fall equinox, meaning big things for just about every sign. Libra is associated with balance, beauty, and social life, so don't be surprised if you find yourself turning out looks, staying out later, and networking harder. This season is all about putting yourself out there and reaping the benefits, so yes, you do have permission to call every happy hour a "business opportunity." You never know what kind of deals can be struck over one to five cocktails!
Aries

Aries and Libra are opposite each other on the Zodiac wheel, meaning there's going to be a lot of action in your house of relationships starting like, yesterday. Yes, love is in the air, but so is friendship. And frenemy-ship. And basically any other "ship" under the Sun. Now is a good time to resolve any questions around important relationships in your life (For example: "Do I like him or is he just tall?") so you can go into winter without all the baggage weighing you down.
Taurus

Libra season has you on a self-care kick, and considering Taurus' whole thing is self-care, you're basically a human bath bomb right now. Yep, you're taking bubble baths at 2pm. Yes, you're wearing yoga pants to work. No, you're not giving any f*cks. Is putting on a face mask midway through an important meeting unorthodox? Sure. But who ever got anywhere by playing by the rules? Also, it's not your fault you love yourself enough to know when your skin needs to be hydrated.
Gemini

Well, well, well Gemini, aren't you fancy? Libra season has you wanting to take in some art and culture like the cosmopolitan bitch you are, so it's time to dust off that old museum pass and look at some paintings of flowers! You're starving for new artistic stimulation this week whether it be in the form of checking out a new movie, seeing some local music, or just walking around the park with a vape pen and thinking about what it would be like to live in a painting. At the very least you'll get some good Instas out of it.
Cancer

Dust off your "future is female" shirt, Cancer, because Libra season has you tapping deep into your feminine energy. (And yes, that goes for any men who might be reading this as well.) Cancer has always had group mom vibes, and Libra season has you leaning even harder into those maternal instincts. Set up a night with your favorite ladies ASAP (preferably on a full Moon and when you're all on your periods), and don't be surprised if you have to fight the urge to pack snacks for everyone, just in case they get hungry.
Leo

Not that you've been shy in other seasons, but Libra season has you extra social this month. And an extra social Leo is usually just extra. You're tapping into some seriously community-oriented vibes right now, meaning you can toss any thoughts you had of staying in this week out the window. Actually, you might wanna go ahead and start a group text for a 20 person bottomless mimosa Sunday brunch right now. You're definitely going to want it.
Virgo

Your season is over, and that's sad, Virgo, but don't despair! Now that Libra's in the spotlight you can focus your intense logical brain on what really matters: making it rain. It's time to get serious and get ahead in all things financial so that you don't go into the holiday season trying to give out macaroni crafts as gifts like you're five. Take a look at your budget now and see where you can scale back. (Hint: Postmates and Uber are always a good place to start.)
Libra

Welcome to your season, betch! It's time to bask in the glow of a Libra Sun. But before you do, it's time to take out the trash. Now is the perfect time of year for you to leave the past behind you and let go of the exes, grudges, and f*ckbois that have been holding you back from reaching your true potential. With the Sun in your sign, you have the mental clarity you need to tell all that past negativity to GTFO and be the badass Libra of the future. As an added bonus, finally deleting all those pictures of you and your ex in Italy will free up space on your phone for thirst traps.
Scorpio

Slow your damn roll, Scorpio! Libra season is asking you to wind it the f*ck down and inject your life with some much-needed chill. You're in search of some serious grounding energy, and nothing says "grounded" like staying at home when your friends are all out doing something fun. Cancel those plans now and enjoy a 100% FOMO-less night of re-watching Fleabag and eating anything in your eyeline. I promise the only thing you'll miss are picklebacks you didn't need to be taking anyway.
Sagittarius

You've been killing it in your career lately, Sagittarius, but how's your social life? Non-existent? Yeah, time to fix that. Luckily, super-friendly Libra is here to get you out of your shell and back in the game. Next time you're invited to an after work event,
go, and not just so you can track down your coworker to go over your project a few more times. Have fun. Seriously. Work will be right where you left it at 9am tomorrow morning, no matter how many times we all wish that wasn't the case.
Capricorn

Libra season has you leaning into your Slytherin tendencies, making you ambitious as f*ck. The new season is turbo-charging your career, and you're not letting any opportunities pass you by. If a chance for you to network pops up, you're taking it. If a situation arises where you can impress your boss, you're there. Just don't like, align with any dark wizards to help take over the world or anything. That's a little much.
Aquarius

The new season has you tapping into your hippie tendencies, meaning you're all about vibes right now, man. Whether it be treating yourself to a Groupon for reiki, popping into a crystal shop, or yes, reading your horoscopes on Betches.com, you're actively seeking out a higher plane of consciousness. Just maybe steer clear of the psychedelics during the work week? You're not at Burning Man.
Pisces

Ow-ow! Libra is chilling in your house of seduction all month, Pisces, so to use a reference from 2006, you're bringing sexy back. The skirts are shorter. The heels are higher. And your 'close friends' insta story is basically a softcore porn site. Don't be surprised if you have people from all corners sliding into your DMs, and remember the age-old proverb: don't say yes to anything until you know his credit card number.
Images: Giphy (12)
It's Not You, It's Virgo: Weekend Horoscopes For September 21-23
It's time to say goodbye, Virgos. It's the last weekend of Virgo season before we move into Libra territory. When the Sun is in Libra, you'll be all about seeking peace and harmony in your relationships, at home, and at work. I guess this is your last weekend to be a total b*tch to friends and make a bunch of enemies before you have to be all nicey-nice. Ugh, thanks Libra. Here are your weekend horoscopes for September 21-23.
Aries
Just because you're feeling vulnerable doesn't mean you need to sabotage your relationships. Usually, you operate on the following motto: if something seems too good to be true, it probably is. Throw that thinking out like celery you planned to eat but then let rot in your fridge. This weekend, good things happen to good people and you're, like, the best person.
Taurus
The Sun in Virgo synchs up with Juno in your sign this weekend. (Juno is an asteroid that has an influence similar to Venus, not the outdated web browser, btw.) That means your friends turn to you for stability. Well, okay, maybe not stability, but they will trust you to be sober enough to order the Lyft to the right address and set multiple drop-off points to ensure no one has to get out at a random bodega 10 blocks from home.

Gemini
Don't let your Debbie Downer friend be a drag on your fun this weekend. Like, sorry Katie, I know a guy you went out with on two dates won't text you back, but we don't need to keep talking about his Snapchat stories at our pregame. Give the squeaky wheel in your friend group some tough love so you can enjoy your vodka sodas in peace.
Cancer
The Sun and asteroid Juno synch up in your people zones this weekend, making it easy to make new friends. Acquaintances and people you literally just met won't think you're weird when you tell them that extremely embarrassing and personal story. In fact, they'll probably find you quite charming and relatable for really putting it all out there.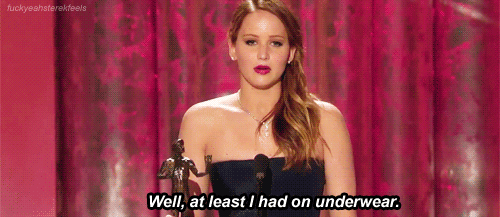 Leo
It's a great weekend for you to socialize. It's not such a great weekend to be making any life-changing decisions. Your head is just not in the game to think seriously and critically. Don't accept a proposal. Don't sign a mortgage. And definitely, DEFINITELY don't agree to go on a run with someone the morning after you've been drinking.
Virgo
The Sun is still in your sign so that means you should definitely live it up while you're still #blessed this weekend. Likewise, asteroid Juno is in your house of higher consciousness. That means you could fall for someone you think you could learn from. It's best to stay away from your T.A. at the tailgate this weekend. Sure, a makeout could help you get an A in a class you hate, but you don't want to find out what happens when it goes south.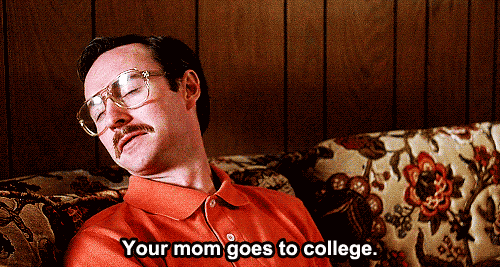 Libra
There's a lot happening in your houses of secrecy, intimacy, and transformation. Your energy is all about acting on your inner desires. Want to find out what happens when you stop using shampoo or some sh*t? Test it out. Need to know if you could be into beer? Time for a keg stand. It's all about exploring yourself and discovering your unique likes and dislikes. Yolo.
Scorpio
It's the last great weekend for you to party until your birthday rolls around in, like, two months. When the Sun rolls into Libra, you'll want to go into hiding to collect your thoughts and make some goals for your next year of life. So, really, you have no other option than to go HAM this weekend.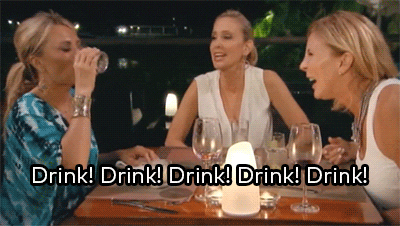 Sagittarius
You've been in the spotlight for the past few months thanks to the position of the Sun. Consider this weekend your swan song. It might be time to leave the stage for a while so someone else can have the spotlight, or, like, so that the mistakes you're about to make don't have many witnesses. That being said, stage dive into the weekend. Might as well go out with a standing ovation.
Capricorn
You'll find meaning and purpose this weekend thanks to the relationship between the Sun and asteroid Juno. You have opportunities for personal growth. Maybe this is the weekend where you don't respond to the "U Up?" text from your ex. Maybe this is the weekend you black out but don't lose your keys, phone and wallet. See, you're growing up. Awwwww.

Aquarius
Someone close to you is ready to offer you their full support this weekend. It just might be the boost you need to get out of a funk or to escape your comfort zone. Hopefully it's, like, financial support though, right? I mean, it's a lot easier to be your best self and achieve self-actualization if someone else is bankrolling you.
Pisces
The Sun and asteroid Juno are aligned in your people zones, making you relatable, sociable, and likable. You won't just be the entertainer this weekend—through all your socializing you'll realize something about yourself. By Sunday, you'll probably realize that you're actually an introvert and hate having to be around people all the time. Ugh, exhausting.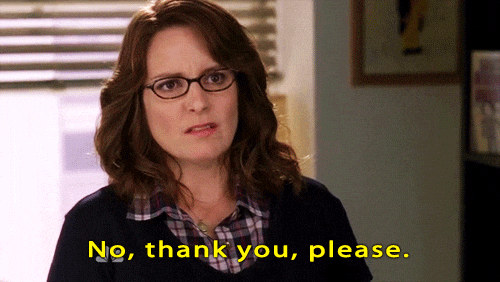 Images: Giphy (6)
Here Are Your Weekly Horoscopes For October 16th-22nd
This week, the stars and planets back off their bullshit a bit, so you're mostly in the clear from any major catastrophes. This week, the only New Moon in Libra for the year occurs. You're like, "sure, great but WTF does that mean for my life?" Well, it means you should make a short-term goal that you can easily achieve in the next four weeks. Do you, like, really need to lose three pounds? The next month is the best time for you to make a plan, put it in to action and execute. You know, so you can gain it all back right in time for Thanksgiving.
Aries
It might just be because it's cuffing season, but your desire to commit to something is flaring. Normally, cancelling plans is NBD, but in the next four weeks, people bailing on plans or flaking out on whatever will really grind your gears. Likewise, you should be committed to, well, keeping the commitments you make. Your ability to follow through will totally be noticed by someone with some authority over you, and they'll be super impressed.
Taurus
The New Moon affects your job and your health in the next four weeks. It's kind of shitty, but if your health suffers, so does your work, usually. Maybe keep an extra packet of Emergen-C in your desk and also keep that hand sanitizer nearby. Getting sick right now would be the worst, because fall weekends are some of the best all year. You don't want to sniffle through the tailgate next weekend, do you? Yeah, no. Eat a vegetable. Wash your hands. Stay away from anyone who sneezes.

Gemini
The New Moon takes place in a part of your chart that has a lot of control over your love life. In the next week, it's probs best that you take a good, hard look at where you stand in your romantic life, and if you like where you are or if you need to make a big fucking change to get you where you need to be. So take this week as one of reflection. Next week, you'll start manifesting your romantic destiny as you put your new plan into action. TBH, you probably already have a decent idea of what you need to do to achieve more happiness, so like, why aren't you doing that?
Cancer
Not to sound totally lame, but the Cancer betch is sort of the homebody of the zodiac. Like, there's nothing you love more than a night in sweatpants, cuddled up with Netflix. Sure, you get out a lot to be social, but all the memes about cancelled plans speak to your soul. This New Moon kinda fucks with your head when it comes to what makes you feel cozy, safe, and at home. Just because your opinions on that shit might be changing doesn't mean you need to fight it. If what you're comfortable doing isn't making you happy, you need to break out of your blanket burrito and make a big change.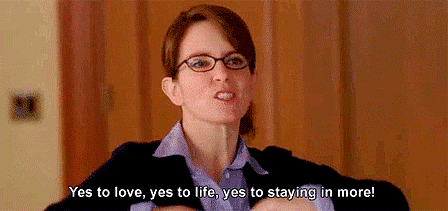 Leo
A Leo usually has high standards for herself and the people around her. When the people you trust disappoint you, though, you can take it pretty hard. This week, it's important you communicate your expectations with others. Do you need your boyfriend to go down on you more? Do you need you bestie to stop flaking out on brunch plans? Work on expressing your feelings to people since they're not fucking mind readers—even though they should be. It might save some of your relationships and keep you from just cutting people off cold turkey leaving them wondering wtf happened.
Virgo
The New Moon is in your money chart, betch. Is that good? Mmm, well, not really. You're feeling a lot of guilt around your finances—whether it be you think you're asking too much from mom and dad or you just figure you need to control your spending habits. Most people run from talking about or even looking over their finances. That should not be you this week. You need to figure out the root of the problem and address it in the next month. Otherwise, you'll be zeroed out by Christmas, and no one wants to be the shitty friend who can't afford nice presents for others.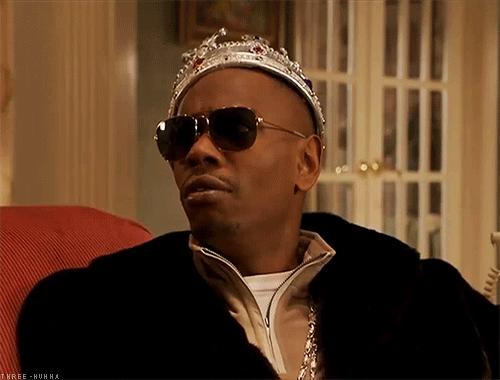 Libra
The only New Moon in your sign for the year happens this week! This is giving you a keen sense of clarity about your life. You'll see yourself more objectively. So whether you have a lot of false confidence or you're too self-deprecating, that will become increasingly clear over the next week. Once you figure out a way in which you can improve upon your already amazing personality, you should make a small but consistent effort to incorporate that change in your life. Even if it's something small, like not leaving your friends on read or showing up on time to plans, the benefits will be huge later on down the road.
Scorpio
The New Moon happens in a hidden part of your chart so you're not quite as outwardly contemplative as the rest of the signs over the next four weeks. In fact, deciding that you need to change something in your life might sneak up on your in some sort of Inception-type way. Like, someone will make a one-off comment about you this week and you'll really take it to heart. Instead of thinking that person was making a personal fucking attack on you, figure out why it bothered you so much and go from there.

Sagittarius
Something might feel a little off in your group chat this week, as the New Moon affects how you see your friend group dynamic. Are your friends the type of quality people you really want to be around? Or, if quality isn't necessarily what you want, are they the type of degenerates that are always fun to party with but also, like, hold your hair when you puke? It's important to figure out if you're just hanging with these bitches because you met them during orientation or if they're really ride or die.
Capricorn
The New Moon is at the top of your chart, so it's prime time for you to make some long and short-term goals about where you see yourself this time next year. Do you see yourself dating the person you're with now in a year's time? Do you see yourself sitting at the same shitty desk? Do you see yourself reading your horoscope on your same couch in your fugly apartment? If the answer is "No" to any or all of the above, it's best you figure it out now and start taking tiny but substantial steps to be in a new life location in 12 months.

Aquarius
The New Moon wants you to be less boring and start expanding your horizons. Sure, you're not the most exciting sign in the zodiac, but you could definitely work on spicing things up a bit in basically every aspect of your life. Start thinking about plans this week to try something new, even if it's just a different workout class. Or maybe start looking at flights and schedules for that dream trip. The change of pace and scenery is going to open you up to the opportunities you've been itching for.
Pisces
You're generally pretty contemplative, so the New Moon will kick that into overdrive starting this week. The New Moon happens in the area of your chart that focuses on sex and reproduction, ew. Do you really want kids and your bf says "hard pass"? Are you being totes satisfied in the bedroom? Should you freeze your eggs? These questions are usually the harder ones to come to grips with, but you might want to tackle them now while the stars have your back when making a decision.