8 Leopard Pieces For Fall That Aren't Over-The-Top
When it comes to wearing leopard print this fall, there's a very fine line between trendy and tacky. And when I say fine, I mean very fine like, Tyler Cameron-level fine. Which is exactly why one must tread lightly when attempting to wear this trend. All it takes is one slight misstep and the next thing you know, you've been cast as an extra on Jersey Shore, fist pumping with the best of them. And I mean, I personally don't want that for you, even though we love Jersey Shore.
We've all seen the leopard trend done correctly and incorrectly. When it comes to the leopard trend, it's all about how you style said piece more so than the actual piece itself. For example, take a leopard bodycon dress. I'm sure your minds all immediately went to the incorrect way to wear it, with sky-high heels and a Bump-it. Which like, fair—that is bad. However, if you instead paired that same leopard bodycon dress with chunky dad sneakers and an oversize denim jacket, it goes from tacky to stylish and cool. I've done you all the favor of selecting some effortlessly cool, easy-to-wear trendy leopard pieces for fall that you'd really have to go out of your way to make tacky. But like, don't test that please.

Well, first off, not to be a total narc or anything, but these mules are referred to as "cheetah" when, in actuality, they're a leopard print. Trust me, cheetahs have been my favorite animal since I was a 4-year-old and I have gotten into many fights in grade school over the difference between the two. ANYWAY, these mules are basically the cutest shoes I think I've ever seen. They're both classy and cool with their black and white twist on the trend, plus stylish point-toe and comfortable block heel. They'd look super chic with boyfriend jeans and a simple white tee. Honestly, these mules are the epitome of chic, so you really can't f*ck up how you style them as long as you keep the shoes as the statement piece of the outfit.

Cardigans themselves are effortlessly stylish, which leaves minimal room for them to be tacky. Especially when you have one as cute as this, with a stylish and well-done leopard print, you'll be golden. Another important note for when taking on the leopard print trend just in general, is to pay attention to the quality of the print. Some iterations of the leopard print just automatically look tacky, regardless of the piece or how you style it. So just make sure the print on your piece isn't too kitschy and is actually elevated, like in this cardigan.

A leopard print belt is a safe way to ease yourself into this popular fall trend.  The belt elevates the most basic outfit, making it instantly stylish and cool, with the perfect hint of trendy. So you really can't go wrong here. Well, unless you buy one of those sweater dresses from JC Penney with the cheesy leopard print belt pre-attached. That leopard print belt would be severely incorrect.

This leopard print jacket makes for an incredible fall staple. The leopard print is subtle and muted in a perfect fall brown shade, making it the ideal jacket to pair with everything in your closet. Personally, I already consider leopard print to be a neutral. But, for those of you less bold, this jacket can pretty much be universally considered relatively neutral. It's basically the perfect stepping stone for someone who wants to embrace the leopard print trend into their everyday fall wardrobe without looking over-the-top.

A leopard print headband is the perfect accessory to add just a touch of the trend to your fall outfits. It looks chic while also making for a trendy option to hide a bad hair day. This should go without saying, but if you wear a leopard print headband, then no other part of your outfit should be leopard. Any additional leopard will make this once chic headband instantly look cheap and tacky, so keep the rest of the outfit simple.

I love a slip dress, especially one in a polished leopard print like this one from French Connection. It will look super cute this fall worn over a black long sleeve turtleneck, or paired with an oversize duster cardigan. It's a comfy and easy way to wear the trend, and the looser silhouette keeps it from looking like a tacky club dress.

This updated corduroy version of Levi's beloved straight leg Ribcage jean in a leopard print is perfect for fall. The cool girl style and fit of the jeans is the perfect complement to the trendy leopard print. They're super high-waisted so they'll pair great with a cropped sweater or even a tight bodysuit, and will totally be your go-to pant for fall.

You really can't go wrong with a leopard print midi skirt. I mean, haven't you seen every girl in your office wearing some version of this skirt? Exactly, which means it's far from tacky and appropriate for work. Try pairing it with a chunky turtleneck and some shrugged knee-high boots for a casual-cute trendy fall ensemble.
Basically, the endless options of leopard pieces for fall make it relatively easy to find some items that aren't tacky. Of course, anything can instantly become tacky if you try hard enough. So do your part to avoid that at all costs by keeping the print to just one piece of your outfit. Anything more, and you're officially crossing into fist-pumping-at-Karma territory.
Images: Kristina Petrick /Unsplash; South Moon Under (2); Revolve; Free People; ASOS; Nordstrom (2); Princess Polly
Betches may receive a portion of revenue if you click a link and purchase a product or service. The links are independently placed and do not influence editorial content.
5 Ugly Fall Trends To Skip And What To Wear Instead
Fall is officially here and, even though it might not feel like it yet, according to all of the Instagram influencers clogging up my feed with their best unoriginal fall pics, last Monday was the first official day of fall. Which means that, if you still haven't switched over your wardrobe yet, it's officially time to get on that. It's also time to go shopping for updated fall pieces, because who doesn't want another excuse to shop? There are some amazing fall trends worth getting on board with right now like, '70s silhouettes, dad jeans, and animal print. But of course, in keeping the world balanced, for every fall trend that I'm loving, there's another that I cannot get behind. So here are the five fall trends you won't see me in, and that I hopefully won't see you in either, plus some alternative fall trends to try instead.
1. Capes

ModCloth Pardon My French Quarter Cape, $89
I feel like every couple of years this trend comes around and, in the least shocking thing ever, I hate it even more. It's not only impractical, it's also ridiculous looking. In my humble-yet-judgy opinion, fashion capes are on the same spectrum as fashion ponchos. And let me clarify something for you all: ponchos are for the rain, and capes are for superheroes. If you're gonna be a hero, be the kind that doesn't wear capes. Instead of the costume-y cape trend, opt for a more effortlessly cool and trendy extra-long duster.

Free People Inside Out Cardigan, $168
2. Shakespearian Ruffle Collars

Zara Ruffled Printed Blouse, $69.90
I'm sorry, but no one can pull of this trend. Even Shakespeare himself looked like a straight clown in his ruffled collar. Instead of the obnoxious ruffle collar, try a romantic-inspired balloon sleeve. It's a way more flattering look and also one that won't scare away small children. 

525 America Puff Sleeve Pullover, $88
3. Micro Purses

WANT Claim To Fame Mini Crossbody Bag, $24
Again, I can't get behind an impractical trend. The tiny bag trend was already throwing me off, so now that we've gone micro, I'm out. I pray that since we've now gone so micro, fashion will switch over to the other extreme, back to oversized Olsen-level hobo bags from here on out. But anyway, these micro bags are bullsh*t. I can't afford to lose any more credit cards, and this bag doesn't even look like it could fit my keys and one other thing. So instead of an impractical micro purse, try just a small '90s style shoulder bag. At the very minimum, you can at least fit your phone and like, a pack of gum.

ASOS DESIGN croc effect 90s shoulder bag, $29
4. Statement Hats

ASOS DESIGN Faux Fur Roll Back Bucket Hat, $23
The name of this trend alone gives me cringe sweats. Like, a statement hat… that doesn't even make sense. A hat, in itself, is a statement. So now you're trying to do a hat, that's also going out of its way to make a statement? I can't. The only people who can get away with wearing a fuzzy bucket hat are LL Cool J and Cam'ron. Get on their level and then we can talk. In the meantime, maybe try some cool hair accessories instead?

ASOS DESIGN hair clip with pearl glam slogan, $9.50
5. Colored Tights

ASOS DESIGN 50 Denier Tights, $9.50
Colored tights scare me. They are reserved for kindergarten teachers, and kindergarten teachers only. They feel very Ms. Frizzle and the Magic School Bus. Although, I just looked it up and she apparently didn't actually wear colored tights. But seems like she would have, right? I don't know, either way, they're gonna be a no, from me dawg. Instead, try a subtle animal print tight. 

Commando Leopard-Pattern Sheer Tights, $36
So that's my list of hard nos. Other than these, everything else I'm on board with or, at the very least, can tolerate. I'm sure you will all be commenting with misguided aggression to disagree with my selections as you like to do, so have at it.
Images: Ali Pazani / Unsplash; ModCloth; Free People; Zara; South Moon Under; Nasty Gal; ASOS (4); Neiman Marcus
Betches may receive a portion of revenue if you click a link and purchase a product or service. The links are independently placed and do not influence editorial content.
Tips For Pulling Off The Leopard Trend Without Looking Like A 'Jersey Shore' Reject
Leopard print gets a bad name. Sure, it's the unofficial uniform of drunk bitches at bachelorette parties in Myrtle Beach, but it's also an iconic print that can be pulled off by basically anyone. Whether you're preppy enough to have a boat named after you or some crazy punk chick with like, five nose piercings, there is truly a leopard print for everyone. Here are a few guidelines for pulling off leopard print without looking like a total Jersey Shore reject. Or you can just ignore these tips and hit up the clearance rack at your local Forever 21 to celebrate the return of America's favorite least favorite reality show. It's up to you.
1. Stick To Classic Silhouettes
Obviously, your leopard print dress is going to look like total trash if it's a stretchy bodycon with side cutouts. Opt for a more versatile design, like a classic shirt dress. Pieces like this are great for anyone who is adult enough to have a real job, but still hasn't mastered the art of having separate wardrobes for work and play. If you're totally in a bind and need to wear this to the office, nobody's ever going to know that you last wore it with ankle strap heels and an exposed leather bralette.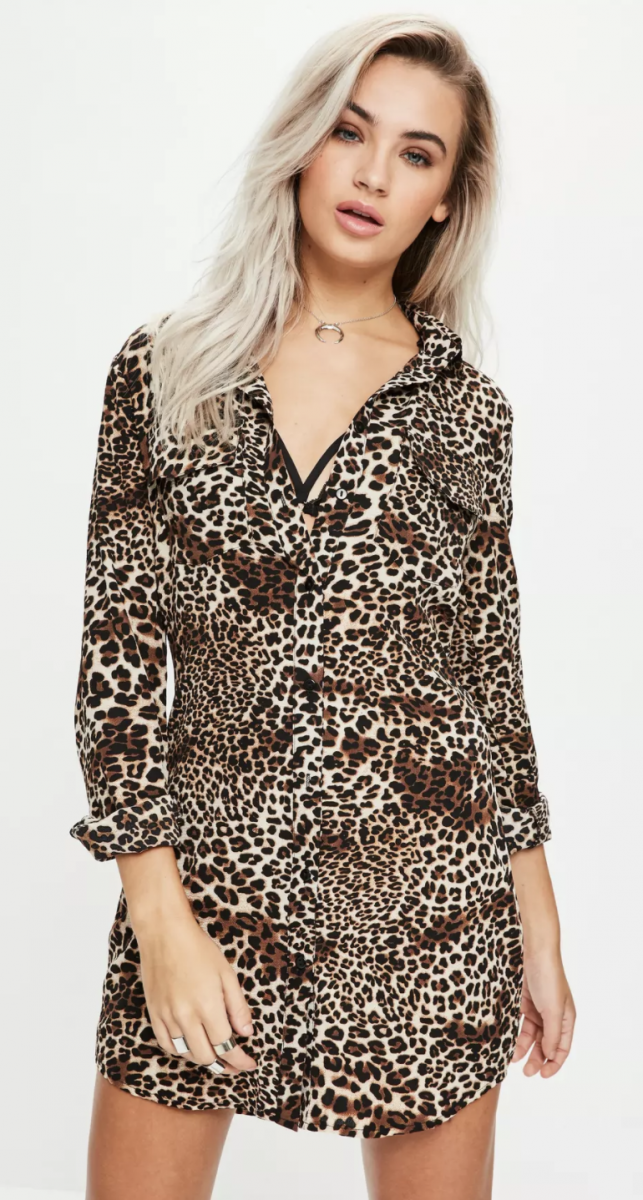 Missguided Brown Leopard Print Long Sleeve Shirt Dress
2. Keep It Casual
There's no safer bet than a comfy cotton T-shirt. So unless you're wearing a pink sequin Victoria's Secret Bombshell bra underneath and it's somehow showing through, you should be good with this one.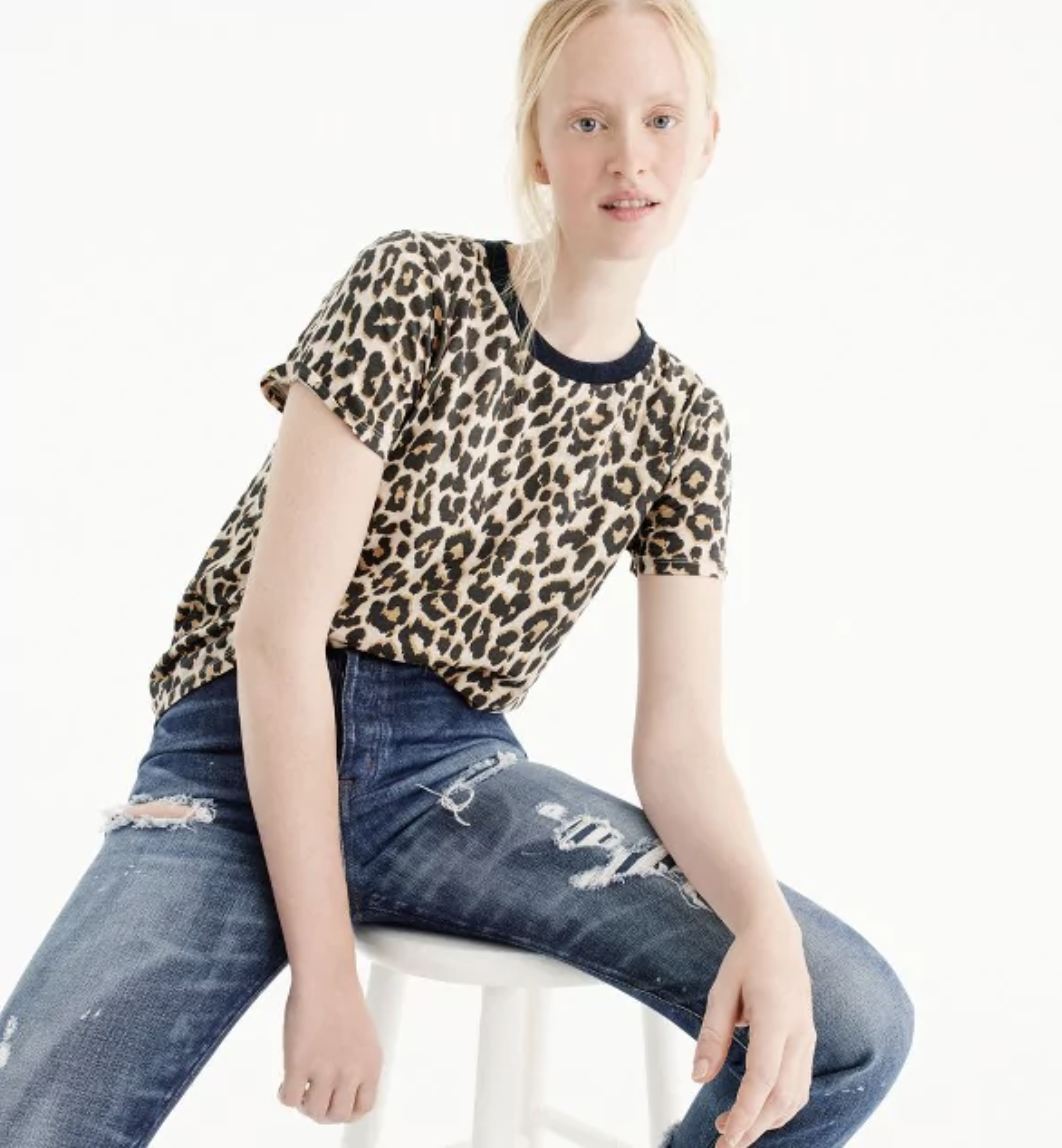 3. Choose Abstract Prints
Leopard print doesn't necessarily have to be straight out of the safari. Playing around with abstract prints and colors that don't actually appear in nature can be a great way to subtly incorporate leopard into your wardrobe. From a distance, you can barely tell these jeggings are even leopard print. (Just like, don't go all Lisa Frank on us.)

Gap Mid Rise Leopard Print Ankle Jeggings
4. Tread Carefully With Footwear
Leopard print shoes are either a perfect staple or something you should never, ever wear. There's pretty much no in-between. It's definitely in your best interest to stay away from anything that could be categorized as clubwear, like platform stilettos or thigh high boots. However, leopard print shoes are tricky, because sometimes just the material or color of the print can make them a total miss. When in doubt, just ask yourself if the shoes you're about to purchase feel like an homage to anything from the Snooki Shop. If not, you're golden.

Sam Edelman Taye Leopard-Print Calf Hair Ankle Booties
5. Try Not To Look Like A Stuffed Animal
Leopard print coats are probably always going to be a thing, so it's a good idea to invest in one. Just make sure it's not like, too fluffy, or else it's going to look you skinned the stuffed animals from your childhood.