The Best Exercises To Tone Every Part Of Your Body
Bikini szn is fast approaching, and you know what that means: Time to try on bathing suits, wonder what the hell happened to the ab crack you totally had last summer, remember that you spent the whole winter eating mozzarella sticks, and then look up where your gym is actually located so you can use that membership you forgot about once August hit. So I did some research and compiled a list of some of the best workouts to tone different parts of your body. Let this list guide you the next time you're too broke to pay for another SoulCycle class or you're feeling lost at the gym. Bonus, a lot of these exercises can be done from the comfort of your own home, and we all know not leaving your house always beats actually going outside.
Abs
For some people, having abs is way easier than others (thank you, genetics). I personally have abs, they just so happen to be hiding behind a layer of fat. But before you start doing a million crunches, there are a ton of ab exercises that are way better than traditional crunches. For instance, doing Pilates is a killer way to get abs. If you've never tried it, it's super hard but effective, since it incorporates a ton of ab-targeted exercises. The plank is another of the best workouts to tone your abs, but it can get boring. These exercises below are a little more complex than simple crunches or planks, yet still effective in toning your abs.
Double Dumbbell Drag: Start in a plank position with a dumbbell or kettlebell on the outside of your right arm. While engaging your core and ensuring you don't move your hips, take your left arm under your right and move the dumbbell/kettlebell to the outside of your left arm. Repeat with the right arm. Make sure to keep your wrist beneath your shoulders. Add a push-up if you're fancy.

Plank Hand Taps: If someone is hogging the dumbbells, this one is perfect for you. Start in a plank position and lift your left hand to tap your right shoulder. Repeat on the other side.

Alternating Toe Reach: Lie on your back with your legs straight on the ground and arms straight above your head. Raise your right hand to meet your left leg in the air above your body. Make sure to engage your abs with each move. Repeat with your left hand and right leg.

Arms
A fear of mine is to have the dreaded chicken wing arms, but toning your arms takes a lot of commitment. That means when I don't want to work out, I Google images of Michelle Obama's arms and that motivates me real quick. Here are some of the best arm toning exercises I found.
Upright Row: Stand straight with a dumbbell in each hand, in front of your legs. Raise your arms until they reach your chest, keeping the front of your hands straight in front of you. Lower your arms back down. Repeat.

Tricep Kickbacks: Stand with your legs hip-width apart and your upper body slightly leaning forward from your hips. With a dumbbell in each hand, bend your arm from your elbow towards your chest, then back behind you.

Dumbbell Punch: Standing hip-width apart and with a dumbbell in each hand, pretend you are punching your ex in the face, alternating between each hand.
Glutes
We all like nice butts, and we cannot lie, and sometimes traditional squats won't cut it. If you're tired of people telling you to do squats, here are some more interesting exercises.
Plie Squat: If you speak in ballet talk, start in second position with your feet turned out. If you don't, click here. Go into a plie (aka a squat). Keep your core engaged and each time you recover from the squat, squeeze your butt.

Split Squat Jump: Start with your feet together, and jump up, landing with your legs split in a plie squat until your thighs are parallel to the ground. Push up from the squat and jump your legs back together.

Fire Hydrant: Get on all fours, and lift your left leg up like you are a dog peeing on a fire hydrant. Keep your back flat by engaging your core. Do 15 reps and repeat on the right side.

Legs
If Beyoncé has taught me one thing, it's that toned legs make all the difference.
Reverse Lunge: Start with your legs together. Lift your right leg and bend into a lunge. Bring your feet back together. Repeat with your left leg.

Pistol Squat: Balance on your right leg with your left leg lifted just above the ground. With your arms straight in front of you, lower yourself to the ground and then back up. Repeat with your right leg extended in front of you.

Lateral (Band) Walk: Stand with your legs together. If you want extra resistance, place a resistance band around your knees. Open your right leg to be about hip-width apart and then bring your left leg to meet your right. Repeat starting with your left leg.

Back
Rocking a backless top and showcasing a toned af back would be amazing. Other than the fact that I always need to wear a bra (thanks DDD), my back isn't as toned, tanned, fit, and ready as I'd like it to be. Basically, I should take my own advice and do these workouts more often.
Reverse Fly: Leaning forward from your hips, place your arms straight below you with a dumbbell in each hand. Open your arms to each side, keeping them straight. Squeeze your shoulder blades and then release your arms back in front of you.

Forward Raise: Keeping your legs hip-width apart, back straight, and a dumbbell in each hand, extend your arms straight in front of you. Once they are in line with your shoulders, lower them back to your legs.

Lateral Raise: Repeat the above exercise, but instead of raising your arms in front of you, raise them to either side of you.

Chest
Some people believe working out your chest will give your boobs a perky boost. I've never stuck to an exercise long enough to see any results, but lmk in the comments if you have.
Medicine Ball Push-Up: Do a traditional push-up, but place a medicine ball under your right hand so your back is on a slant. Repeat with the medicine ball under your left hand.

Chest Fly: Lie on your back with your legs bent in an L shape. With a dumbbell in each hand, hold them straight above your chest toward the ceiling. Open your arms until your elbows hover over the ground, but keep your forearms towards the ceiling. Engage your abs to keep your legs supported.

Dumbbell Pullover: Lie on your back with your legs bent, like you are about to do a crunch. Hold a dumbbell in each hand. Raise your arms above your head towards the back of the room, then raise them towards the ceiling until they are directly over your shoulders. Repeat.

Images: Luis Quintero / Unsplash, Giphy (16), Tenor (1) Gfycat (1)
6 Moves To Tone Your Legs And Butt For Shorts Season
After a god-awful winter and no spring season whatsoever, summer has arrived, and it literally has no chill. We totally skipped over denim jacket weather and basically went straight to face-directly-in-the-AC-vent weather, so it's time to dress accordingly. If you're putting on your shorts for the first time in a year and notice your legs could use some much-needed toning and tightening, don't panic. Do these six leg exercises, and once you're done, repeat the whole circuit another three times to really tone and strengthen your legs. And also, like, try not to cry when you sit down tomorrow. Consider yourself warned.  
1. Curtsey Lunges
Regular squats and lunges can get boring and repetitive, so trying out different leg exercises and variations help target your muscles in a different way. Curtsey lunges are great because they hit various muscle groups in your quads and glutes, and they also challenge your body's overall balance and stability. They're v underrated. The idea here is to lunge backwards like you would regularly, but instead of bringing your knee directly behind you, bring it in a diagonal direction, crossing behind your other leg. Like a curtsey, get it?? Bend your knees and lower your hips until your thigh is parallel to the floor. Then, return to standing position and do the same on the other leg. Complete 10 reps per leg, and if you feel like it's too easy, hold a weight in each hand to add resistance.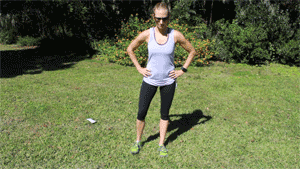 2. Swiss Ball Hamstring Curls
This exercise is based on using a swiss ball, but if your gym doesn't have one, this can also work using TRX bands or the rowing machine. Begin on the floor by lying on your back with your feet up on top of the ball. You want your ankles to be on top of the ball when your legs are fully extended. Raise your hips off the ground, keeping your weight in your shoulders and your feet. Then, flex your knees, pulling the ball inward toward your body while squeezing the backs of your legs. Once the ball is "curled" inward, straighten out your legs again, rolling it outwards. Aim for 15 reps.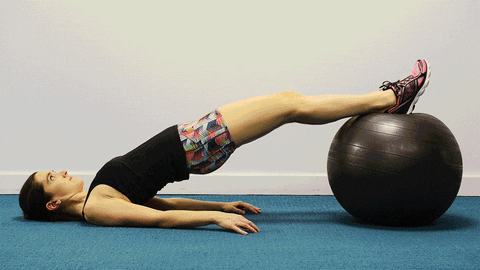 3. Single Leg Glute Bridges
Glute bridges are a classic butt exercise, but by focusing on one leg at a time, you also hit your hamstrings, which are the muscles that make up the backs of your legs. You're basically getting the best of both worlds because you're working your thighs and butt in one simple move. Lucky you. Lying on a mat, keep your hands at your sides and your knees bent out in front of you. Then, extend one leg as you lift your butt off the ground, squeezing your glutes and lifting your hips toward the ceiling. Think about pushing down with your left heel as you lift. Do 10 reps on one leg and then switch to the other.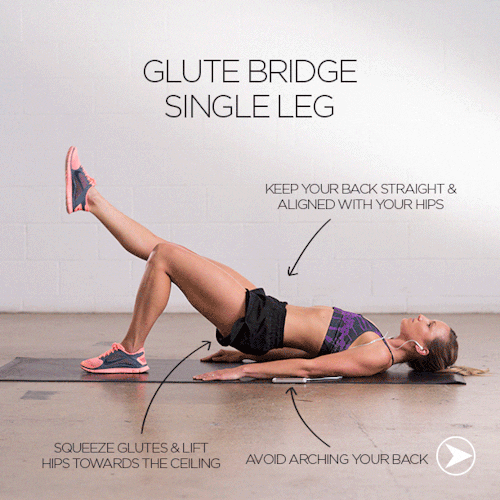 4. Jumping Sumo Squats
We tend to do a lot of squats and jump squats in our leg workouts, but the sumo squat is a different variation that a lot of people ignore. The idea here is to do a jump squat, but your stance is more like that of a ballerina, with your toes turned outward and your legs further apart than they'd usually be. This way, when you squat down, the resistance shifts from your quads to your glutes, and it becomes more of a butt-focused movement. You're also getting your heart rate up and burning calories because like, you're jumping. Duh. Try doing 15-20 jumps without stopping.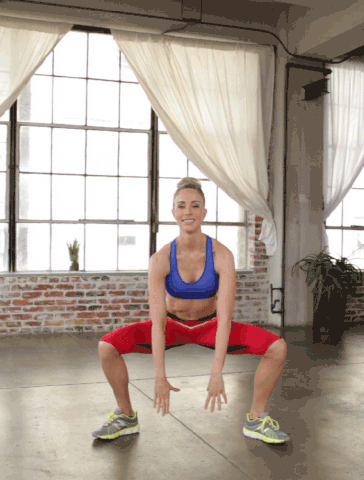 5. Elevated Reverse Lunges
Reverse lunges are a staple leg movement, and by elevating your front leg, you're adding pressure to that leg's quad muscle, and you REALLY feel the burn on these. The idea here is to find some sort of box or elevated step that you can put your front foot on, and then lunge backwards, bringing the back leg even further down than you would on a regular surface. This way, your quads get more resistance—kinda like when you turn up the torq on a spin bike. Remember to keep your chest up and head straight the whole time to avoid leaning forward. If these are too hard, lose the elevation and just do lunges on the ground. And if they're easy, hold a weight, like the badass chick in this gif.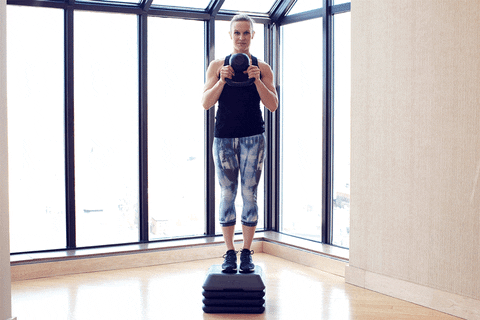 6. Wall Sit
Wall sits look relatively easy, but you might notice after a few seconds that your thighs are on fire and you want to die. This is normal. This move is also great because your body is basically in a squatting position, but your back is protected, so you can really engage all of the muscles in your legs to keep you stable. With your back flat against a wall, set your feet about shoulder-width apart, about two feet out from the wall. Slide your back down the wall, bending your knees as low as you can get. Hold the position for one minute, and remember to contract your abs while you're holding it. Your legs will probably start shaking, but that just means it's working. Just think about how good your legs will look in your new romper.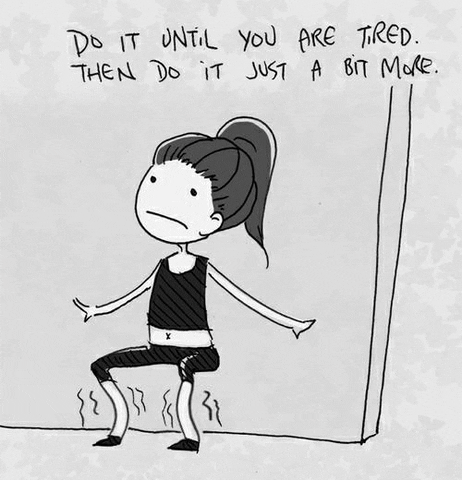 Images: Shutterstock; Giphy (6)
6 Pilates Exercises That Will Tone Your Butt And Abs
I love spending $34 on a workout class as much as the next financially careless millennial, but honestly, you can get just as good of a workout by yourself in the gym or at home if you want to. Pilates classes are amazing because you have the help of a certified instructor, but if you know some of the basic moves, you can do them on your own without a room full of toned women in matching Outdoor Voices leggings. These six Pilates exercises are simple enough to do on your own, and you don't need any fancy equipment to get a good workout. Add these moves into your regular workout routine to switch it up, or do all six together as a total Pilates circuit. Here are the moves for the Pilates bod you've always wanted.
1. Plank Rocks
Plank rocks are exactly what they sound like, but for some reason, they're so much harder than holding a regular plank. The idea here is to start in a high plank position with your shoulders stacked over your wrists and your core engaged. Then, using the tiniest motion from your toes to your shoulders, rock your body back and forth, feeling the burn in your abs the whole time. This is a small, controlled movement, so your body should only be moving a couple inches toward your hands, and then a couple inches back toward your heels. Think about drawing your belly button in toward your spine and keeping your butt low the whole time. Don't cheat yourself.

2. Glute Bridges
This is one of those Pilates exercises that you probably didn't even know was from Pilates. The glute bride is a simple move, but if you're doing it right, you'll feel the burn in your butt and hamstrings pretty quickly. Start lying on your back with your legs hip-width apart, your knees bent, and your feet flat on the floor. You can keep your hands on the floor next to you, or raise them toward the sky to make it harder. Then, keeping your feet on the ground, lift your pelvis off the floor and squeeze your butt at the top, holding for a second before lowering down to the ground. If you're advanced, you can also do this with one leg off the floor to really target each part of your butt separately.

3. The Hundred
This looks like a standard boat pose, but it's actually so much harder because the idea is to pulse your hands, literally, a hundred times. Hence the name. This move is a Pilates staple because it works your abs and tests your stability and endurance at the same time. The Hundred refers to the 100 beats you hold the pose for, but if you're a beginner, start with 50 and we won't tell on you. Start in a boat pose with your tail bone and lower back on the floor and your legs and upper body elevated. Then, keep your arms out toward your sides and pulse up and down, feeling it in your core. FYI: be careful with your head placement on this one. You want to keep your chin slightly tucked, as if you're holding a tennis ball on your chest. Don't start looking up and taking the pressure off of your core.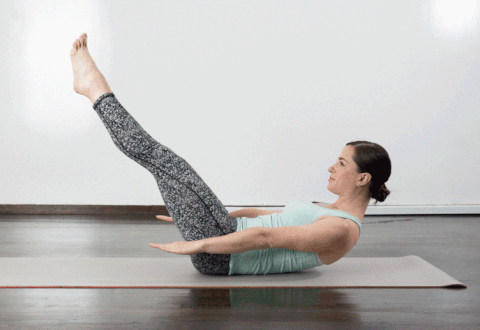 4. Kneeling Leg Lifts
This exercise is literally the reason Pilates instructors have the perkiest butts ever. Well, maybe also genetics and years of experience, but you get the point. It works. Kneeling leg lifts are one of the only lower body moves that are just as effective without any weights, so the key is to think about activating your glutes and squeezing on each rep instead of just kicking around by using momentum. Keeping your weight on your forearms and knees, lift one leg straight up behind you in a 90-degree angle so your heel is facing towards the ceiling. Squeeze your butt cheek at the top each time, and then switch to the other leg after 10 reps. You can also hold for a few seconds at the end or add a pulse.

5. Kneeling Side Leg Twists
The kneeling side leg twist sounds complicated, but you're basically working three muscle groups in one movement: abs, arms, and legs. AKA, it's a winner. Kneel on the right leg with your left leg extended out to the side, and keep your right arm supporting you with your palm on the floor under your right shoulder. Lift your leg and your left arm up to the sky, and then, as you lower your leg back to the mat, thread your left arm under your waist to twist toward the floor. You want to make sure that when you twist your torso, you're essentially crunching your oblique with the help of your arm. After 30 seconds to a minute, switch to the other side.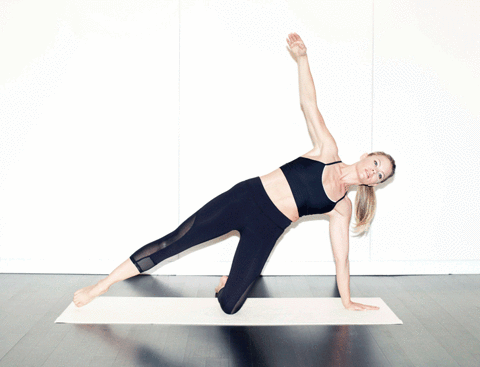 6. The Teaser
IDK why this is called the teaser, but Pilates teachers love it, and it's because it literally annihilates your core. Doesn't sound like a tease to me. Start by lying on the ground with your knees bent and your feet on the floor. Then, reach out your arms and lift your legs off the floor in a 90-degree angle. Lift your upper body off of the floor using your abs, and then straighten out your legs at the top. Think about lifting your head and shoulders up in one movement, trying to create a V-shape with your torso and legs. Then, roll back onto your back and bend your knees again. Aim for 15 reps.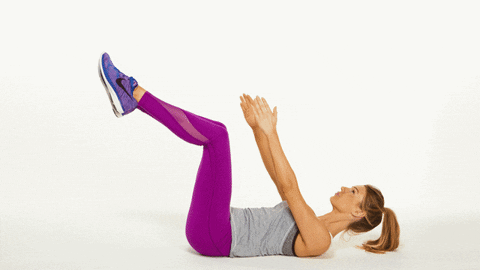 Images: Form, Unsplash (1), Giphy (5), Pinterest (1)
The Ultimate Butt Lift Workout For People Who Can't Afford Injections
We're living in a society that convinces us to drink apple cider vinegar to get skinny and delete Snapchat because Kylie Jenner isn't feeling the new update. It's a weird time to be alive, so let's just pretend this whole perky butt fitness trend is normal. Everybody's trying to get that butt lift look, whether it's because your boyfriend stalks Kim Kardashian or you're deep down a #bootygainz Instagram rabbit hole. If you can't spend a million dollars on plastic surgery and you're looking to do something about your tragically flat butt, stop Googling weird hacks and just do this workout. Do each move in the circuit and try to aim for 3-4 rounds total. And like, you're welcome in advance if you can't sit down tomorrow.
1. Goblet Squats
Goblet squats sound scary, but they're just regular squats that you do while holding a kettlebell for added weight. You can also hold a dumbbell if you prefer. Stand holding a kettlebell at your chest (15-40 pounds) with the handle facing downward. Spread your legs to at least shoulder width, because the idea of this move is that it provides additional butt lift by shifting some of the work from your quads to your glutes. With your weight in your heels, squat down until your hips are at (or below) your knees, and remember to keep your chest and head up to avoid hurting your back. Pause for a second at the bottom, then come back up while squeezing your butt to activate your muscles. 10-12 reps should do it here, depending on the weight.

2. Cable Kickbacks
The cable machines might look intimidating if you usually stick to body weight or free weight movements, but I swear that it's so easy to use and you'll get the hang of it really fast. For cable kickbacks, you'll need to make sure the head of the cable is a foot or two above the ground. Once you have it at the right height, put your right leg into the hook and adjust your weight (anywhere from 10-20 pounds should work). Holding onto the cable pole or anything stable in front of you, kick your leg leg backwards, squeezing your butt at the top. Then, slowly bring the leg back to the ground and repeat, switching legs once you've completed 10-12 reps. Also, if you feel these in your lower back, try doing them on your hands and knees instead. You can still get similar butt lift benefits.

3. TRX Lunge To Knee Raise
These can be done without a TRX as well, but holding onto the straps gives you additional support and ensures you're isolating the glutes of the working leg. Holding onto the TRX strap, lunge backwards with one leg, bringing it to a 90 degree angle behind you. Then, bring the leg back up, raising your knee up until your waist, or higher if you're super flexible. The brilliant idea is that you're actually hitting two muscles at once by lunging back and then bringing the knee up. You'll get more out of these if you go a little slower, so reduce your reps to 6-8 if you find them especially challenging. And, of course, don't forget to do both legs.

4. Single Leg Bridges
Glute bridges are a classic butt lift exercise, and by raising one leg at a time, you can target your glute muscles even more by really focusing on each side. This also means that if both your butt cheeks aren't sore AF tomorrow, you were totally working harder on one side. Lying on a mat, keep your hands at your sides and your knees bent out in front of you. Then, extend one leg as you lift your butt off the ground, squeezing your glutes and lifting your hips toward the ceiling. Think about pushing down with your left heel as you lift. Do 10 reps on one leg and then switch to the other.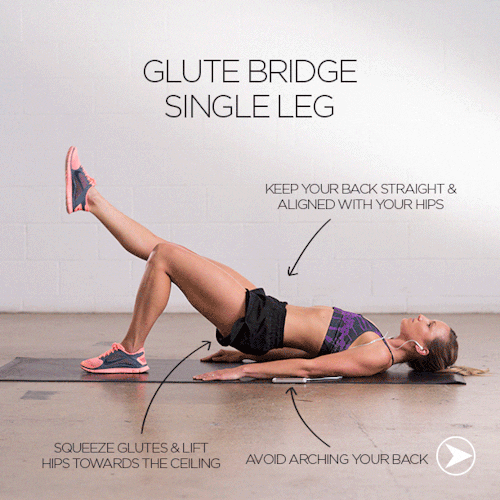 5. Jump Squats
Jump squats are a plyometric movement, so they're different than the slower reps you've been doing so far, but it's been scientifically proven that you'll get a better butt lift by combining high rep and low rep movements together in one workout. AKA, we're obviously doing these even though they suck. Jump squats are exactly what they sound like, and you won't need any weight for this move. Start in a bodyweight squat, keeping your chest high and your knees behind your ankles. Then, jump up explosively, straightening out your legs at the top, and landing back in your squat position. Your rep count doesn't matter as much here, so try to just keep jumping for 30 seconds without rest.

6. Wall Sit
This last move will cause you to feel a slow, painful burn in your thighs and butt, so this is your chance to blast that aggressive Kanye song you save for the final sprint. It's also the last exercise of the circuit, so don't give up until it's confirmed that you won't be able to walk tomorrow. The idea here is simple. You have to find a wall and sit in a squat with your back against the wall and your hands out in front of you. Make sure you're sitting low and don't cheat yourself here. Try to hold for 45 seconds, or go for the full minute if you're psychotic ambitious. For an extra super awesome fun bonus challenge, try extending one leg for 10 seconds before switching to the other one.

Images: Charlotte Winslow / Tumblr, Giphy (5), 
5 Exercises To Tone Your Legs So They Look Amazing In Heels
Not only is it Chrismahanakwanza season and gain 15 pounds season, it's also holiday party season. That means that more than likely, at some point in the next month, you will have to dress up in some sort of cocktail attire and squeeze your blistered, frozen, malformed toes into heels. But all those cookies likely didn't do much good for your calves. You may be waltzing around sporting some cankles for all I know (gross).
Because this is the time of giving or something, here are five ways to get your legs heel-ready without having to go to the gym with the other losers promising themselves that this is like, REALLY the year they're going to lose 10 pounds. Stop lying to yourself—I'll see you at Taco Bell in February.
1. Planks With Leg Raises
Ugh, planks. Get into plank position, but lift your right leg up so it's at least parallel to the floor, higher if you can. Put it back down and do the same with your left leg. Keep doing this till you die (or for 10-15 reps per side, whichever comes first).

2. High Knee Toe Taps
Grab a chair and put your hands on your hips like you mean it or something. Tap your left food on the bench, then swap and tap your right foot. Do this until you're so tired you can't breathe. This is more of a cardio exercise than a leg move, so go fast, like you're running away from a guy who puts "good vibes only" in his Hinge profile. Anyway, with this exercise, go for bursts of 30 seconds and work up to longer intervals.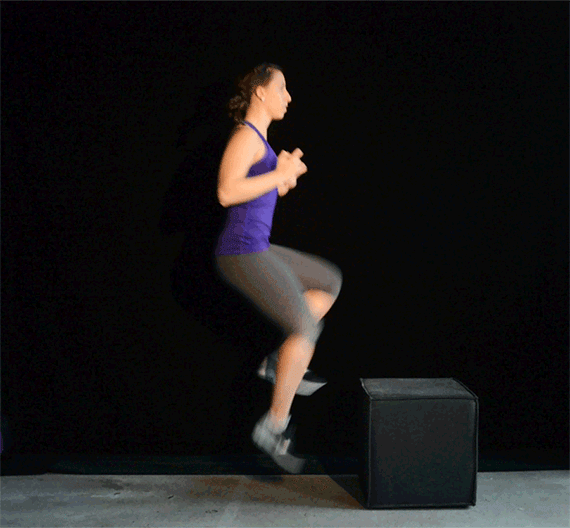 3. Side Lunges
You should know how to do a lunge, and if you don't? Shame. Stand with your feet together, then take a big step to your left—bending your left knee and pushing your butt back—while keeping your right leg straight. Repeat on the other side, and alternate until the lure of cookies outweighs your desire to look nice. 10-20 reps per leg should be enough.

4. Inverted Inner Thigh Openers
These are my fav cause I can lie down and pretend I'm not actually working out. Lie on your back with your knees bent and feet flat on the floor, then lift your right leg up, keeping your thighs touching, and extend your leg up to the ceiling. Lower your right leg—still straight—out to the right side as far as you can without moving your hips off the floor. Repeat with your other leg until your boyfriend/husband/roommate comes in and laughs at you, or 10-20 reps depending on your fitness level.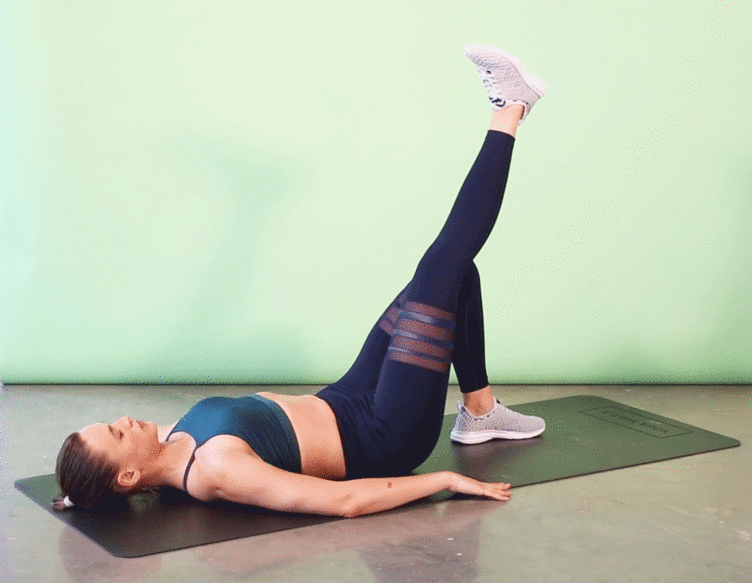 5. Lying Side Leg Raises
Like planks, but easier! Lie on your side with one arm flat on the floor in front of you, or propping up into a side plank for some additional ab work. Leave the other arm at your side, behind your head, whatever is easiest. Place one foot on top of the other with your legs out completely straight. Keeping them straight, raise your top leg until you like, can't bring it up anymore, then bring it down. Do this 10-20 times on one leg, then switch to the other side until you feel like you've reached a new plane of consciousness via exhaustion.

The Ultimate Butt & Legs Toning Workout For Summer—No Equipment Needed
Everyone's been obsessing over abs and arms recently, but why would you start neglecting your lower body right as bikini season starts? I mean, if you thought leggings showed the world everything you've got, imagine what your booty shorts and swimsuit bottom will show if you don't work on toning your butt and legs. This workout can be done anywhere and you don't need any equipment whatsoever, so like, you have no excuse not to start right now. You can add weights if you want the extra credit or extra butt lift, but let's start with the basics. Here's how to sculpt your butt and legs for summer:
Air Squats
The bodyweight air squat is like the tall cold brew of butt exercises. It's not anything fancy and there's nothing complicated added to it, but it does the damn trick and that's what matters. Start by standing your feet a bit wider than shoulder-width apart. Sit your butt back into a squat, as if you're sitting on a chair or using a Bonnaroo Port-A-Potty. Try to get to knee-level or below, and don't let your knees go in front of your toes. Keep your weight in your heels and keep your chest up. Think public bathroom stance. You get the point.

Curtsy Lunges
Regular lunges are amazing for your legs, but we love curtsy lunges because they hit your outer thighs and butt in a way that forward lunges just don't. Just like a regular lunge, you start standing up with your feet hip-width apart, but instead of stepping forwards, step your left left behind you, diagonally behind your right leg while bending your knees into a lunge. Push through the right heel to stand, and sweep your left leg out to the side. Then do the same thing on the other side. If you're not feeling the burn after a few reps, go lower.

Jump Squats
Jump squats are exactly what they sound like, and they're super effective in getting your heart rate up while activating the muscles in your butt and legs. Do the same air squat that we talked about before, but this time, when you get low in your squat, jump up into the air as high as you can while straightening out your legs. Land back on the floor in a squat position and keep going. Try to get 20 reps, or put yourself on a 20-30 second timer. You should feel these pretty quickly.

Hip Bridges
Hip bridges are one of those moves you def don't wanna do when some 80-year-old in a Hooters tee is hovering over your yoga mat, but if you're relatively alone in the gym or just at home, this is a great toning exercise for your butt. Start by lying flat on your back with your knees bent and your heels a few inches away from your butt. Slowly lift your hips up and then lower them back down to the ground. Repeat for 20 reps, then pulse at the top for 10 seconds. You're essentially thrusting your pelvis into the air, but this move will literally give your butt a lift, so we're not sorry.

Lateral Skater Hops
Usually, betches would only entertain the idea of skating if it involves a date with a hot guy or like, a sick Instagram opp in Bryant Park. We're making an exception for this exercise because it's easy to learn, burns calories, and tones your legs. Start in a slightly squatting position, then jump your whole body to your right foot as far as you can, landing on your foot. Try not to touch the left foot down as you bend your knee, then jump back across to the left to land on your left foot. Go side to side for 45 seconds with a little hop in the middle, and remember to stay low to keep your legs activated.

Donkey Kicks
Donkey Kicks don't look cool or classy in any sense, but they're actually so much harder than they look—so if anyone's judging, I'd like them to try a few. This move is pretty tough on the ankles, so if you have an injury, you can do this without a jump. The idea is to start in a downward dog position with your hands on the floor in front of you. Then, jump your legs upwards toward the sky, using the muscles in your butt and legs to lift you off the ground. Land back with your feet on the ground as lightly as you can, then do at least 10 more reps without breaks in between.

7 Moves That Will Give You Kylie Jenner's Butt, No Surgery Needed
There are a lot of random workout trends and weird body goals that go in and out of style, but in 2017 everyone wants a good butt, no questions asked. I mean, ever since it became acceptable to go out in leggings and to wear bikinis that are made with less material than your red string bracelet from Birthright, the butt has really taken its place as one of the most important body parts. With summer coming up, the clock is fucking ticking, so get off your ass and get it toned and perky in time. Do each of these seven moves for 45 seconds each, then repeat the circuit another 2-3 times total for a kickass workout, pun intended (and the only acceptable occasion to use the word "kickass").
1. Goblet Squats
Goblet squats sound scary, but they're just regular squats that you'll do while holding a kettlebell for added weight. We're not hating on bodyweight squats, but you'll see results so much faster while holding a heavy weight, so why do 500 normal squats when you can get a perkier butt by doing like 20 weighted ones? Exactly. Stand holding a kettlebell at your chest (15-40 pounds) with the horns facing downward. With your weight in your heels, squat down until your hamstrings are on your calves and remember to keep your chest and head up to avoid hurting your back. Pause for a second at the bottom, then come back up while squeezing your butt to activate your thot powers muscles.
2. Split Squats
Split squats are different than conventional squats because they focus on your right and left sides individually, so you can hit every part of the muscle. This move actually looks more like a lunge, but they really target the bottom of your glutes, so you'll feel them tomorrow morning. Stand with your right foot forward and your left foot behind you, with both knees bent. Dip downward, bending your legs into a 90-degree angle, trying to get your back knee to touch the ground. Then, come back up by driving through your heel. Alternate reps on each side, and remember to keep the front knee in line with your front foot. Add a weight in your hands if you've got it down.
3. Kettlebell Swings
Kettlebell swings are one of those exercises that can be done SO wrong if no one explains what the fuck you're supposed to be doing. First of all, this is a LOWER BODY movement, so if you feel yourself using your arms too much, you're doing it wrong. You're supposed to feel it in your butt. The idea is to grab a heavy kettlebell (25-50 pounds), and place it on the ground in front of you. Hinge your hips and lift the bell up, hiking it in between your legs so that it's basically touching your butt. Then, swing the bell forward with your hips, making sure it stays above your knees on the way up and swings to chest-height. Then keep swinging in that same motion from between your thighs to your chest. If you find it easy to swing it that high up, get a heavier kettlebell. Your ponytail should be a hot mess by the end of the 45 seconds.

4. Single Leg Raises
Single leg raises might actually be the single best exercise to make your butt perk up like, three inches. Make sure you take your time on these, because it's not a fucking race. Start by laying on your back with both feet on the ground and your legs bent. Raise your hips up to the sky, like you're in a bridge position in fourth grade gymnastics, and then point one leg up while keeping the other bent. Dip your butt up and down for 10 reps, then hold at the top for 10 seconds before you switch sides. Remember to squeeze your butt to really use your muscle. If you're not feeling the burn and you feel like you're just humping the sky, you're not doing it right, and it's pretty embarrassing and everyone is judging you.
5. Sumo Jump Squats
Tired of the word squat yet? Spoiler alert: too fucking bad. They work. These squats are amazing because they target your inner thigh area while getting your heart rate up, so you're toning your butt and burning calories at the same time. Start in a regular squat position, but with your feet turned outwards, like an awkward ballerina. Then, squat down, and when you come up, add in a hop, keeping your feet turned outwards. Keep jumping as much as you can without stopping. You should feel the burn on your inner thighs pretty fast. 
6. Donkey Kicks
These might sound like a weird sex move, but they're actually an amazing toning move that targets the muscles in your thighs and butt, so stop being so skeptical and start kicking. Start on your hands and knees with one leg straight out behind you with your knee at a ninety-degree angle. Press your leg straight up, and alternate sides. Once you do regular reps on each side a few times, pulse the leg upwards for 10-20 seconds. If your shoulders get tired from being on your hands, switch to your forearms and/or do some fucking arm workouts and stop being such a weakling.

7. Star Jumps
The star jump is a cardio move, which means you'll be ending this workout by jumping and sweating. Don't cry yet. The idea is to get your heart rate up while working your butt and your inner thighs at the same time. Start in a narrow squat with your feet together and hands in front of you. Then, explode up into a high star-shaped jump, separating your legs and arms in the air and then bringing them back together as you land in that same narrow squat. Make sure to actually separate your legs while your jumping, or else you're defeating the purpose of the move. Good luck walking up the stairs tomorrow.