The Best Movies And TV Shows Coming To Netflix March 2020
The only exciting part of March is the hope for a warm day and your potential drinking plans for St. Patrick's Day (even though you aren't even Irish). It's kinda easy to hate March—it's really just a filler month. Like, it's not exactly spring yet, but everyone is so over winter (as if we were we ever into it). Sure, there's March Madness, but that doesn't even start until mid-March, and anyway, we know you'll forget to check your bracket like, the day after you fill it out, and you only chose UCLA to win because you hooked up with a guy who went there one time. 
But here's something we can truly celebrate this March: binging all the new shows and movies on Netflix. From classic rom-coms to new seasons of our faves, there's a lot in store for us this month on Netflix. Grab your weighted blanket, a bottle of wine, and your bag of SkinnyPop, and get ready to spend countless hours on your living room couch.
'He's Just Not That Into You'

Every woman is aware of the basic concept that if a man is not showing interest in you, he really, genuinely, does not have any interest in you. Seems easy in theory, but in practice, we've all been through the mental gymnastics that is trying to convince ourselves otherwise. I blame this disconnect on society and movies like this one, that claim to present a realistic take on how relationships actually work, when in reality, they just feed us more of the same bullsh*t like "you're the exception, not the rule". But whatever, still a good movie to watch on your couch with a bottle of red.
'Life As We Know It'

This romantic comedy is the perfect lighthearted movie to watch while texting, even though the premise is slightly grim. Basically, rom-com royalty Katherine Heigl (Holly) and Josh Dumahel (Messer) are set up on a blind date by their married friends (which goes horribly). However, when their friends die in a car accident, Messer and Holly are named the guardians of their toddler and have to co-parent. Even though Messer is the stereotypical frat boy you hooked up with once in the Sig Chi basement and you wonder why he never calls, he ends up being Prince Charming, and we forget the douchey side of him even existed. Spoiler Alert: This doesn't happen in real life. 
'Sleepover'

No slumber party of any kind can ever live up to this. Four best friends on a scavenger hunt, which involves stealing a guy's underwear, breaking into nightclubs, and—perhaps the most radical one of all, considering the girls in this movie are supposed to be in EIGHTH GRADE—hijacking one of their dads' cars to finish all their tasks. All to secure the ever-coveted lunchroom spot next to the water fountain once they reach high school. Anyone who's seen this movie can try and try, but your slumber "party" will always end up being you and a friend eating way too many chocolate chip cookies, crying to a rom-com, and passing out by 11pm. If you manage to replicate this movie in real life, please give me a call.
'The Shawshank Redemption'

Without giving away too much, The Shawshank Redemption is about banker Andy Dufresne (Tim Robbins), who was sentenced to life in prison after being wrongfully convicted for the murder of his wife and her lover. While in prison, he befriends Red (Morgan Freeman), who teaches him about life and prison. Morgan Freeman and Tim Robbins? Like are you kidding me? It cannot get better. If you haven't seen it, make sure you have nothing planned besides the movie for the day. You will need 24 hours to absorb it all. 
'Valentine's Day'

This is one of those movies that follows like a million different storylines, and they're all sort of connected at the end and your mind is blown. Valentine's Day compiles the stories of a bunch of different couples and how they celebrate the day, from planning a proposal to planning to lose their virginity to planning an "I Hate Valentine's Day" party. Mark me as attending for that one. Okay, so I love this movie, mostly because every beautiful person at the end of the 2000s is in it, and also Taylor Swift for some reason.
'The Interview'

Anything directed by Seth Rogen is bound to be hysterical, so you def won't be disappointed watching this. The Interview is about two guys who run a celebrity tabloid show—and the show's biggest fan is North Korean dictator Kim Jong-Un. The CIA hears of their plans to travel to North Korea to interview him, and recruits the two to assassinate him instead. Remember when real-life Kim Jong-Un was pissed about this movie? Lol, good times.
'Ghosts of Girlfriends Past'

Serial womanizer Connor Mead (Matthew McConaughey) attends his brother's wedding and basically convinces his brother not to get married.  But after he is visited by his dead uncle, who tells him that he is wrong about women and relationships, Connor has a transformation and has to save the wedding. Not before he is haunted by all his ex-girlfriends, who come to teach him a lesson, of course. Wow, that's literally like my dream. *Presses play*
'Ugly Delicious': Season 2

Chef David Chang (who runs the Momofuku restaurants) travels around the world tasting the best, but maybe not best-looking, food from different cultures and explores how it evolves. Think cooking show-meets-history-meets-mouthwatering meals. Chang usually brings some celebrities along with him, and season 2 features some of my faves, Nick Kroll and Padma Lakshmi. Make sure you have your delivery ready before diving in. 
'On My Block': Season 3

It might be just another show navigating the horrors of high school, but On My Block is one of our faves for its diverse cast and its ability to make us laugh and cry in the same episode. And it's back for season 3. If you're into teen drama and danger, get started catching up before starting season 3. If you've already binged, then I know you're just as excited as I am to find out who kidnapped Jamal, Ruby, Cesar, and Monse in the literal last second of season 2. I have been on the edge of my seat for an entire year.
'Elite': Season 3

Guess what? Another teen drama series. Elite is like the Gossip Girl of Madrid, Spain, and it is just as scandalous and unbelievable. High schoolers wear cute uniforms and designer dresses to parties and clubs, which they attend on weekdays like it's NBD. There's a murder. A pregnancy scandal. Drug dealers. Steamy hookups. Elite has it all. If you want to brush up on your high school Spanish, this is the one for you (and you will learn all the slang, too). Even if you don't know Spanish, there are subtitles, and I promise you will be obsessed.
'Greenhouse Academy': Season 4

After their mother dies in an astronaut accident (as one does), siblings Alex and Hayley Woods enroll at a private boarding school for gifted future leaders. The siblings become rivals when they join two competing houses at the school, which gives me major Harry Potter vibes. However, when they discover a plot to destroy the world, the two houses have to work together. Let's not forget that these heroes still have to deal with the trials and tribulations of high school. What could go wrong?
'Ozark': Season 3

Jason Bateman (Martin "Marty" Byrde) stars in this crime series, which begins when Marty has to move his family from the suburbs in Chicago to the Ozarks in Missouri in order to grow his money-laundering scheme, but soon gets involved with local crime groups there. Ok, yes please. This is everything you're looking for in a suspenseful show. The show is fiction, but I know all you true crime fans will be all for this. I'm sure the third season will include just as many deaths and shady characters as the first two, and I'm already binging.
'Self-Made: Inspired by the Life of Madam C.J. Walker' 
This new series is about to be epic. Self-Made is based on the novel On Her Own Ground, by A'Lelia Bundles, and tells the story of Madam C. J. Walker. She rose from poverty to become the first American woman to be a self-made millionaire by creating specialized hair products for African American hair care. This is the perfect watch during Women's History Month, and I can't wait to watch Octavia Spencer kill this role. 
Now, here comes the sad part. Here are the movies and shows leaving Netflix this month: The Lord of the Rings: Return of the King, The Lord of the Rings: The Two Towers , P.S. I Love You ,The Dark Knight, New York Minute, Hairspray, Charlie's Angels: Full Throttle, Charlie's Angels, A Wrinkle in Time, Eat Pray Love, Men in Black, Men in Black 2, and Black Panther (which is now on Disney+). Sad!
Images: GIPHY (12); Tumblr (1)
The Best TV Shows & Movies Coming To Netflix In January
Hellooooo 2020. Not only are we celebrating this new decade, but Netflix is too. This decade flew by. I mean, don't you remember good old 2010? I was wearing braces and watching Hannah Montana every night and worrying about what I would be wearing for #BatMitzvahSzn, what were you doing? Though I still watch Hannah Montana on Disney+ today, Netflix has brought in the new decade with some new (and old) amazing shows and movies. Since we're all going to be deathly hungover and not moving from our beds on New Year's Day, I thought I'd round up what's going to be new on Netflix in January. Forget about those resolutions, grab some SkinnyPop and let's get started.
'Ferris Bueller's Day Off'

Bueller?… Bueller?… Bueller? You've probably seen this movie a million times at sleepaway camp and can quote every line, making it great background noise while you scroll through Instagram.
'A Cinderella Story'

Can we just talk about how Hilary Duff (Sam Montgomery) wore a wedding dress to her High School Halloween party? Like um, what? And also how her entire identity is obscured just by covering the skin around her eyes? Plot holes aside, this movie is a classic and Hilary Duff deserves the world.
'Monster-in-Law'

J.Lo stars in this feel-good funny movie to watch on a boring day. If you have ever met, dated, or even married a "Mama's Boy," you can totally relate to their horrible challenging mothers.
'New York Minute'

2004 Mary-Kate and Ashley star as two teenage girls who find themselves dealing with many problems while adventuring through Manhattan on a school day. Which sounds like every other Mary-Kate and Ashley movie, just with the city switched out, and that's because it is. My favorite part is Eugene Levy (Max Lomax), the school's obsessive truant officer, following their every footstep to try and catch them.
'Willy Wonka & The Chocolate Factory' and 'Charlie And The Chocolate Factory'

The classic Gene Wilder and new(ish) Johnny Depp films will both be available for you to watch in January while you binge eat chocolate. Not gonna lie, swimming in a pool of chocolate like Augustus Gloop did is still a dream of mine… if I drown, so be it.
'Big Fat Liar'

Throwback to when Amanda Bynes was doing well and Frankie Muniz was relevant. Ah, the good old days. Big Fat Liar is such a classic. When Jason Shepherd's (Frankie Muniz) class paper gets stolen by Hollywood producer Marty Wolf (Paul Giamatti) to turn into a movie, he travels to LA with his best friend Kaylee (Amanda Bynes), and tries to break into show business—literally.
'Mamma Mia'

Need I say more? Well, I will. Meryl Streep and Amanda Seyfried are on Netflix in one of our favorite movies to sing along with. Enjoy these songs being stuck in your head for days…
'The Post'

Netflix can't get enough of Meryl Streep, obviously. But seriously, this movie is fantastic and depicts the true story of efforts made by The Washington Post journalists to publish the Pentagon Papers. Learn your history, betches.
'Inception'

I've seen Inception. You've seen Inception. Every guy who thinks he's deep has seen Inception and claims it's his favorite movie. Still, it's got Leo DiCaprio and Joseph Gordon Levitt, so I don't know what else you really need. Plus you can get high and debate if it really was ~all a dream~
'Spinning Out': Netflix Original Series

This new series is about Kat Baker, a competitive figure skater who dreams about making it to the Olympics. After she takes a disastrous fall, she is taken out of the competition and her dream. But then, a boy appears (as always) and helps Kat continue her career in skating as a duo. Together, they face challenges, injuries, and some emotional breakdowns. Get your tissues prepared.
'Grace and Frankie': Season 6 

After a long wait, one of our favorite pairs are back on Netflix with a new season. There isn't too much info on what's going to happen in this season just yet, but we do know that Grace's marriage to Nick at the end of last season will def carry some tension in the episodes to come.
'The Ranch': Final Season

So, I am in love with Ashton Kutcher and that is the main reason I have watched this show, NGL. The show is about Colt Bennett (Kutcher) who returns home to his family's ranch in Colorado after a failed semi-pro football career to run the family ranching. business. And no, human trash bag Danny Masterson isn't in the final episodes, so you don't have to worry about supporting him.
'Next in Fashion'

Hosted by Queer Eye's Tan France and fashion it-girl Alexa Chung, this new fashion design competition is about to be epic. Over 10 episodes, 18 designers compete in rounds based on design trends and styles that influence what people wear worldwide. Can I say make it work??
'AJ and the Queen': Season 1

This is the first original comedy series by world-famous drag queen RuPaul. In the series, Ruby Red, a penniless drag queen, travels across America to hit different clubs while developing an unlikely sidekick named AJ—an 11-year old orphan. This new series is expected to have a lot of glitz and glam, so be excited.
'Chilling Adventures of Sabrina': Part 3 
This series is the much darker and edgier reboot of Sabrina the Teenage Witch from our childhood. It follows the magical story of secret witch Sabrina Spellman (Kiernan Shipka). The new season will be thrilling, as Sabrina recovers from defeating her father Lucifer. Damn, and you thought your dad was evil because he cut you off from his credit card…
'Good Girls': Season 2

This crime-comedy series is about three suburban moms who enter a life of crime after robbing a grocery store. It's a great show that stars Christina Hendricks, Mae Whitman, and Retta (Donna Meagle from Parks and Rec). Think Breaking Bad, but female and funny.
Usually, this would be the point where I would say, "It's fine that some shows and movies are leaving because others will take their place!" but I can't say that this month. I'm sad. Super sad. Friends will be leaving Netflix, and I can honestly say that I'm hurt and might not be okay. No one told me life was gonna be this way. Movies leaving Netflix this month are: Grease, Becoming Jane, Something's Gotta Give, Good Luck Chuck, Zombieland, and Revolutionary Road. At least I can binge away my sorrows with all the new stuff, but it won't be the same.
Images: @charlesdeluvio / Unsplash; GIPHY (16)
The Best Movies & TV Shows Coming To Netflix This December
December. What a beautiful month. Though the cold weather is not my favorite, December still has a lot to offer. These quick 31 days are filled with ugly sweaters, dreidels, Mariah Carey's soul-filled voice, office holiday parties, latkes, and lots and lots of presents (hopefully). Oh, and a bunch of new movies and TV shows to binge and cuddle up to during the dreadfully cold days. Grab your newly cuffed bae and let's get started. Here's all the best stuff coming to a Netflix device near you this December.
'6 Underground'

Ryan Reynolds stars in this action-packed Netflix original movie about six people from all around the world who fake their deaths in order to take down well-known criminals…obviously, as one does. This sounds interesting to me for multiple reasons—the top being that Ryan Reynolds may be my favorite male actor to watch. He. Is. Beautiful. F*ck wait… Dave Franco will also be featured. I will be confused with which man to watch but I guess that's a pretty good issue to have *wink wink*.  This movie sounds crazy, in the best way.
'Burlesque'

Yeahhhhh you heard that right! Christina Aguilera and Cher make their way back to our computer screens in this 2010 cult classic. I know you all still sing "Show Me How You Burlesque" in the shower and maybe even try to dance to it. Okay so that's just me, you caught me. But seriously, I'm so excited to rewatch this movie.
'A Cinderella Story: Christmas Wish'

Soooo, Gregg Sulkin is the romantic interest in this cheesy film, and I am so for it. I hope you all know who Gregg is, but if not, let me remind you. 2010. Wizards of Waverly Place. Mason, the Werewolf. Ok, he was also on Pretty Little Liars, but who's counting. Anyway, this movie is a classic Cinderella tale, which we all pretend we're over with, but really aren't.
The 'Austin Powers' Trilogy

Get ready for all three Austin Powers movies to make their Netflix debut. Produced, written by, and starring Mike Myers as both Powers and Dr. Evil, Austin Powers is the perfect family movie night comedy to watch when home for the holidays.
'A Christmas Prince: The Royal Baby'
The threequel to the 2017 film A Christmas Prince and the 2018 film The Christmas Prince: The Royal Wedding, you guessed it—this one involves a baby! If you haven't seen the other films in this trilogy, I would suggest doing so before this one. Basically, they're complete classics, and I'm just confused why these movies aren't winning all the Oscars.
'Marriage Story'

 Scarlett Johansson and Adam Driver star in this film about a stage director and his actor wife who struggle through a coast-to-coast divorce that pushes them to their extremes. The story is personal, captivating, and has connections to any family. This is definitely a great movie to watch during the winter season, and it's already getting major Oscar buzz.
'Soundtrack' – Season 1

This new series is about music that connects the lives of random people throughout Los Angeles. This new High School Musical-esque show is coming to Netflix, and I couldn't be more excited to watch while avoiding all my responsibilities. I have been waiting for the day to love a show as much as 10-year-old me loved High School Musical and this is finally it (I hope).
'YOU' – Season 2

Warning: Spoiler Alert
After the dramatic events of last season that saw Joe Goldberg (played by Penn Badgley—or Gossip Girl, as I still like to call him) murder his obsession Guinevere Beck, fans were left on a huge cliffhanger. In season 2, Joe has already moved on from Beck and has his eyes set on a brand-new victim. This thrilling series will have you at the edge of your seats…not gonna lie, way too scary for me. So, you all enjoy it and have fun with your nightmares! I'll be sleeping like a baby, don't mind me.
'Fuller House' – Season 5

Unlike the original show, Fuller House is centered around the next generation of Tanneritos: D.J., Stephanie, and D.J.'s quirky best friend, Kimmy Gibbler. Unfortunately, still no Olsen twins, which is pretty upsetting. But Fuller House's fifth and final season will welcome back several beloved Full House characters, including Bob Saget, Dave Coulier, and John Stamos. It doesn't look like Aunt Becky (Lori Loughlin), will be coming back due to her, um, legal situation, but I'm excited for the other characters to make their appearances. After this season, the Full House journey is officially coming to a close. Enjoy the Tanners while you can!
'Glow Up' – Season 1

This show is for you makeup lovers out there! On this new show, aspiring makeup artists battle to be named Britain's next makeup star. According to Netflix, "they navigate colorful challenges to win a career-making opportunity in the beauty industry". This intense competition will reveal the amazing things makeup can do and its ability to transform you, and probably has some amazing British accents to make it even better.
I hope you're as excited about these movies and shows as I am. I am very ready for some new stuff in my Netflix queue, and I'm assuming the same goes for you. But when one door opens, another one closes, and there are a bunch of great movies and shows leaving Netflix this month too, including: Daddy Day Care, all the Rocky movies, The Pink Panther, Wet Hot American Summer, Billy Elliot, Frasier, About A Boy, Christmas with the Kranks, Get Santa, Leap Year, Mona Lisa Smile, and Schindler's List. Sad! Binge these babies before time is up! Starting…now. Good luck!
Images: Shutterstock; Giphy (10)
All The Best TV Shows & Movies Coming To Netflix In January
2017 is coming to an end (thank the Lord), and so is the current Netflix lineup. Out with the old, in with the new old movies we forgot existed, or something. While I appreciate the new titles (more on this later), I don't totally understand why Netflix has to take things away from us. Sure, I haven't watched one episode of Law & Order: SVU on Netflix to date, but that doesn't mean they should take the streaming rights to seasons 14-17 away from me. Isn't the internet getting bigger? Can't you store that shit on the blockchain or something? Netflix and life should be about unlimited choices, like those new soda fountains at movie theaters: no, I am never going to choose Diet Cherry Vanilla Coke, but you know what, it's comforting to know that it's an option.
So while we mourn the loss of things we never watched, and I wait for Netflix to change their philosophy on choices, let's run through some of the cool shit we will be able to choose not to watch come January.
1. The ENTIRE 'Bring It On' Series
Bring It On, Bring It On Again, Bring It On: All or Nothing, Bring It On: Fight to the Finish, Bring It On: In It to Win It.
There are five. Did you know there were five? I had no idea. BRB I have some cheerleading to watch.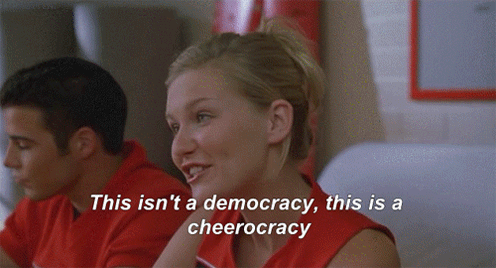 2. 'How to Lose a Guy in 10 Days'
I remember this movie being terrible but also being obsessed with Kate Hudson's yellow dress. While no one—no one—should ever take dating advice from this movie (you will actually lose all guys all the time, unless you are Kate Hudson, which you probably aren't), I am excited to re-watch and realize I had awful taste in clothing.

3. 'Marie Antoinette'
January is Kirsten Dunst season on Netflix (see: Bring It On), and I am all about it. Grab some cake and watch her slay as Marie Antoinette while Jason Schwartzman plays the most awkward of kings.

4. 'Midnight in Paris'
I hate that this is a Woody Allen movie, but not enough to hate this movie. It's Owen Wilson at his whiniest and Rachel McAdams at her Regina-ist. This almost makes up for Netflix taking Mean Girls away from us. Boo you whore.

5. 'Strictly Ballroom'
I recognize that this may be an unpopular choice for BEST, but if you are a die hard Moulin Rouge fan like myself, and you want an entertaining, lower budget, Australian version of Moulin Rouge (and who doesn't?), then this is the movie for you. Jk, the only thing they have in common is Baz Lurhmann as the director. But still, the outfits are spectacularly awful.

6. 'The Truman Show'
Do you think this will still be entertaining or will it just be terrifying af because maybe we are all living in a Trump-controlled superdome?

7. 'Grace and Frankie' Season 4
If you haven't watched seasons 1-3 yet, then you have some serious bingeing to do. Jane Fonda and Lily Tomlin are true feminist icons/American heroes, and they are funny af. Plus, Jed Bartlet from The West Wing and Jack McCoy from Law & Order make an adorable couple.

8. 'The Godfather Part I & II'
You will have a lot more to talk to guys about on a first date, plus you will finally understand that reference from You've Got Mail (not on Netflix, I checked).

9. 'The Shawshank Redemption'
Tbh, I'm surprised this wasn't already on Netflix. How is this literally everyone's favorite movie if we haven't been able to stream it for free until now? Anyway, I'm stoked for the opportunity to re-watch, and let's all hope that 2018 will be to us as Andy Dufresne's escape from prison was to him.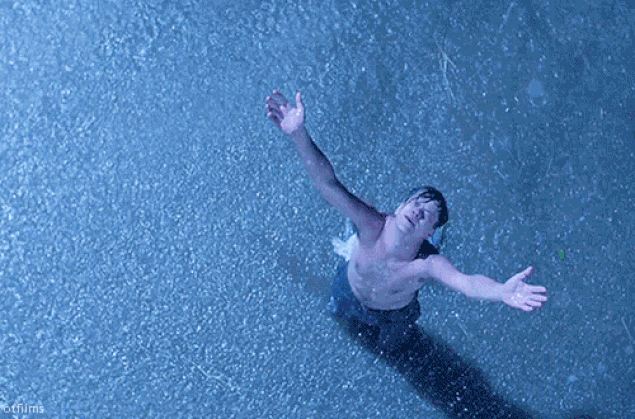 All The Best Shows & Movies Coming To Netflix In August
Now that summer is halfway over and all the good holidays have passed, you find yourself bored. Even your summer fling has simmered down and fall shopping hasn't quite started yet. Don't worry, that's why we always trust Netflix to switch up the menu so we don't get tired of the same thing everyday. Thankfully they understand how easily bored we get and have announced new shows that are coming to the site this August. Since we know the only thing you hate more than being bored is to like actually have to think/do anything, we rounded up our favorite August shows and movies coming to Netflix for you.
'The Addams Family' – August 1

We all went through a Wednesday Addams goth phase, no matter how short-lived. And I mean, props to her contributions to resting bitch face and wearing all black in the summer. We may have replaced black lipstick with a more sensible deep purple, but we'll never forget the joy of this movie.
'The Matrix Trilogy' – August 1

It probably won't hold up, but we're sure you can find a drinking game to play along with this one. Plus, there's something about Keanu that keeps us watching, the same way we kept talking to Smarter Child on AIM even though we knew it was a waste of time.
'Wild Wild West' – August 1

It's too bad Will Smith stopped rapping for all his movies, because as campy as this movie was, we still enjoyed it at the time. There's animatronic spiders and Salma Hayek's boobs in this, so what's not to love?
'Wet Hot American Summer: 10 Years Later' – August 4

Netflix continues making these and we're here for it. The last reboot did not disappoint, and we love the comedians involved in this. Plus it'll help you relive your old camp days, which is both fun and terrifying.
'Holes' – August 5

This is where we fell in love with Zero for like five months before the actor who played him promptly dropped off the face of the earth. And the guy who wrote this book wrote the Wayside High books, which was quirky before quirky was a thing. Also, RIP Shia Labeouf. He's not dead but like, you know what I mean.
Marvel's 'The Defenders' – August 18

Superheroes are for nerds, but Jessica Jones was pretty chill so maybe this series will have some mileage. It seems like an easy enough series to watch, and if we hate it we can just wait for the next superhero series they are making literally every 10 minutes.
'Once Upon a A Time' – August 25

If you're one of those people who just cannot get enough of re-imaginings of classic fairy tales, this show is for you. You'll see literally every possible fairy tale personality (Elsa from Frozen makes an appearance) and there are so many episodes you'll be able to binge for days. Also like, costumes and shit.
'The Good Place' – August 29

If you haven't already watched this show now is your chance. Kristen Bell plays a betchy hot mess that gets sent to heaven when she's supposed to go to hell, and she talks her way into letting them stay if she can prove she is good. Basically talking your way out of the ultimate parking ticket.
And don't let these shows Irish exit on you. Here's everything leaving this month, so get your fix in before last call:
'10 Things I Hate About You' – Leaving August 1

This is a classic, and it'll never get old. Also, Heath Ledger. RIP, still not over it.
'Superbad' – Leaving August 4th

This is a classic one to watch if you're leaving for college or just remembering the time you were leaving for college.
'Dope' – Leaving August 10

Just a classic story about a nerd who loves hip-hop—sort of. Come for the 80s style, stay for the very funny performances and Shameik Moore's face (consider this your formal invitation to slide into my DM's, kthx).
'Revenge' Seasons 1-4 – Leaving August 28

Catch up on Revenge before it leaves forever.