12 Beauty Products 'Bachelor' Contestants Swear By
Regardless of whether you hate them or love them, it's undeniable that the women of The Bachelor know a thing or two about beauty. Whether it's how to maintain your makeup on the beaches of paradise or getting that perfect no-makeup makeup look while chilling in the mansion, these girls clearly know which products you should be blowing your entire paycheck on buying. So, given their authority on the matter, here are each of their must-have beauty products they can't live without, and so we shouldn't be either.
1. Cassie Randolph

Laneige Lip Sleeping Mask, $20
If you haven't heard about this lip mask by now, then I'm sorry but you don't have any friends… or just definitely don't follow Cassie Randolph on Instagram. Because, if you did, you would know how much she loves this product. This lip sleeping mask is Cassie's holy grail for keeping her lips hydrated and, since she is in fact the face of effortless California beauty, I'm taking her word for it. 
2. Lauren Bushnell

Lauren Bushnell Lane is living the DREAM post-Bachelor life. She's a Revolve influencer who also just married a country music star—what more could any ex-contestant want? Also, did anyone else see her proposal video from Chris Lane? I legit cried and like, I don't even know these people. Anyway, Lauren's hair always looks amazing and she credits this dry texture foam via IG for helping her create her signature look. So yes, I'll be adding this to my cart as well.
3. Amanda Stanton

Kate Somerville EradiKate Acne Treatment, $26
First off, I didn't even know Amanda Stanton ever got pimples…it just doesn't seem possible, she's too perfect. But apparently she does, and she shared with us via Insta stories that this Kate Somerville acne treatment is her saving grace. And it clearly works considering I've never seen Amanda with any sort of blemish, EVER.
4. JoJo Fletcher

Dr. Dennis Gross Alpha Beta Extra Strength Daily Peel, $88
If you can't afford to get facials and laser treatments every week like all of these ex-Bachelor contestants can, then this product, which is one of JoJo's faves, is the next best thing. Of course, JoJo actually does get all of those expensive treatments anyway but, according to her Instagram "beauty" highlights, she's a fan of these peels as well. And, I can personally vouch for the fact that these peel pads are incredible and worth the steep price.
5. Becca Tilley

Becca Tilley, the famous virgin before it was a singular Bachelor personality trait (looking at you Colton Underwood) is one of the most beautiful women to ever grace this show. On her Instagram, she attributes her great skin to this device which exfoliates the skin (and also happens to look super cute on your bathroom vanity). Which, sadly, is indeed a trait I look for in my beauty products.
6. Ashley Iaconetti

iS Clinical Active Serum, $138
Ashely I. is obsessed with everything beauty. So when it comes to skincare, we can trust that she knows which products actually work. This serum is by iS Clinical, which is a brand favorite amongst influencers and celebrities beyond #BachelorNation. So, no offense to Ashley I., but there are some actual A-listers vouching for it as well. It's expensive, which is why I've never personally tried it yet. However, if you're like, rich or something and have tried it then please, let us peasants know how it is.
7. Kaitlyn Bristowe

Tan Luxe The Face Illuminating Self-Tan Drops, $49
Another Bachelor fave product that I also happen to use and love is the Tan Luxe Face Self-Tan drops. Kaitlyn shared with E! that she uses this oil so she can get away with wearing less makeup. Which like, same sis, I use this product in place of having to wear foundation. It's amazing for blurring imperfections and creating the appearance of an even skin tone, making it a great substitute for your daily face beat.
8. Hannah Brown

Kevyn Aucoin Gossamer Loose Powder, $72
Don't worry guys, I'm not about to give you Hannah Brown's mascara recommendation here. Hopefully, by now someone has introduced her to a good waterproof one. But anyways, I'm here to let you in on her makeup artist's secret for keeping Hannah's makeup in place during those long hours as The Bachelorette. Hannah's makeup artist, Gina Modica, credits this loose powder to keeping Hannah's makeup flawless all night long.
9. Hannah Godwin

Tarte Shape Tape Concealer, $27
Hannah Godwin is a fan of this cult-favorite concealer product as her go-to for covering her dark circles. Everyone who has tried this product also raves about it so like, even if you don't trust Hannah's judgment (because I mean she did have that little lapse in judgment with Blake), you can at least just trust the rest of the internet.
10. Demi Burnett

Besides being known for being unapologetically herself, when you think of Demi you can't help but picture her long, gorgeous locks. No matter what, even amidst the heat and humidity of Paradise, her hair always looked fresh and bouncy. Considering my hair is the complete opposite, I'll definitely be trying her go-to product, this Biosilk treatment, and basically just pray for a miracle.
11. Tayshia Adams

This eye cream from Kiehl's is actually a men's product, but if Tayshia swears by it, then IDC because gender is a social construct anyway. Kiehl's is a trusted brand on its own and, apparently, this eye cream kept Tayshia looking her best, even after a night of long-ass rose ceremonies. This eye cream contains caffeine and Vitamin B3 to reduce puffiness and dark circles, which I imagine is something every contestant could actually use on this show.
12. Caelynn Miller-Keyes

Boscia White Charcoal Mattifying Makeup Setting Spray, $38
Any Bachelor In Paradise alum who still looks stunning a few weeks into the season, even as their eyelash extensions get mangled and their spray tans fade, can be trusted with their recommendation for a makeup setting spray. Of course, it helps that all these girls are all so stunning to start with, but being able to maintain a full face of makeup without ANY air conditioning anywhere is a true feat. And for that reason, I'll be purchasing Caelynn's go-to setting spray. Plus, it must be good if it's getting her through the van life with Deaniebabies.
I mean, I don't know which of these aspiring influencers I can trust is actually "here for the right reasons" but pretty sure I can trust almost all of them on which beauty products are worth it. And, at the end of the day, is anyone ever truly there for the "right reasons" anyway? Groundbreaking but like, something to think about.
Images: Charley Gallay/Getty Images for PUMA; Sephora (6); Dermstore; Revolve; Ulta (3); Kiehl's
Betches may receive a portion of revenue if you click a link and purchase a product or service. The links are independently placed and do not influence editorial content.
Lauren Bushnell's New BF Has Dated A Lot Of Girls From Bachelor Nation
In last week's roundup of shocking news, another skinny, attractive blonde woman got a new boyfriend! That's right folks, The Bachelor's OG Lauren B, Lauren Bushnell, is dating country singer Chris Lane. I'm sure you're thinking to yourself "who the f*ck is that," and you're not the only one. I mean, I'm not thinking that because the only thing I listen to on Spotify for eight hours a day is the Hot Country playlist and the soundtrack from A Star is Born. But I don't presume to believe anyone else has as refined a music tastes as I do.
Last week Chris Lane and his brand new Bachelor contestant debuted their relationship at the BMI Country Music Awards.
I can see the love in her eyes. 
As previously mentioned, you may not know who Chris Lane is, since he's no Tim McGraw (please tell me you people know who Tim Mcgraw is PLEASE), but he's actually no stranger to Bachelor Nation. And you know why? Not because he's been featured on every one of Becca K's musical dates. But because he's dated at least three previous Bachelor contestants. So let's take a look at Chris's history with the franchise, shall we?
Chris Lane first showed up on The Bachelor during Nick Viall's season. He sang his song "For Her" while Nick awkwardly rubbed his boner on Danielle Lombard's leg. Now, it's unclear if this appearance is what got Chris hooked on girls from The Bachelor, or if it was instead all the sexy SugarBearHair ads that he found irresistible. Either way, he's been hitting up ladies from the show for a while now.
Reality Steve has mentioned on numerous occasions that Chris Lane loves sliding into the DM's of many a Bachelorette, but I never thought much of it. I'm not going digging to find the specific references on Reality Steve for you guys because his site literally crashes my computer every time I go on. It's like I shouldn't be reading Bachelor gossip at work or something? But trust me, it's there. 
Sure, Jan.
Us Weekly also wrote that before dating Lauren Bushnell, Chris dated another Lauren B, Lauren Barr. She also competed on Ben Higgins season. My brain has limited capacity for remembering Lauren B's and unfortunately, I've maxed out at two. So, I have no idea who this girl is. Here's a refresher for us all:
I've still got nothing in the memory bank about her, but sure. She was on The Bachelor. I'll believe you. Apparently, they only recently broke up, and Lauren Bushnell called Lauren Barr to tell her that she and Chris were now dating. According to Us Weekly, "Chris was dating LB right before Lauren." Ouch. It's definitely got to hurt when your man upgrades to a girl with the exact same name as you but about one million more Instagram followers.
The article also mentions that Chris dated Clare Crawley before Lauren Barr! I'm sorry, does he think Bachelor Nation is his own personal dating app? Clare competed on Juan Pablo's season, coming in second for the heart of the world's most garbage single dad. Most recently, Clare got hastily engaged to Canadian Benoit Beausejour-Savard after Bachelor: Winter Games in what was most definitely not an act of desperation. Surprising no one, they immediately broke up.
So why, you ask, would Lauren B want to date a dude that has dated a plethora of her friends and contemporaries? The answer is simple. This b*tch loves to compete against her friends for a guy and win. Forever chasing the high of  true love that final rose.

But best of luck to Lauren and Chris! I'm sure they will have a beautiful few months together before Colton's crop of ladies are released from their show-imposed social media prison and Chris's fingers are itching to type "U up?".
Images: @usweekly/Instagram; @iamchrislane/Instagram; @_lbarr_/Instagram; Giphy (1)
Lauren Bushnell Is Dating A New Guy & They're Already IG Official
It's legit been just three months since one of the better Bachelor couples, Lauren Bushnell and Ben Higgins, broke up. A lot of Bachelor Nation was legitimately #devastated at that news. The couple had just wrapped a series on the network formerly known as ABC Family (Is it Freeform or some shit now? IDK, whatever Pretty Little Liars aired on) called Ben & Lauren: Happily Ever After? I guess the question mark was necessary and a pretty bad omen for a couple who intended to stay together for life.
So, yeah, they broke up back in May. Which, now that I think about it, seems like a really long time ago, but every week seems like 1,000 years with all of the crazy shit that happens on the daily in Trump's America. But I digress.
Is three months enough time to get over your fiancé and move on to someone new? Apparently Lauren thinks so. She's been posting Snaps of her and this rando for a few weeks. Over the weekend, she posted an IG story of the two sharing a kiss. Nothing says "Hey, fuck you Ben" like a public internet makeout sesh with a new guy.
The dude's name is Devin Antin and he honestly looks like a poor man's version of Ben. If Ben is the boy next door, Devin is the boy next door's hungover cousin that has a scraggly beard and keeps asking if he can have some of your weed. In other words, I guess he's fine, but we all would pick Ben if we were offered the choice.

Also, Devin's Insta account is private so that makes it really hard to do background research make fun of him for his previous posts. Darn.
So what has Ben been up to? Well, he has a podcast where he discusses The Bachelorette that he cohosts with America's favorite cryer, Ashley I., and, um, he's been legit helping orphans in South America or something.

I'm going to say Ben wins the break up. I'm sorry, but posting Snaps and Instas of your new boo when you know it's going to get back to the ex is kind of thirsty. C'mon Lauren, you're hot AF and we all know you could probs get any guy you wanted. No need for that pettiness in your feed. America watched how Ben got cold feet over planning a wedding and a family and kids and all that shit, so we're not going to fault you for going after what you want if your relationship isn't doing it for you. We will fault you for being weird about it after the fact and posting IG stories that make it look like you're definitely trying too hard.
Hey, too bad JoJo is actually (amazingly) still with Aaron Rodger's little brother, or I would say she should hit Ben with a "U Up?" text.
Ben Higgins And Lauren Bushnell Broke Up
In a move nobody saw coming except all of us, Ben Higgins and Lauren Bushnell have broken up. It's time to hit up the group chat and collect your wagers, Bachelor Nation. The couple got engaged on March 14, 2016 and has broken up a year and two months later—almost to the day—on May 15, 2017 (a day that will live on in infamy). It's such an oddly specific date to break up, it's almost like Ben and Lauren were waiting for something? Like, the stipulations put forth on a signed piece of paper to expire, perhaps? Hmmm…
The couple announced their split to People this afternoon, saying, "It is with heavy hearts that we announce our decision to go our separate ways," adding, "We feel fortunate for the time we had together, and will remain friends with much love and respect for one another. We wish nothing but the best for each other, and ask for your support and understanding at this time."
Translation: We're just glad we can stop pretending to keep up this charade of a relationship. You will never know the real reason we broke up, so please don't @ us.
However, I don't think it's too hard to jump to conclusions make an educated guess about their breakup. If we learned anything from Ben And Lauren: Happily Ever After? it's that Lauren was pushing way too hard for that MRS (I'm a pusher, Ben. I'm a pusher). Meanwhile, Ben was growing more and more uncomfortable at the thought of marriage by the day—an odd choice considering he willingly entered a reality show where the ultimate goal is to get engaged. Also if Ben and Lauren's spin-off was accurate to real life, they spent more time hanging out with Grant, Lace, and the twins than they actually spent together. When you're voluntarily spending most of your time with two people who think being a twin is a full-time job and cannot boil water on their own, that kind of says a lot about your relationship.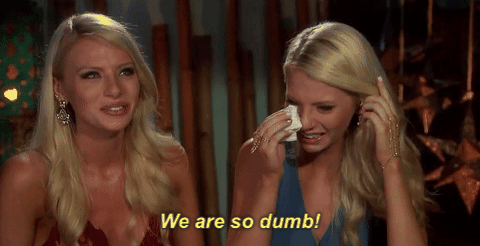 I'd also take a step further and add that Lauren was definitely still not over Ben telling Jojo he loved her on the Fantasy Suites date. I say this because she told People in October, "For a long time, I was really angry for being blindsided. And that resentment and anger affected our relationship much longer than it should have." Like, girl, get over it. You went on a show where the whole premise is that you're dating a guy who's also dating 29 other women. Earth to Matilda! I can imagine every fight Ben and Lauren had ending like:
Lauren: Well at least I didn't tell some other guy I loved him the night before proposing to you!
Ben: Oh my god, that was one time!

Now that a second season of a shitty reality show spin-off that nobody watched is no longer in the cards for them, it's tough to say what's next for Ben and Lauren. Ben could resume his failed political career. Lauren will probably launch an online wedding magazine so she can vicariously live out her dreams of being a bride. But who really knows. I never thought I'd say this, but are Jojo and Jordan the best/most legit Bachelor couple left? Man, 2017 is weird.